Clean Swaps For Your Home
Cleaning up the toxic products in our home can feel daunting. If you are ready to take the leap and kick the toxic chemicals to the curb then I'm here to help! I've got some easy swaps for you to start with!! Read on…
I'm such a huge proponent for kicking toxic products out of my home for good. If you are ready to improve your health and reduce your exposure to toxins then you are in the right place. I recommend doing this a little at a time as you have the money and time to do so. It's easy to do, just start with one thing at a time!
Clean Swaps For A Toxin Free Home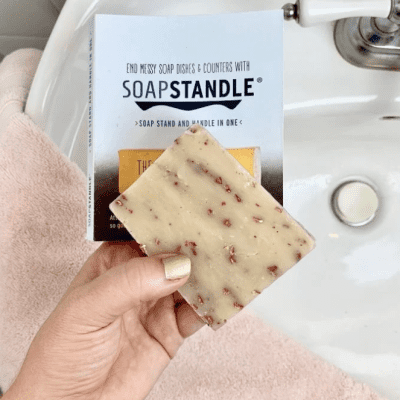 SoapStandle
Liquid hand soaps and body washes are full of chemicals that disrupt our health. Less toxic hand and body soaps are available but can be expensive. What's the least expensive solution? The SoapStandle is an innovative device that attaches to the bottom of bar soap to help it last longer without getting soft and spongey. It makes less of a mess and saves money because the soap lasts longer.
Non-toxic bar soaps are less expensive than the liquid versions and with the SoapStandle you can decrease the mess often associated with having a bar of soap at the sink side! Made of recyclable material, SoapStandle can extend the life of bar soap by 30%.
Mounia Rinse
Your tresses need some attention sans chemicals too! Mounia Haircare is a new trio of high-end "clean" hair care products that combine authentic Moroccan-grown ingredients with patented technology to strengthen hair and make it incredibly smooth, shiny and clinically healthier. There are absolutely no "filler" ingredients. Plus, it smells amazing and comes with a medical-grade head massager that promotes blood flow to the scalp, an all important arbiter of hair health.
Magnesium Enriched Deodorant Coconut + Vanilla
Deodorant is one of the most toxic substances you slather on your body day after day. Loaded with aluminum and chemicals, it is TERRIBLE for you! Swap to a cleaner deodorant and upgrade your health. Safe, clean deodorant is a MUST!
CRYSTAL's Magnesium Enriched Deodorant Sticks — are vegan, and feature Magnesium (a naturally occurring element used in their deodorants to create an easy transition from conventional anti-perspirants) – and 24-HOUR odor protection without the downsides of aluminum or drying irritants like baking soda! NO WHITE MARKS!!!!!! And… no stickiness! They are also the first and only natural deodorant brand to receive the prestigious Clean Label Project® Purity Award for every product in the company's line.
Earth kiss SUPER NATURALS
Those face masks you find in the big box stores are loaded with chemicals that are not so good for you! That's not the case with these super naturals masks from Earth Kiss. Supported by an array of superfoods and nutrients such as turmeric, spirulina, and hemp seed oil, their Super Naturals range of certified organic and 100% vegan Kombucha-based masks may not come with a certificate of immortality, but we have no doubt that they will help to revitalize, re-energize, and enliven your skin's overall tone, texture and appearance.

Learn More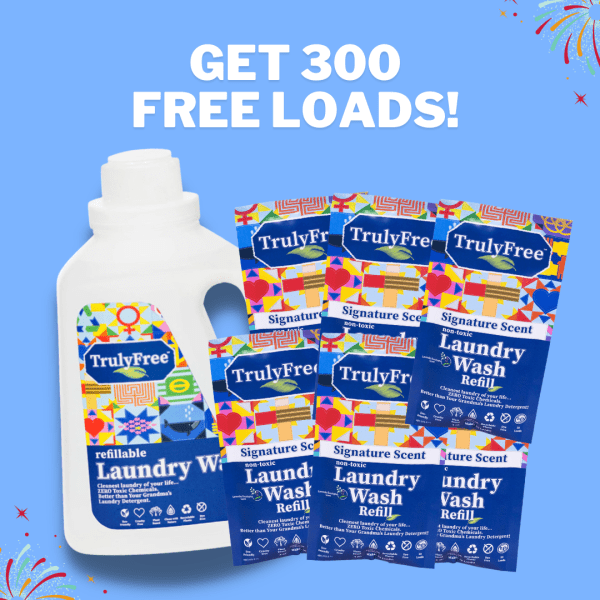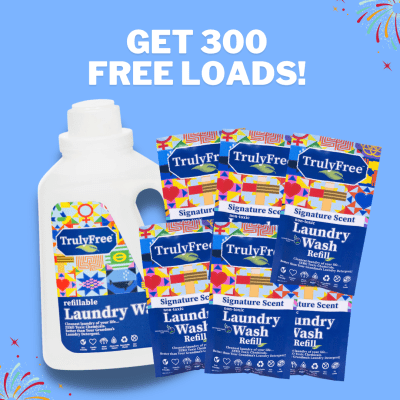 Truly Free laundry wash
Mainstream detergents are full of toxic chemicals, dyes, thickeners, fillers & synthetic fragrances – even some of the "eco brands"
Laundry Wash uses revolutionary Quadrasalt technology to remove tough stains, but won't damage fabrics, irrirtate your skin, gunk up your washer, or make you sick!
We have created a full replacement for every toxic product on the market. The cleanest clothes ever, more money in your wallet, and thebeautiful fragrance of essential oils wafting through the house!
Here's a simple key:
Detergent = Wash
Softener = Final Rinse
Laundry Booster = Enzyme Stain Remover
Stain Spray = Stain Stick
Dryer Sheets = Dryer Angels
Bleach/Oxycleaners = OxyBoost

GET 300 LOADS FREE NOW (BLACK FRIDAY SALE)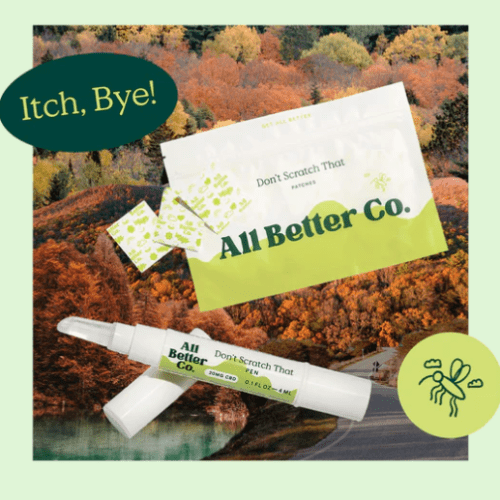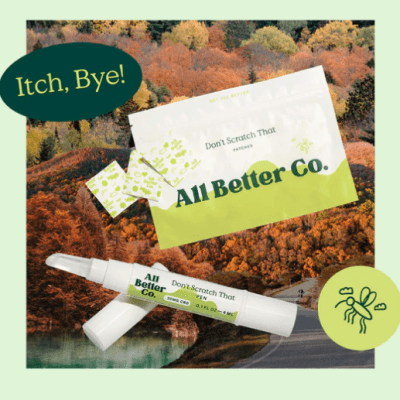 Don't Scratch That Kit
All Better Co. patches + pens make for a winning combo when it comes to combating all the itchy things Mother Nature has to offer– the perfect one-two punch! Toss this pouch in your backpack, and hit the trails (or the soccer fields)! Perfect for one-the-go application, these products are thoughtfully formulated with naturally-derived ingredients so you can feel good about what you're putting on your skin.
Pure-Sky Magic Deep Clean Cleaning Cloth
JUST ADD WATER – NO DETERGENTS NEEDED – No Chemicals, Microfiber Towel cleans with only water, without dangerous ingredients that can harm you – Nano Towel works like magic, Much Better than Norwex, e-cloth or Nano towel, You Will Be Amazed!
Plus, they just launched their brand new Eyeglass Cleaner Cloth for $2.20 on Amazon, which RIVALS Apple's Polishing Cloth for $19! (Crazy pricey!) It is a sensation on all my glasses!
Our place Ovenware Set
Teflon and other non-stick bakeware wreak havoc on our bodies. They are loaded with toxic chemicals that leach into our food. Our Place created *the* Ovenware collection: Five easy pieces that'll change the way you cook in your oven. The set includes an ultra-versatile Oven Pan for baking and roasting that also works as a stovetop griddle (!!!); the Bakers, a trio of stoneware baking dishes; and a nontoxic, reusable Oven Mat. And they designed all of it to fit neatly together to maximize storage. Now all you have to do is turn your oven on!
caraway Cookware Set
Ditch the chemicals with Caraway's ceramic-coated cookware. Their complete set has everything you'll need for healthy cooking in your kitchen, staying organized with both our pot and lid holders, and looking good while doing so.
Designed with your health in mind, their ceramic cookware is free of toxic materials for guilt-free cooking.
Their cookware set's coating does not include potentially toxic materials like PFOA, PTFE, other PFAs, lead, cadmium, or toxic metals. They also refrain from using any form of hard anodization.
nutr machine
Make homemade plant-based and nut milks, in a matter of minutes – with Nutr's sleek and compact design for single servings, perfect for your countertop.
Kick inflammatory dairy and swap to plant based milks which are easier on your tummy. The Nutr makes AMAZING milk that is so much better than store-bought nut milk. It's delicious!!
WaveBlock
Protect yourself from harmful EMF's emitted from your phone and/or ear buds. WaveBlock has created the first and only lab-tested and proven sticker for cell phones that significantly reduce the potentially harmful effects of radiation exposure. Carry your phone with greater confidence. It's as simple as applying the sticker to the back of your phone and covering it with your cell phone case
Significantly shields the body from harmful EMF's
Accredited Lab Tested
Easy to use with your existing phone case
Compatible with iPhone® 6 through 13
Designed to fit under your cell phone case
Sticker size may vary slightly from images
Model's 6-8 stickers fit 99% accurately however some may wrap the edge of the phone, you can simply cover it with a case or trim the sticker.
naturepedic organic mattress
We spend half our lives in bed so it only goes to reason that we should be sleeping on a mattress that is free of harmful chemicals. What exactly are you breathing and absorbing through your skin while you sleep? The Naturepedic EOS Classic is not only the most comfortable mattress I've ever slept on, but it's also made of organic, non-toxic materials. It's truly the best of both worlds!!
Plus, it's fully customizable on each side of the bed! The EOS Classic customizable organic mattress is the "Cutting Edge Customization" winner in Good Housekeeping's 2022 Best Bedding Awards. Cutting-edge comfort … on both sides of the bed!
Ready to start kicking those toxic products OUT of your home for good? Pick one thing here and get started today! Do a little at a time and slowly transform your home to a toxin-free zone where you can truly unwind and rest.