How To Make A Star Darlings Galaxy Jar
Inspired by the new Disney Star Darlings book series, these galaxy jars are so much fun! They are easy enough for the kids to make and they double as a calming jar when the kids get upset. They are pretty fun for adults too, I have to admit!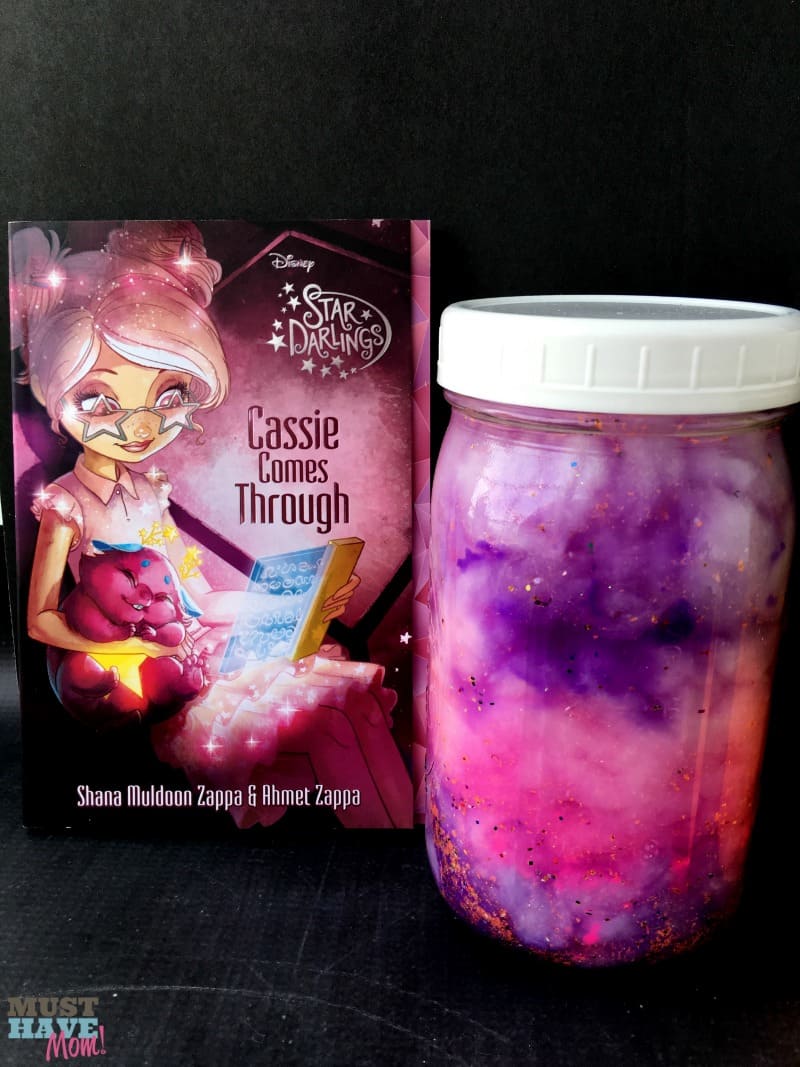 We decided to make two different Star Darlings galaxy jars. The first jar was made up of pink and purple colors and was inspired by the Star Darlings book "Cassie Comes Through". Disney Star Darlings books are for ages 9-12. Just like real girls, each Star Darling has her own wish that she pursues with full force and determination—and the help of her friends. These shared journeys and experiences provide exceptionally positive examples to inspire tweens to follow their dreams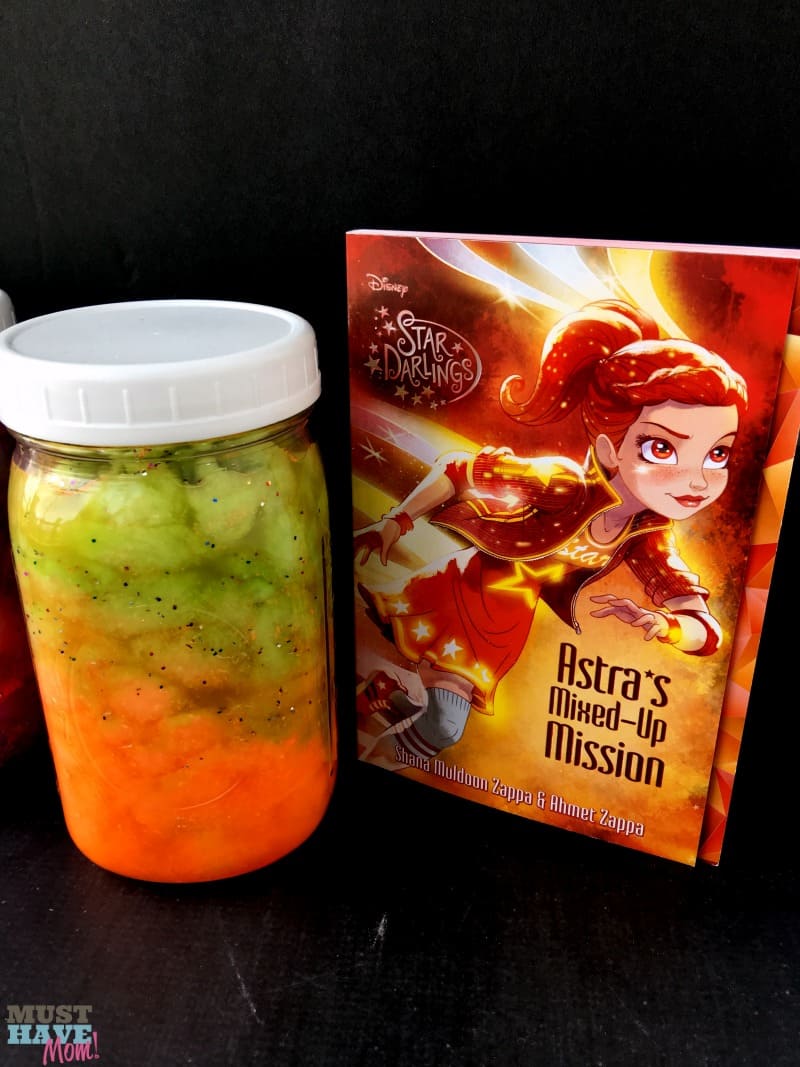 We also made a green and orange colored galaxy jar that was inspired by Star Darlings "Astra's Mixed Up Mission".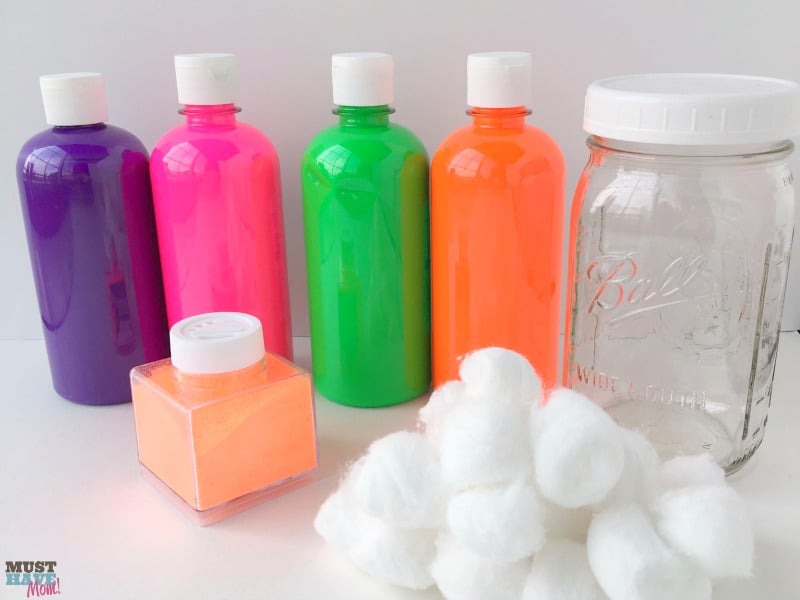 To create these easy galaxy jars you'll need a few basic craft supplies including: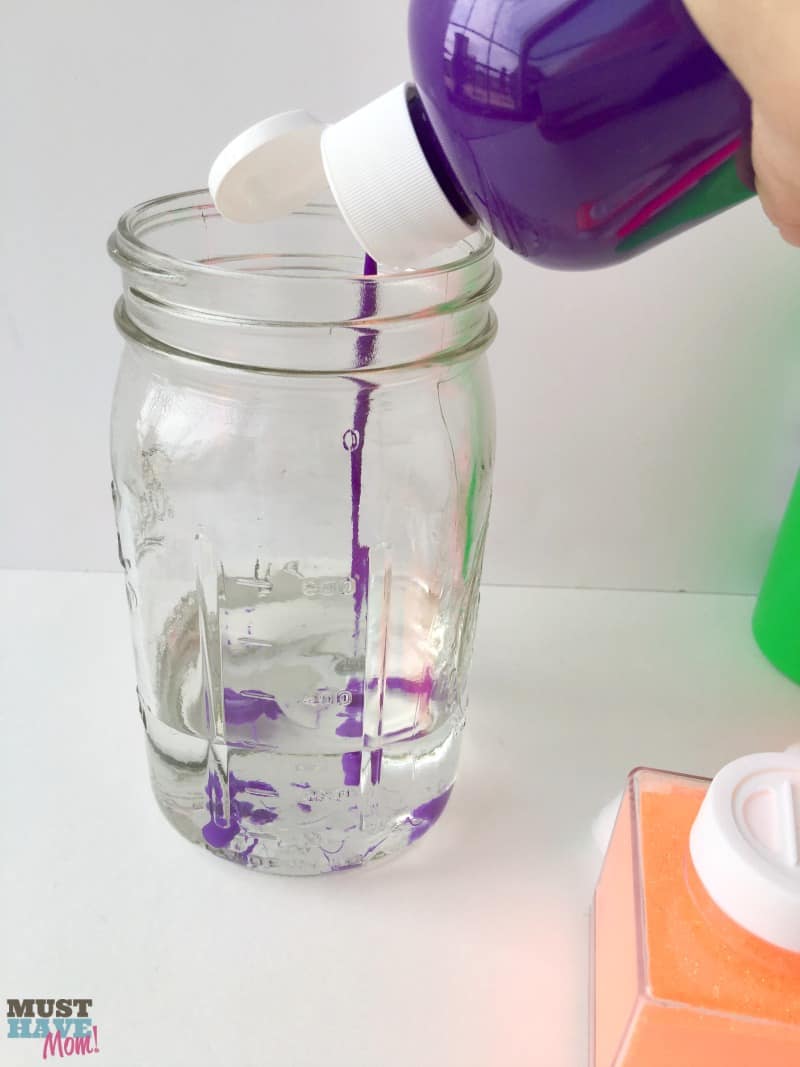 Begin by filling your mason jar 1/3 full of water. Then add one color of paint to the water. Just a squeeze will do.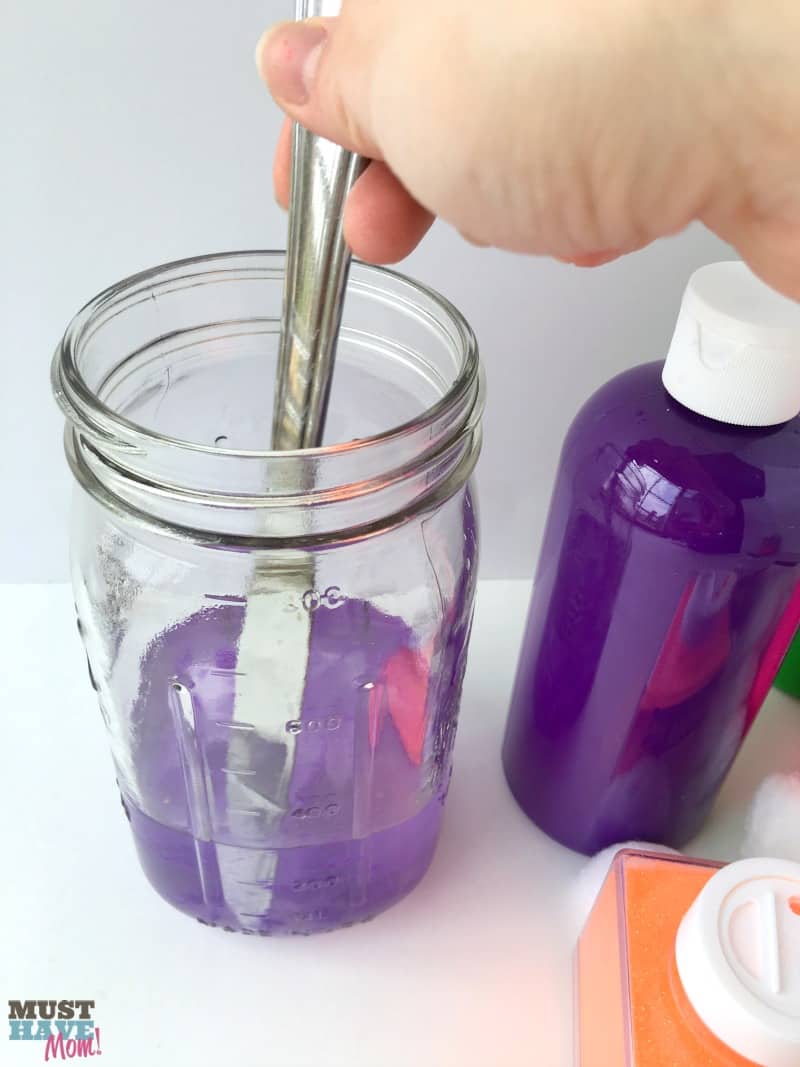 Use your butter knife to stir the paint and water together.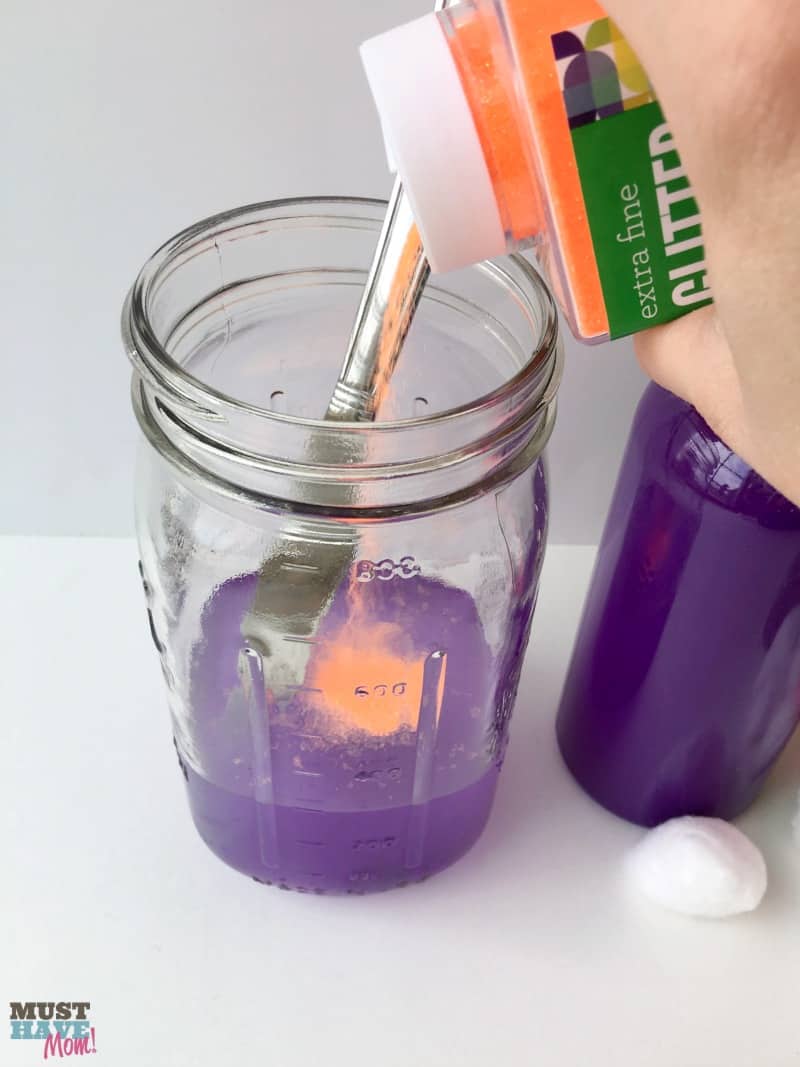 Next add your glitter and mix again with the butter knife.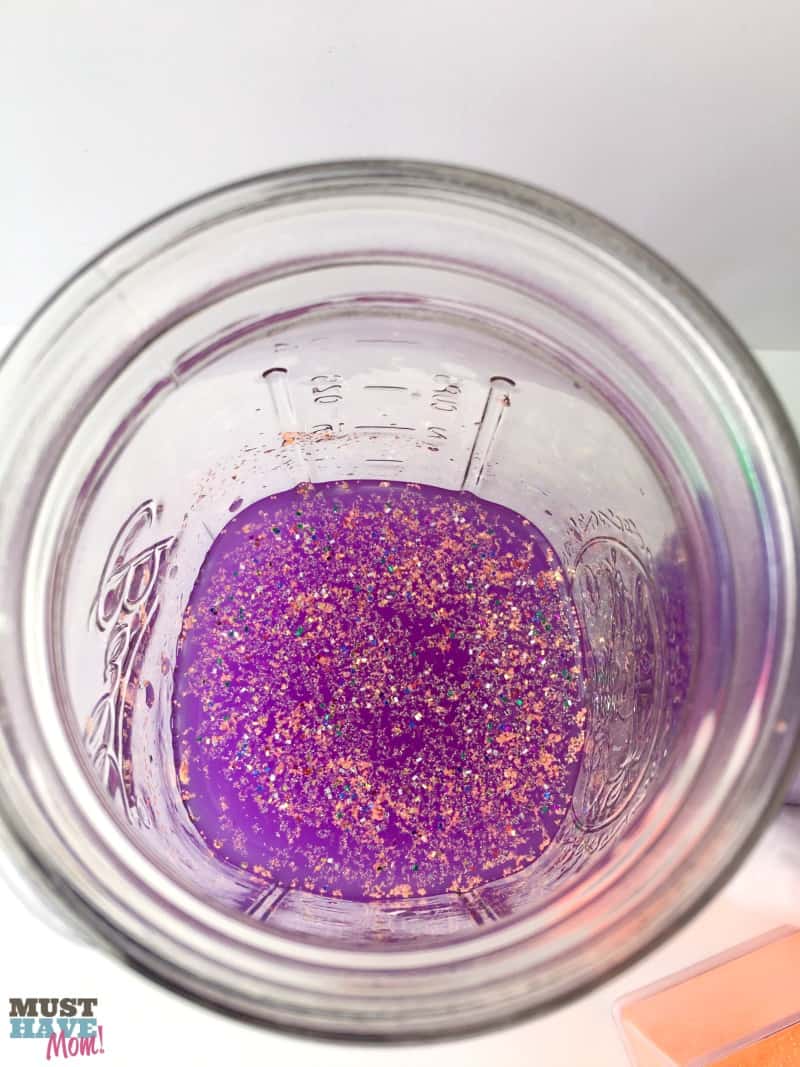 It should be well mixed now. I used two different colors of glitter in my galaxy jar.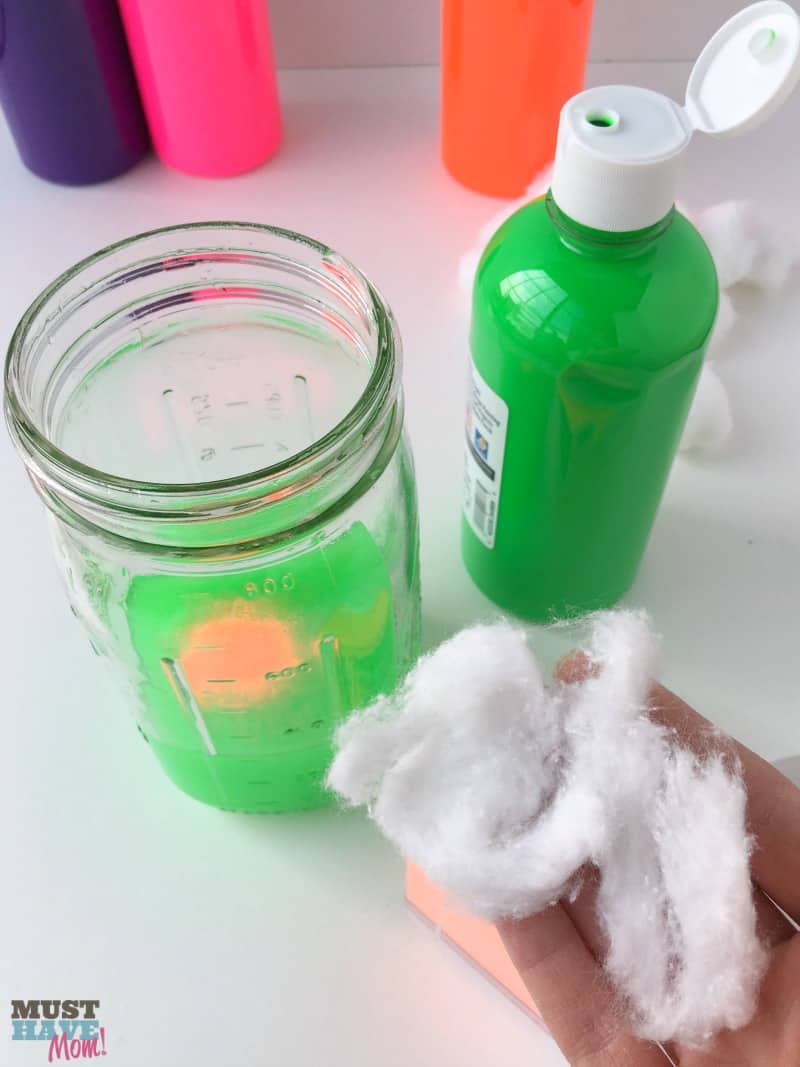 Next pull apart your cotton balls so they are separated and don't have the ball shape anymore.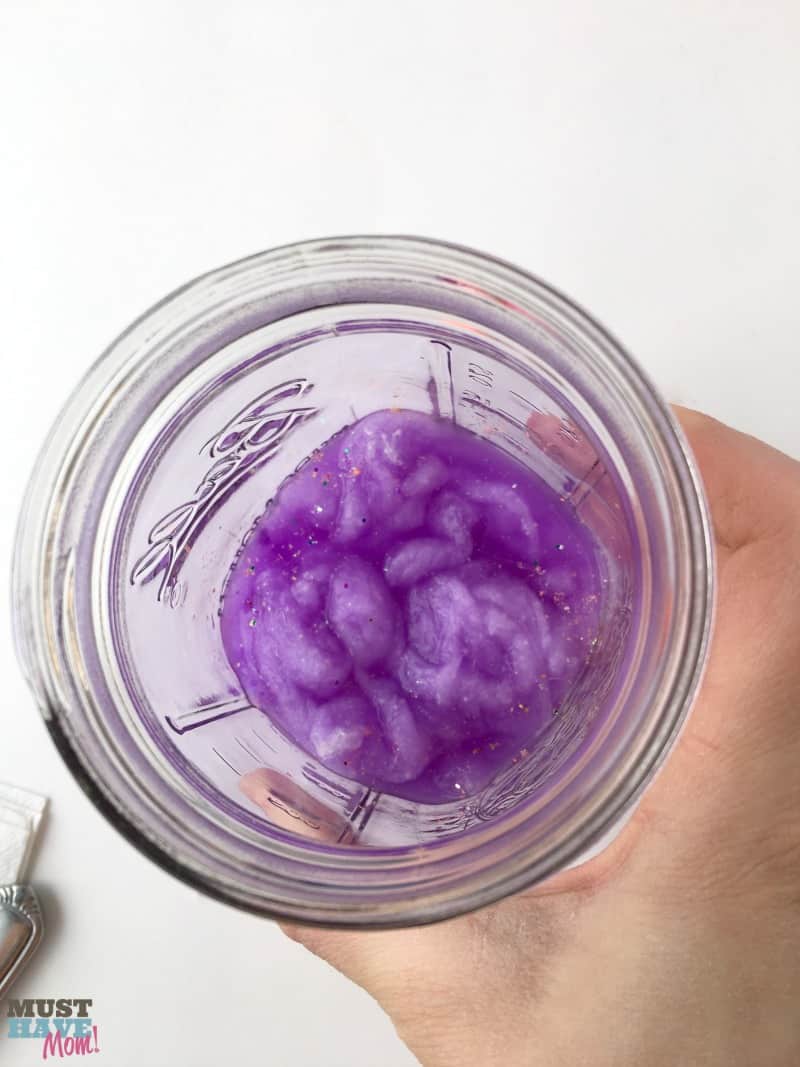 Then add cotton balls to the jar and push them down with a butter knife. Add enough cotton balls until they are filling the bottom of the jar, but still covered in the colored water.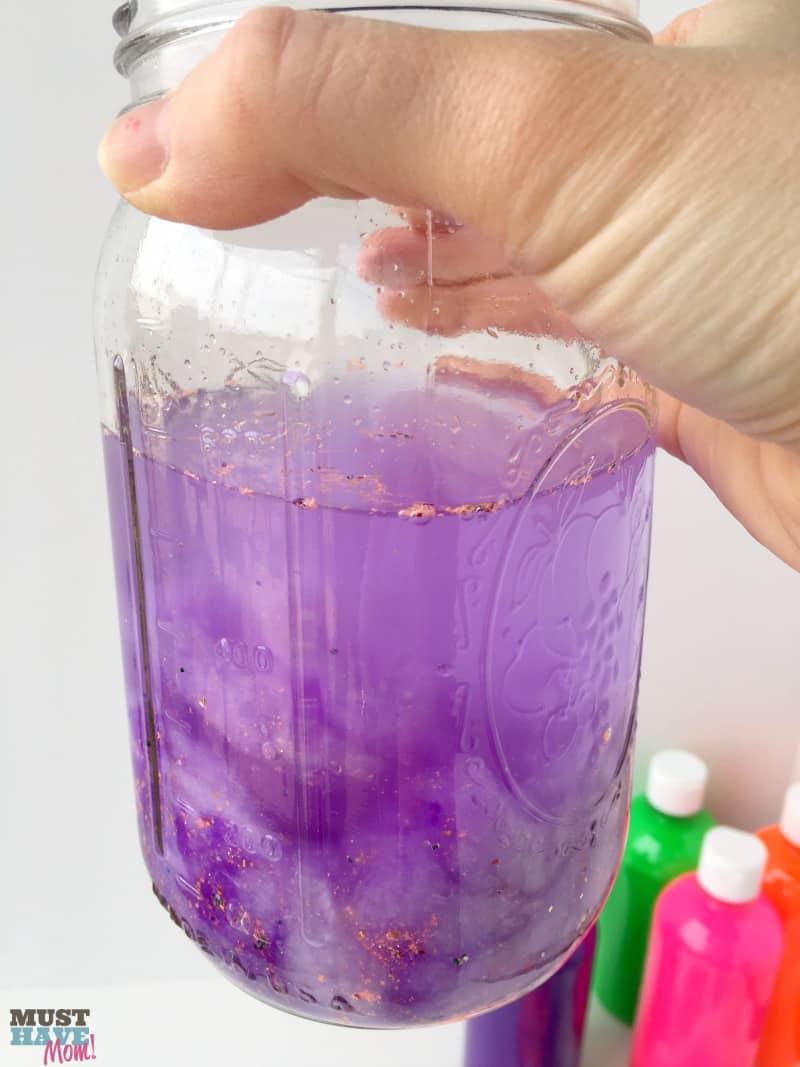 Now add more water until jar is 2/3 full.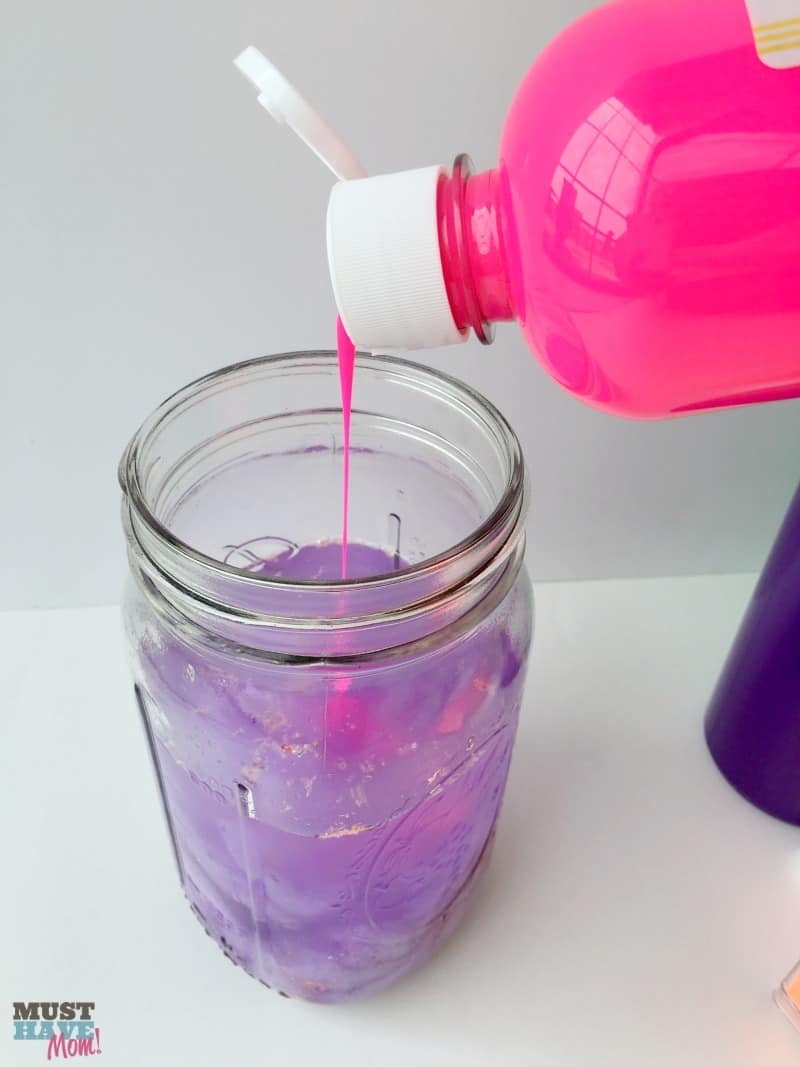 Next add a different color of paint to the jar. A good squeeze will be enough.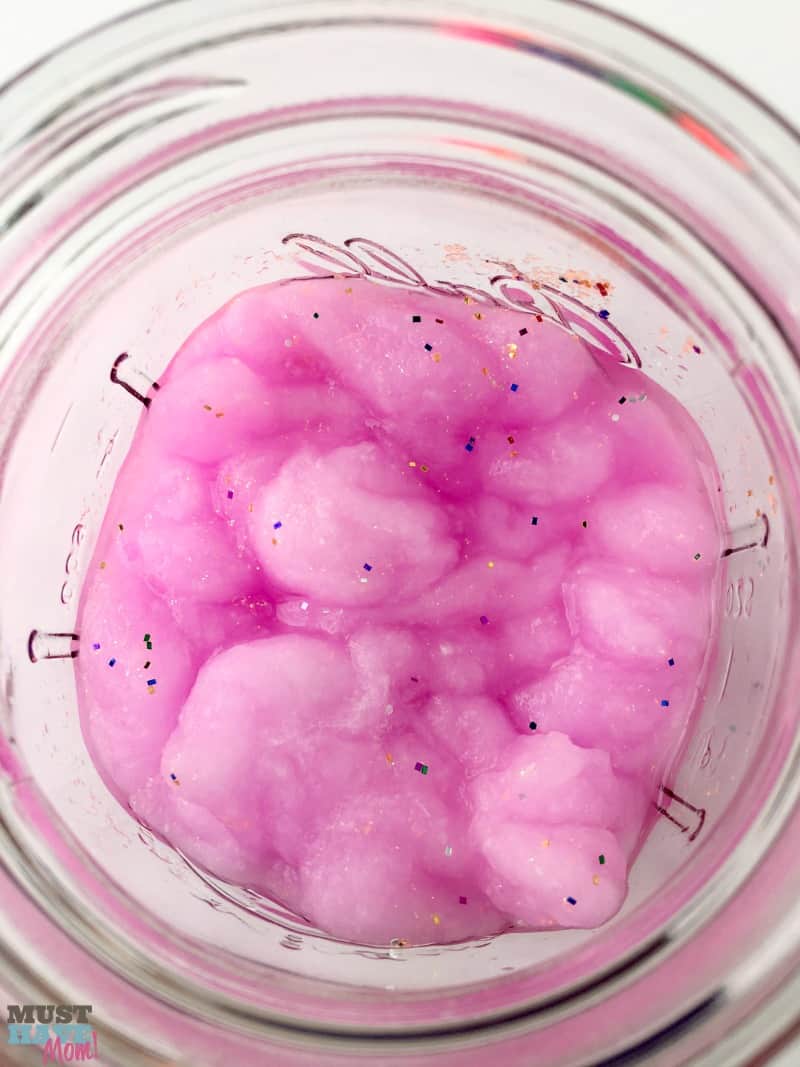 Then stir gently using your butter knife. Add glitter and stir again, being careful not to stir up the cotton balls at the bottom layer. Then add cotton to this layer until filled, but still covered.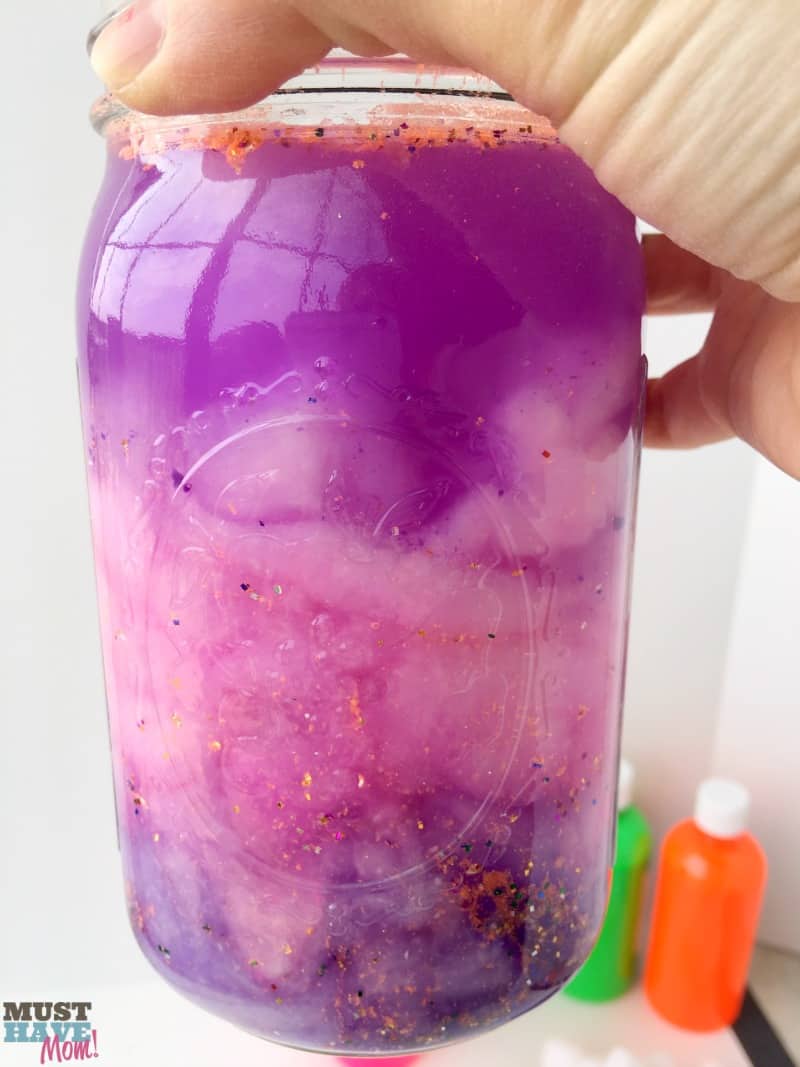 Now fill the remaining space in the jar with water.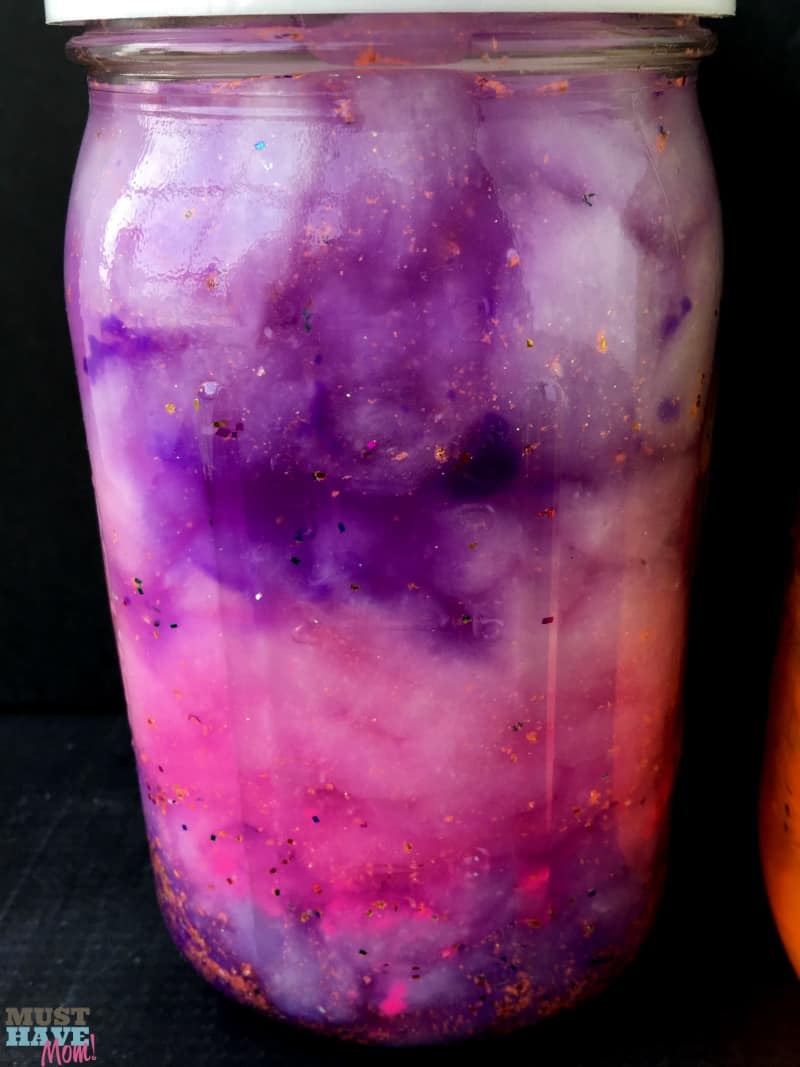 Add the first color of paint again and gently mix with your butter knife. Add glitter and stir again. Add cotton balls until filled.
You can use all sorts of different paint color combinations to create different looking jars! Screw the lids on tight and you're done!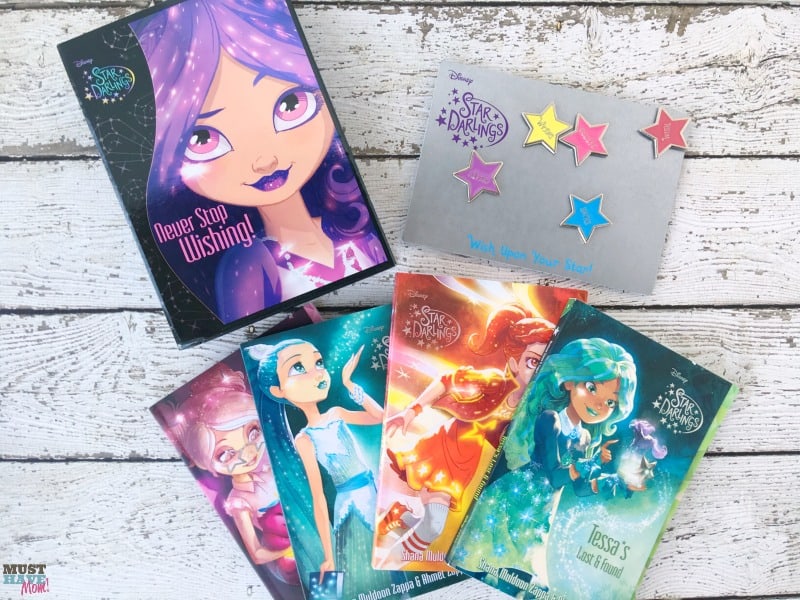 If you are looking for a book series with a positive message for young girls then read the Disney Star Darlings book series. They have 9 books in the series so far. Star Darlings Collection Volume #1 is a brand new bind up book that includes the first three books in the Star Darlings series. You can get books 4-9 as well! You'll also want to pick up the A Wisher's Guide to Starland book for more fun Star Darlings activity ideas!
You can also read my Fun With Stars post for Star Darlings inspired snack ideas and more information on the first books in the series.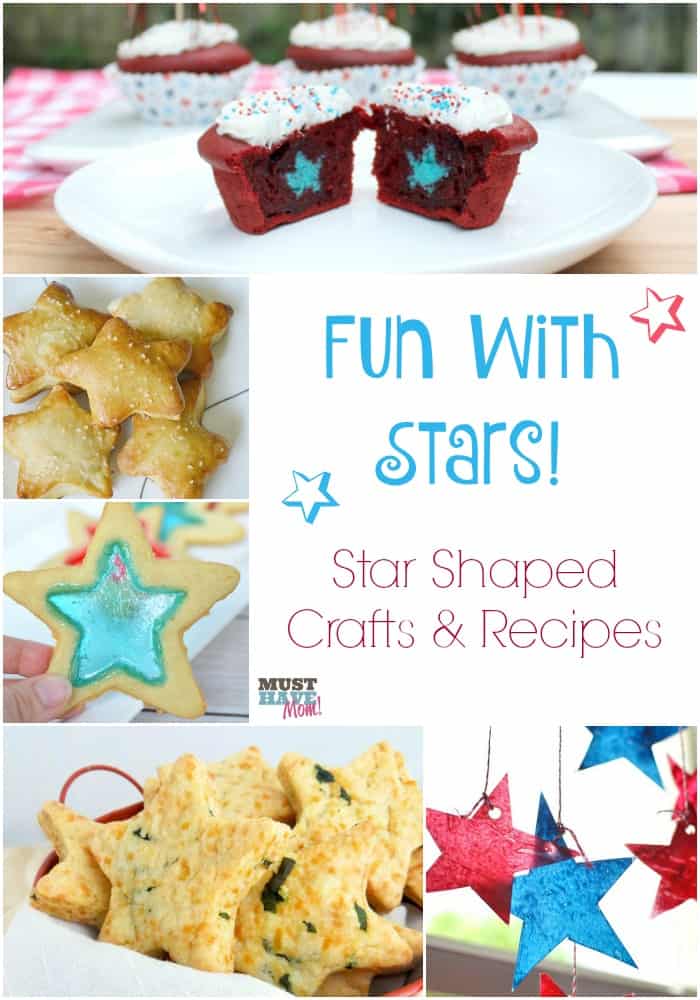 If you liked this post please pin it for easy finding later or share it on Facebook!