Secrets Big Families Use To Stay Organized In The Kitchen
This is a sponsored post written by me on behalf of Glad. All opinions are 100% mine.
Are you struggling to get organized in the kitchen and always feel a bit frazzled? Steal these secrets big families use to stay organized in the kitchen and transform your kitchen and your routine!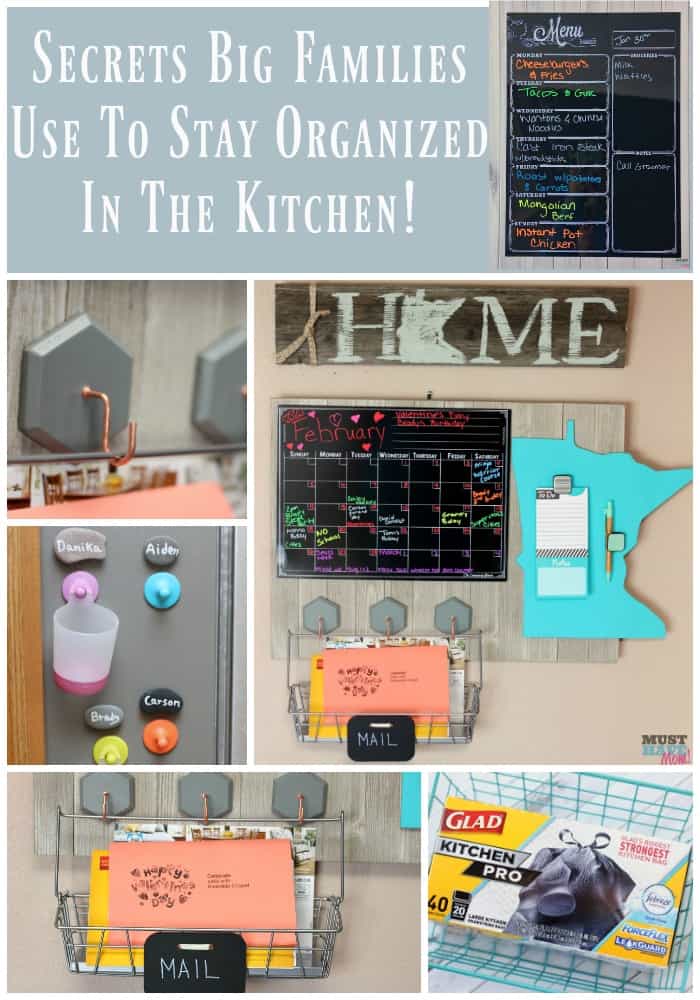 How To Get Organized in the Kitchen
Whether you are struggling to figure out what to make for dinner or you are angry because the garbage bag leaked all over again, these secrets big families use to stay organized in the kitchen are here to solve your problems! Use these tips and ideas to get organized and efficient. These apply to any size family!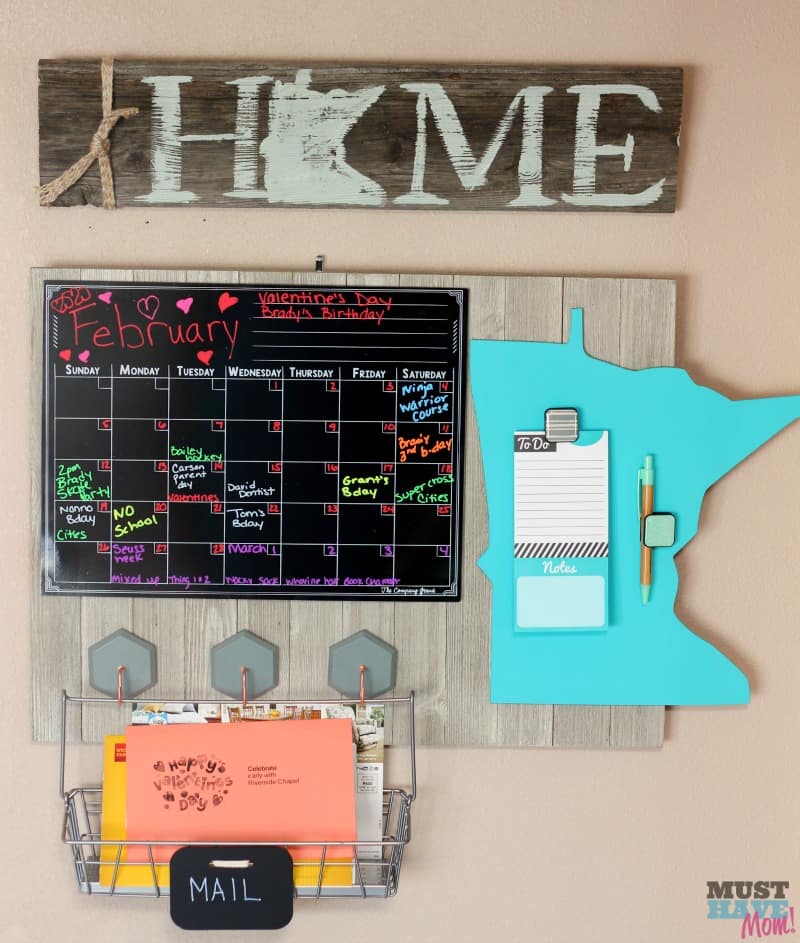 Use These Tips To Be Organized in the Kitchen
We are a family of 6, with 4 kids under the age of 8. With much trial and error I have figured out how big families keep the wheels turning and seem to be the most laid back people I know. Contrary to what you might think, big families are typically more relaxed and less likely to have their feathers ruffled over every little thing. Without further ado I will let you in on my secrets and show you how we keep this train rolling day in and day out!
Family Command Center
First up is this DIY family command center that I created. Every household needs a command center! It's a great way to stay on the same page and communicate with one another about schedules, to do lists and the typical, "Where's the mail?" question. This command center does all of that! I'll show you how to easily make one of your own.
I started out with a pallet that was stained gray. You can make your own or buy one at a craft store. I had a chalkboard calendar that I was already using and it fit perfectly in the space. I secured it to the board with command strips.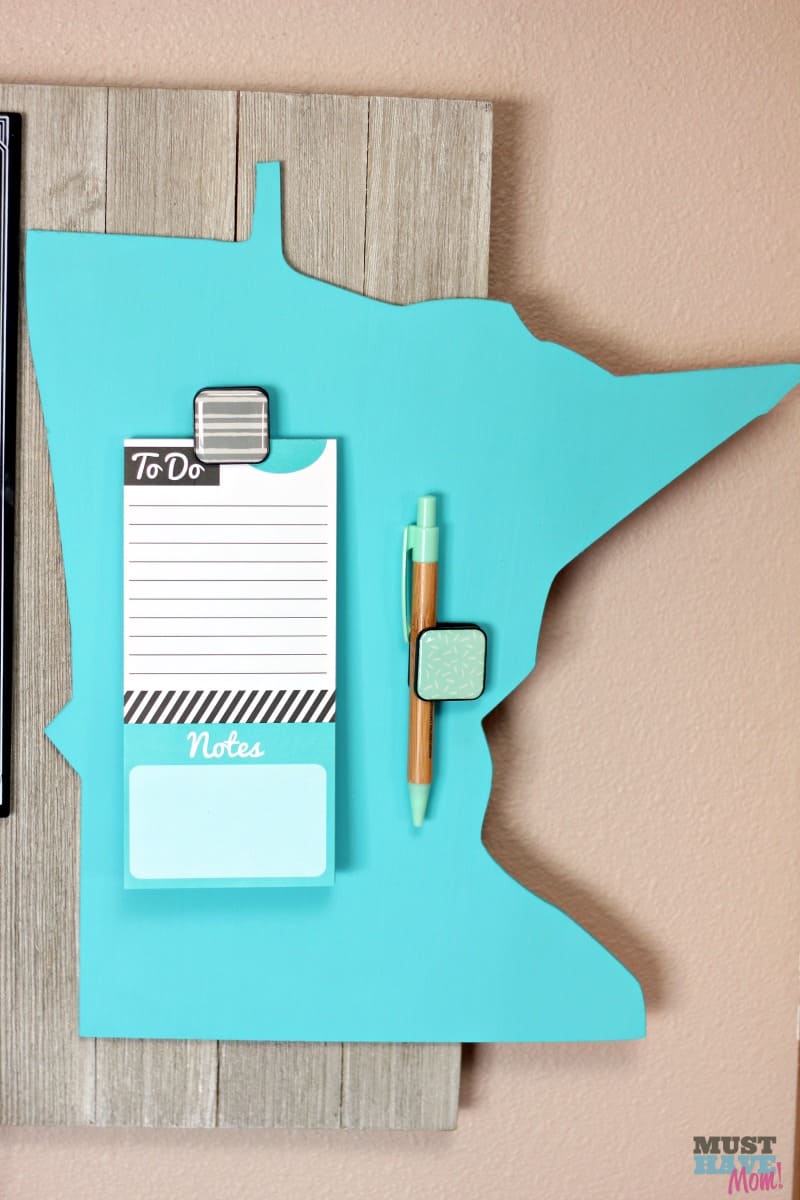 I also purchased a chip board cutout of our state of Minnesota. I then painted it blue. I glued on the fasteners to hold the to do list pad and a pen. Now we have a place to write out our priorities for the day. Writing out your top 3 to do items is what I advise doing. Any more than that and you'll get overwhelmed! Aim to complete the 3 and any extras are a bonus.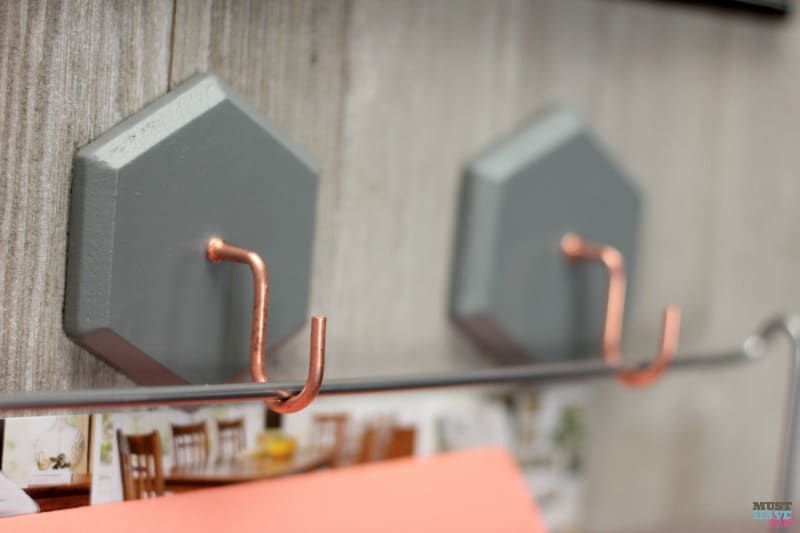 I found these hooks in the dollar spot at Target. They came 4 in a pack for $3. I screwed three of them to the bottom of my board to serve as hooks for my mail basket. You could also use these to hang up your keys, dog leashes, etc.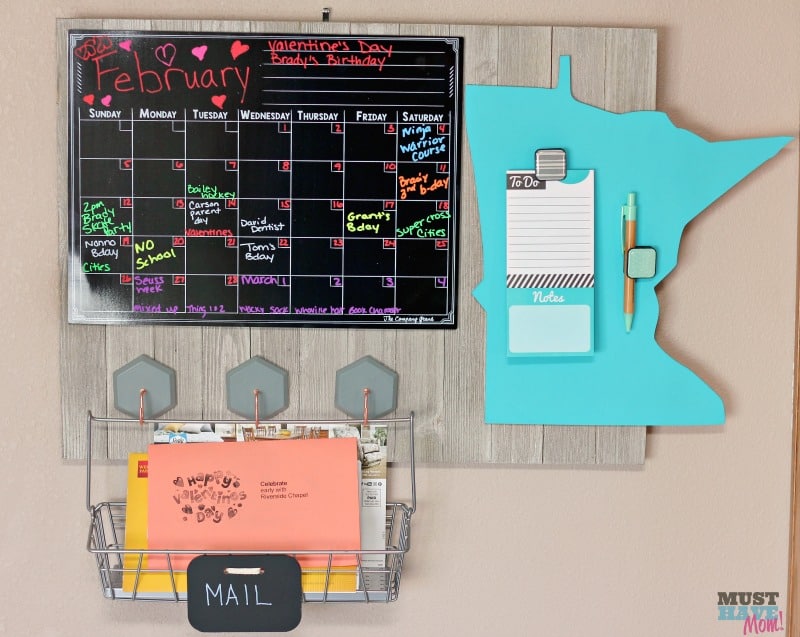 I then added my mail basket to the bottom of the pallet board. Every day when my husband gets home from work his first question is "Did you get the mail?". Now he can just look at the basket and know right where it is. As you can see this command center serves as a great central location for the family to stay on the same page and schedule. If you don't have one yet, you need one!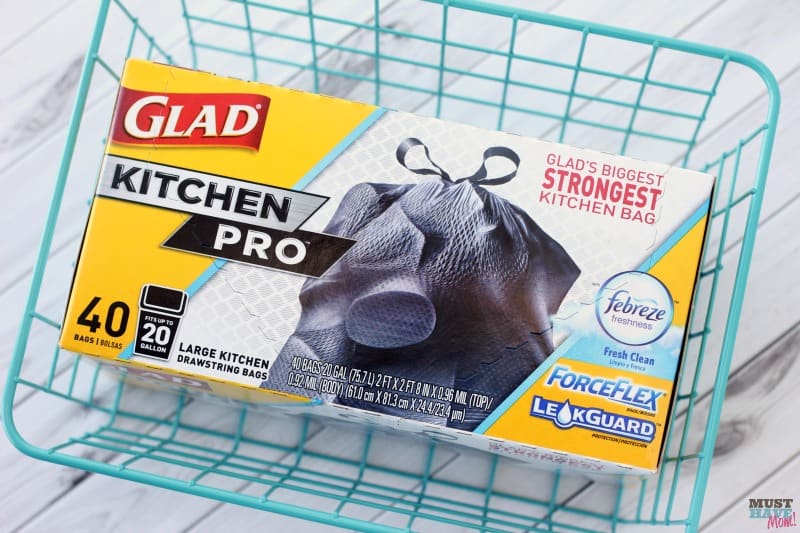 Black Garbage Bags
You might be wondering what black garbage bags have to do with anything. Let me enlighten you!! Every large family knows you go through a LOT of garbage. I'm pretty sure ours gets emptied once a day. I'm not sure where all this garbage magically materializes from but boy there is a lot of it. Large families know to use black kitchen bags because they are stronger and larger!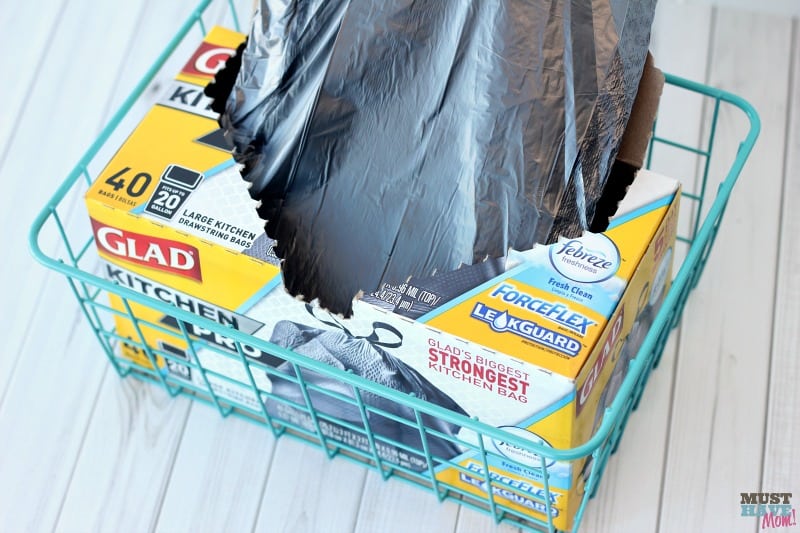 We use these Glad Kitchen Pro garbage bags. They fit in our kitchen garbage can and they are Glad's strongest bag. We haven't ever dealt with one ripping or leaking gross garbage juice on the floor. Plus they have Febreze to protect against stinky smells taking over your kitchen. They also have ForceFlex so you can really jam stuff in there and it won't rip the bag! We also love these black bags for cleaning out the kids closets when they've outgrown clothes and donating toys. Don't let stuff hang around, clean it out or donate it! These Glad black kitchen garbage bags are available at Target!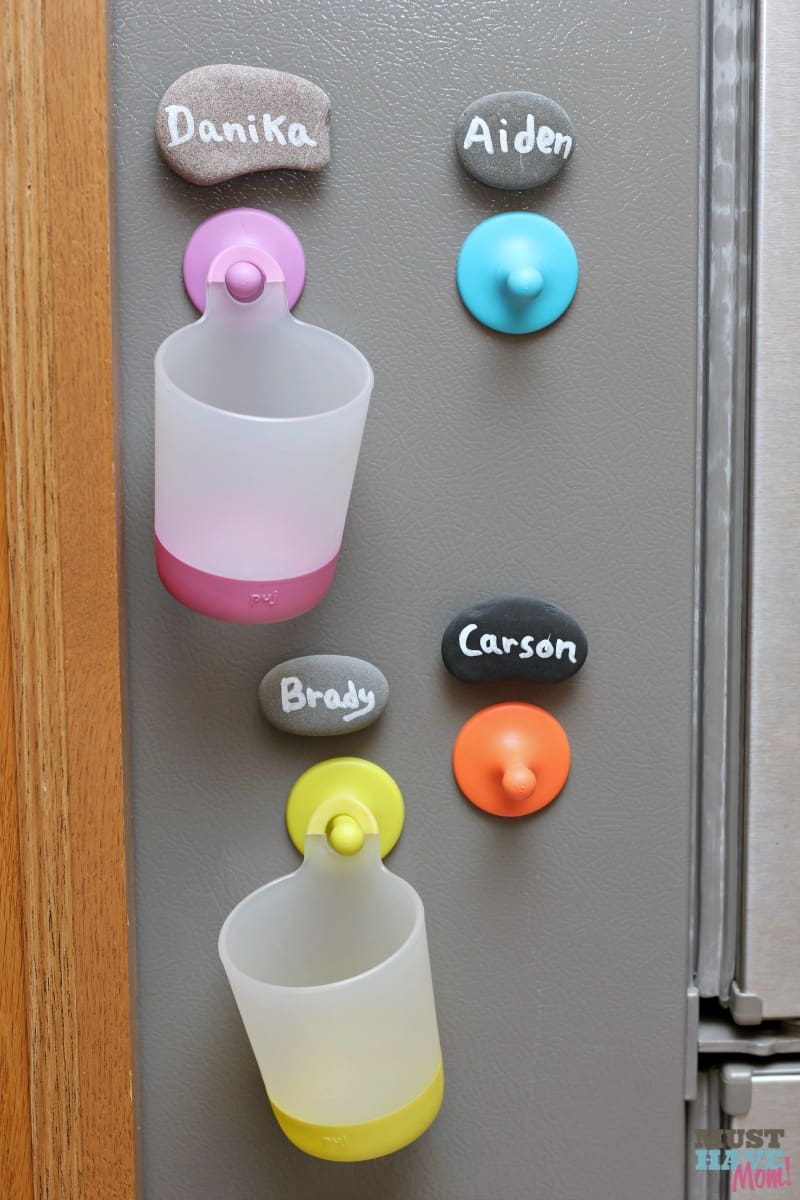 One Cup Per Kid Per Day
Do you have any idea how many dishes a family of 6 creates? It's ridiculous. To save myself some of those dishes I have learned to use these ingenious hooks and cups that hang on the side of our fridge. I put little rock magnets above each cup with the kids names on them (although they know them by color too). Make your own rock magnets by simply writing on a rock and attaching a magnet to the back!
Now each time your child uses their cup they need to rinse it and put it back. That means those 35668484383888 drinks they take each day only use one cup. Trust me this saves you a lot of dishes.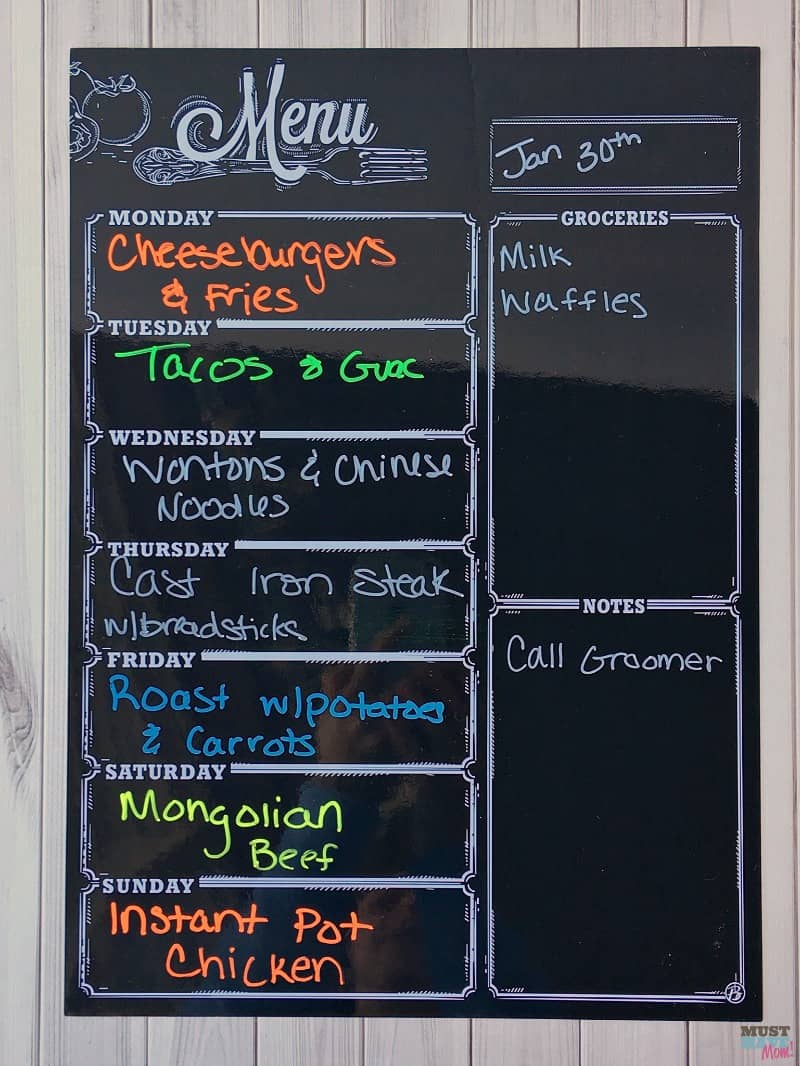 Menu Board
This is a snapshot of my menu board I have hanging on my fridge. I literally just snapped a picture of it so now you know what's on our menu plan for this week 🙂 Menu planning is critical to ensuring you are prepared to get dinner on the table each night. I grocery shop once a week on Mondays and get all my groceries for the week. I plan our menu ahead of time so I never have to worry about not having ingredients on hand. This saves you time and money because you'll cut down on added trips to the store and eating out. This also streamlines dinner time so it's not such a crazy rush!