This farmhouse bedroom is one of my favorite makeovers because I get to retreat to it each night and unwind after a busy day! Grab some farmhouse bedroom ideas for a modern farmhouse bedroom makeover and create your own relaxing space to return to each night!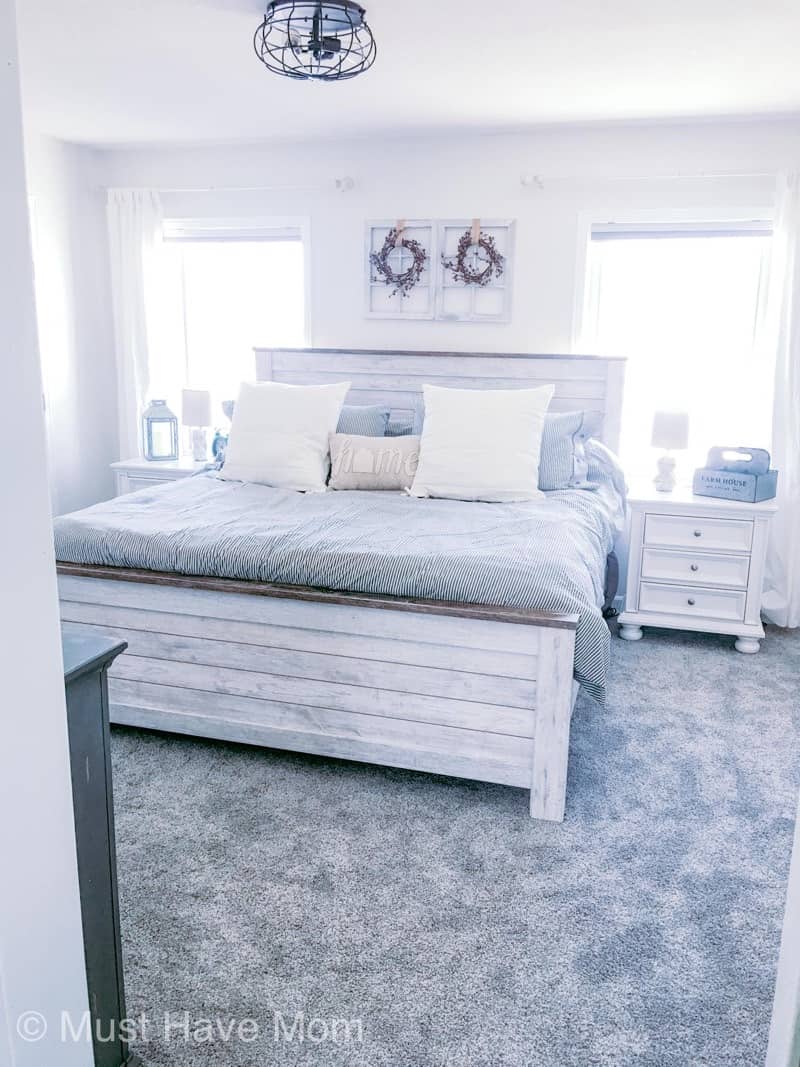 If you've been craving a gorgeous master bedroom to retreat to, then I've got everything you need to create your own DIY makeover! Ours turned out beautiful and it's so relaxing. I'll show you exactly how to DIY your own! This is part 2 in my master bedroom makeover series. Read part 1 of my farmhouse style bedroom makeover.
Farmhouse Bedroom
Anyone that's visited Must Have Mom before probably knows how much I love farmhouse style decor. You can check out my popular RV makeover or my farmhouse bathroom makeover to see some of my farmhouse DIY projects. My master bedroom has been on the list of makeover projects for a while now and I finally got it done and the end result is nothing short of gorgeous. I finally have a place of my own to retreat to and unwind. A place my mind can be at peace and I can truly relax. Want that kind of space for yourself? I'll show you everything you need to do to recreate the space in your own home!
We did this makeover on a budget, as we always do, so pick and choose the pieces that work for you! Remember you can always do a makeover on existing furniture as well. Here is a quick before picture to show you just how far we have come with this makeover!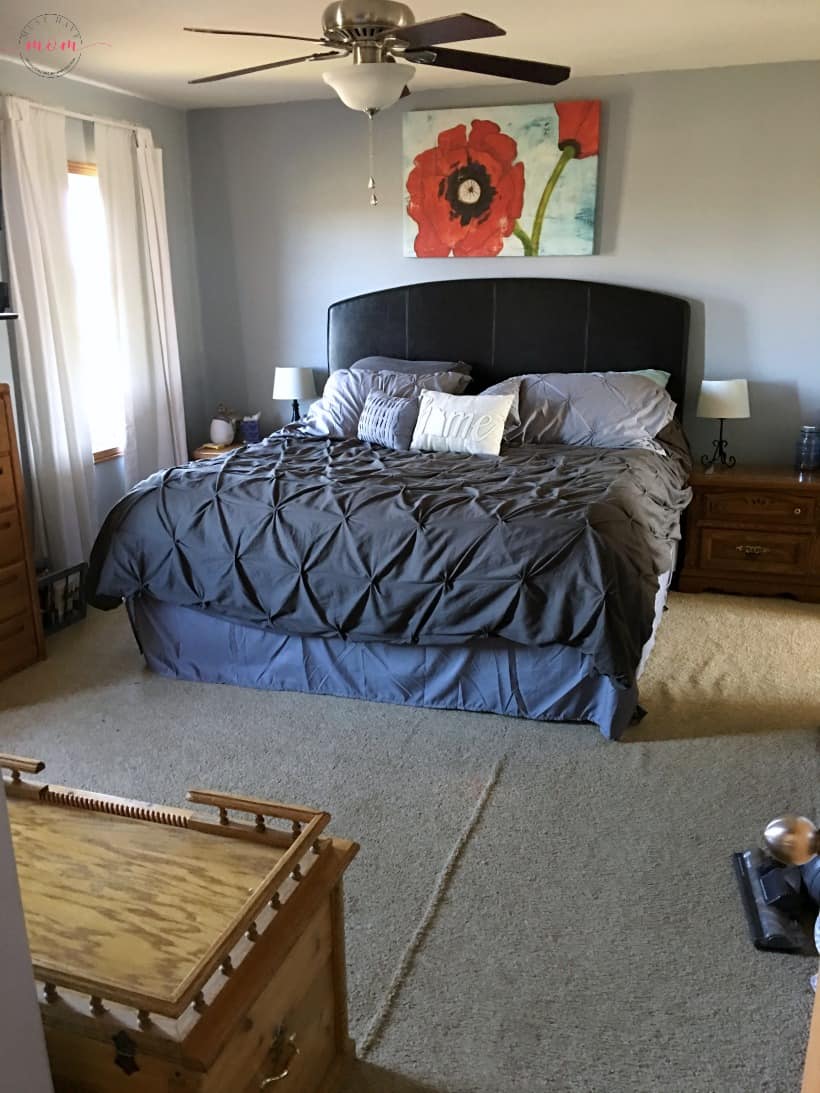 When we started this makeover one thing I noticed was that the layout of our room was all wrong. We ended up moving the bed off this wall and onto the wall to the left, between the windows. When you start your makeover make sure you are thinking about functionality and the best layout for furniture. This will also help you to determine which furniture pieces you need and don't need/have room for.
There is a lot wrong in this room so I'll just give a quick rundown of areas that I chose to focus on. The carpet was old and buckling so we replaced that (read about the hypoallergenic carpet we chose here). Fixed the layout. Changed the mismatched furniture which we had collected along the way after our marriage. Bring light into the dark room. Paint walls and trim. Get rid of the ugly ceiling fan. Now let's show you how we remedied these pain points!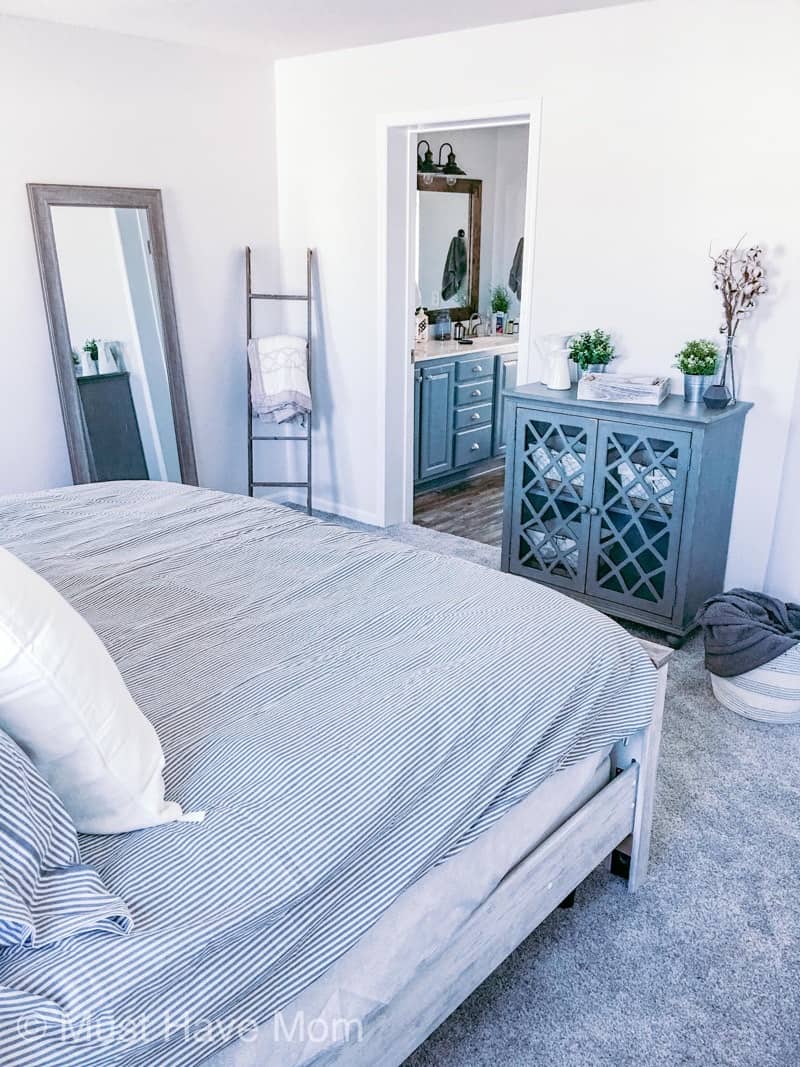 As you can see we also did a makeover on our master bathroom which you can see in this farmhouse style bathroom post.
Farmhouse Bedroom Ideas
When planning your farmhouse bedroom makeover you'll want to plan for furniture and decor. We will start with my favorite furniture picks from this makeover!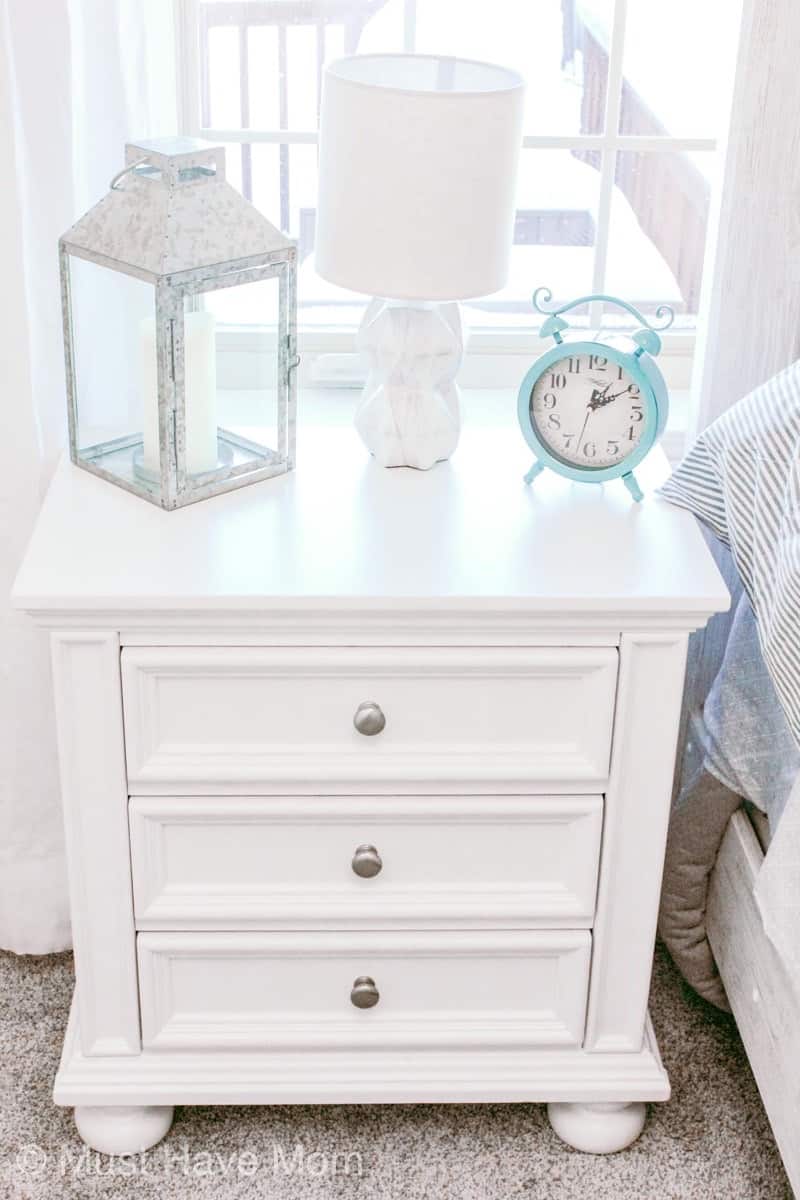 My bed set is from Ashley Furniture. I got the headboard, footboard and side panels for the bed. I decided not to get the matching nightstands and dresser because I don't like furniture to be too "matchy". Instead, I ordered these white nightstands from Wayfair to go with the Ashley Furniture bed. They are really well made and solid. They even came assembled! The drawers slide nicely and I've been very impressed with the quality of these nightstands.
I got the galvanized lantern for under $10 at Walmart, the whitewashed wood lamps from Walmart as well, along with the table clock.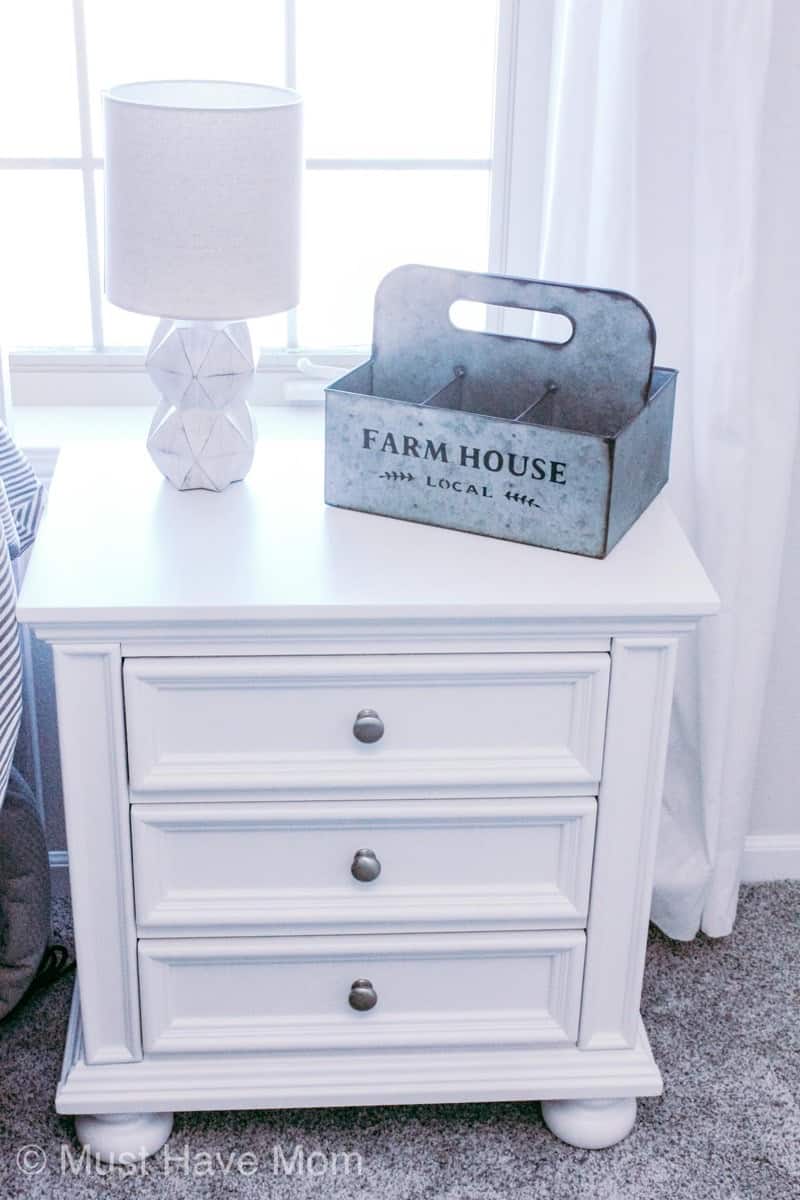 On my husband's side of the bed I added this metal farmhouse caddy from Hobby Lobby to organize all his junk in a pretty way!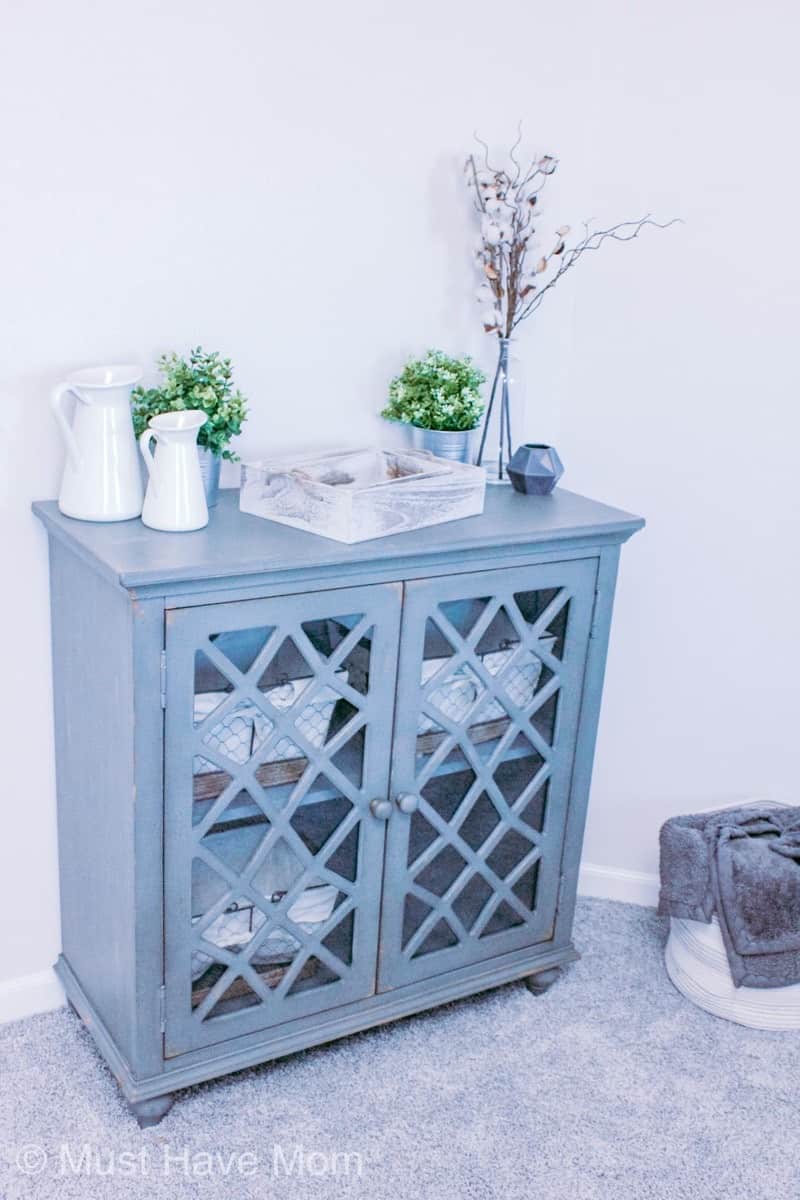 On the wall opposite our bed I found this really cool cabinet at Furniture Mart on clearance. I added these chickenwire baskets inside to hide our stuff and organize it.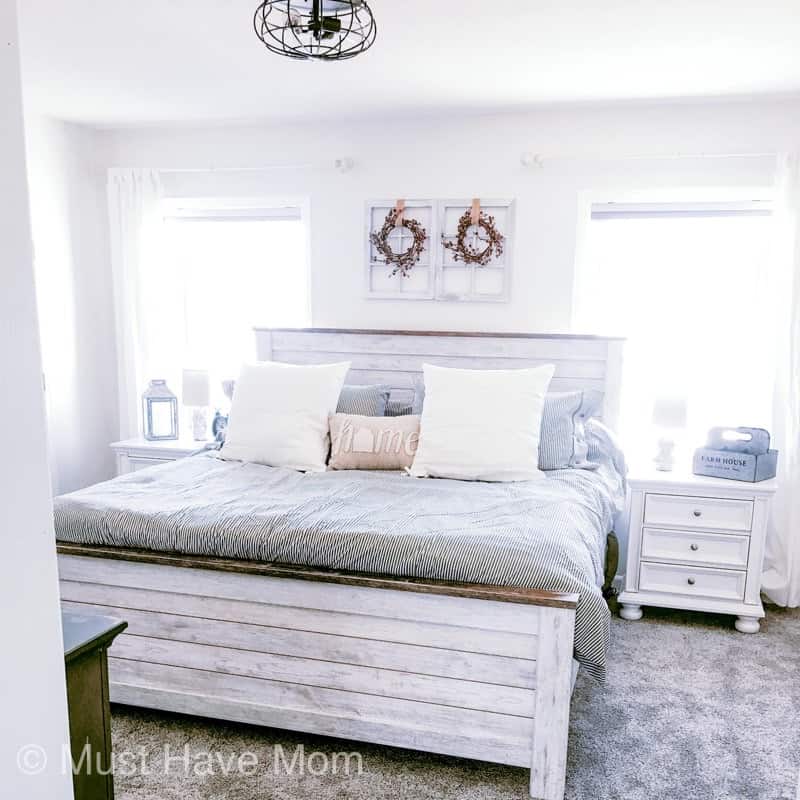 The bedding is a duvet from Ikea which I stuffed our old comforter into. Money-saving hack – don't change the whole bedding set – just get a new duvet!
The large white pillows also came from Ikea and the Home pillow is from Walmart.
Farmhouse Bedroom Decor
Once you get your big pieces of furniture chosen, then the farmhouse decorating begins. That is my favorite part!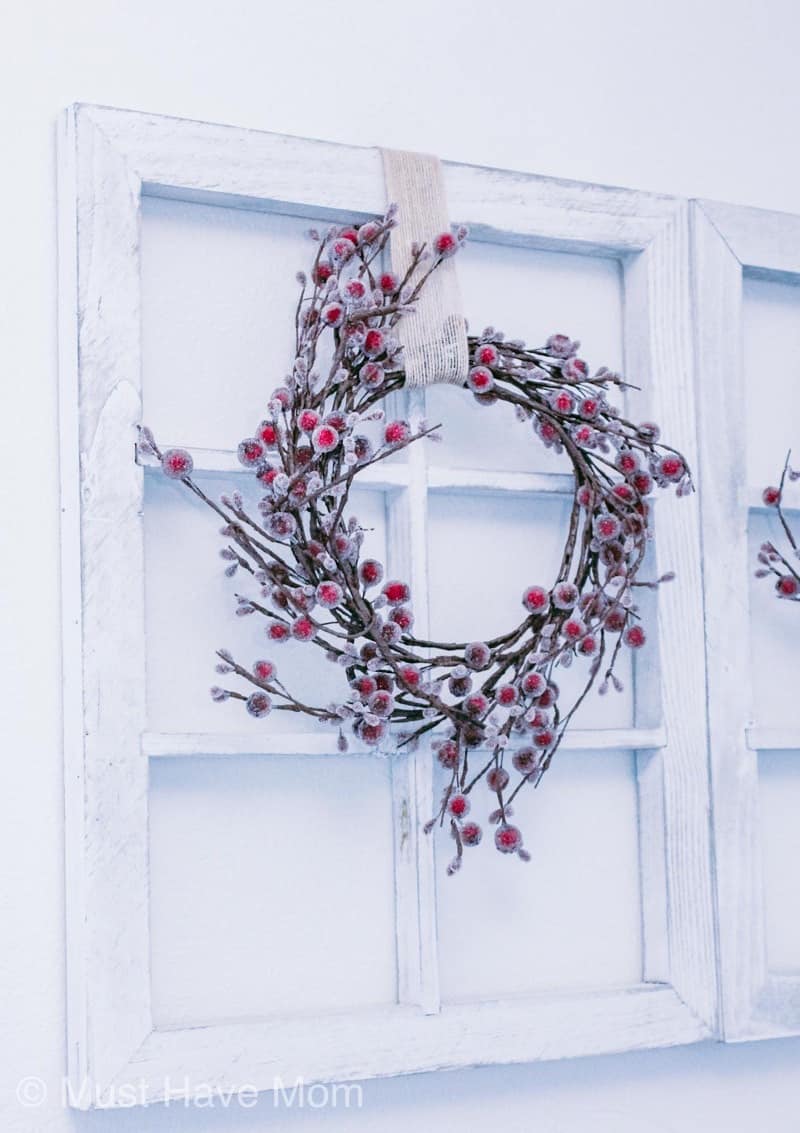 Over the bed I combined two white, wood windowpanes from Walmart with two little wreaths I found on clearance. Added some burlap ribbon and glued them in place on the backside of the window frames.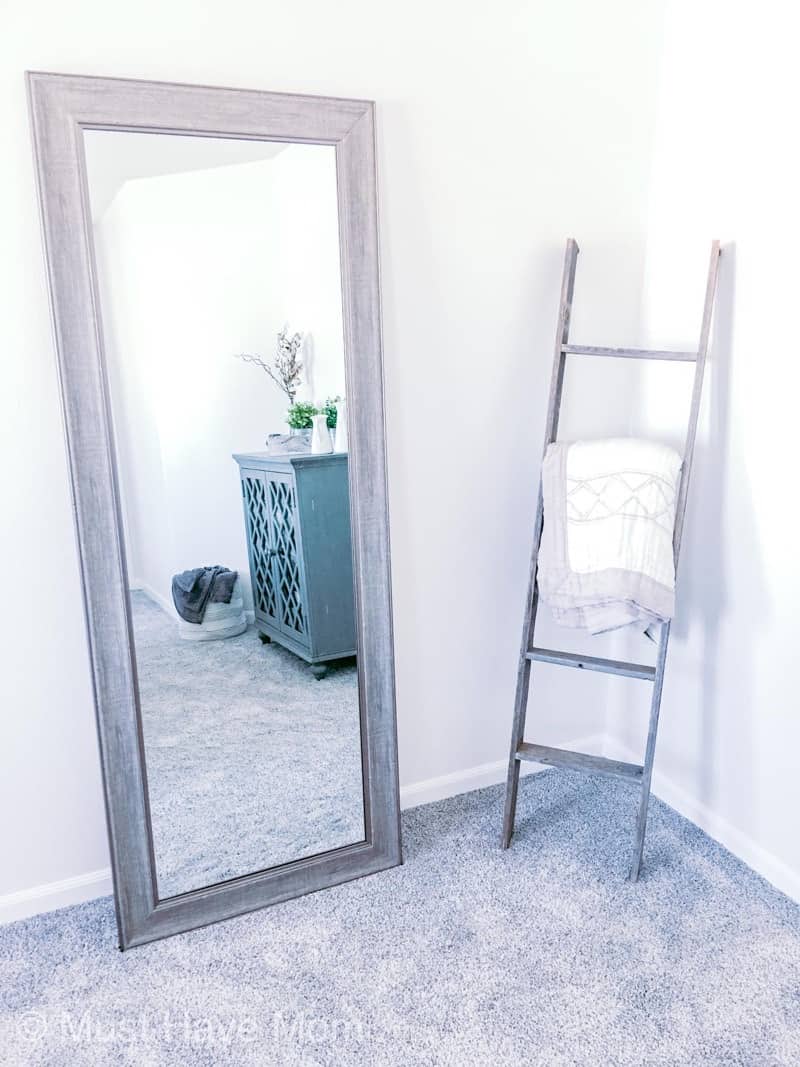 In the corner of my bedroom, I added a full-length leaner mirror along with this blanket ladder to create a cozy corner that provides functional storage as well. The blanket is from aden + anais.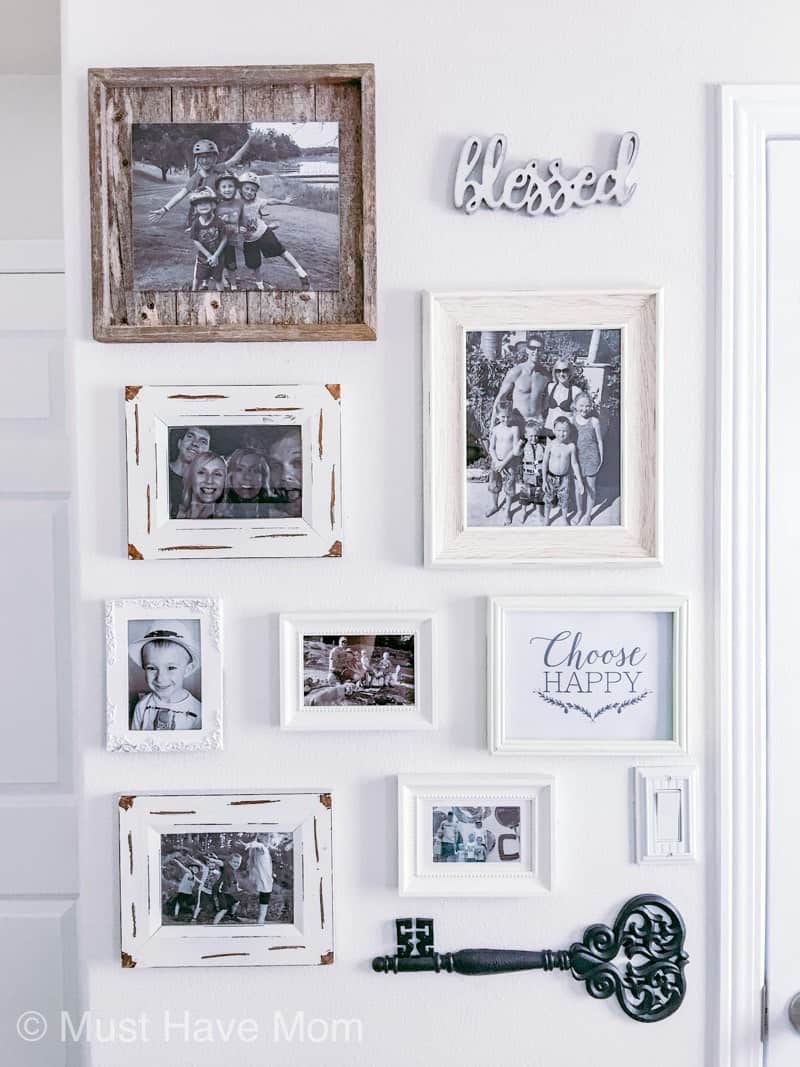 I created a gallery wall of photos on the narrow wall between my bedroom door and closet door. I included a variety of picture frames along with this key and blessed sign. I printed all of the photos in black and white and love the way it turned out.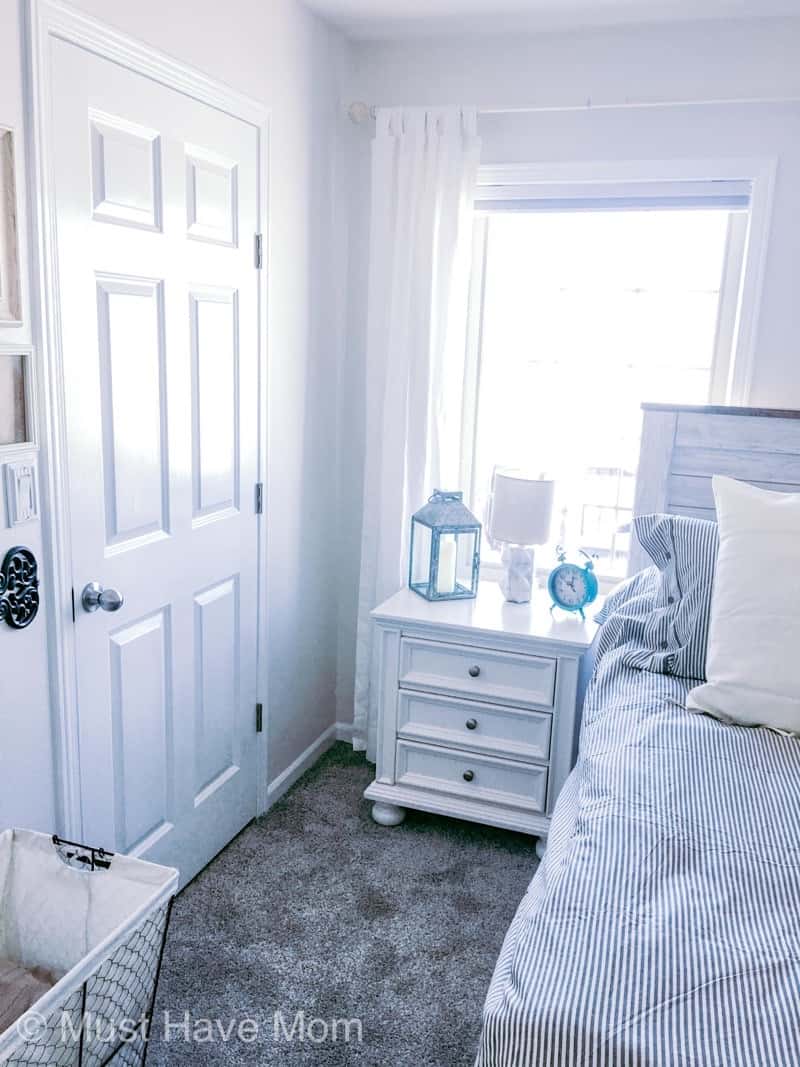 Over the set of windows, I added this curtain rod and hung it high up on the wall to help elevate the eye and make the room look taller. I went with white tabbed curtains on each window. I put one pane on the left and one pane on the right to allow maximum light in and not interfere with the headboard.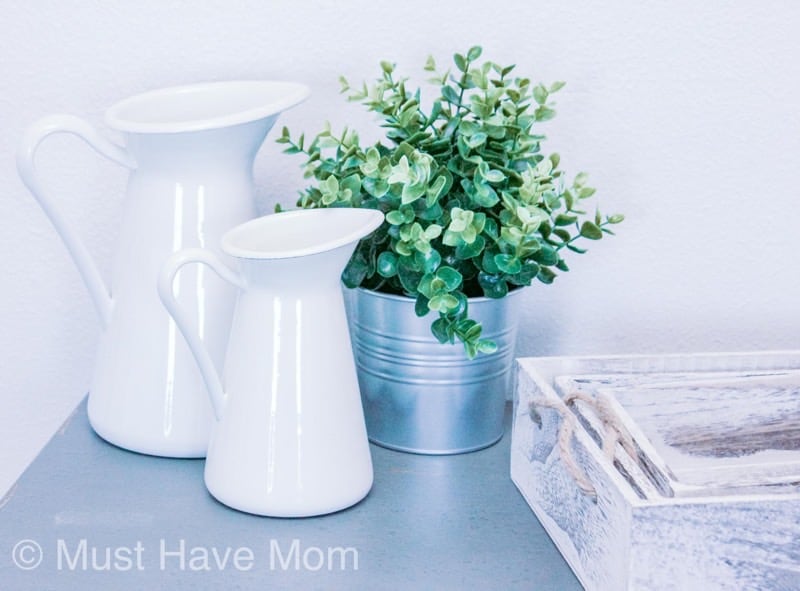 On top of the cabinet, I added two white pitchers from Ikea and a metal potted faux plant (also Ikea). These white wood trays are perfect for using in bed if you have a cup of coffee or a snack and want somewhere to set it!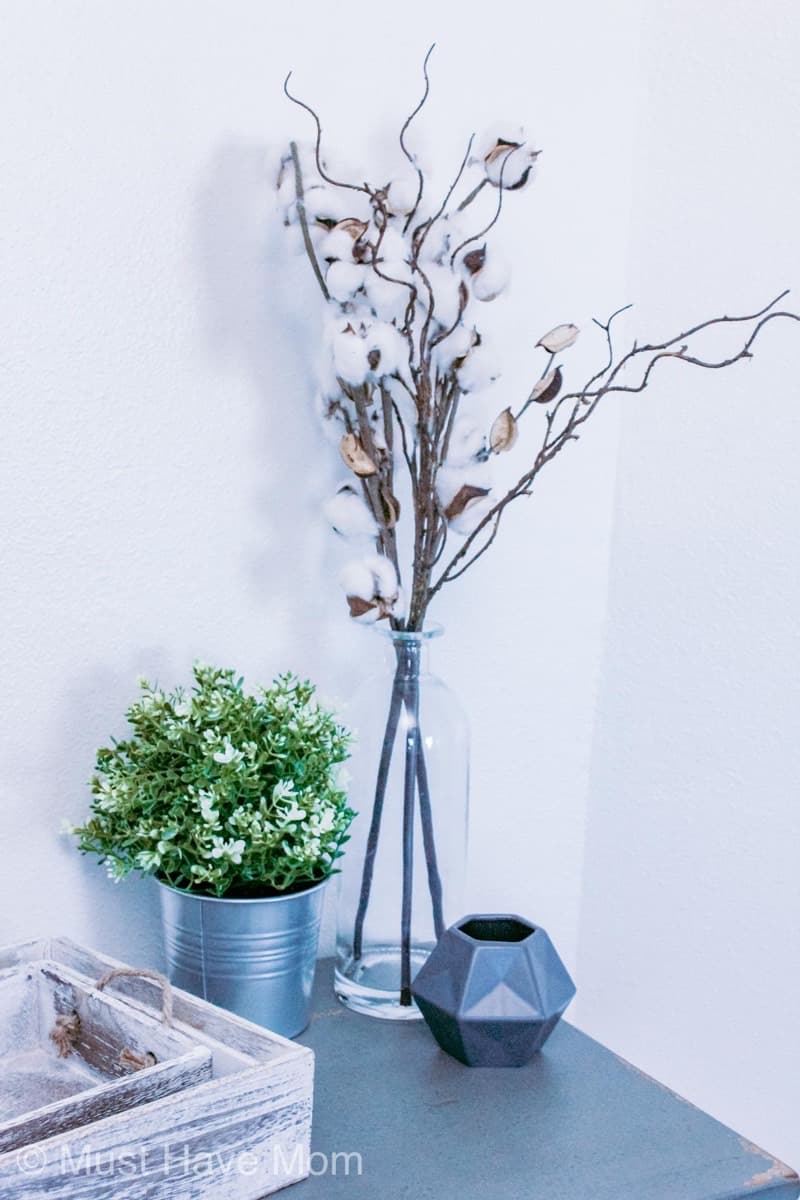 I also added in this cotton stem vase from Hobby Lobby.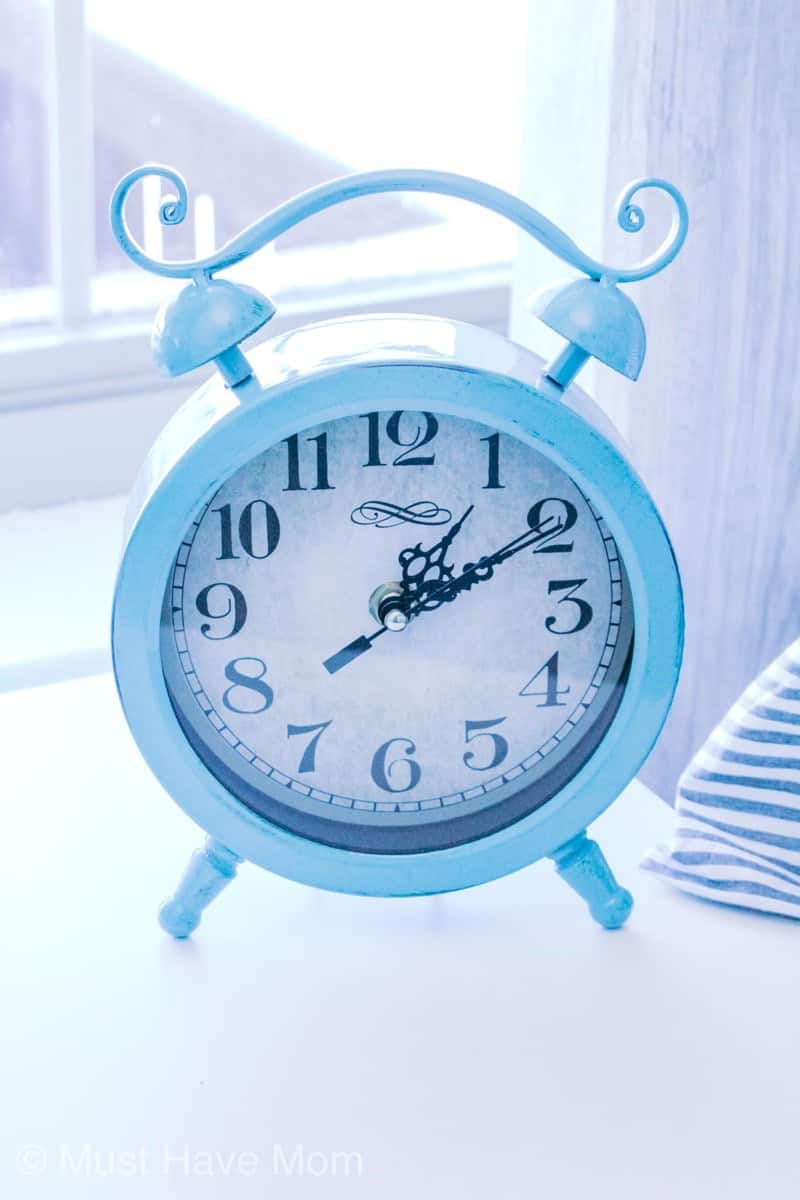 There are about a million ways you can decorate a farmhouse bedroom. I hope this little tour of my own modern farmhouse bedroom makeover helps inspire you as you create your own welcoming bedroom!
Pin Farmhouse Bedroom
We love when you pin our posts for later!