Farmhouse Style Fixer Upper Bathroom On A Budget
Want to get that beautiful farmhouse style fixer upper bathroom but don't have the cash for a major bathroom remodel? I'll show you how I transformed my builder-grade bathroom into a beautiful fixer upper style bathroom on a very tight budget! Thanks to Lowe's for sponsoring this post so I could bring you fantastic farmhouse style bathroom ideas!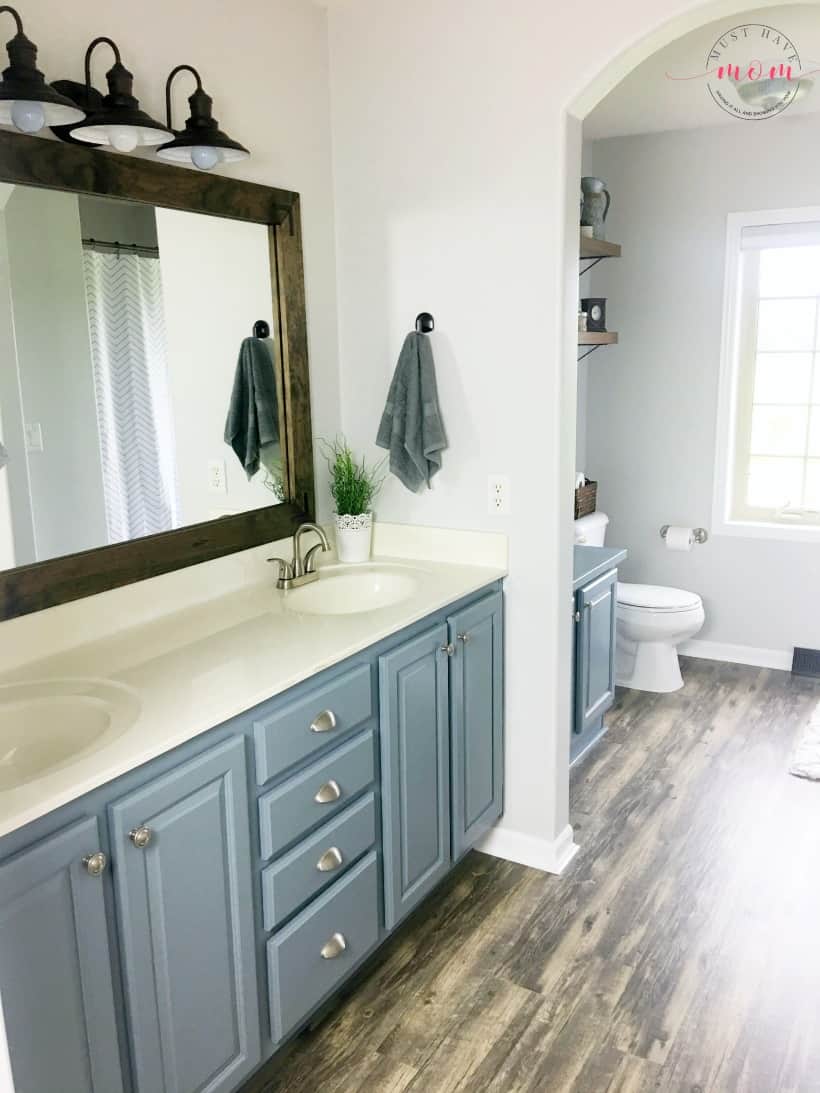 Remodeling your bathroom will typically set you back upwards of $10,000 to $20,000 or more. Bathrooms and kitchens tend to be the most expensive rooms to remodel, but they also add the most resale value to your home. Good news! This bathroom remodel will cost you well under $1,000 and will look like you spent a fortune. I'll show you exactly how I transformed my bathroom from builder-grade boring to farmhouse style fixer upper chic so you can achieve the same look!
Fixer Upper Bathroom Live Tour
First let me give you a LIVE tour of my newly made-over farmhouse bathroom. I'm SO excited to show it to you! Then, after you watch be sure to scroll down and see exactly what colors, materials and supplies I used to complete this transformation!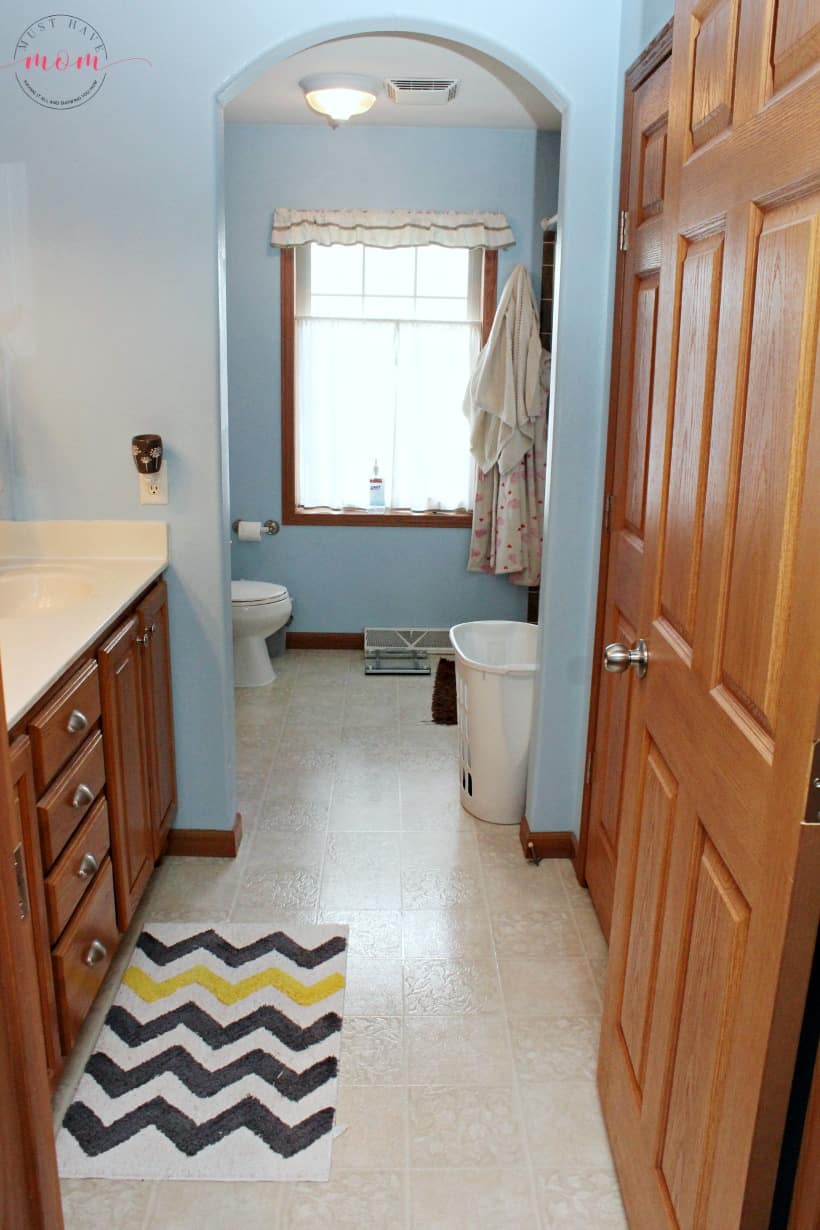 Farmhouse Bathroom Before & After
Ready to get out of the heat and enjoy some AC while you makeover your bathroom? Join me and let's do this! My bathroom started out with run-of-the-mill oak cabinets, ugly linoleum flooring, a builder-grade, plain Jane mirror and blue walls. I hadn't done a thing to this bathroom since we bought the house 5 years ago. I couldn't wait to put my own style into it.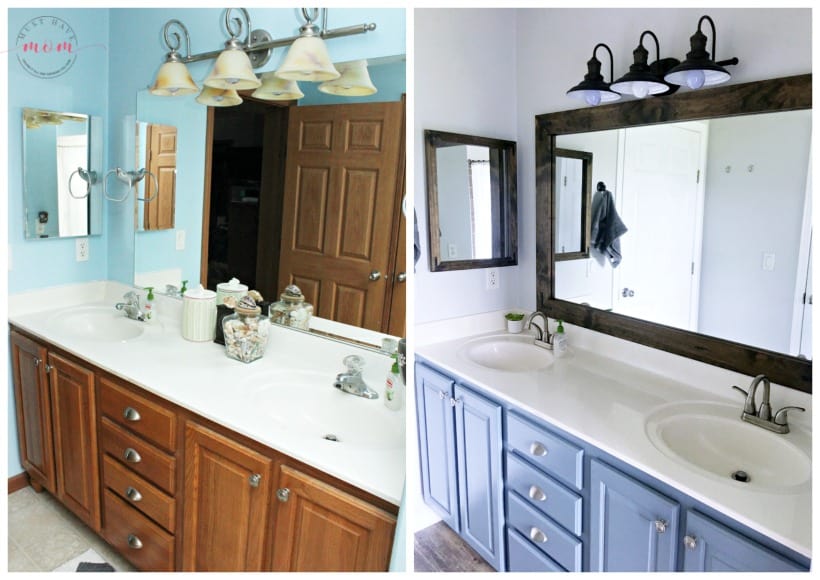 When planning out my fixer upper bathroom I knew I wanted to incorporate my favorite farmhouse style finds with functionality. I also knew I wanted my budget to stay below $1,000. That meant getting creative and shopping for everything I'd need at Lowe's. Not only have I found their quality to be superb, but I have also found they have the best selection for the farmhouse style I was looking for.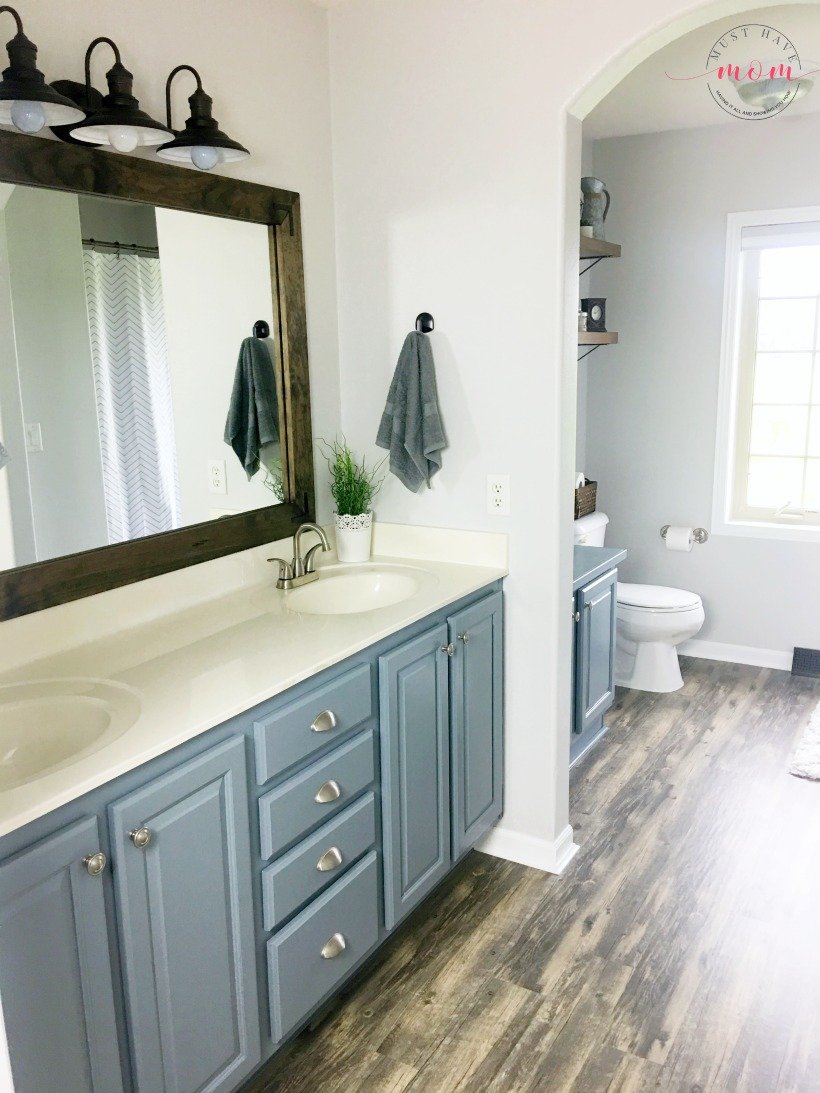 First I planned out my farmhouse style color palette. I chose seashell gray for the walls, bright white for the oak trim and doors, and Sharkfin for the vanity and cabinets.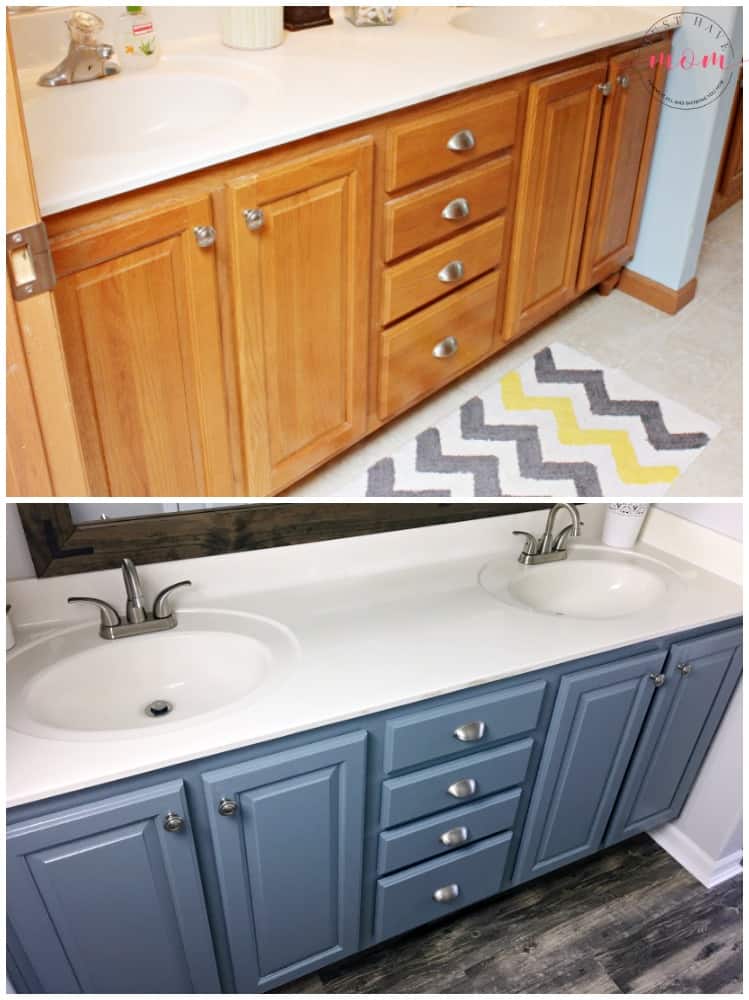 I bought a cabinet enamel paint for the vanity and cabinets. I planned on using the same hardware on my cabinets. I removed the hardware before painting them. I then primed them with a bonding primer and painted them with enamel cabinet paint in Sharkfin.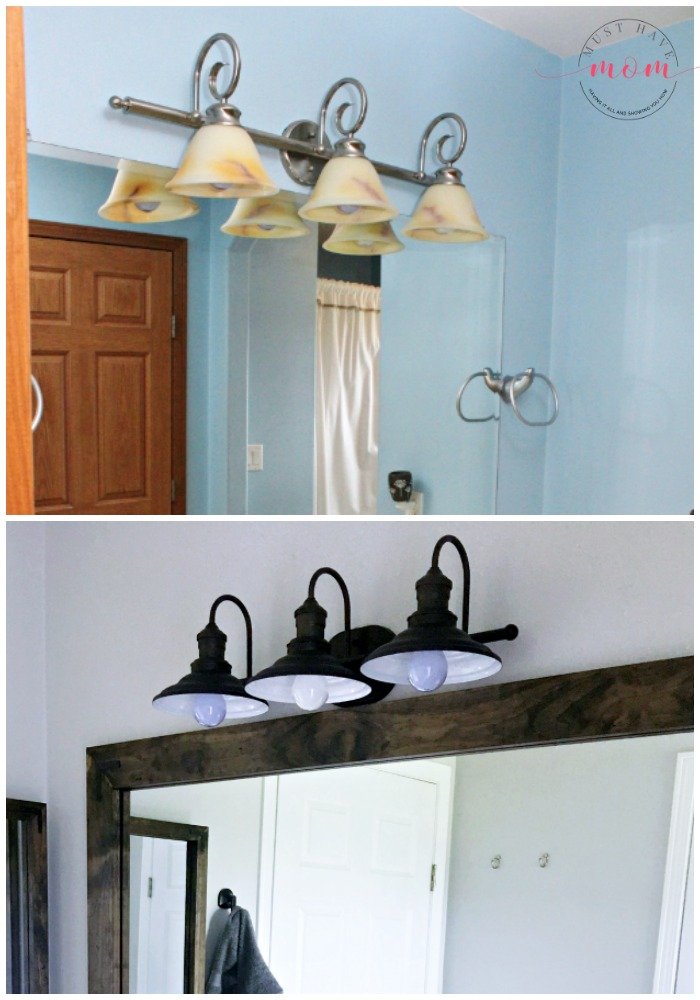 In looking at the vanity, I knew the light fixture would need to be replaced. I went with this farmhouse style vanity light fixture that was under $100. I LOVE the look!!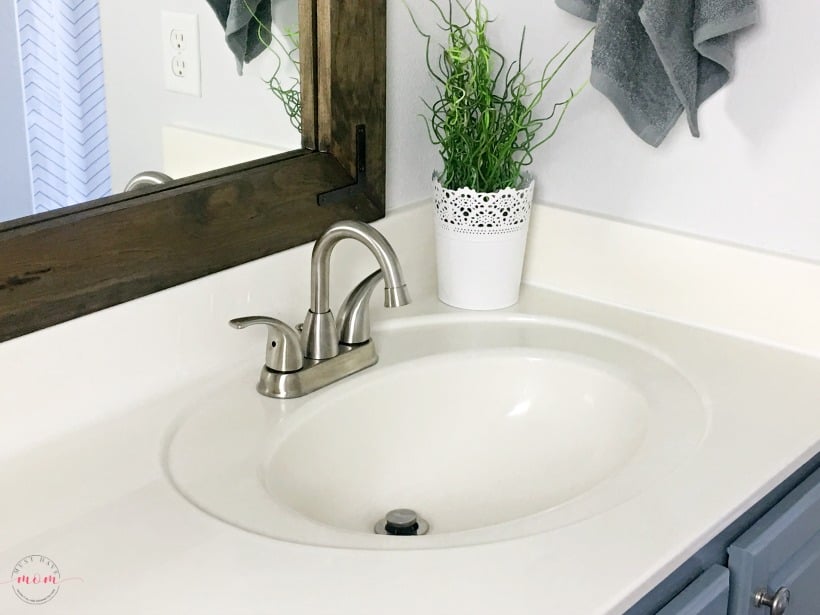 I also upgraded the faucets in our double sinks. The bathroom faucets we had reminded me of cheap hotel faucets and I've hated them for five years. I couldn't wait to change them out. I chose a budget-friendly Peerless Brushed Nickel faucet.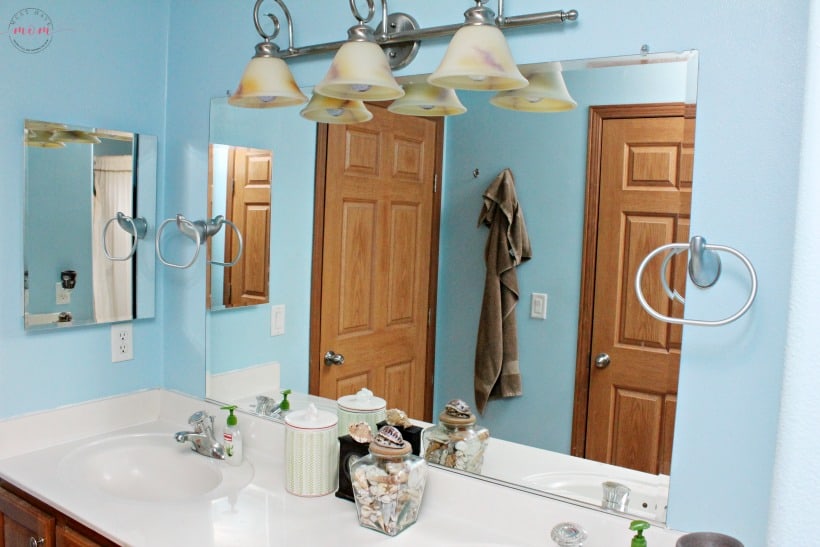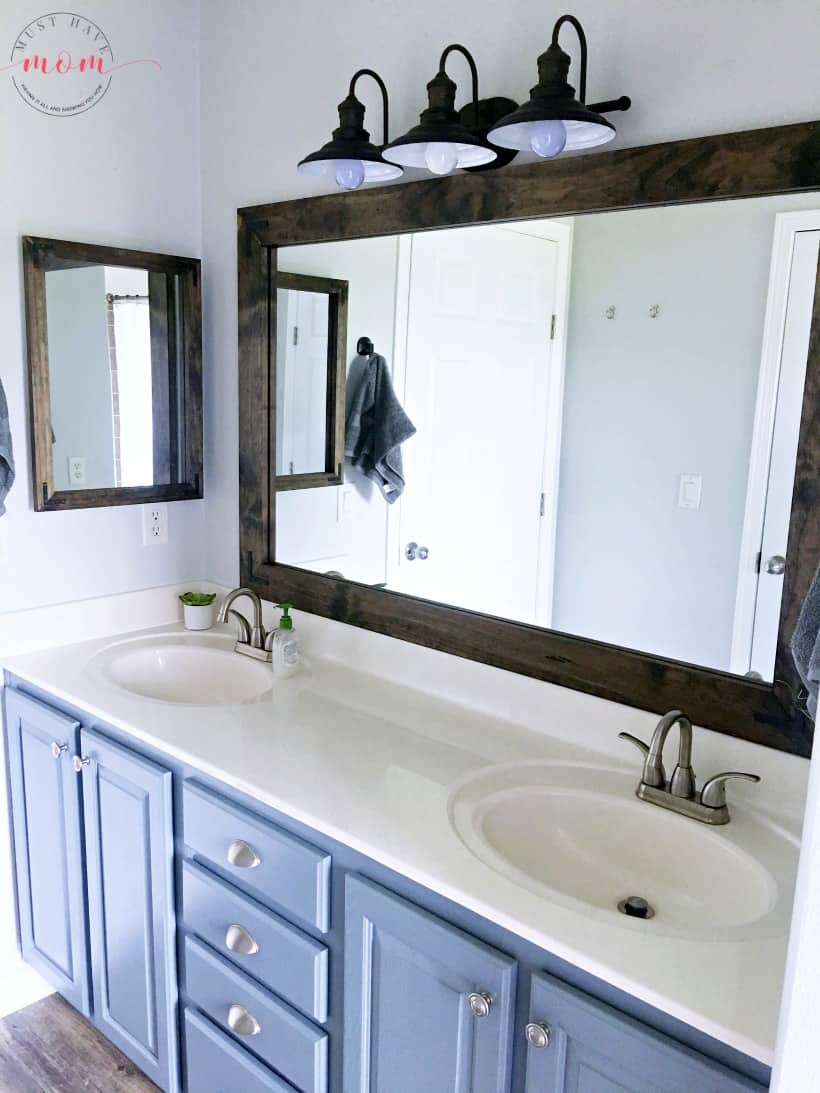 I knew I wanted to transform my builder-grade mirror into a stunning piece that stood out. By adding a simple pine frame to the mirror I was able to achieve this major transformation for around $50! Can you believe that?! It turned out beautifully and I couldn't believe the huge difference it made in the overall look of the vanity (rustic diy vanity mirrors tutorial).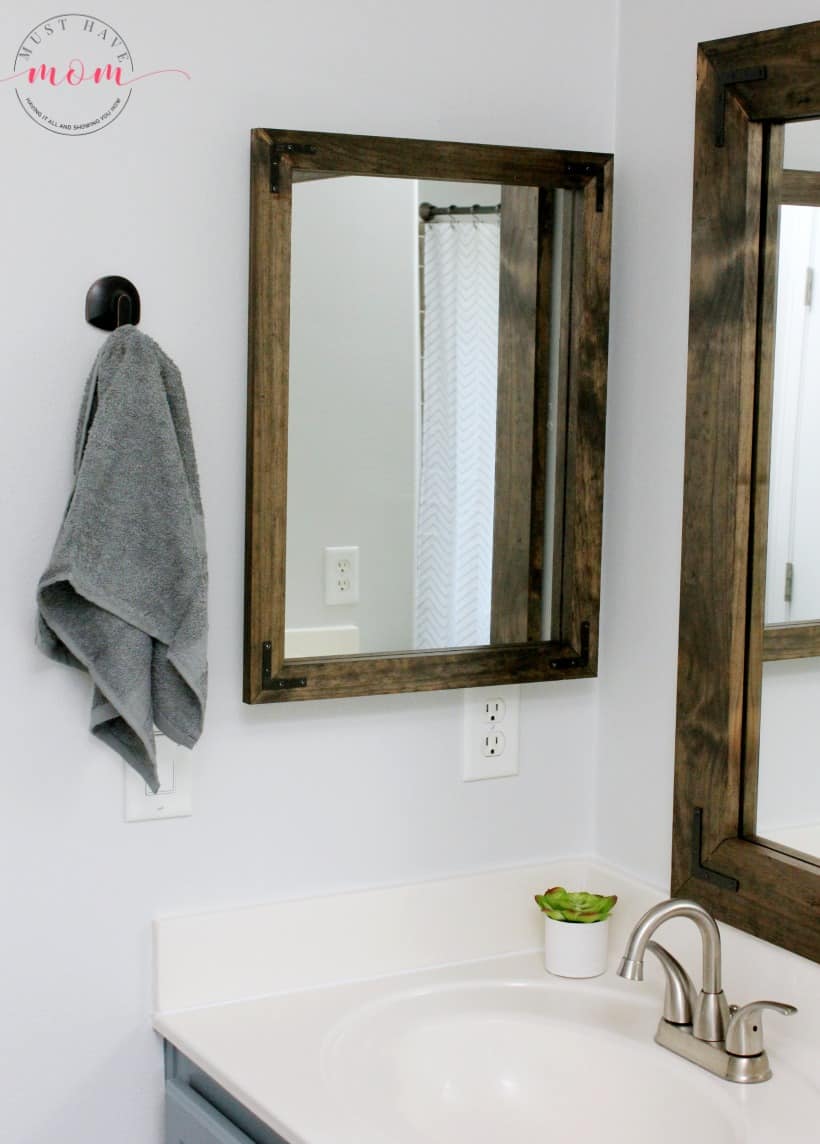 I did the same thing on the medicine cabinet. You'll just need some pine boards, corner brackets and stain (all was found at Lowe's). Get the instructions for the rustic mirror frame right here!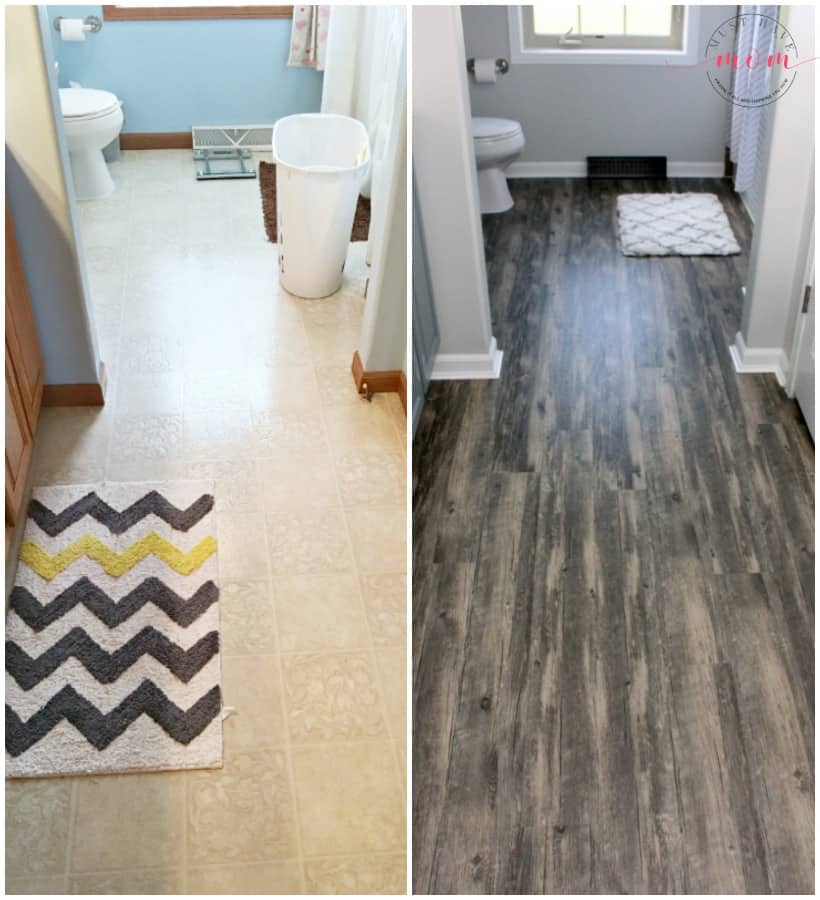 Flooring makes a HUGE difference in the overall look of a room. The flooring was the last major piece of our fixer upper bathroom makeover and it made the whole look come together. I couldn't wait to kiss the laminate flooring goodbye and install this gorgeous barn wood-looking flooring. I chose vinyl plank flooring in an Ashville Pine color. We were able to install it over our existing laminate flooring which saved us the work of ripping it out. I love that the flooring has the hammered/weathered look and feel of barn wood.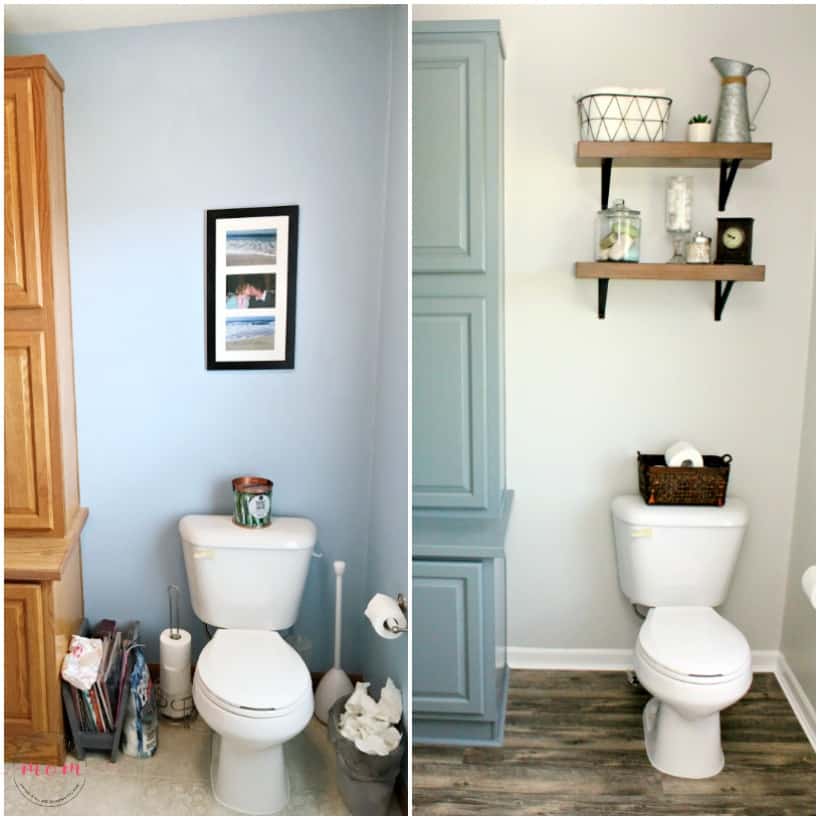 We also installed rustic shelves over the toilet. I filled the shelves with a mixture of textiles to give it the farmhouse style feel I was going for. By using glass, metal, wood, and fabric you can achieve a beautiful fixer upper style shelf.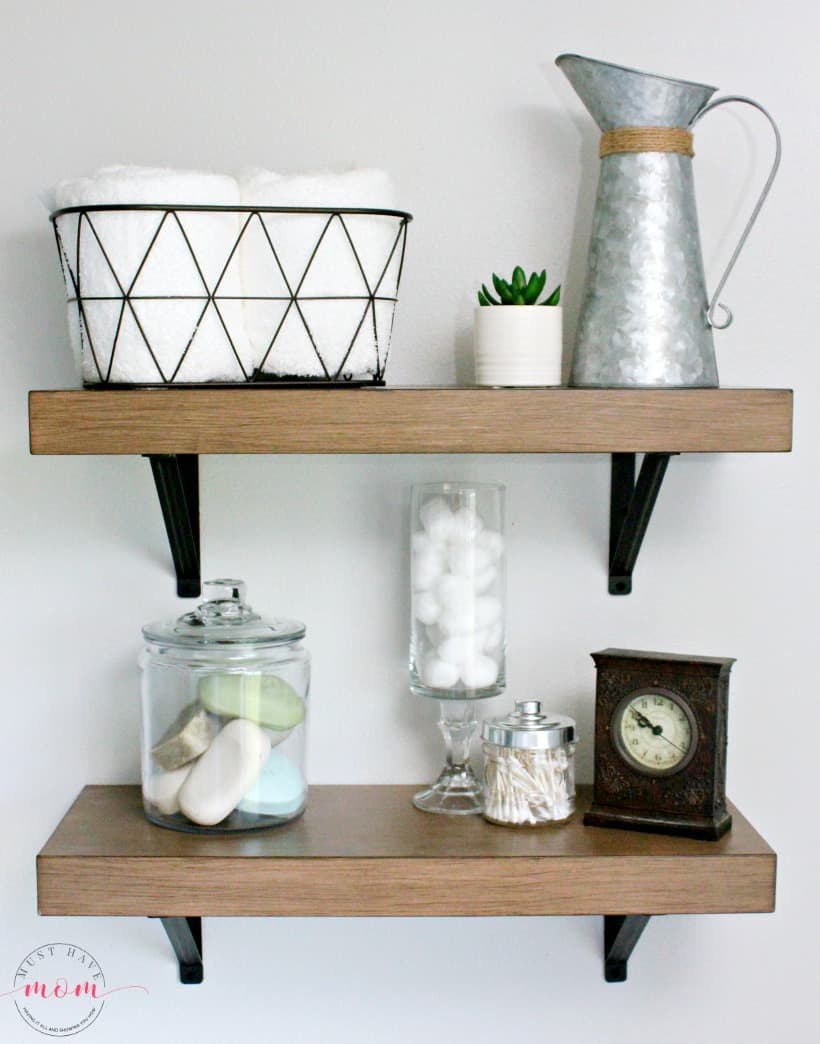 I topped the wood shelving with glass jars filled with soap, cotton balls and Q-tips and added a metal basket with rolled towels in it. By adding a little greenery and a galvanized metal pitcher I was able to complete the look.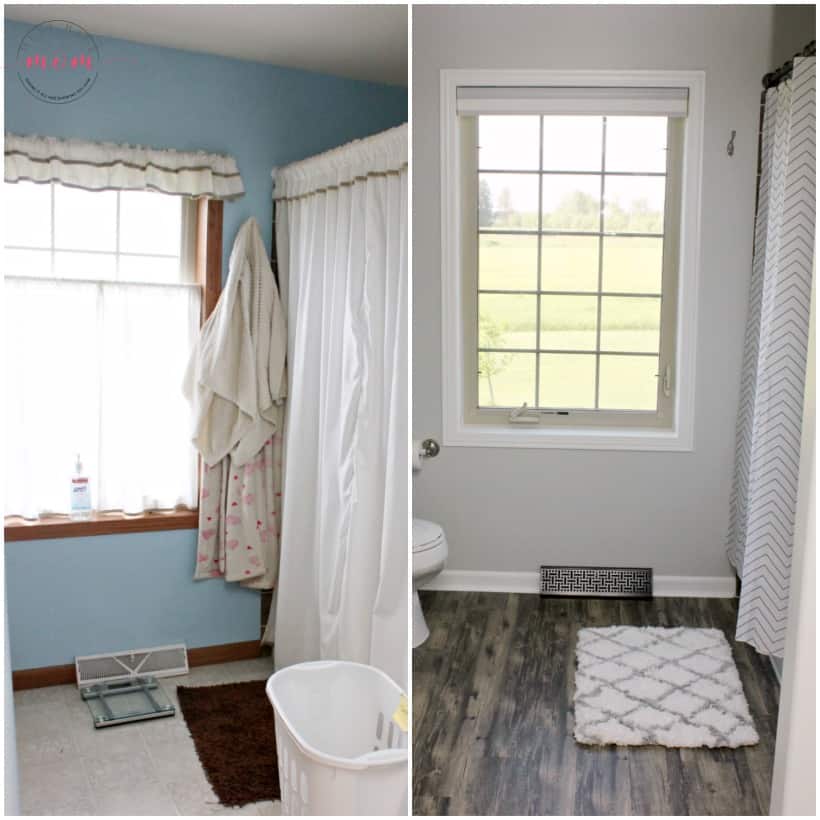 I also mixed metal finishes by using oil rubbed bronze and brushed nickel. I left the existing brushed nickel hardware on the cabinets and the bath hooks. I added an oil rubbed bronze shower curtain rod, hand towel hooks and an air vent cover.
Pin this DIY Fixer Upper Bathroom: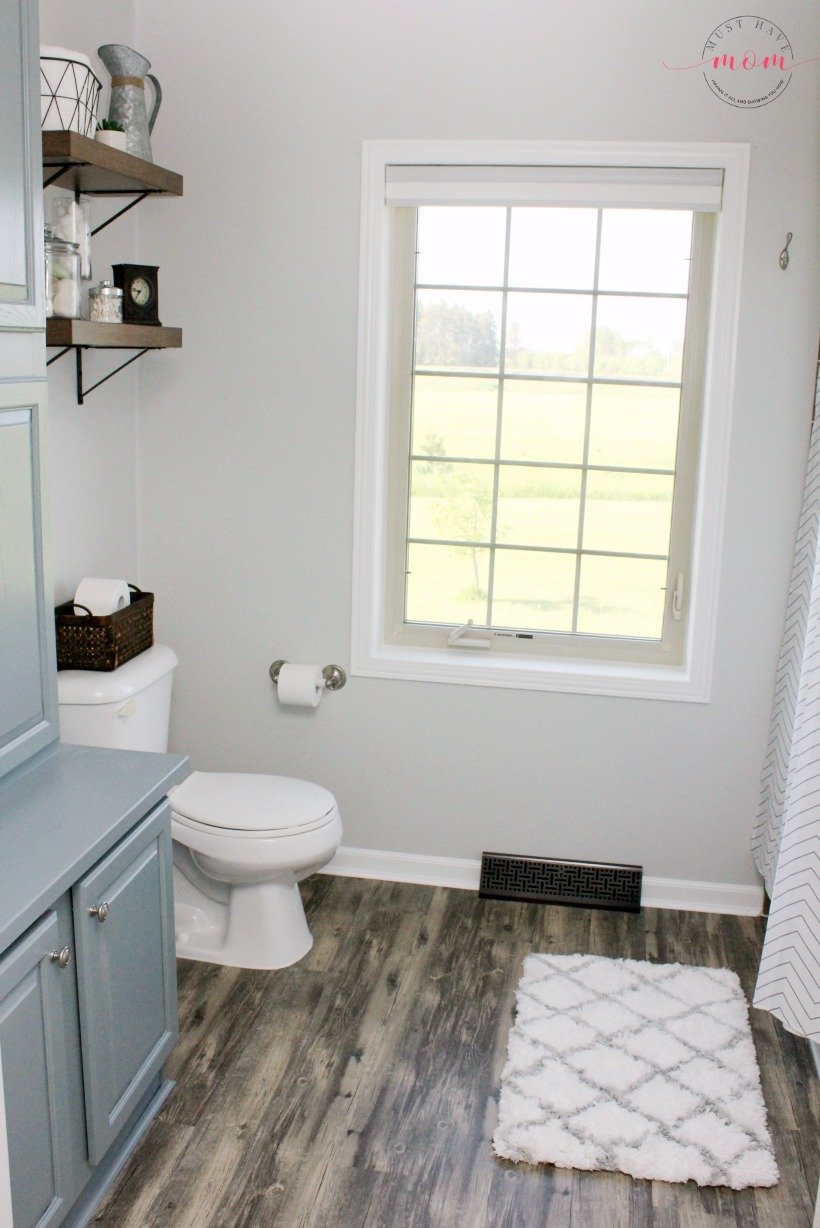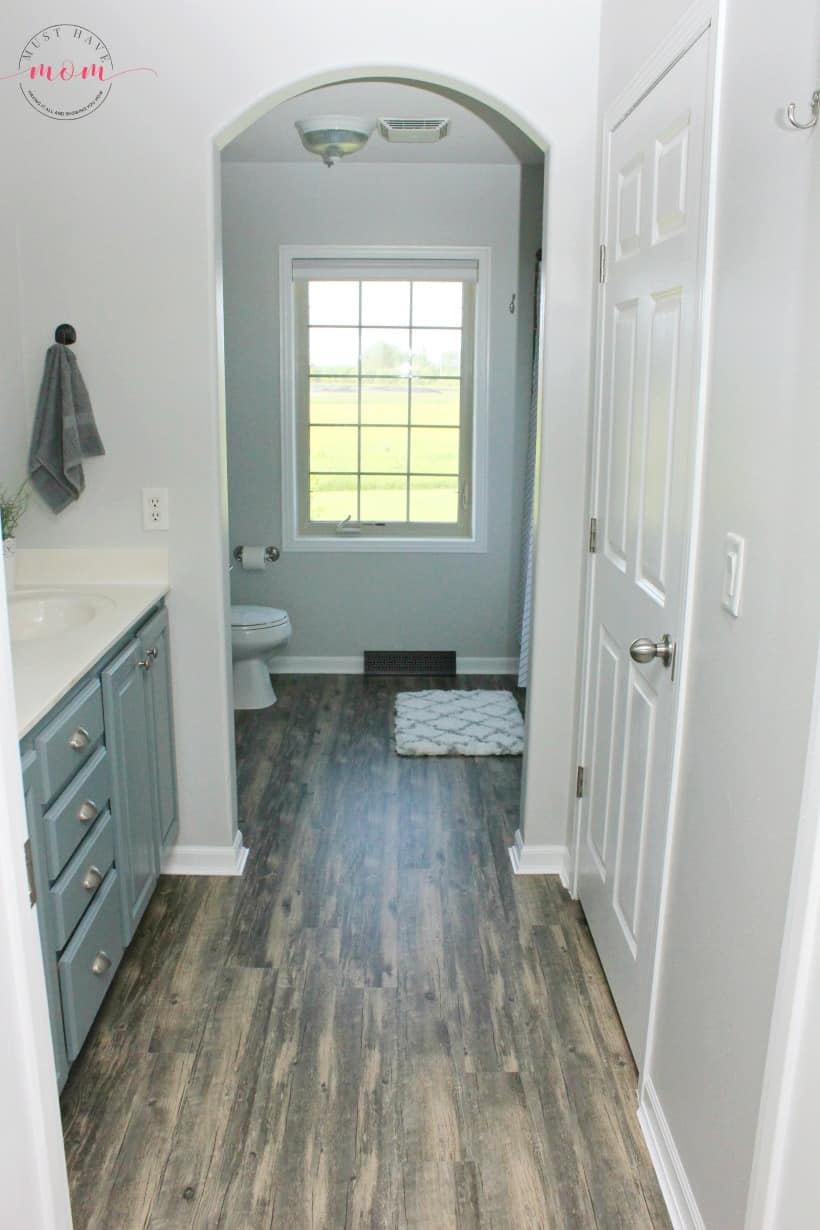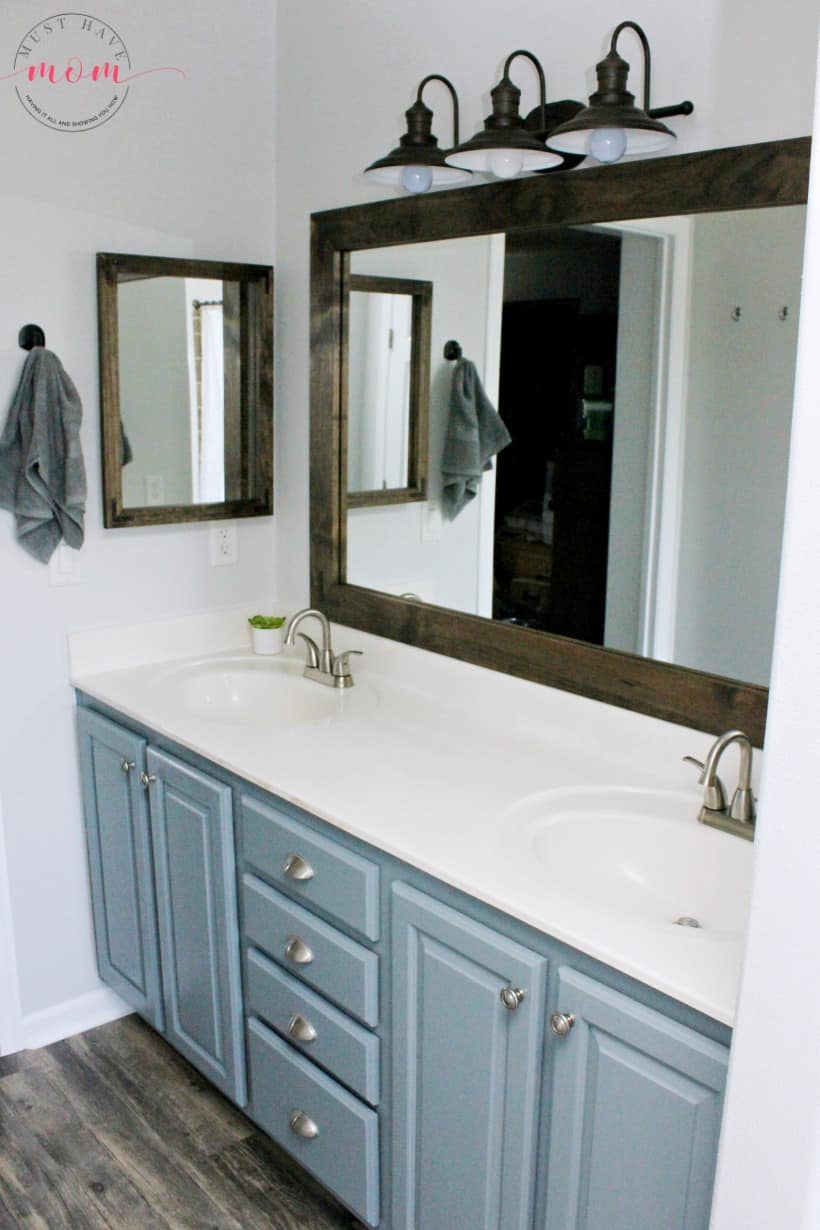 You can find everything I used to complete this DIY farmhouse bathroom on a budget at Lowe's!

*This is a sponsored post written by me on behalf of Lowe's.