This boho bedroom makeover was SO much fun and wasn't crazy expensive. It makes for a cozy boho bedroom that has a boho farmhouse bedroom vibe.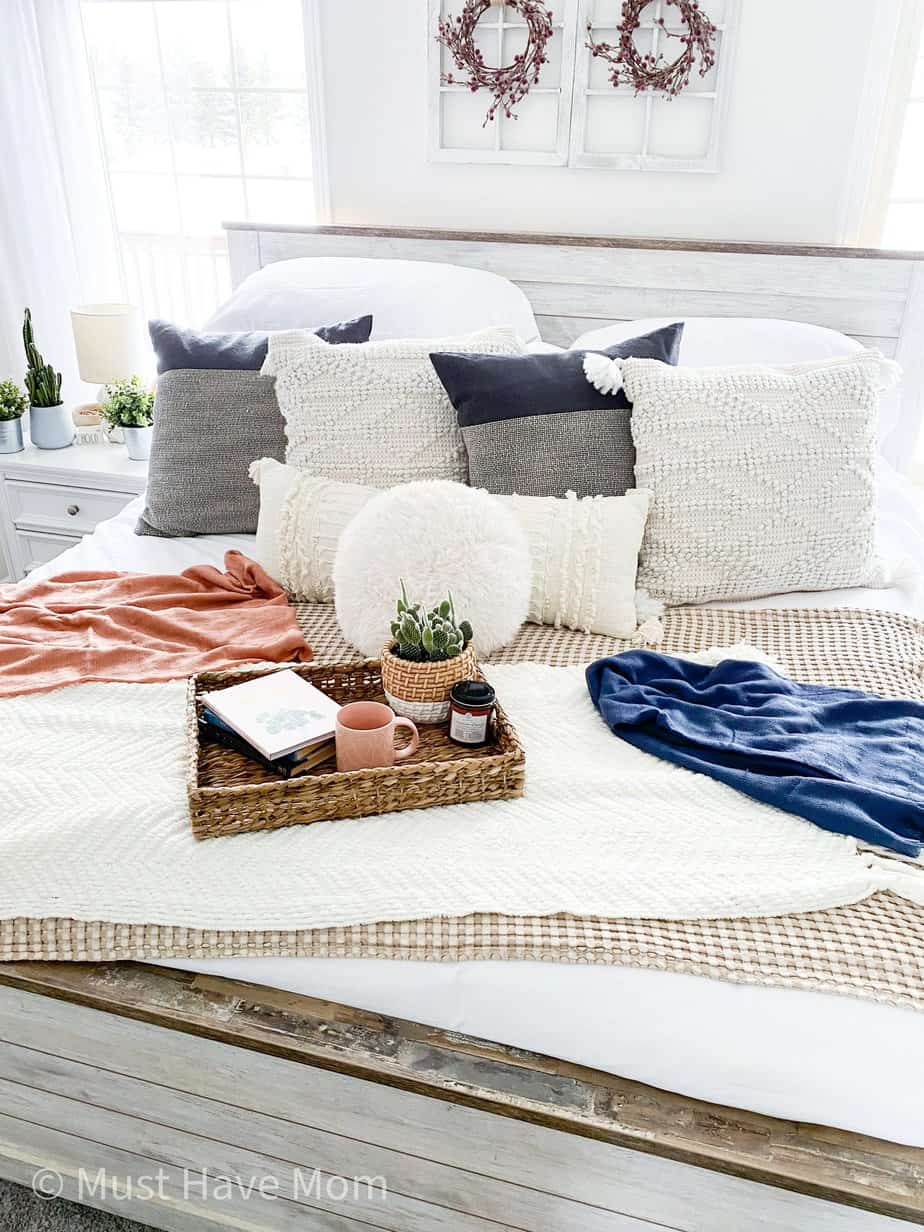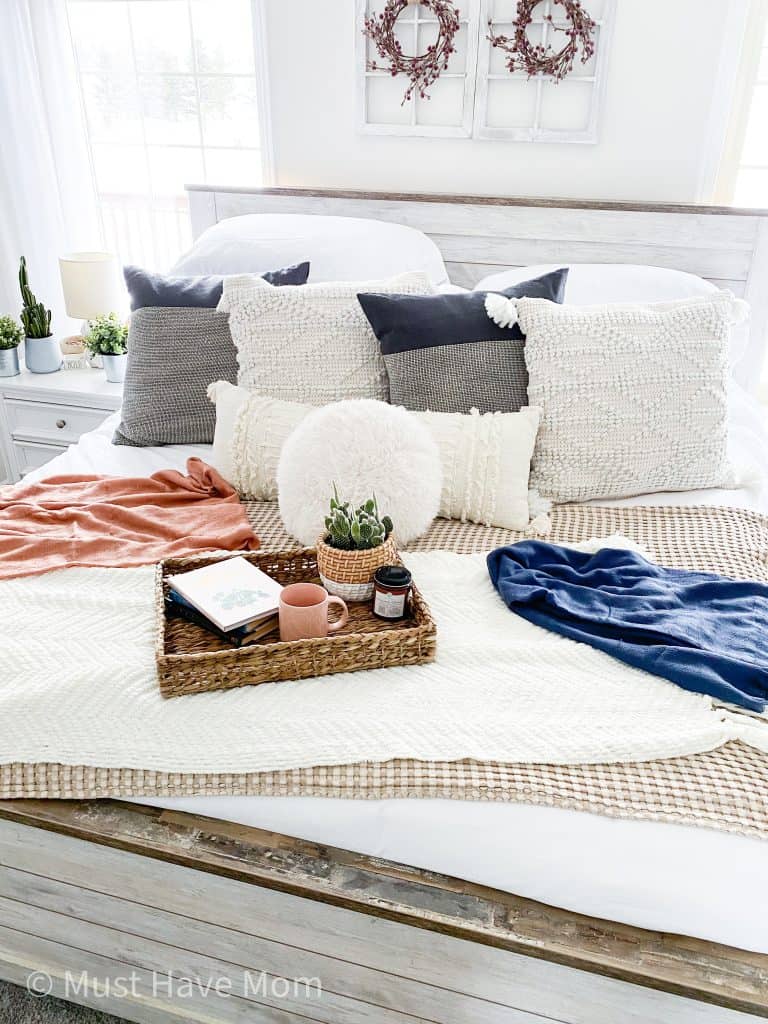 I did a farmhouse bedroom makeover on my master bedroom a few years ago and loved it. Being that I LOVE decorating and design, I was itching to do a new makeover on my farmhouse bedroom. I wanted to update my bedding and go for more of a boho bedroom vibe. I used all my existing furniture and wall decor so the end result was a boho farmhouse bedroom with major cozy boho bedroom vibes going on. I LOVE how it turned out!
Boho bedroom ideas
What inspired this whole boho makeover was the need for new sheets for my bed. My current sheets had been used for so long that they were showing their age. I decided that if I was going to update my bedding then I was going to refresh the whole vibe of the room.
Products Used In This Makeover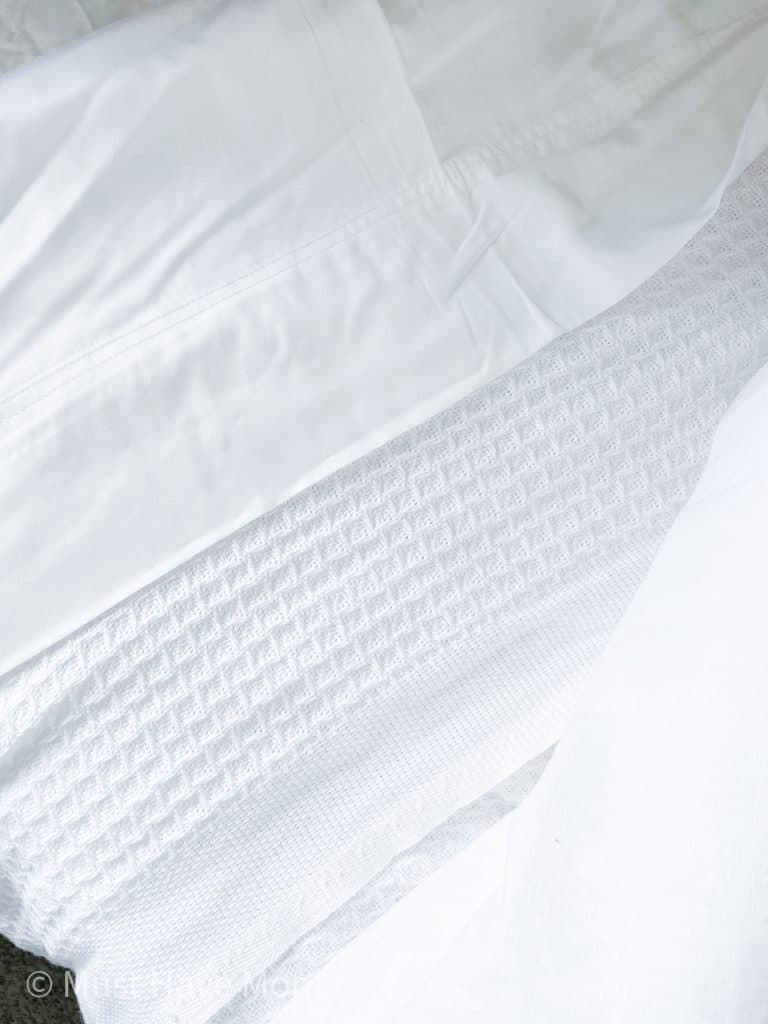 Let's start at the stuff you don't see, but that you spend the most time touching! When you think about how much time you spend sleeping every day, your skin deserves the very best sheets to lay on. I decided on these Bedsure Cooling Sheets in white. They are SO silky soft and I absolutely love how they keep me cool while I sleep. The pockets are deep and stay on my bed really well which has been an issue with other sheet sets in the past. I really love these sheets and the price is right also!
On top of the flat sheet I added this Bedsure 100% Cotton Blanket for a light blanket that would make me feel cozy, but not overheat me while I sleep. I went with white, but it comes in a bunch of colors and the burnt orange would also be a great pick for a boho bedroom look. I love that it is 100% cotton and super soft and cozy.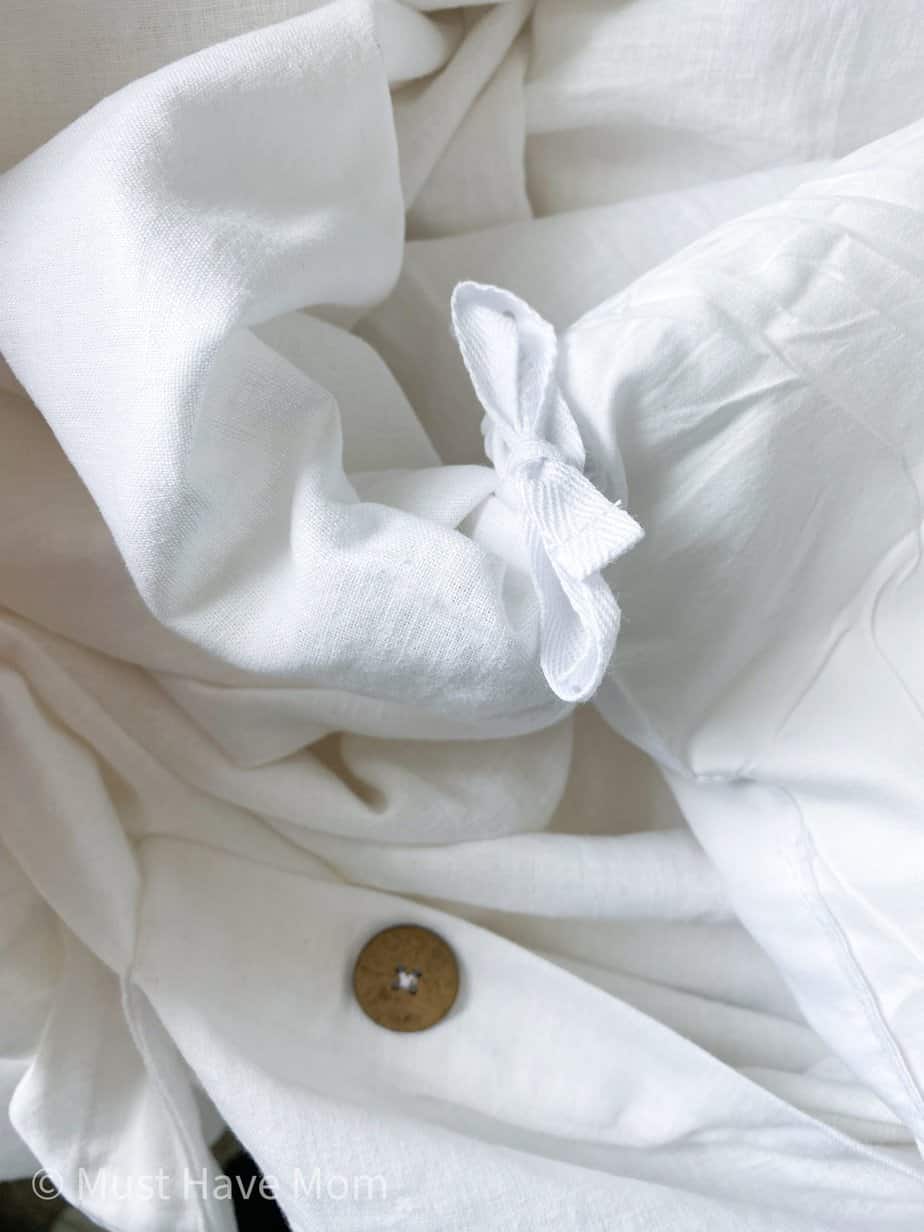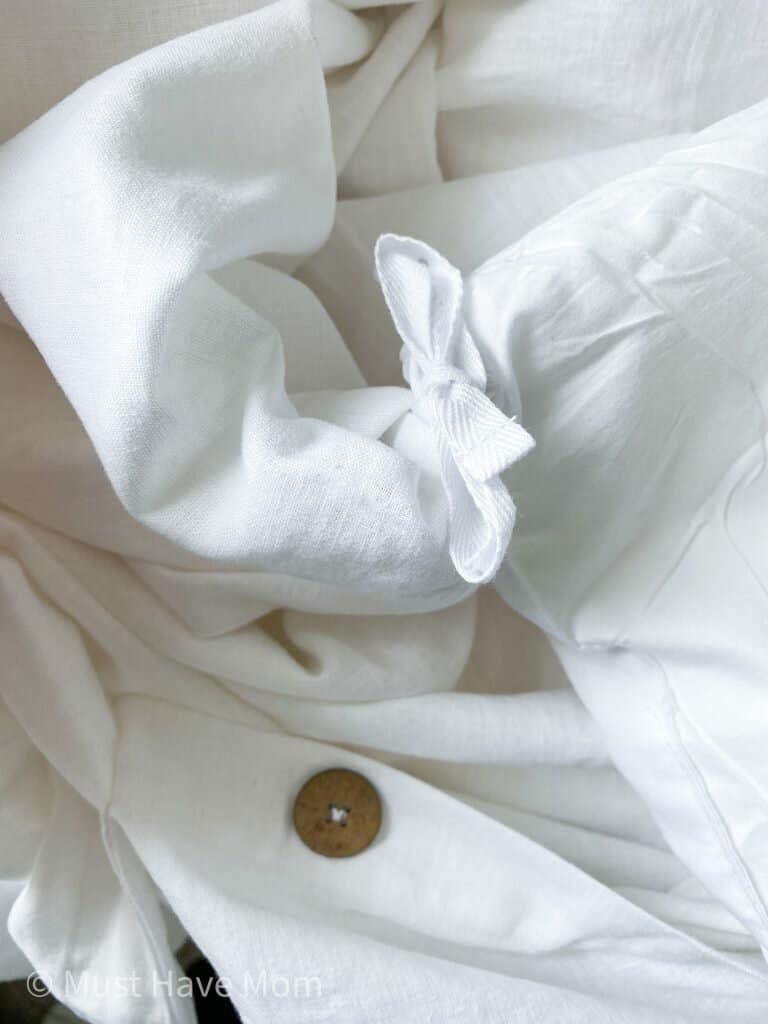 I chose to go with a duvet for the top of my bedding. I love that duvets are easy to just wash the cover and not have to deal with trying to wash and dry a king size comforter as often. My previous duvet did not have ties inside to help keep the insert in place and it drove me crazy. This time I searched for a duvet cover that would have ties and an insert with loops to secure it so it doesn't slide around inside the cover.
I found this amazing Bedsure Linen Duvet Cover for an unbelievably great price along with this Bedsure King Comforter Duvet Insert. The duvet cover is a cotton/linen blend and has ties inside it!! I also LOVE the wood buttons. They look so organic and boho. Perfect for my boho bedroom theme! I also went with the same brand duvet insert as it has the loops to match the duvet cover ties. You can see above how nicely they tie together to hold the insert in place. It worked perfectly and was exactly what I was searching for! The duvet insert is the perfect weight for year-round comfort.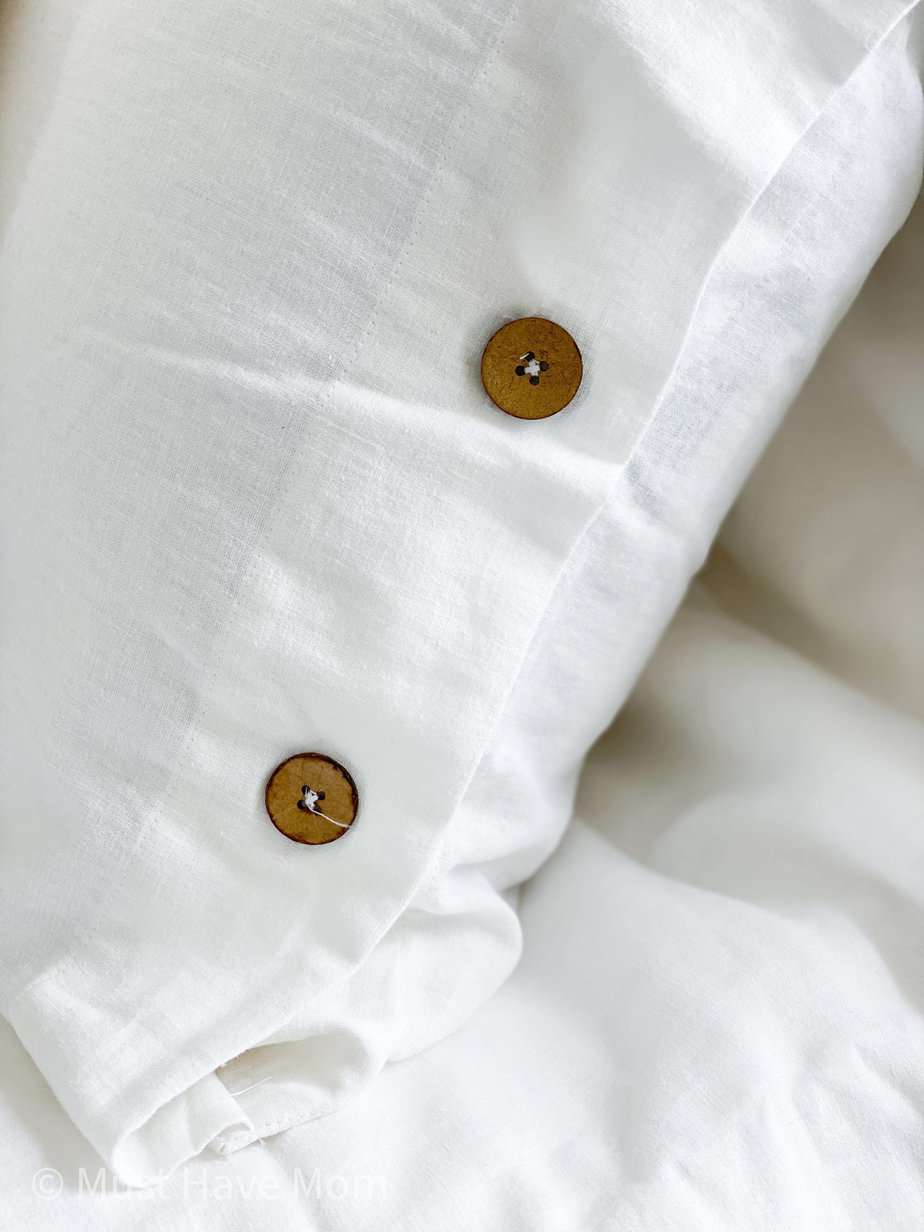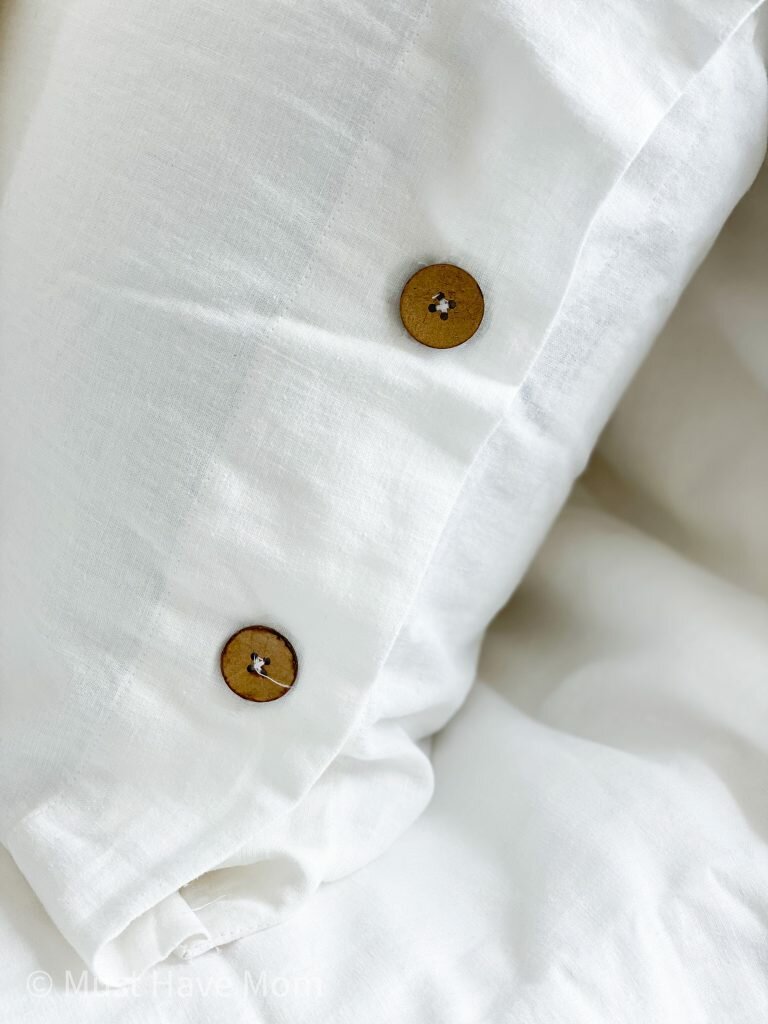 The set includes a duvet cover for the comforter as well as 2 pillow covers that match. All have coconut buttons that look like wood!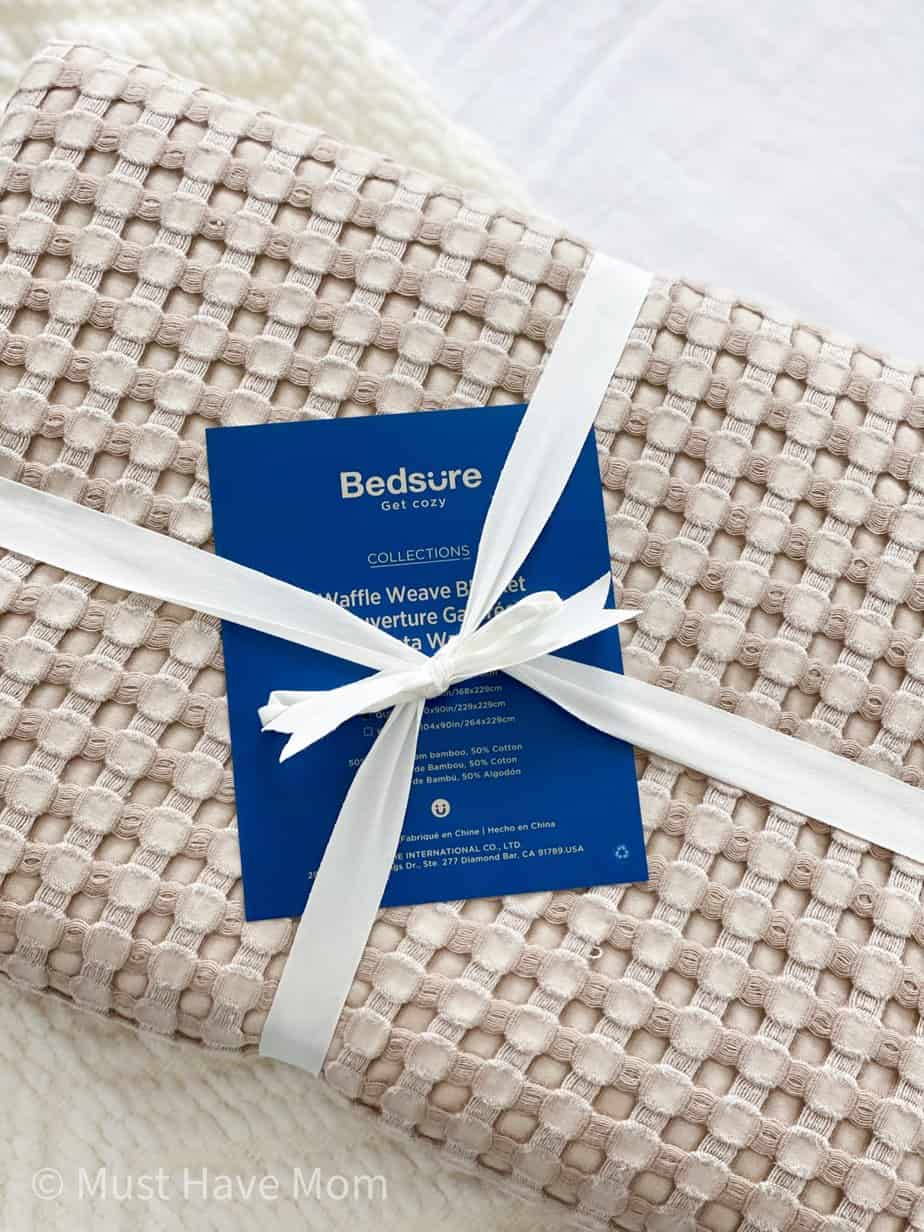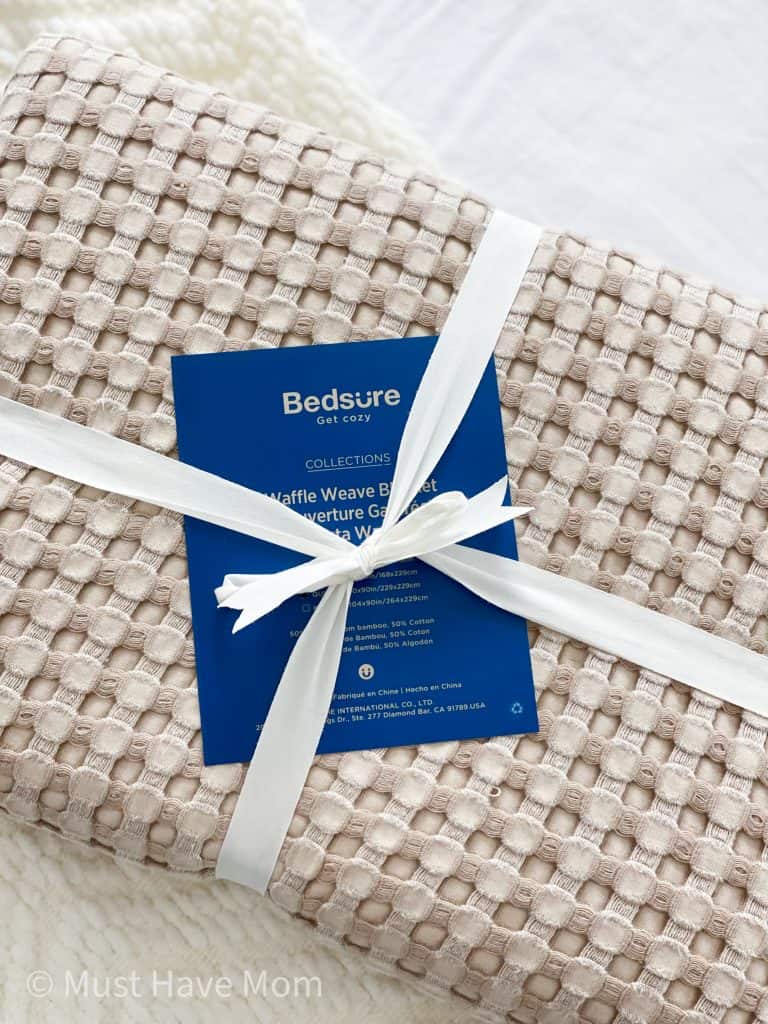 Now that we have our sheets, blanket and bedspread taken care of, it's time to layer on the decorative blankets!! I love this part. We've taken care of functionality and now comes the fun design elements (which also happen to be functional here!).
First, I chose this BEDSURE Cotton Waffle Weave Blanket in Taupe. I LOVE this blanket. I use it on nights when I need extra warmth and I double it up. On other nights, when I want less warmth I use a single layer. It's super versatile and breathable for perfect year-round use.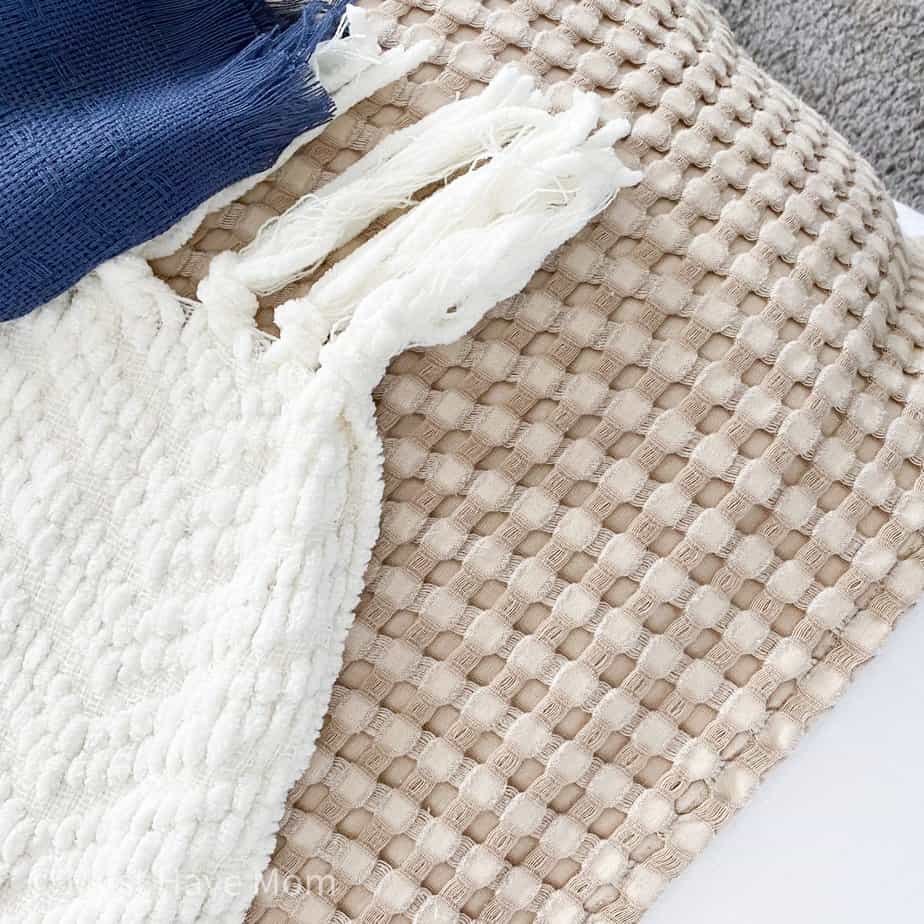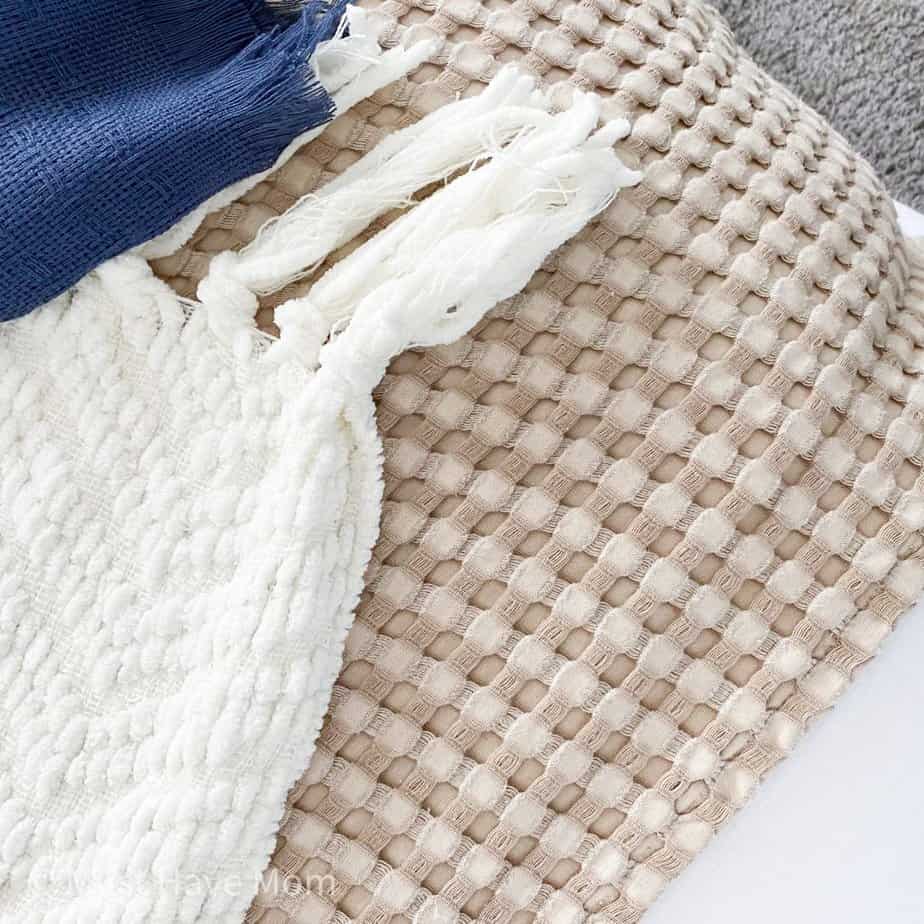 When layering blankets, always keep in mind you want to choose different colors that coordinate and different textures. I paired the waffle weave taupe blanket with this Cream White Versatile KnitWoven Chenille Blanket. It is SO soft and cozy. They layered together perfectly.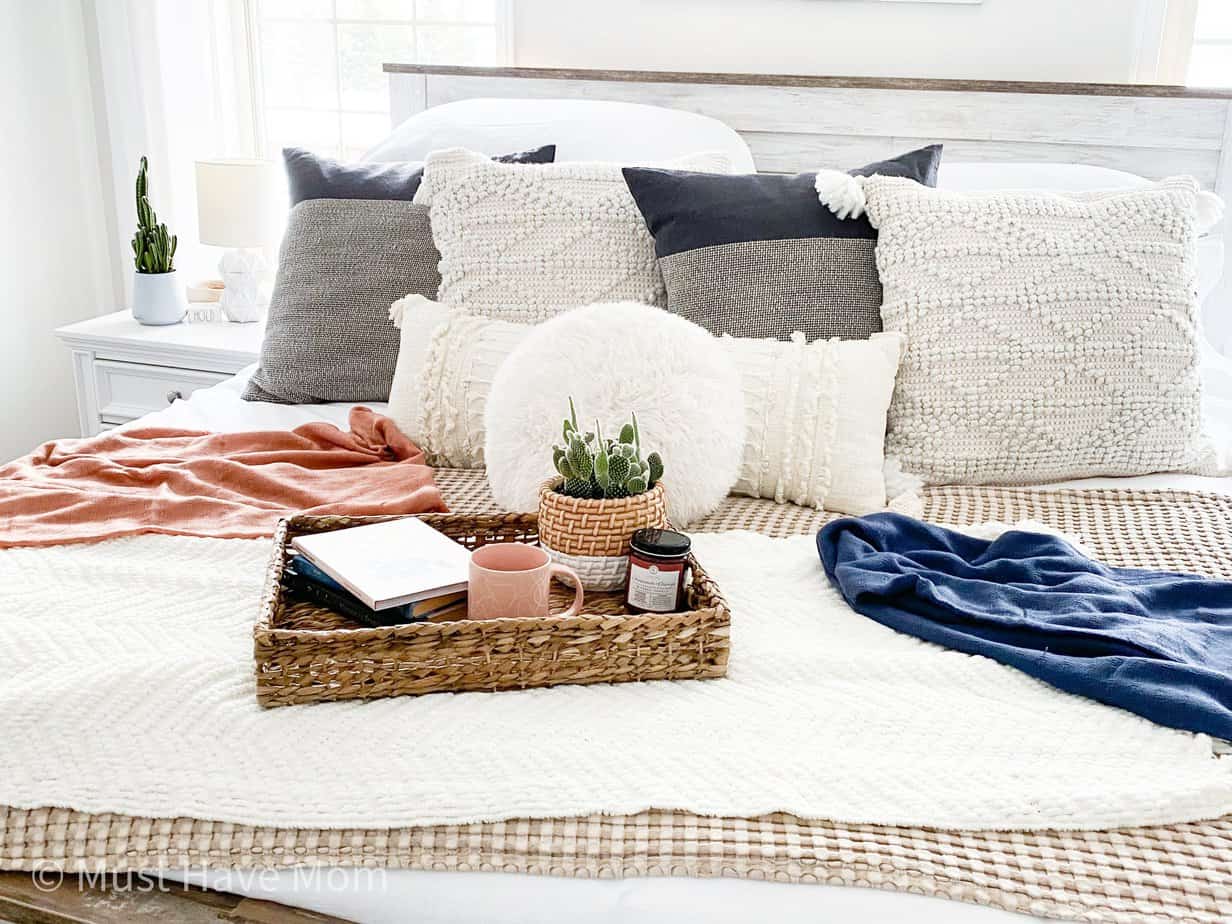 I then added in some throw pillows from Target and a couple little thin colored throws from the dollar spot to give it pops of texture and color. The woven tray is Magnolia from Target. The adorable boho cactus planter is also from the Target dollar spot and was only $5! You seriously can't beat how affordable this boho bedroom makeover is.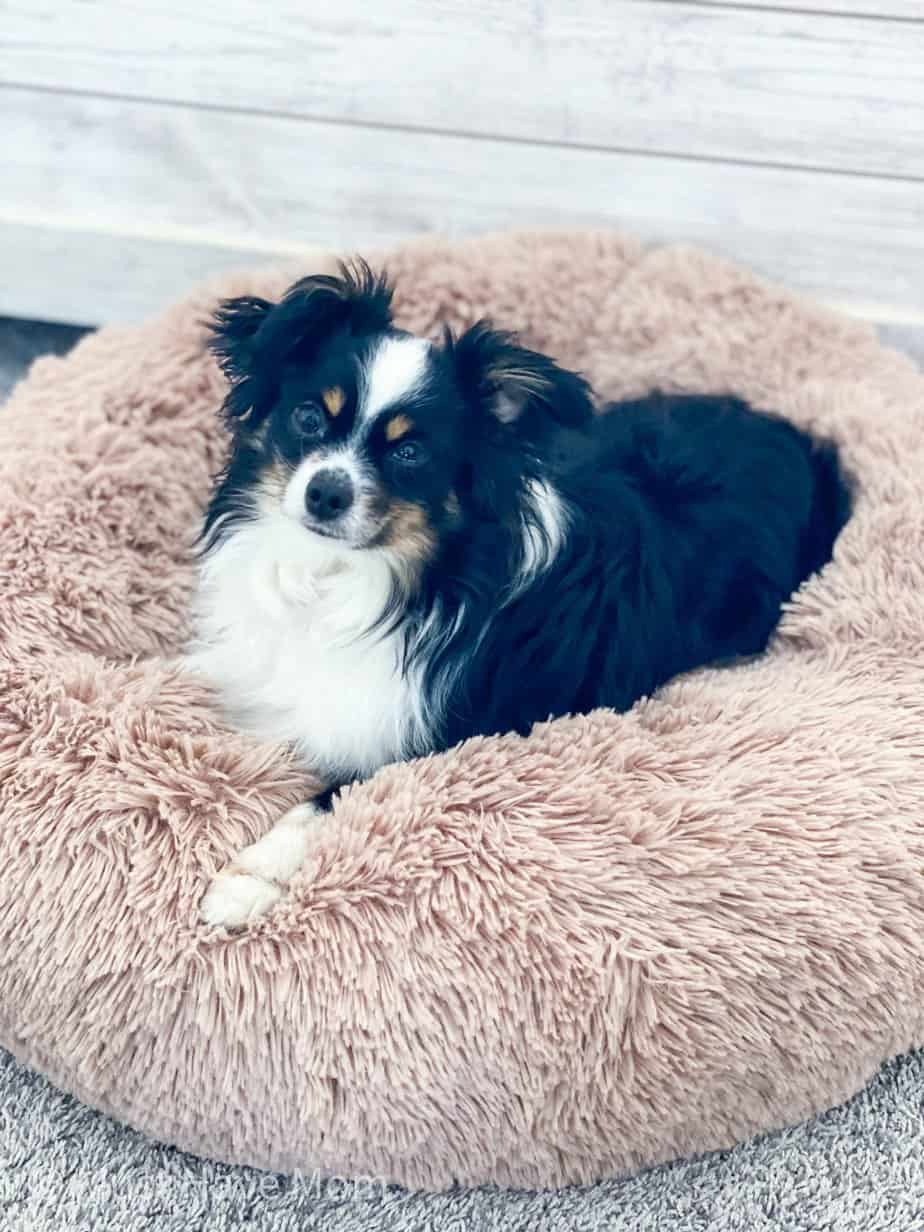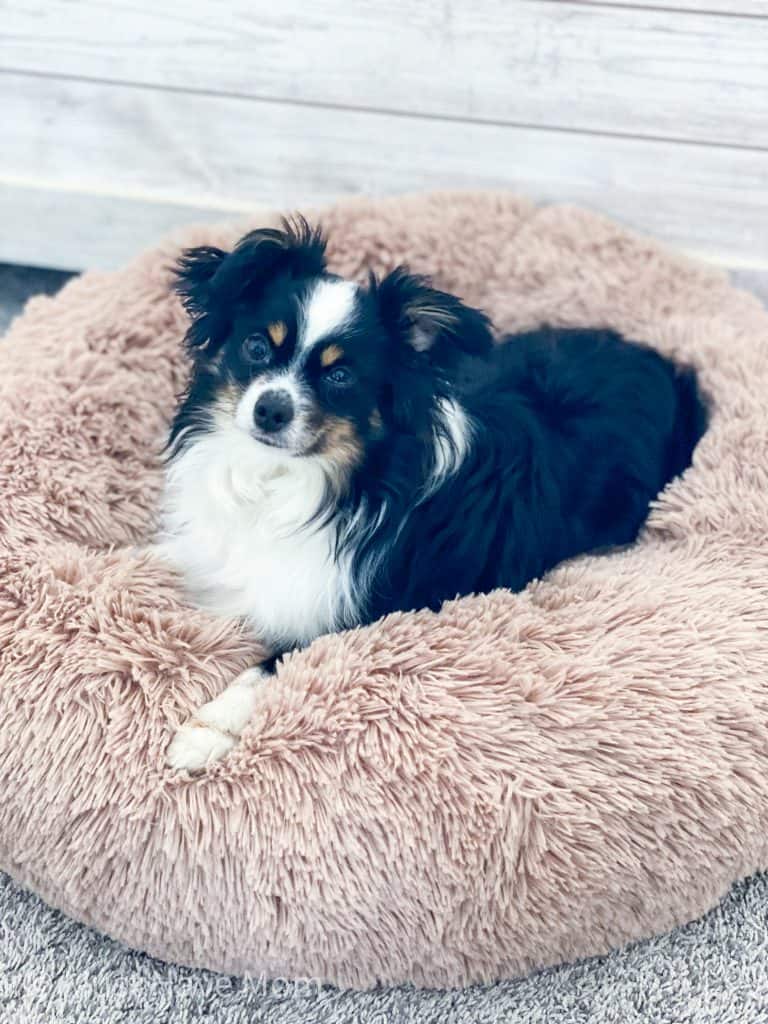 I couldn't leave my little furry buddy Jaxon out of this makeover. He LOVES a good dog bed so I needed to find one that matched the boho bedroom makeover. This Bedsure Calming Dog Bed was the perfect fit! This donut dog bed is ideal for pets who love to curl up. It is anti-anxiety and super plush.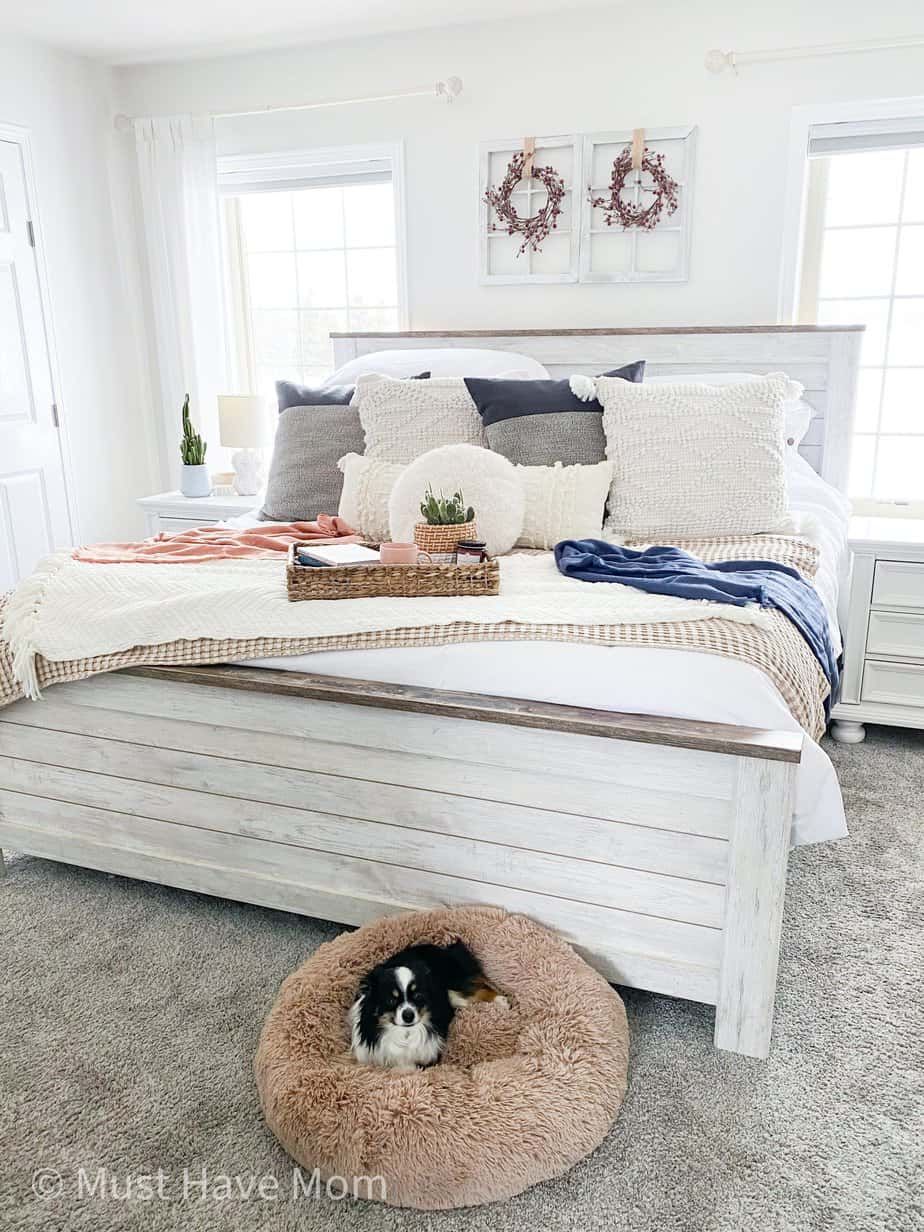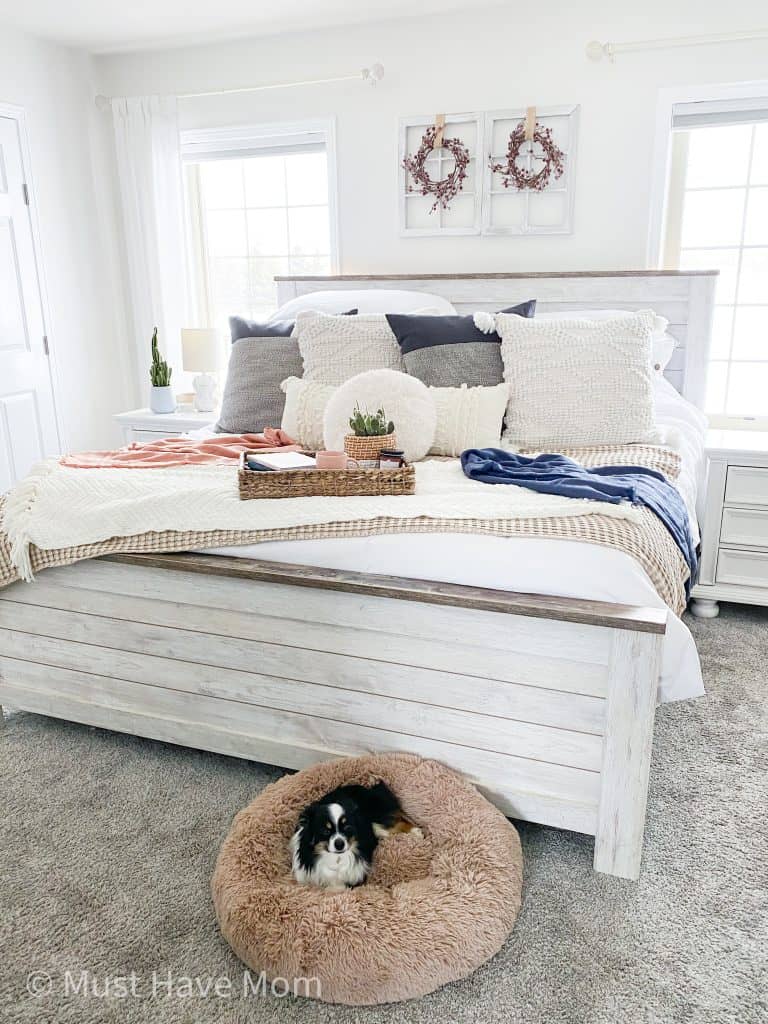 My boho bedroom makeover is complete! It works well with my farmhouse style furniture and I love the boho farmhouse bedroom vibe that it achieved.
You can find all the sheets, blankets, duvet covers, duvet insert and bedding, along with the dog bed I featured in this Boho makeover on Amazon!