Have you been itching to add farmhouse style to your bathroom? Upgrade your existing builder grade vanity mirror and medicine cabinet with this inexpensive DIY vanity mirrors tutorial! For about $50 you can do this entire project and the finished result is stunning!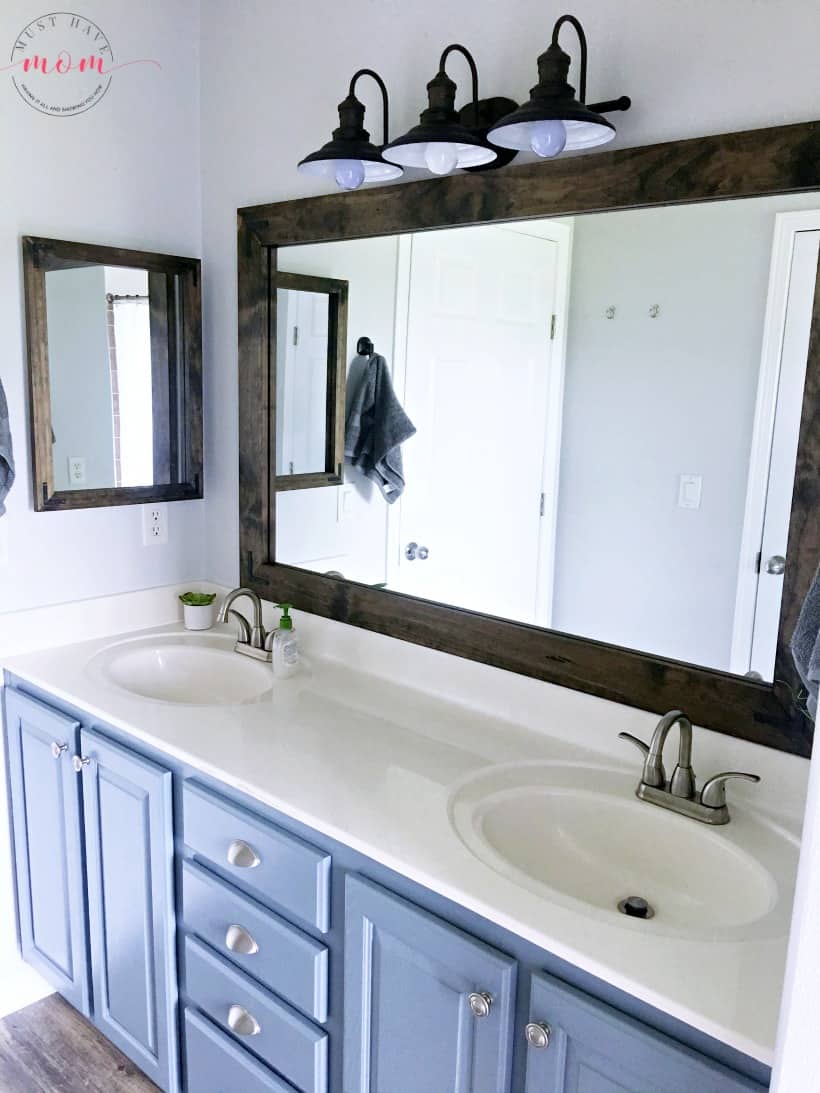 I recently completed a fixer upper bathroom makeover infused with farmhouse style. I LOVE the finished look and what's more impressive is that it was done for under $1,000. One of my favorite elements is the rustic DIY vanity mirrors that we made.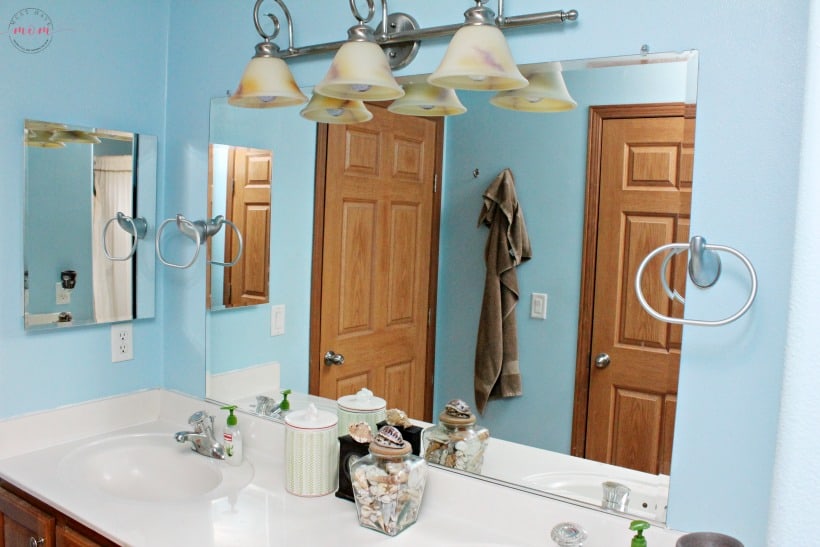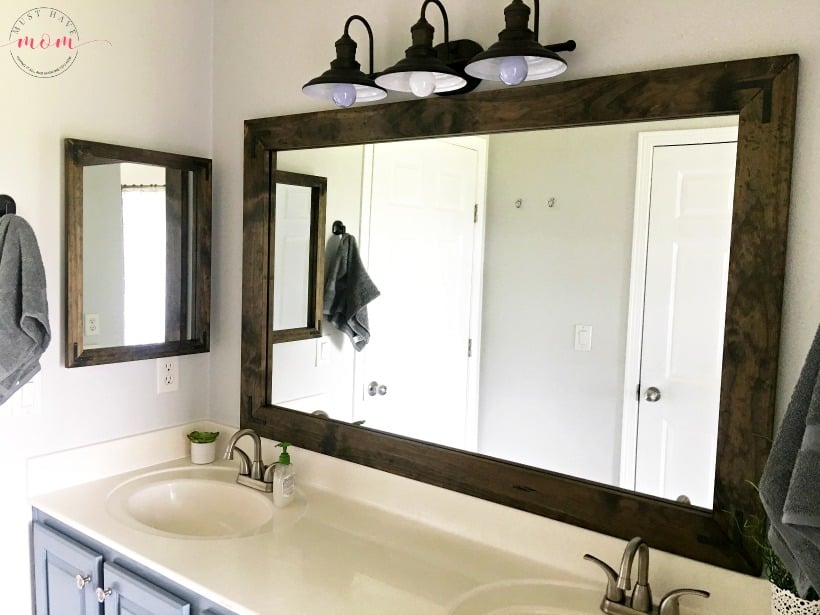 We wanted an inexpensive way to upgrade our existing builder grade vanity mirror and medicine cabinet. The completed project was under $50! The final look was breathtaking. You'd never imagine it cost so little. I'll show you how you can make your own DIY vanity mirrors on a budget.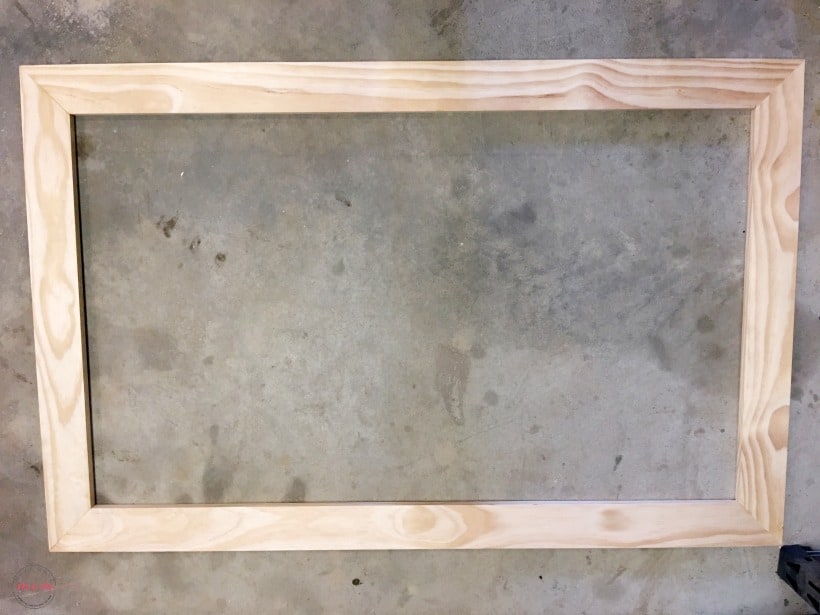 To complete these DIY vanity mirrors you'll need the following supplies:
Vanity Mirror:
Four 1″ x 4″ pine boards (look for boards with nice looking wood grain)
wood glue
finishing nails
Minwax Jacobean stain
rag
Medicine Cabinet:
1 1/2″ wide pine boards
remaining supplies listed above
Minwax 227504444 Wood Finish Penetrating Interior Wood Stain, 1/2 pint, Jacobean

PL530 ADHSV KIT/BATH10OZ by LOCTITE MfrPartNo 1693636

Flat L Shape Repair Bracket – SODIAL(R) 12pcs Angle Plate Corner Brace Flat L Shape Repair Bracket 80x80mm Silver

Rust-Oleum 249131 11 oz Universal All Surface Spray Paint, Oil Rubbed Bronze Metallic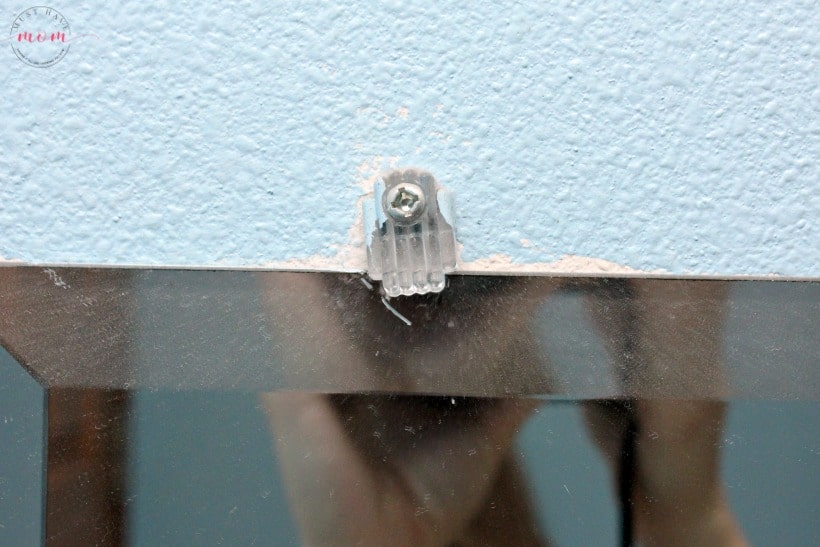 If your mirror has these plastic clips holding it the wall then you'll need to replace them with washers instead to make it flush to the wall. Just place a washer there and use a screw to hold it in place.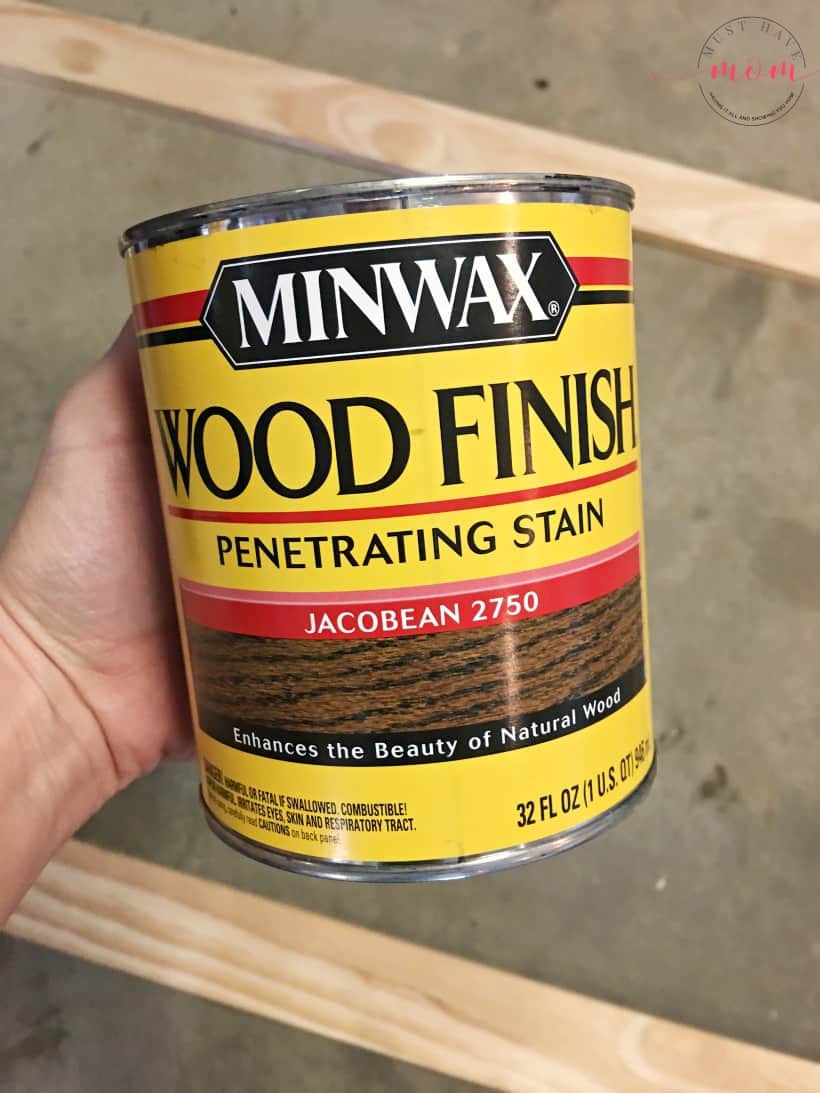 First, you need to build the frame. Measure your mirror and determine the length you need each board to be. We covered about half of our existing mirror with the frame and had it overhang the edge the rest of the way to cover the washers holding the mirror in place. Use a 45 degree angle corner and use wood glue and finishing nails to hold in place. Once you've built the frame it's time to stain the frame.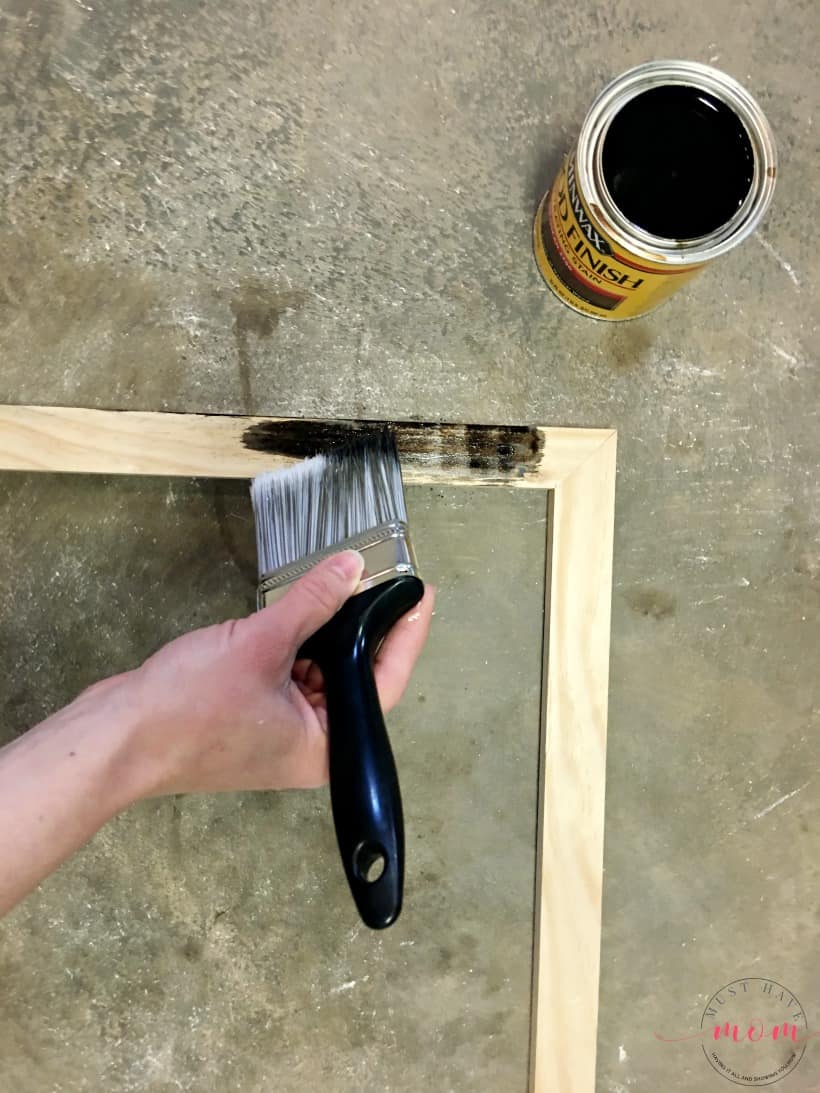 I started out using a brush to apply the stain, but quickly realized that a rag was the better way to go. Just dip the rag in the stain and rub it over the wood. Cover the entire frame and be sure to wipe away any excess stain that doesn't soak in.
*Tip: Be sure none of the wood glue used on the corners has seeped through onto the frame. If it has be sure to sand it off so the stain will soak into the wood.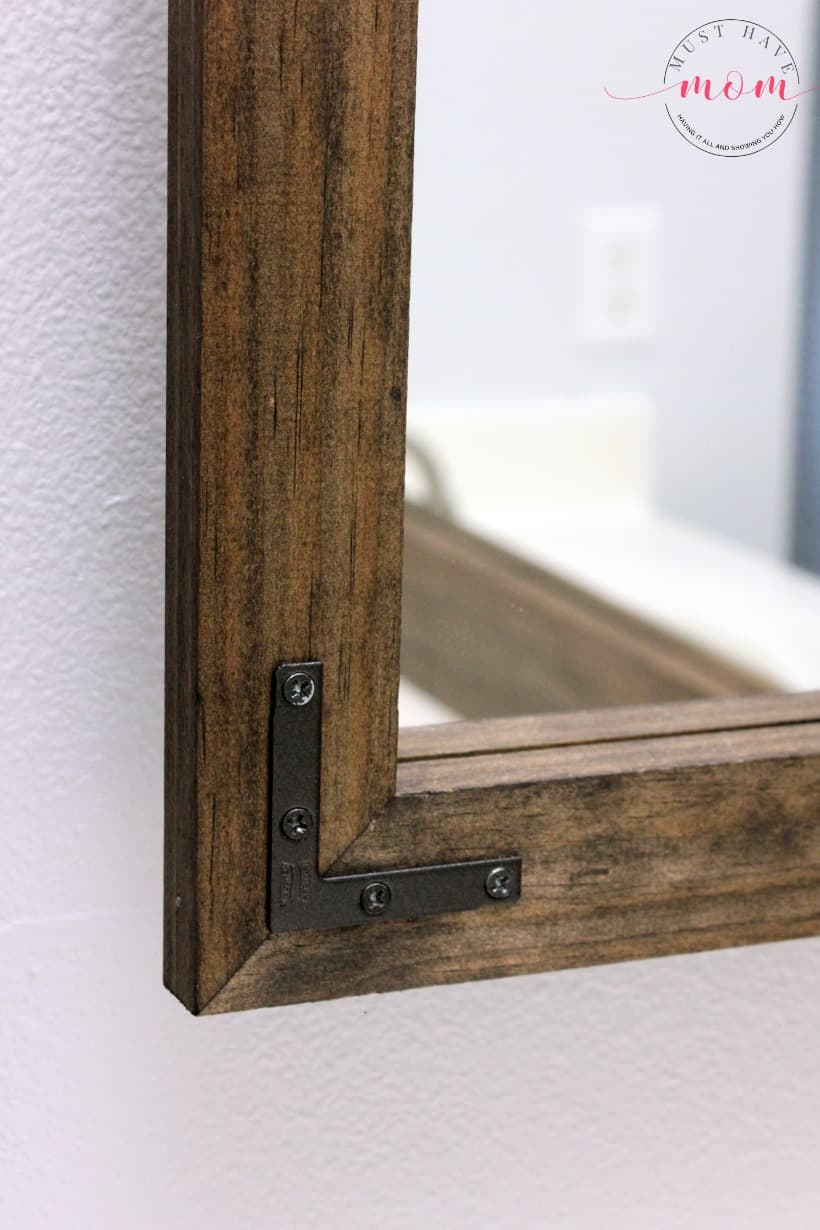 Use the oil rubbed bronze spray paint to paint the corner braces and their screw heads. Allow to dry. Once the stain has dried on the frame you can attach the corner braces on each corner.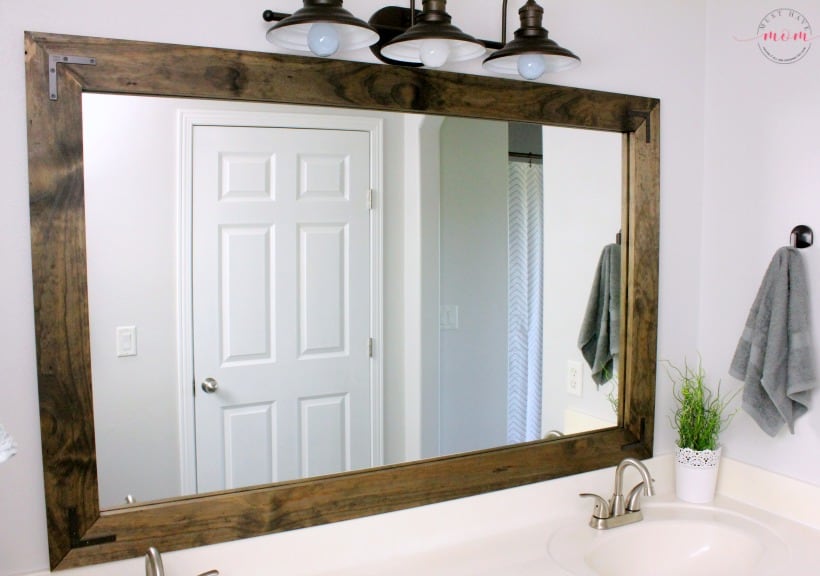 Next, use Locktite Mirror, Marble and Granite Adhesive to adhere the mirror frame onto the mirror. Allow it to sit undisturbed 48 hours.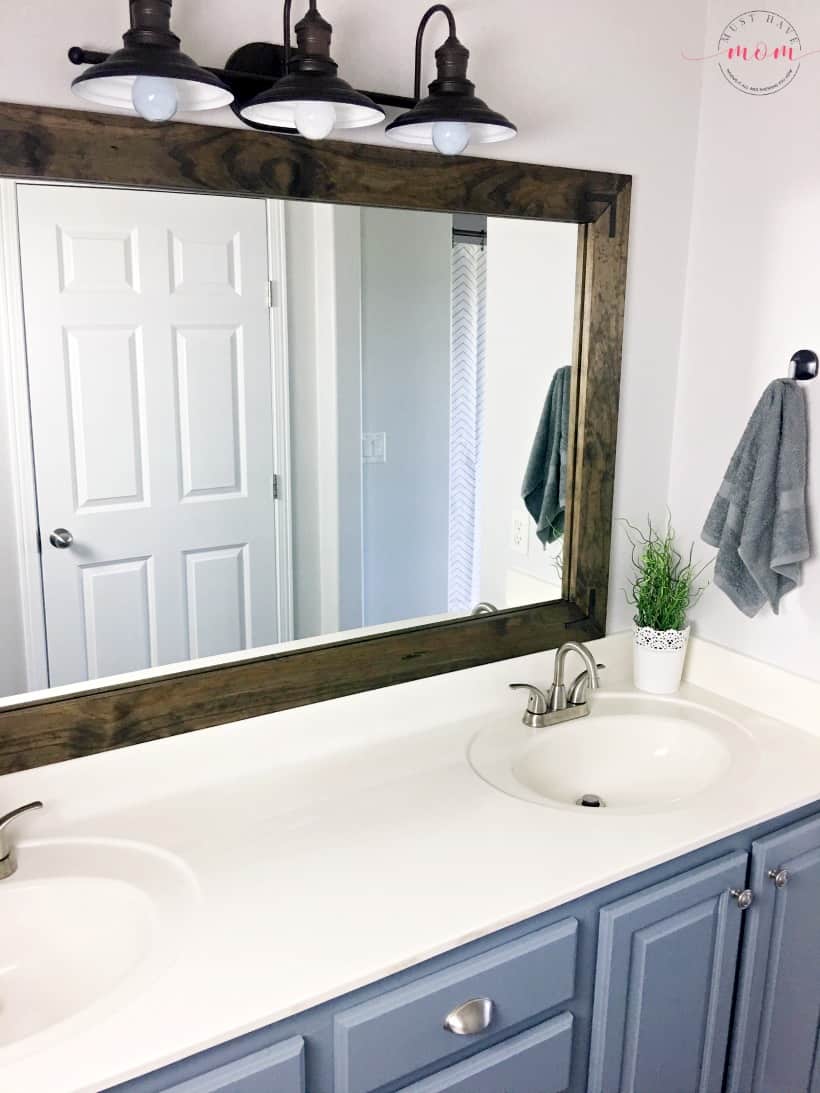 The finished product looks amazing and the beautiful farmhouse style rustic mirror looks like an expensive buy! No one will ever know how inexpensive and easy it was to make!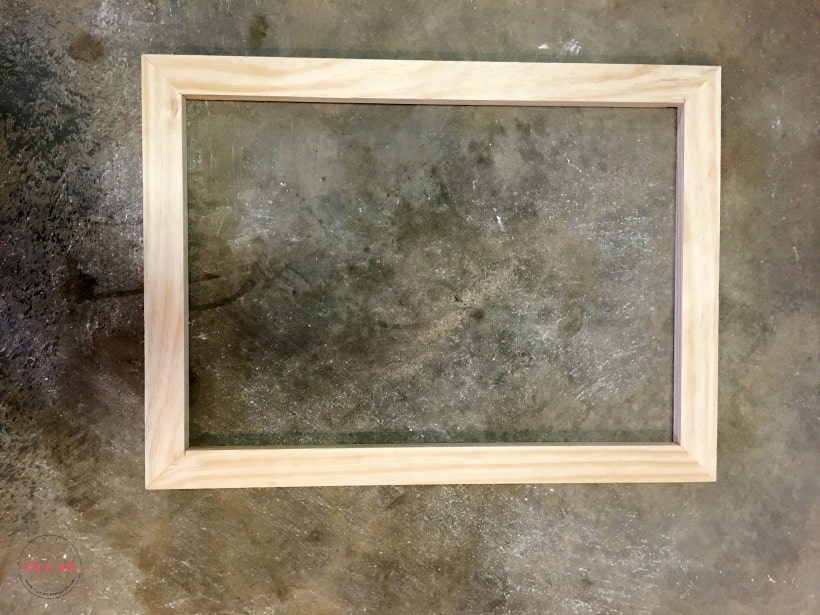 To create a matching frame for your medicine cabinet simply repeat the same steps using smaller, 1 1/2″ pine boards.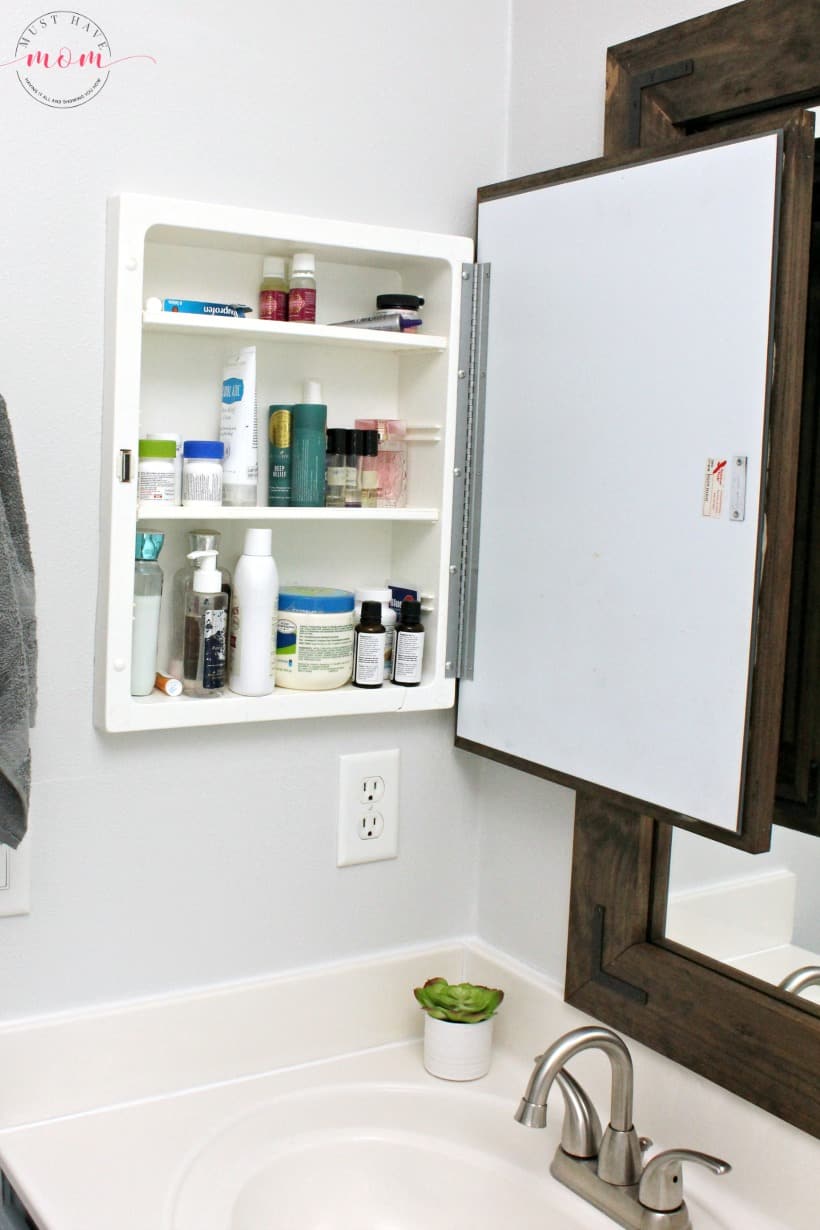 Then remove the medicine cabinet mirror before applying the mirror frame. Apply it in the same manner as the large frame and allow to dry.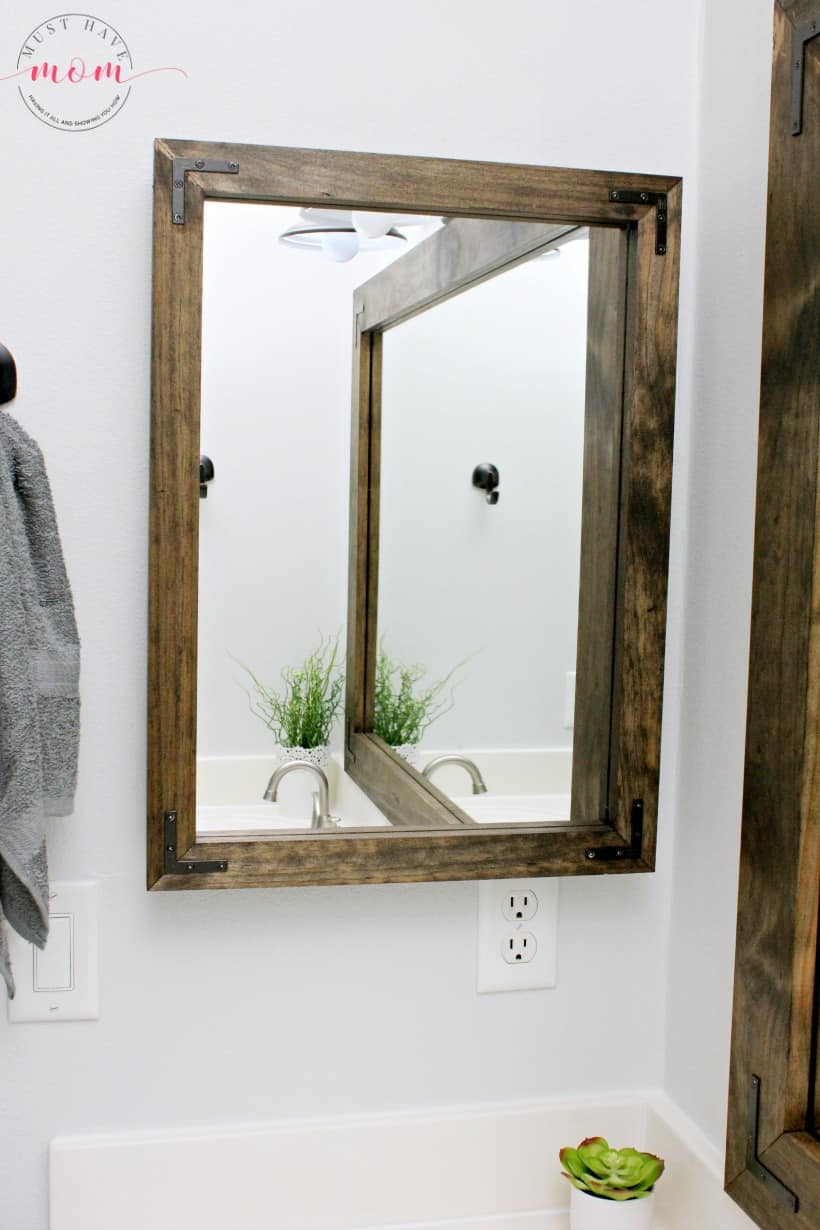 Once it is dry re-attach the mirror to the medicine cabinet.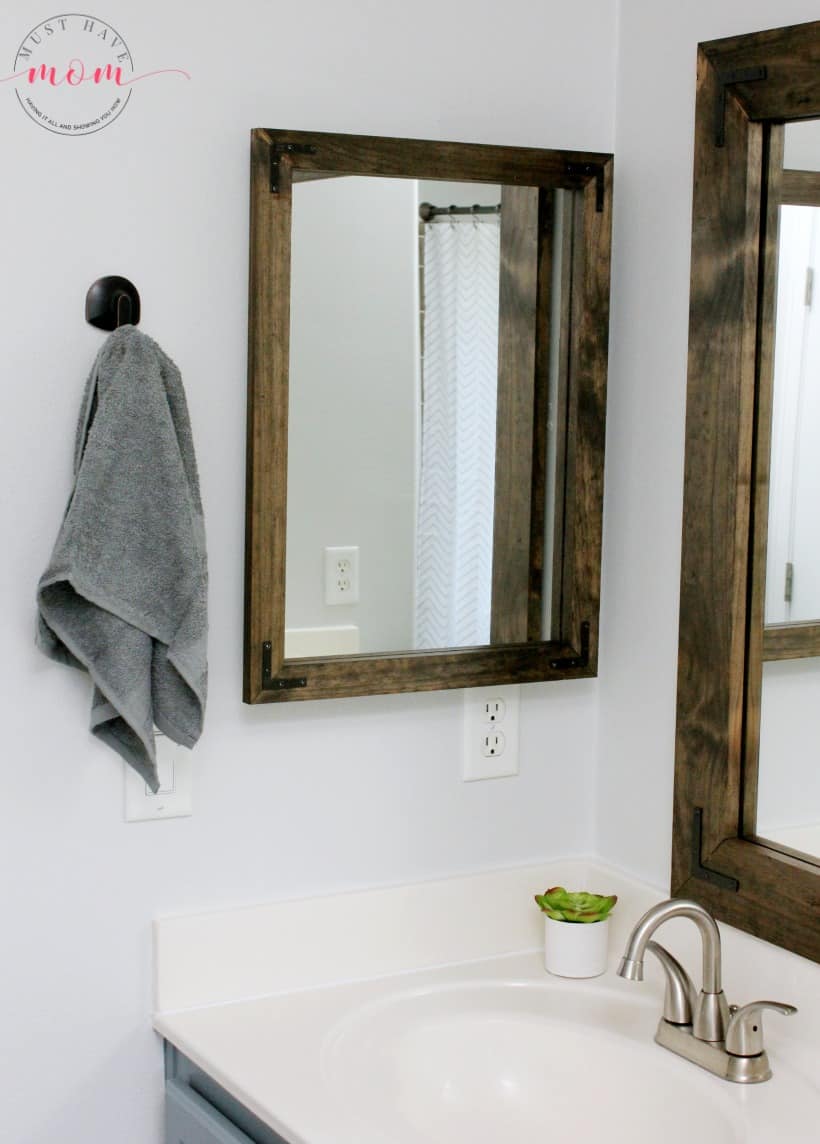 The finished look is beautiful and so simple!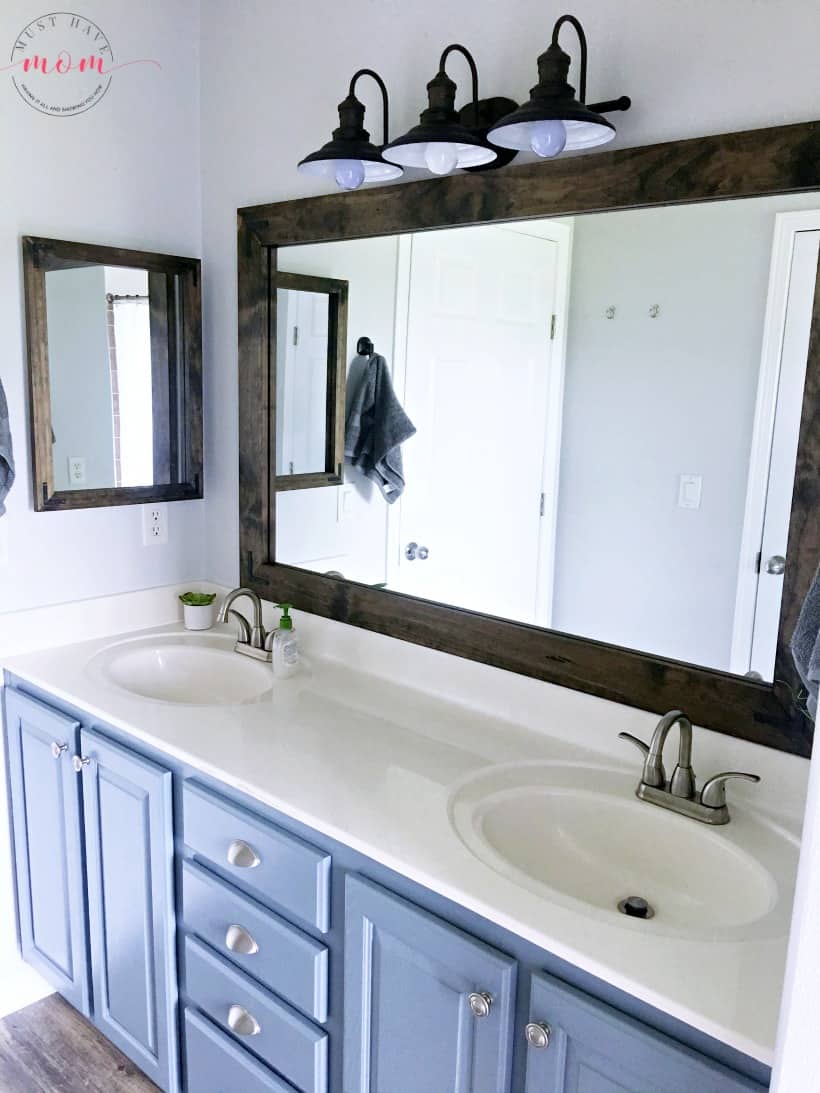 I love how this easy DIY vanity mirrors makeover elevates a builder grade vanity mirror and takes it to a new level. It adds value to your home for a small investment! Want more farmhouse style bathroom ideas? Check out my fixer upper bathroom post for all the details on my bathroom makeover.
Pin this DIY Vanity Mirrors Tutorial: