Everything But The Bagel Cheese Ball Recipe
This is the BEST cheese ball recipe because it's covered in the infamous Trader Joe's Everything But The Bagel Seasoning! And it has bacon. Did I mention bacon? Enough said. Make this for your next party or gathering! It's a surefire hit!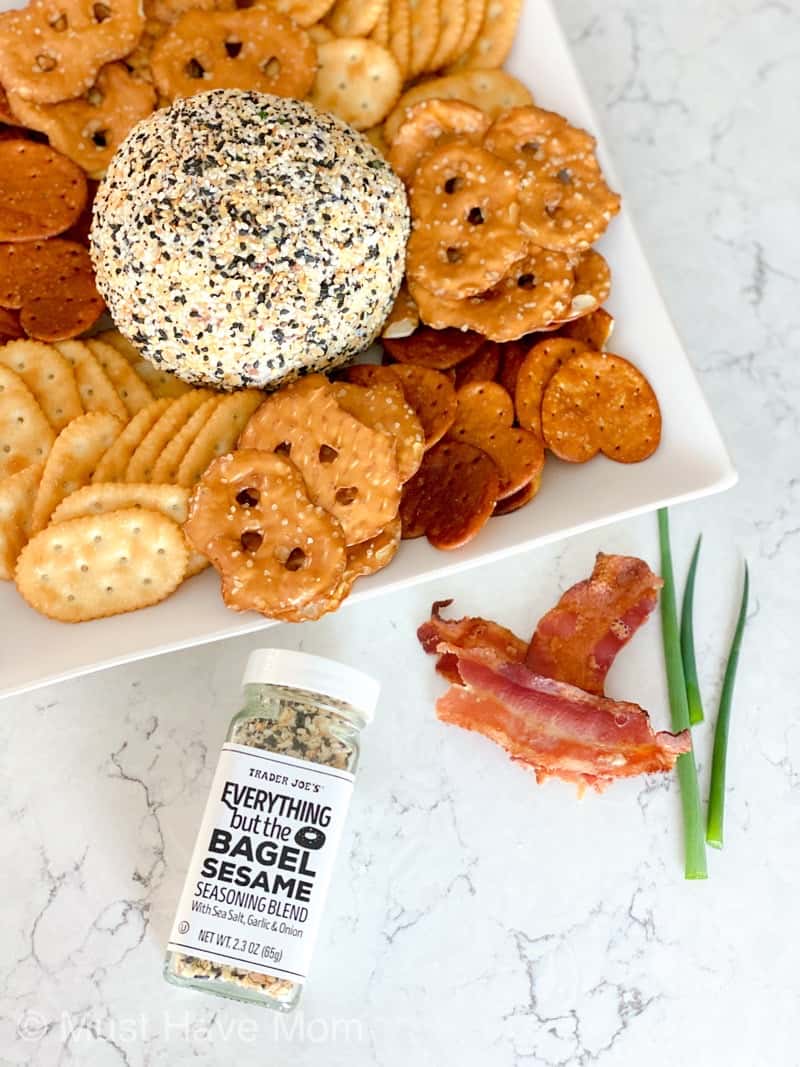 If you are hosting a party or just entertaining a few guests, this cheese ball recipe is AMAZING. It is also super easy to throw together last minute but it looks next level. I promise they'll be impressed. Add in some cookie dough dip and this refreshing melon ball punch and you have a bonafide party spread. Jaws will drop. Side eyes will be given. Your guests will wonder how you have it so together. They'll never know how easy this was 😉
BEST Cheese Ball Recipe
I love a good cheese ball. They are typically always party food because who in their right mind would eat a whole cheese ball on their own? A party is a perfect excuse to put together a mixture of cream cheese, mozzarella cheese and bacon and douse it in Everything But The Bagel Seasoning. Have you heard of this seasoning from Trader Joe's yet? It has an almost cult-like following. And for good reason! It's the tastiest stuff around. It's the perfect seasoning for this recipe too!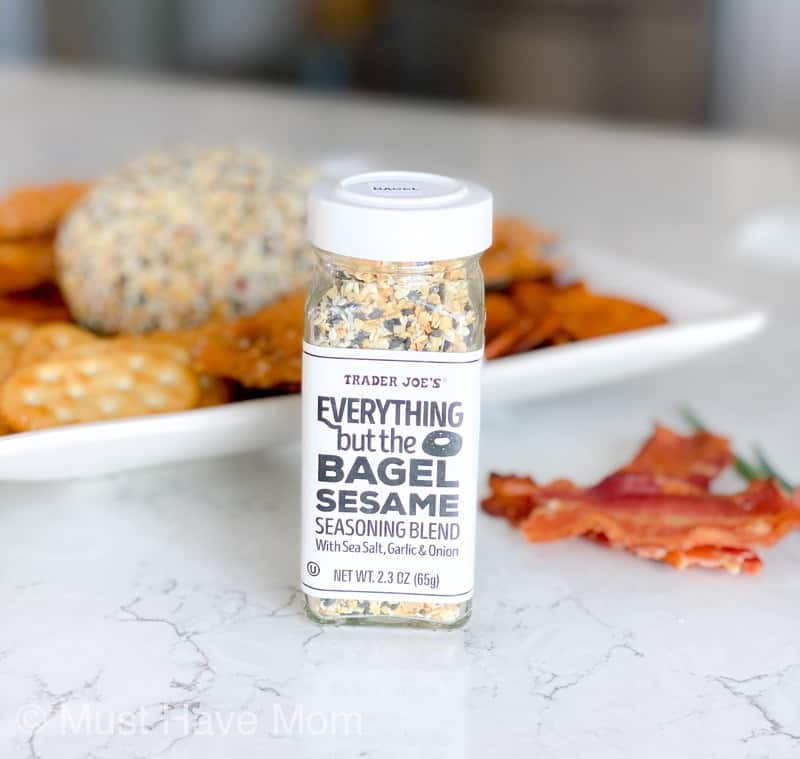 Don't have a Trader Joe's nearby? No problem. You can make your own Everything But The Bagel Seasoning.

How To Make A Cheese Ball
Never made a cheese ball before? It sounds harder than it is, I promise. It's actually super easy and only takes ten minutes or so to assemble it all. You'll need a few simple ingredients for this cheese ball like softened cream cheese (this is key – set it on the counter until it is soft and spreadable!), shredded mozzarella cheese, cooked bacon and some sliced green onions.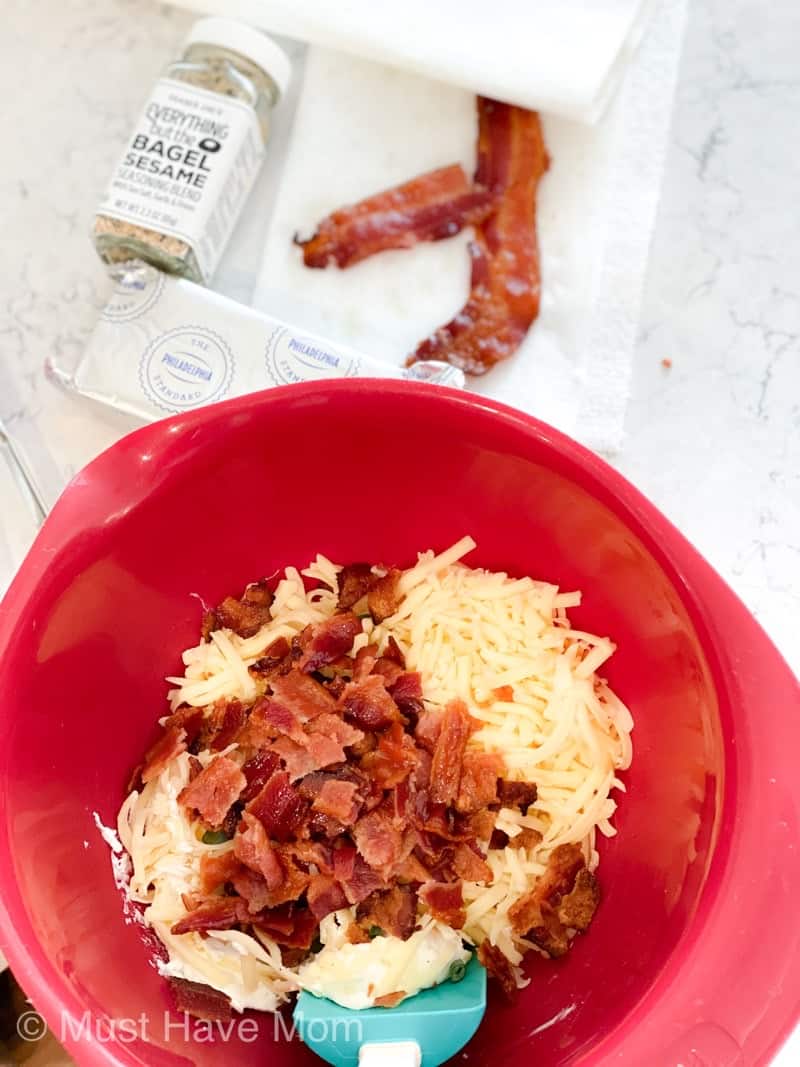 Begin by mixing all of these ingredients together in a medium-sized bowl. It's key to make sure your cream cheese is actually softened or it will be really hard to mix it up thoroughly.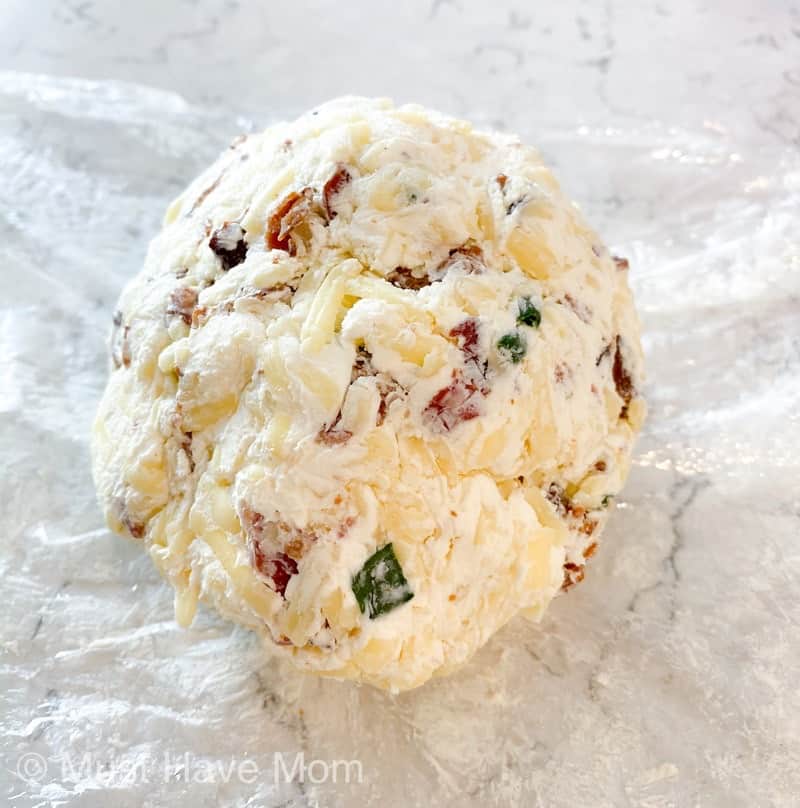 Once you've mixed it all together then it is time to form a ball! I have found that the easiest way to make a cheese ball is to lay a piece of plastic wrap on the counter and scoop the mixture on top of it. Then put your hands under the plastic and start to form it into a ball. Then keep working it into a ball. You could skip this step and get your hands dirty instead and form the ball with your hands.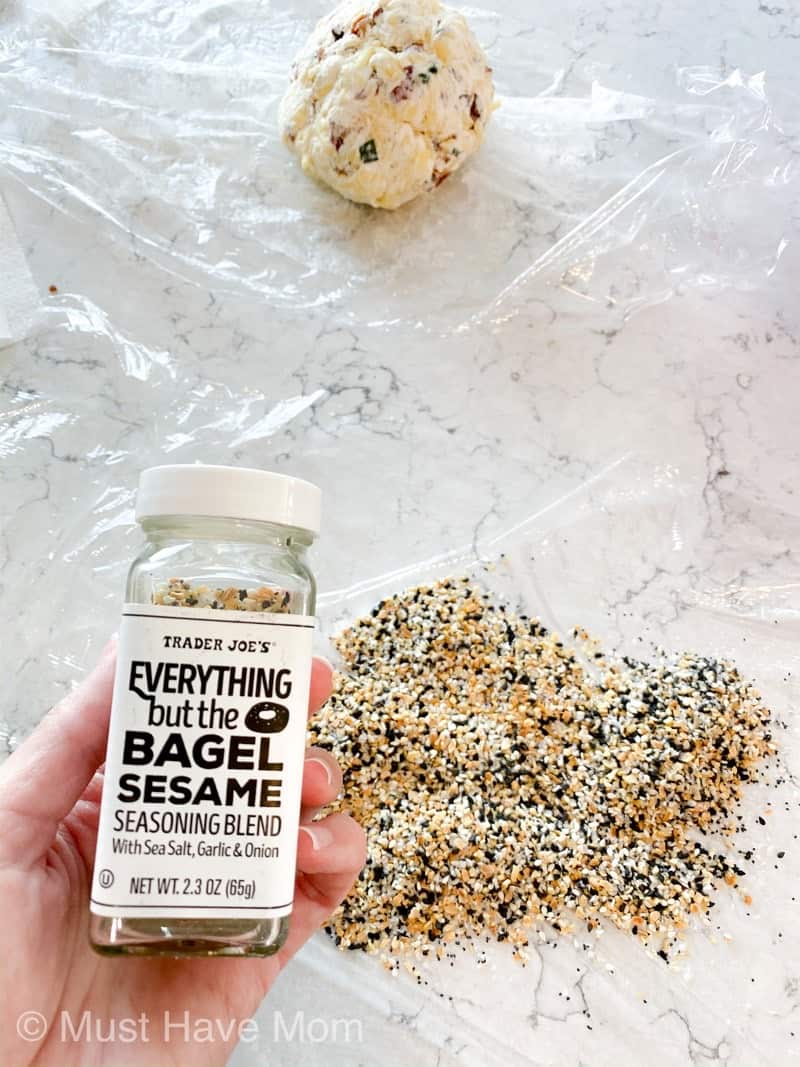 Once you've formed the mixture into a ball then it's time to cover that sucker in Everything But The Bagel Seasoning! I poured the seasoning onto the plastic wrap and then gently rolled the ball around in it.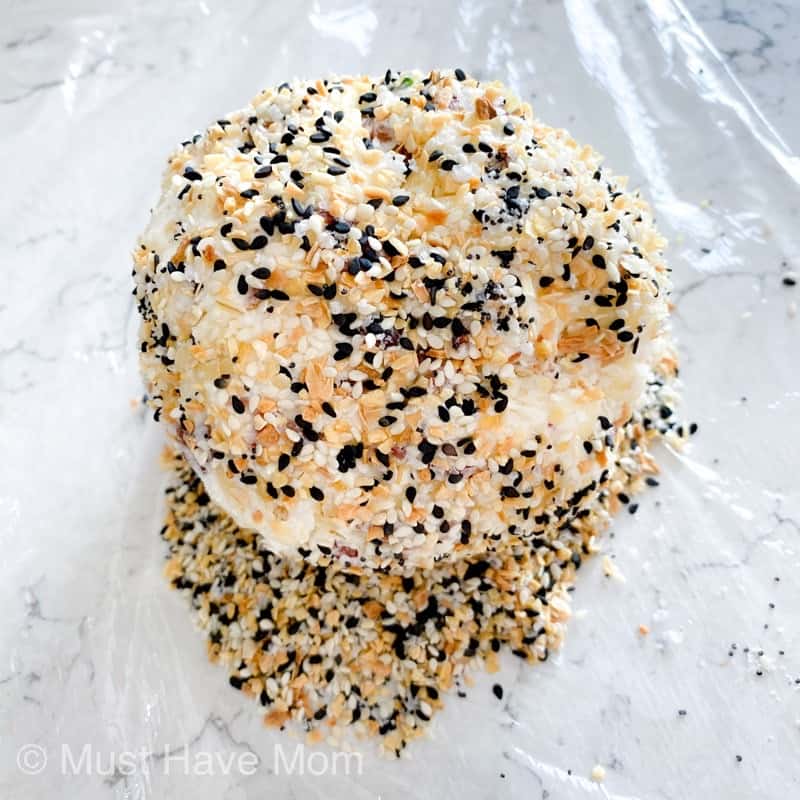 Keep doing this until it is fully covered on all sides.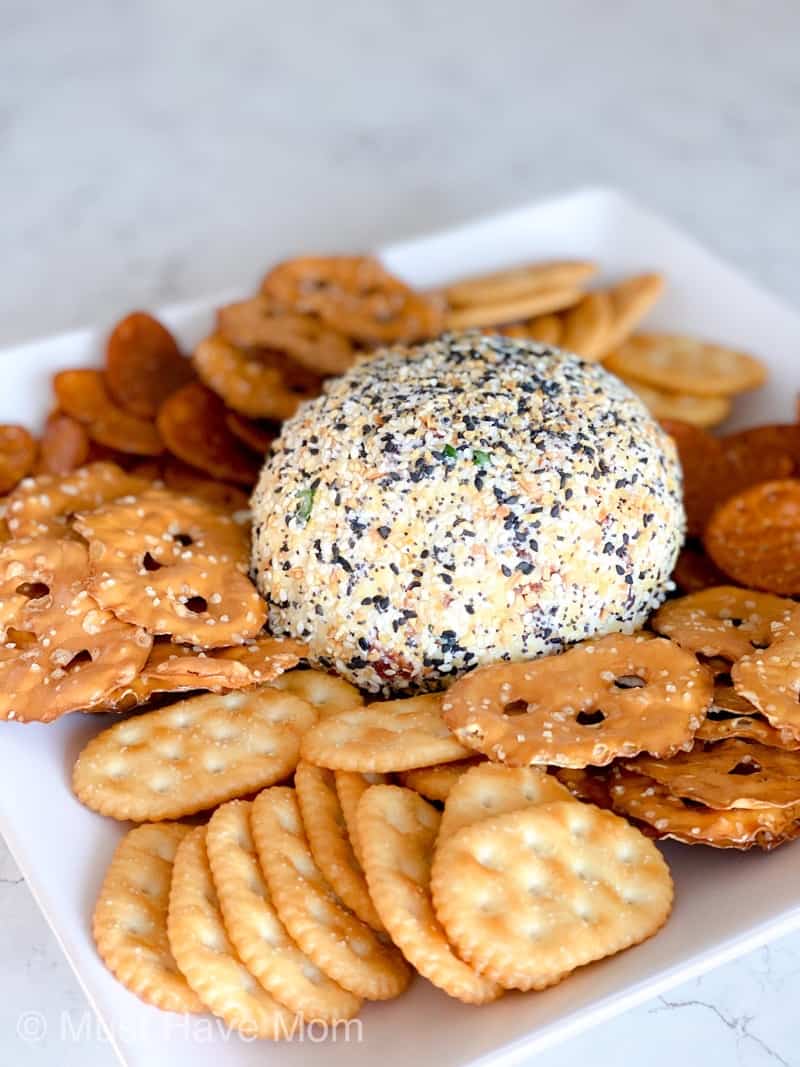 Put your cheese ball on a plate in the fridge to chill. It's important to take the cheese ball out of the fridge about half an hour prior to the party so it can soften and be easier to dip into for the party.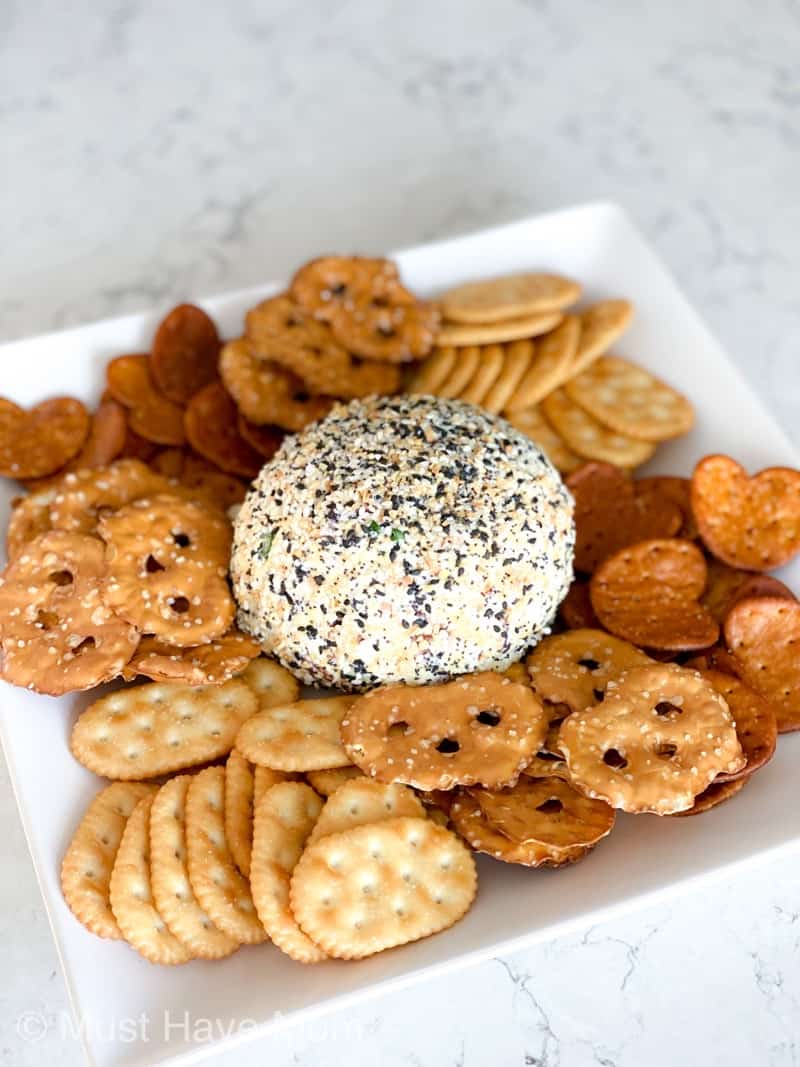 What To Serve With A Cheese Ball
Place your cheese ball in the center of a large plate or serving platter. Surround it with fun dippable snacks! We served ours with pretzel thins, crackers and pretzel crackers. We also had veggies to dip into it but we put them on a separate tray so they didn't get the crackers soggy. You could also serve melba toast with it. Anything savory you can dip you can serve with this cheese ball!
Cheese Ball Recipe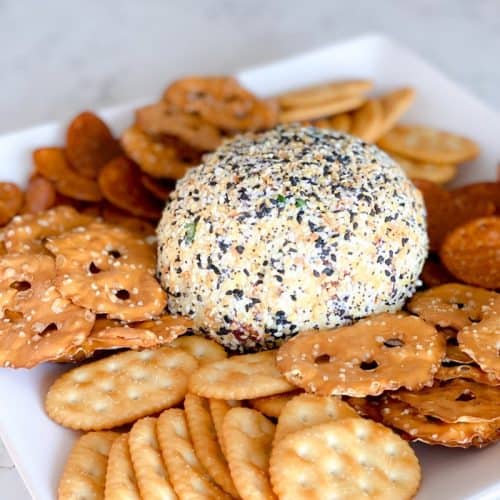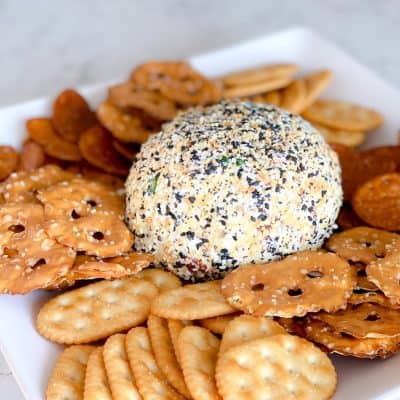 Everything But The Bagel Seasoning Cheese Ball
This easy cheese ball recipe is the perfect way to use Everything But The Bagel Seasoning! Serve it at your next party or gathering.
Ingredients
8

oz

cream cheese

softened

6

oz

mozzarella cheese

shredded

4

slices

cooked bacon

chopped

2

tbsp

green onions

sliced

3-4

tbsp

Everything But The Bagel Seasoning
Instructions
In a medium-sized bowl mix together softened cream cheese, mozzarella cheese, bacon and sliced green onions.

Once fully mixed, form mixture into a ball.

Cover the outside of the cheese ball with Everything But The Bagel Seasoning. Roll it around in the seasoning until it is fully covered.

Chill in the fridge or serve immediately. If you chill it, be sure to take it out of the fridge at least half an hour before the party to allow it to soften for dipping. Serve with crackers, pretzels, veggies, etc.
Pin Easy Cheese Ball Recipe