The Breeo smokeless fire pit takes enjoying a fire to a whole new level. Ready to up your game and really enjoy those nights spent around the fire? The Breeo is a game changer and I'll show you exactly why I say that.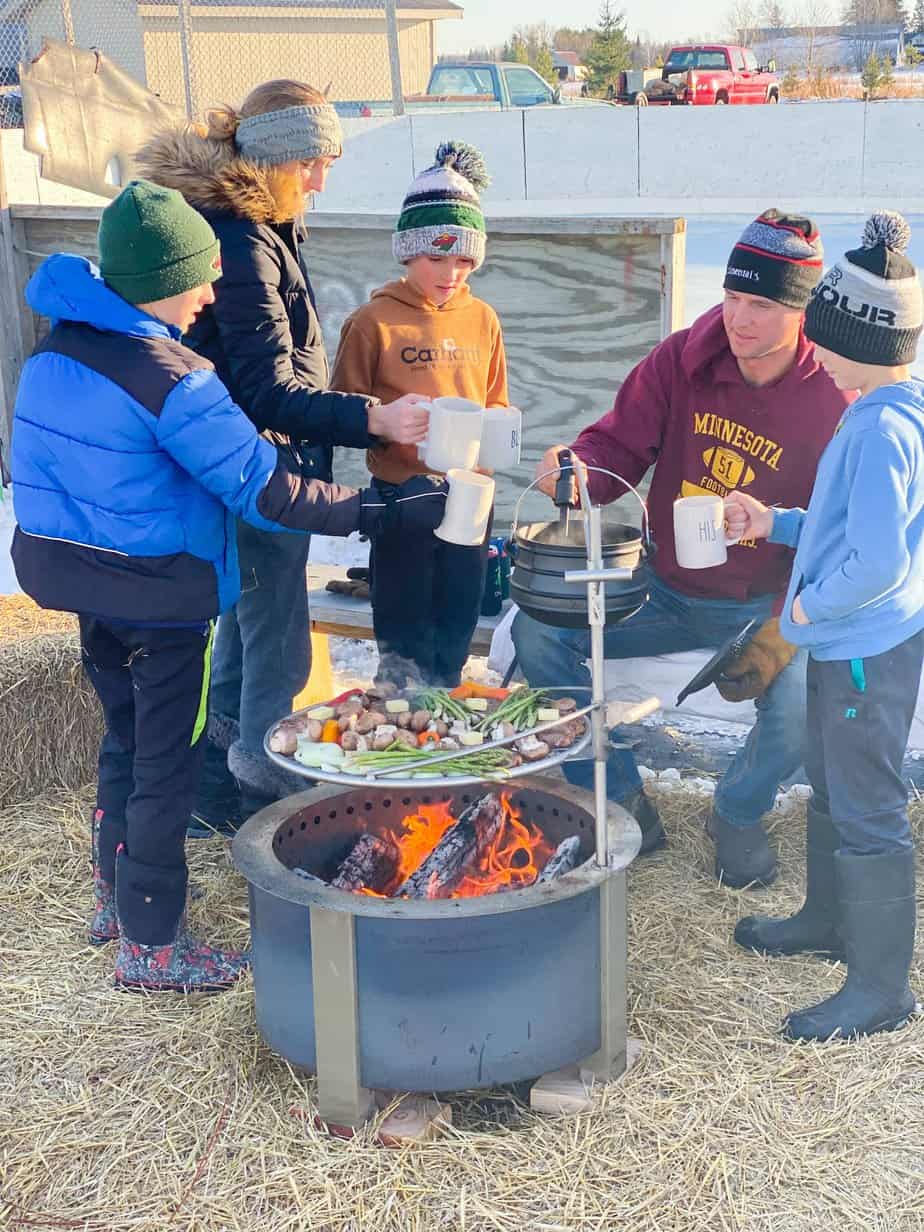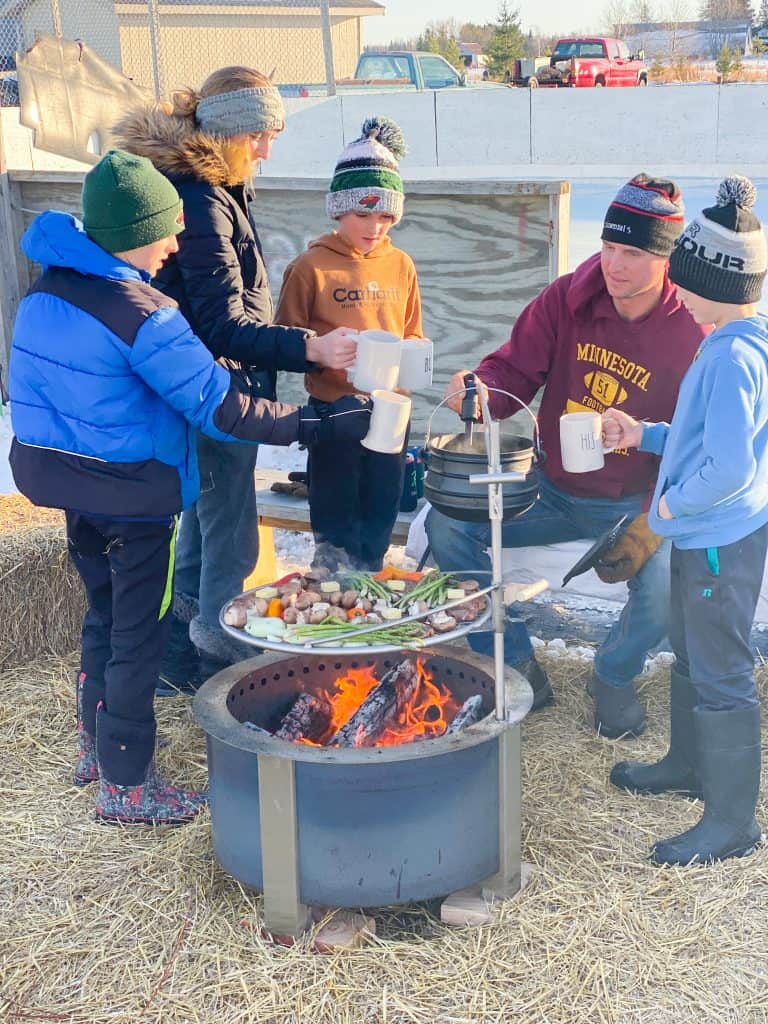 Breeo Fire Pit Review
I have had my eye on several different smokeless fire pits for a while now. I was debating between the Breeo fire pit vs the Solo fire pit and ended up going with the Breeo after much research. Boy am I glad I did. The Breeo is in a class of its own! The possibilities with the Breeo are endless and it is so much more than just a smokeless fire pit.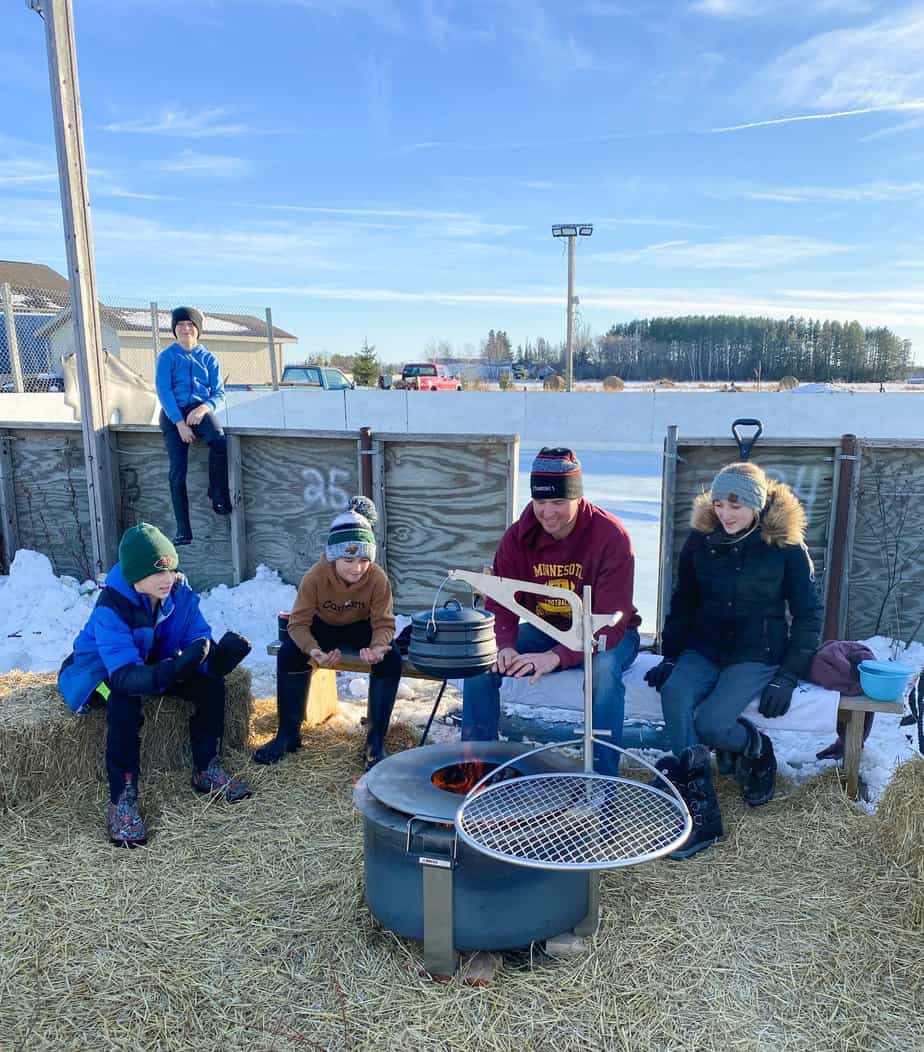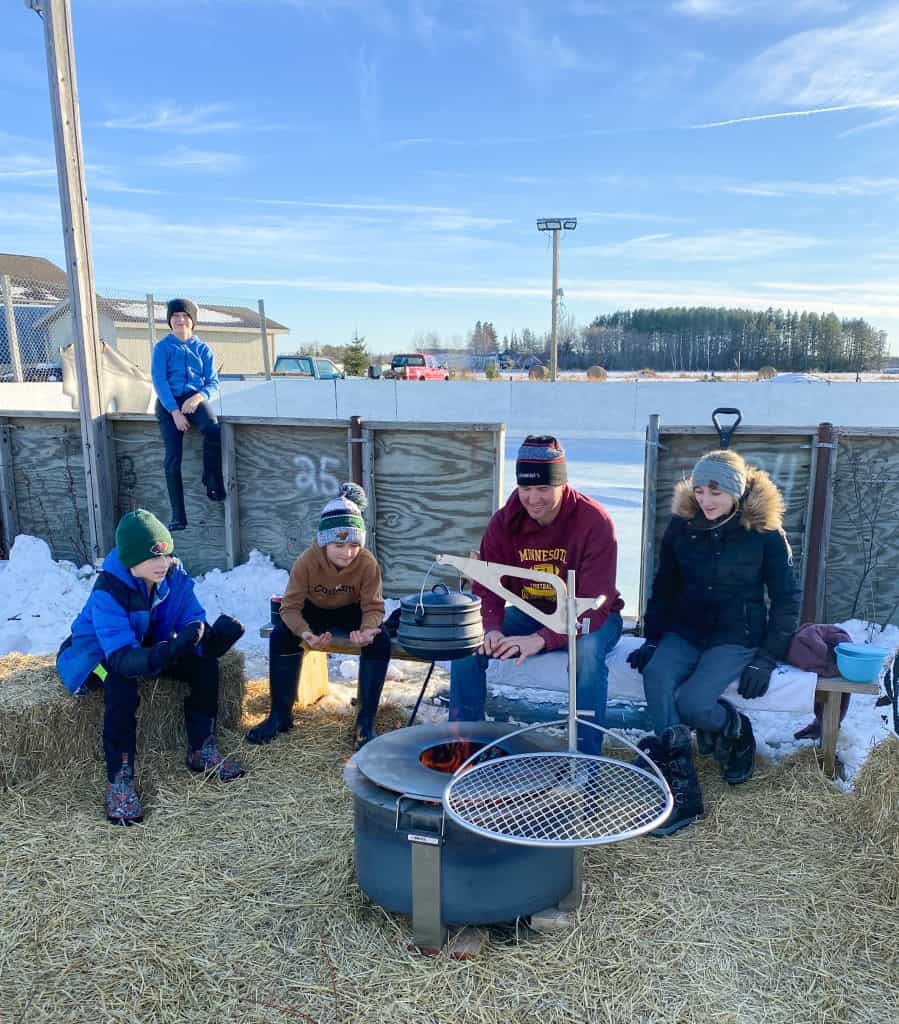 The Breeo fire pit not only offers incredible design advances that deliver a smokeless fire experience, but it also has amazing cooking capabilities. This is not your standard fire pit, it's an entire experience. Get ready to make some serious memories!! We are pretty serious about having major family fun around here so you'll see we set up our Breeo fire pit next to our outdoor hockey rink. Here in Minnesota hockey is life in the winter so it's the perfect spot to socialize and stay warm while enjoying the great outdoors all winter long. And yes. We have a hockey rink in our backyard. I said we were serious about having fun. I meant it. With the holidays just around the corner, there is nothing better for outdoor entertaining than the Breeo fire pit. Let me show you why.
This is the Breeo X Series 24 Smokeless Fire Pit in Corten Steel. We also added the Breeo sear plate griddle and Breeo outpost grill. The kettle hook and cast iron kettle are also a must have. With this setup you can stay warm and enjoy smokeless fires, cook pretty much anything and even warm drinks. It's the ultimate setup.
The X Series elevates your campfire experience by eliminating the frustration of traditional fires and creating a centerpiece to gather around. As their most versatile fire pit, the X24 is the perfect size for hosting friends and family and includes all the cooking capabilities you'll need.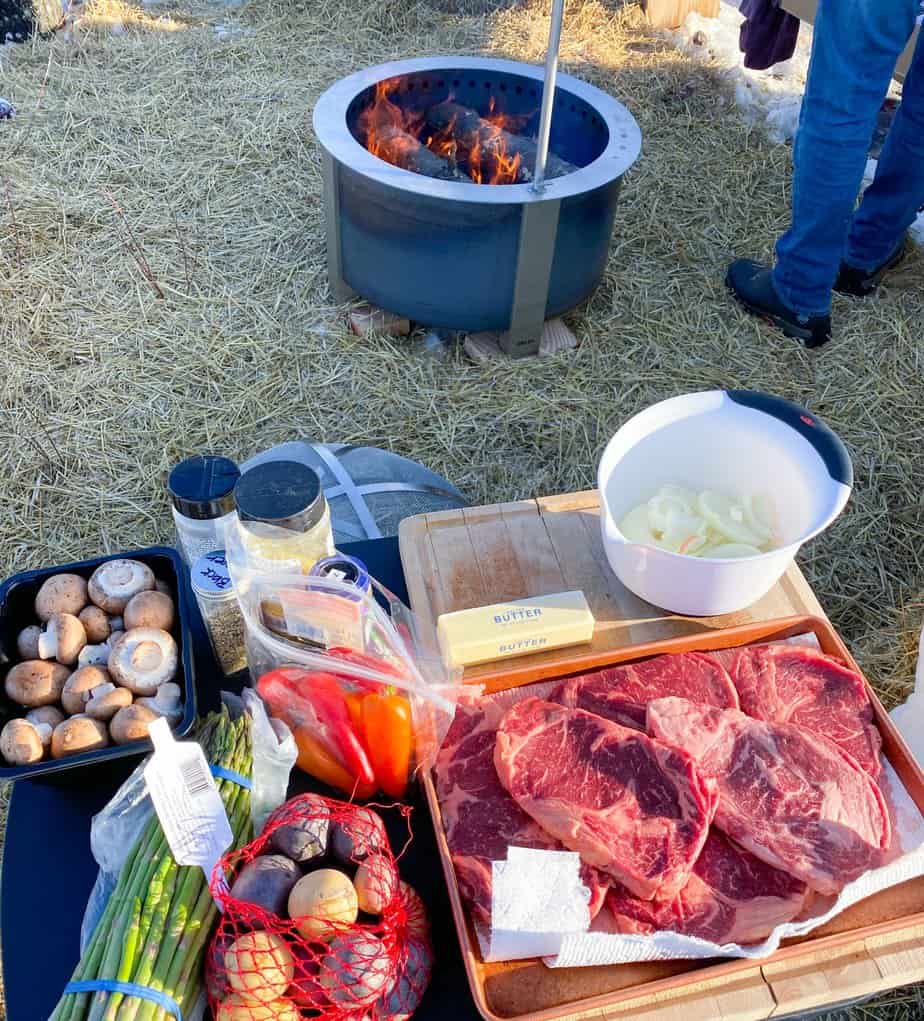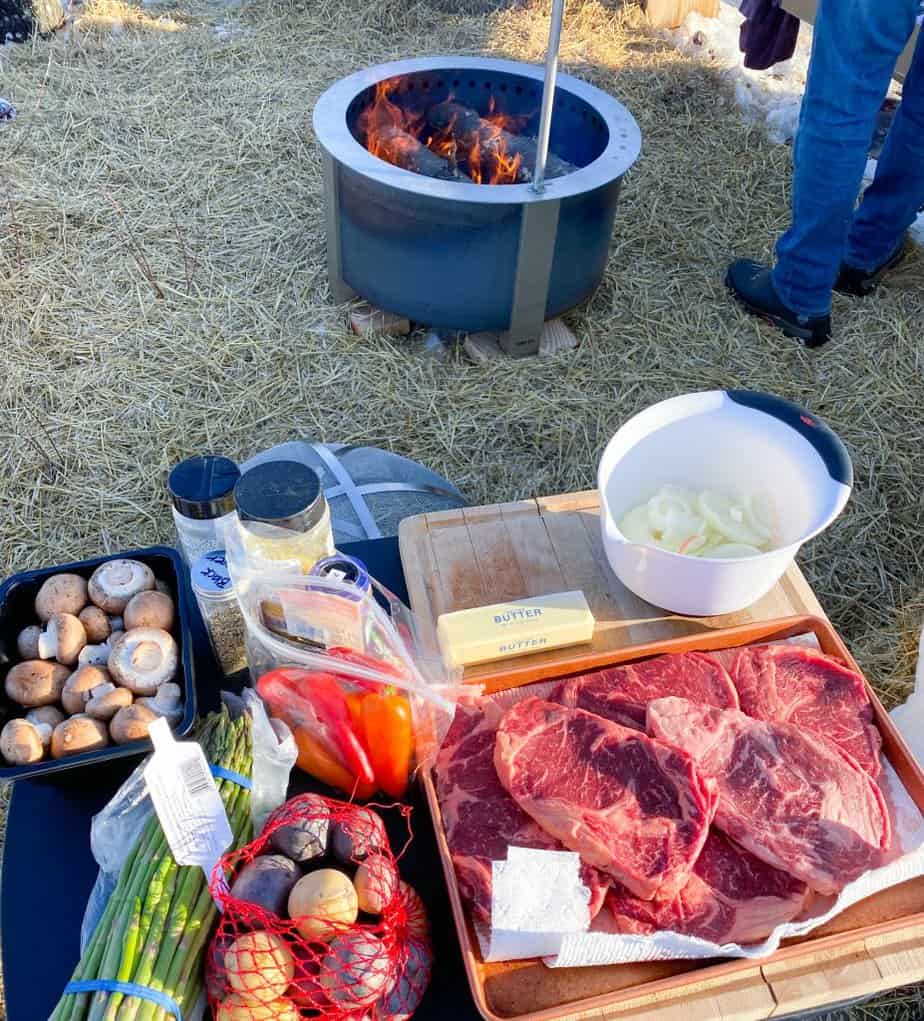 To truly get the most out of your Breeo experience you must cook over the open flame. It's SO easy and SO delicious. Grab some ribeye steaks, fresh veggies, butter and spices. That's all you need for the most amazing meal ever. The prep is super easy and cooking is fun.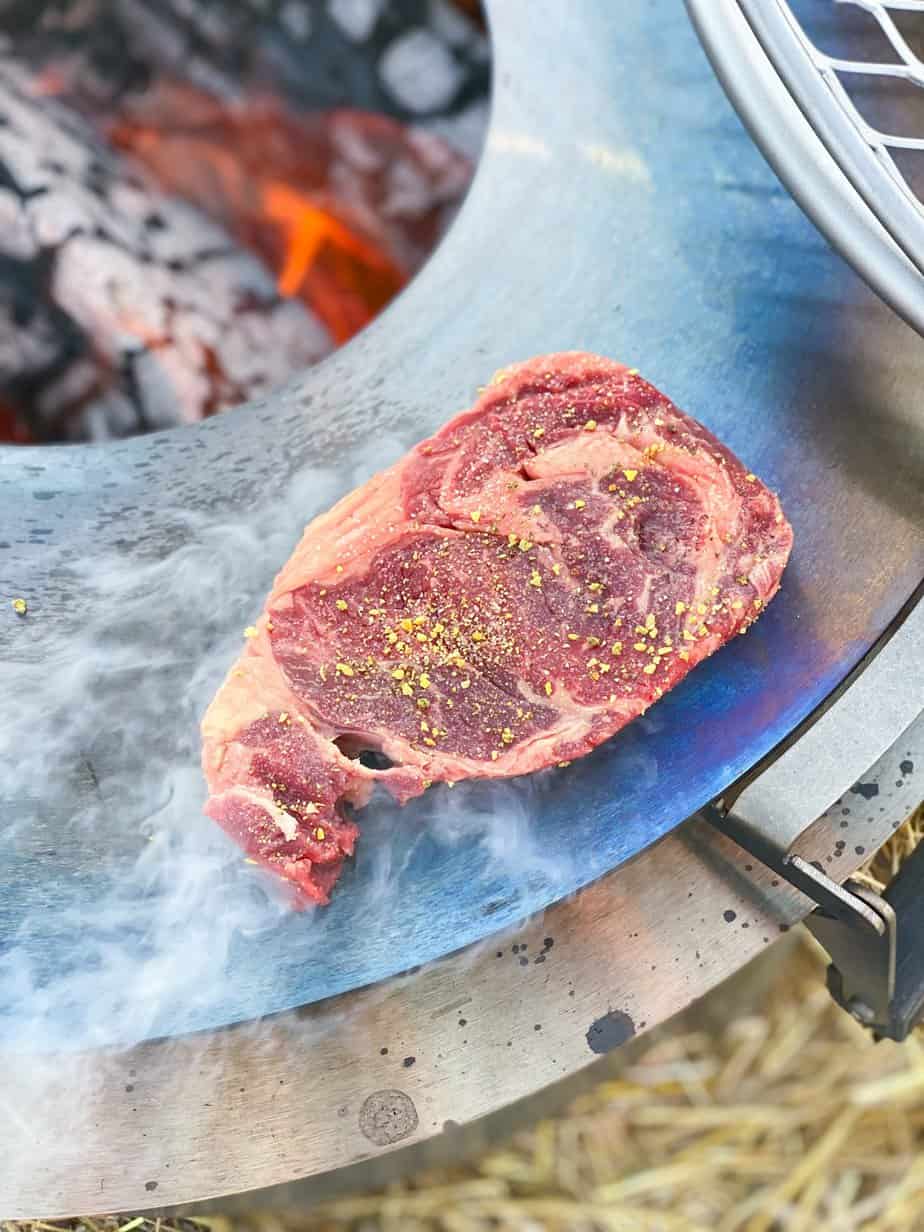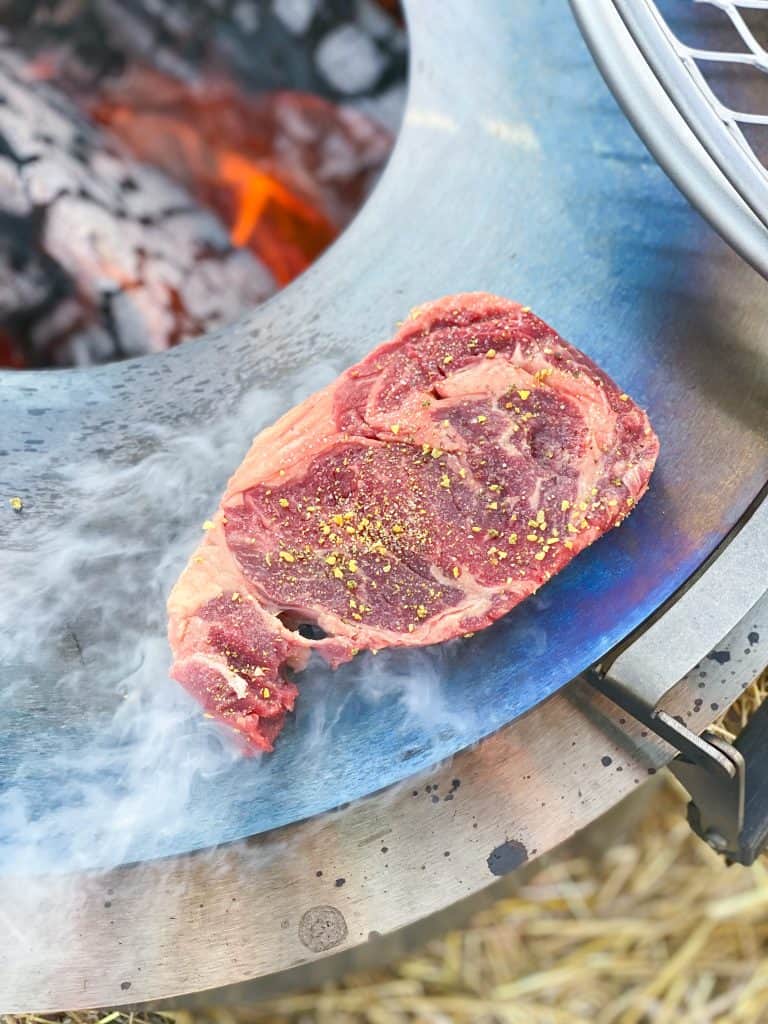 Begin by selecting some nice ribeye steaks. Season with salt, pepper and your favorite seasoning blend. Place the sear plate griddle over the Breeo fire pit and let it heat up. When it's nice and hot, go ahead and place your steak on the sear plate. It will sizzle and sear nicely to lock in all those juices. Allow to sear for a minute or two and then flip over. You can also sear the edges to get that fat seared nicely. After the steak is properly seared on both sides, transfer to the outpost grill to finish it off.
Once you've seared all the steaks and moved them over to the outpost grill, then add the rest of your veggies. I also added a pad of butter on top of each steak to make it extra delicious.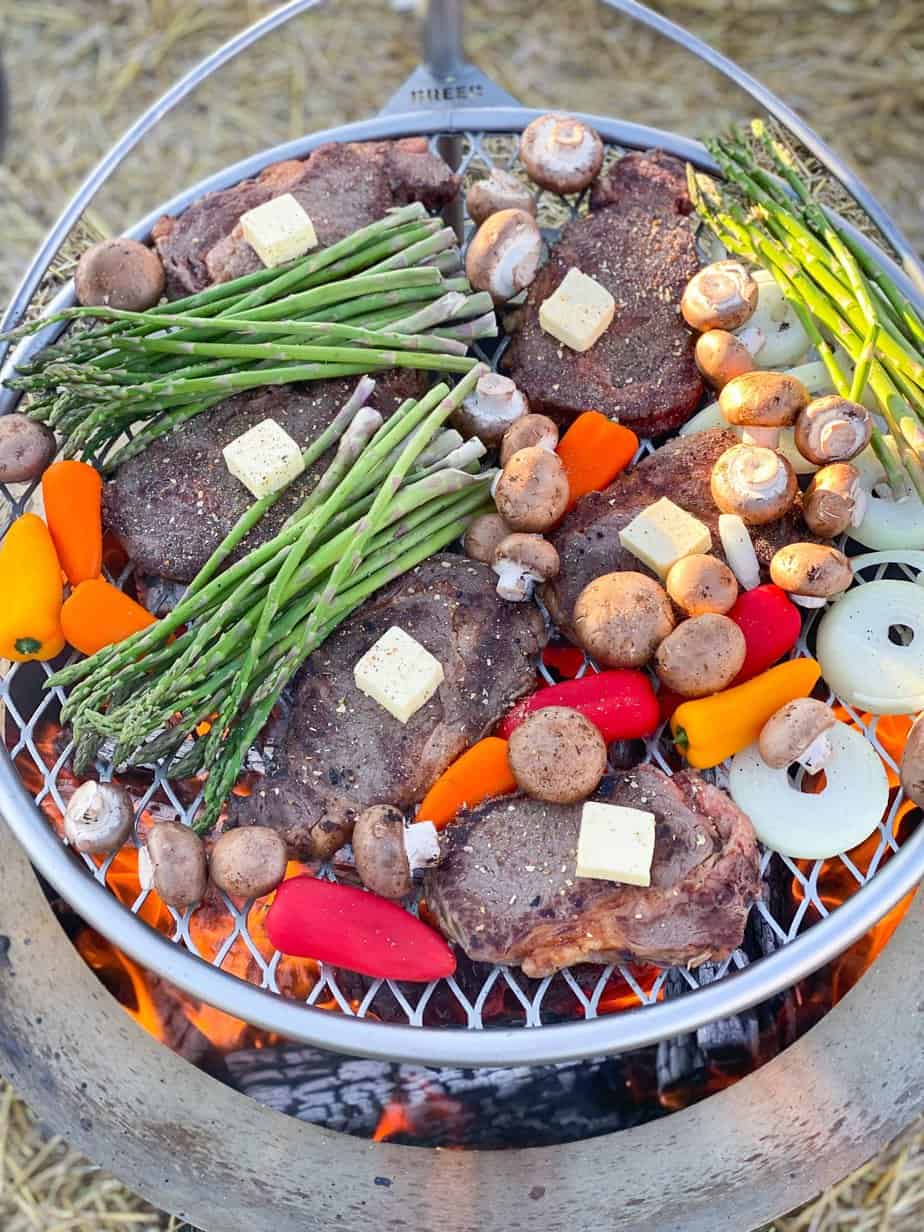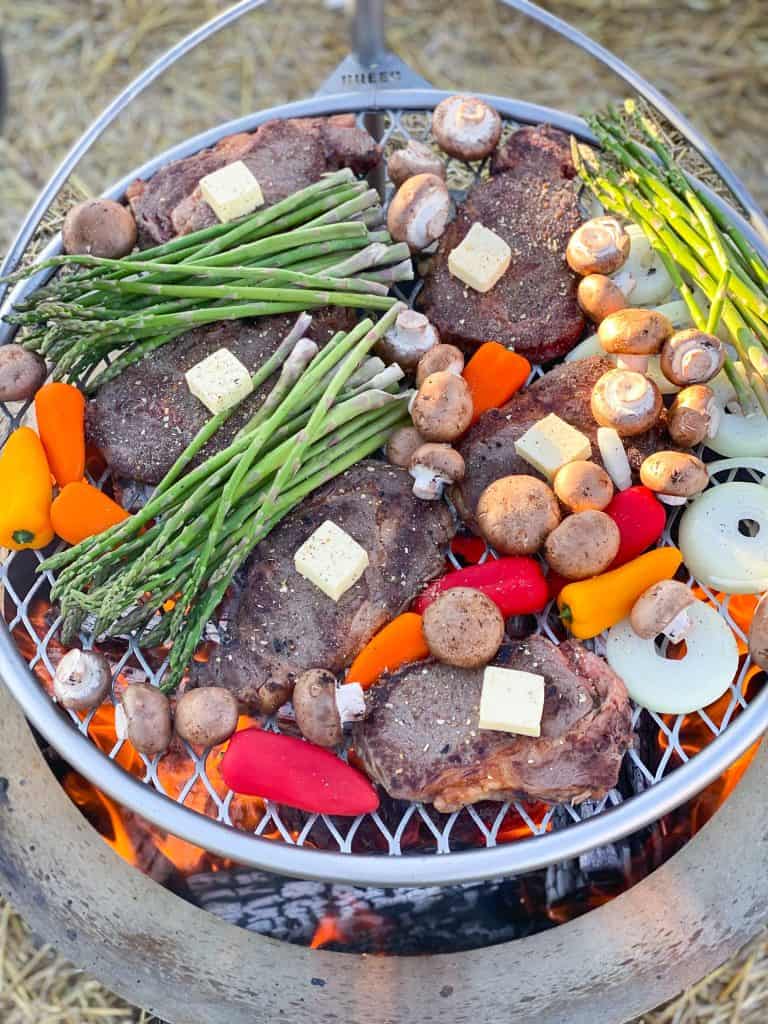 Move the outpost grill over the fire. Adjust the height as needed so you don't burn your food and instead allow to cook slowly over the fire. Once the food is finished cooking, serve it up and enjoy fireside. These steaks were absolutely AMAZING. The flavor was unreal and my family couldn't believe that I hadn't even marinated them. They were just that good. The fire infuses flavor that you just don't get any other way.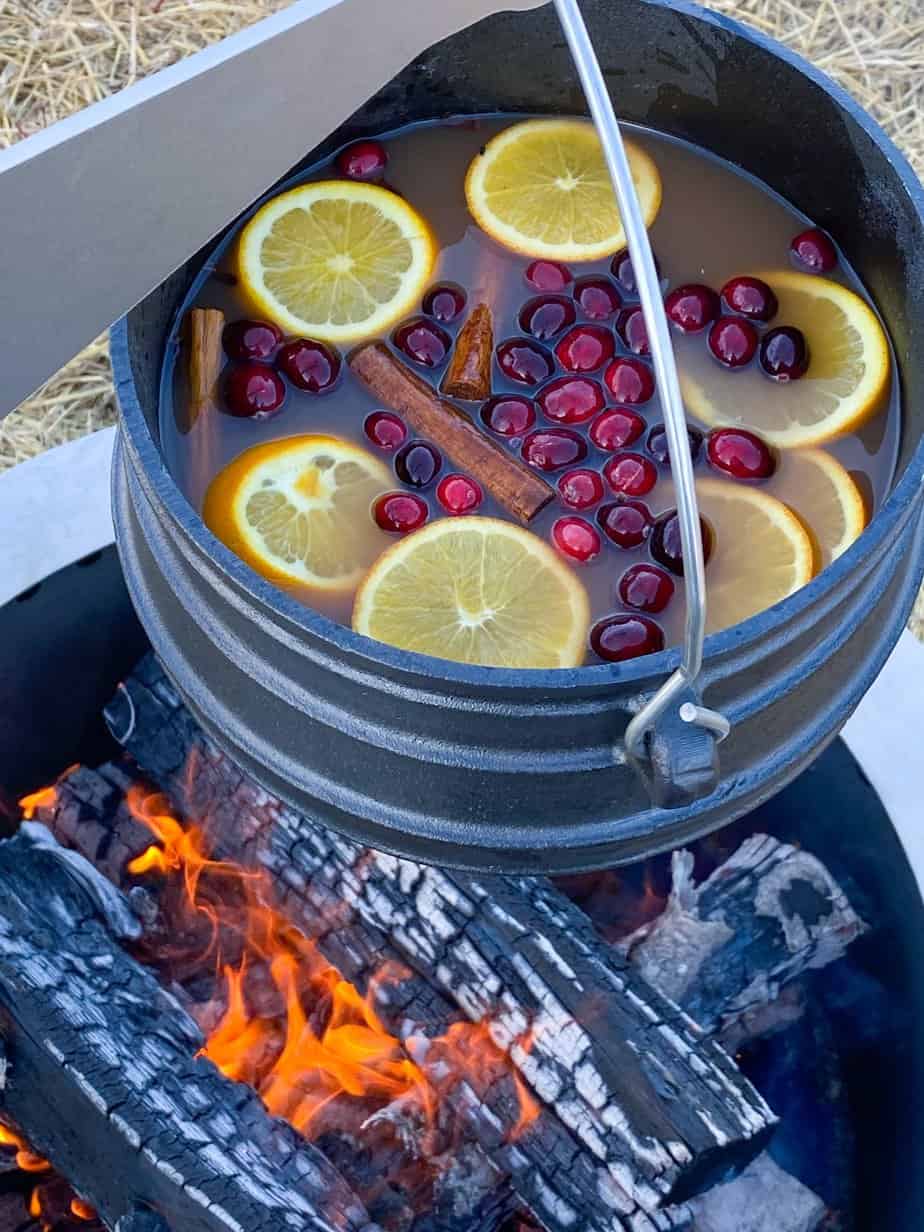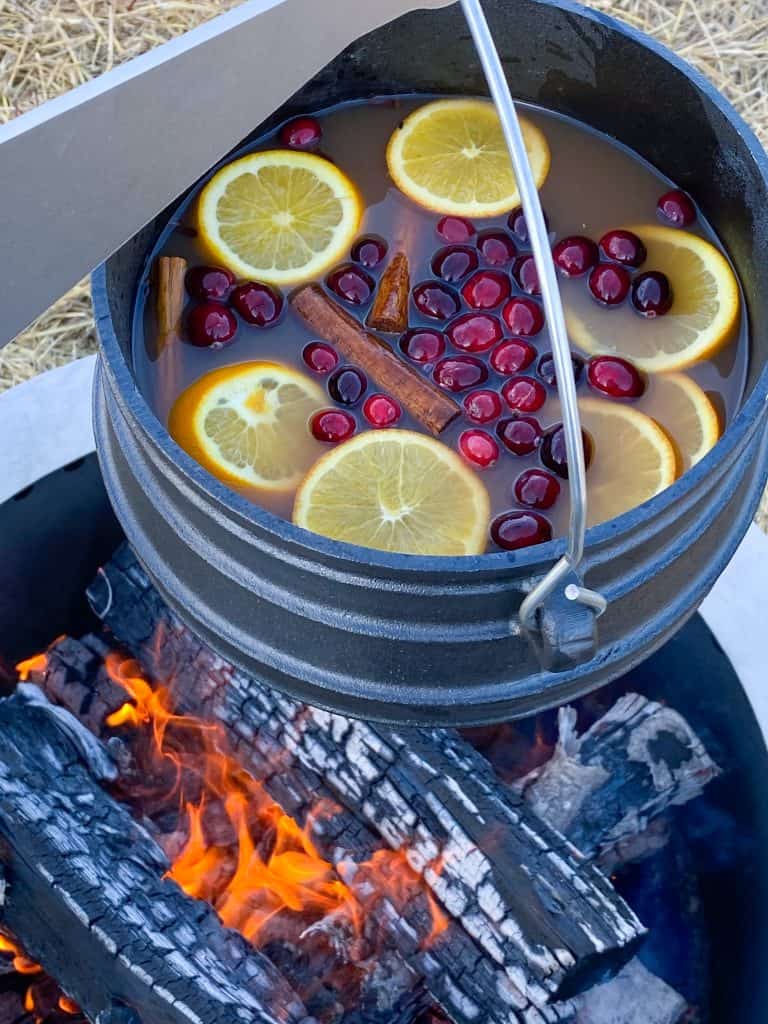 We also made the most amazing mulled apple cider over the fire. It was SO delicious and it was the perfect beverage to sip on as we sat around the fire. This was one of the Breeo recipes on their site. I'll share it below so you can make your own! It's a great holiday entertaining beverage and you can also add alcohol at the end if you are looking for a warm cocktail to serve. We skipped the alcohol and kept it family-friendly.
Breeo Recipes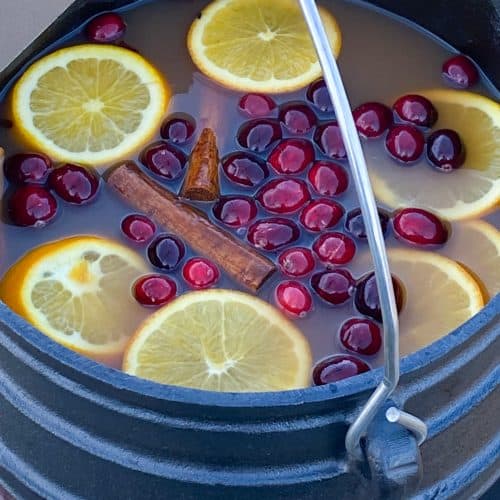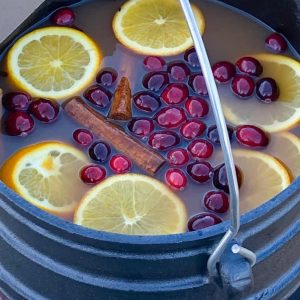 Mulled Apple Cider
Delicous holiday beverage made over the open fire.
Equipment
1 Breeo cast iron kettle and kettle hook
Ingredients
1

gallon

Fresh Apple Cider

6

Cinnamon Sticks

15

Cloves

2

Sliced Oranges

1

cup

Whole Cranberries

1

Whole Nutmeg

Optional Alcohol:

¼

cup

Rum

Brandy, Whiskey, or Bourbon

1

cup

Red Wine

optional
Instructions
Start a fire in your fire pit and add the Outpost Pole, Kettle Hook, and Kettle.

Once the kettle is warm, add the cinnamon sticks, cloves, and nutmeg and slowly toast.

Add the apple cider once the spices are lightly toasted and add the lid onto the kettle to warm up the cider.

After the spices have steeped and the apple cider is warm, stir in the alcohol of your choice. Feel free to add more or less alcohol to the kettle or individual servings based on preference.

Once it reaches your desired temperature, add the orange slices and cranberries for the garnish, and you're ready to enjoy!
Notes
LIVE-FIRE COOKING PRO TIP: MAKE SURE TO ADD THE ALCOHOL AT THE END OF THE WARMING PROCESS SO IT DOESN'T COOK OFF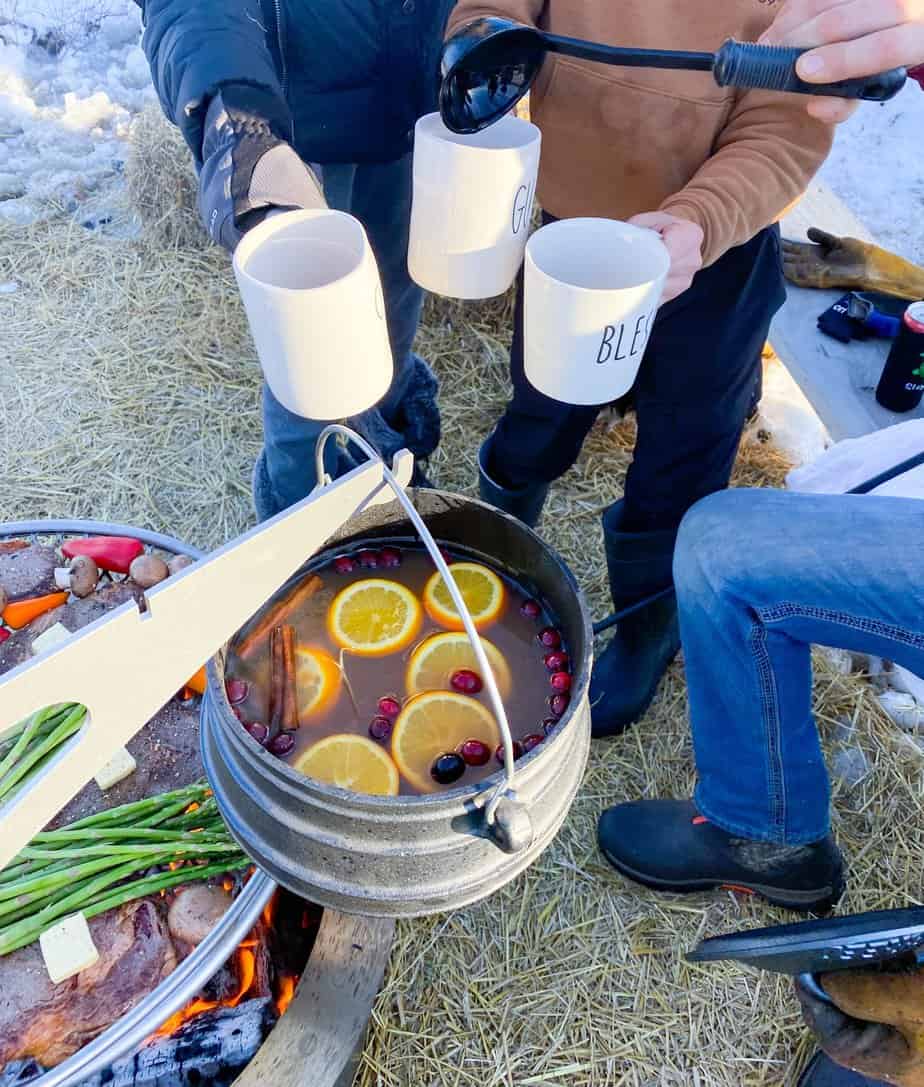 The kids kept coming back for more cider. This was an excellent way to warm up outside and a really easy way to keep our hot beverage HOT! Super easy for entertaining!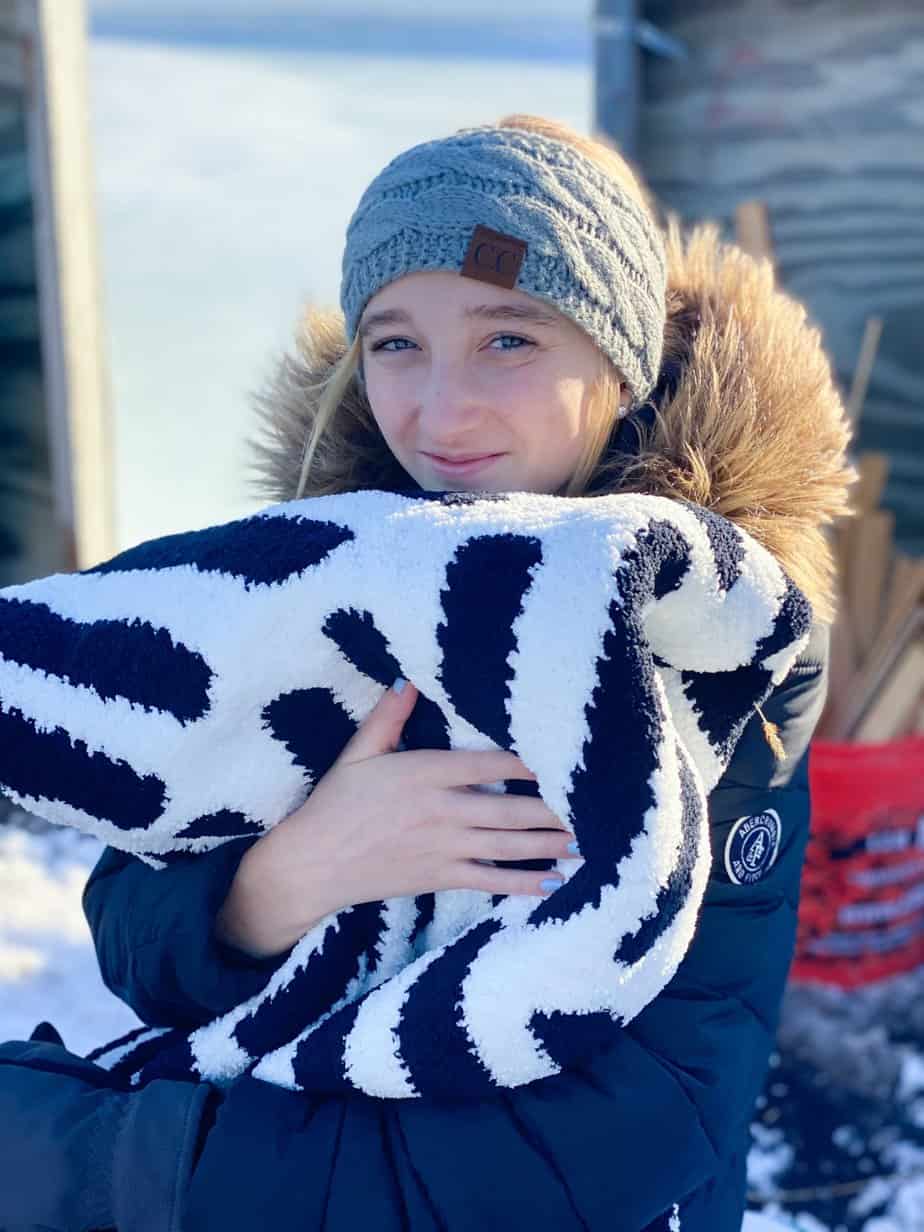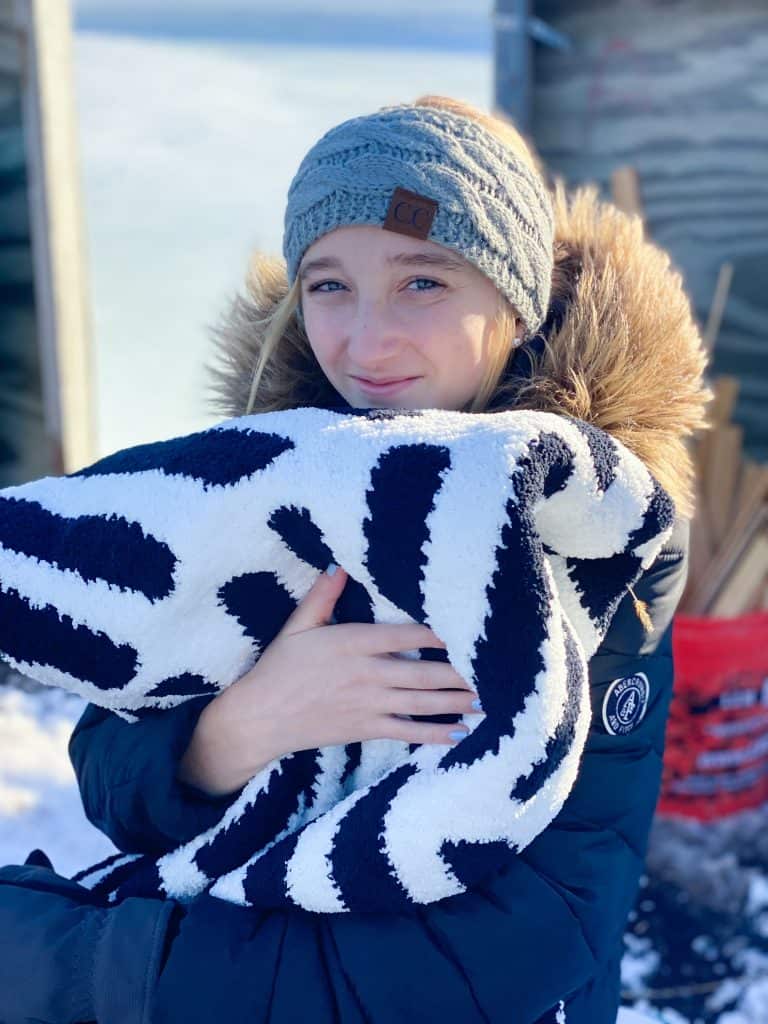 Be sure to provide cozy blankets for your holiday guests around the fire. We LOVE this Sunday Citizen Tulum Throw blanket. It's super soft and oh so cozy.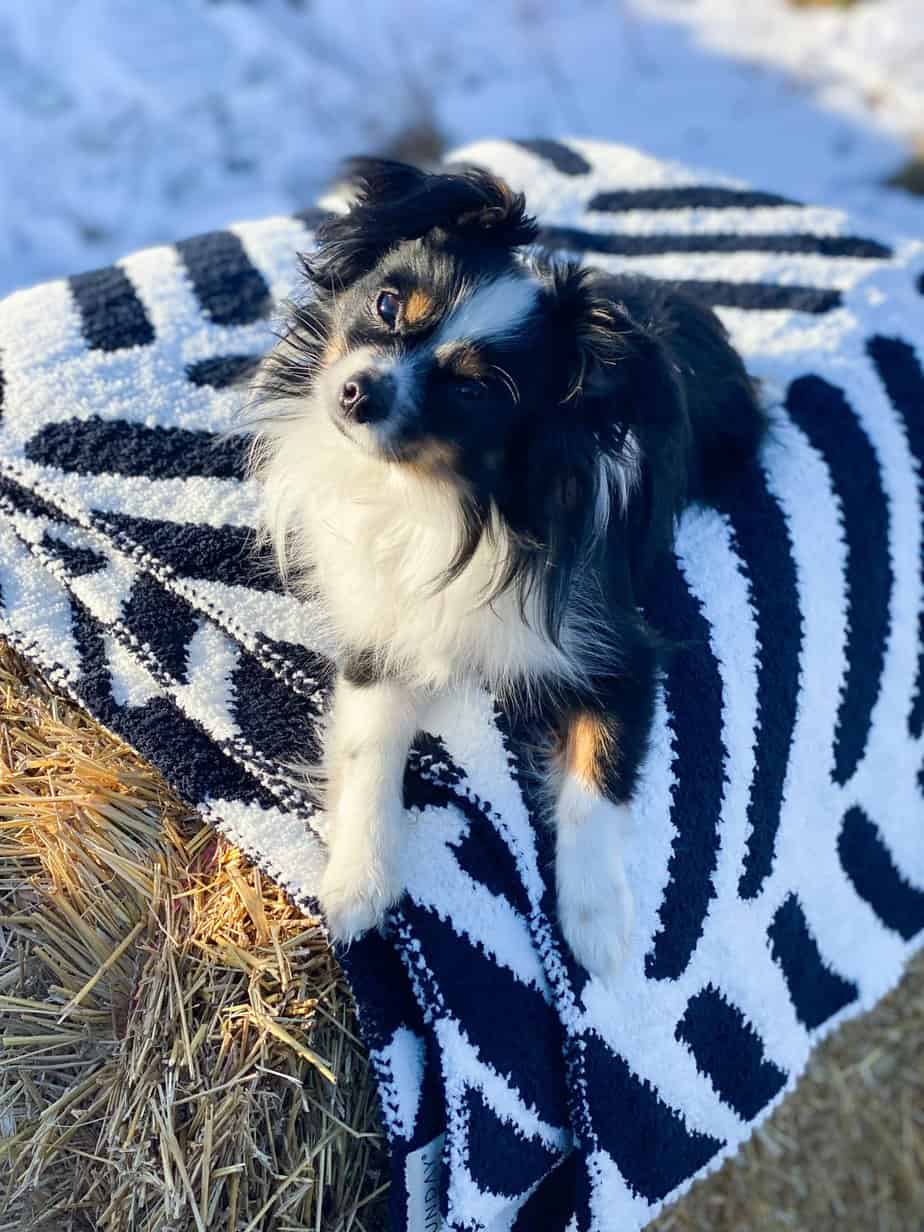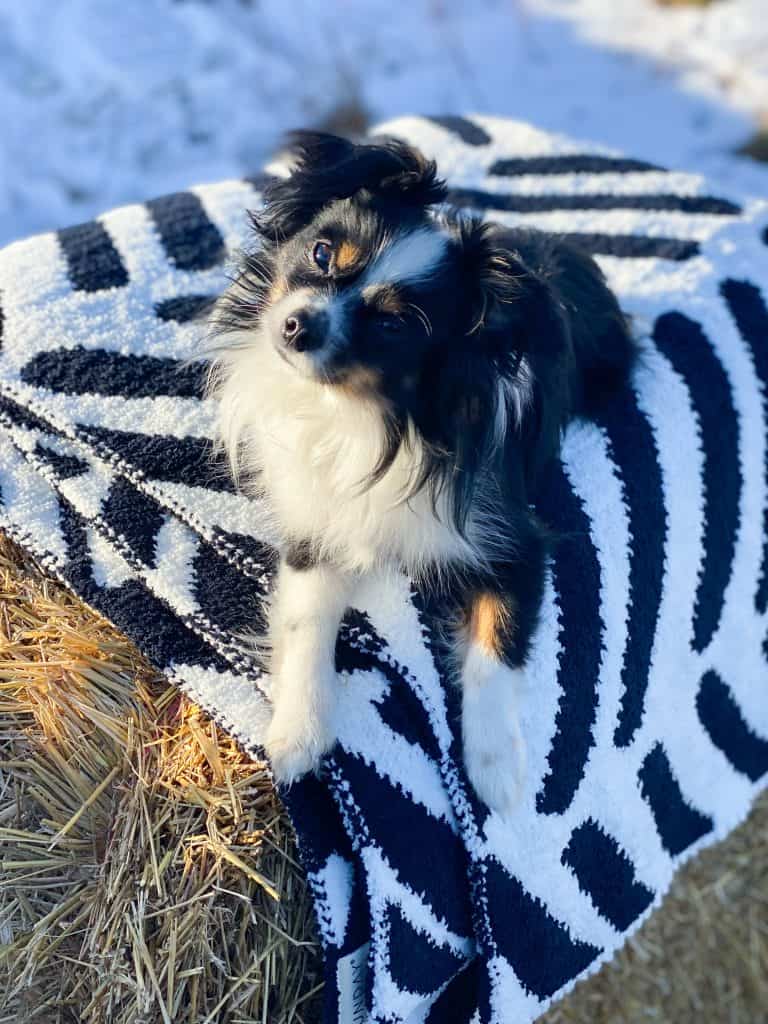 A hockey bench, some hay bales and wood stumps were all we needed for the perfect seating around the fire. Big enough to accommodate everyone so they could warm up and grab a bite to eat!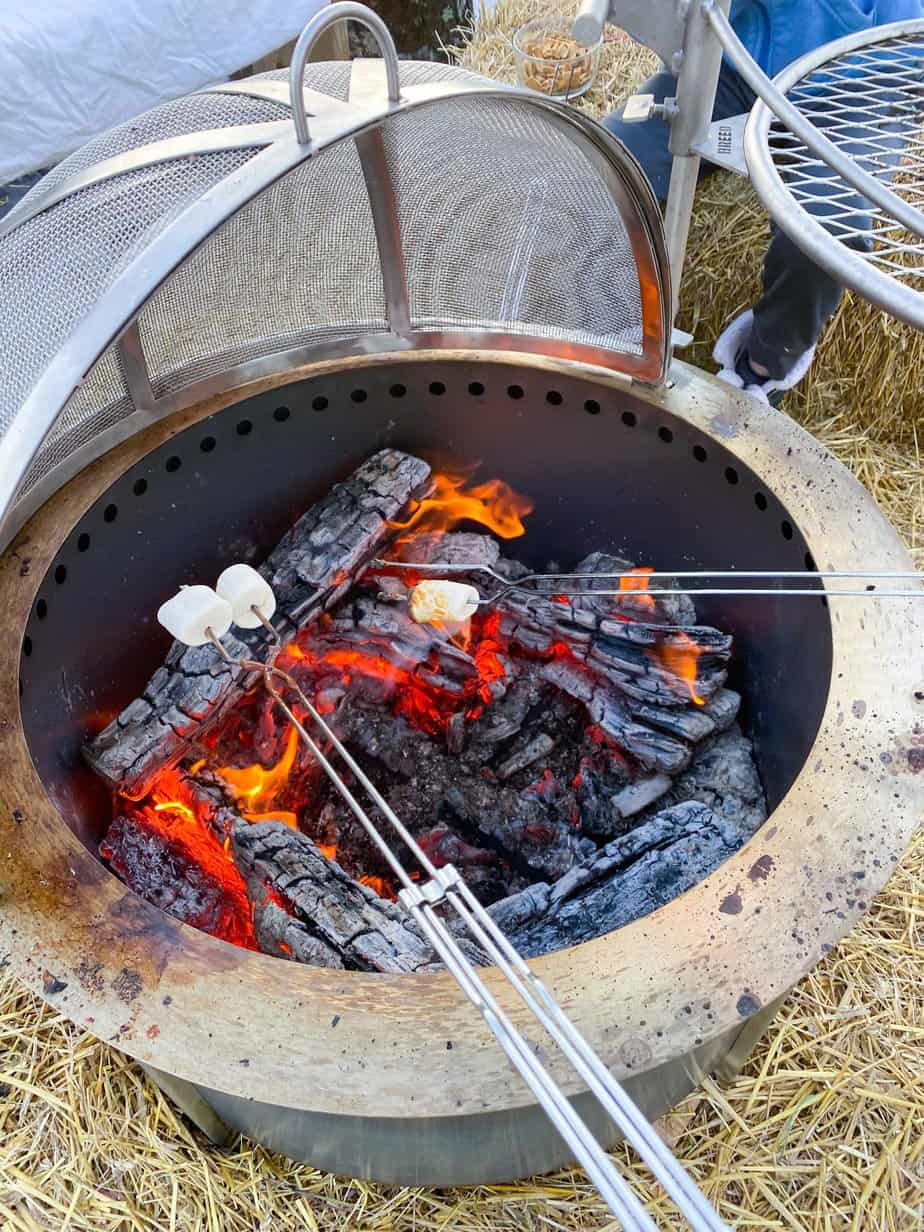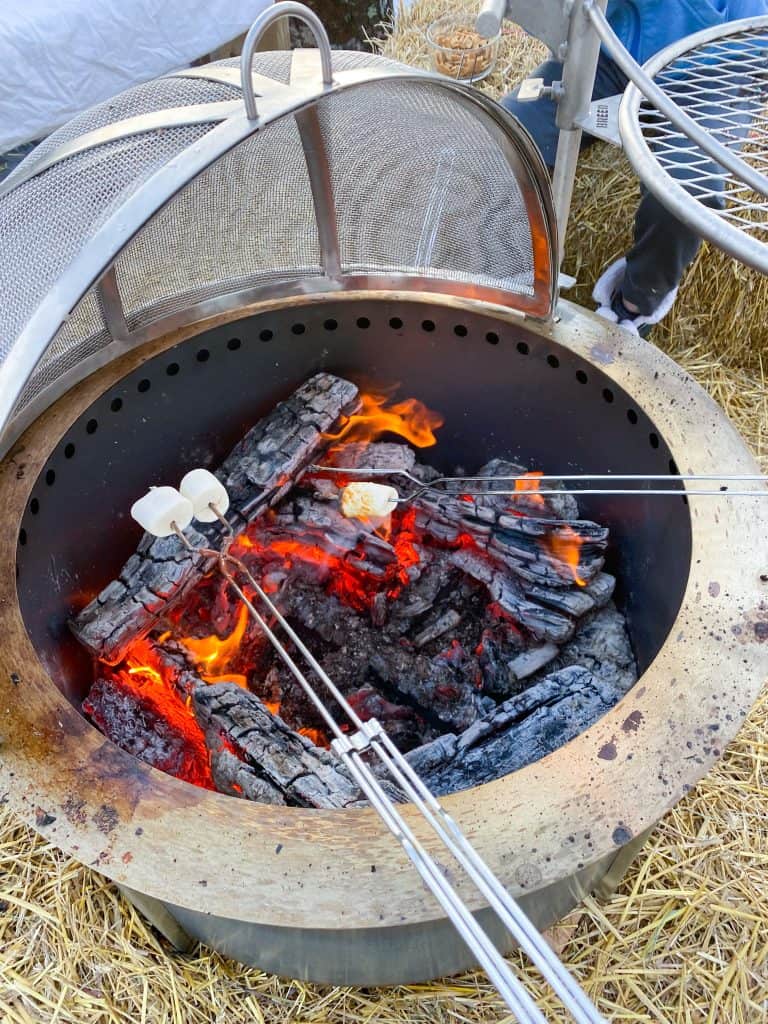 After we enjoyed the most amazing steak and veggies accompanied by mulled apple cider, we finished off the evening with some s'mores over the fire. We threw the Breeo spark screen on and still had easy access whenever someone was ready to make a s'more. The spark screen prevents sparks from escaping and burning holes in your jacket (or favorite blanket). You'll find that you can sit around the fire and enjoy it without smelling like smoke or finding holes burned through your clothes. Breeo truly has taken enjoying the fire to the next level.
Can you already envision your next holiday gathering with Breeo at the center? It makes entertaining so easy and so much fun. It's sure to be the talk of the party and will inspire many fun family moments where you create memories that last forever!
Breeo is made in Pennsylvania and comes with a lifetime warranty. In addition, Breeo, LLC warrants no rust-through or burn-through for a period of five (5) years from purchase.
Hands-down this is the best thing we have added to our home in a very long time! Get ready for some next-level entertaining in your future.
You can buy the Breeo X Series smokeless fire pit, outpost grill, sear plate griddle, kettle hook and cast iron kettle on Breeo.co!
HOW IT'S SMOKELESS
Fires are made when quality fuel, sufficient heat, and oxygen meet. Smoke is the result of an imbalance in one or more of those elements. Breeo fire pits are designed to provide more oxygen, allowing for a hotter fire that burns its own smoke before it has the chance to escape the fire pit.
WHY CHOOSE SMOKELESS
Breeo pioneered smokeless fire because you deserve to relax without drawbacks. You shouldn't have to fight tears as you roast marshmallows. Gone are the days of smoky-smelling clothes. At Breeo, they think it's time you get to enjoy the warmth and aroma of real, wood-burning fire unhindered by smoke. It's truly a whole new experience. SO enjoyable!