This refreshing melon ball drink recipe is my new go-to summer punch recipe! It's packed with fresh flavors and combines 3 base drinks to create this sparkling white grape juice punch combination.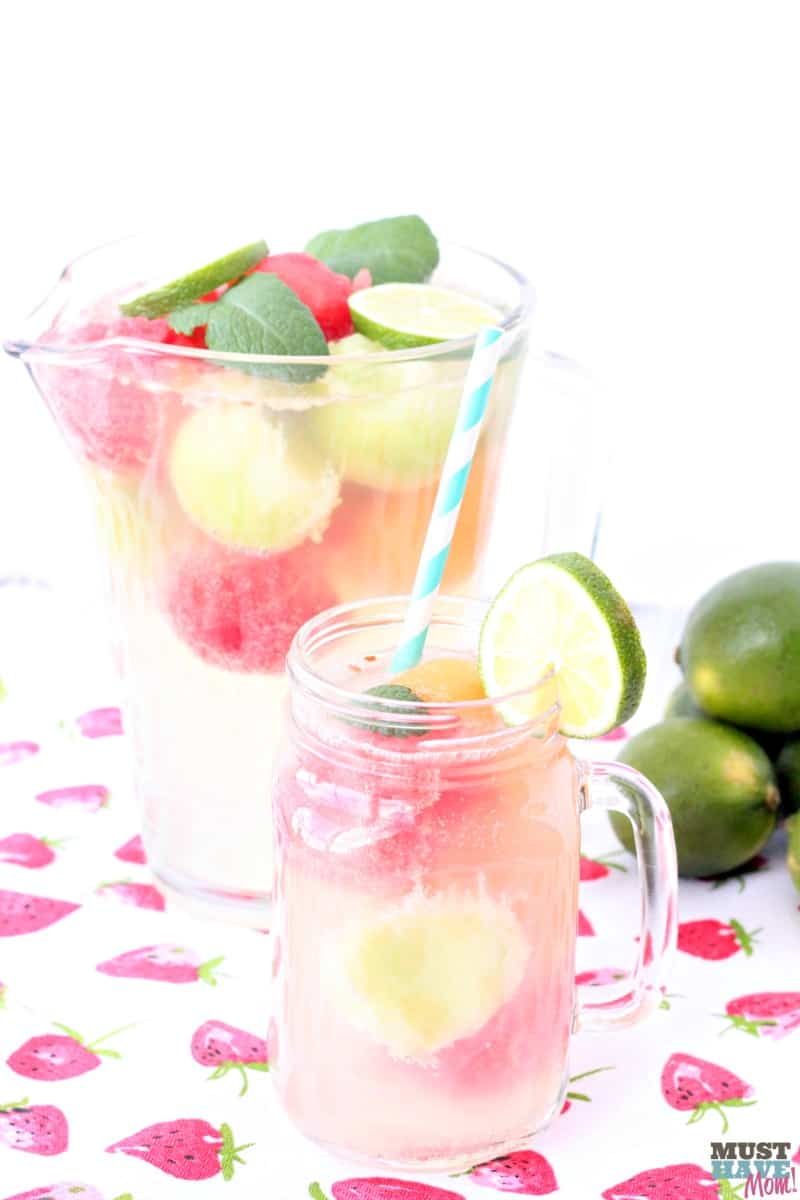 Sparkling White Grape Juice Punch
I was hosting a gathering and in search of a refreshing punch recipe that was fresh and delicious and not too sweet. I hit the jackpot with this melon ball drink recipe and everyone at the party LOVED the sparkling white grape juice punch. It's also a really easy recipe to keep adding to your punch bowl and refilling it. At our party I refilled it multiple times and it was easy to keep up thanks to the simple recipe!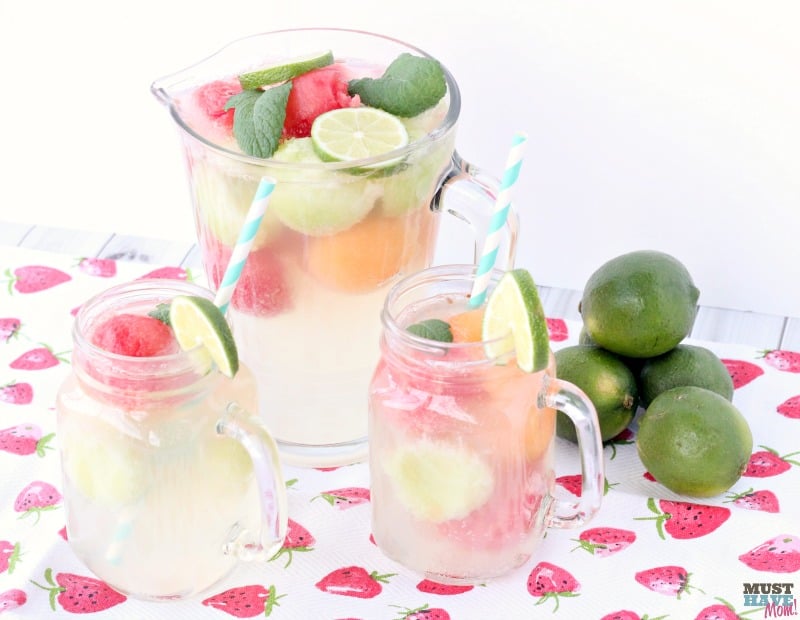 This grape juice punch melon ball drink combines two parts sparkling white grape juice, one part lemon lime soda and one part lemonade with flavorful bursts of frozen melon balls to create an amazing flavor combination that tastes fresh and light.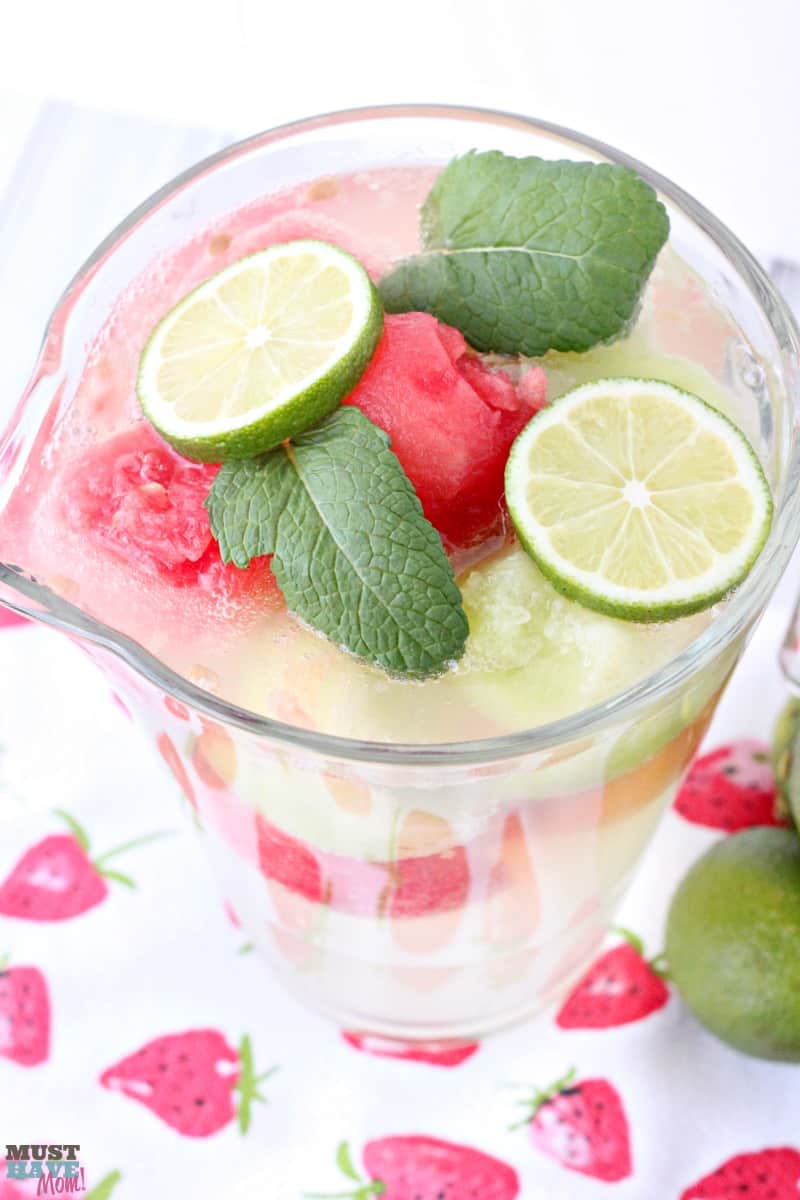 After combining the sparkling white grape juice, lemon lime soda and lemonade, add frozen melon balls to the punch and fresh mint leaves with lime slices. To make the melon balls I used this cookie scoop and scooped out balls from cantaloup, honeydew and watermelon and placed them in a single layer on a baking sheet. (The cookie scoop made bigger melon balls which stay frozen longer than a traditional melon baller would make.) I then froze them. Once frozen I removed them from the sheet pan and placed them into a gallon zip top bag. When you are ready to make the white grape juice punch just add the melon balls to it and pour the liquids over it to create your refreshing melon ball drink.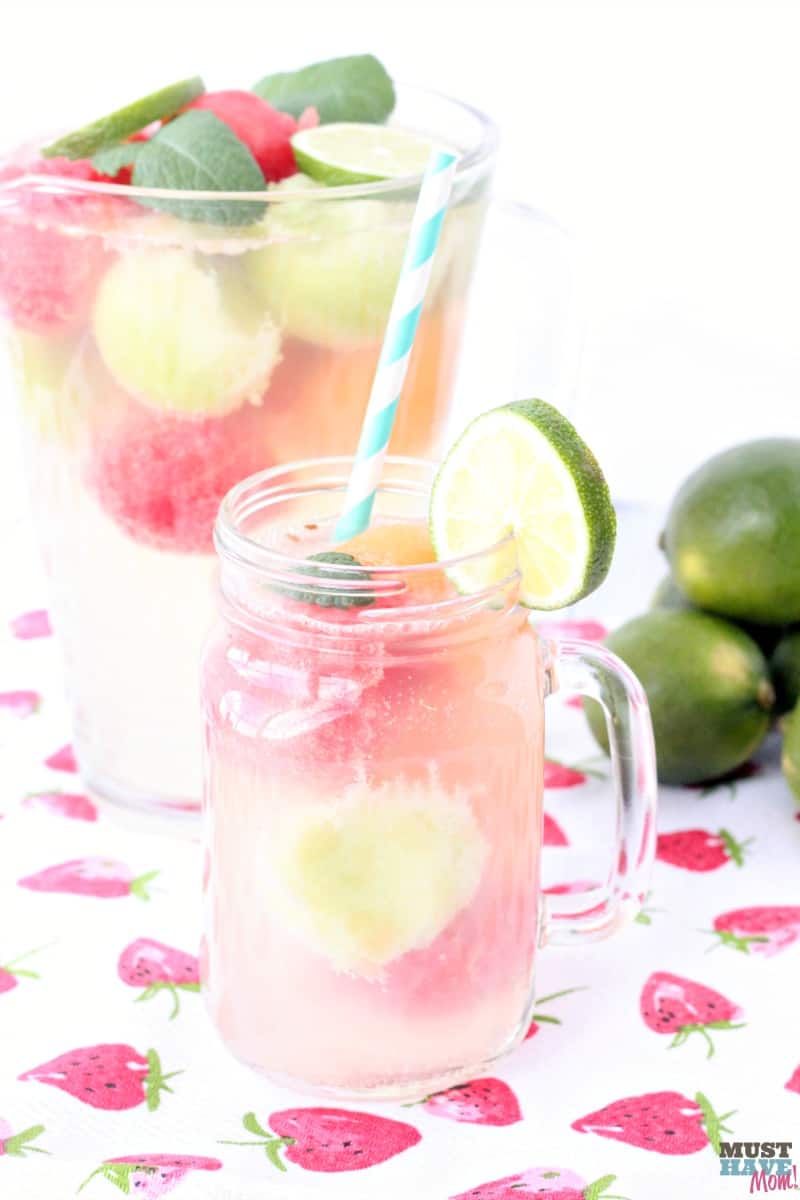 I topped it with fresh mint leaves and lime slices. I also added a fresh slice of lime to each glass as a garnish. Fun paper straws complete the pretty mason jar presentation!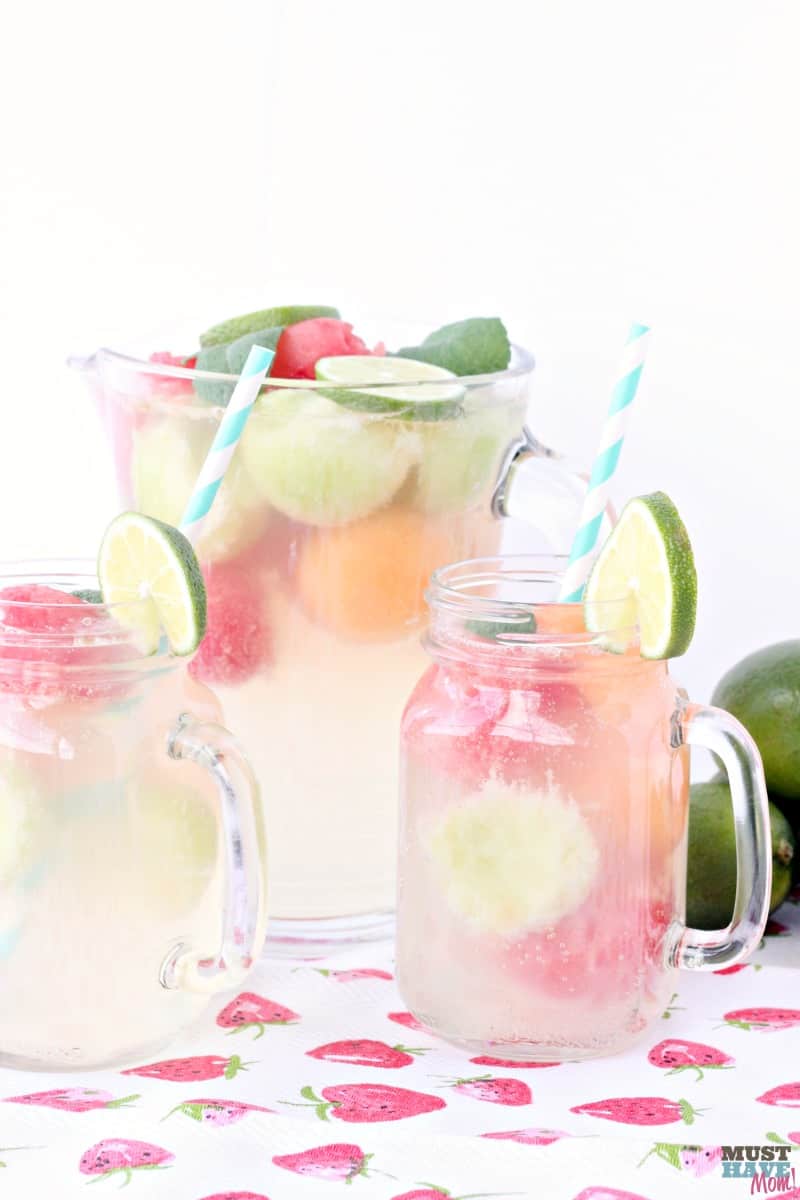 You can make this white grape juice punch recipe in a pitcher or a punch bowl. Either one will work! I just used a pitcher without a lid so that when you pour you get melon balls in your glass along with the punch so your melon ball drink gets the tasty flavor as the melon balls thaw.
Print the White Grape Juice Punch Melon Ball Drink Recipe: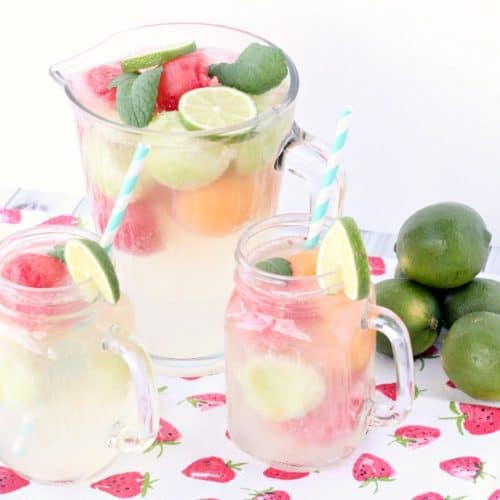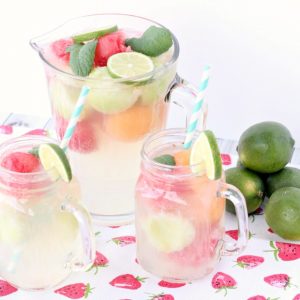 Refreshing Melon Ball Punch Recipe
Refreshing melon ball punch recipe that can be made in any quantity! Bursting with fresh flavors and not too sweet!
Ingredients
2

parts sparkling white grape juice

1

part lemonade

1

part lemon lime soda

1

mini watermelon

1

cantaloup

1

honeydew

fresh mint leaves

lime slices
Instructions
Use a medium cookie scoop or melon baller to scoop out melon balls from the watermelon, cantaloup and honeydew melons. Place them on a sheet pan in a single layer. Freeze until solid then remove and place in a gallon zip top bag or if you are ready to make your punch place them directly in your pitcher or punch bowl.

Pour two parts sparkling white grape juice, one part lemonade and one part lemon lime soda over the melon balls. Add fresh mint leaves and lime slices to the top.

Refill as needed by simply adding more liquids. You can make as much or as little of this punch by simply using the ratio of liquids above! The melon balls stay frozen and help keep the punch chilled without watering it down. Eat the melon balls once you finish drinking the punch!
Supplies we used to create the Melon Ball Drink:
OXO Good Grips Medium Cookie Scoop

Nordic Ware Natural Aluminum Commercial Baker's Half Sheet

Libbey Selene Punch Set

Crisa Impressions by Libbey 80 Ounce Clear Glass Pitcher

Hermetic Seal Glass Pitcher With Lid and Spout [68 Ounce] Great for Homemade Juice & Iced Tea or for Glass Milk Bottles – Bundled with Stirrers & Cloth

Charmed Rainbow stripe paper straw set of 150 straws with all the color of the rainbow!

Ball Regular Mouth Drinking Mason Jar,16 Oz,6 pack

Share this white grape juice punch post on Facebook and Pin the image below for easy finding later!