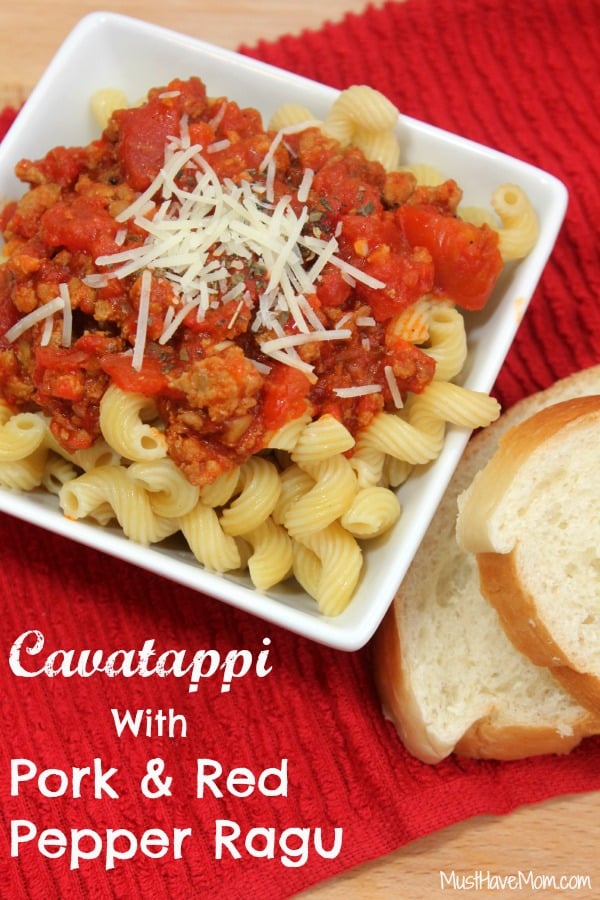 I married an Italian and with that came a whole new view on pasta! Italians love their pasta (and so do I!), and the possibilities when it comes to pasta are endless. There are so many amazing recipes using pasta and I LOVE trying new recipes out! Did you know that October is National Pasta Month? To celebrate, break out of the box and try something new! Head over to the Pasta Fits website for recipes, nutrition information, contest and promotions, as well as general cooking tips and pasta facts. That's where I found this delicious recipe! Their recipe used Bucatini pasta with homemade pork and red pepper ragu however in my recipe I use Cavatappi pasta instead because they are such a fun pasta to eat and my kids love them! This recipe is quick and easy and you can whip it up in 30 minutes.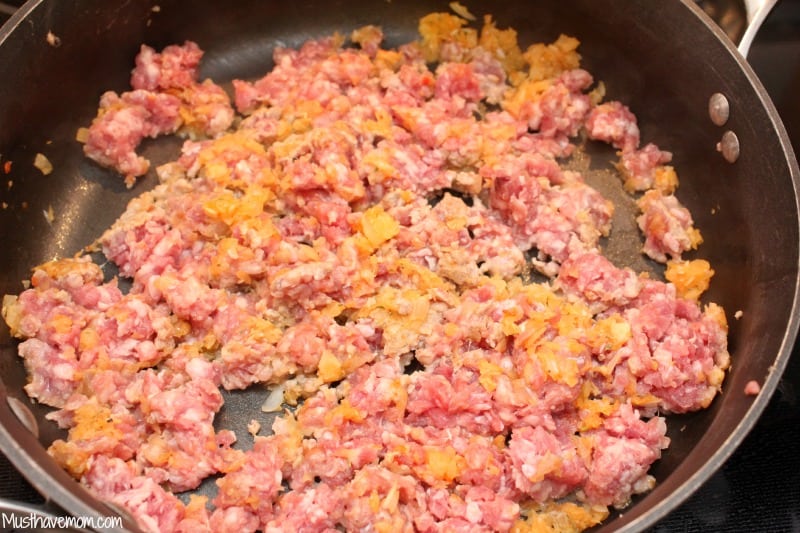 Begin by placing your roasted red peppers in a food processor and puree. Set aside. Then throw your onion and garlic in the food processor. Heat oil in a sauté pan and sauté the onions until softened (I threw in the onions and garlic together right out of the food processor). You'll notice my onions look yellow tinged. That's from using the food processor after pureeing the red peppers. It doesn't matter and it saves you from washing the food processor twice. You can reverse the order and process your onions and garlic first then do the red pepper. Either way works the same in the end! Add the thyme and cook another 30 seconds or so. Then add the ground pork and cook until browned.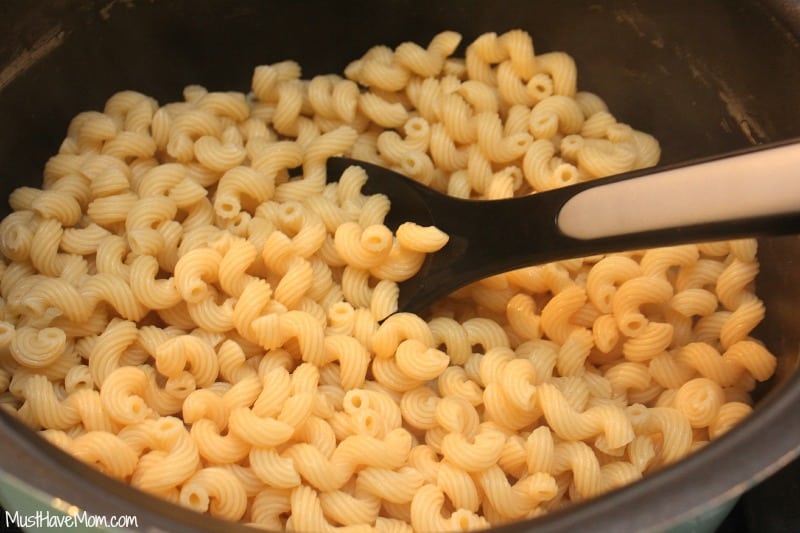 Start a pot of water boiling on the stove and cook your pasta until it's al dente (cooked firm). Drain and set aside. I drizzle a little olive oil in my pasta and give it a stir which keeps it from sticking together.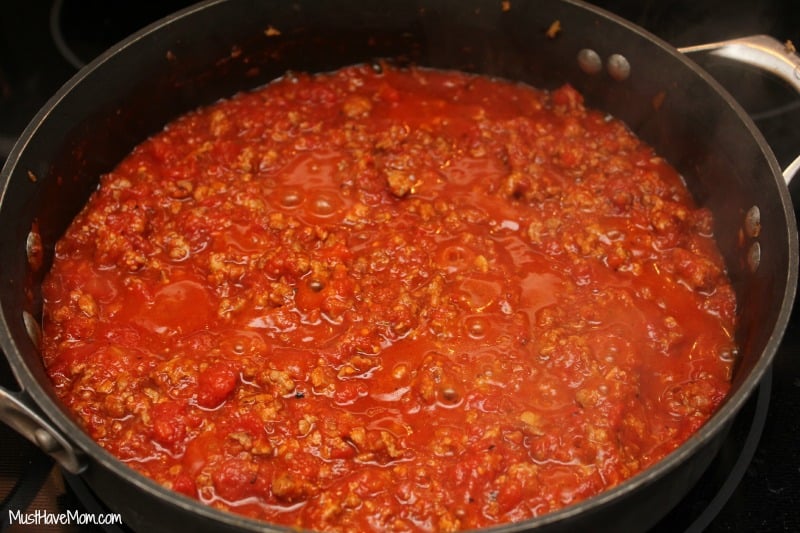 Add the tomato paste and stir, cooking for a minute. Then add the white wine to deglaze the pan and stir up any brown bits. Add tomatoes and red pepper puree. Simmer sauce for 15 minutes, stirring occasionally. Taste and season as desired. The most important tip while cooking is to taste, taste, taste! I watch a lot of cooking shows and one downfall that so many contestants in these shows have is that they forget to taste their food as they are cooking it. Don't forget to taste and season as you go!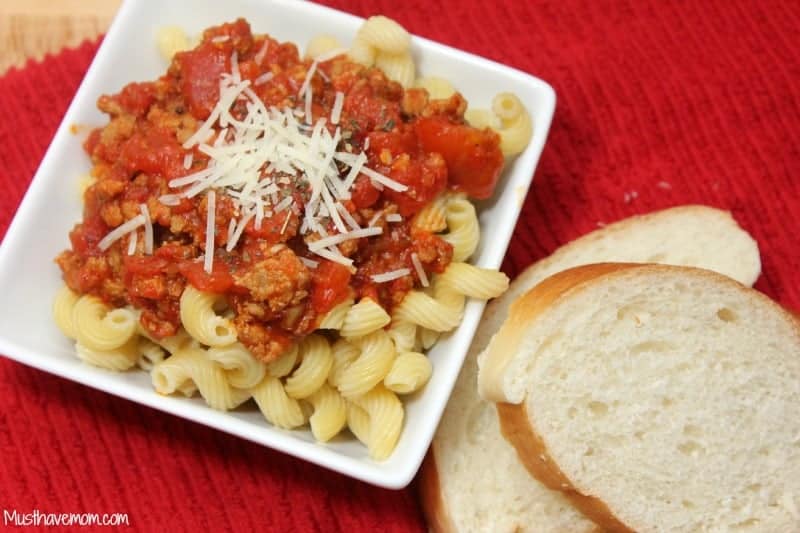 Serve red pepper ragu over pasta and sprinkle with basil and Parmesan cheese.
Pin this recipe for later or print it off below 🙂

Cavatappi With Pork & Red Pepper Ragu Recipe
30 minute meal, easy for beginners!
Ingredients
2

roasted red peppers

Find them in a jar in the condiment/pickle aisle

2

tsp

olive oil

1 1/2

cups

diced onion

or chop in a food processor

2

tsp

fresh thyme leaves

2

cloves

garlic

1

lb

ground pork

1/4

cup

tomato paste

1/2

cup

white whine

1 14.5

oz

can diced tomatoes

12

oz

pasta

I used Cavatappi

6

Tbsp

sliced basil

Parmesan cheese
Instructions
Place onion and garlic in food processor and pulse until chopped.

Remove and set aside.

Place red peppers in food processor and puree. Set aside.

Heat a saucepan over medium heat. Add the olive oil and sauté the onions and garlic until softened and starting to brown (5 min or so). Stir to prevent them from burning.

Add the thyme and cook 30 seconds.

Add the pork and break it up. Cook until it's browned.

Stir in tomato paste and cook for 1 minute.

Add white wine to deglaze the pan, stirring up any brown bits.

Add diced tomatoes and red pepper puree.

Simmer sauce for 15 minutes stirring occasionally.

Taste and season as required.

While sauce is simmering boil a pot of salted water and cook pasta. Drain and set aside. Toss with some olive oil to prevent pasta from sticking.

Top the pasta with red pepper ragu, sprinkle with basil and Parmesan cheese.
Head over to Pasta Fits to grab new pasta recipes and be sure to like their Facebook page too!
What is your favorite pasta dish?