Learn how to make a farmhouse coffee bar complete with my favorite DOVE® Caramel Snickerdoodle Cookies!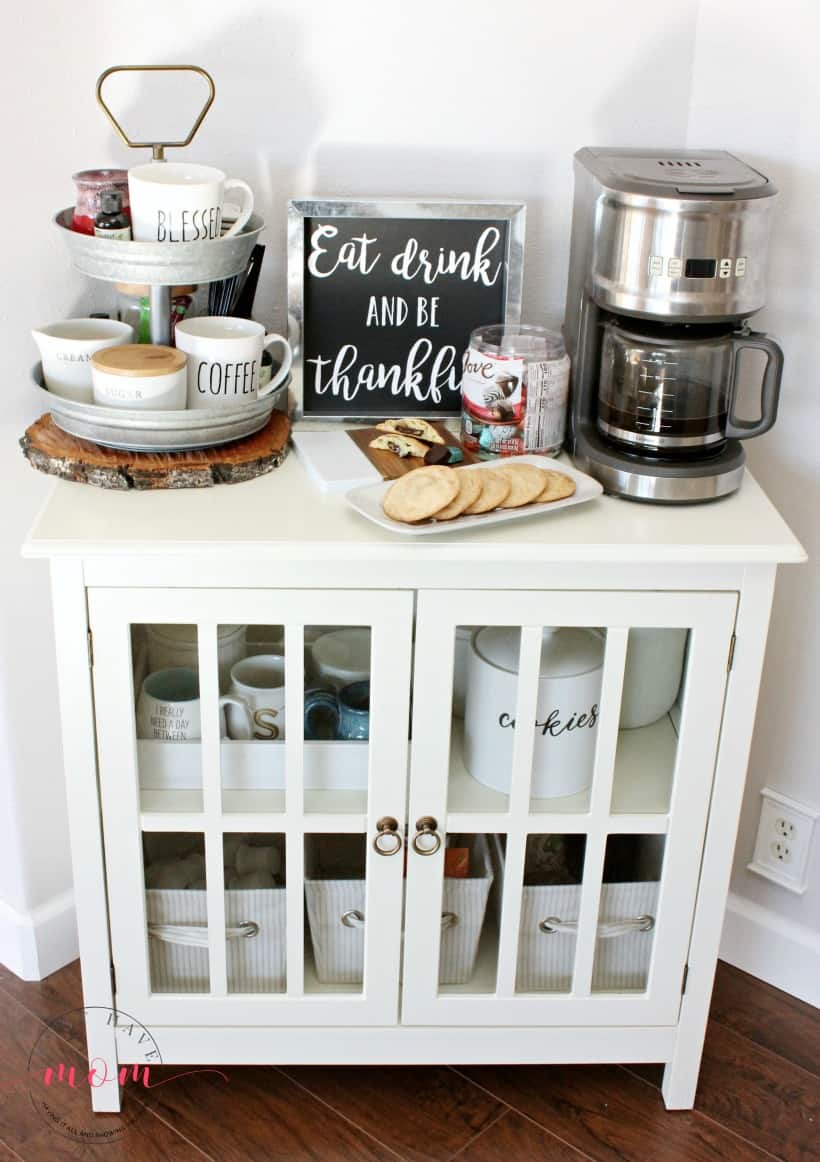 I have been wanting a coffee bar for quite some time now. We love drinking coffee and we drink it daily. We also love serving it when we entertain guests. That means with the holidays coming up, there was no better time to put together a coffee bar than now! Now that I have one, I won't go without one again! It's so fun having all the supplies necessary for a great cup of coffee and dessert all together in one place. It makes entertaining easy, too, because it is already assembled and ready when guests stop by.
I'll show you how to make your own killer coffee bar and make sure it's stocked for holiday guests. Plus, don't miss my out-of-this-world recipe for snickerdoodle cookies stuffed with DOVE® dark chocolate and sea salt caramel. They are to die for and the perfect pairing for your cup of joe.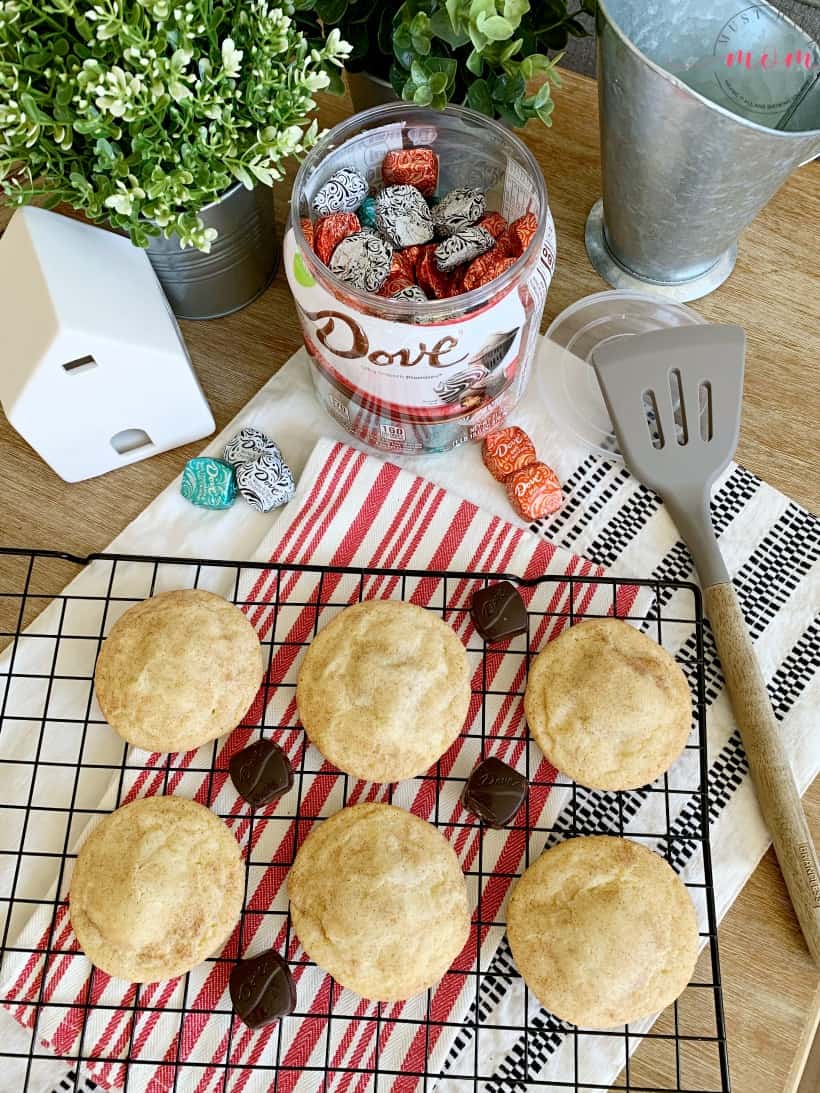 How To Make A Farmhouse Coffee Bar
Putting together a farmhouse style coffee bar or coffee station is so fun and easy. I really enjoyed making mine! You'll need a simple cabinet or hutch to serve as your coffee bar and some basic necessities to outfit it.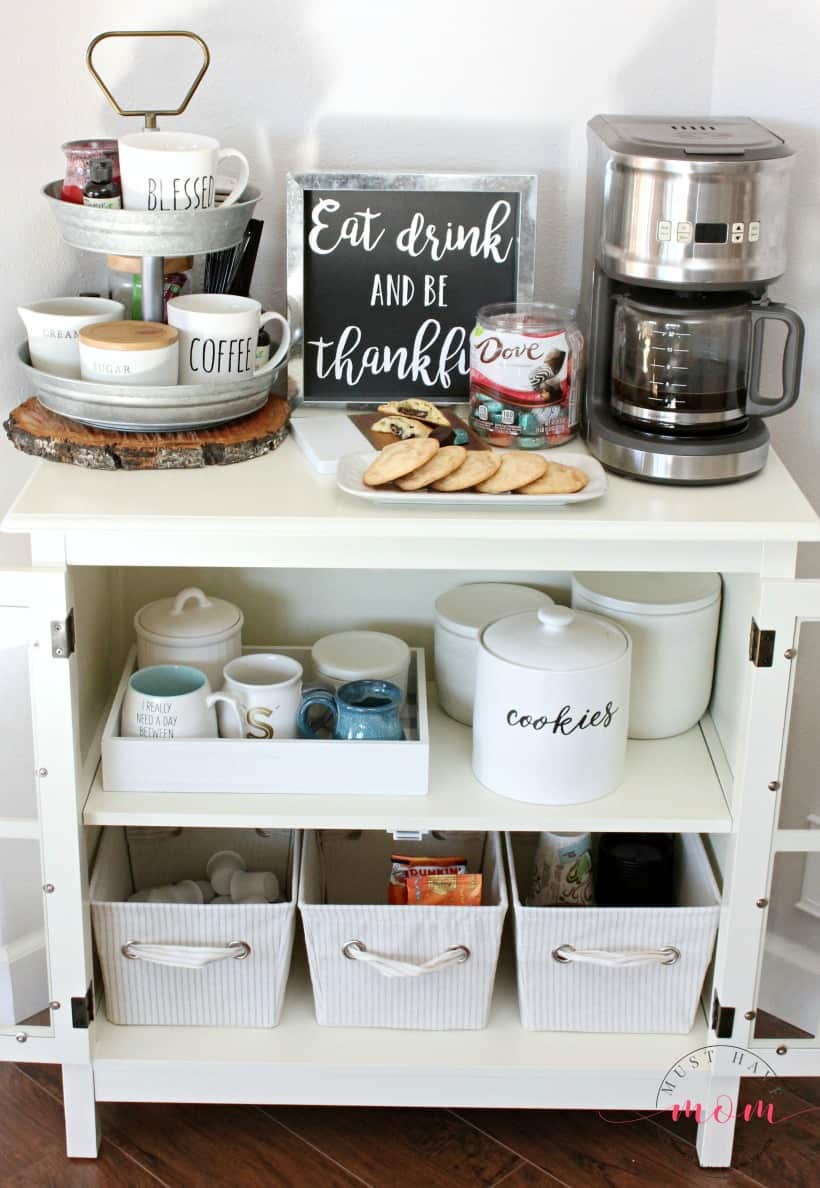 You'll definitely need your favorite coffee maker to begin with. Then, add in some other elements like pretty coffee cups, sugar and creamer dishes, flavored syrups and sweeteners to add to the coffee, stir sticks, a serving tray, coffee and some sweet treats.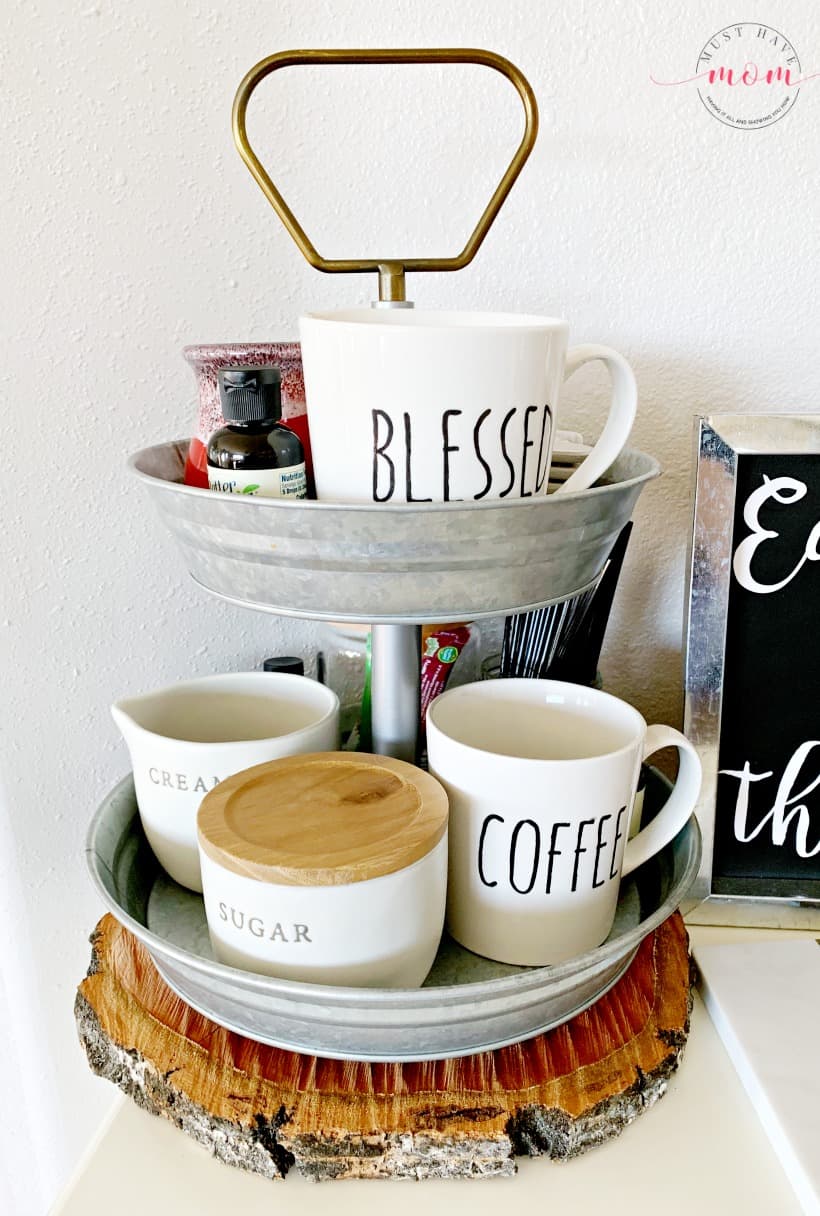 I love using a tiered tray to organize all of these elements, and it takes up very little space for the amount of storage it provides. Choose a galvanized metal tray to add interest to your coffee bar. I placed mine on top of a wood tray to add dimension.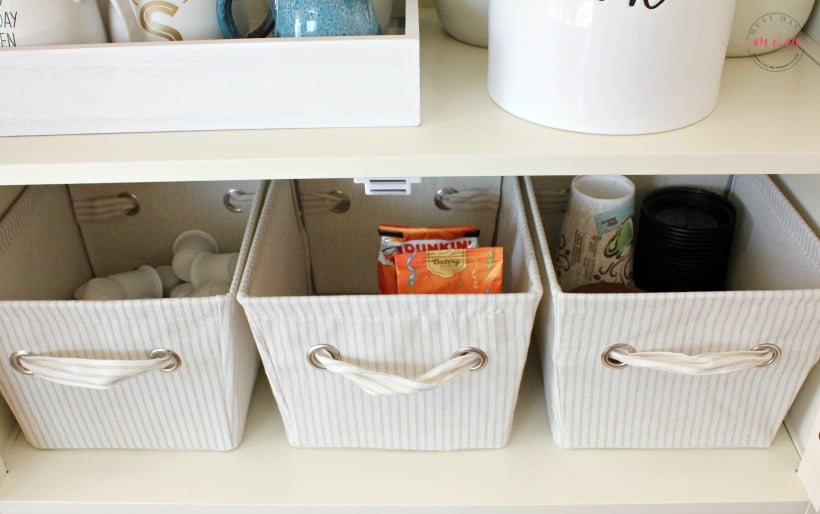 Inside your hutch, organize your coffee bar supplies with pretty baskets, trays and canisters.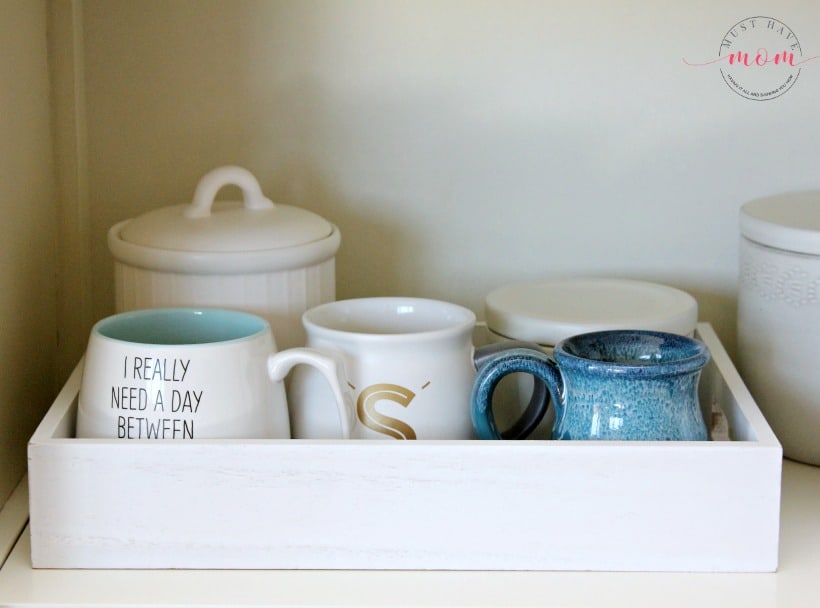 Store extra coffee, coffee pods, to-go cups and cookies in these organizing containers.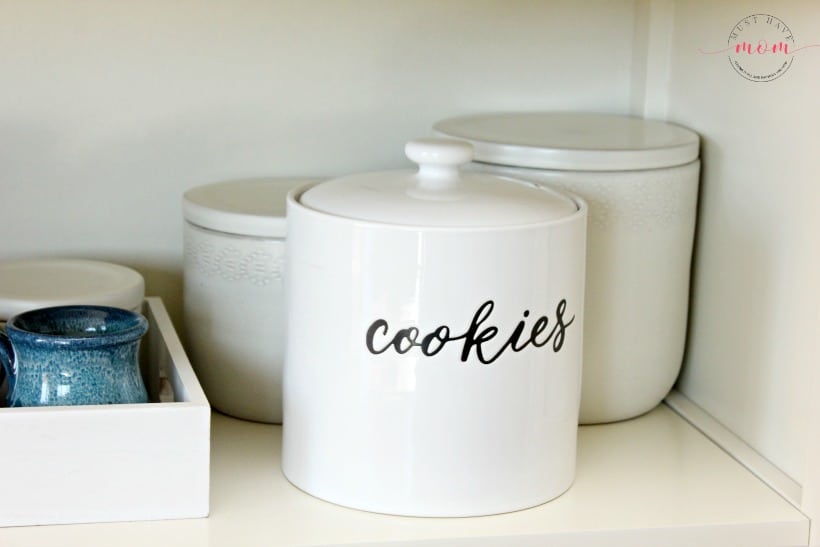 For the holidays, you'll inevitably want to pair your coffee with cookies and chocolates!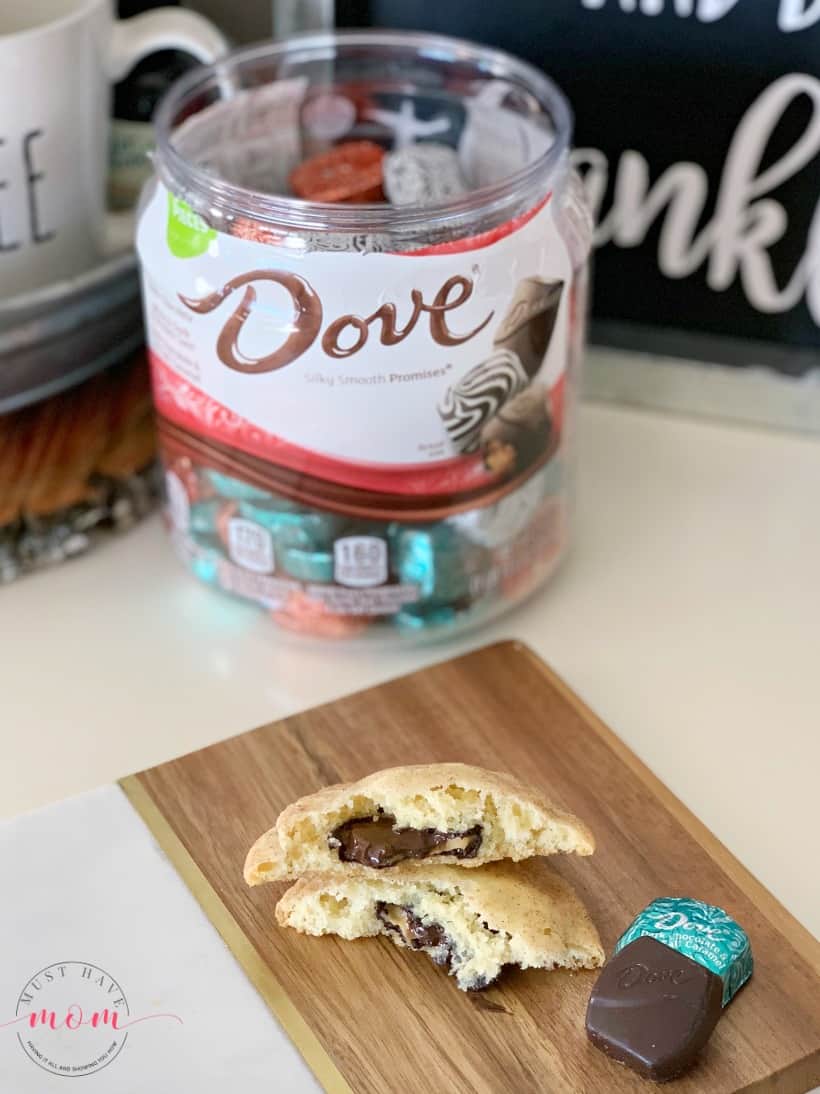 Recipe For Snickerdoodle Cookies
I love snickerdoodle cookies, and they are just what I want around the holidays. I wanted to kick mine up a notch, and hiding a DOVE® Chocolate inside them was just the way to go. I used DOVE® dark chocolate and sea salt caramel, but this would be just as delicious using either of the two other flavors, DOVE® dark chocolate and DOVE® white and dark chocolate swirl. They couldn't get much easier to make either, so don't be intimidated by how amazing they look and sound. They are quick and easy to whip up!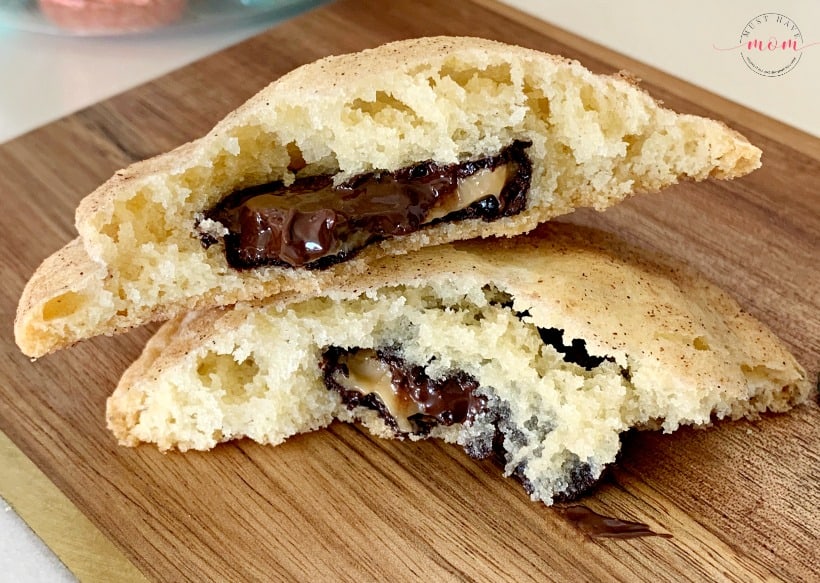 Begin by preheating your oven to 375 degrees Fahrenheit. In a mixer, combine all ingredients and mix well.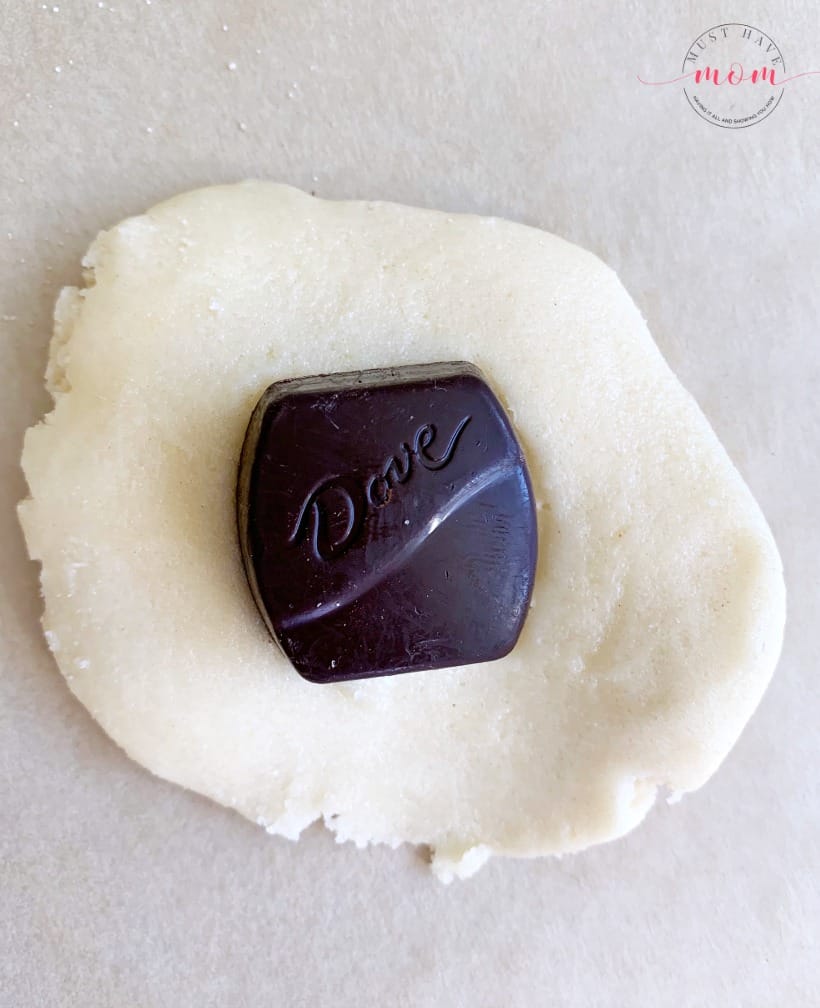 Then, roll a one-inch ball and flatten it in your hand. If your dough sticks to your hand at all, then chill it in the fridge or freezer until it is easier to work with. Place a DOVE® Chocolate in the center and roll the dough up around it. Make sure it covers the chocolate completely or it will melt and ooze out of the cookie.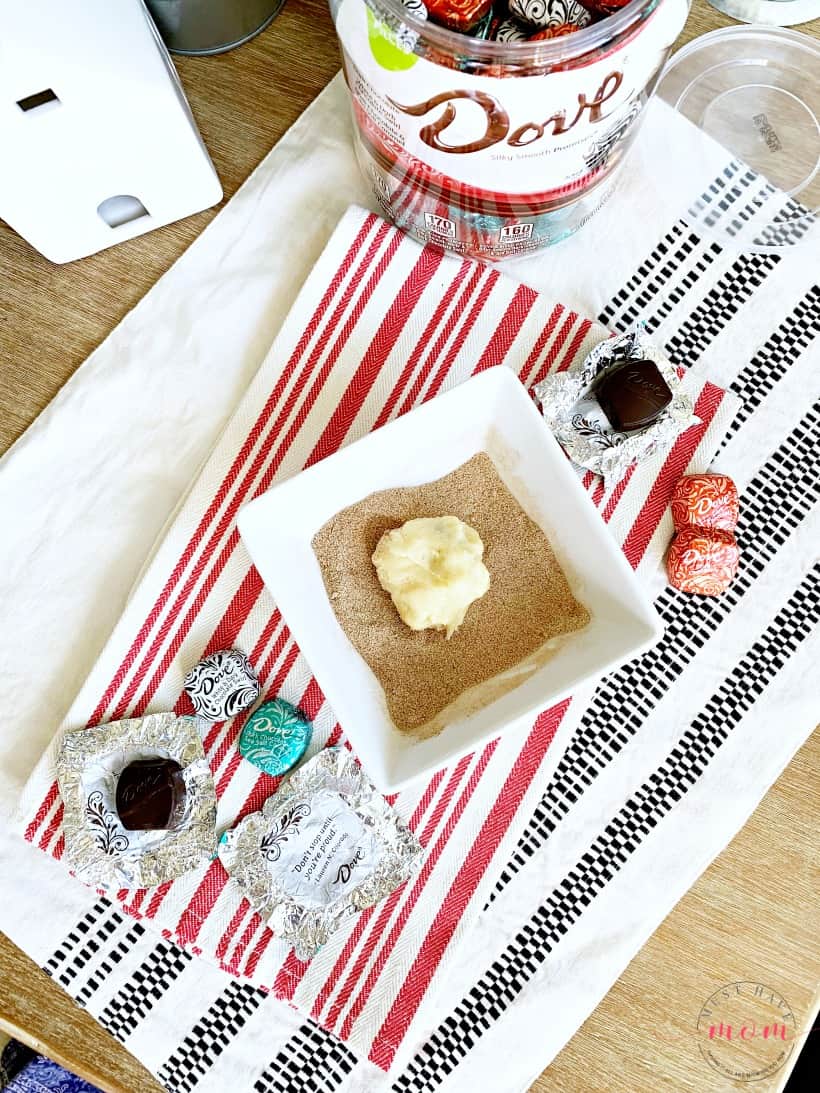 Then, gently roll the ball in your cinnamon sugar mixture and coat the outside in cinnamon sugar.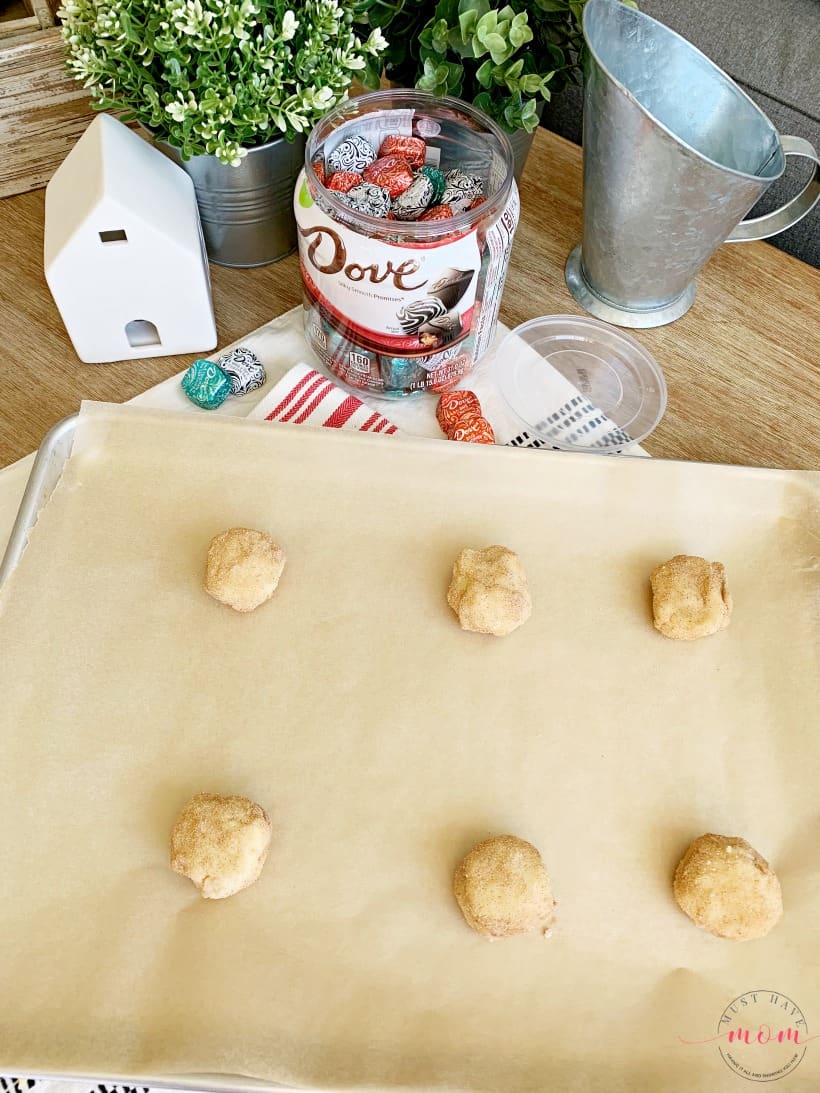 Place the dough ball on a parchment-lined cookie sheet and repeat until you have 6-8 dough balls on your cookie sheet.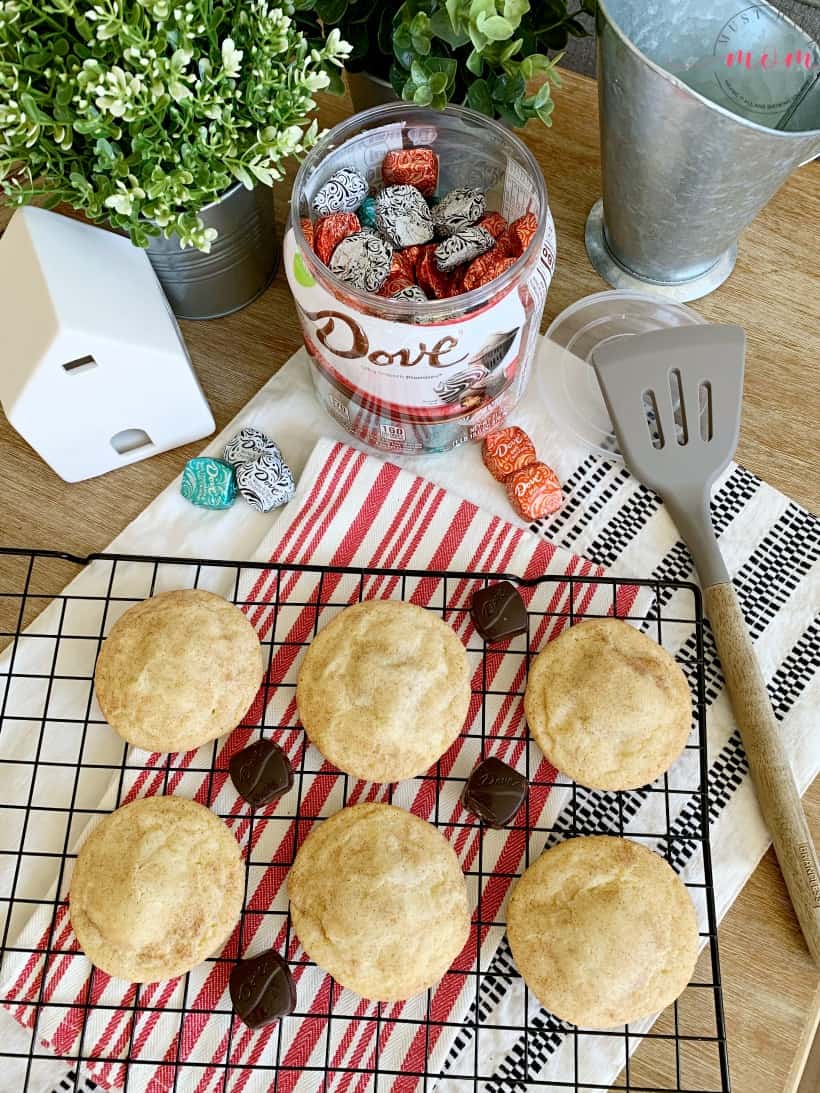 Bake for 13 minutes or until edges crisp and tops begin to crack. Allow to cool for a minute or two, and then remove and place on a cooling rack. These taste great warm from the oven or cooled, so feel free to serve them to your holiday guests either or both ways!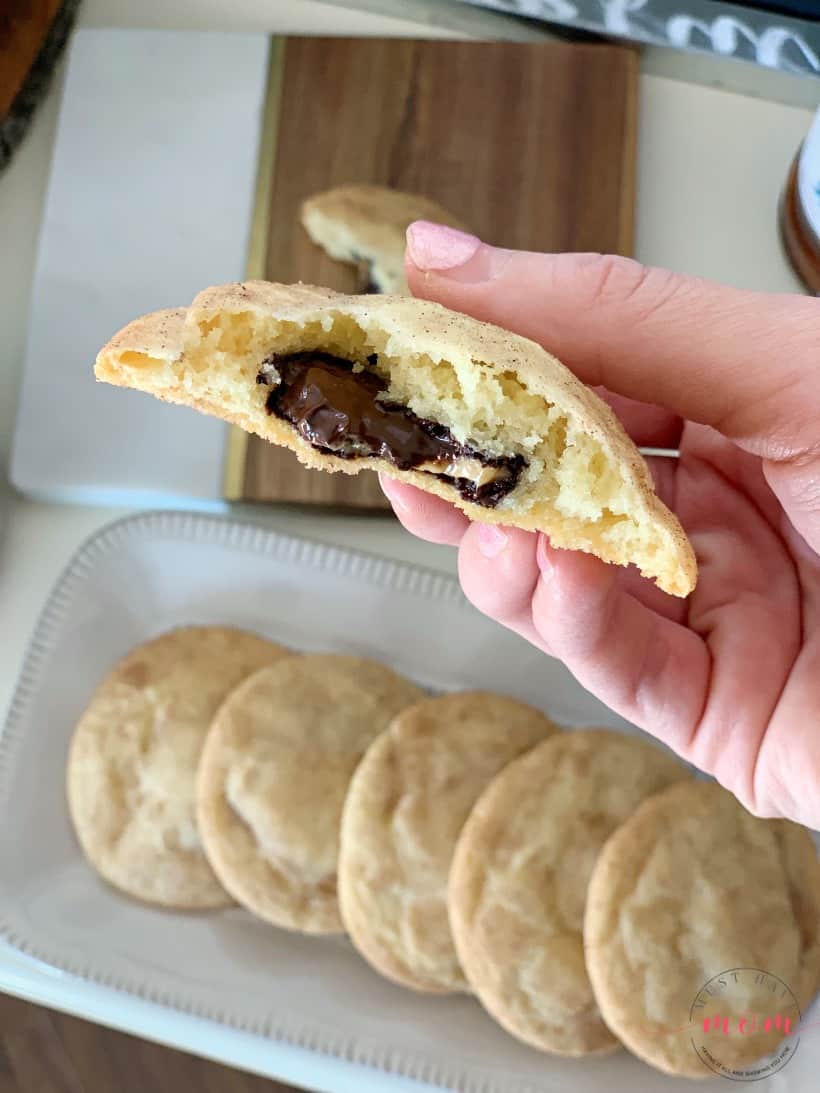 When you break them open, you'll find delicious DOVE® dark chocolate and sea salt caramel nestled inside the cookie. No matter your choice of DOVE® chocolate variety, you can be sure the edges of this snickerdoodle are perfectly crisp and the center is chewy and delightful. It's such an amazing pairing that I doubt you'll ever go back to eating a plain snickerdoodle cookie again!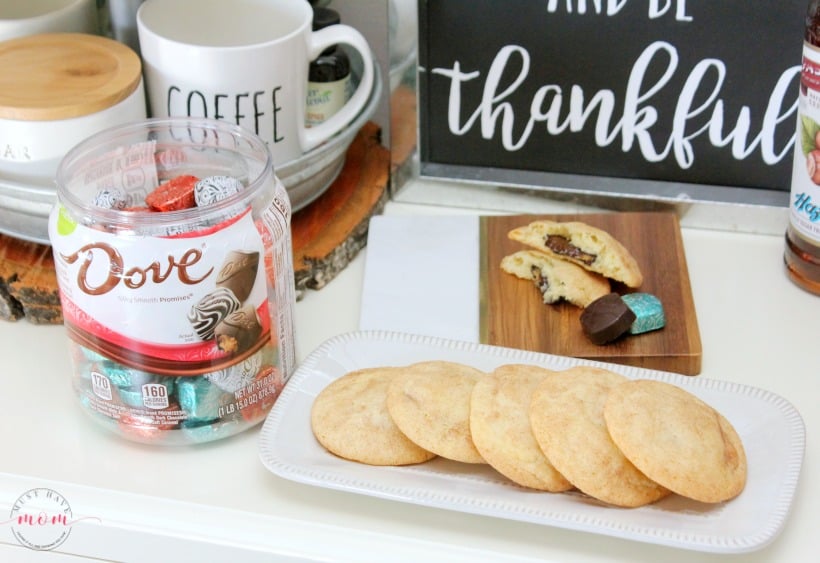 Print Stuffed Snickerdoodles Recipe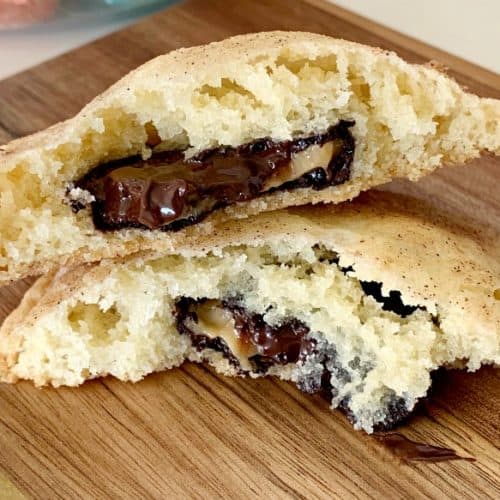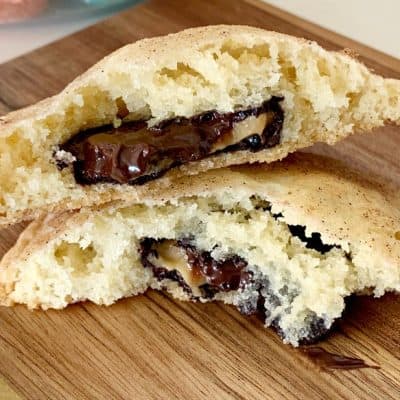 Stuffed Snickerdoodle Cookes with DOVE® Dark Chocolate and Sea Salt Caramel Inside
This traditional snickerdoodle cookie recipe is stuffed with DOVE® dark chocolate and caramel in the center. Bite into the crisp edges and chewy center to reveal the chocolate and caramel hidden inside.
Ingredients
3 1/2

cups

flour

1/2

teaspoon

baking soda

1/2

teaspoon

cream of tartar

1

cup

butter (2 sticks)

room temperature

2

cups

sugar

2

eggs

1/4

cup

milk

I used almond milk

1

teaspoon

vanilla

1

DOVE® Pantry Jar or DOVE® dark chocolate with sea salt caramel
Cinnamon Sugar Mixture
3

tablespoons

white sugar

1

teaspoon

cinnamon
Instructions
Preheat oven to 375 degrees Fahrenheit. Line a baking sheet with parchment paper and set aside.

In a mixing bowl combine flour, baking soda, cream of tartar, butter, sugar, eggs, milk and vanilla. Beat together until well combined. In a separate small bowl mix together sugar and cinnamon for cinnamon sugar mixture.

Form a one-inch ball and then flatten it on your hand. If your dough is sticking to your hand then chill the dough in the fridge or freezer until it is easier to handle without sticking. Then place a DOVE® dark chocolate with sea salt caramel in the center and wrap the dough around it, covering it completely. Make sure it is totally covered so the chocolate doesn't melt and ooze out.

Roll the ball in cinnamon sugar mixture and place on a baking sheet lined with parchment paper. Bake for 13 minutes or until edges crisp and tops begin to crack. Remove from oven and allow to cool for 1-2 minutes before transferring to a cooling rack. These are great warm or cooled!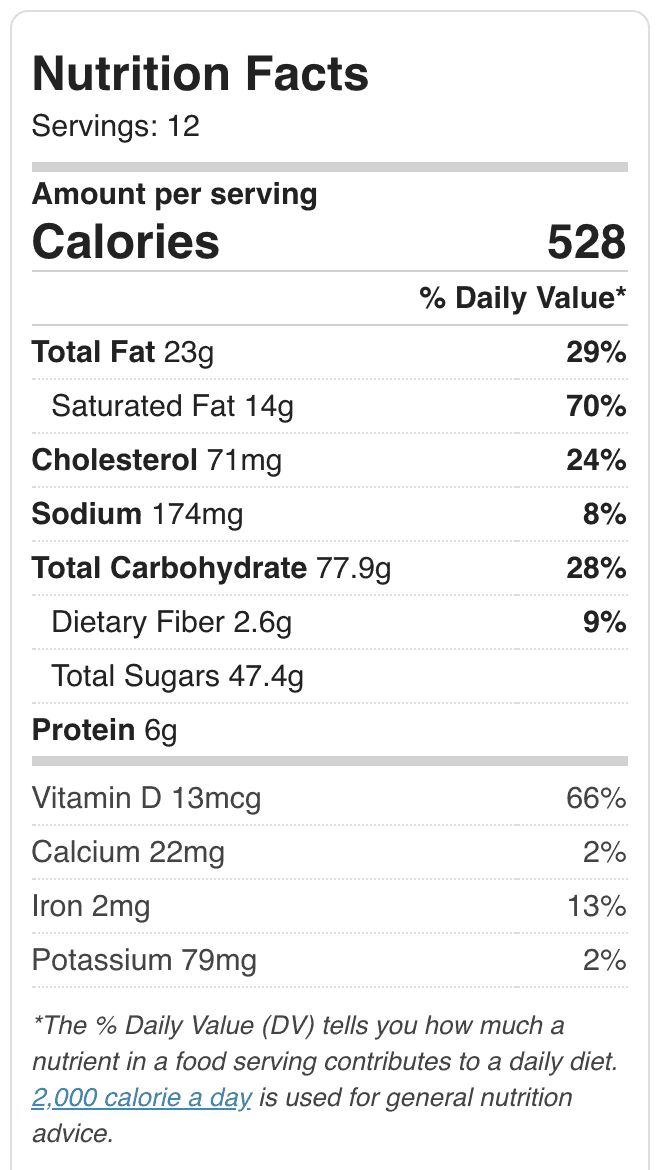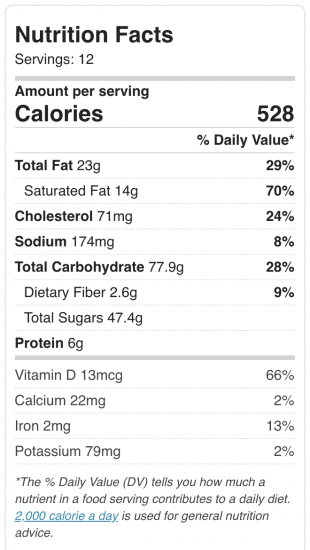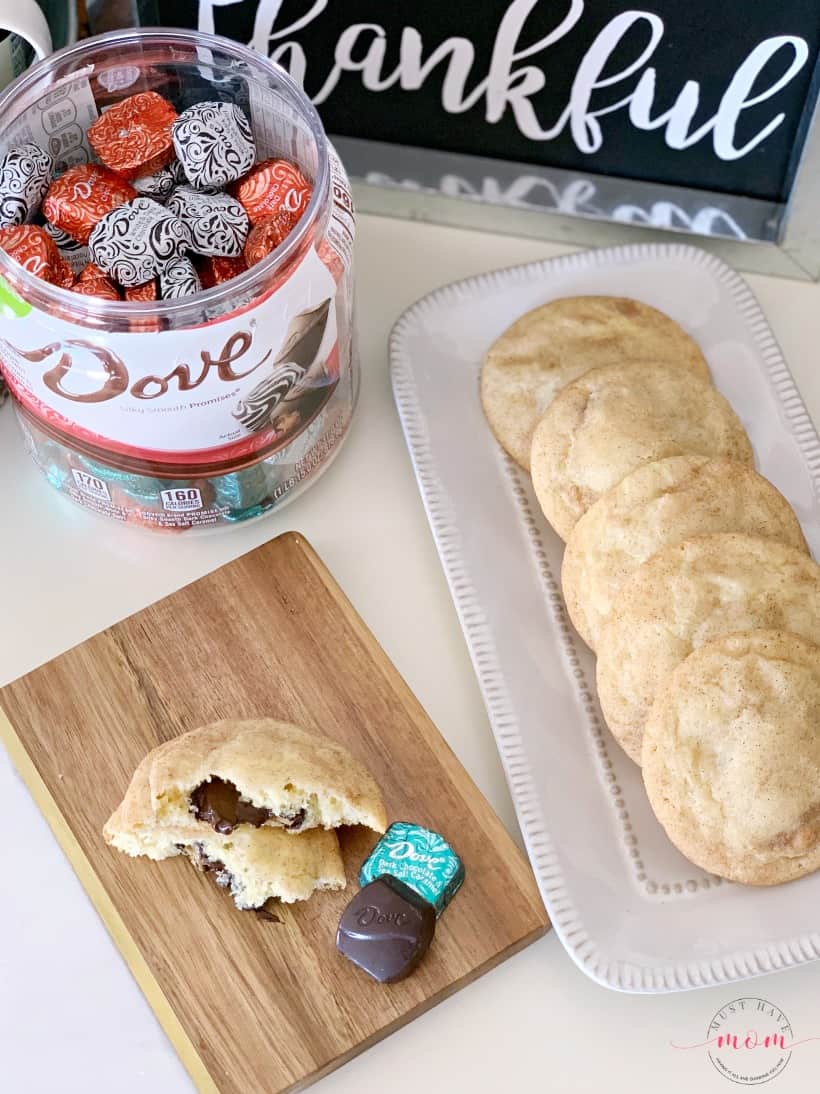 Pin Recipe For Snickerdoodle Cookies