Tiered trays are all the rage in farmhouse decor. I have seen them cost as much as $80 and up for one. I am not willing to pay that much so I set out to make my own. This DIY tiered tray uses metal dog food dishes, a foam ball, and candlesticks to achieve the same look at a fraction of the price. Keep reading to see how I did it.
I am a big fan of the farmhouse style and have set out to remodel our entire home. However, I refuse to pay retail prices for a lot of things that I can upcycle or make my own for less. Some of my favorite farmhouse pieces I have made myself. Everything from DIY farmhouse signs, to farmhouse curtains, and even a woodblock calendar. No one would ever know I shopped at thrift stores, or a dollar store to make these pieces.
Farmhouse Tiered Tray
To make this tiered tray you will need:
DIY Tiered Tray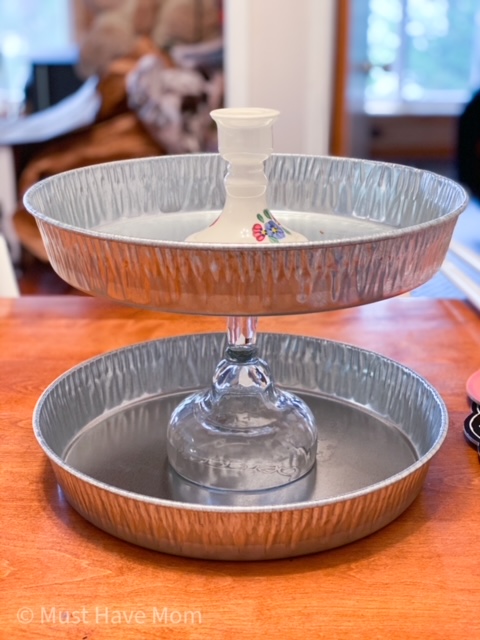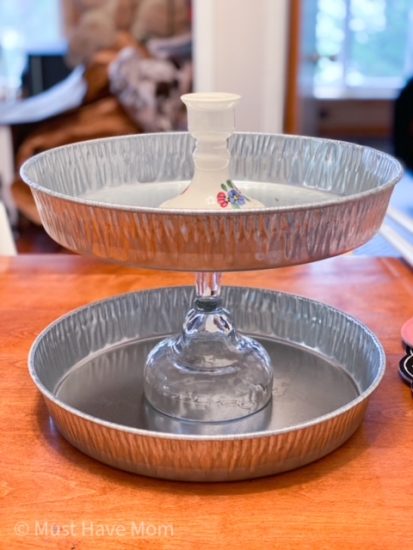 As you can see it doesn't matter if your dog food bowls are the same size or different, and your candlesticks don't even have to match. You can use any you already have around the house or just buy a couple of cheap ones from a dollar store.
Start by wiping everything down to ensure your paint will stick. If your dog food bowls have a rubber rim you can remove that if you don't want it the same color as everything else. Then you paint. Paint the bowls, the candlesticks, and the foam ball. Allow to fully dry and cure and add a second coat if needed.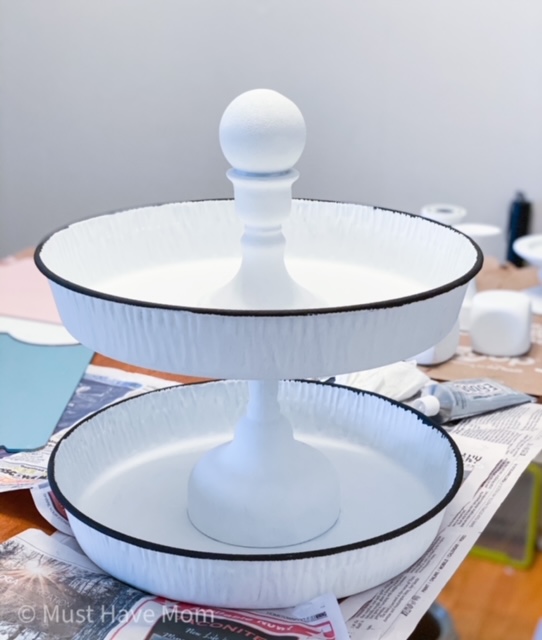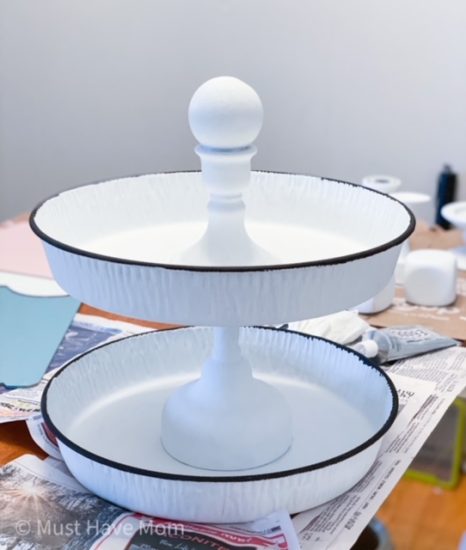 Now it's time to assemble everything and glue it all together. Using yourE6000 glue place a bead around the bottom of the candlestick and attach it to the first dog food bowl. Add the glue to the top of the candlestick and attach the second food bowl. Repeat with the second candlestick and then attach the foam ball to the top. Allow it to fully cure for at least 24 hours.
Once cured, you can touch up the paint as needed.
Now comes the fun part. You can style your tiered tray however you want. One of my favorite things to do is change it out for the seasons. Here is mine all decorated for fall.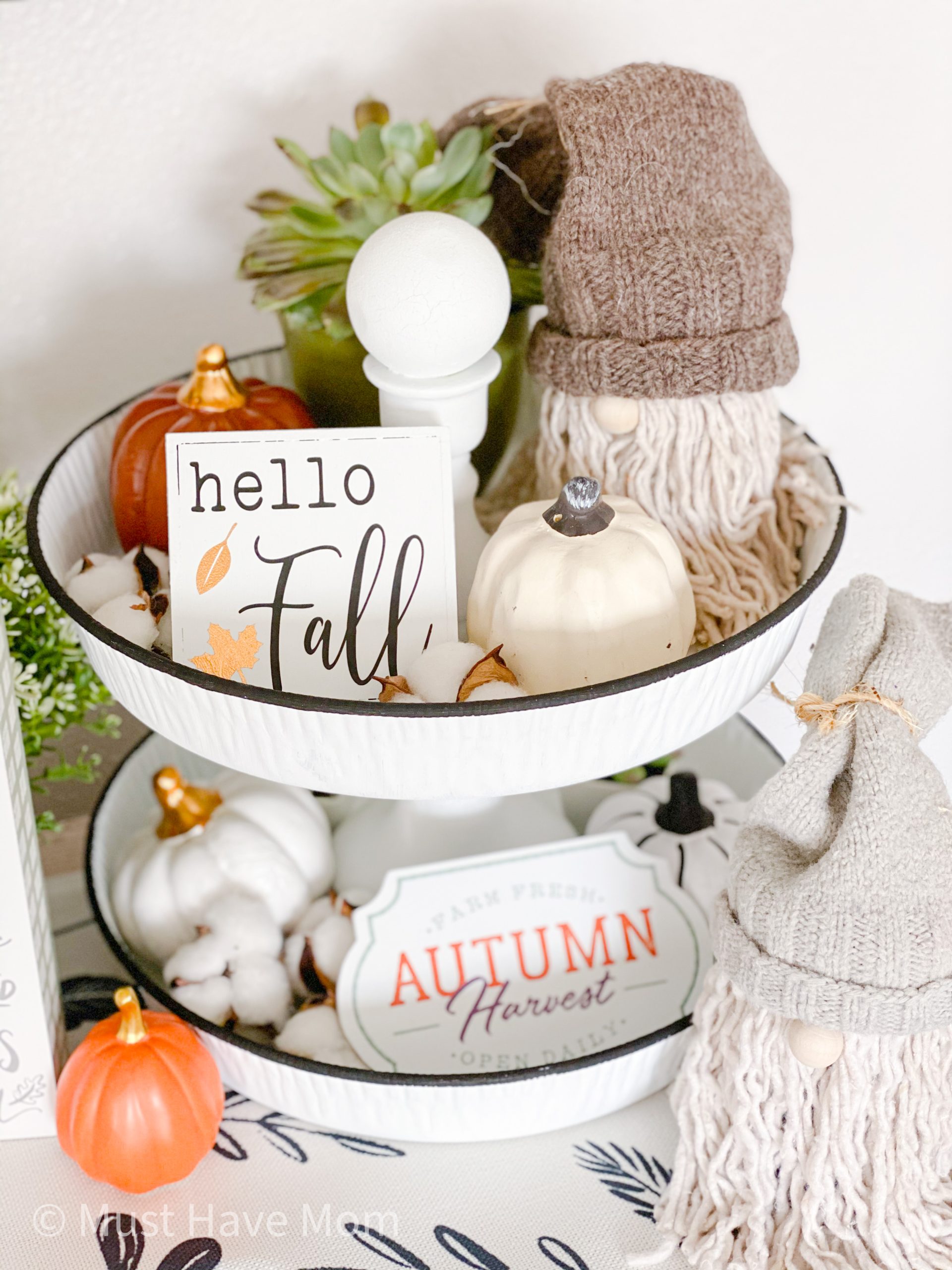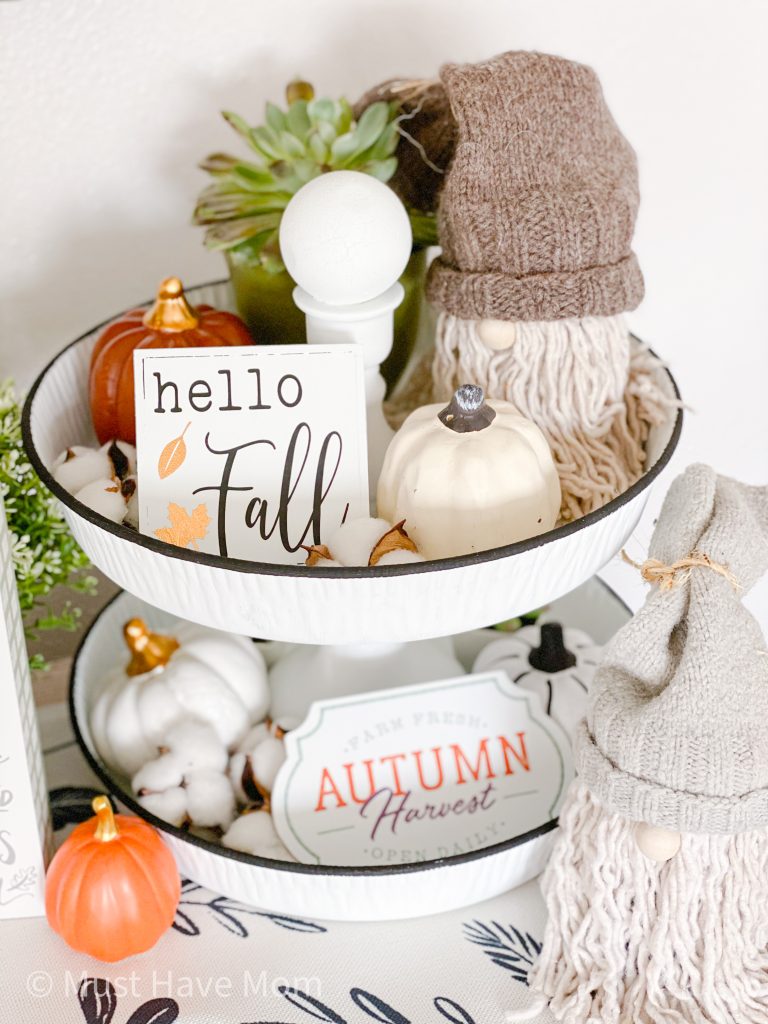 I added some farmhouse signs I had made myself, my DIY Gnomes, and some other pieces I got from Decorated. The end result is a perfect farmhouse-style tiered tray at a fraction of the cost.
Pin DIY Tiered Tray