DIY Farmhouse Style Layering Technique
To achieve a beautiful farmhouse style look you need to use layering to create warmth, rustic charm and a finished look. I'll show you exactly how to use the layering technique in your next farmhouse style makeover so you can achieve a beautiful final look!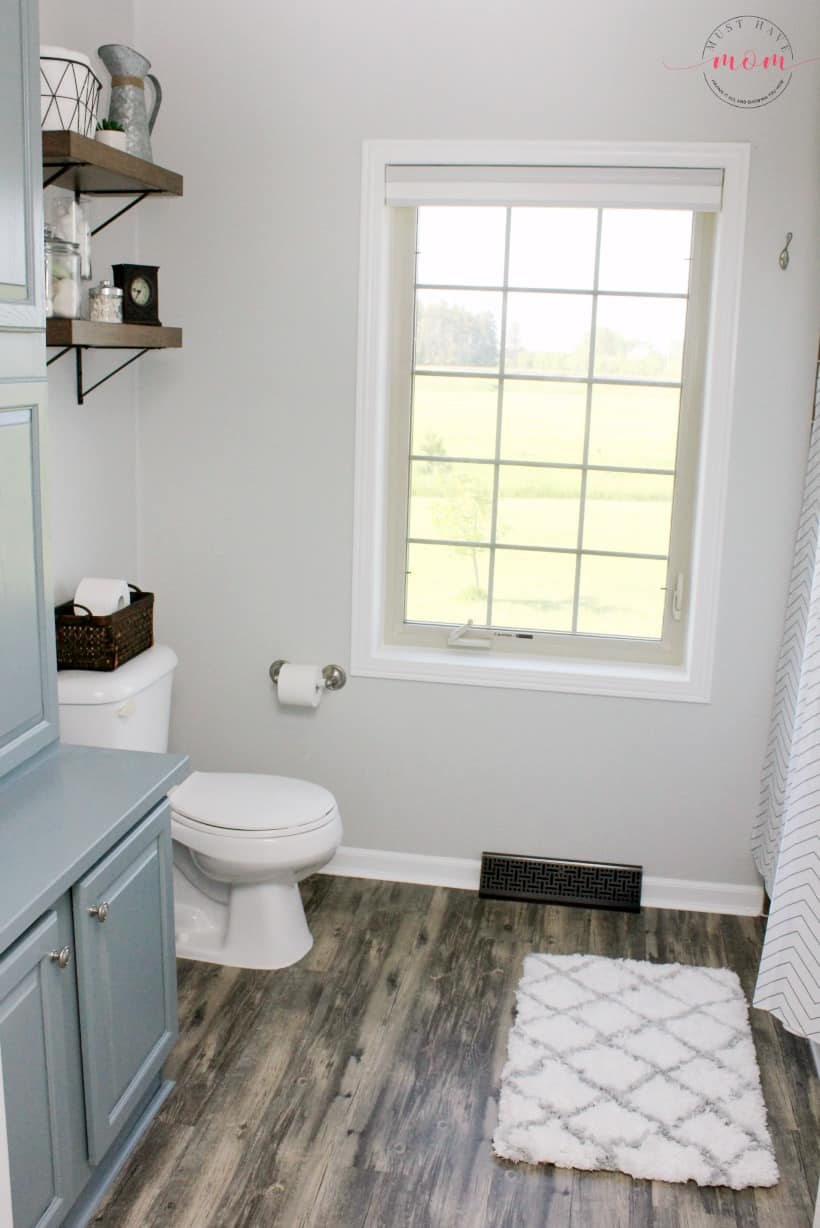 Thanks to shows like Fixer Upper on HGTV, farmhouse style has become a design trend that is here to stay. I am loving the farmhouse style trend and I have jumped on board the bandwagon! I began with my DIY RV makeover in gorgeous farmhouse colors and now I've moved on to a farmhouse style bathroom on a budget.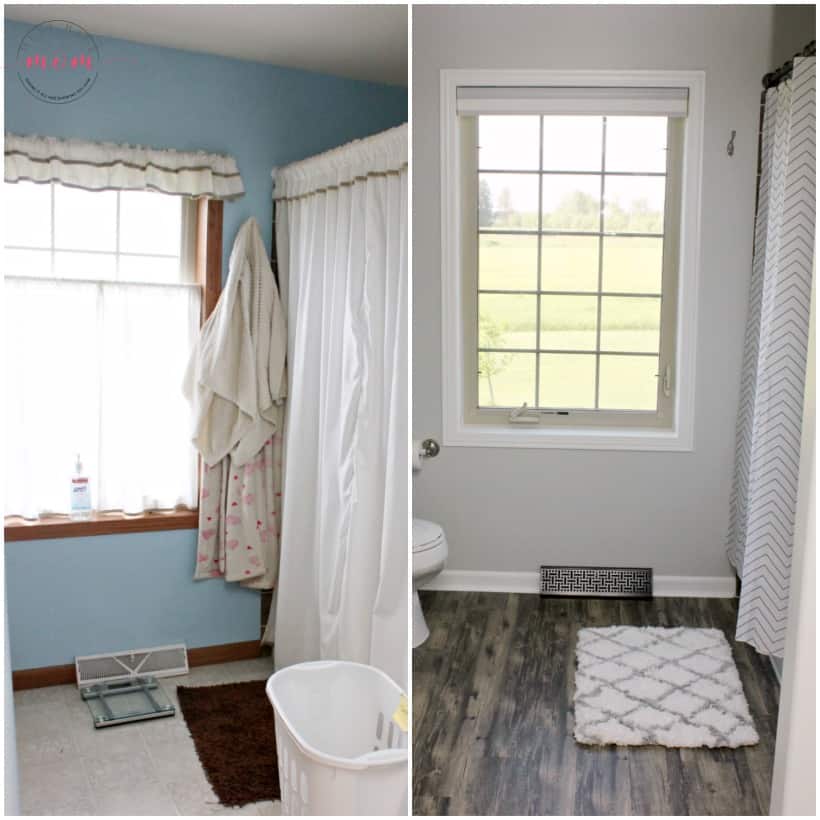 Luscious Layering
You don't have to be an interior designer to style your home. I'll show you a really easy design trend that you can use to achieve professional looking results! One of my favorite 2017 FrogTape® Design Trends is luscious layers! Luscious Layering starts with a simple wall color and then adding layers with bedding, drapery, rugs, and more. They key is to protect your trim moldings by using FrogTape® brand painter's tape for crisp clean edges every time. I'll show you exactly how I did it!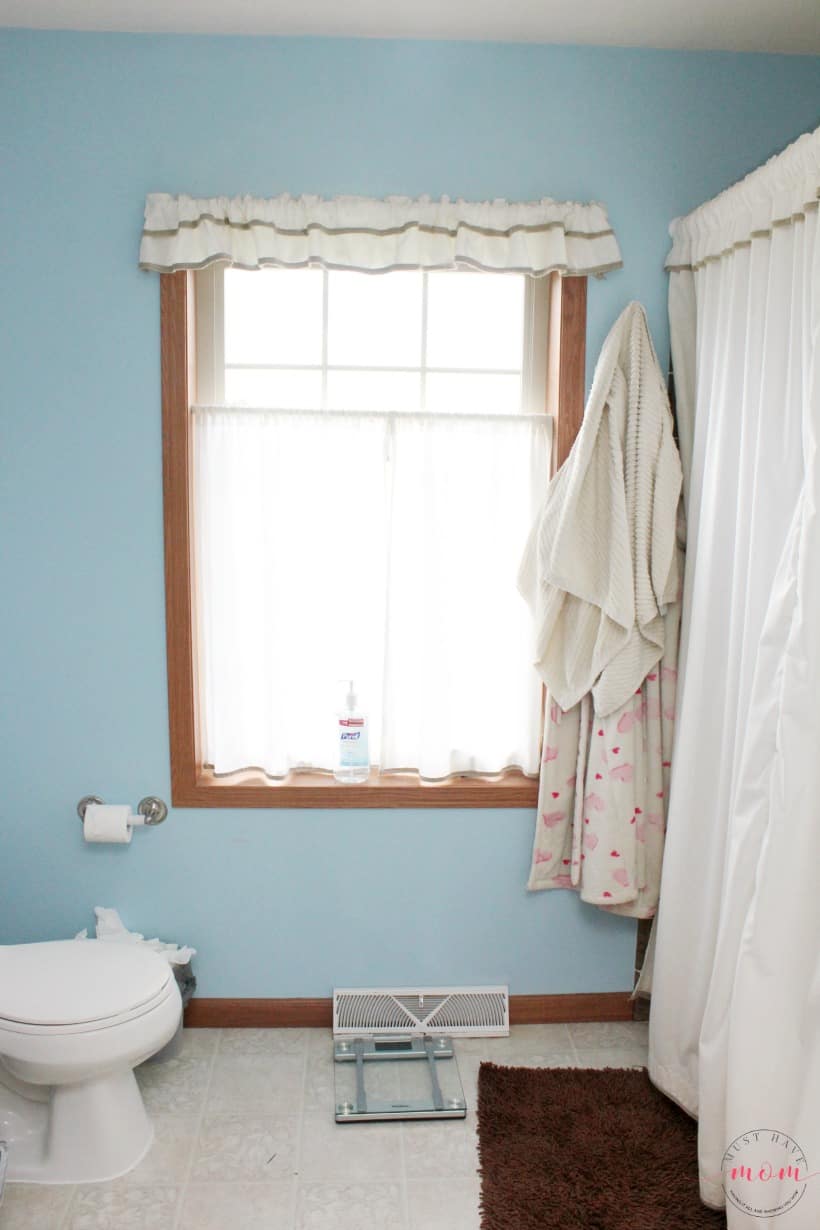 Here is my bathroom before I did my makeover. It consisted of oak trim and window casings with an ugly blue wall. I couldn't wait to get rid of all of it! I bought a bonding primer and bright white paint for the trim and window casing. I chose a seashell gray color for the walls. I began painting the trim because I knew it would need several coats and need time to dry in between.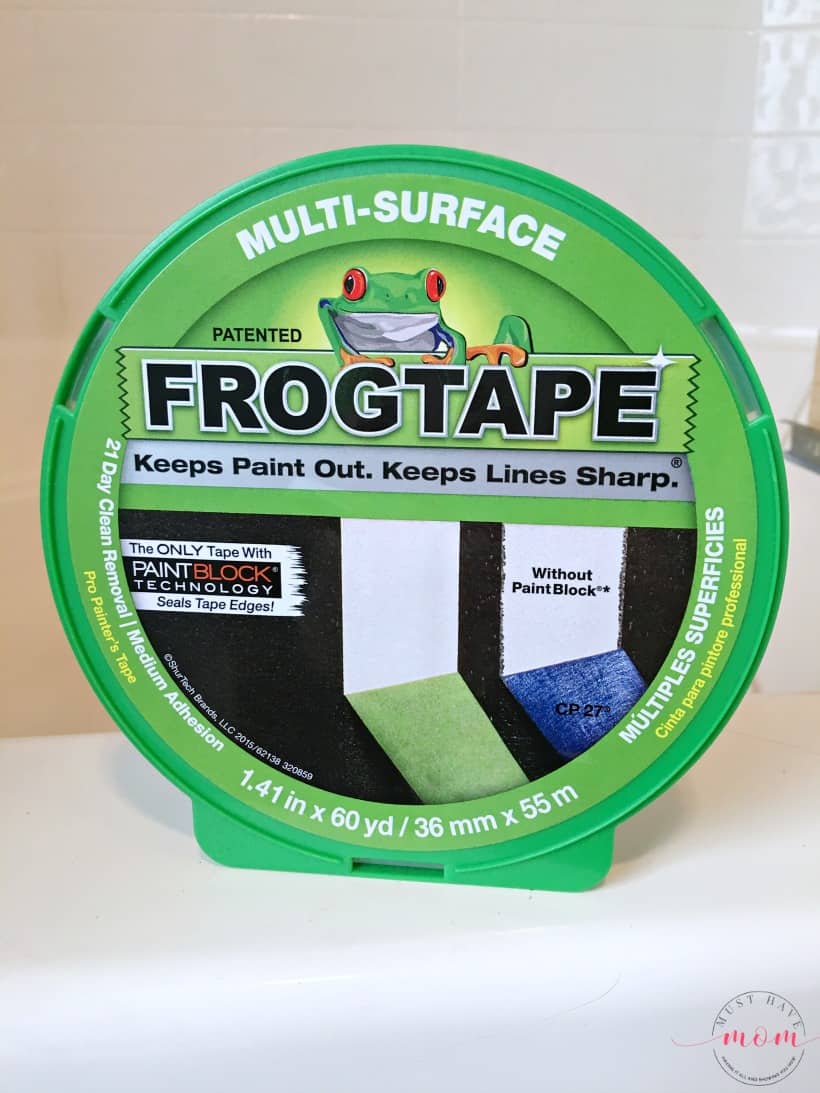 If you have followed along with any of my makeover projects then you know that my preferred tape for painting is FrogTape®. It's the only tape I use. FrogTape® has PaintBlock® Technology that delivers clean, crisp paint lines every time. That means you get a professional-looking finished look!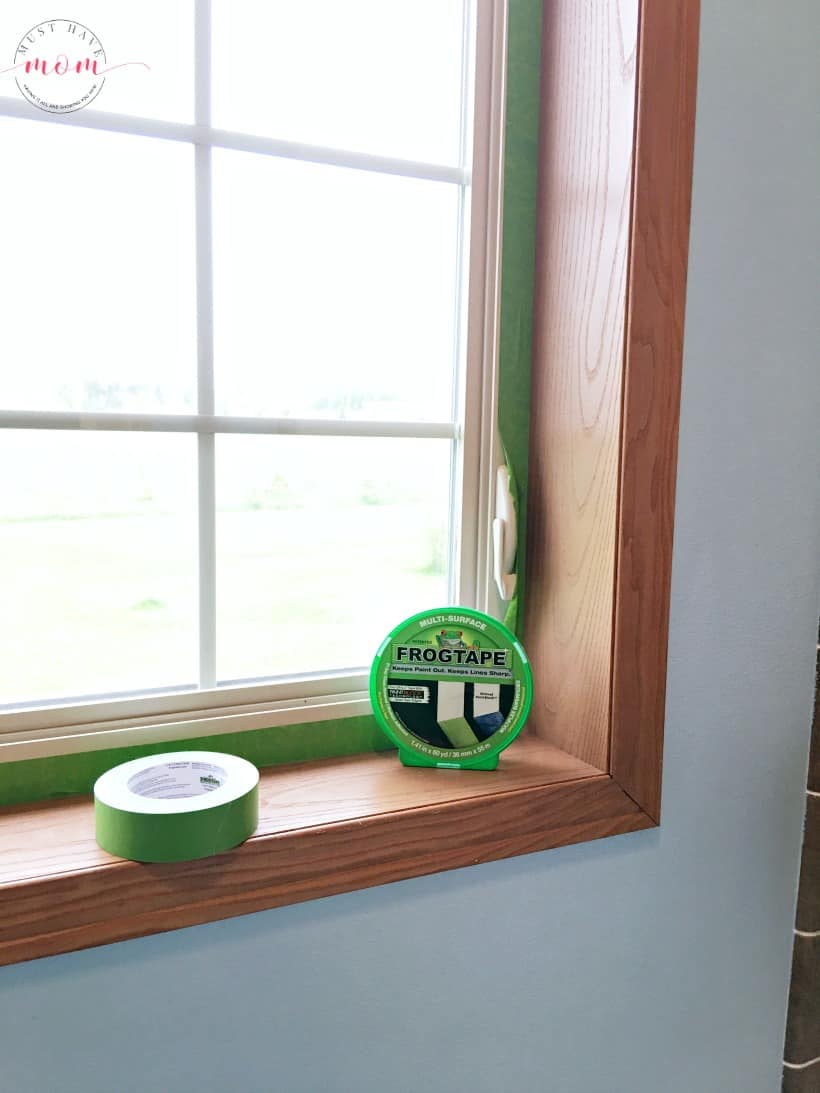 I began by taping the inside of the window casing. I wanted to make sure none of my paint would bleed through onto the vinyl window casing. I taped the entire inside of the window and then I was ready to paint. There was no need to tape around the outside of the window because I'd be painting the walls next.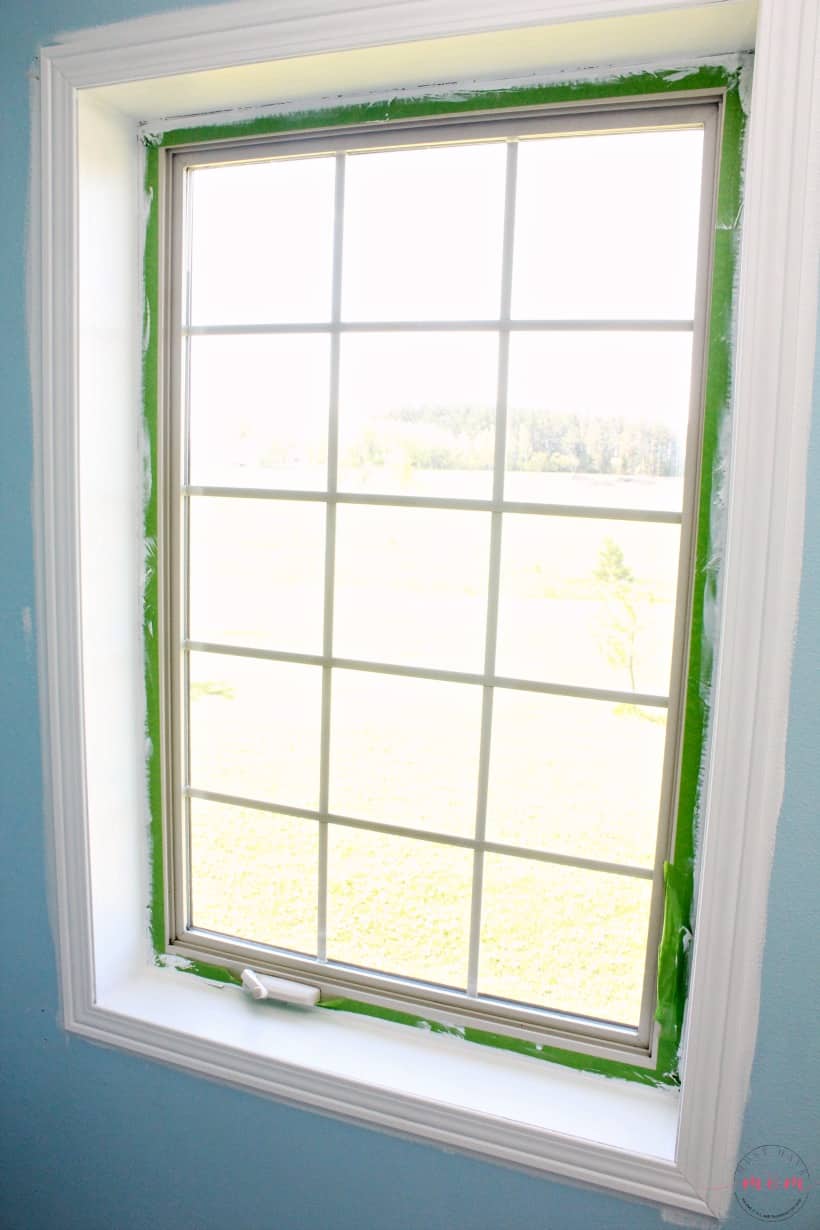 Look at how much nicer the trim looks with white paint! I did one coat of bonding primer followed by two coats of bright white paint. The final result was a big transformation. Bye-Bye outdated oak trim!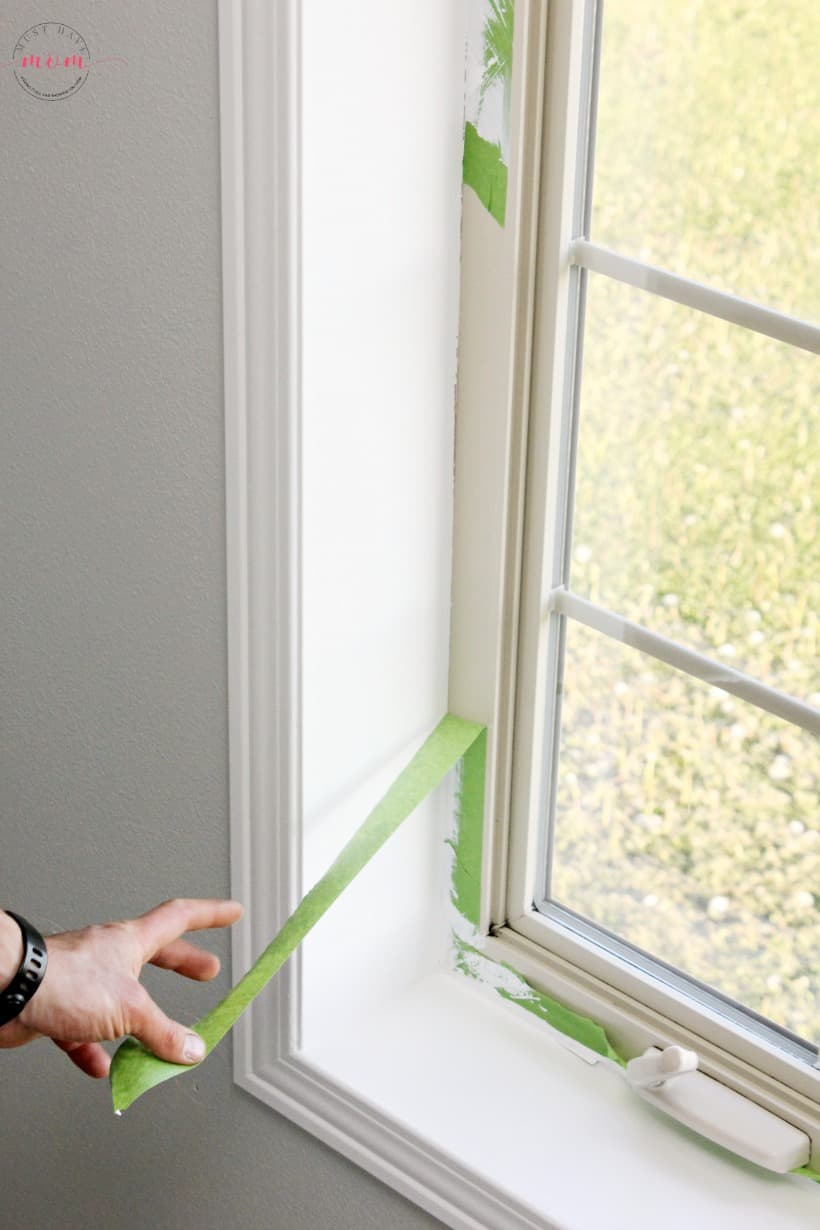 Once I finished all of my white coats, it was time to remove the FrogTape®. We started pulling it off to reveal a clean, crisp line! It looked beautiful.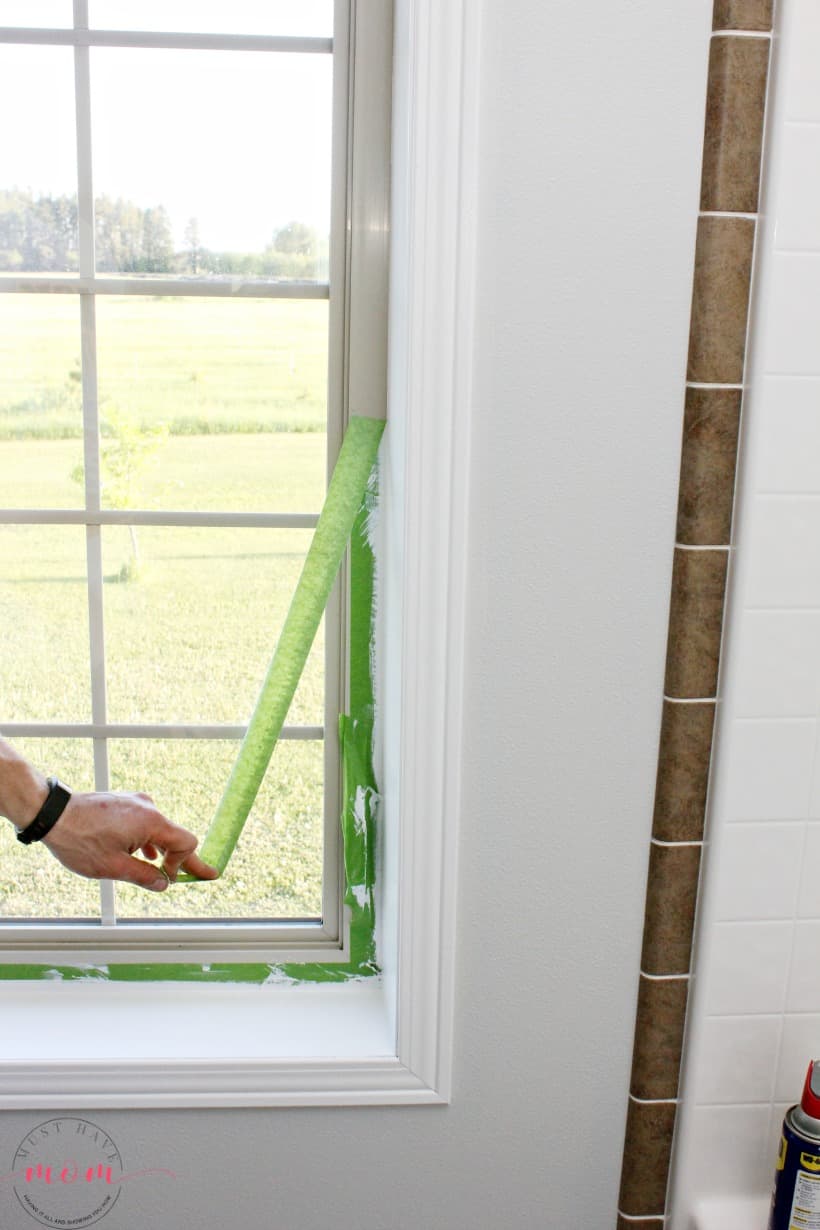 You can also see the beautiful, clean line we were able to achieve along the tub tile (tape is already removed). What a crisp line it made along the tile!! If you have newly painted trim and need to paint the walls, you can wait 24 hours and then use FrogTape® Delicate Surface on the newly painted trim to protect it while you paint the walls.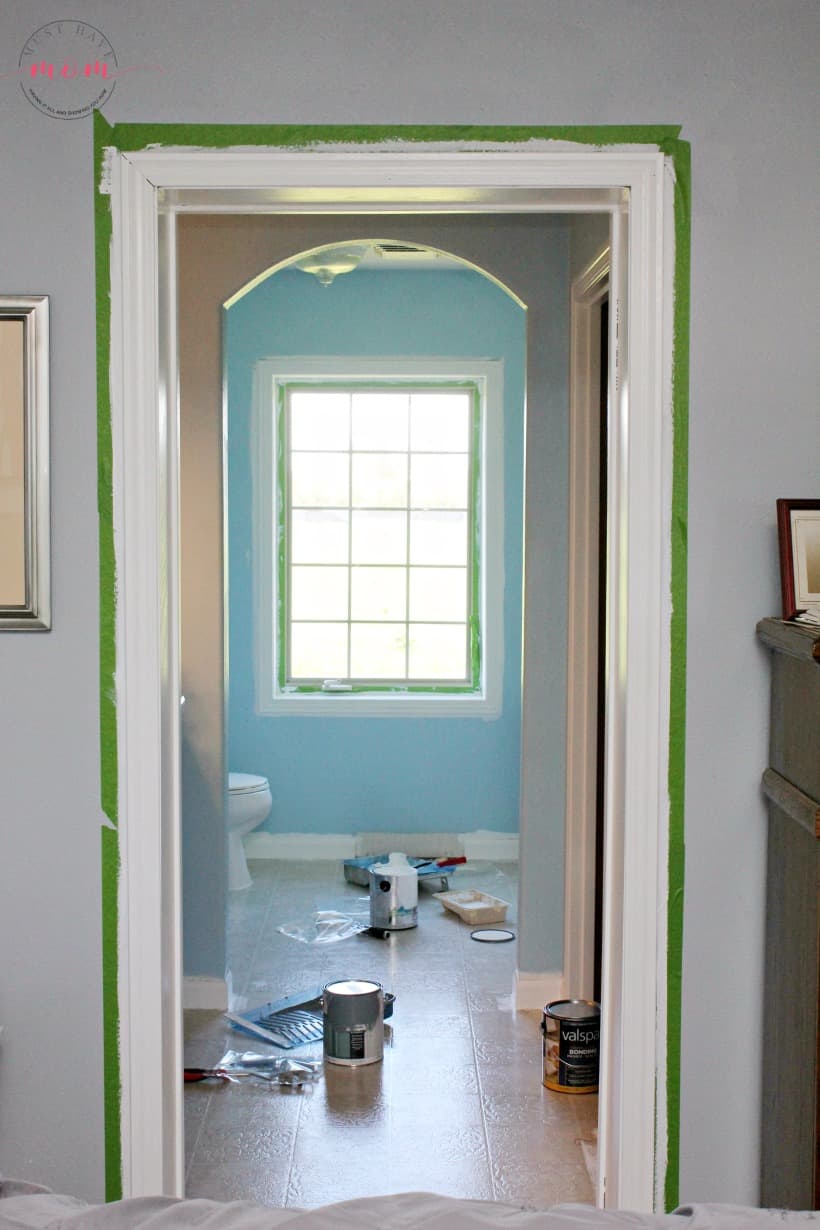 We also taped along the door trim entering into the bathroom. We decided to keep the wall color in our bedroom so we wanted to make sure we used FrogTape® to prevent any paint from getting onto the wall color.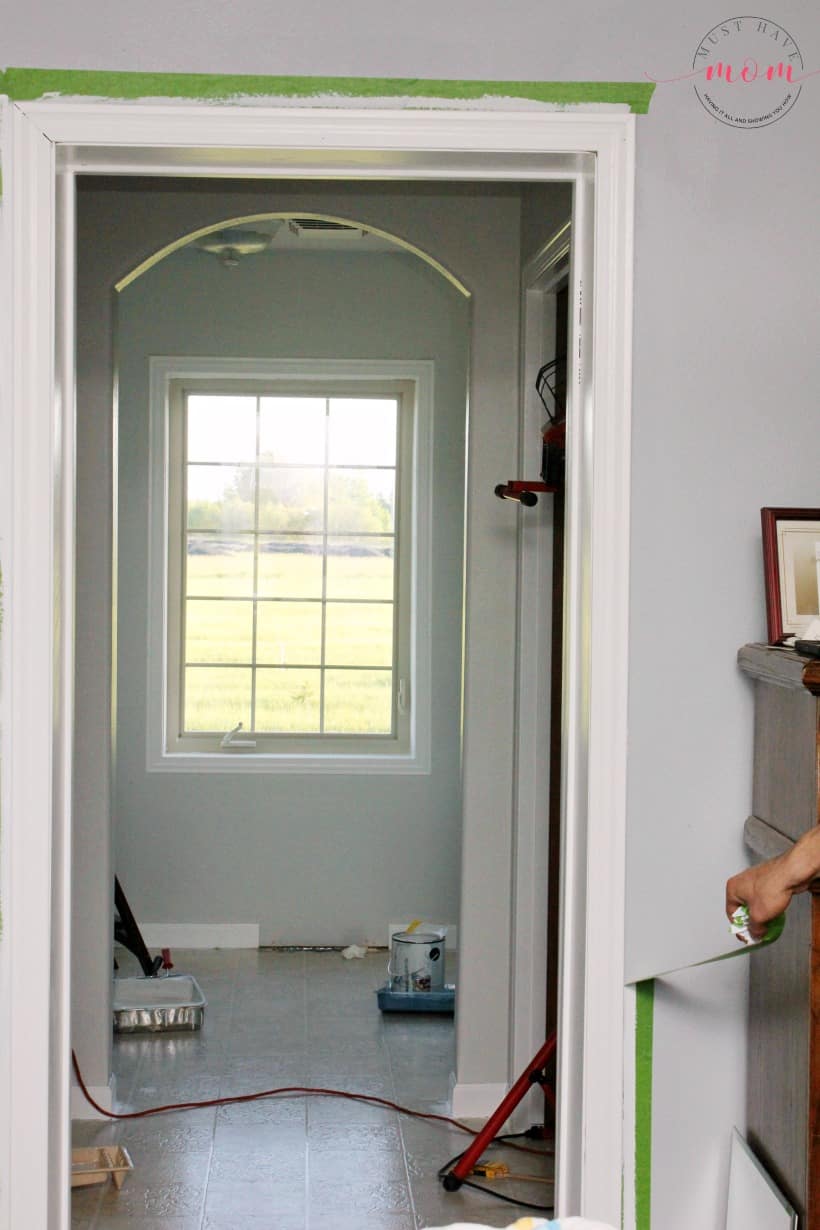 The result was a perfect line all the way around the doorway trim. It made a HUGE difference for the bedroom as well. We decided we didn't even need to change the wall color in our bedroom because just adding white trim made a huge difference in the overall look.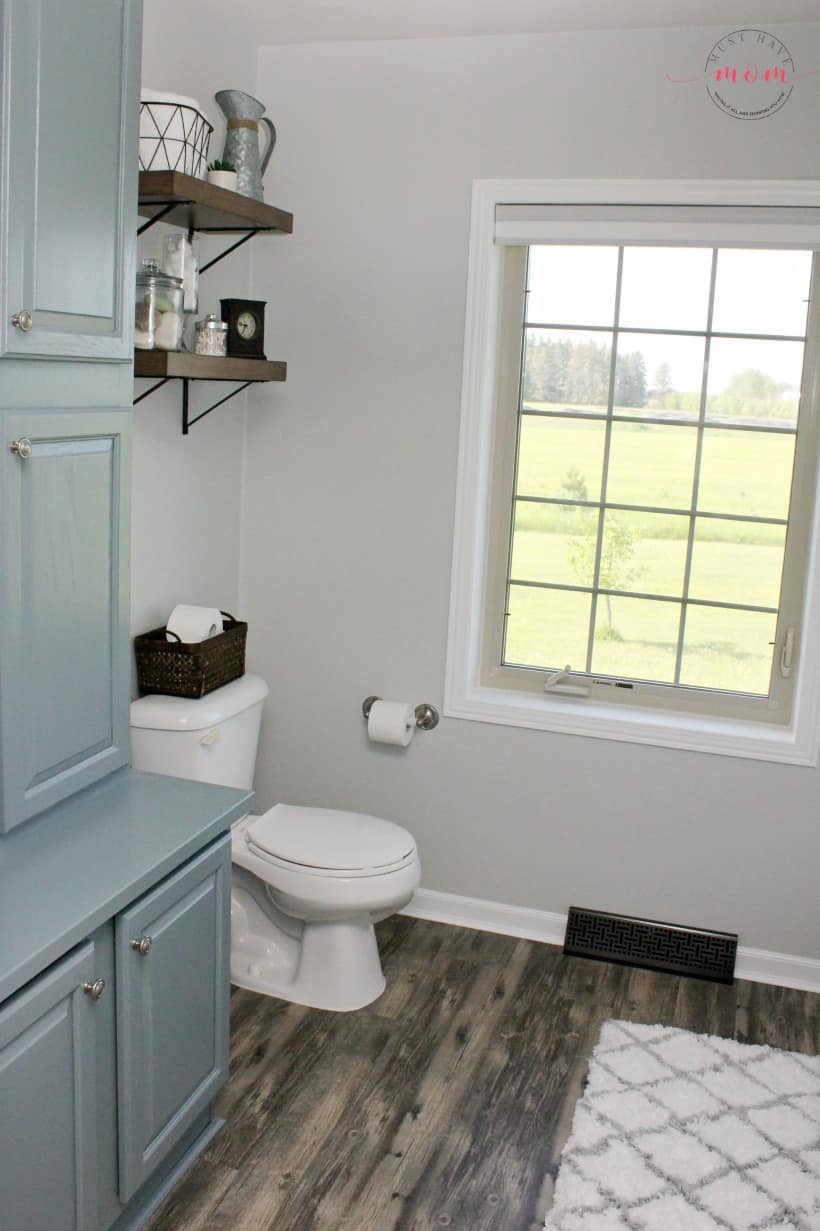 The white trim made a big difference in the overall feel of the bathroom, but the real trick here is luscious layers! After we finished painting, achieved crisp paint lines and loved the overall look, it was time to add layers. We added a plush rug on the floor, rustic wood shelves on the walls filled with a mix of glass, galvanized metal, bronze and cotton, and a basket over the porcelain toilet.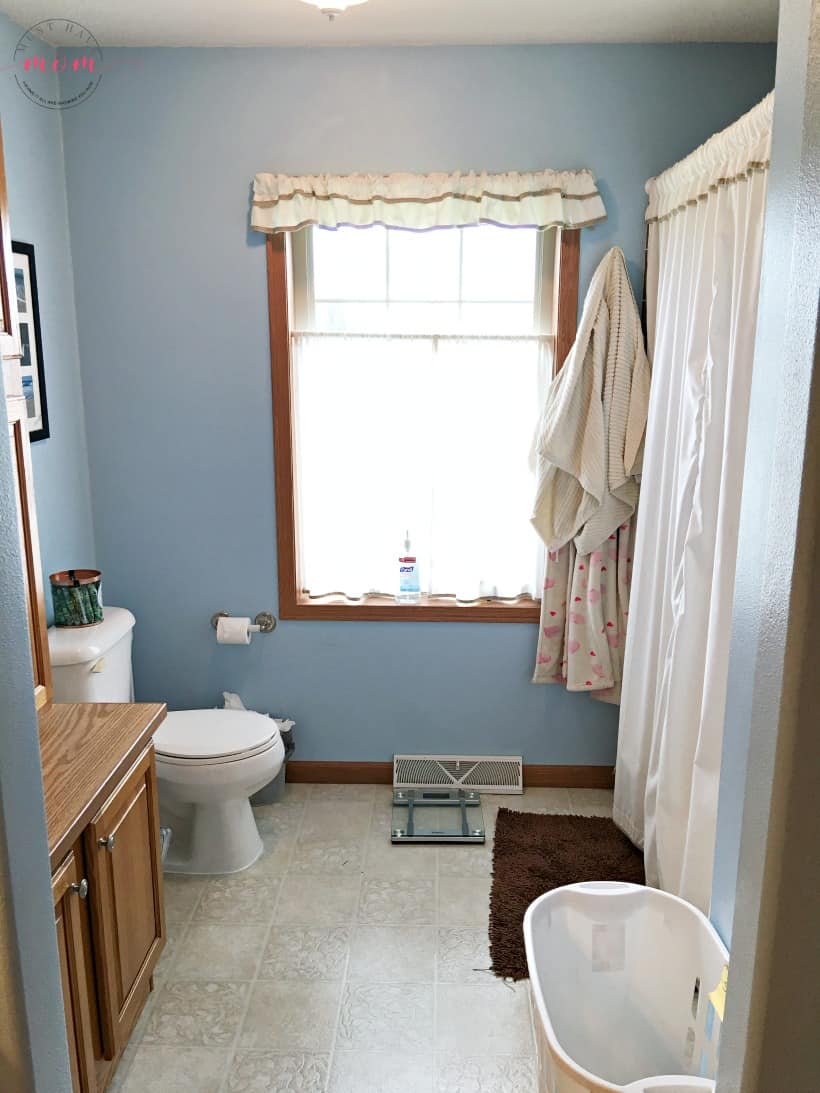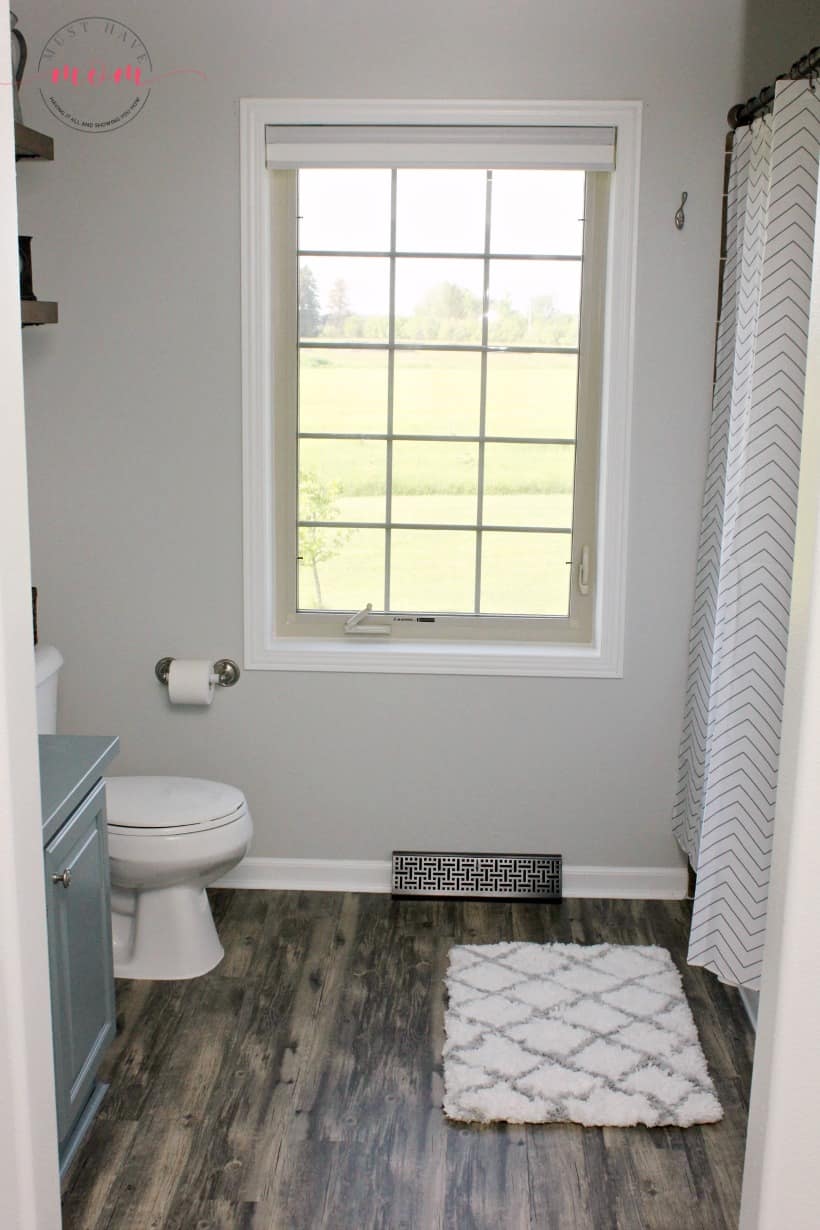 The final transformation was stunning! You can use these techniques in any room of your house! Begin with crisp paint lines and add layers. The final look is gorgeous and budget friendly!
Pin the Farmhouse Style Bathroom: