Best EVER Homemade Basil Pesto Recipe
One of my favorite things to plant in my garden is basil because then I can stockpile it and make this best ever homemade basil pesto recipe. Whether you grow it or you just have a bunch of it leftover after making a recipe, this recipe is out of this world so give it a try.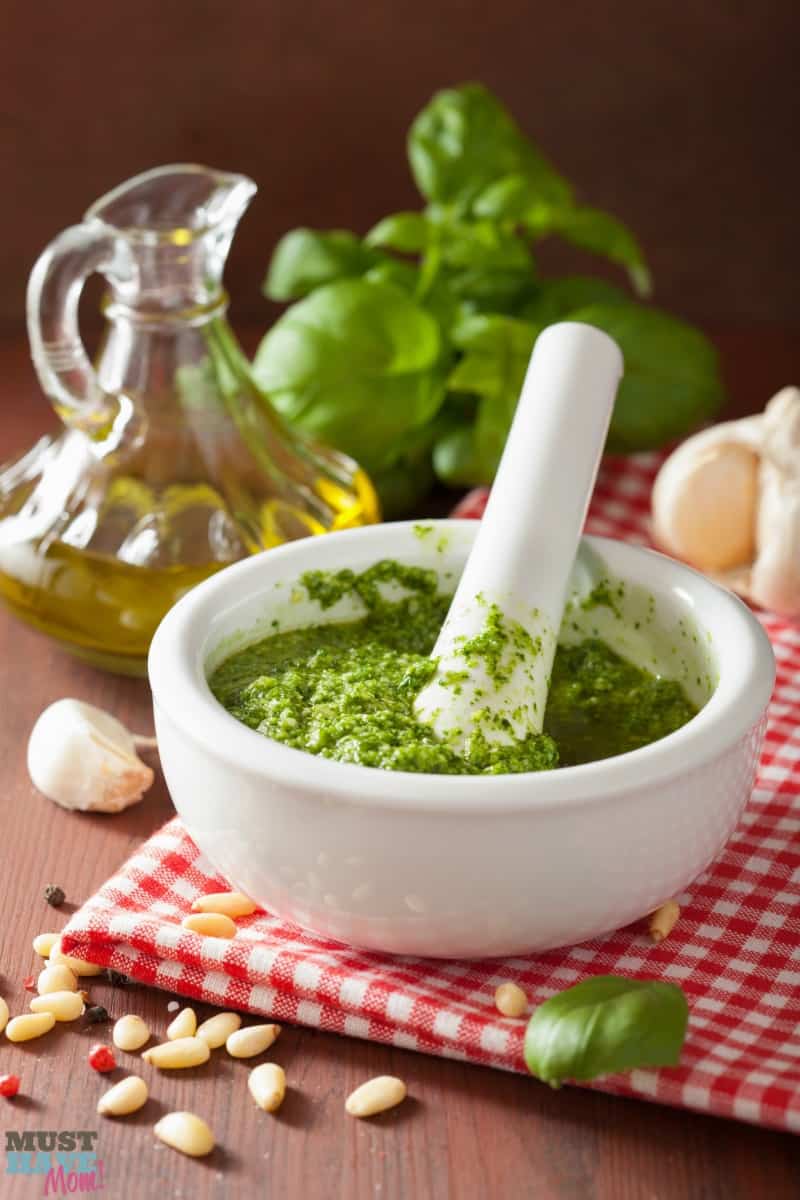 Why Make This Basil Pesto Recipe?
I am a Finnish girl who married into a huge Italian family and my palette has forever been changed. I LOVE Italian food, but it has to be true Italian food and not the Americanized version of things. If you've never had a pot of sugo simmering on the stove then you don't know what you're missing out on. It's so much more amazing than our version of spaghetti sauce here in the US.
Pesto is no different and deserves a proper recipe that makes it taste amazing and delivers a pop of flavor to your tastebuds. This homemade basil pesto recipe is the BEST pesto recipe I've made and I absolutely love using fresh basil out of my garden all summer long to create various basil pesto pasta dishes!
Pesto can be used on a variety of different dishes! Use it in everything from pasta to pizza! Top your sandwich with this basil pesto or add it to your crackers. It's so versatile! This basil pesto recipe is SO simple to whip up and literally takes minutes to make.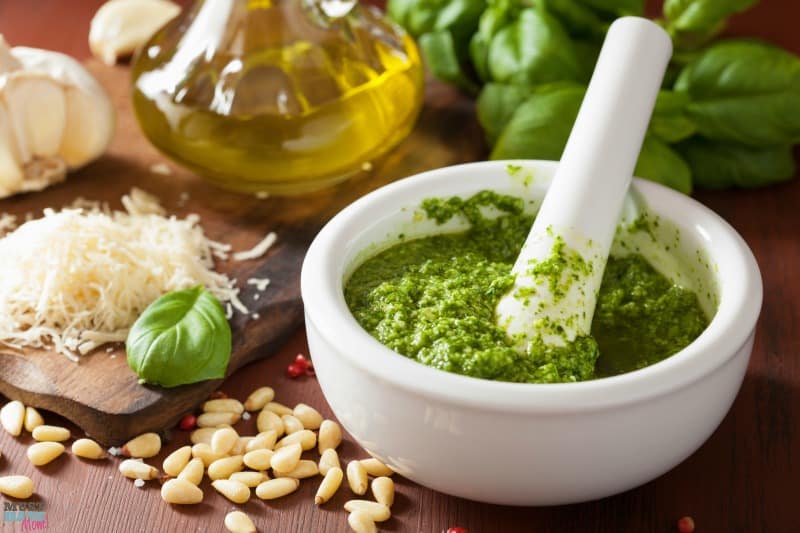 To make this basil pesto recipe you'll need fresh basil leaves (try growing them in your kitchen window with this DIY coffee mug herb garden!), garlic cloves, pine nuts, Parmesan, black pepper and olive oil. These are all basic ingredients that are easy to keep on hand all summer long!
To make this basil pesto recipe you'll simply combine all of the ingredients in a food processor (or if you don't have one you can use a mortar and pestle-this food processor is the one I have had for years and love) and emulsify it. It can be kept in the fridge for up to a week! We use this basil pesto on just about anything and it tastes so amazing!
Print the Basil Pesto Recipe: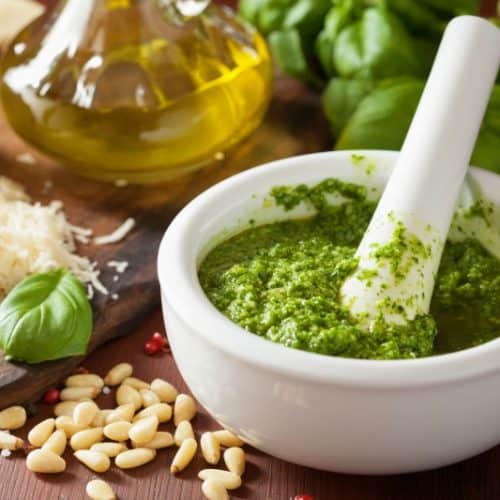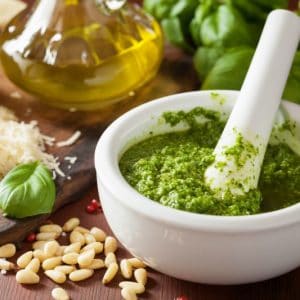 Best EVER Homemade Basil Pesto Recipe
Quick and easy homemade basil pesto recipe that is out of this world amazing!
Ingredients
1

cup

fresh basil leaves

3

cloves

garlic

peeled

3

tablespoons

pine nuts

1/3

cup

freshly grated Parmesan cheese

Kosher salt

to taste

fresh ground pepper

to taste

1/3

cup

olive oil
Instructions
In a food processor combine basil, garlic, pine nuts, Parmesan cheese, salt and pepper. Turn food processor on and slowly add in olive oil until mixture is emulsified and creamy.

Store in an airtight container for up to a week in the fridge. If oil separates from mixture simply stir it to reconstitute it.
Supplies We Used for Basil Pesto Recipe:
OmniWare Porcelain Petite 2.75 Inch Mortar and Pestle

Cuisinart DLC-2009CHBMY Prep 9 9-Cup Food Processor, Brushed Stainless

Trader Joe's Raw Pignolias (Pine Nuts)

Kirkland Signature Organic Extra Virgin Olive Oil 2L (2QT 3.6 fl. oz)

Combino: Dried

Vremi Olive Oil Dispenser Bottle – 17 Oz Oil Bottle Glass with No Drip Bottle Spout – Oil Pourer Dispensing Bottles for Kitchen – Olive Oil Glass Dispenser to Measure Cooking Vegetable Oil and Vinegar

Indoor Wall Planter

Easem Silicone Garlic Peeler

Sujeo Mini Garlic Press with Stainless Steel Blades and Inbuilt Clear Plastic Tray, Green

Pin the Basil Pesto Recipe image below: