Do you have a bunch of baby food sitting in your cupboard that you aren't sure what to do with? You could pair it with my baby pancakes made with rice cereal, throw it in a smoothie or make homemade fruit snacks with it! Today I'm making baby food fruit leather with my leftover jars of baby food and it makes for the easiest fruit leather you'll ever make!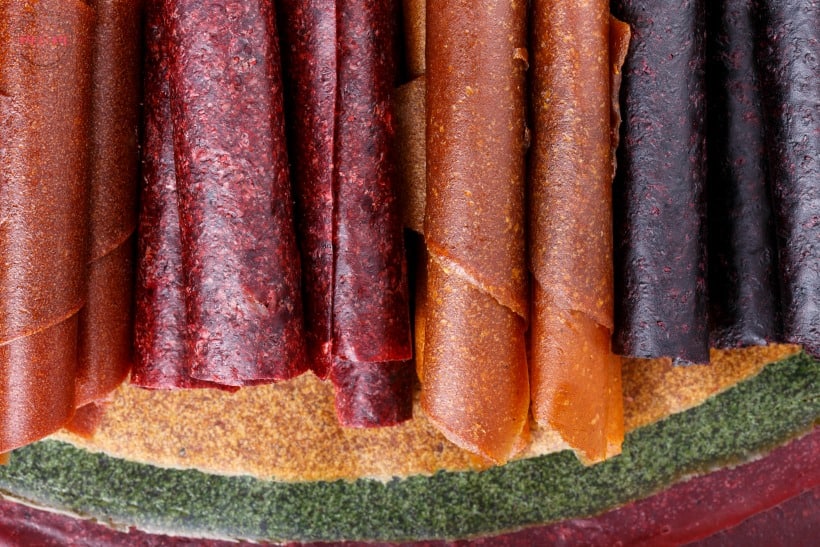 Baby Food Fruit Leather Recipe
I love homemade fruit leather but going through the process of cooking and pureeing the fruit can be more tedious than I have time for. By using baby food for this recipe you'll save a ton of time and maybe even use up some of that leftover baby food that your now independent toddler wants nothing to do with!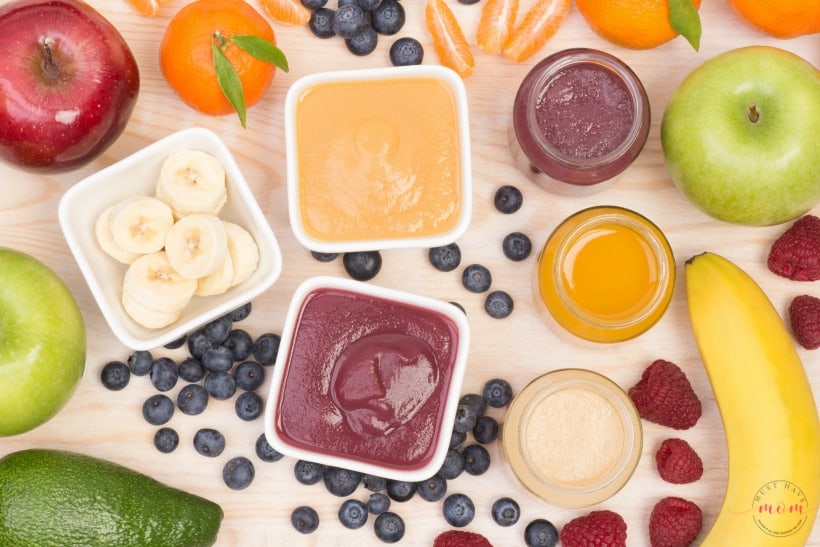 Awhile back I bought a dehydrator. My mother in law had purchased one and was so excited about it that her excitement was contagious. I ended up finding a great Nesco Square Dehydrator and I just love it. I love making my own beef jerky and recently started making fruit leather too. We love fruit leather but it is so expensive. I had a bunch of baby food fruit left over from when Aiden was eating baby food and transitioned to wanting nothing to do with anything pureed. I figured what a better way to use it than to make my own fruit leather!
To make this healthy baby food fruit leather you'll need the following supplies:
dehydrator (I use this one and it's going strong after 7 years still!)
fruit tray for the dehydrator (like this)
baby food – any variety (we prefer fruit blends with bolder flavors)
wax paper or parchment paper and a bag to store them in
If you have leftover baby food fruit then I highly recommend making your own fruit leather. It takes the step of pureeing your fruit away and makes it really quick and easy to do. If you don't have baby food that's okay too! All you need to do is puree your favorite fruits together (cook them first to soften them) until very smooth and spread them on a fruit tray for your dehydrator. I spread three jars of baby food on mine (the smaller jars). Our favorite flavor so far is the apple blueberry but we also love the strawberry apple banana and the apples and pears have worked well too. Dehydrate it at around 150 degrees (read your manual) for 4+ hours. I keep checking it and generally, the outside edges are done first and we eat them as we go 🙂 This batch of fruit leather didn't last 24 hours in our house!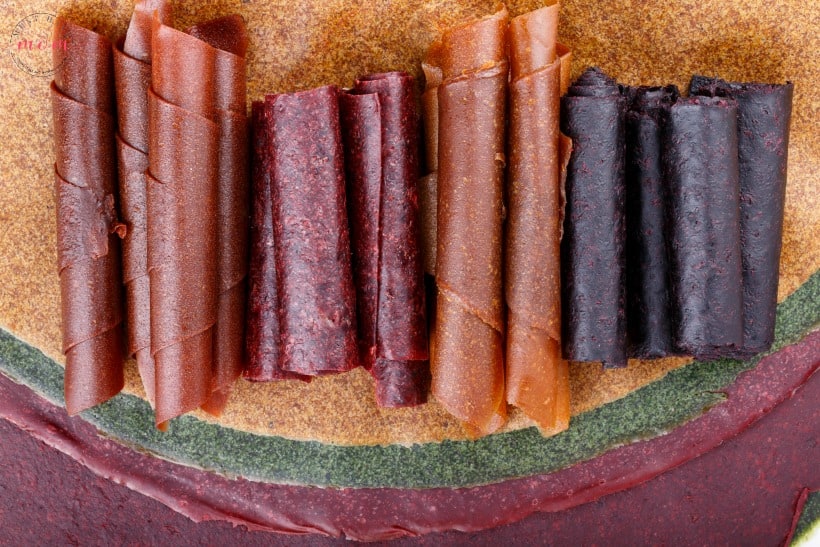 You can wrap them individually for lunches or easy snacks. I chose to wrap them in a bunch because we eat them so fast. I put several pieces on wax paper or parchment paper and rolled it up.
I then store them in a freezer size zip top bag. Yum! I love finding uses for things that I otherwise wouldn't use. In this case, jars of baby food! This is a really healthy and delicious treat for the kids!
Order The Supplies You'll Need For This Recipe
Nesco FD-80A Square-Shaped Dehydrator – MADE IN USA
Nesco LSS-2-6 Fruit Roll Sheets for Dehydrators FD-28JX/FD-37/FD-60/FD-61/FD-61WHC/FD75A and FD-75PR, Set of 2
Beech-Nut Organic Variety Pack Stage 2
Reynolds Wrap Cut-Rite Wax Paper – 75 sq ft – 2 pk
500 Interfolded Food and Deli Dry Wrap Wax Paper Sheets with Dispenser Box, Bakery Pick Up Tissues, 6 x 10.75 Inch [500 Pack]
Pin Baby Food Fruit Leather

More Recipes Your Toddler Will Love: