52 Things You Should Always Buy at the Dollar Store
The dollar store is an amazing place where you can get all manner of things for just a few dollars! Unfortunately, sometimes dollar stores get a bad rap. Between tales of low-quality items, and negative news articles of downright hazardous items, some people are afraid to buy anything at a dollar store. Which is a shame, because there are actually many things you can safely buy at the dollar store, and should be buying if you want to save money! (Want to know which items to stay away from? Check out my article on 10 things you should NEVER buy at the dollar store!)
To help you decide what to get, check out these 52 Things You Should Always Buy at the Dollar Store!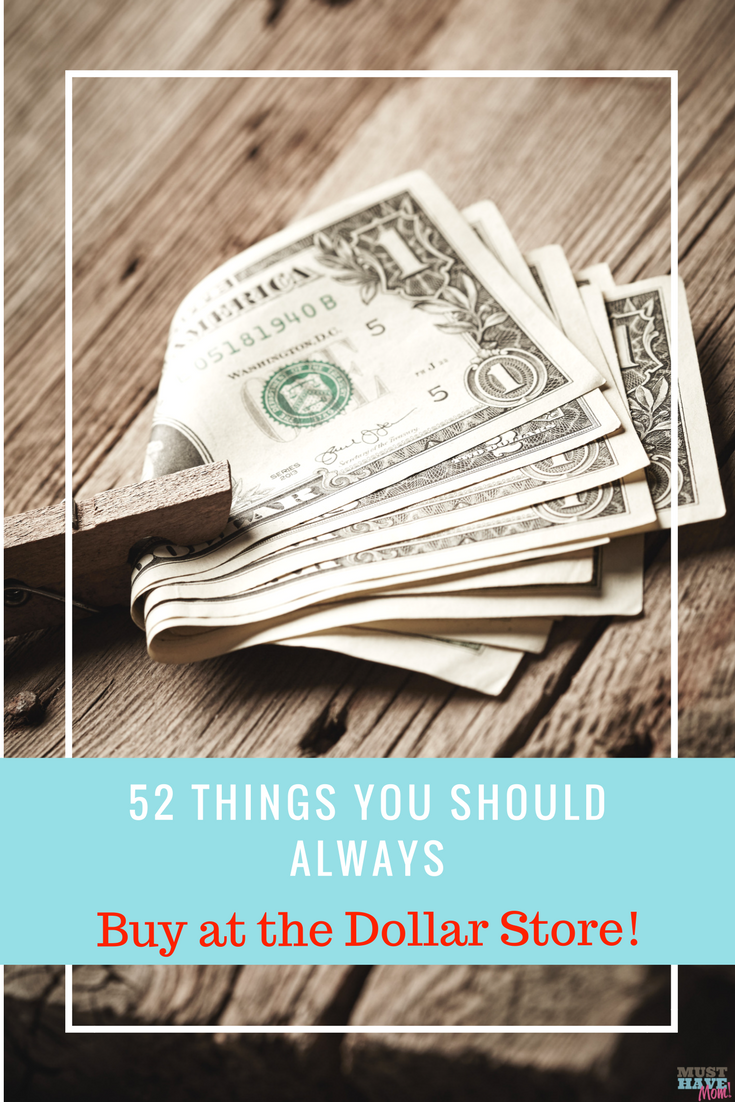 52 Things You Should Always Buy at the Dollar Store
Vases- You don't need an expensive vase to hold your flowers!
Candle holders- The dollar store has a nice selection of candle holders!
Plastic organizing bins- Handy organizing bins are something you should always buy at the dollar store!
Small caddies are perfect for a kids snack caddy in the car!
Helium balloons- If you go to the dollar store for balloons instead of the party supply store, you can save a TON of money! They also have $1 balloon weights.
Ribbons/bows- You'll never pay $5+ for a bow again!
Greeting cards- You can find a large assortment of greeting cards at the dollar store! At the Dollar Tree, you can get 2 cards for 1 dollar!
Gift bags- Stay within your budget for your next party with inexpensive gift bags! The dollar store is the BEST place to buy gift bags of all sizes. They also have the cellophane bags to wrap a gift basket in. At Christmas you can even find bike bags to wrap a bicycle in!
Lint rollers- Pet owners should definitely stock up on inexpensive lint rollers!
Flower pots- Skip the home improvement store and get you next flower pots from the dollar store!
Close out items at crazy low prices – We have found these minion snackeez cups (as seen on tv regular price $6.99) and even Topsy Turvey planters! It pays to check them from time to time because you can snag these crazy good prices on name brand products.
Small fake succulents- If you don't want to have to bother with a live succulent, but still want to add them to your decor, you have to get the dollar store's small fake succulents!
Fake flowers- Silk flowers at craft stores can be pricey. Make your fake flower arrangements for less with dollar store flowers!
Craft supplies- You can find a lot of great craft supplies at the dollar store (though you will want to skip the off-brand glue sticks and crayons)! We always buy pom poms, googley eyes, popsicle sticks and small painting kits at the dollar store.
Poster board- When your kids need a poster board for their school project, skip the crafts store and go to the dollar store! They also have the large foam boards!
Stickers – We always buy the kids stickers at the dollar store because they are much cheaper there.
Kids' activity books and coloring books- Kids go through activity/coloring books so quickly, that they're definitely something you should always buy at the dollar store!
Puzzles- The small puzzles at the dollar store are an inexpensive way to keep kids busy!
Homeschooling supplies for young kids- If you're homeschooling young kids, or just want to buy some supplementary educational supplies, you can find wipe-off charts, reward certificates, basic workbooks, flash cards, and more at the dollar store!
Paper clips- Paper clips are so small and disposable, it'd be crazy to pay more than a $1 for them!
Hydrogen peroxide- You don't need to pay more for name-brand hydrogen peroxide elsewhere, the dollar store version is perfectly fine!
Hand soap – You can often find name brand hand soaps and the off brand soaps work pretty well too. We like the foaming soap dispensers they sell too.
Hand sanitizer- Grab a couple for your kids to take with them to school, or to keep in your purse!
Mailing/shipping supplies- Envelopes, labels, tape, etc. are really cheap at the dollar store!
Instant rice- A great deal on a quick dinner side!
Frozen vegetables- For the amount you get, the frozen veggies are a better deal than the canned vegetables. And frozen is better for you, anyway!
Half gallon (64 ounce) containers of juice- For families with kids that love juice, this can save you a lot of money! Just be sure it is 100% juice and not a sugar filled version of juice.
Spices- Want to try adding a new spice to your meals? Get it at the dollar store!
Pet toys- Great dog toys and cat toys can be found at the dollar store! Just make sure they're not too small for your pet (some of the toys are too small/fragile for larger dog breeds). My dogs quickly destroy any stuffed dog toy so paying a dollar for them instead of $7 or more means I don't mind when they pull out all the stuffing.
Microfiber cloths- Microfiber cloths are really handy cleaning supplies for indoors and car care!
Rubber gloves- Yellow cleaning gloves are something you should always buy at the dollar store!
Small LED flashlights- These are great to keep in your car or purse in case of emergencies! My kids love having one by their bed at night too!
Decorative items- Frames, small statues, small mirrors, grapevine wreaths, and other decor items make inexpensive supplies for dollar store DIY projects!
Floral foam – You know the green foam you use to make floral arrangements? It is MUCH cheaper at the dollar store than at a craft store.
Party supplies – These are my favorite must-have from the dollar store. They always have a variety of colors to choose from for your party. The plates, napkins, plastic cutlery, cups and tablecloths are a great buy.
Glow sticks – You'll find that glow sticks are MUCH cheaper at the dollar store than at other stores and they work just as well.
Dishes – I bought my last set of plates, bowls and coffee mugs at the dollar store. They have held up for over a year and I love the design.
Foil pans – If you do freezer cooking or want to make a meal and bring it to a friend (and then leave them without any dishes to return to you!), the dollar store is the best place to buy them. They have a variety of sizes too!
Kitchen servings tools – We stocked up our entire camper with Betty Crocker brand plastic serving spoons, pasta servers, turners, spatulas and measuring cups from the dollar store. They've worked just fine!
Dog dishes – The dollar store has a variety of dog dishes including stainless steel dog bowls that are perfect for your pet.
Hair ties – The dollar store has a great variety of hair ties and headbands that my daughter uses and loves. They've held up just as well as more expensive hair ties.
Pool noodles – Get these for half the price of other stores!
Large plastic bowls – We love buying large plastic bowls for serving chips and other foods in the summer.
Bubbles – I can't tell you how many times my kiddo dumps his bubbles. At a dollar a piece it's not as costly when they get spilled! You could also make your own homemade bubbles instead!
Sand toys – My kids tend to go through a lot of sand toys in the summer. We love stocking up on them at the dollar store.
Wrapping paper – Unless I can stock up on after-Christmas sales, the dollar store is my go-to for wrapping paper.
Flash cards – They have multiple different sets of flash cards. My daughter has been using the multiplication and division flash cards to learn her equations!
Garage sale stickers – You'll find small, round price stickers for pricing garage sale items as well as signs for your garage sale at the dollar store!
Magic towels – These wash cloths come packed into a tiny square and are a ton of fun for kids to add to water and watch them grow!
Metal cookie tray – I don't buy these for baking as they aren't great quality, but they are perfect for a DIY kids activity tray!
Plain white coffee mugs – These are perfect to make these DIY Sharpie mugs for gifts!
Clip boards – These are a must-have from the dollar store.
What do you like to buy at the dollar store?