How To DIY a Blush and Gray Girls Bedroom Makeover
This blush and gray girls bedroom makeover turned out gorgeous! It is the perfect bedroom makeover for a preteen that will take them into the teenage years without outgrowing the decor.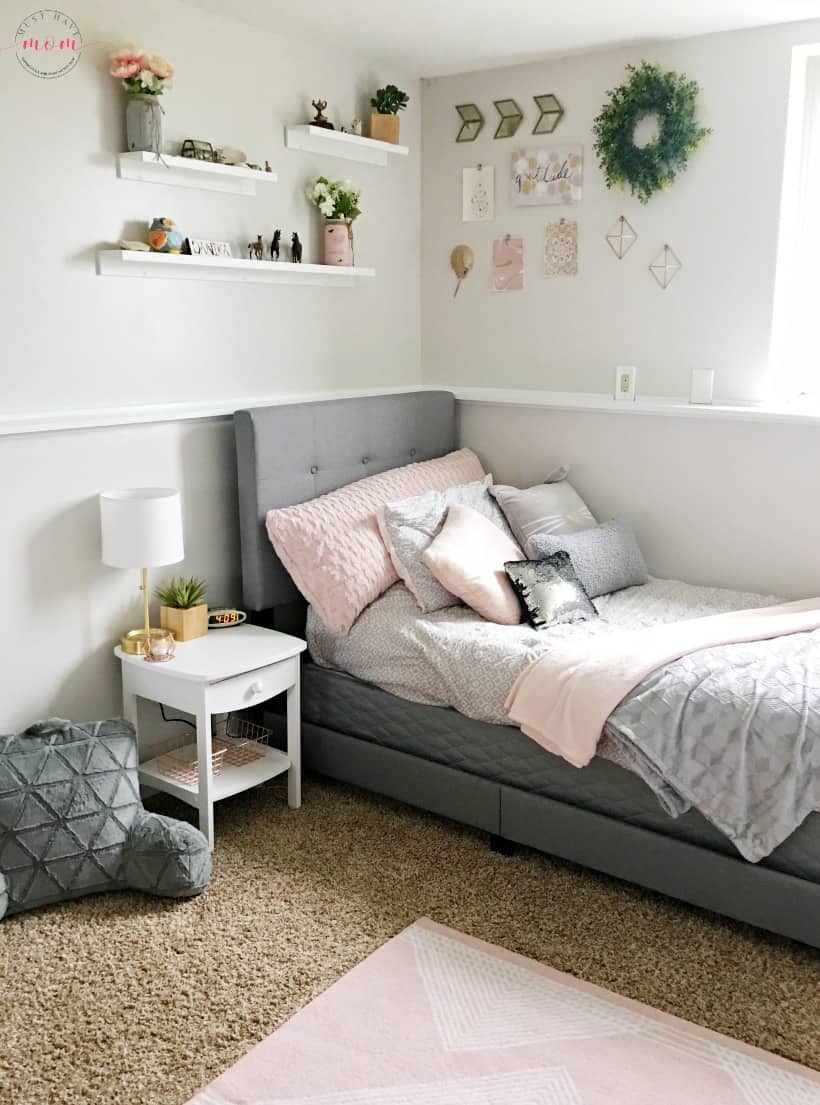 My daughter wanted a more grown-up room so we did a makeover on her bedroom and the reveal is stunning. I wanted something that would work for a girls bedroom (she's ten years old) but still, work as a teenage girl bedroom for when she's older. We hit the nail on the head with this makeover and I'll show you how you can DIY your own blush and gray girls bedroom makeover!
How To Do A Girls Bedroom Makeover
Any great makeover starts with inspiration. I recently helped plan a blush pink and grey wedding for my sister and my daughter loved the color palette. That is what inspired the color palette for her girls bedroom makeover. Once you have inspiration then you're ready to plan, execute and enjoy your bedroom. I'll show you exactly how we created her bedroom from painting the walls to picking out furniture and decor so that you can replicate it at your house.
Girls Bedroom Before & After Photos
First, I'd like to show you the before and after photos from our girls bedroom makeover so you can see the transformation that is possible by following the directions in this post. It's easy and you don't need an interior designer or a whole lot of skill to create this look! Here is the before and the after photo from our makeover: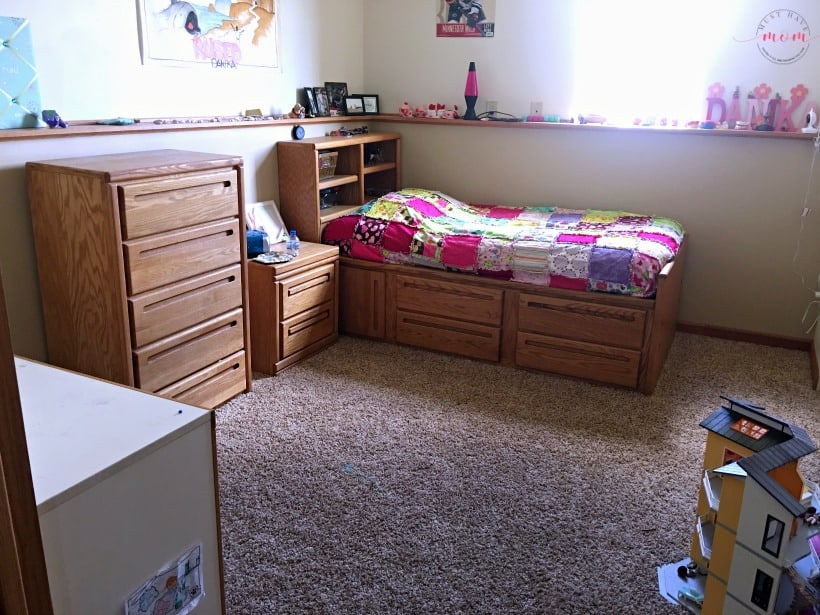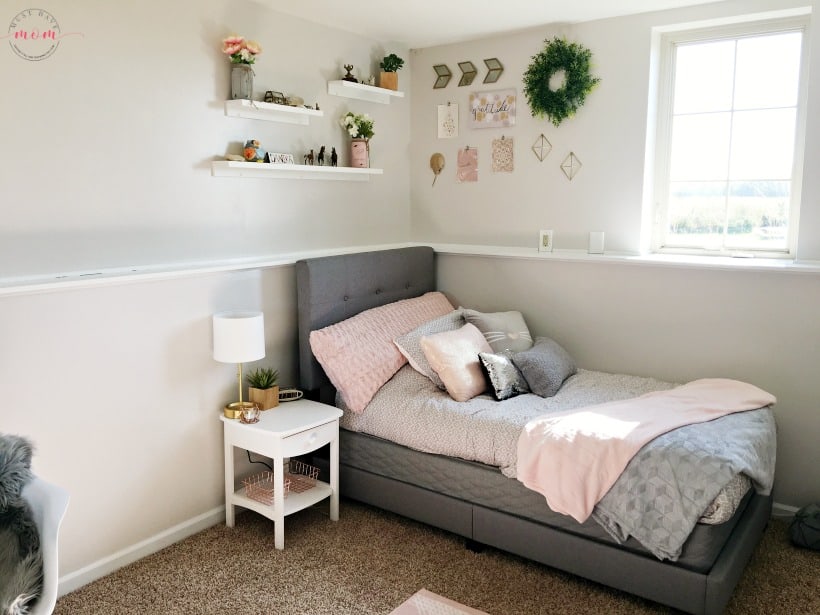 How To Get The Look
To complete this makeover you'll need to start by emptying out the room and preparing it to paint. We chose a light color for the walls and painted the wood trim white. By choosing light colors we brightened the room and it went from feeling like a dark cave before the makeover to feeling light and bright after the makeover.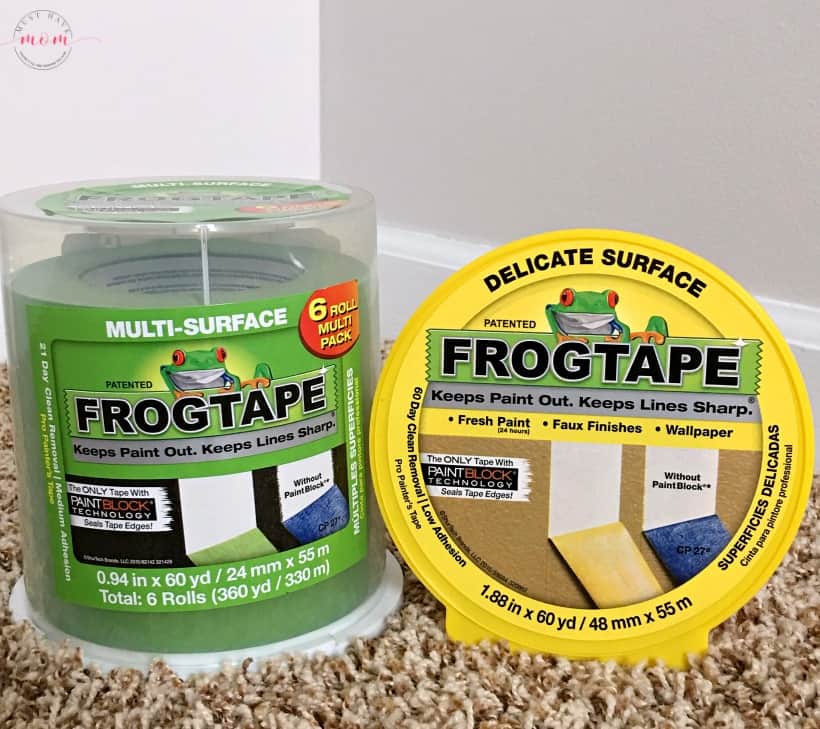 How To Paint a Farmhouse Chic Bedroom
My home is decorated in farmhouse decor and with this blush and gray girls bedroom, I went for a blush and gray farmhouse chic bedroom look. I love the light and bright walls paired with blush pink and gray for a romantic, relaxing feeling where you can unwind and relax after busy days.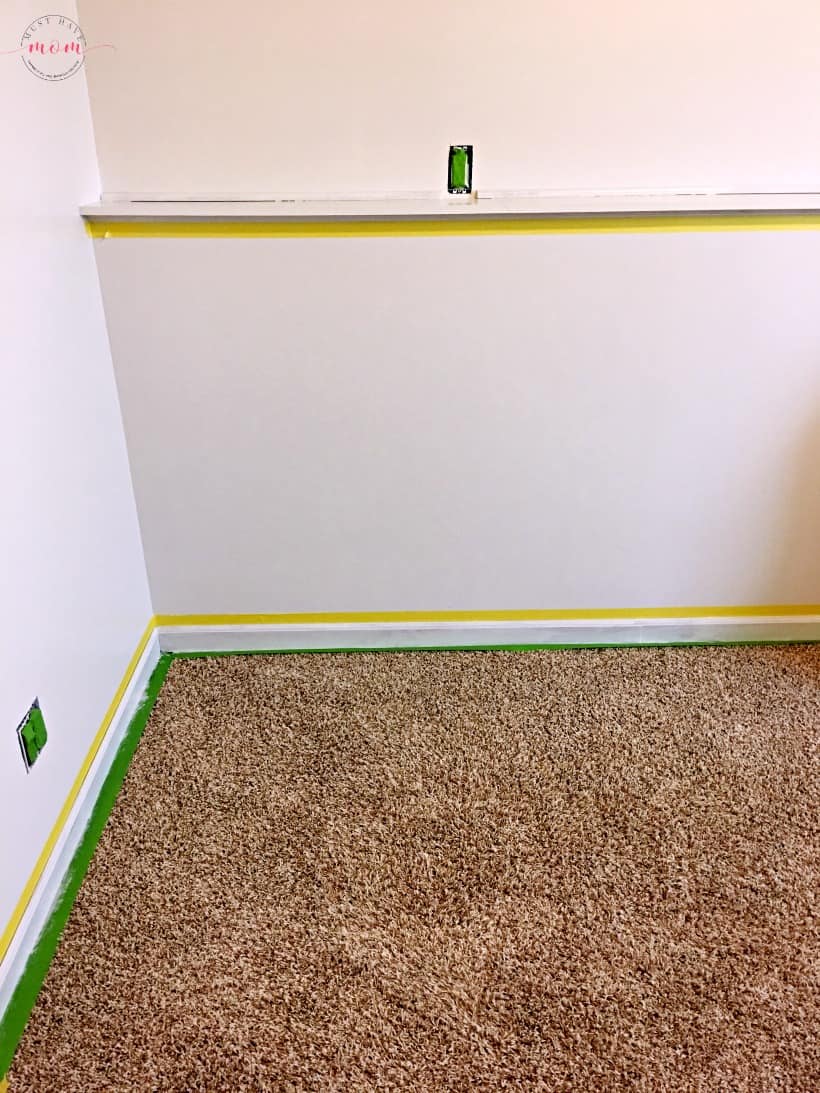 Step 1 – Tape under the baseboard trim to protect the floors
We used FrogTape® to tape the carpet and protect it from getting paint on it when we painted the trim. It did a perfect job of keeping the paint off the carpet while still getting the perfect coverage on the bottom of the base trim. You may also want to throw down a drop cloth on the floor to protect the carpet or flooring while you paint.
Step 2 – Paint the walls
Next, we painted the walls and since we were also going to be painting the wood white afterward we painted the walls and trim to get a primed layer on the trim before painting it white. If you already have white trim then you'll want to use Frog Tape to tape around the trim and protect it.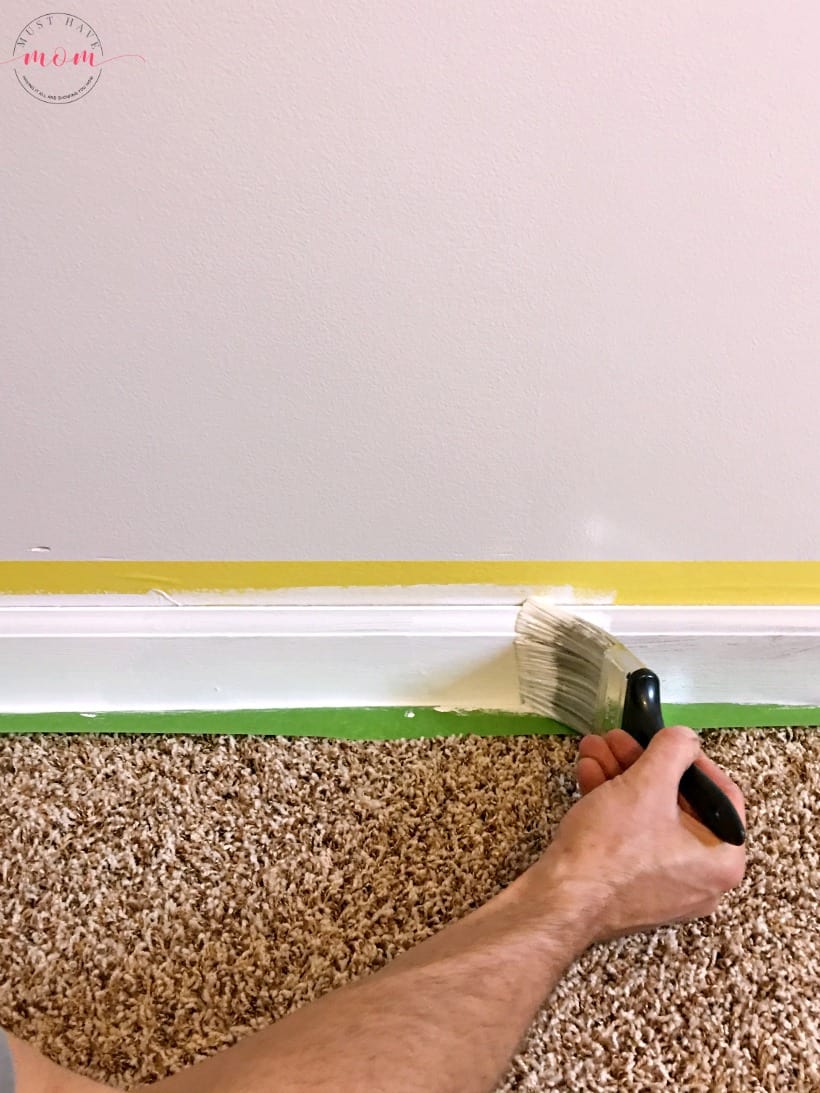 Step 3 – Paint the trim
After the wall paint has been allowed to dry overnight, you can paint the trim. For this use Frog Tape Delicate Surface to tape the freshly painted walls. It works perfectly on new paint and didn't pull off any of our new paint. It also created really clean, crisp lines. Paint the trim white. You may need more than one coat depending on the paint you use and the surface you're painting. We did two coats of white.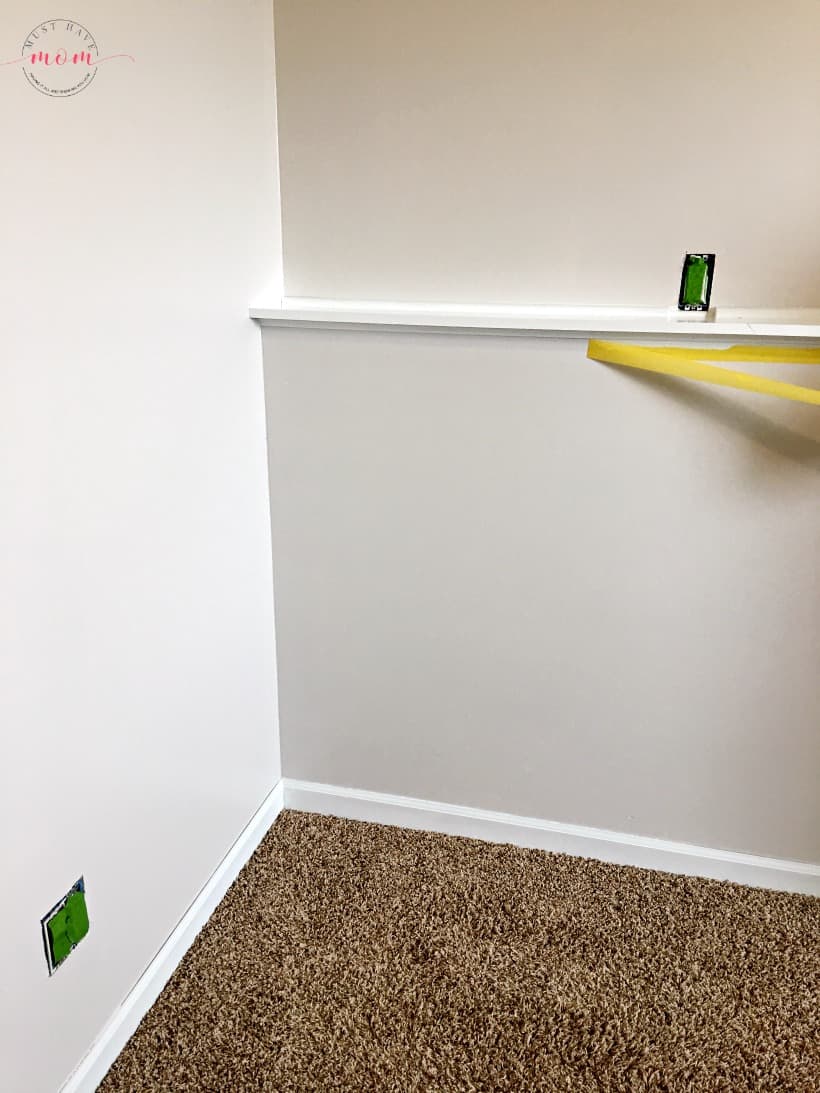 Step 4 – Remove the tape
If you are only doing one coat of paint on your trim then you can pull off the Frog Tape immediately, but if you need to do two coats, leave the Frog Tape on and pull it off after the final coat. When you pull it off you will reveal clean, crisp paint lines that look sharp and beautiful! All FrogTape® brand painter's tapes are treated with patented PaintBlock® Technology, a super-absorbent polymer that reacts with the water in latex paint and instantly gels to form a micro-barrier that seals the edges of the tape, preventing paint bleed and the need for touch-ups. The results are crisp, clean paint lines the first time. There is no paint bleed to muck up your beautiful work. Having a paint job that looks professional, thanks to Frog Tape, is the first secret in getting this beautiful room without the help of an interior designer!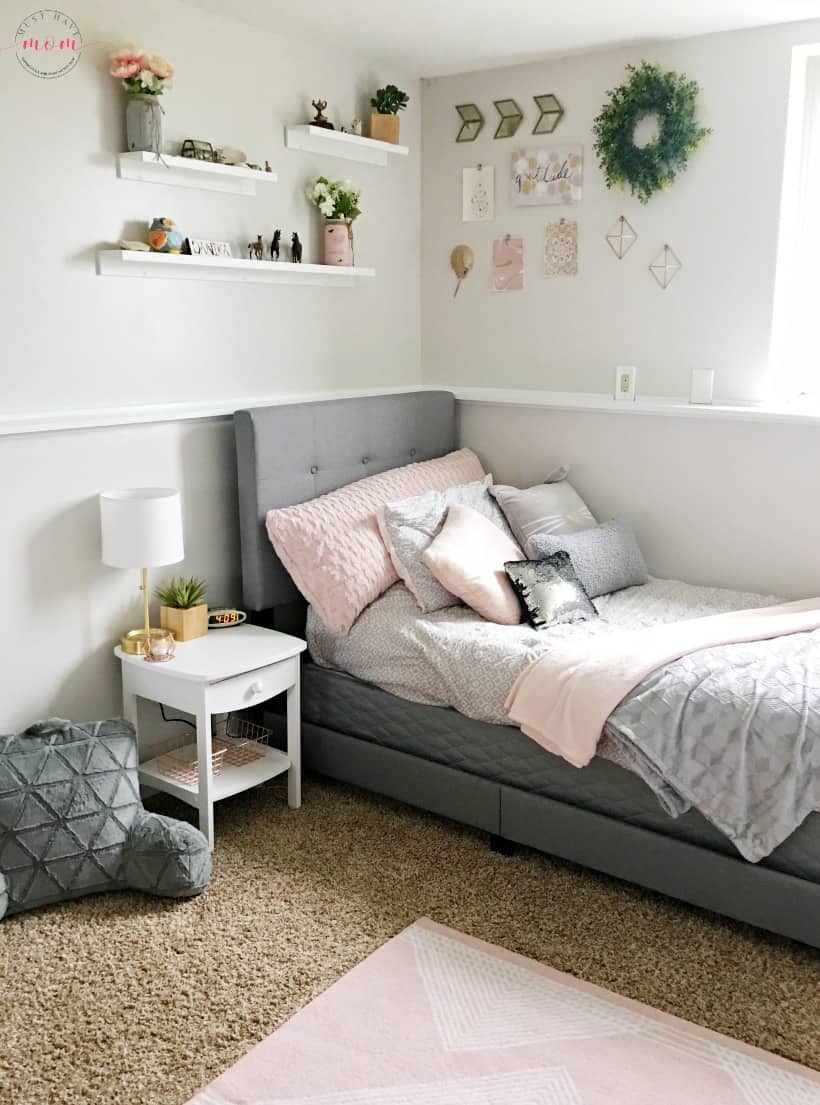 Girls Bedroom Decor
Once you finish painting, my favorite part comes next, decorating! It's time to add in new decor and furniture. Keep things simple and clean and stay within the pink blush and gray color scheme. I added in varied metals like copper and gold as well as varied textures like fur and plush blankets.
Rather than replacing her carpet we added one large pink rug in the middle of the room and a smaller one hear her door. This is a really cost-effective way to change the look of the room without major renovations or costs incurred.
Bed and Bedding
Choose a pink and gray bedroom set and add in several different pillows and blankets to create dimension and comfort. I started with blush twin sheets and then added this comforter set which also came with extra pillows. I added a body pillow with a super soft pink cover. I then added big pink and gray kitty pillows. I ordered a twin bed frame with matching headboard in gray.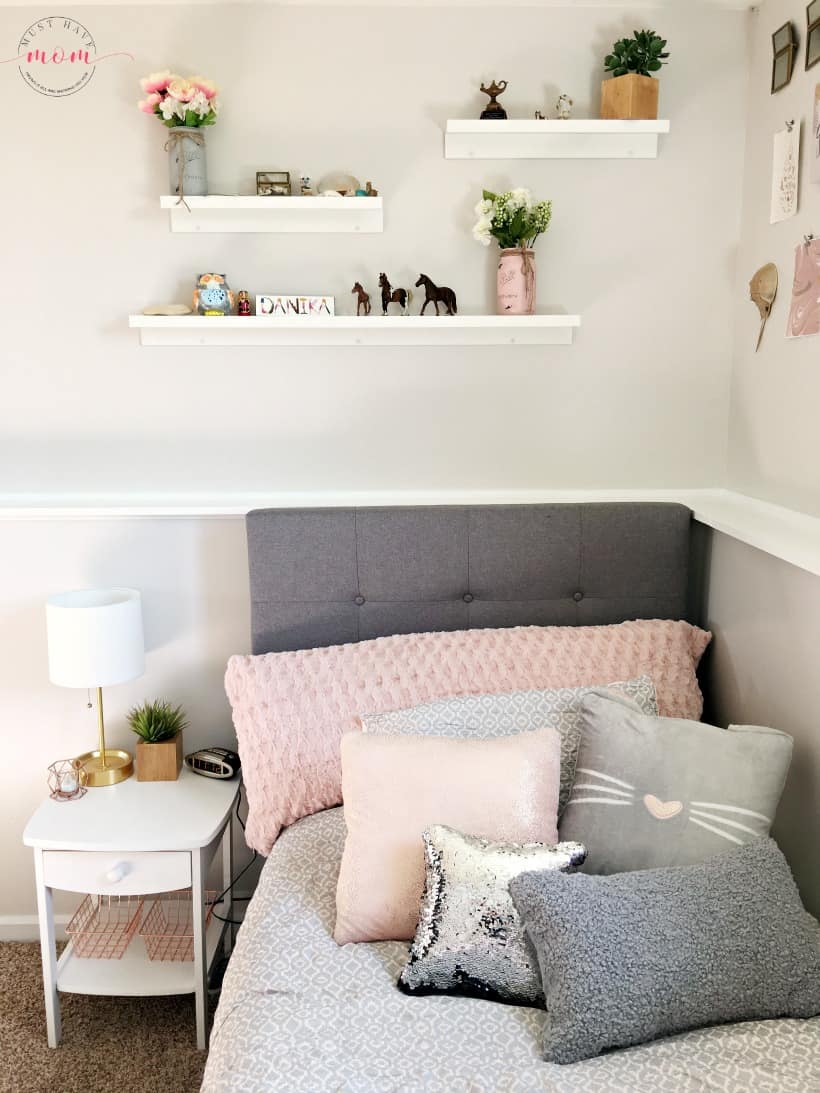 Nightstand
Stick with a simple white nightstand for beside the bed. Add a lamp, a touch of greenery in a faux plant and a clock. My daughter needed an alarm clock to wake her up so I went with a gold alarm clock and then finally added baskets underneath and a copper candle holder with a battery operated tealight in it.
Shelves
Above the headboard, we added three staggered white shelves of various sizes (bought them at Ikea). My daughter loves to hoard everything and keep everything. With the shelves, I was able to display some of her most prized possessions while still keeping the room tidy and clutter-free. I also added a plant and two painted mason jar vases with faux flowers in them.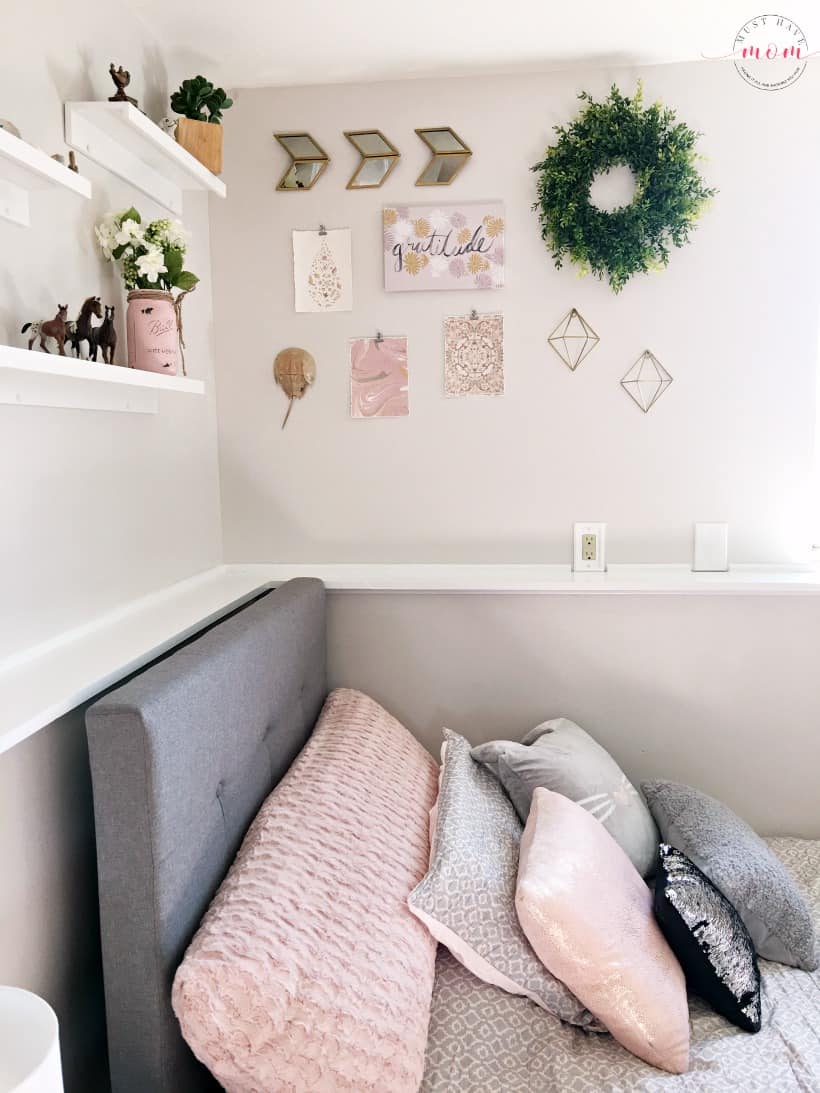 Gallery Wall
I love gallery walls and I always incorporate them into a room. It gives you a space to display wall art while bringing the room together. Choose items that coordinate with the colors and that vary in texture and color. I used mirrored arrows at the top paired with a greenery wreath, various prints, copper shapes and a horseshoe crab shell my daughter brought back from vacation. The trick to making a gallery wall look beautiful is to lay it out on the floor first. Make it almost as wide as the wall and almost as tall and then fill the space with staggered objects. Don't make them all line up perfectly or it won't look right. Lay them out on the floor and adjust things until they look right to you. Make sure you stay within a rectangle shape and things aren't sticking out past the outer lines of your gallery space.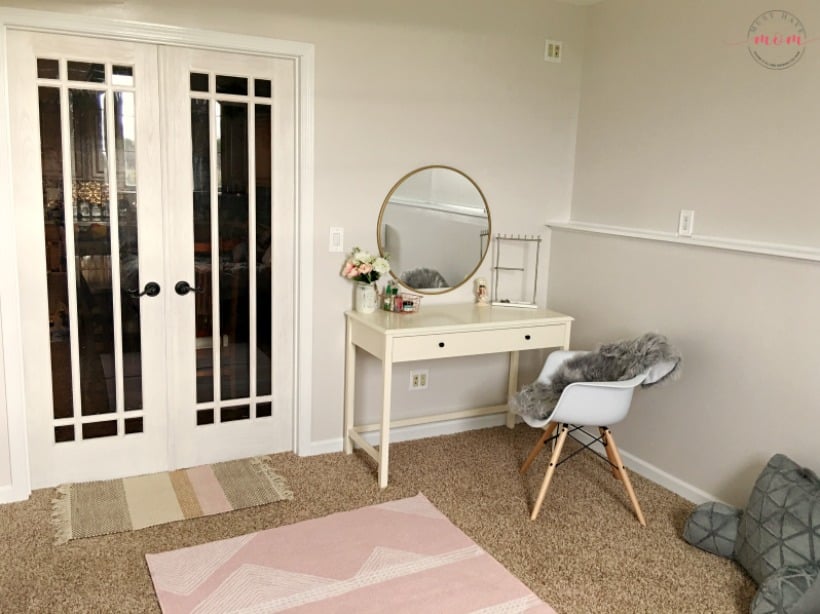 Vanity Desk Space
My daughter wasn't sure if she wanted a vanity to get ready at or a desk to do homework at so I created a vanity and desk in one that would serve both functions! I ordered a white desk and added a round, gold-framed mirror to hang above it. Keep the space between the desk and the mirror minimal to create the look of a vanity. It has a drawer with all of her homework supplies in it and on the desktop, I added a jewelry organizer, copper basket with toiletries and a painted mason jar with faux flowers in it.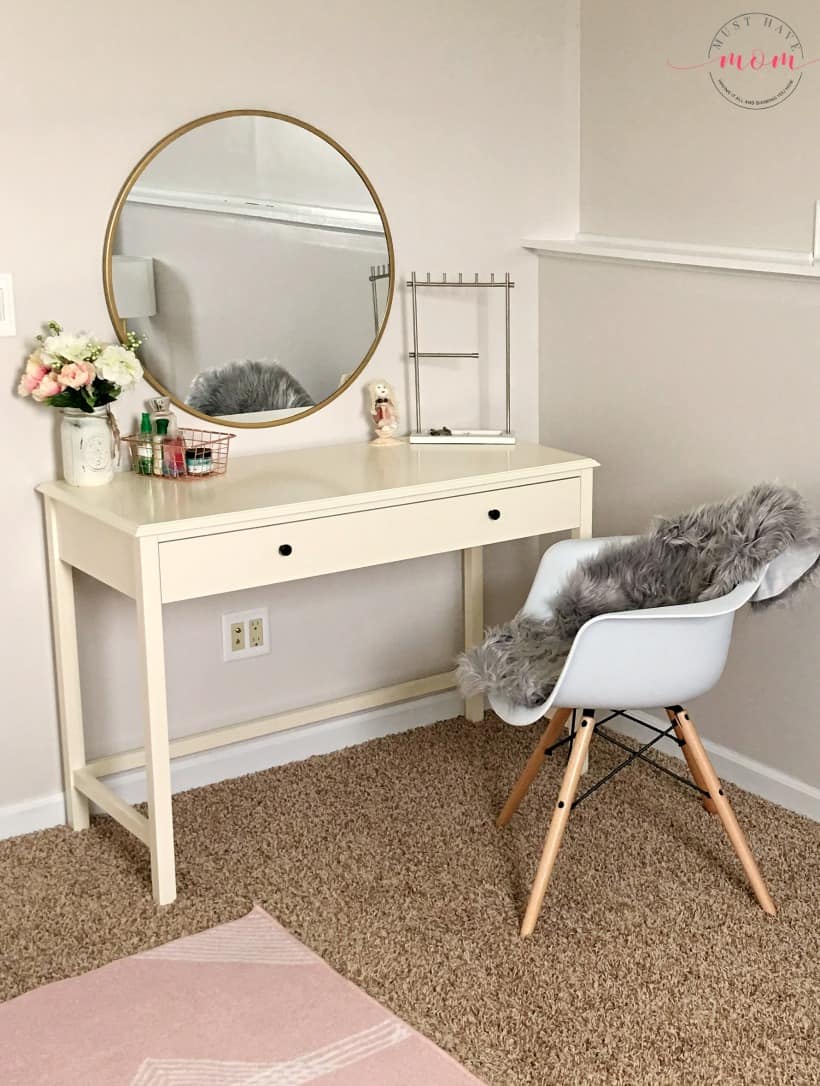 I completed it with a retro chair with a gray fur chair cover on it. I also added a plush gray floor pillow near the desk to add a space for her and her girlfriends to sit and chat.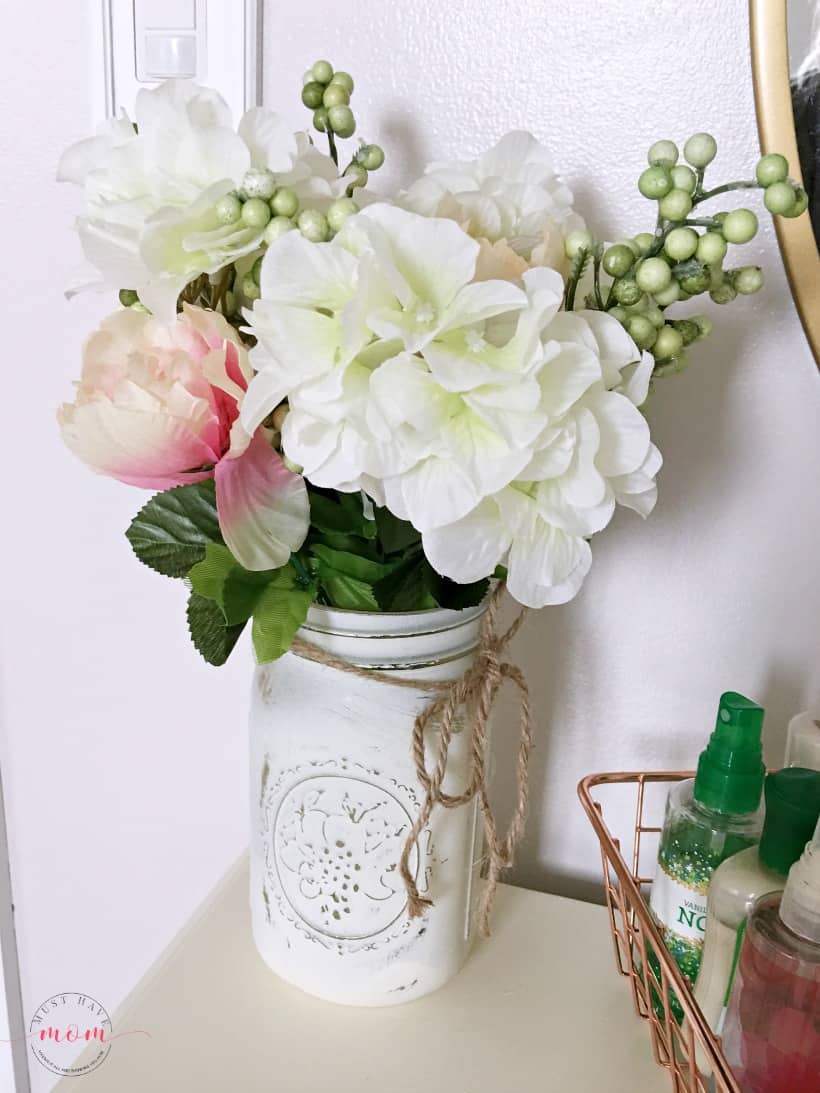 DIY Mason Jar Vases
You don't need to spend a lot of money on decor pieces either! Grab a quart size mason jar and chalk paint it. Once it dries use a sanding block to rough up the design on the glass. Tie twine around the top of the jar and then add some blush pink, white and a touch of greenery to it. I used dollar store faux flowers and they look great! If you aren't crafty then you can buy a set of blush mason jars on Etsy for a good price.
See how easy it is to create your own gorgeous girls bedroom in chic farmhouse blush and gray colors? Have questions? Ask in the comments and I'll be glad to help! I love interior design and love to show others how easy it can be to get the look in your own home.