Naturepedic EOS Classic Mattress Review
If you and your partner can't agree on how firm of a mattress you desire then the Naturepedic EOS Classic is the mattress for you! It allows each person to select their own level of comfort, from extra-firm all the way to plush! We tried it out so you can get all the details before you buy.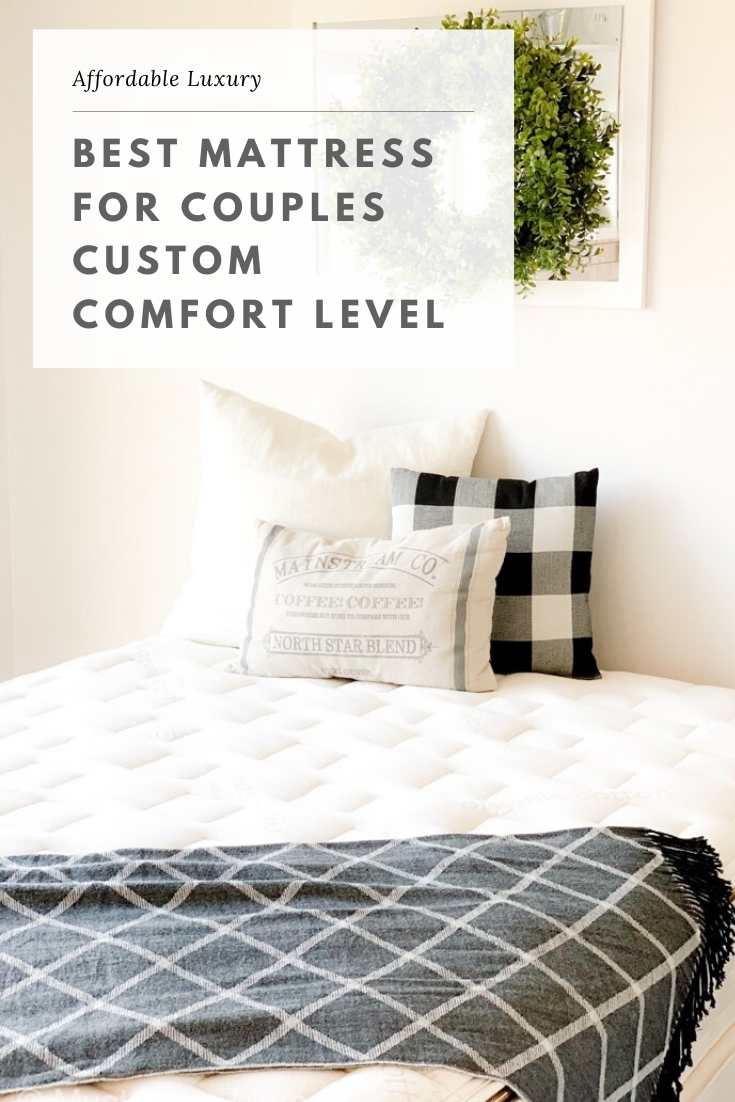 Naturepedic EOS Classic Mattress
When it comes to choosing a mattress there is a lot to consider. From price to materials to comfort, it's all important. You have to remember that you're going to spend a good majority of your life sleeping on a mattress so you want it to not only be extremely comfortable so you can get a restful sleep, but also be made of quality materials that will last and that don't contain harsh chemicals.
As a family, we eat really clean and try not to use many chemicals in our house. One thing many people overlook is their mattress. You are laying on it each night breathing in any chemicals that it is off-gassing. Make sure the mattress you select is made with quality materials that won't negatively impact your health. This is one BIG reason I chose the Naturepedic EOS Classic Mattress. It is made with organic cotton and fabric filling. Naturepedic uses only U.S. grown and certified organic cotton as filling for its mattresses and buys directly from USDA certified sources so you can rest assured that the materials you are sleeping on are safe.
The Naturepedic EOS Classic doesn't contain any flame retardant chemicals either! Due to its smart natural design and the elimination of petrochemical foams, it meets and exceeds all federal and state flammability standards naturally.
The GREENGUARD Certification Program℠ is a third-party testing program for emissions from consumer products and materials. GREENGUARD tests for criteria based on industry and governmental standards. All Naturepedic products are certified to the UL/GREENGUARD Gold Certification standard.
As you can see the Naturepedic ticks off all the boxes for quality materials that don't contain harmful chemicals. Now that we know that we can move on to the more obvious things you want to know when buying a mattress. Is it comfortable? Will both my spouse and I like it? Let's talk about that!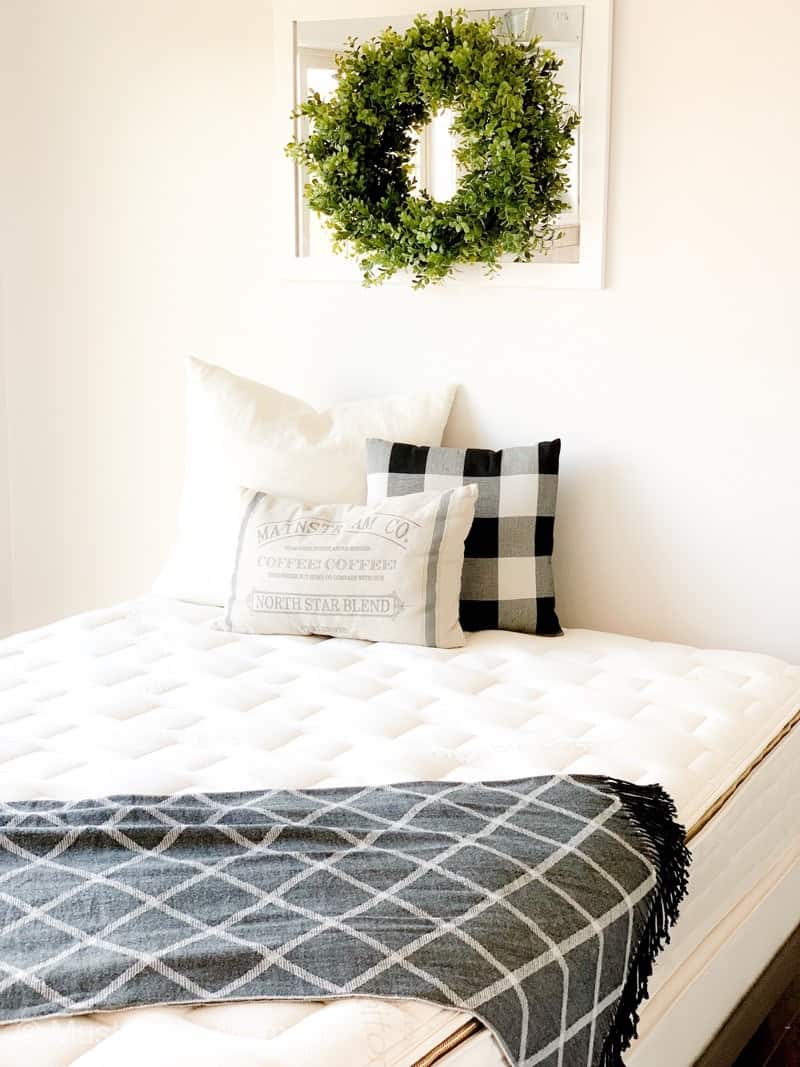 Naturepedic Review EOS Classic
My husband and I both like different levels of firmness in our mattress. We discovered early on in our marriage that we would never agree on which mattress was best because he likes firm and I like plush. That leaves you with a few choices in order to make both people happy. The Naturepedic EOS Classic was the mattress we settled on thanks to its materials coupled with the fact that we can both have the firmness we desire. How you ask?
With the Naturepedic EOS Classic, you each choose your desired level of comfort and they custom build you a mattress that you both will love! That means my husband gets his firm side and I get my plush firm side! It's amazing and leaves both of us super satisfied with our mattress.
Have you ever bought a mattress, only to change your mind after sleeping on it? With the Naturepedic layer swap program, you can swap out any 3″ comfort layer within 90 days and only pay for shipping. Even after 90 days, you can still order new layers and change the support or comfort of your mattress without having to replace the entire mattress. It's really quite amazing and delivers customer satisfaction that I haven't seen before.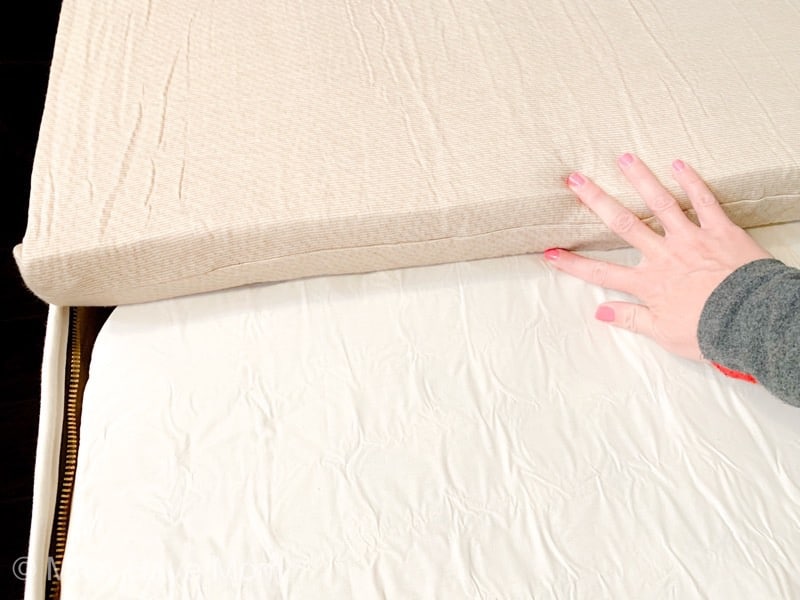 Assembling The Naturepedic Mattress
The EOS organic mattress is shipped in multiple boxes for convenience and maneuverability. It is equipped with a heavy-duty brass zipper that makes assembly and layer swaps quick and easy. It took us about 15 minutes to set up so it was really quick and easy.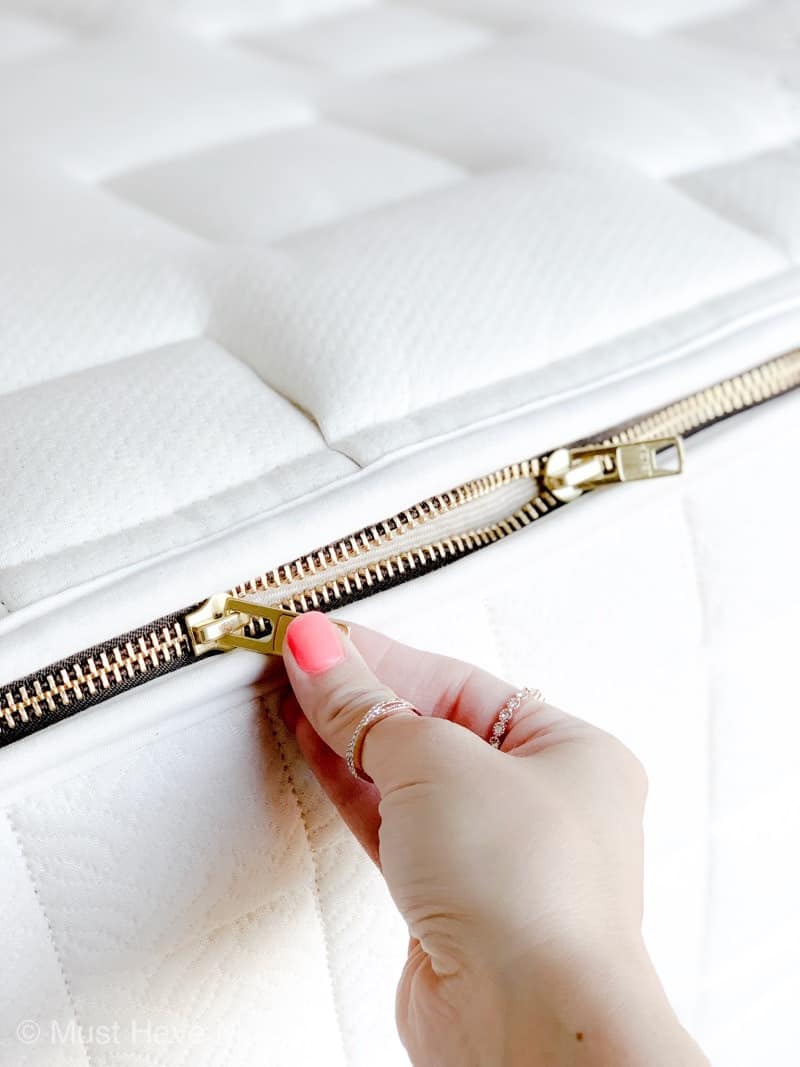 Start with the deluxe foundation and frame. Then assemble the mattress on top of that. Build each layer and make sure to put the proper coils on each side of the bed depending on who sleeps on which level of firmness. Directions are included and are so easy to follow. Nothing difficult here folks!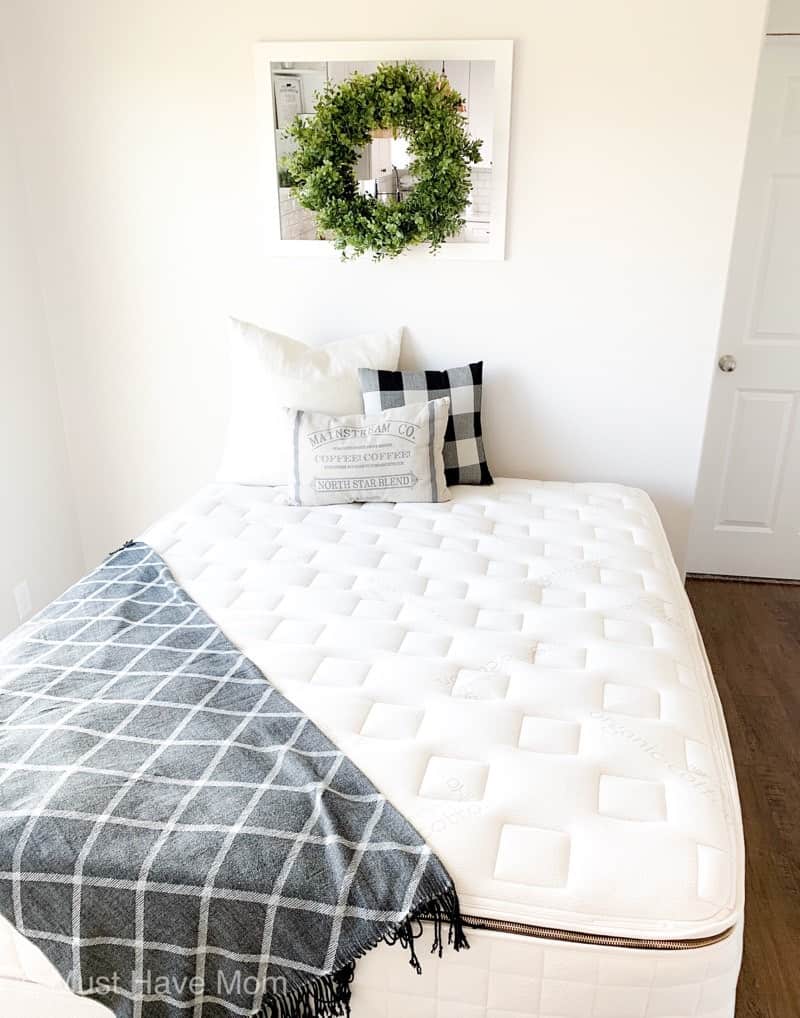 The Verdict
After sleeping on our Naturepedic EOS Classic I have to say I am so in love with it. I HATE mattresses that sleep hot. I can't stand waking up sweaty because my mattress doesn't breathe. That was absolutely not an issue with the Naturepedic. It sleeps very cool even on hot summer nights. I sleep on the plush firm coils and it is just the right amount of comfort and support. My back doesn't hurt when I wake up and I sleep really well on it. I love it.
My husband sleeps on the firm coils and he really loves the support that it offers. His back doesn't hurt when he wakes up which has been an issue with other mattresses we have tried. He loves that when I sneak into the bed late at night it doesn't move the whole bed and wake him up. I hate when I try to sneak into bed and the whole mattress sags and gives me away, waking him up. That's not an issue here!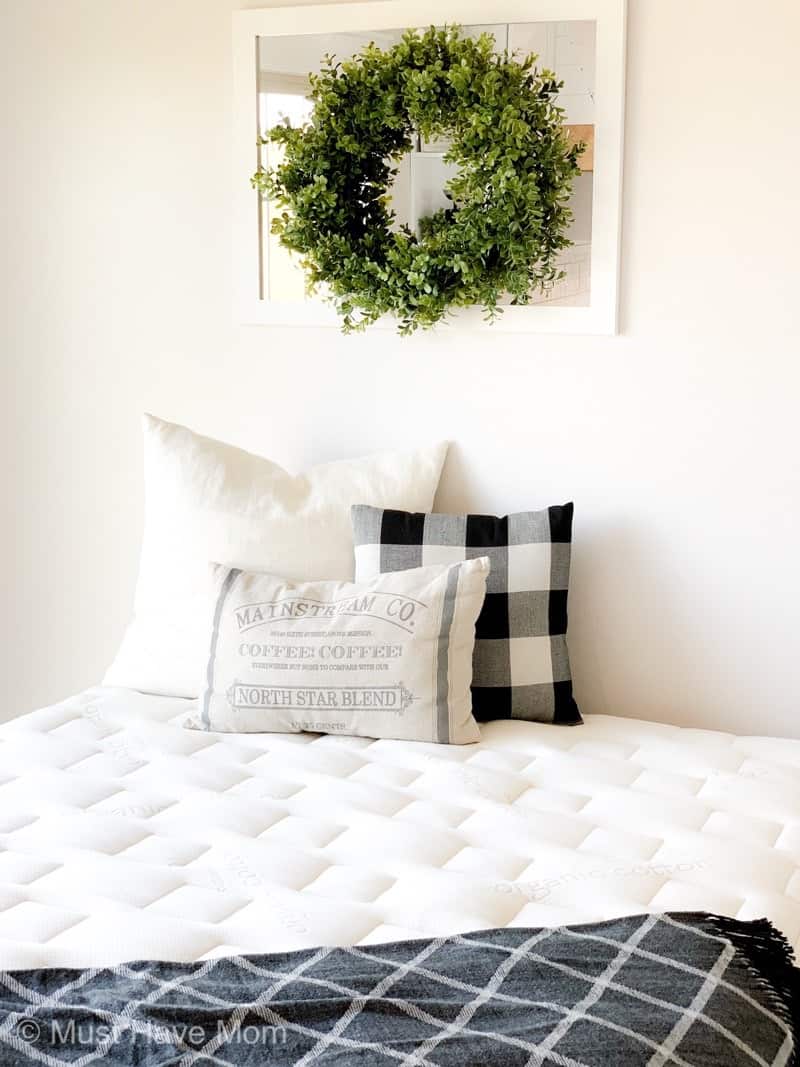 Overall, I couldn't be happier with the ability to each choose our own level of firmness. We are both happy and we each get to sleep on our own custom mattress. It is a genius design and truly gives couples the ability to both sleep well and neither person has to compromise and give up valuable sleep over it. We are able to get a night of restful sleep and I love that we are also sleeping on organic materials so there is no chemical smell to bother us either. There are no toxins to breathe in all night while we sleep! This is by far the best organic mattress I've ever slept on!
Do yourself a favor and click here to go to the Naturepedic website and scroll down and read the reviews from other customers as well. They are packed with useful insights.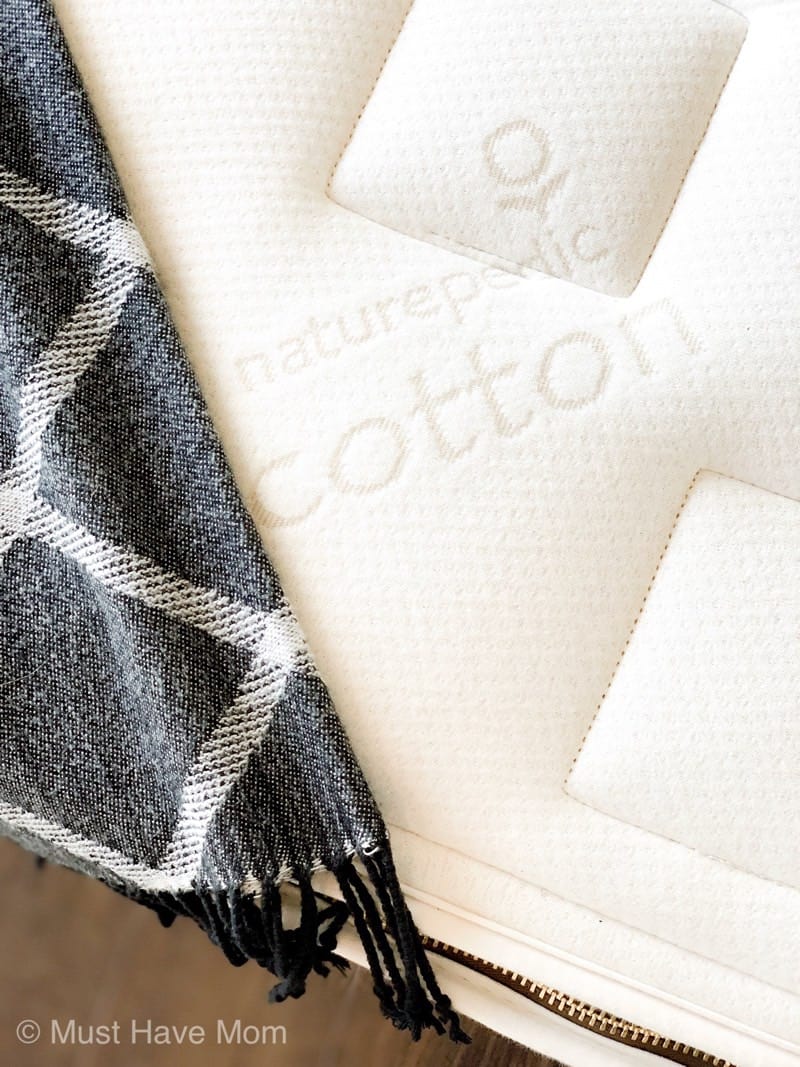 US Mattress
I also LOVE that the Naturepedic mattress is proudly made in the United States by skilled Amish craftsmen that take pride in their work, paying special attention to every detail to ensure long-lasting durability.
Naturepedic also offers a 20 year warranty and 90 day money-back guarantee so you really have nothing to lose by trying their mattress. They stand proudly behind their products.
Naturepedic Discount Code
Get free ground shipping when you use code SWEETDREAMS for a limited time while supplies last.
Buy Naturepedic EOS Classic
You can buy the Naturepedic EOS Classic mattress on their website. It comes in twin all the way up to California king sizes. It ships in 5-7 business days. It comes with the layer swap program, 90-day money back guarantee and 20 year warranty. You won't be disappointed! They've set up everything you need to find the best mattress ever and get to try it out and make sure you love it.
Pin Naturepedic Mattress Review