DIY Magnetic Chalkboard Activity Tray!
Be prepared for sick days with this fun
DIY Magnetic Chalkboard Activity Tray
for some fun quiet play when your kids are sick and laying on the couch. It also is fantastic for long car rides which are likely in your future with the coming holiday seasons! The uses are endless!
Sick days seem to hit at the worst times so it is good to prepare ahead of time and have some quiet time activities on hand along with some remedies in the cupboard. These activity trays are great for couch time! Other favorite activities for quiet time include my
DIY finger puppet kit
,
cloud dough cupcake sensory bin
, and
sick day playdough
.
Magnetic Activity Tray
Magnetic chalkboard activity trays have so many fun uses! Use them for fun, play and learning. Some ideas for use include:
practicing math problems
learning short words
spelling practice
tic tac toe
coloring tray
chalk art
magnet play
How To Make Magnetic Chalkboard Activity Tray
This do it yourself magnetic activity tray is super fun and inexpensive. You'll need the following supplies:
A cheap cookie sheet – I found mine for $1 at Walmart!
letter and number magnets
chalk
I found some magnetic clips on Amazon too and those are perfect for holding papers in place while the kids color them. The magnetic letters are great for practicing letters and words.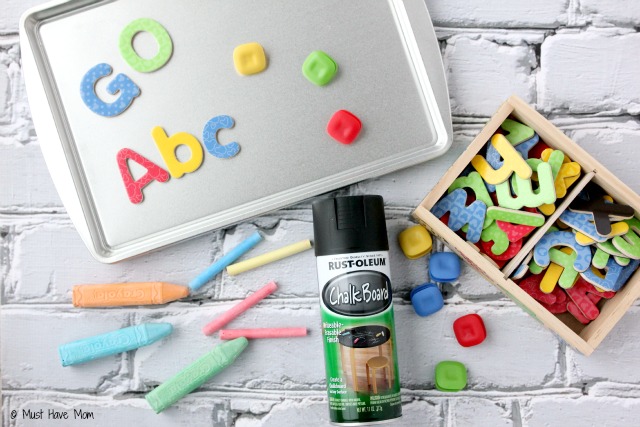 Begin by roughing up the surface of the cookie sheet with steel wool.
Next, follow the directions on the can of chalkboard spray paint and allow it to fully dry.
Once it dries you are ready to play! Place magnetic letters, numbers and clips on the tray and grab the chalk.
It's that easy! These are perfect lap trays for the kids. Not only are they great entertainment on the couch or in the car, but they also double as a tray to eat their meals on! Whether they are sick on the couch and eating crackers or they are in the car on a road trip, you can use these trays to help them easily eat their meal away from the table.
Pin DIY Magnetic Chalkboard Activity Tray