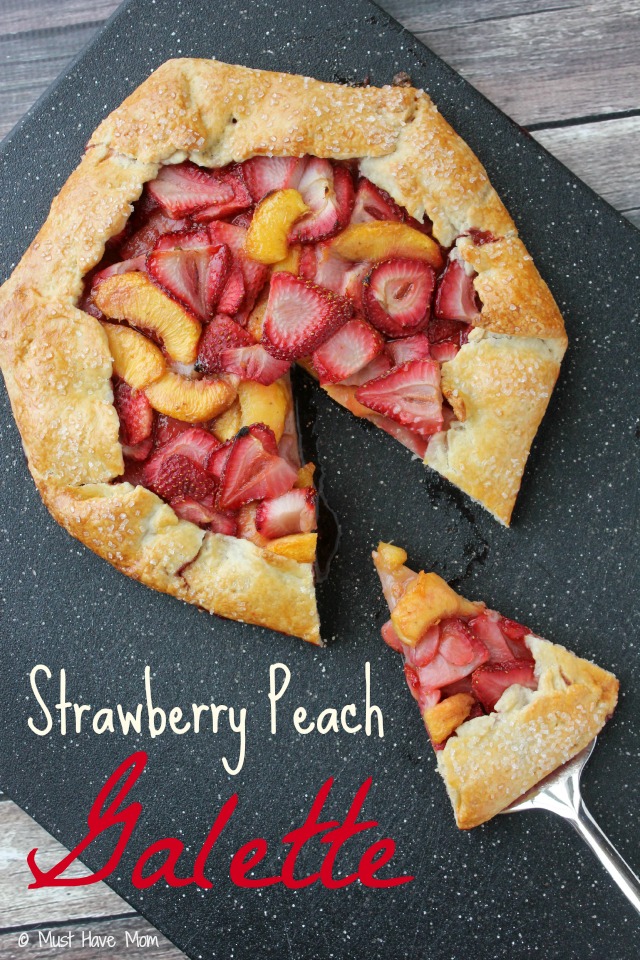 I am not a pie maker. Pie crusts are just too fussy for me and I don't have the patience to make a pie. They are SO much work! That's why I am in love with this Galette recipe! It's WAY easier than making a pie and I think the end result is actually more delicious than pie! Give it a try and I'm pretty sure you will agree. If you've never heard of a galette before it's basically just a freeform crust that is less fussy than a tart or pie. It's more rustic!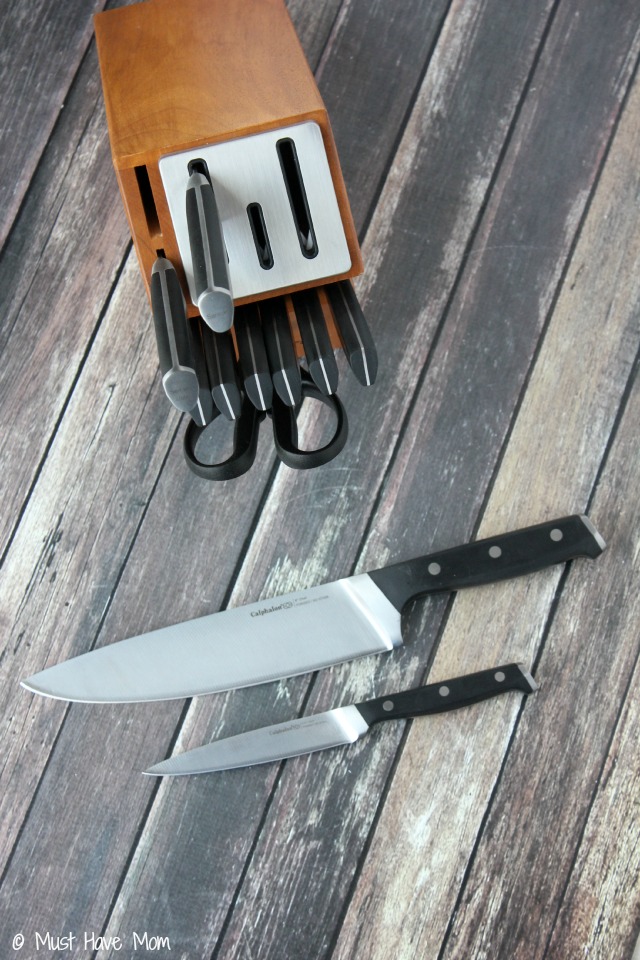 For this recipe you'll need a good paring knife and a chef's knife. I used my Calphalon SharpIN knives which are self sharpening and sharpen themselves each time you remove them from the knife block. That means your knives will stay sharp for a lifetime and you'll never have to worry about prepping food with a dull knife again!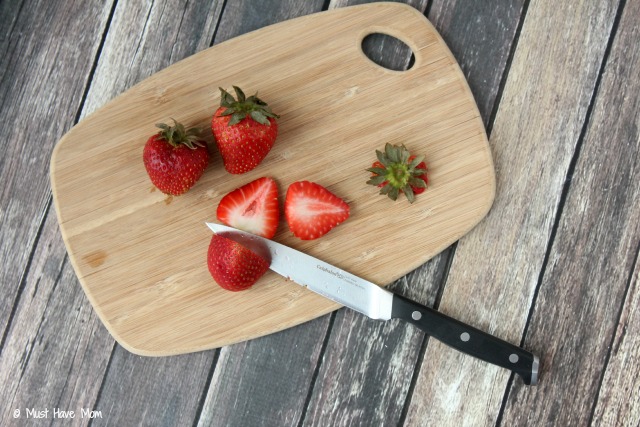 Before you begin place a stick of unsalted butter in the freezer to chill. With your paring knife slice up 2 cups of strawberries and 2 ripe peaches.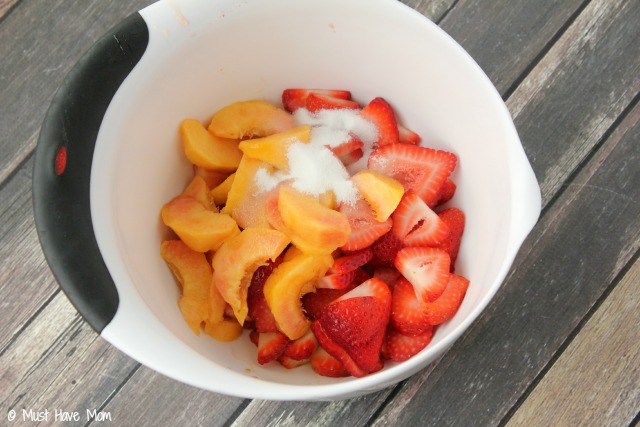 Combine your sliced fruit in a bowl with 2 tablespoons of sugar and 1 teaspoon of vanilla extract. Give it a good toss and set it aside.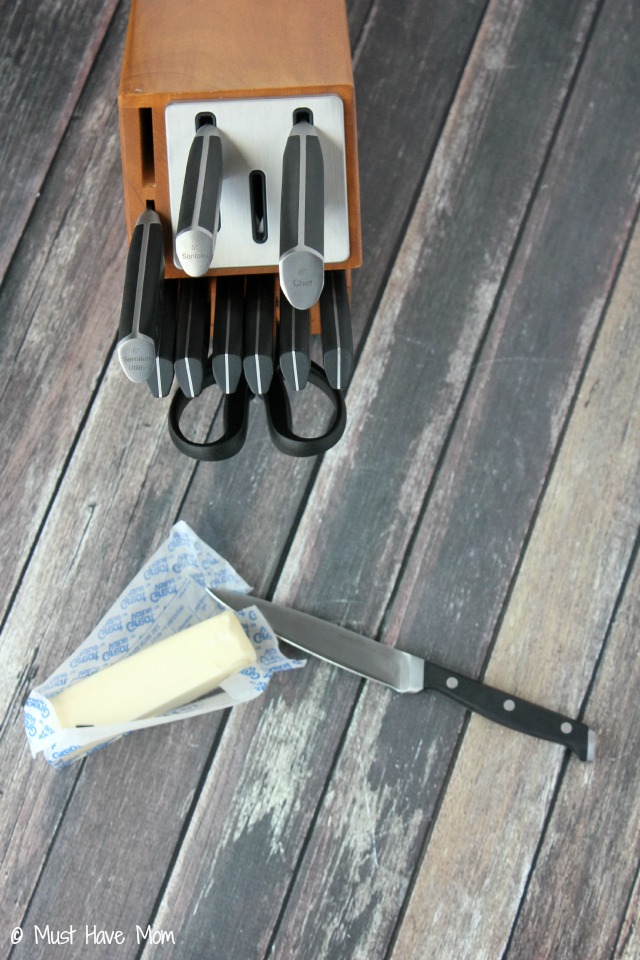 Next your going to make your galette crust. Whisk together 1 and 1/2 cups flour, 3 tablespoons of sugar, and 1/4 teaspoon of salt. Next take your stick of butter out of the freezer. Using your paring knife cut small chunks of butter off until the entire stick is added into your flour mixture. Mix with your hands (or a pastry cutter) until the mixture looks like pea size crumbs.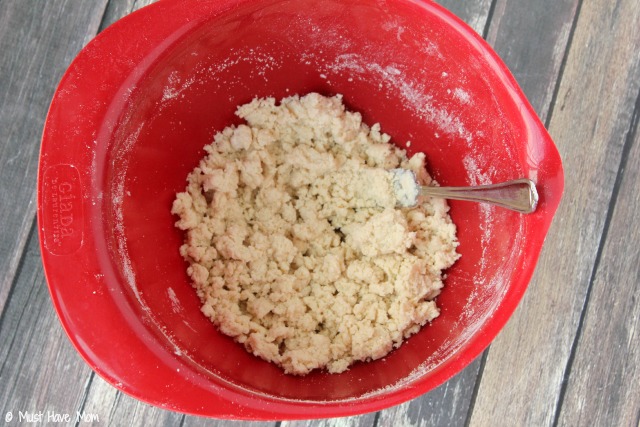 Now add 1/4 cup of ice water (I put ice in my water while mixing the dough and then measure it out once I'm ready to add it) to the flour mixture. Stir it with a fork until the dough is moistened. If it still seems too dry then add up to 2 additional tablespoons of ice water.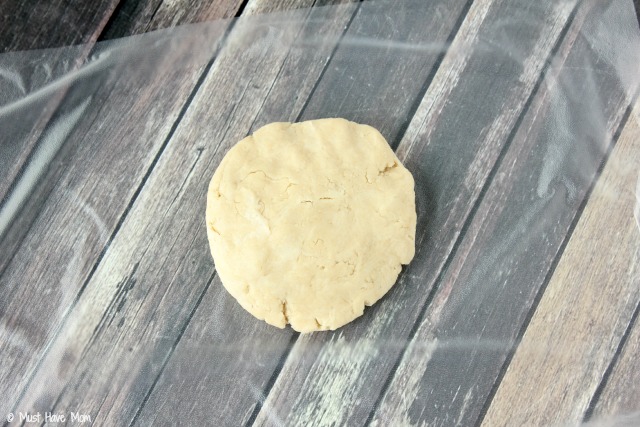 Next gently knead the dough until it all comes together. Shape it into a small, thick disk like I show above. Then wrap in plastic wrap and refrigerate for at least one hour.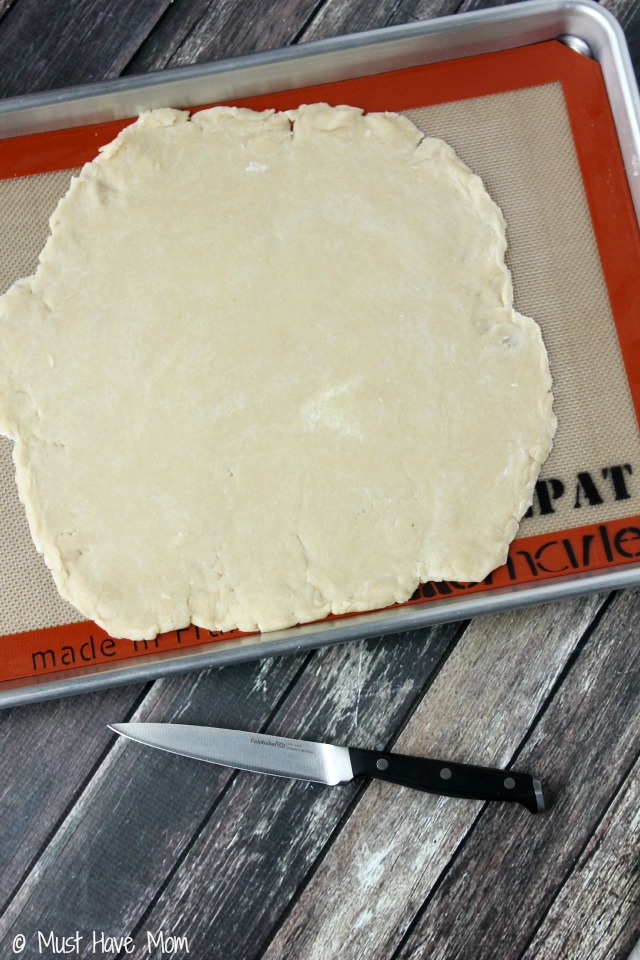 Now preheat your oven to 425 degrees. Line a large baking sheet with parchment paper or a silpat baking mat. Set aside.
Next on a lightly floured surface roll your dough out until it reaches a 12" circle. If desired you can trim around the edge with your paring knife to make it look cleaner. I just patted in the edges and chose not to trim them.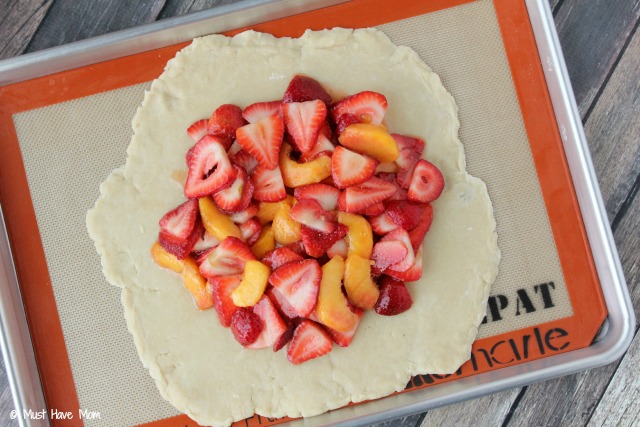 Now transfer it to your prepared baking sheet. Then spoon the fruit (no juices) onto the dough in the center, leaving a 2″ border around the fruit.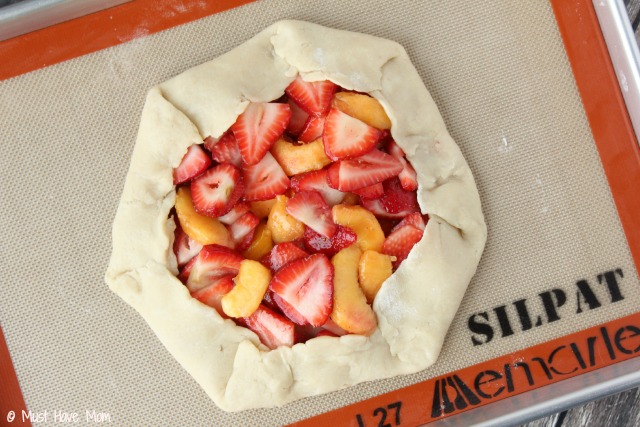 Then gently fold up the edge all around, overlapping them as needed. Press gently to seal the edges. Now add 1-2 tablespoons of the juices to the top. If you add too much juice it will ooze all over and make your crust soggy.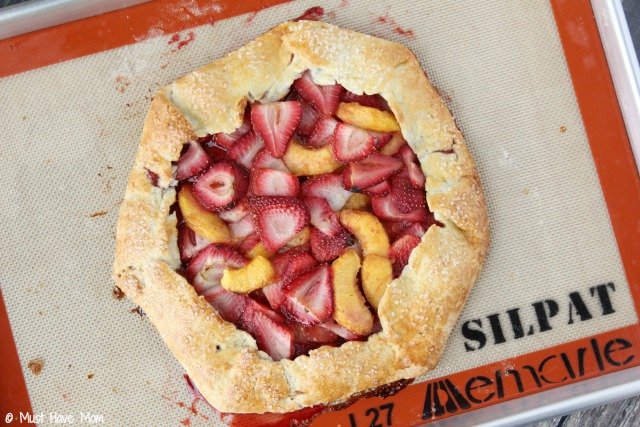 Then brush the crust with a beaten egg and sprinkle with coarse sugar crystals. Bake for 25-35 minutes until crust is golden brown. Remove from the oven and allow to cool slightly.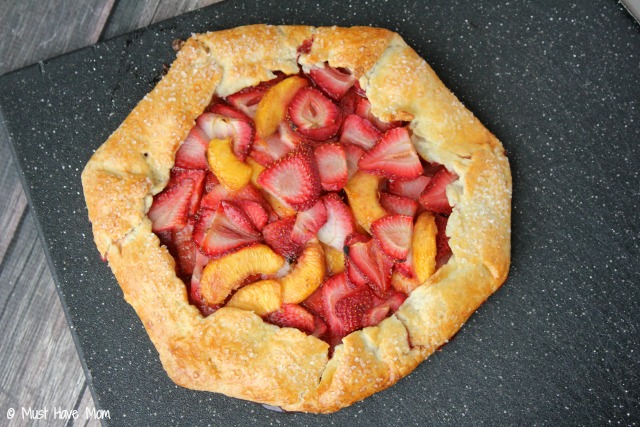 Then transfer your beautiful galette to a cutting board.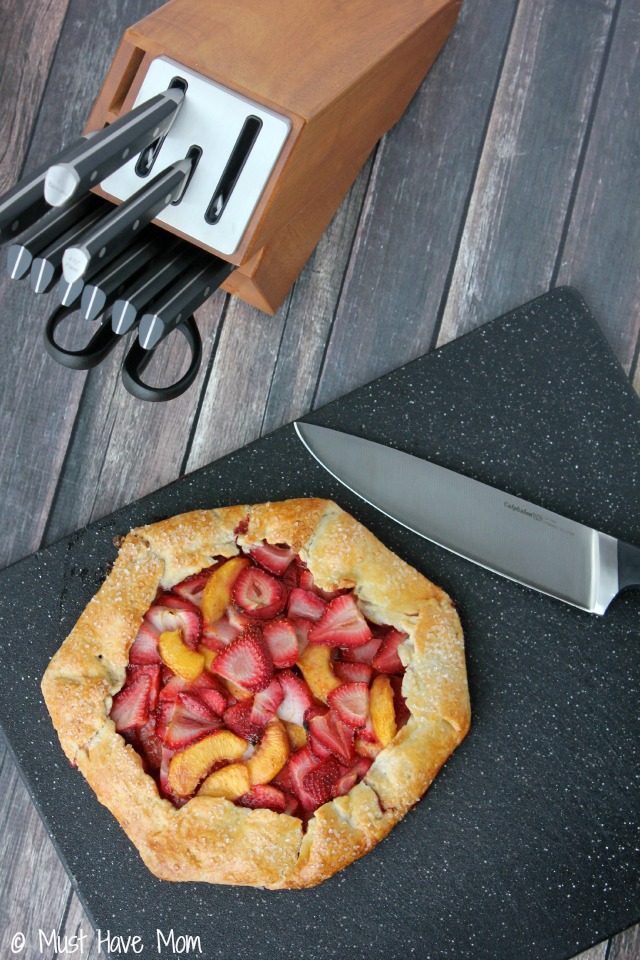 Use your chef's knife to slice it like you would slice a pizza.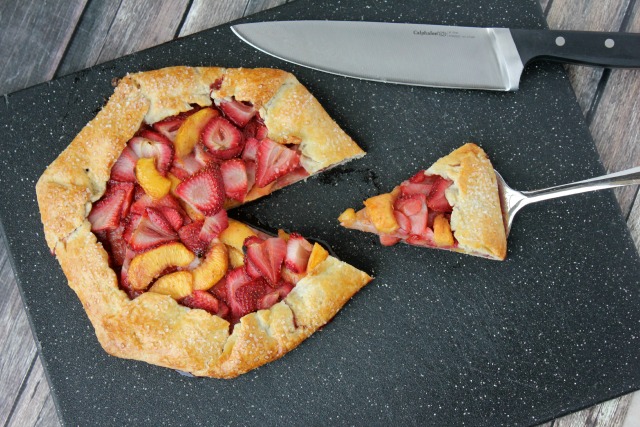 Serve it warm or at room temperature. You can serve with ice cream or drizzle with a simple vanilla glaze but I think it tastes so amazing that it doesn't need anything extra to go along with it!
Print off the recipe below. If you enjoyed this recipe idea please share it on Facebook and pin it for later!

Sarah | Must Have Mom
Strawberry Peach Galette Recipe
Easier than a pie and tastier too! Tastes best on the same day you bake it but lasts until the following day.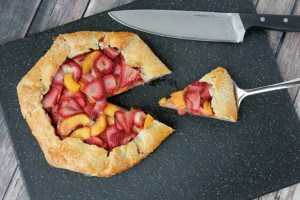 Ingredients
Filling

2 Ripe fresh peaches, peeled, sliced
2 Cups sliced fresh strawberries
2 Tbsp white sugar
1 tsp vanilla extract

Crust

1 1/2 Cups all purpose flour
3 Tbsp granulated sugar
1/4 tsp salt
1/2 cup (1 stick) unsalted butter, chilled
1/4 cup ice water, plus 2 Tbsp if needed
1 egg, beaten for egg wash
Coarse sugar crystals for sprinkling on crust
Instructions
First place your stick of butter in the freezer to chill.
Now prepare the filling by combing sliced peaches and strawberries in a medium bowl with sugar and vanilla. Toss well to coat and set aside while you prepare the crust.
Now prepare the crust by mixing together flour, sugar and salt in a medium bowl.
Remove butter from freezer and cut small chunks off with a paring knife into the flour mixture until the entire stick has been added.
Mix together with a pastry cutter or your hands until mixture looks like pea size crumbs.
Now add ice water and stir together with a fork until the flour is moistened. If flour still looks dry add up to an additional 2 Tbsp of water and mix together.
Knead the dough a few times in the bowl until it comes together in a ball. Shape the dough into a flat, thick disk and cover with plastic wrap and place in the fridge. Refrigerate for at least 1 hour.
Preheat oven to 425 degrees. Line a large baking sheet with parchment paper or a silpat mat. Set it aside.
On a lightly floured surface roll the dough into a 12" circle. If desired you can trim around the edge to create a clean edge, but this is not necessary.
Transfer the dough to your prepared baking sheet and then add fruit to the center leaving a 2'' border all the way around. Do not add juices from the fruit. Set aside juices for later.
Now gently fold over the edges of the dough overlapping where necessary. Gently press edges together to seal.
Pour 1-2 Tbsp juices over the fruit. If you add too much it will leak all over and make your crust soggy.
Brush the crust with beaten egg and sprinkle with sugar crystals.
Bake 25-35 minutes until crust is golden brown. Remove from oven and let cool slightly.
Serve warm or at room temperature.
7.6.7
285
https://musthavemom.com/strawberry-peach-galette-recipe-calphalon-butcher-block-giveaway/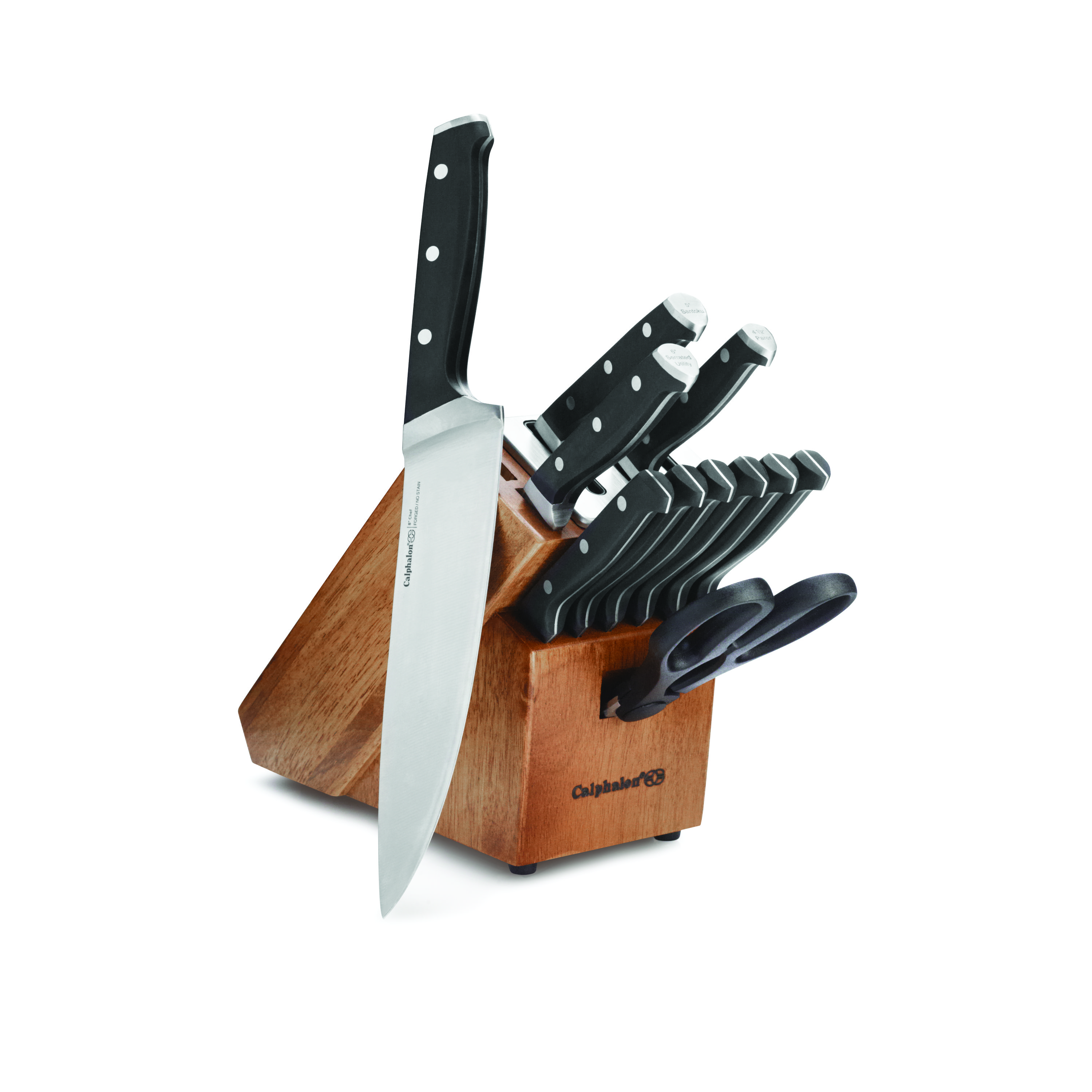 These Calphalon SharpIN knives have knife handles that are labeled so you can always pull the correct knife out of the block! My favorite features of the Calphalon Classic SharpIN™ Forged 12-pc. Cutlery Set are:
Built-in ceramic sharpeners automatically sharpen knives with every use.
Forged, high-carbon, no-stain steel. (Steak knives made from stamped steel)
Full Lifetime Warranty.
Full tang design for strength and balance.
Triple-riveted handles are contoured for a secure grip.
You can buy these knives on the Calphalon site for $149.95.