Fred Roger's Legacy Lives On In Daniel Tiger's Neighborhood! New Toys Out In Time For Christmas!
When I was little I loved watching Mister Roger's Neighborhood. It was filled with great messages designed to help kids learn important life lessons in a fun way. Mister Roger's was always so kind and gentle and seemed to just draw me in to the T.V. Of course I loved the land of make believe. It was my favorite part. Now Mister Roger's legacy lives on in a show that my kids love, Daniel Tiger's Neighborhood!
I had a unique opportunity to chat with some of the creators of Daniel Tiger's Neighborhood and it was fascinating to learn all that goes into making this show that my kids and I love. I loved hearing how near and dear it was to their hearts to maintain Fred Roger's legacy and nostalgia when creating the new show for today's children. If you've watched Daniel Tiger's Neighborhood then you will notice that the show opens with Daniel putting on the signature red sweater and sneakers just like Fred always did. I love that they've managed to maintain that nostalgia from Mister Roger's Neighborhood while bringing the new show to life for today's day and age.
Daniel Tiger's Neighborhood, which premiered in September of 2012 is among the top ten highest rated shows for preschoolers. Every half hour pair of episodes focuses on a theme that will apply to a child's everyday life. Before they air the episode great care goes into developing it. They take it before an audience of 2-4 year olds to ensure they grasp the concept and ideas within the show. The land of make believe that I once knew and loved has grown and changed with the characters moving forward and having children of their own. I loved this family tree they shared with us that illustrates how the character's families have grown and changed.
·         Fred Rogers said, "In all things we do, we should think of the children first. How can we support growth and development?" That is at the heart of the Daniel Tiger's Neighborhood company. They think of the children in all of their development and that includes their new toy line! Preschoolers love pretend play and often make strong connections to characters on T.V. What better way to spark their imaginations than to develop toys to go along with their favorite show?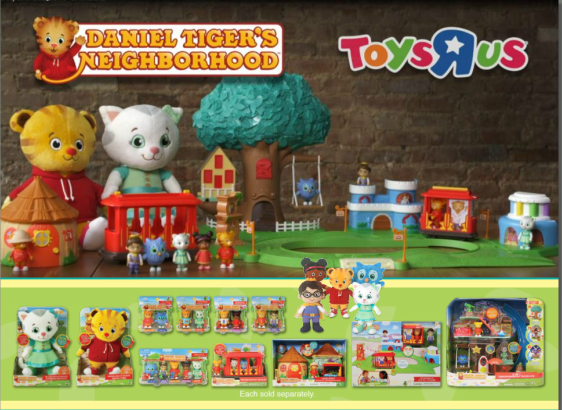 Thus the Daniel Tiger Neighborhood toy line was born! It's packed with fun toys in your child's favorite characters for them to create their own make believe adventures! Every toy in this line was designed to inspire creativity and imagination and allow for open ended play. Kids can play how THEY want to play! The toy line includes plush characters, the iconic neighborhood trolley, neighborhood playset, treehouse and more! I love the little figures and the trolley! My kids always go crazy for little figures that they can create their own imaginative adventures with.
These toys are available exclusively at Toys R Us! These Daniel Tiger toys couldn't have arrived at a better time with Christmas just around the corner! The little figures make great stocking stuffers and the playsets would be a great "Santa" gift set up as the neighborhood! Be sure to tune in to Daniel Tiger's Neighborhood on PBS!
Do your kids love Daniel Tiger as much as we do?