Stinky Feet Remedies: DIY Natural Stinky Feet Spray Recipe
Summer is here and it is time to get those feet sandal-ready! If you suffer from stinky feet then you may be embarrassed to unleash those toes and go barefoot this summer but I've got a natural remedy that will get rid of stinky foot odor! These stinky feet remedies will have your feet ready for summer in no time!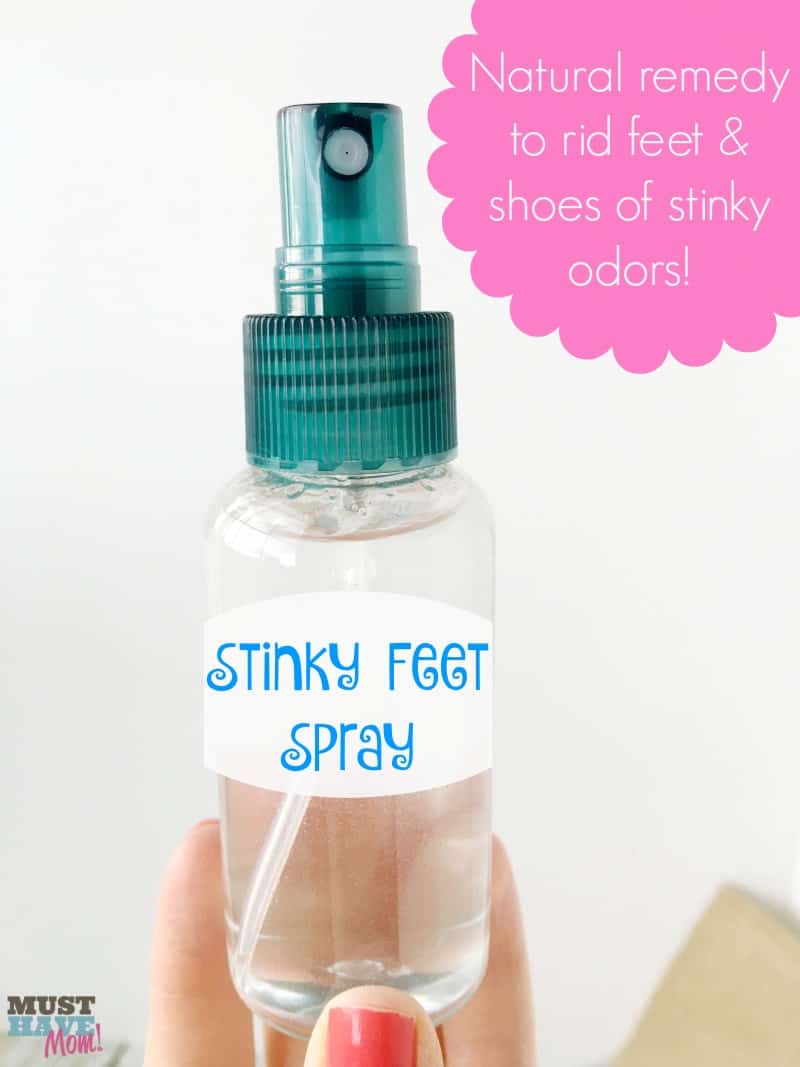 There is a really easy stinky foot remedy that you can whip together and banish those stinky toes for good! I make this and use it on my kids stinky feet all summer long. After a long day in sweaty, humid weather you can only imagine what my boy's feet smell like! No matter if you have a stinky teenager or your husband has stinky feet after a long day in work boots, this stinky feet remedy will work for them all!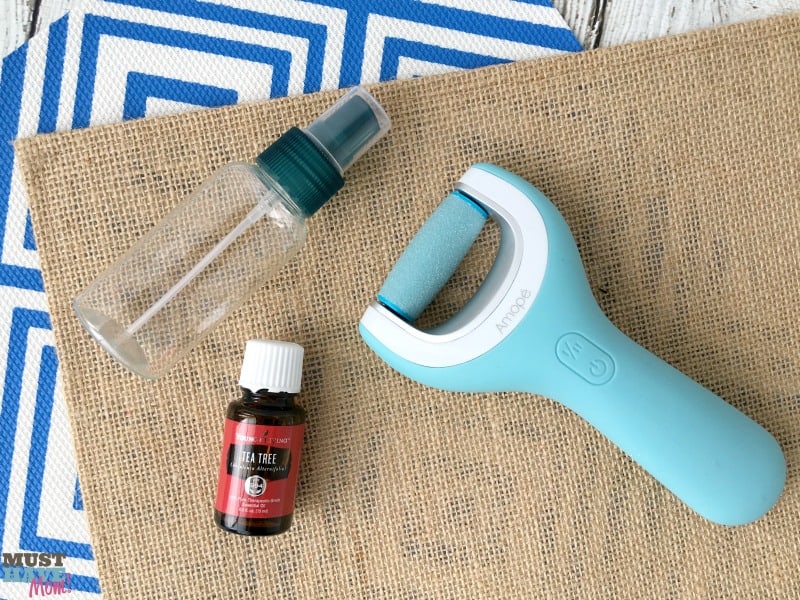 First you'll want to have a few simple supplies on hand for these stinky feet remedies. An empty spray bottle (I recommend using a glass bottle so the oils don't break down the plastic), 2 ounces rubbing alcohol or vodka, tea tree essential oil (I use this brand) and an Amopé™ Pedi Perfect Wet & Dry Rechargeable Foot File. 
Stinky Feet Remedies:
Begin by getting rid of all the dead skin cells on your feet. They can harbor odor and lead to other foot issues. I love using my Amopé™ Pedi Perfect Wet & Dry Rechargeable Foot File to easily rid my feet of dead skin and leave them feeling soft and smooth. It even works on stubborn, cracked heels! You can use it wet or dry (yes, even in the shower!) and it only takes a few minutes to do. It's a must have for summer and a perfect addition to natural stinky feet remedies.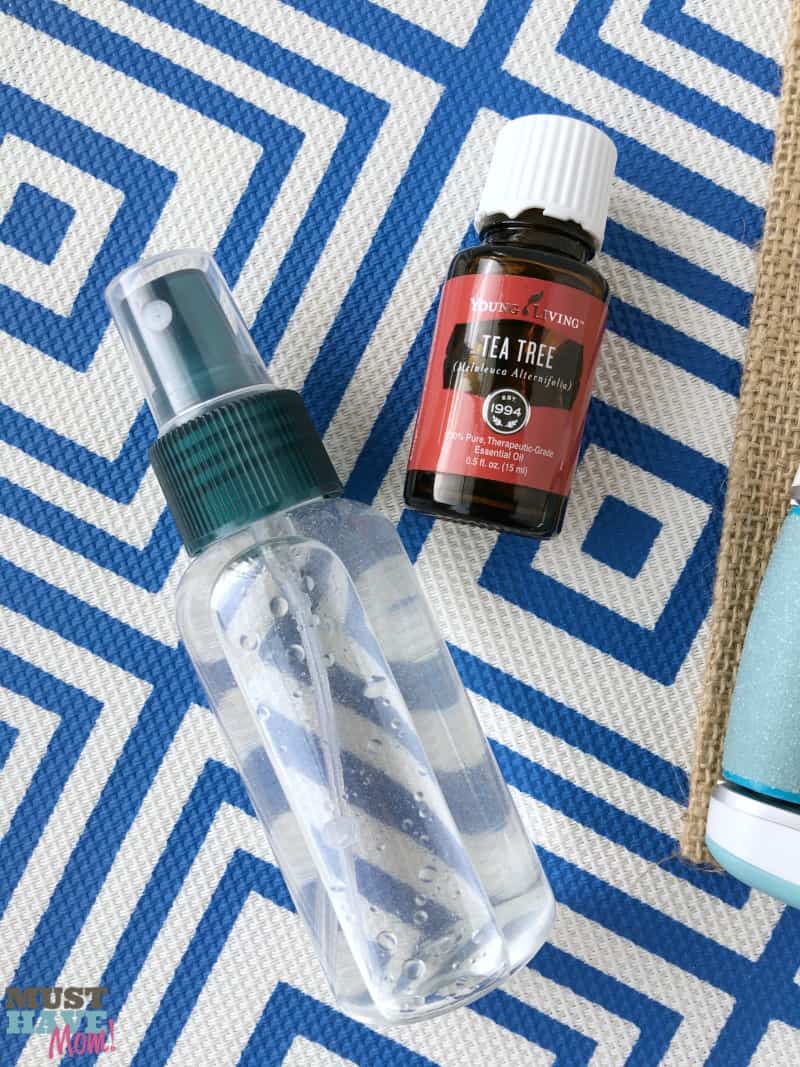 Next mix together 1/4 cup or about 2 ounces of vodka or rubbing alcohol and 3-4 drops of tea tree essential oil. Put the lid on your bottle and give it a little shake. That's all there is to making your own DIY stinky feet remedies!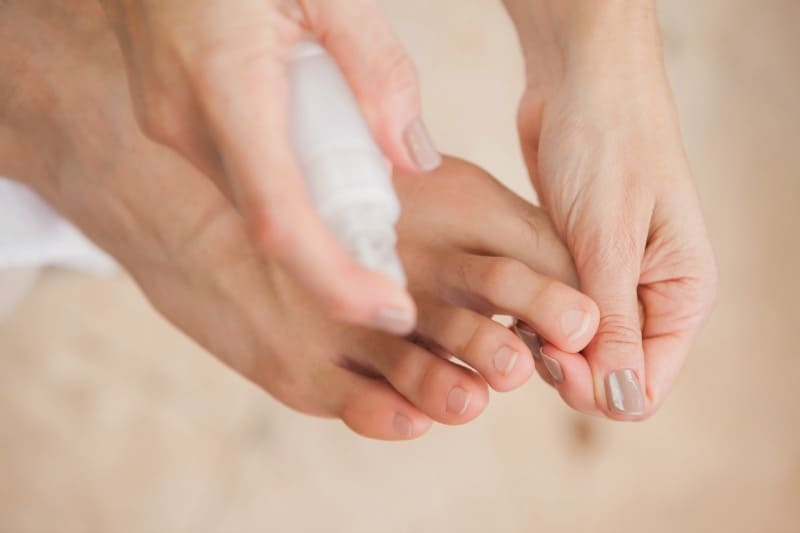 To use simply spray on feet before putting on socks or shoes. You can also spray this directly onto shoes that are more durable (such as rubber shoes or boots). Use daily to ban the stinky odor on your feet! It is an excellent natural remedy for stinky feet!
These two stinky feet remedies are completely natural and easy to do! They will help you achieve the soft, smooth, stink-free feet that you've always wanted! Now your feet are sandal ready! Check out my DIY flip flops tutorial for easy to make adorable flip flops to go with your newly buffed feet! Check out the Amopé™ Facebook page for more great ideas! And get your Amopé™ Pedi Perfect Wet & Dry Electronic Foot File for smoother feet all year long.
Order everything you need for DIY Stinky Feet Remedies Now!
2oz Cobalt Atomizer Bottles (4 Pack) Fine Sprayer Atomizer Glass Essential Oil Bottle

Amopé Pedi Perfect Wet & Dry Electronic Foot File, Regular Coarse – Waterproof, Rechargeable, Cordless, Dual Speed

Vi-Jon Isopropyl Alcohol, 16 oz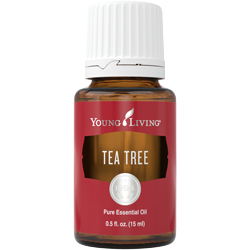 Young Living Tea Tree Oil