DIY Kids Cleaning Kits With Free Printable Cleaning Checklist & Natural Cleaning Supply List
I love teaching my kids responsibility and showing them what it means to be part of a family. Every family member needs to pitch in so that the household can function. It isn't always easy teaching them but these DIY kids cleaning kits are a huge help!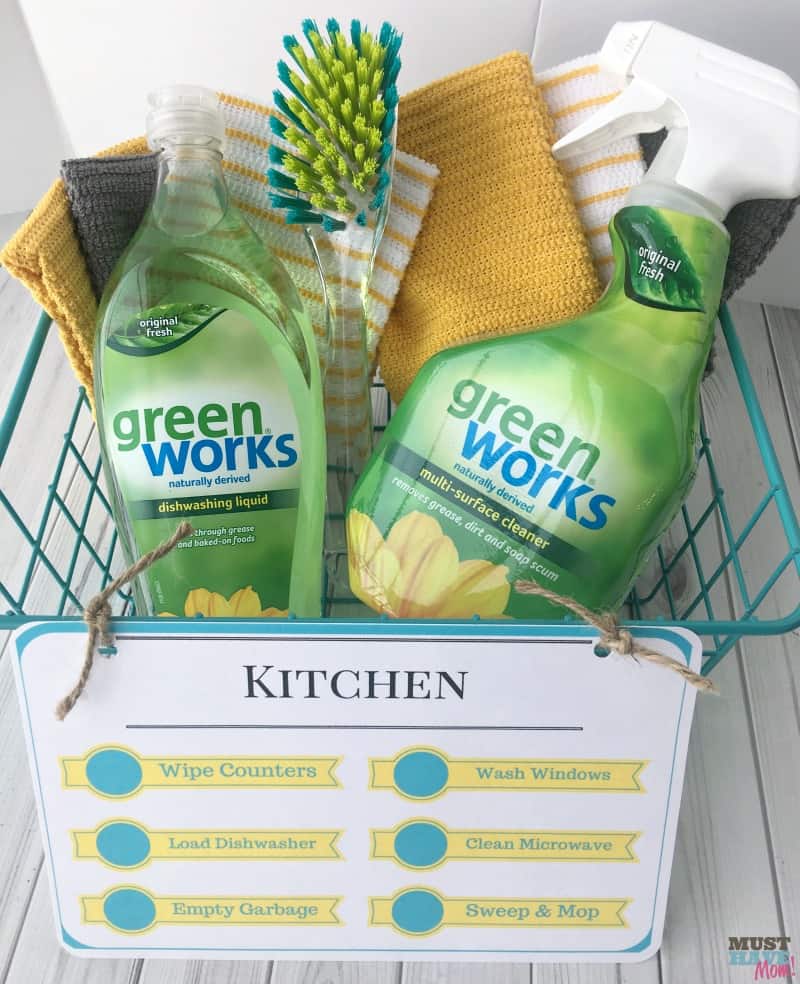 Teaching kids to help clean the house can be a tricky task. As parents, we often feel the need to teach responsibility, while also feeling the desire to "do it right". These kids cleaning kits allow kids to experience cleaning each room of the house and the free printable cleaning checklist gives them the guidance they need.
On a side note, have you read my post on how to stop folding laundry? It's life-changing!
Don't forget to check out my list of favorite natural cleaning products that are made with plant-based ingredients (and thus safe for kids to use!). I recommend these cleaning kits be delegated to older kids, with younger siblings helping out with easier things (like dusting, picking up laundry and toys, etc).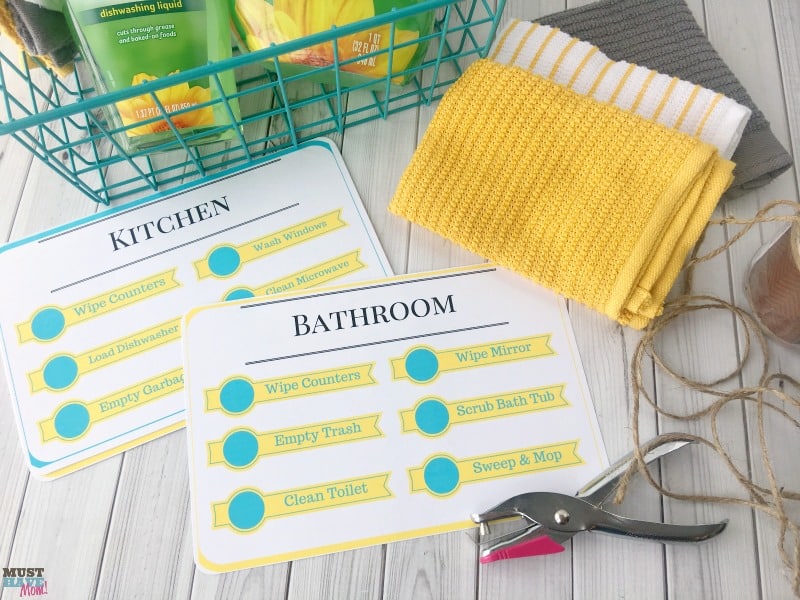 Start out by printing off my FREE printable cleaning checklist for each room. You can choose to print the pre-filled in checklist or print a blank checklist so you can personalize it to your own needs for your home. I recommend printing these on heavier index paper/cardstock for durability. Laminating them helps keep them nice and prevent water splashes on them too.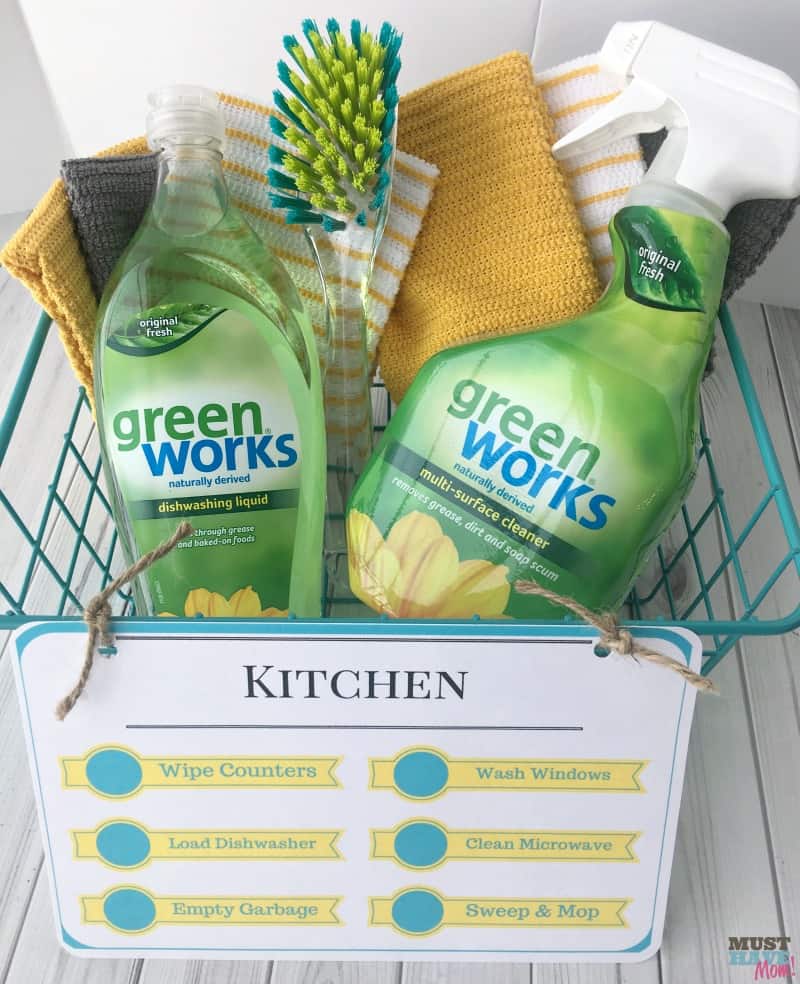 Once you have printed the cleaning checklist out, punch out holes in the top and attach each cleaning checklist to each room's designated basket using twine. I created a basket for each room and this way the kids can each grab one and go do their chores.
You'll want to fill each basket with the appropriate cleaning supplies for each room's duties. I LOVE Green Works products because they are all 95% to 99% naturally derived. That means all the active cleaning ingredients in Green Works products are derived from mother nature, such as filtered water, plant-based cleaning agents, essential oils, corn-based ethanol and wood-based fibers. As a mom that makes me feel much better about what kind of chemicals might be lurking on things in our home as well as making it safe for my older kids to pitch in and help clean.
In my kitchen basket, I included washcloths, a dish scrubber, Green Works dishwashing liquid and Green Works multi-surface cleaner. I especially love knowing that my counters are getting clean without the use of chemicals near our food!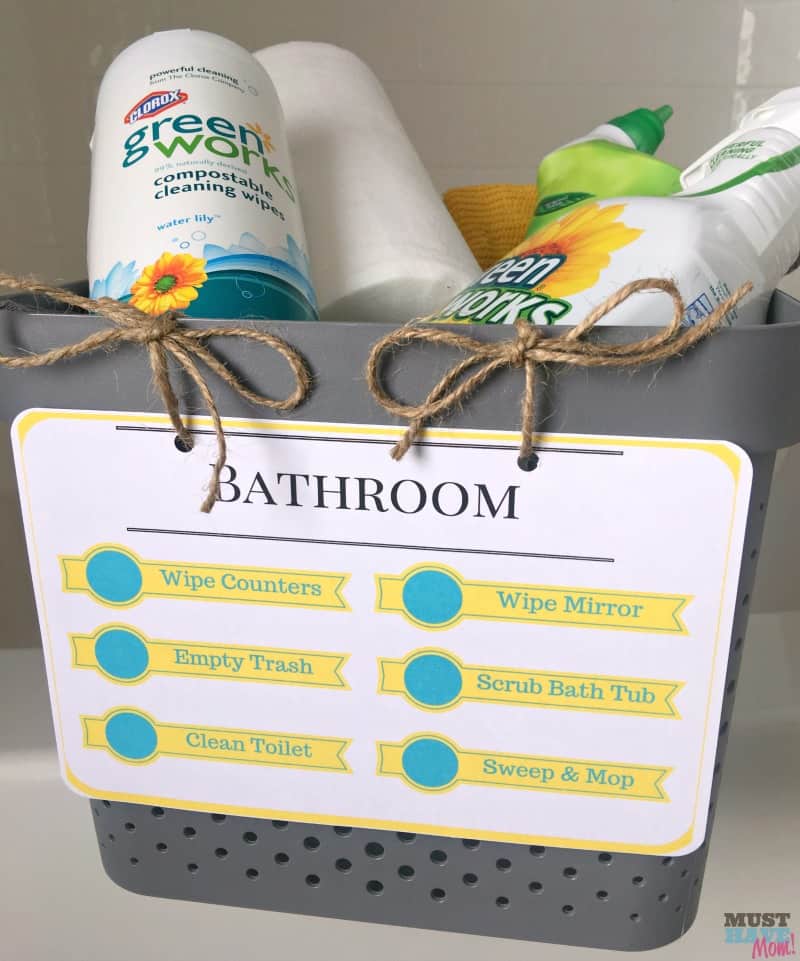 I found these nice utility bins in the storage section at Target and they work perfectly for my kid's cleaning kits. They hold everything inside and even come with a lid for when they aren't in use. I stack them up and have them all ready to hand out on cleaning day.
While you are at Target you can also stock up on all of my favorite Green Works products that I have recommended.
In my bathroom kit, I have included Green Works compostable cleaning wipes, Green Works bathroom cleaner, paper towels, rags and Green Works toilet bowl cleaner.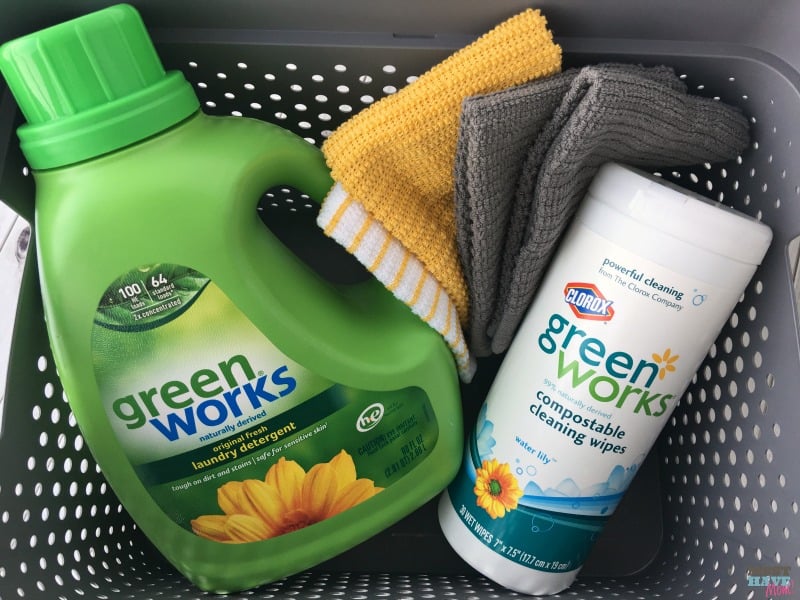 By the age of 8 or 9 the kids should be able to start helping with the laundry. If you don't trust them with their clothes yet then start them out washing towels and sheets. We love the Green Works laundry detergent! I also keep Green Works compostable cleaning wipes in our laundry room kit so they can wipe down the tops of the washer and dryer as they tend to get all full of lint. Make sure you teach them to always empty the lint trap too in order to prevent fires!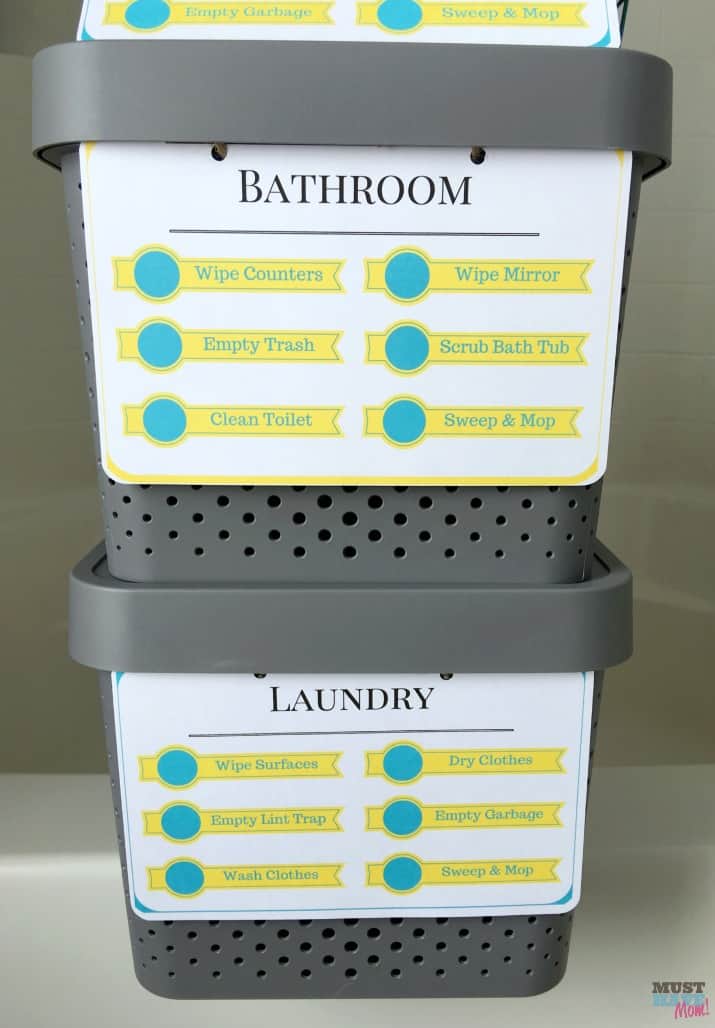 I have more printable cleaning checklists included in the free printable so you'll have a kit for the kitchen, bathroom, laundry, entryway, bedrooms and living room.
Free Printable Cleaning Checklist:
My Favorite Kid-Friendly/Pet Safe Natural Cleaning Products:
Green Works all-purpose cleaner
Green Works dishwashing liquid
Microfiber cloths for dusting
Green Works bathroom cleaner
Green Works toilet bowl cleaner
Green Works compostable cleaning wipes
Green Works laundry detergent
Need more inspiration? See our spring cleaning checklist printables for free! Want to know a secret? I bought this Hoover cordless vacuum and my 6 year old now BEGS me to vacuum! I'm not sure why but this vacuum is magical and fun to use.
Pin DIY Kids Cleaning Kits

Save