The new Hoover cordless vacuum is my favorite home accessory in a house full of kids and dogs! See why I think everyone needs one of these multi-surface, cordless vacuums sent to save us moms the frustration of constantly dirty floors!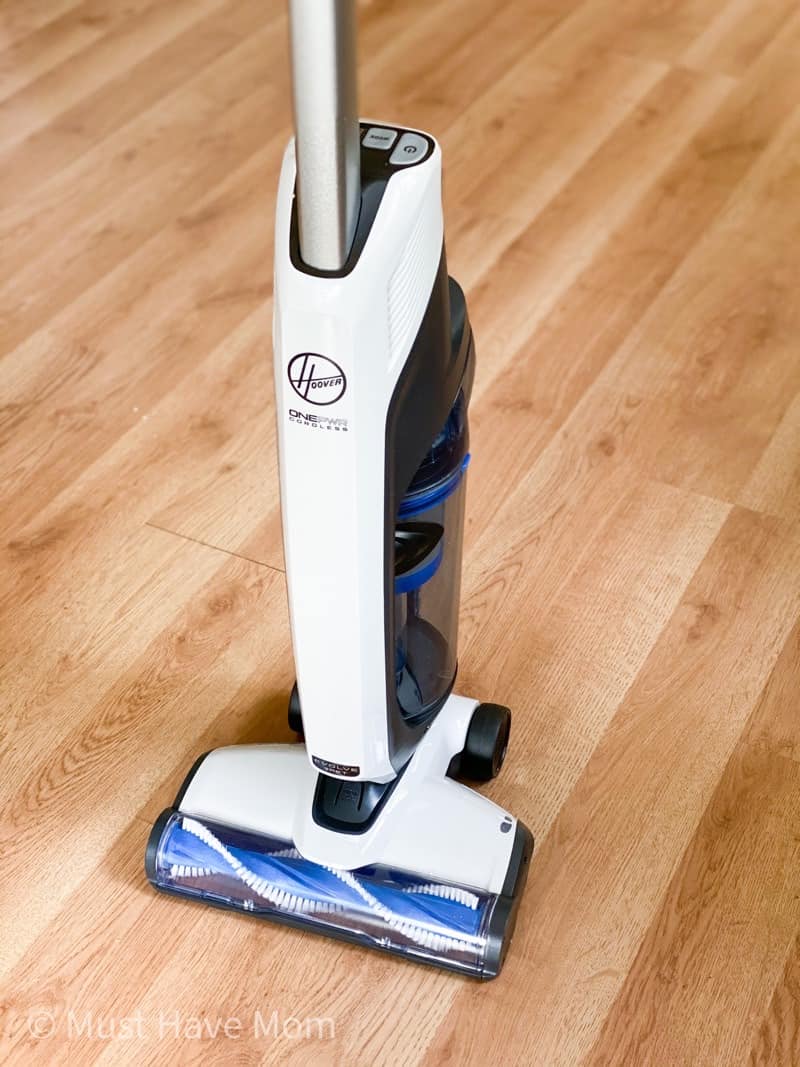 As a mom to four kids and two furry, four-legged children, I have my fair share of cleaning duties to keep up with. I use every tool in my arsenal to keep our house clean and running smoothly. From my kids cleaning kits to my cleaning checklist printables, I have LOTS of tips that actually work. I'm thrilled to add the Hoover Evolve Pet cordless vacuum to my list of cleaning hacks that moms need to know about.
Best Cordless Vacuum
We have been living at our lake house since April and we have a mix of hard floors and carpet. The never-ending barrage of sand, dirt and crumbs on my floors is enough to drive me bonkers. EVERY DAY I sweep. Multiple times a day. I knew there had to be a better way. I was frustrated with having to move from outlet to outlet when I pulled out the vacuum because the cord would never reach all the areas needing to be vacuumed. So I would switch over to sweeping and then be frustrated as dirt piled up on the rug and other places my broom didn't reach or clean effectively.
I knew I needed a cordless vacuum to solve my dilemmas. I knew that a cordless vacuum would make everyday life so much easier but I had no idea which one to buy. I read multiple cordless vacuum reviews and settled on the Hoover Evolve Pet cordless vacuum. It seemed to tick off all my boxes:
lightweight – weighs less than 9 lbs and when vacuuming the weight on the handle is under 2 lbs
cordless – this vacuum operates on a 20 volt, rechargeable battery
holds 3x more dirt and pet hair than a stick vacuum
prevents pet odors with an antimicrobial brush roll and pet filter
I was also intrigued by Hoover's new ONEPWR System which uses the same battery for every product. This sounds similar to how my husband's power tools operate, with interchangeable batteries, and I am fond of that idea!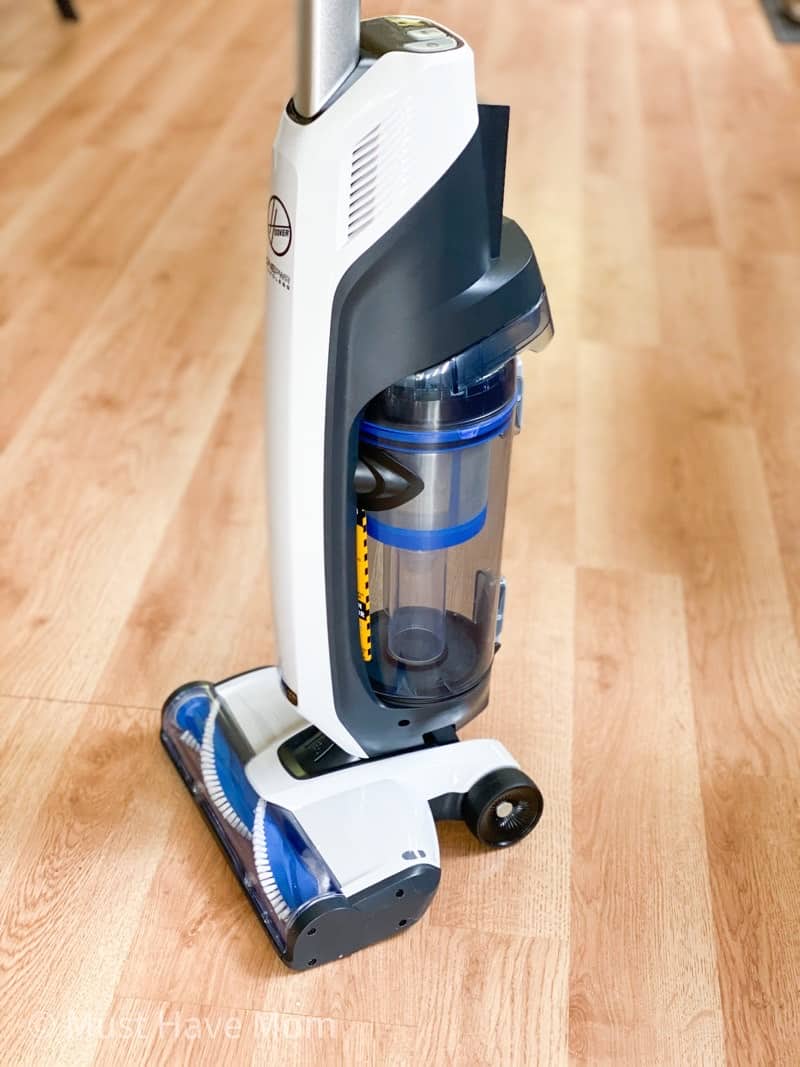 Pulling it out of the box I immediately loved that all I had to do was click the handle in place and charge the battery. There was a quick start reference which meant I didn't have to read any lengthy instructions. I just plugged in the battery to charge, snapped the handle on and waited for the battery to charge. Then just take the battery off the charger and slide it into the vacuum. Push the power button to turn the vacuum on and you are ready to go! You can choose if you want the brush roll on or off.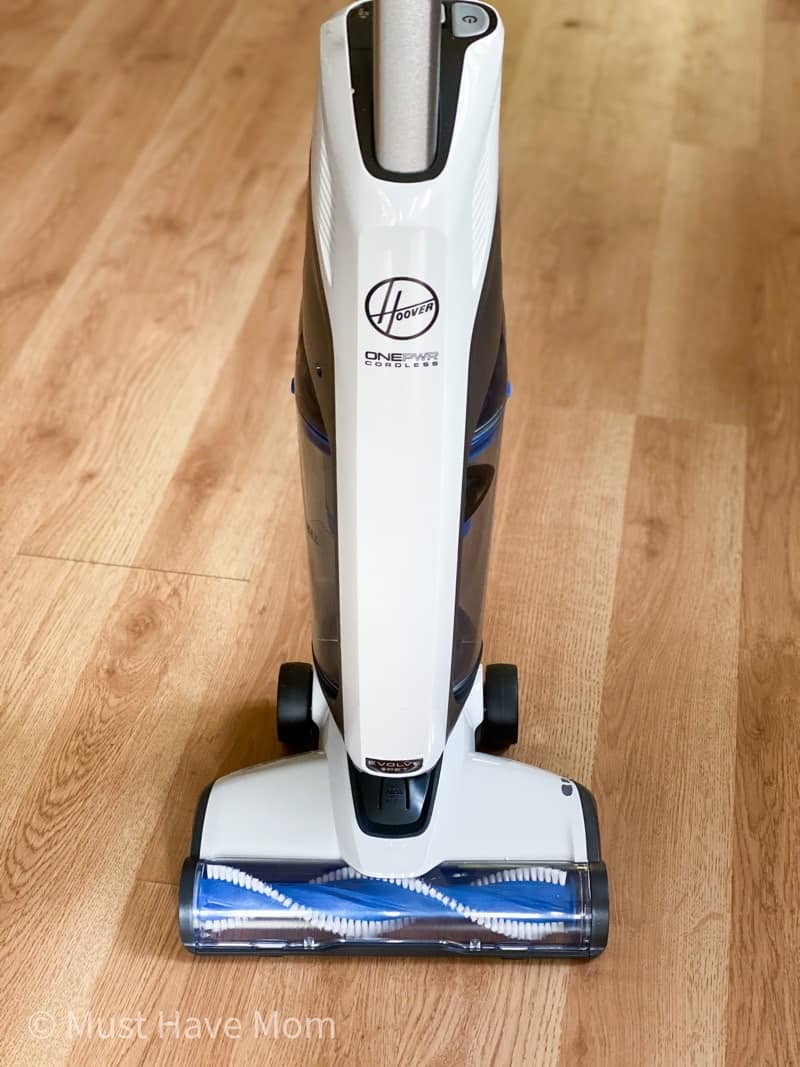 I have put this cordless vacuum through the paces vacuuming hard floors covered in sand, dog fur and crumbs to carpet with wood shavings and more. This vacuum sucked up everything well and left behind clean floors that I could be proud of.
I love that the Hoover Evolve Pet vacuum stands up on its own as well. I park it in the corner of the kitchen and it is ready and waiting whenever I need to give the floors a quick once-over. I also love that it is lightweight enough for any of my children to do this task! It's been a godsend and has kept my floors far cleaner than my previous vacuum or sweeping did!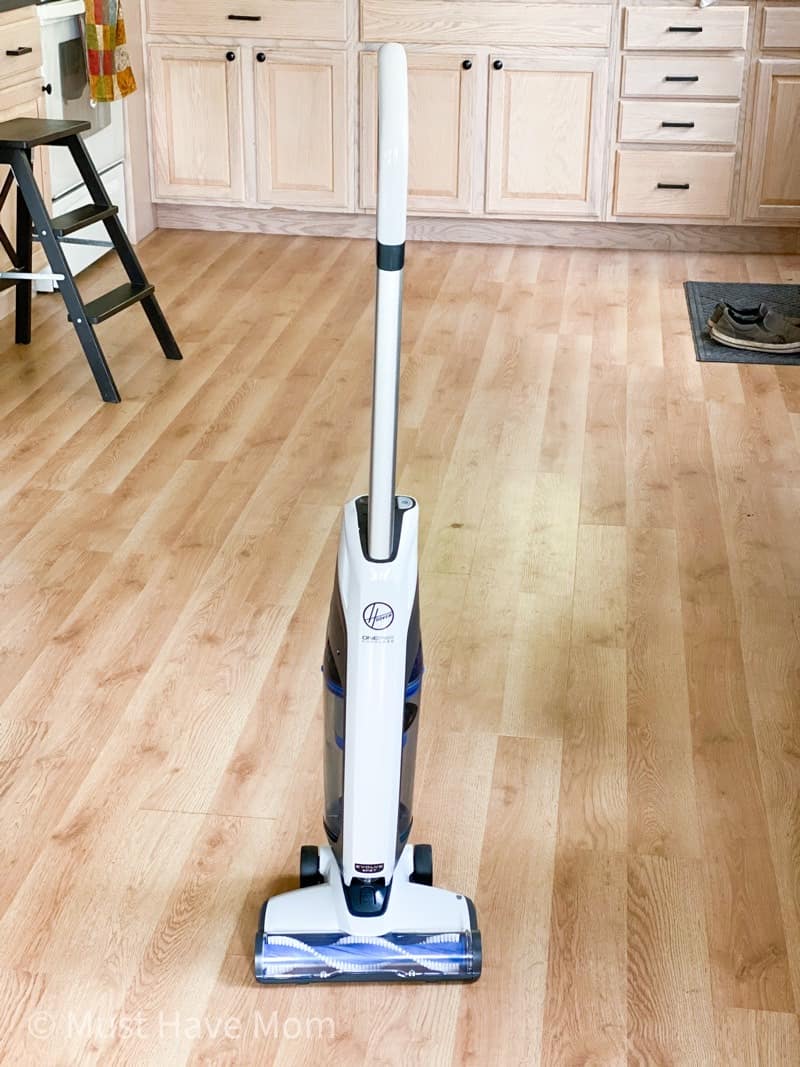 When I first got the vacuum I swept and vacuumed all of my floors with my previous vacuum and broom. Then I took the Hoover Evolve Pet vacuum over the seemingly clean floors and got half a dirt cup full of dirt even after I had already cleaned. The suction on this vacuum is impressive!
I love that I was able to just order this vacuum off Amazon too! No need to even leave the house. It was conveniently delivered to my doorstep. You can find the Hoover Evolve Pet vacuum on Amazon as well.