Saran Wrap Ball Game! Fun Party Game Idea For Kids Or Adults
If you are looking for the perfect Christmas party game idea for your next gathering then you have to check out this fun and easy saran wrap ball game idea! (Also known as the plastic wrap ball game, cellophane ball game, cling wrap ball or Christmas ball game.) We played this last year at our Christmas party for both the adults and the kids and it was a huge hit. I'll show you how to make the saran wrap ball and how to play the saran wrap ball game for your next Christmas party game!
Last updated: November 2, 2020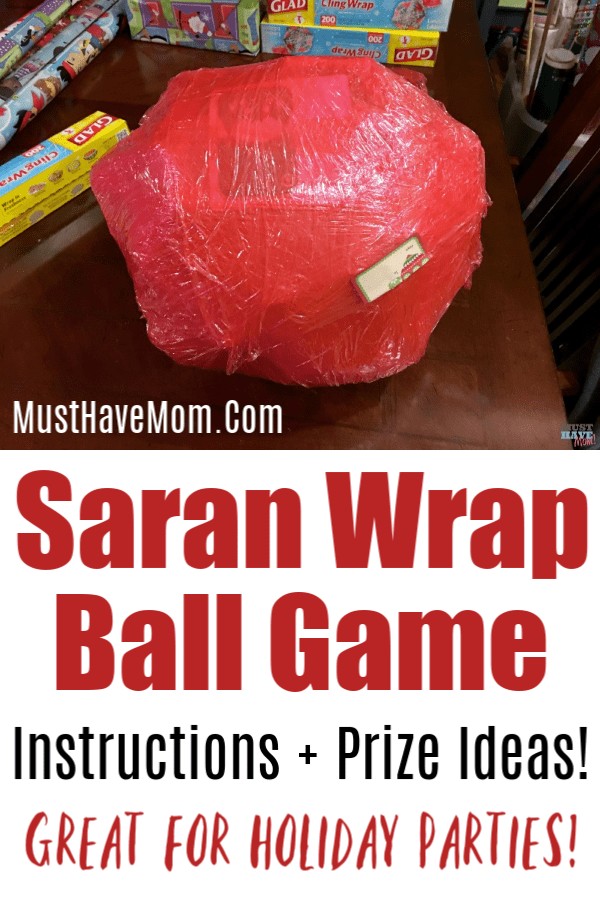 One thing I love about the saran wrap ball Christmas game is that it can be played with adults, kids or both! Everyone had such a fun time playing this game and I learned a couple of things that are important to factor in before playing it! I'll share those with you so you can play this fun game successfully at your next party. Christmas games are a fun tradition to do year after year and this is one of those traditions you are sure to add to your holiday party list (along with the Christmas trivia of course!).
What Is The Saran Wrap Ball Christmas Game?
The saran wrap ball game is a fun Christmas game that can be played at holiday parties or any gathering (birthday parties, etc) with any age of guests (other than babies/toddlers). It involves wrapping exciting prizes inside layers and layers of saran wrap to be revealed as the layers are unwrapped. The BEST prizes should be hidden in the center of the ball so players need to work their way to the most exciting prizes at the end.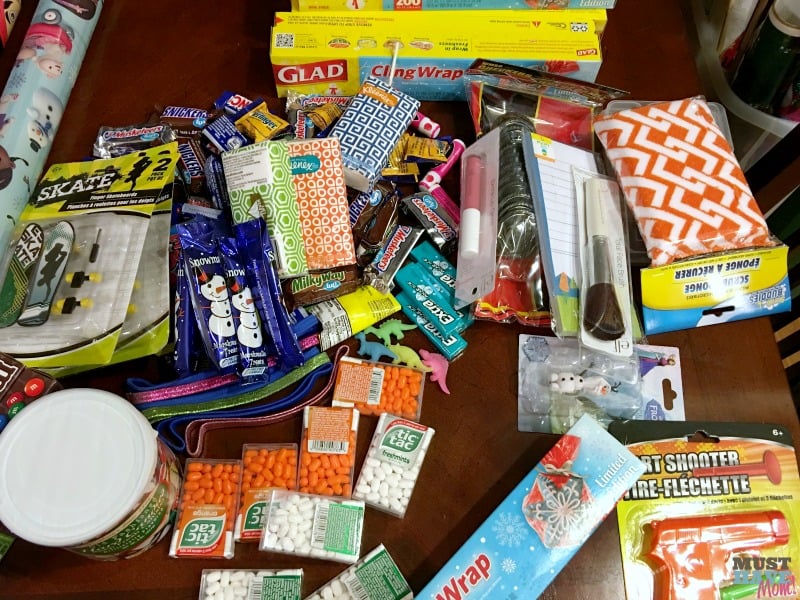 Items To Put In Saran Wrap Ball Game
To create your saran wrap ball you'll need several rolls of saran wrap (I used the red holiday variety ) and prizes of various values. You might want to save money and skip buying multiple boxes of saran wrap and instead buy one of these food service size cling wraps instead! You'll want to put the BEST prizes towards the middle of your ball, but spread them out. Here are some ideas of saran wrap ball game prizes I included in our saran wrap ball game (for kids and adults):
Order everything you need for your saran wrap ball game now!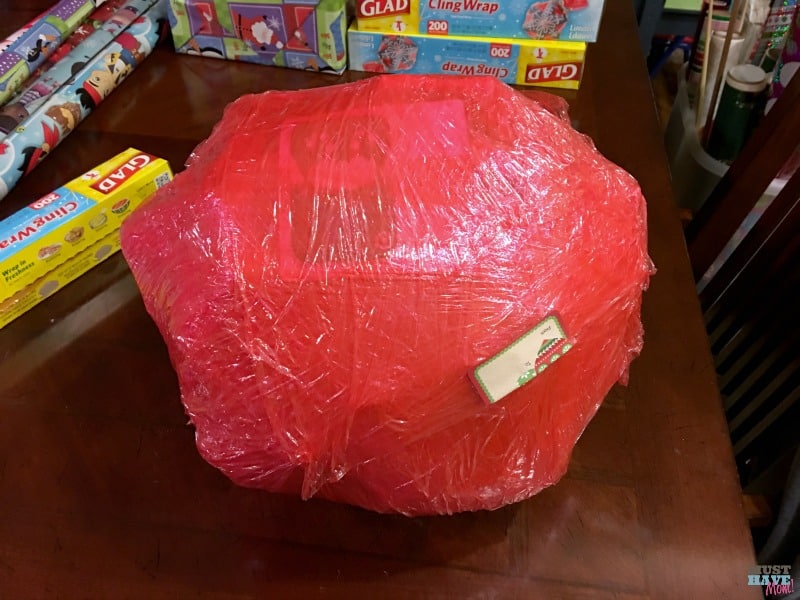 How To Make A Saran Wrap Ball
Once you have your supplies you simply start wrapping one item up and keep wrapping the saran wrap around and around in various directions, adding prizes randomly to it as you go. I put the best prizes toward the center but you can also disperse them throughout the ball to ensure all guests get a great prize. You can make yours as big as you want!
One thing that can help determine how big to make it is to take into account how many people will be playing the Christmas game at your holiday party. Make sure you have enough prizes inside for everyone to have a go at the saran wrap ball fun! I always make mine in advance and place it under the Christmas tree until it is time for the Christmas game to begin.
You'll need the following supplies:
plasic wrap – how much you'll need depends on how big of a ball you plan on making. I use 2-4 rolls of plastic wrap per ball typically – I like to use the holiday red/green cling wrap for my holiday ball. Make sure to use the brand name cling wrap as some of the off brand versions don't actually cling together and it doesn't work.

prizes – see my idea list above!
How Much Saran Wrap Do I Need To Make A Ball?
How much saran wrap you need depends on a few factors:
how many prizes you use

how big you make your ball

how much saran you place between prizes

how you wrap the ball (see the ways to make it more difficult below!)
How Do I Wrap A Saran Wrap Ball?
Your first prize you wrap will be the center of your ball and should be the BEST prize. We often do something somewhat round such as a cup filled with money or a gift card. For kids I will put a small stuffed animal in the middle. For older kids a giant candy bar or box of candy is fun.

Then, begin wrapping a few layers of saran wrap around the item but be sure to turn the ball different directions so that the layers aren't too easy to unravel.

Then, add another prize and more layers of saran wrap over it. Wrap in different directions and as you wrap you can begin forming the ball shape.

Continue adding prizes and layers of saran wrap and form a ball as you go. If I have small prizes like candy or gum then I will put them closer together so a person may get more than one. If I have bigger prizes then I space them with more saran wrap between prizes.

It may seem that the ball doesn't have a sphere shape however you can form it as you go by adding prizes to different sides and shaping it into a ball.

Once you have added all of your prizes then push down the end of the saran wrap so that the first person playing will have to hunt for the start!
How do you make Saran Wrap ball harder?
You can make the saran wrap ball game more difficult by making some minor modifications when you are wrapping the ball. Rather than using one consecutive strip of saran wrap to make your ball (which makes it easier to unwrap), instead, use many small pieces so participants are forced to find the beginning and end of each piece which takes more time and skill.
You can also add a component to make it even more difficult after you have used many small pieces of saran wrap. Have participants wear oven mitts or socks on their hands to further the difficulty level for players!
Saran Wrap Ball Game Rules:
To play the saran wrap ball game you'll need your completed saran wrap ball, a pair of dice and a

 

pie plate

or bowl. Begin by sitting everyone in a circle and giving one person the saran wrap ball and the person to their left the bowl/

pie plate

and dice.

To play you must keep the ball on your lap at all times and unwrap it as fast as you can while the person to your left keeps rolling the dice until they get doubles. Once they roll doubles the dice will pass to the person on their left and the saran wrap ball will pass to the dice roller. Once the person to their left rolls doubles the ball gets passed again.

Keep unwrapping the saran wrap ball as fast as possible the entire time the person is rolling, until they roll doubles. You get to keep any prizes you unwrap. The ball must stay on their lap as we discovered that without this rule someone can easily set it on the floor and unroll it in no time.
We discovered that it would be even more fun to let the kids have their own saran wrap ball game and the adults get their own so the prizes would all be age appropriate. It's a TON of fun and it's really easy too so any age can play.
Our readers love this Christmas party game and have come up with many different variations of the saran wrap ball game! We have compiled all the different rules and variations in this saran wrap ball game rules variations post! Check it out and decide which one is your favorite way to play for your holiday party! This is one of our favorite Christmas activities and the many variations keep it fun and exciting year after year.
CAN SARAN WRAP BE RECYCLED?
Once your saran wrap game is finished, gather up the saran wrap and set it aside. Saran wrap can be recycled! Most grocers and large retailers such as Target and Walmart now accept plastic bags, wrap and film for recycling. Look for a bin near the front of the store. To find a list of participating locations near you, go to plasticfilmrecycling.org and enter your zip code.
So what happens to it? Most of the recycled plastic film ends up being made into composite decking! So it may just find it's way back to your home in the form of composite wood.
How Do I Make The Saran Wrap Ball Game Eco Friendly?
Not a fan of plastic wrap? No problem, try this wrapping paper version of the saran wrap ball Christmas game which is more eco-friendly. Feel free to substitute recycled paper or other ideas for saran wrap as well. Save wrapping paper throughout the year as you open gifts at parties and then once the holiday season hits you will have it ready for this great holiday game. Get creative!
How To Play A Christmas Game At Your Party
The saran wrap game is a fun Christmas party game for any holiday gathering. You can play the saran wrap game with adults, children or both. To play the game simply gather the supplies listed above and create your saran wrap ball prior to the party. Then jot down the rules if necessary to remember and bring along a pie plate, dice and the saran ball. That's all you need to play this fun Christmas game anywhere!
What Ages Or Groups Can Play This Christmas Game?
The great thing about this Christmas game is that it can be played with ANYONE! Here are some ideas of groups to play this fun party game with:
families

kindergarten class

office party

adults

children's party

friends

girl scouts or cub scouts group

PTA group

club meeting group
Can You Fill The Saran Wrap Ball With Themed Prizes?
Yes! It is a lot of fun to fill the saran wrap ball with themed prizes depending on what group you are playing the Christmas game with. Here are some ideas to get your creative juices flowing:
gift cards

card games

cash

drinks/alcohol mini bottles

gifts of all the same color

craft items

lottery tickets

cooking items

candy only

snack ball

office supplies
There are a TON of ideas you could pull from to create a themed game ball to fit the party group you are hosting.
How Do You Play The Saran Wrap Ball Game Without Dice?
If you don't have dice you can still play the saran wrap ball game! For younger kids who may not be able to read the dice you can instead use a timer to give each child equal time. You could also play Christmas music and start and stop the music to indicate when to pass the ball.
How long does the Saran Wrap game last?
The saran wrap game is usually over in under 10 minutes. The amount of time will vary depending on the age of the people playing, how big your saran wrap ball is and how difficult you made your ball to unwrap.
Pin Saran Wrap Ball Game
Like this post? We love when you share our posts on Facebook or Pin them for easy finding later!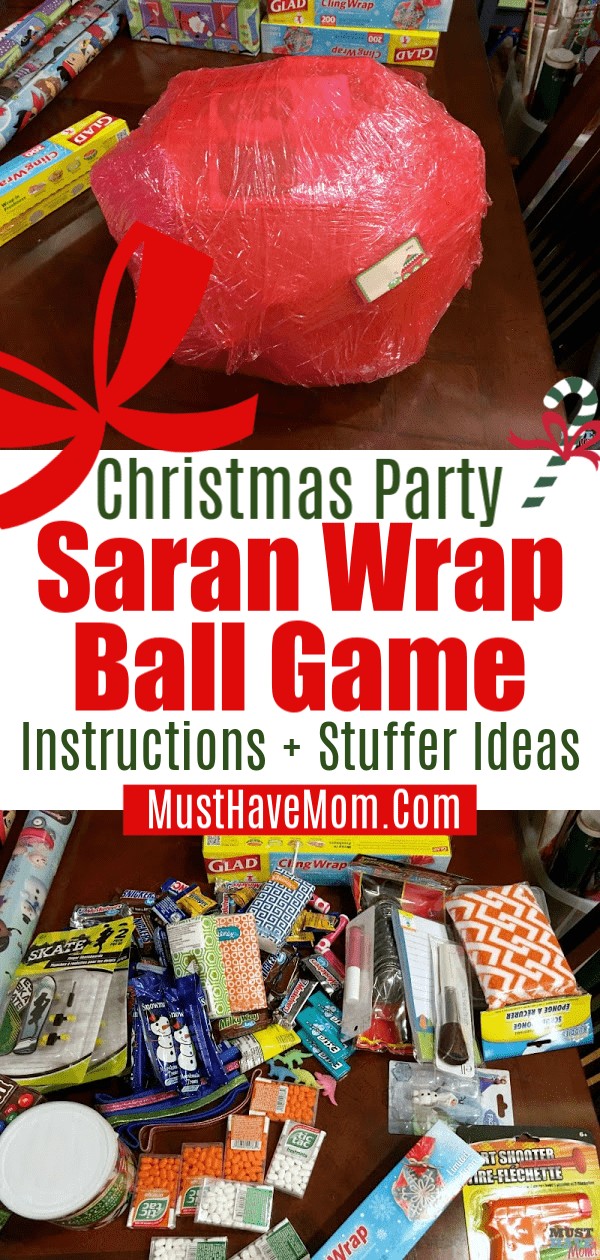 Related Posts