How To Make A 15 Minute Easy Cupcake Bouquet Birthday Gift
This shop has been compensated by Collective Bias, Inc. and its advertiser. All opinions are mine alone. #SendSmiles #CollectiveBias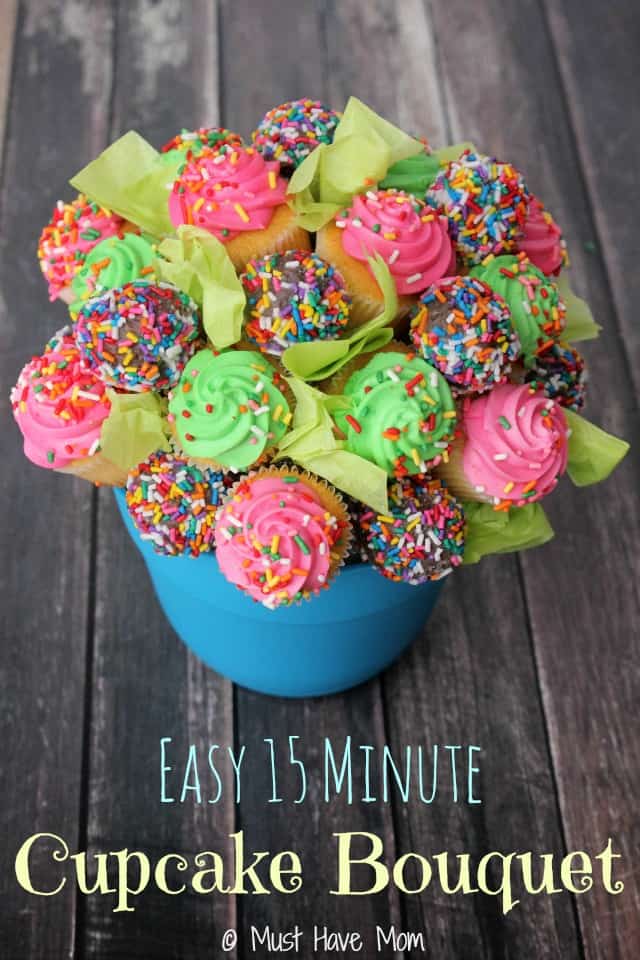 If you have ever had that "Oh no!" moment when you realized you needed a last minute Birthday gift idea and had NO idea what to give then I have a fun Birthday gift idea for you that is easy but looks like you spent all day on it! I've had plenty of those moments and this is now my go to "I have no idea what to give them" gift. It works for anyone, kids and adults alike, and it's inexpensive too! This DIY easy cupcake bouquet is a Birthday gift that wows the crowd and doubles as a delicious treat!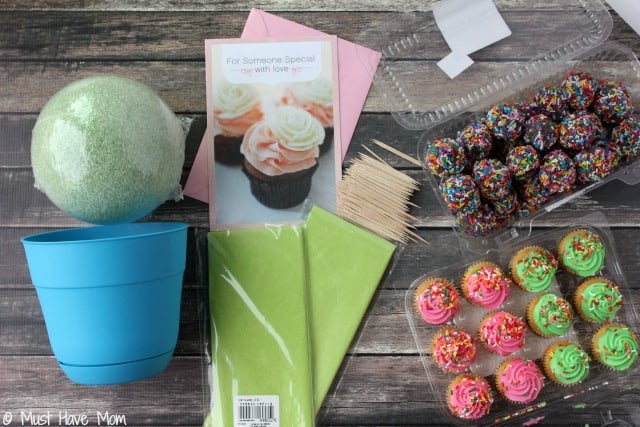 It looks fancy, but it isn't hard to create. First you'll need a flower pot, a styrofoam ball that fits inside the flower pot, toothpicks, green tissue paper, cupcakes and donut holes with sprinkles and a Birthday card. I chose a Hallmark card with cupcakes on it because it seemed fitting for the theme of the gift!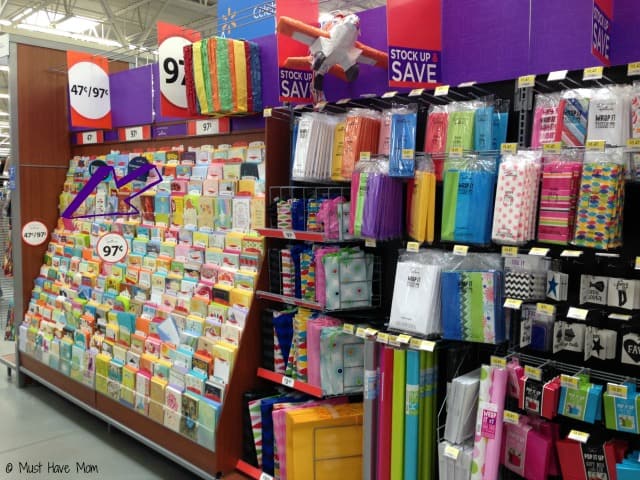 I have eliminated the problem of never having Birthday cards on hand now because I found this amazing secret at Walmart. They have an entire section of Hallmark cards for just .47!! They are the same great quality I expect from Hallmark, but they are only .47! It's awesome and it makes it inexpensive for me to grab a whole bunch and always have them on hand. It helps that Walmart also has everything needed to make this cupcake bouquet so it's a one stop shopping trip for my Birthday gifting needs.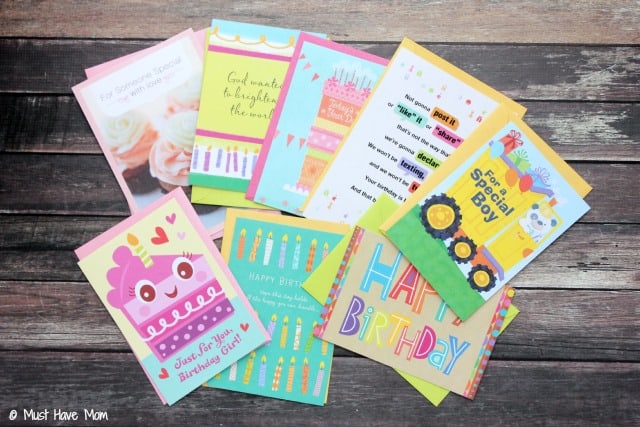 Plus I love that the .47 Hallmark cards don't display a price on the back of the card so your recipient will never know how much you saved on their card! Anyway, on to assembling your cupcake bouquet…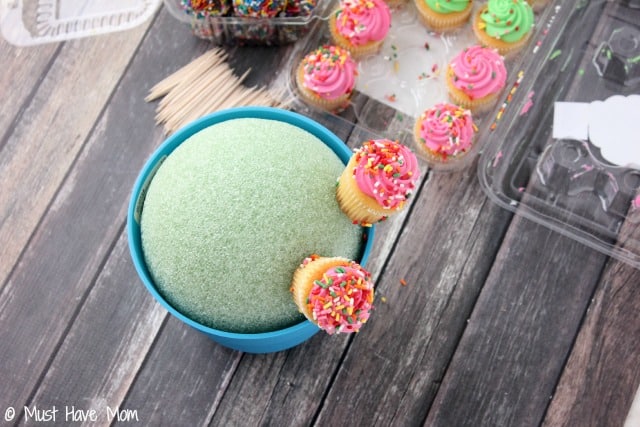 Begin assembling your cupcake bouquet by placing the foam ball in your flower pot and then insert a toothpick at a semi-upward angle. You don't want it at a ninety degree angle because the frosting will start to slide off then. Keep it low but at a semi-upward angle. Then insert the cupcake into the toothpick.
I used mini cupcakes for this and they worked great. I would recommend going with the mini size. I found these in the Walmart bakery.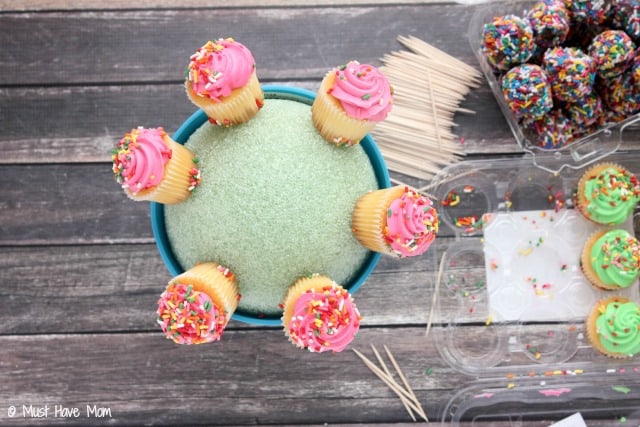 Space them about one cupcake width apart all around the base of the foam ball.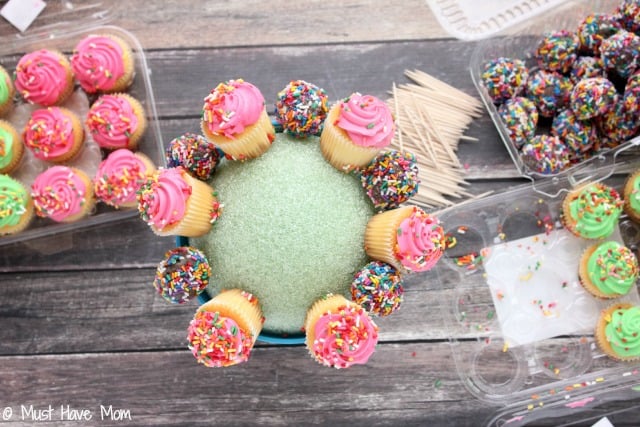 Now fill in the empty spaces between the cupcakes with the chocolate donut holes.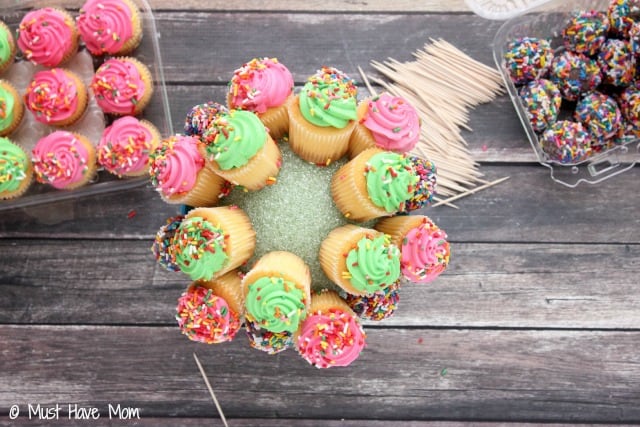 Continue the next layer with cupcakes all the way around.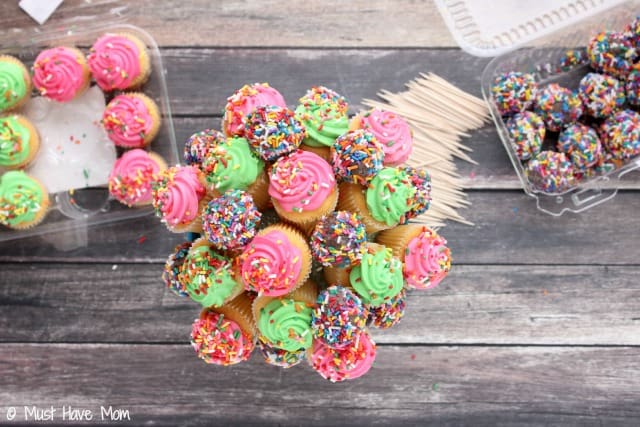 Then put two mini cupcakes in the center and fill in the rest of the spaces with the chocolate donut holes.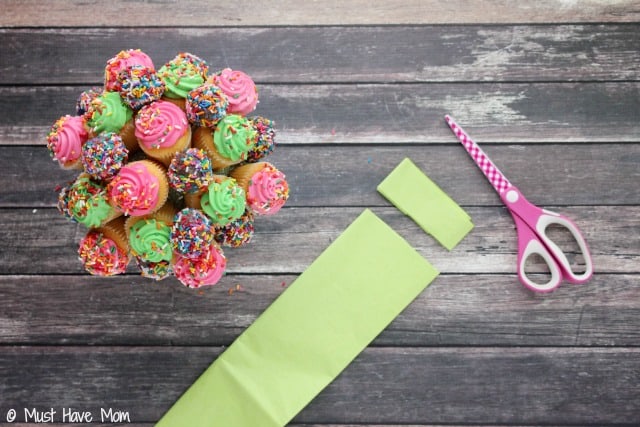 Next you will use the tissue paper to fill in any gaps that you have where you can still see the styrofoam. I bought Hallmark tissue paper which was located right next to the Hallmark cards at Walmart. Then just cut an inch wide piece off the end of the tissue paper.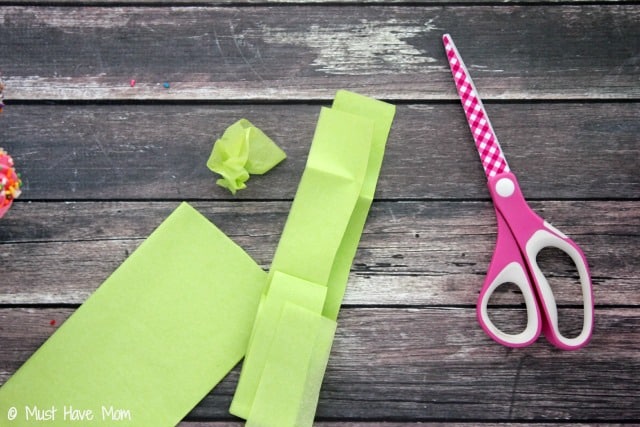 Then take off one piece of the tissue from the inch wide piece you cut off. Fold it accordion style and then twist the bottom a little bit to hold it together.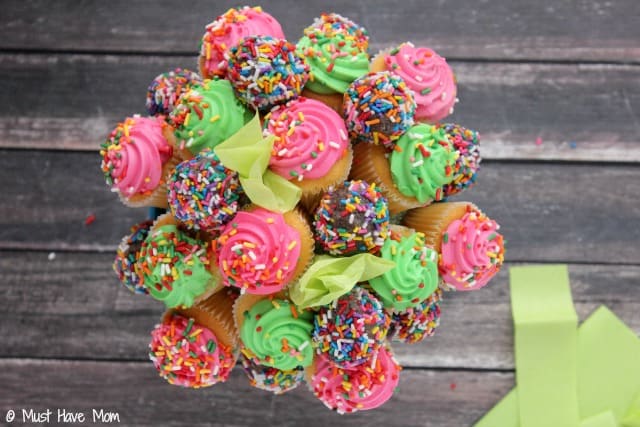 Now stuff it in the empty spaces to fill them and prevent the Styrofoam ball from being seen.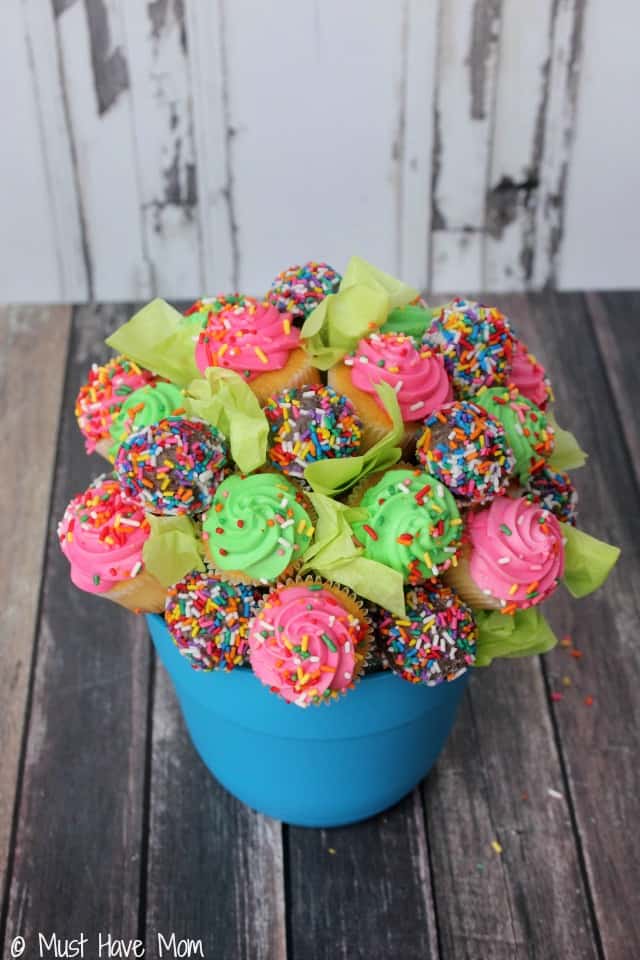 That's it! You're done! These take me about 15 minutes to make and after you get the hang of making the first one they go even faster. It's the perfect quick and easy Birthday gift for anyone! I love that this works for kids or adults.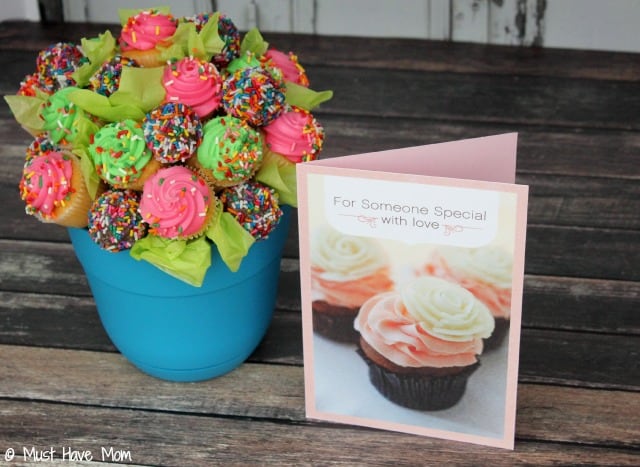 Don't be caught searching for a gift. Make this fun cupcake bouquet and pair it with a .47 Hallmark card from Walmart and you've got your problem solved!
Head to Walmart and stock up on .47 Hallmark cards! Check here to find a store near you that stocks them!