If you are looking for the perfect party game idea for your next gathering then you have to check out this fun and easy saran wrap ball game idea! We played this last year at Christmas for both the adults and the kids and it was a huge hit. I'll show you how to make the saran wrap ball and how to play the saran wrap ball game.
One thing I love about the saran wrap ball game is that it can be played with adults, kids or both! Everyone had such a fun time playing this game and I learned a couple of things that are important to factor in before playing it! I'll share those with you so you can play this game successfully at your next party.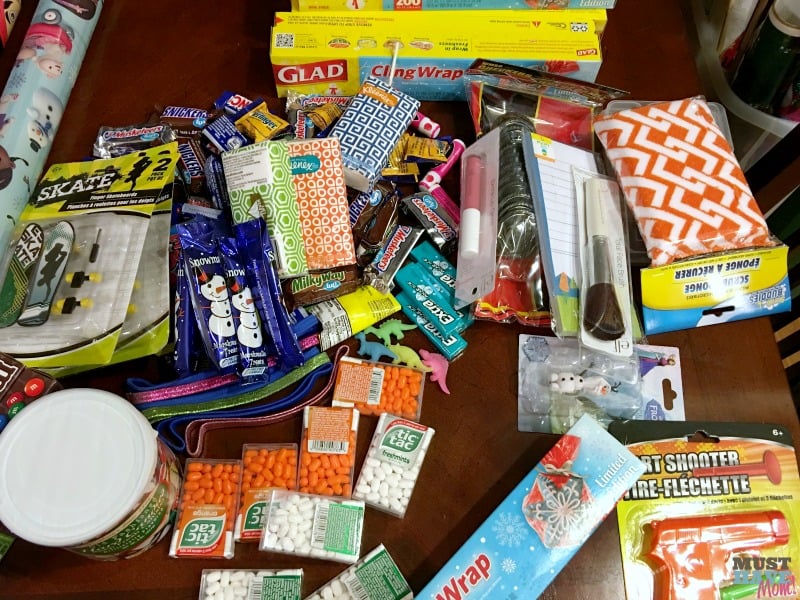 Items To Put In Saran Wrap Ball Game
To create your saran wrap ball you'll need several rolls of saran wrap (I used the red holiday variety) and prizes of various values. You might want to save money and skip buying multiple boxes of saran wrap and instead buy one of these food service size cling wraps instead! You'll want to put the BEST prizes towards the middle of your ball, but spread them out. Here are some ideas of saran wrap ball game prizes I included in our saran wrap ball game (for kids and adults):
Order everything you need for your saran wrap ball game now!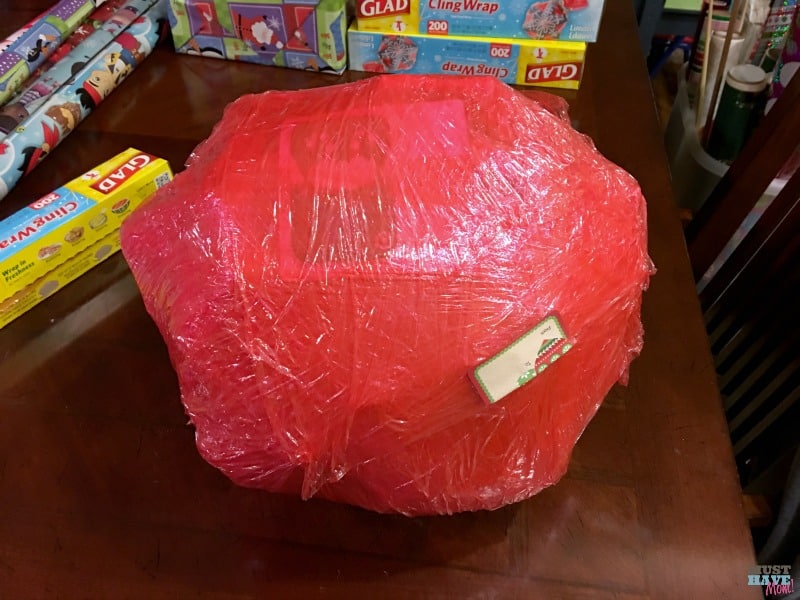 Once you have your supplies you simply start wrapping one item up and keep wrapping the saran wrap around and around in various directions, adding prizes randomly to it as you go. You can make yours as big as you want!
Saran Wrap Ball Game Rules:
To play the saran wrap ball game you'll need your completed saran wrap ball, a pair of dice and a pie plate or bowl. Begin by sitting everyone in a circle and giving one person the saran wrap ball and the person to their left the bowl/pie plate and dice.
To play you must keep the ball on your lap at all times and unwrap it as fast as you can while the person to your left keeps rolling the dice until they get doubles. Once they roll doubles the dice will pass to the person on their left and the saran wrap ball will pass to the dice roller. Once the person to their left rolls doubles the ball gets passed again.
Keep unwrapping the saran wrap ball as fast as possible the entire time the person is rolling, until they roll doubles. You get to keep any prizes you unwrap. The ball must stay on their lap as we discovered that without this rule someone can easily set it on the floor and unroll it in no time.
We discovered that it would be even more fun to let the kids have their own saran wrap ball game and the adults get their own so the prizes would all be age appropriate. It's a TON of fun and it's really easy too so any age can play.
Our readers love this game and have come up with many different variations of the saran wrap ball game! We have compiled all the different rules and variations in this saran wrap ball game rules variations post! Check it out and decide which one is your favorite way to play!
CAN SARAN WRAP BE RECYCLED?
Once your saran wrap game is finished, gather up the saran wrap and set it aside. Saran wrap can be recycled! Most grocers and large retailers such as Target and Walmart now accept plastic bags, wrap and film for recycling. Look for a bin near the front of the store. To find a list of participating locations near you, go to plasticfilmrecycling.org and enter your zip code.
So what happens to it? Most of the recycled plastic film ends up being made into composite decking! So it may just find it's way back to your home in the form of composite wood.
Like this post? We love when you share our posts on Facebook or Pin them for easy finding later!
Pin Saran Wrap Ball Game