This healthy turkey chili is my absolute FAVORITE chili in the world. I have been making this for years and it is a family favorite. I also make extra and freeze it and it doubles as a great freezer meal for quick and easy lunches! It is even a Weight Watchers turkey chili recipe but you'd never know it. It is hearty and comforting without weighing you down.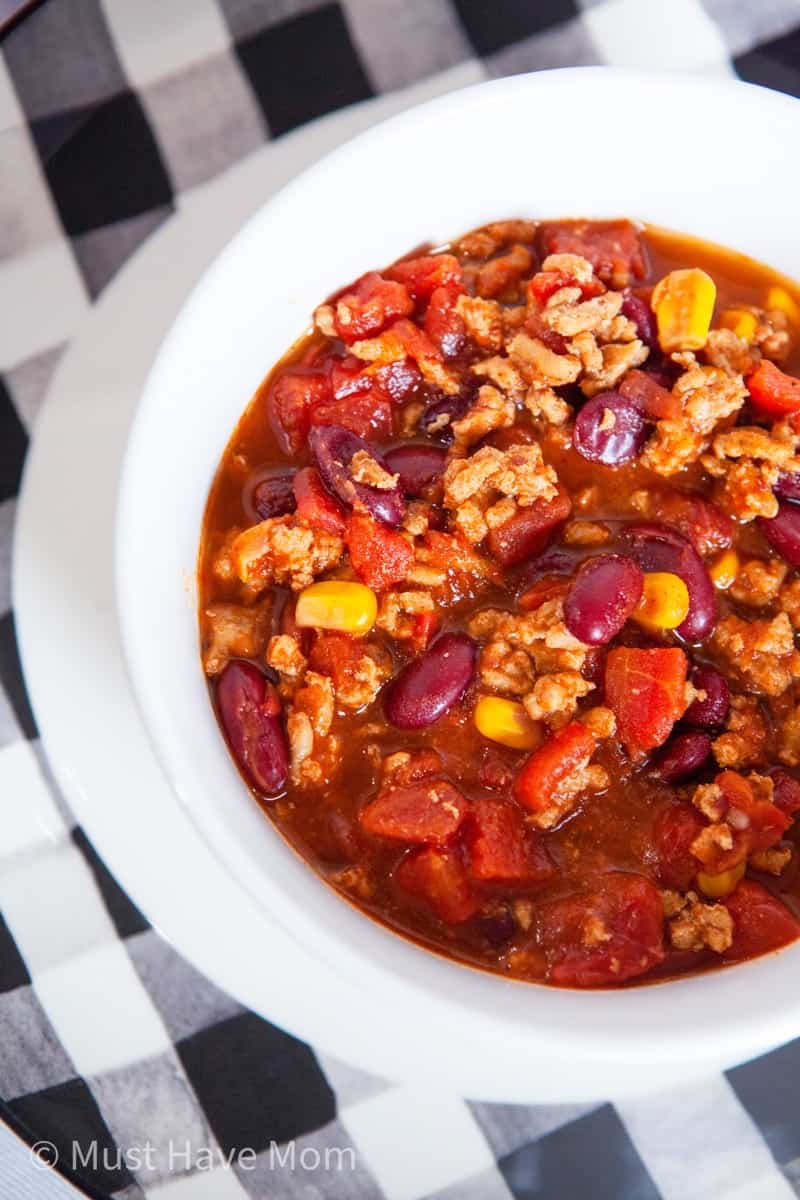 Turkey Chili has become a staple meal in our house. I have to admit that I don't even like chili and I LOVE this recipe. My mother in law first made it for us when I was dating my hubby and I was so upset on the way over to dinner that we were having chili and I'd have to choke it down because I didn't like chili and there was no way I was going to tell my future mother in law that! Well lucky for me this recipe is soooooooo delicious! It has remained a go-to recipe ever since!
If you love hearty soups then you'll also want to try this healthy slow cooker paleo buffalo chicken chili or this healthy chicken tortilla soup! If you just love a good chili then try this new twist on chili: meatball chili recipe!
Weight Watchers Turkey Chili
Now I have loved this recipe for the last decade and wasn't doing Weight Watchers so don't feel like this is a "diet soup" because it is far from that. This chili is, however, healthy and that qualifies it as a Weight Watchers recipe at just 7 points so for those of you that follow that diet then keep on reading because you can eat this chili too! If you are on the diet or aren't on the diet doesn't really matter because this turkey black bean chili is a favorite and you'll see why once you try it!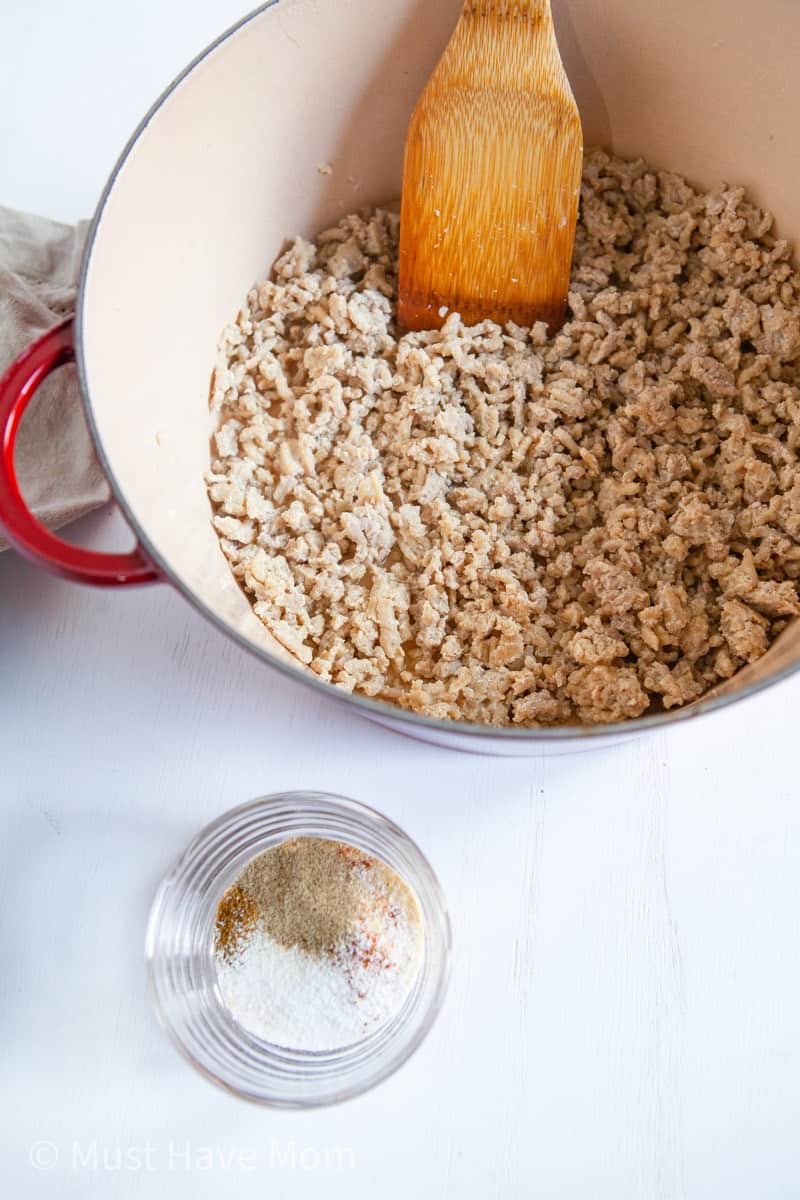 How To Make Healthy Turkey Chili
Making turkey chili isn't difficult at all and it comes together in around 30 minutes so it also qualifies as an easy weeknight dinner. We start off with ground turkey. Turkey is a naturally lean protein which means this recipe is inclined to be healthy thanks to the healthy choice of protein. Brown the turkey in a pot on the stove over medium heat and break it up as you go. I also add minced garlic to my turkey at this point so it can cook with the turkey and help punch up the flavor as turkey tends to be a bland meat otherwise. Feel free to throw some salt and pepper in there as well!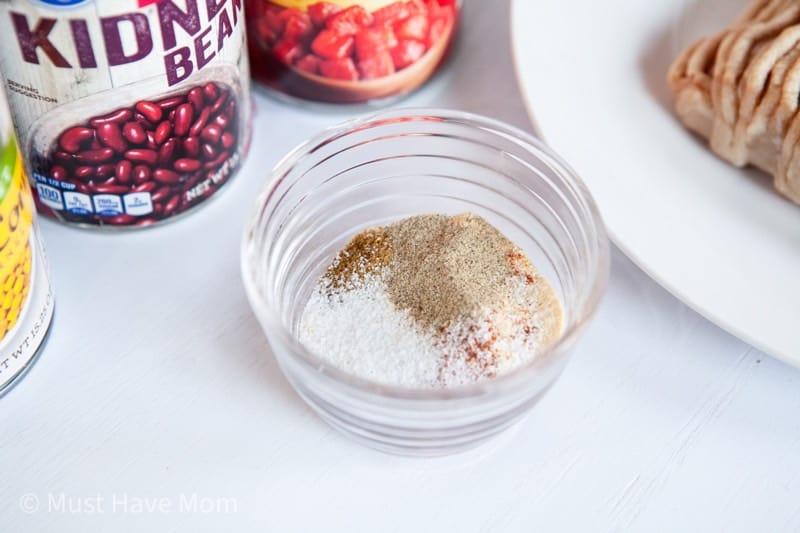 Turkey Chili Ingredients
One thing I really love about turkey chili is that you can easily keep all of the ingredients in your pantry and freezer! I always have these on hand for those nights I need a quick and easy meal. You'll need the following ingredients to make healthy turkey chili:
ground turkey (you can freeze this so you always have it on hand!)
minced garlic (I always have this in my fridge)
diced tomatoes with green chilies (pantry staple)
ground cumin (spice staple)
ground chili powder (another spice staple)
canned corn (always have on hand in the pantry)
canned black beans (pantry staple)
canned kidney beans (pantry staple)
salt (I use pink Himalayan salt or real sea salt only as table salt is terrible for you)
canned (or carton) chicken broth (yet another staple on hand in my pantry at all times)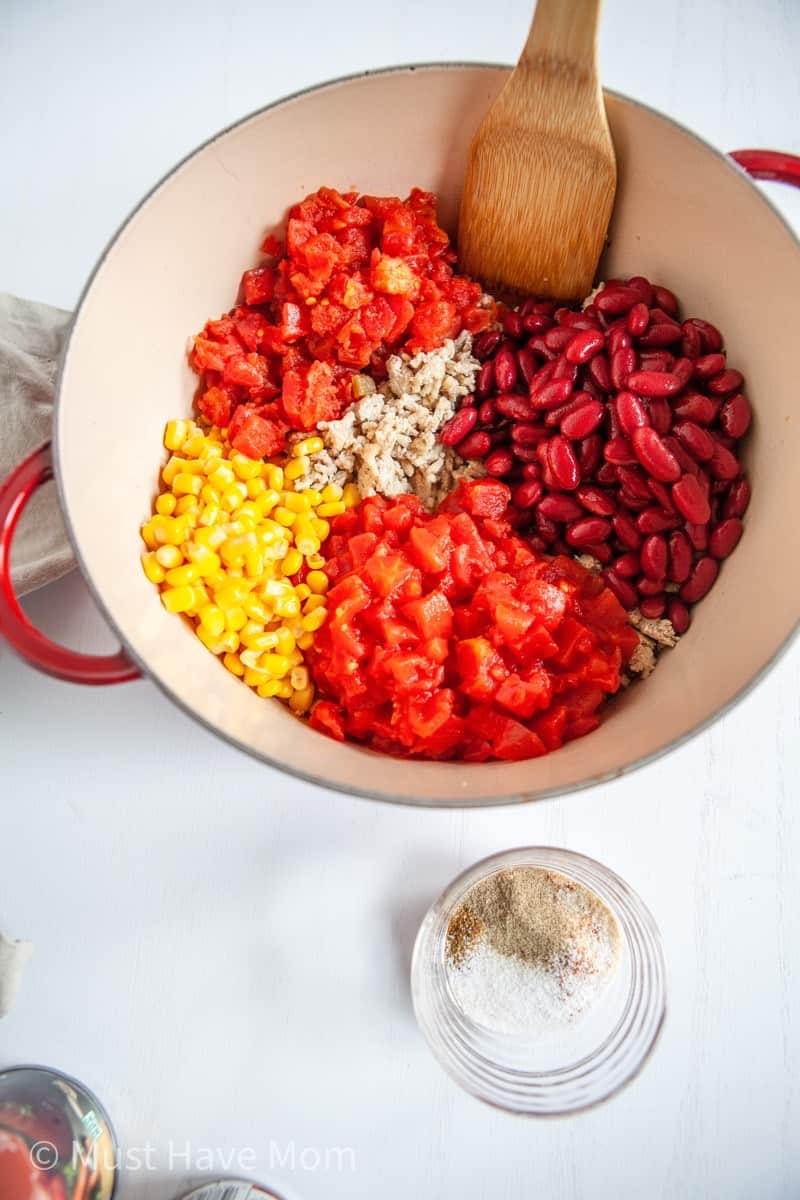 Making turkey chili is SUPER easy! We start by browning the turkey and then we add in the remaining ingredients and stir. Cook on the stove for 30 minutes and serve immediately.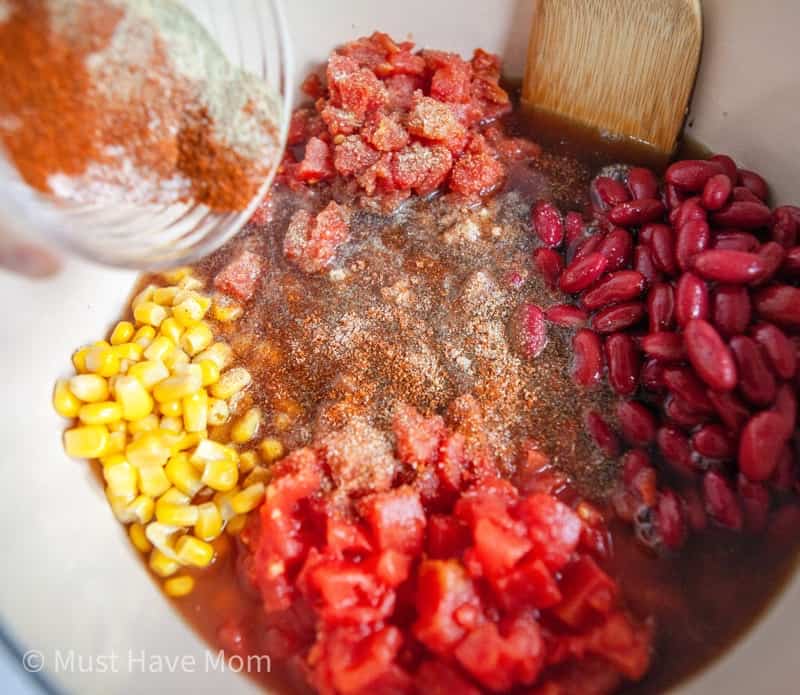 We use a combination of delicious spices in this turkey chili to bring out the delicious flavors in this recipe:
garlic
cumin
chili powder
sea salt or pink Himalayan salt
cayenne for heat (optional add on)
Stir the spices in with the rest of the ingredients so they can develop flavor as the chili bubbles on the stove for 30 minutes.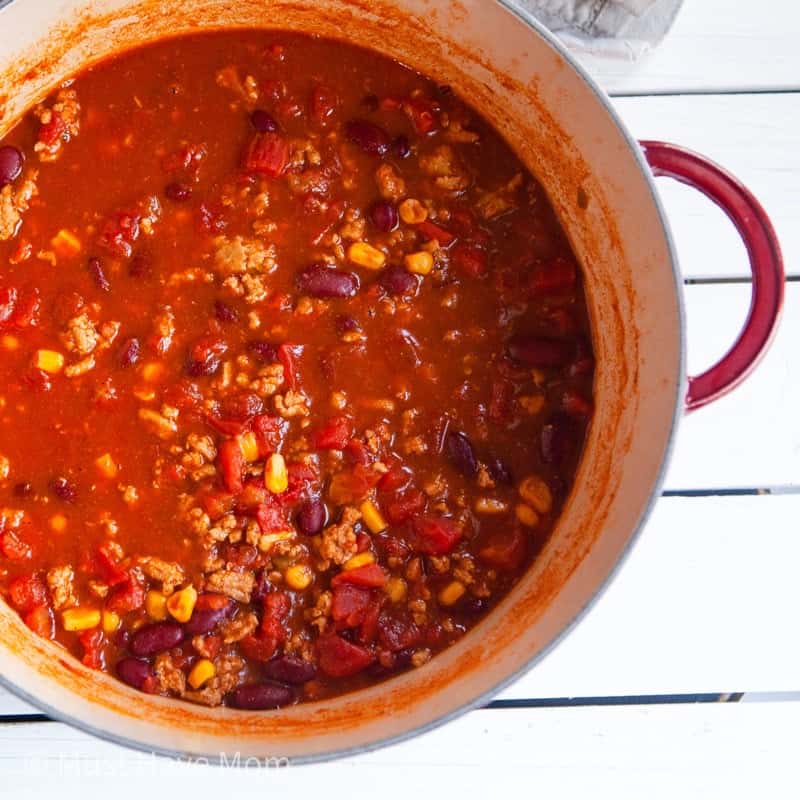 How Long To Cook Turkey Chili
Once all the ingredients have been added to the pot you'll simply let it simmer on the stove for 30 minutes to allow the flavors to develop and the tomatoes to break down. We have been known to be impatient and eat it after just 15 minutes of bubbling on the stove and it tastes just as good so if you are in a hurry go ahead and dive in sooner!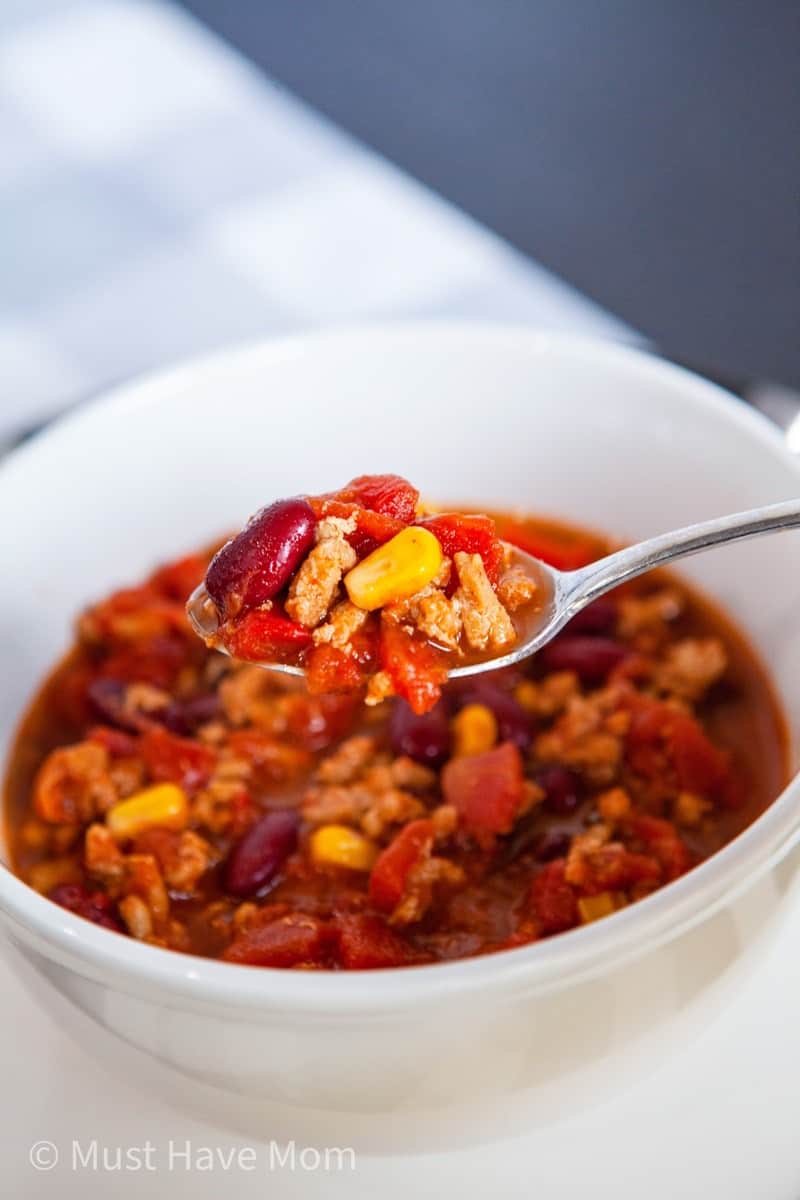 How Many Weight Watchers Points Is Turkey Chili?
This recipe serves 5 and when calculating Weight Watchers points you need to divide up the servings equally so they are accurate for your point counts. One serving of this Weight Watchers turkey chili equals 7 points. You can also add tortilla chips or oyster crackers but those will add extra points. Cheddar cheese is another add on, but yet again, you will be adding points.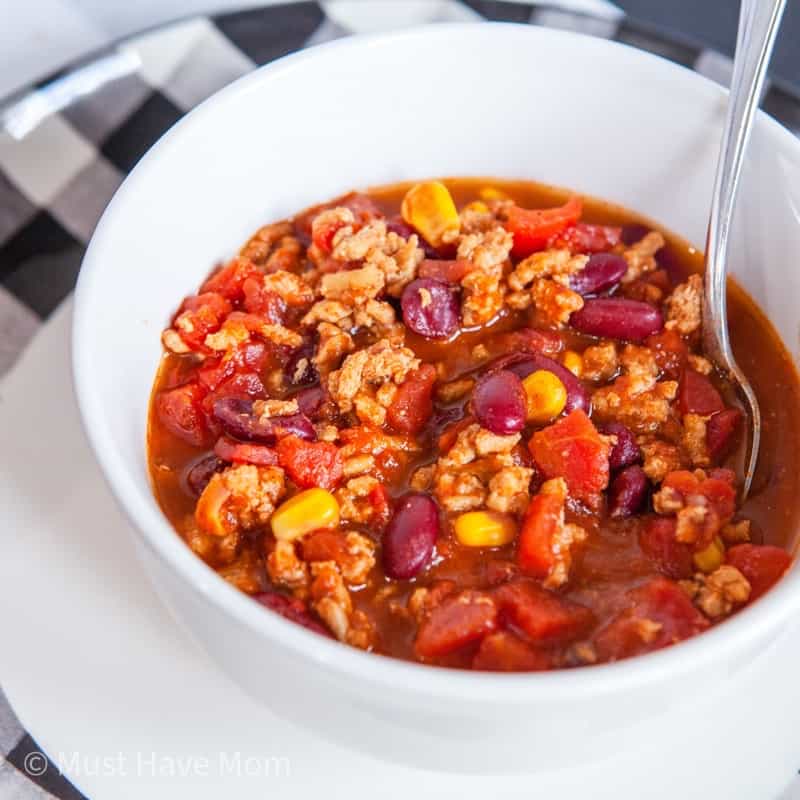 Can You Freeze Turkey Chili?
Yes! I always double or triple my recipe when making this healthy turkey chili. I then freeze the remainder in individual servings using these freezer containers. When we need a quick and healthy lunch option we just grab one from the freezer and warm it on the stove. You can also microwave it if you wish.
Healthy Turkey Chili Recipe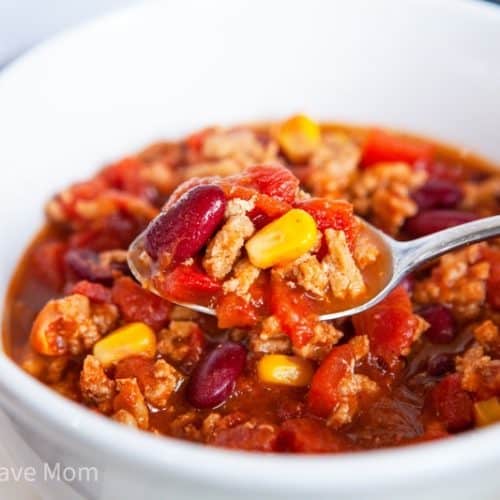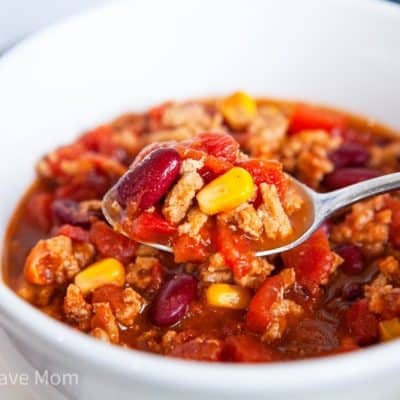 Healthy Turkey Chili
This healthy turkey chili is just 7 Weight Watchers points per serving! This comfort food is hearty and satisfying without being unhealthy. A family favorite with kids and adults!
Ingredients
1

tbsp

olive oil

1

lb

ground turkey

1

tbsp

garlic

minced

2

15 oz can

can diced tomatoes with green chilies

such as Rotel brand

1

15 oz can

corn

drained

1

15 oz can

black beans

rinsed and drained

1

15 oz can

can dark red kidney beans

rinsed and drained

1

15 oz can

chicken broth

1

teaspoon

Ground cumin

2

Tablespoon

chili powder

1

teaspoon

Salt

sea salt or pink Himalayan salt

½

teaspoon

Cayenne pepper

optional
Instructions
In a medium pot over medium-low heat, heat tablespoon of olive oil and brown ground turkey until no longer pink. Add minced garlic.

Add tomatoes, corn, beans (drained and rinsed) and broth to the pot.

Next add cumin, chili powder, salt and cayenne pepper (optional if you like spicy). Stir well.

Bring to a boil. Cover pot with lid and reduce heat to low. Continue cooking for 30 minutes.
Notes
Chili makes 5 servings. For Weight Watchers points divide equally into 5 servings and one serving is 7 points. 
Pin Turkey Chili