Free RV Checklist Printable Packing List
Last year we bought a travel trailer and jumped headfirst into the world of camping without any prior experience with an RV or travel trailer. We learned a TON and also discovered how much we LOVE it. Our first several trips were trial and error in a long list of things we forgot or didn't realize we would need. I have created a comprehensive RV checklist packing printable for you to print off so you can save yourself the mistakes we made!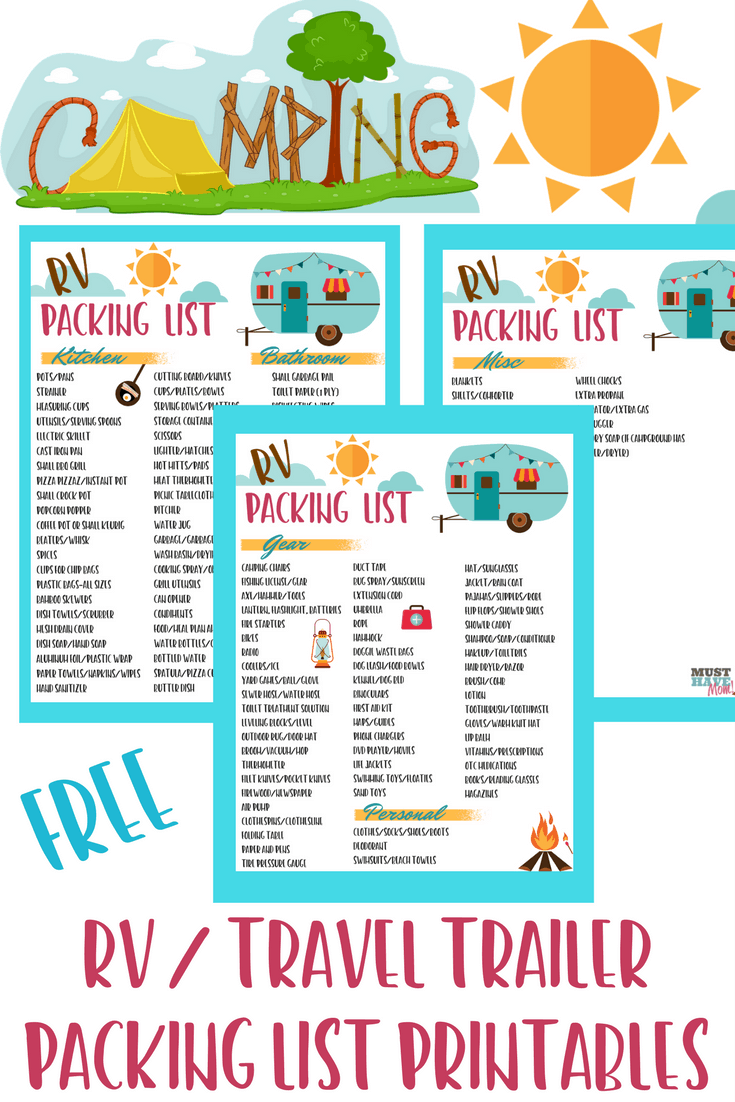 In this post, I use the terms RV and travel trailer interchangeably. No matter which style of camper you have, this list will help you ensure you haven't forgotten anything before your big trip!
RV Checklist
One thing we did for our very first ever trip in our camper was to book a stay at a campground just a few miles away from our house. We did this intentionally as we knew we would forget several things and being close to home would make it easy to run back home and retrieve the things we had forgotten. This was a VERY good idea as I made more than one trip home to get supplies. If I had this RV checklist my life would have been MUCH easier!
That trip ended up being a very rainy weekend and I had no idea how many clothes my kids would go through! I went home for LOTS more clothes, rubber boots and extra rugs. Word to the wise, if you have kids, pack WAY more than you think you will need. While camping kids are busy exploring and getting dirty. Add in swimming and you've got a recipe for multiple outfit changes! Bring extras of everything.
Also make sure to bring extra rugs in case your rugs get wet and muddy. It's a good idea for everyone to bring extra shoes and to have sandals, sneakers and rubber boots. Make sure when packing clothes to bring a variety of warm and cold weather clothing as you never know when you might hit a hot day or a cool night. It's good to be prepared! We keep an extra bin of kids clothing in our camper's storage bin so we never run out.
A few things we found to be very helpful when setting up the camper on a campsite are wheel chocks, leveling blocks and a level. It's important to get the camper fairly level so you can avoid cupboard doors swinging shut, things rolling off tables, etc.
RV Checklist Supplies We Use & Recommend:
Tri-Lynx 00015 Lynx Levelers – 10 Pack

Camco 44414 Wheel Chock – Pack of 2

Camco 44652 Wheel Stop (Small)

24

After a year of camping we have also found many other useful products that I did not include on my RV checklist, but they are worth mentioning. One night my husband kept waking up because the travel trailer's awning was flapping. We found these de-flappers and installed them before our next trip. They were invaluable in stopping the annoying flapping! It also helps protect your awning from rips and tears on those windy days!
Inside the camper we really wanted to maximize space as much as possible. I found some really inexpensive ways to get the most bang for my buck and maximize space. In my kitchen I use collapsible silicone items like these measuring cups and spoons, colander and bowls. I was also able to find collapsible silicone dog dishes (these kind are best of the several I ordered) and a collapsible silicone laundry basket!
We also found several items that would help us save counter space. We put these tissue box holders in each bedroom and the living room area. We also LOVE the pop a plate and pop a bowl which we mounted underneath the kitchen cupboards. This knife safe is mounted to the wall by the stove and has been amazing. My favorite is this stovetop cutting board that doubles my counter space!
I also added inexpensive dollar store baskets and storage organizers under the couch, in the closets and cupboards and I use the under bed storage for extra food and supplies.
I picked up inexpensive shelf liner (check the dollar store as well) and lined all the drawers and cupboards with it to help prevent the items inside from shifting around so much. Adding a cupboard shelf also helps double storage inside your cabinets.
Supplies To Maximize Space:
Camco 57111 Pop-A-Towel (White)

Camco 57001 Pop-A-Plate (White)

Camco 57061 Pop-A-Bag (White)

Camco 57101 Pop-A-Tissue (Clear)

Camco 57041 Pop-A-Napkin (White)

Camco 57211 Pop-A-Bowl (White)

Camco 43753 Hardwood Stove Topper and Cutting Board

KUUK Collapsible Silicone Food Container – Variety Size, 4 Pack

Simply Genius 10L Foldable Silicone Collapsible Bucket 2.6 Gallon Clean Camping Car Beach

Prepworks by Progressive Collapsible Prep/Storage Bowls with Lids – Set of 3

Nlife 8pcs Collapsible Silicone Measuring Cups Measuring Spoons Perfect for Pet Food, Coffee, Supplements, Flour, Grains, Lentils, Spices, Honey, and Liquids (FDA Approved BPA Free Non Toxic)

HULLR 2 Piece Collapsible Colander Strainer Set – 8

Collapsible Laundry Basket – Space Saving Organizer (Cyan)

Camco 43583 Knife Safe (9

Organized Living Large Double Cabinet Shelf – White

Grab your FREE Rv Checklist packing list: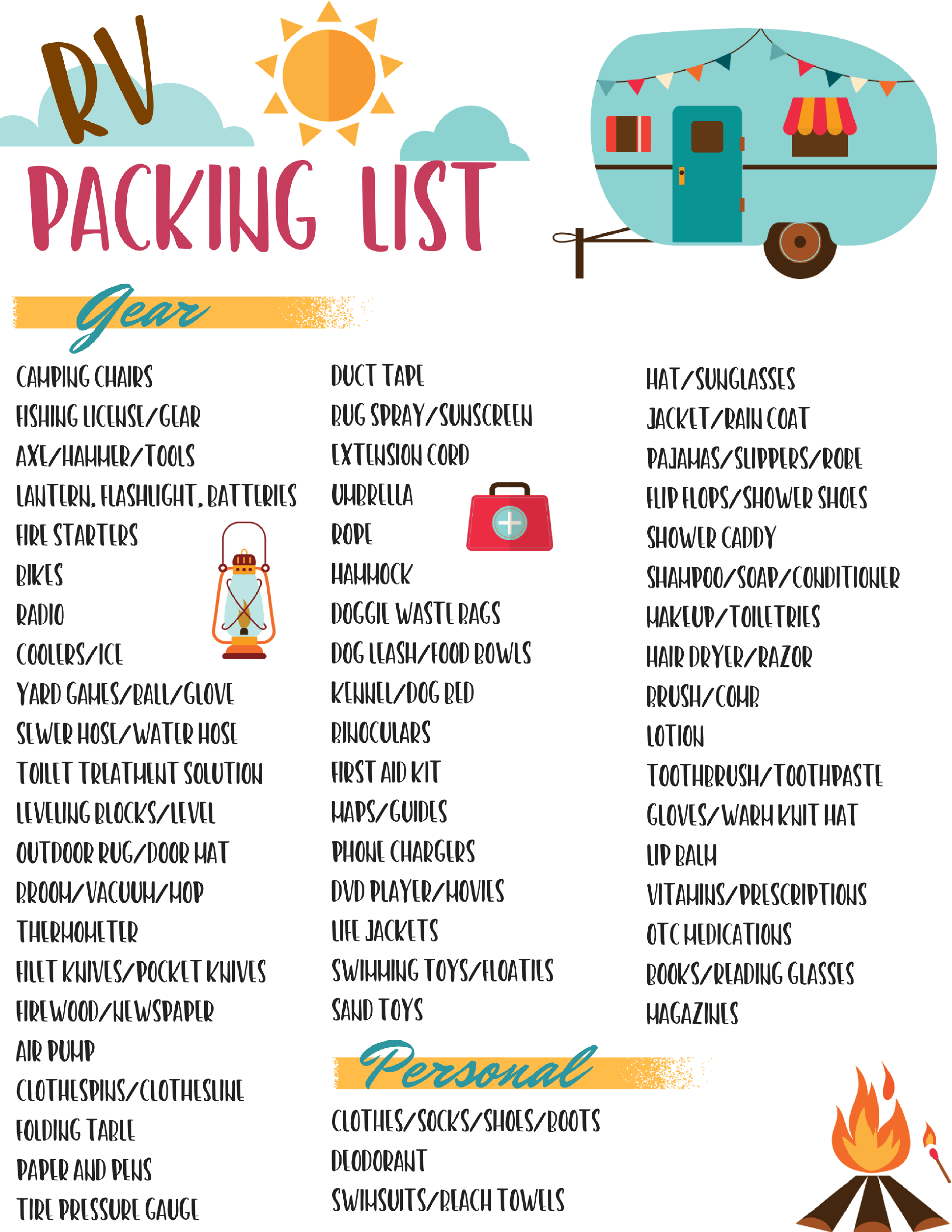 Pin Free RV Packing Checklist: