The Futon Shop Modern Sofa Bed Review
If you lack extra sleeping space for visitors then this modern sofa bed is exactly what you need to compliment your decor while being functional too! This organic sofa bed is a queen sofa bed and is also a non toxic sofa so it's a win all around!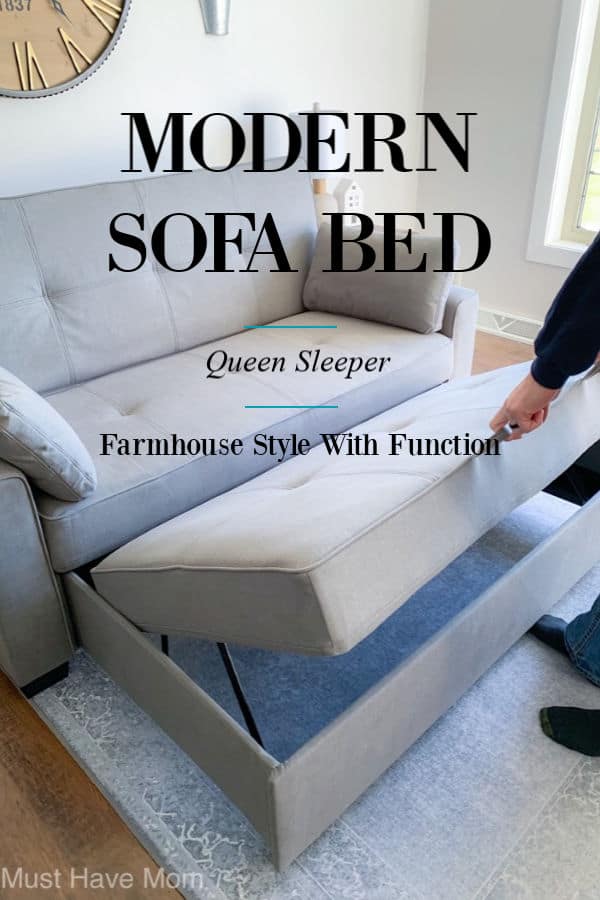 Looking for a modern sofa bed for your home?
I understand that you are most likely swamped with choices. The dilemma of our shopping-savvy generation, right?
When I search for new furniture I take many things into account. Functionality and comfort is top priority while also ensuring it works with my kids and still makes our home guest-compatible all while looking amazing with my farmhouse style decor. That's a tall order!
I was able to find the perfect modern sofa bed for our space which will give us extra sleeping space for visitors and look amazing every day. This grey sofa bed from The Futon Shop passed all my tests. For us, this is the best sofa bed, and for so many reasons.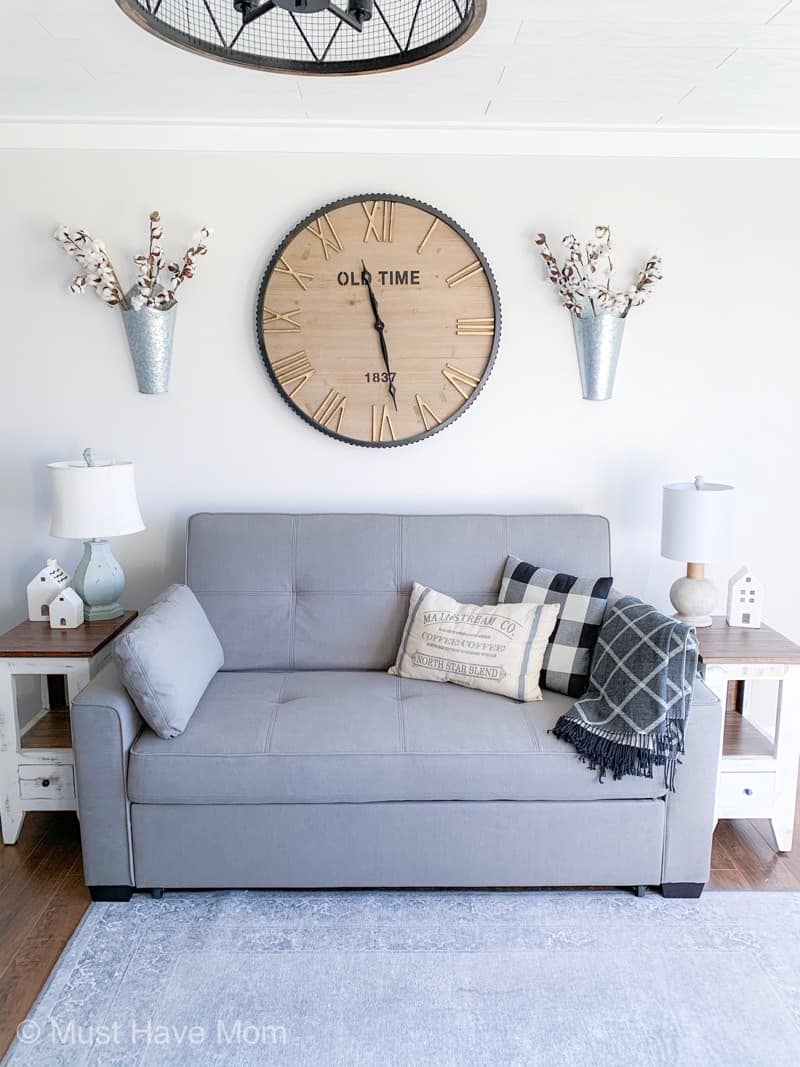 The Futon Shop
This organic futon is from The Futon Shop. The Futon Shop sells chemical-free, eco-friendly futon mattresses. The founder, Suzanne Diamond, believes in designing healthy non-toxic furnishings to promote healthy and comfortable lives for her customers. All the products at the Futon Shop are hand-crafted and made in the US.
Who Should Buy this Modern Sofa Bed?
I think this modern sofa bed would be ideal for your home if:
You Have Space Limitations
Living in a modern metropolis means making some concessions when it comes to your home space. If you have limited space in your home, this grey sofa bed serves the dual purpose of a bed and a sofa. It's the ideal solution for families who don't have a separate guest bedroom but do occasionally have guests coming over.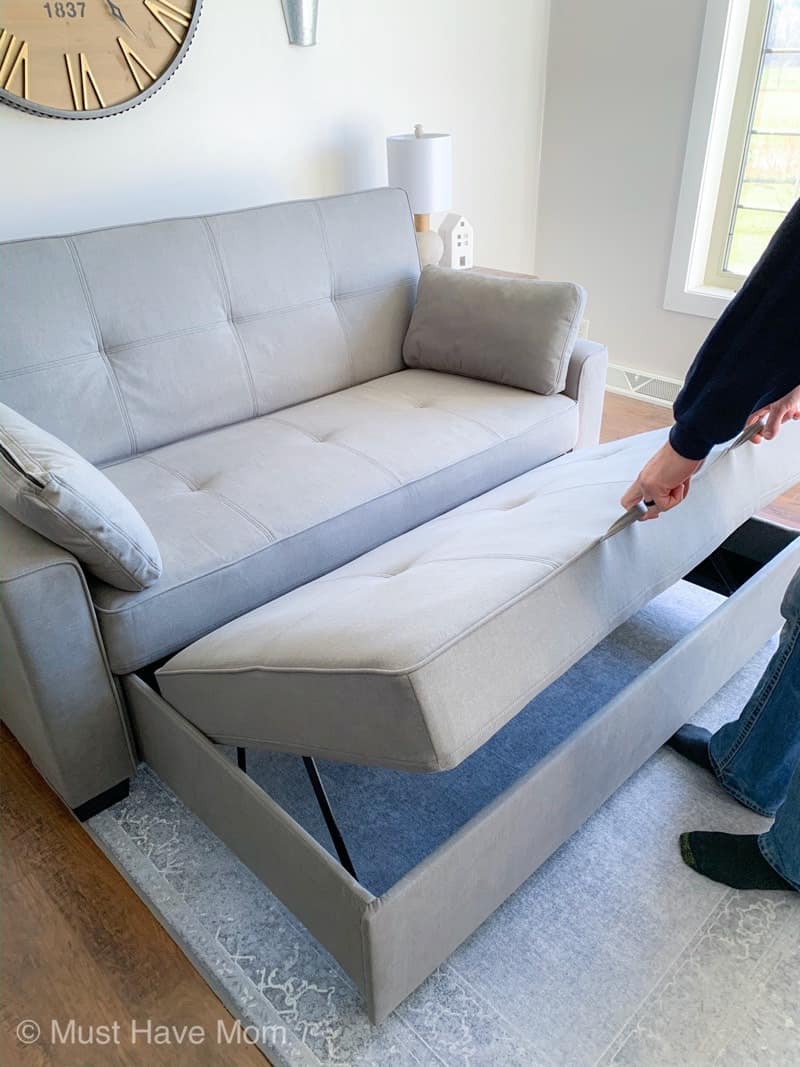 It turns into a full queen-sized bed when pulled out. The pop-up mechanism is made from a special European gear that makes the transformation from sofa to bed quite smooth.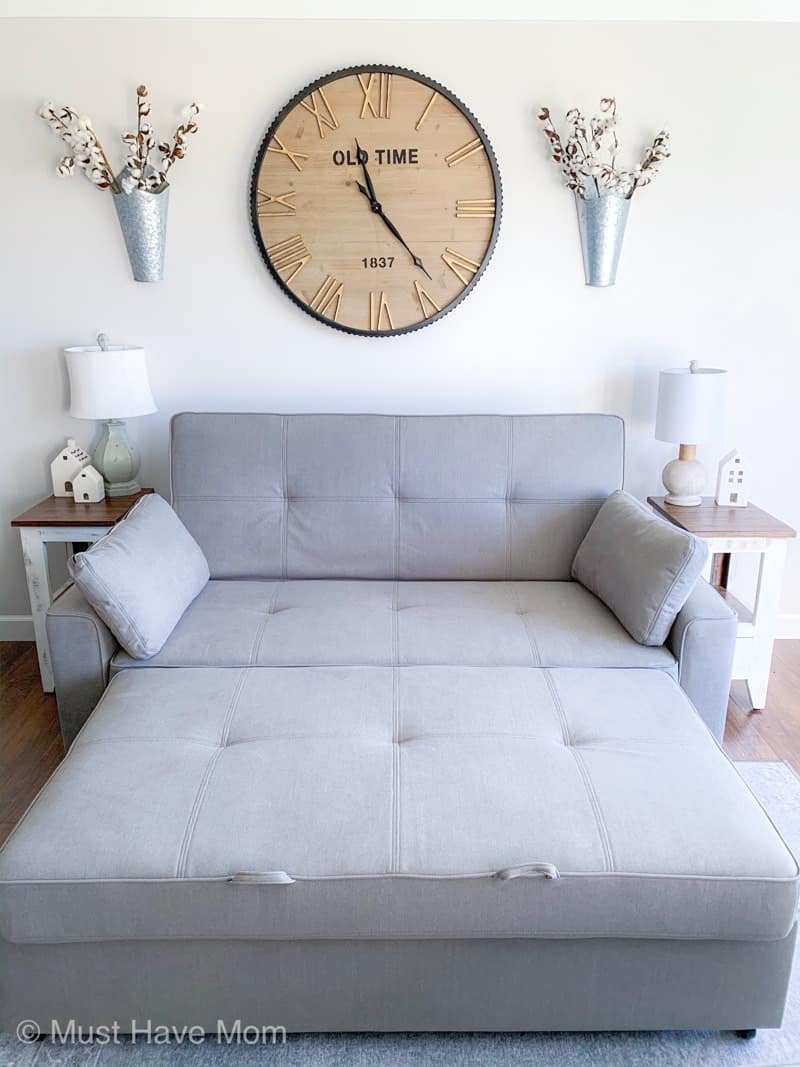 Plus, I found this is the best sofa bed for my home. It's stylish and the grey monochromatic color goes with my home color scheme. I think it would blend well with other color schemes because of its neutral color.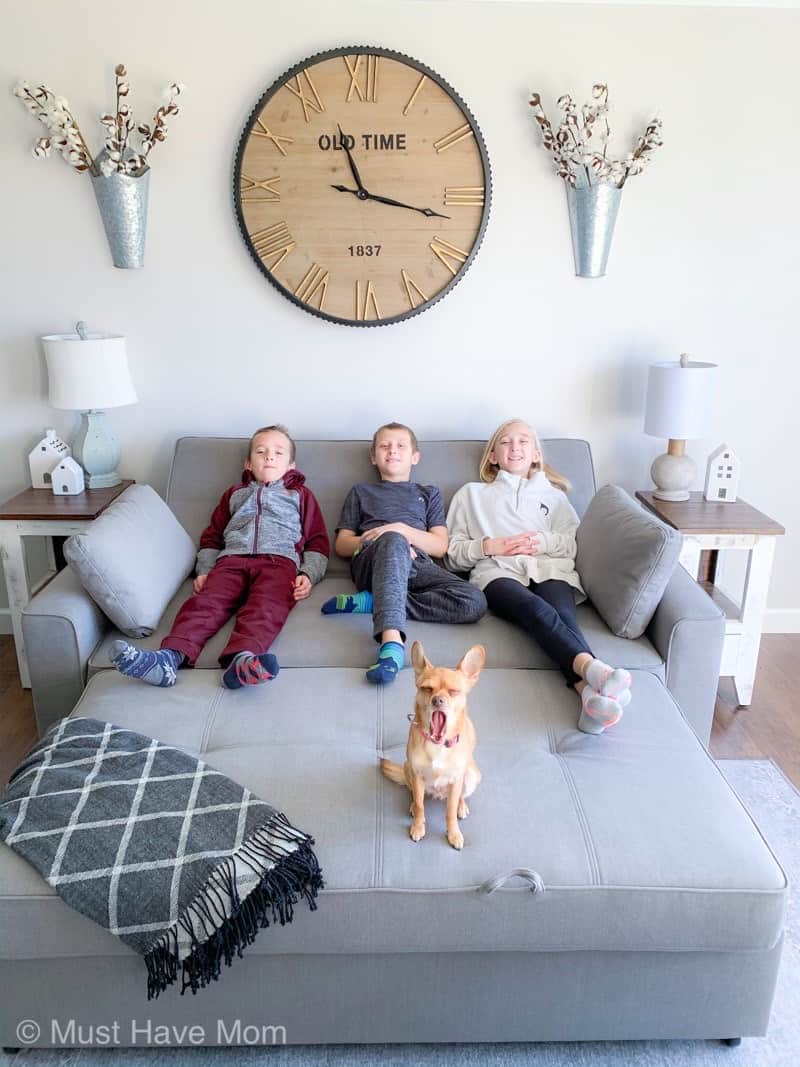 We also found this organic futon to be very comfortable. It has something to do with the micro-coils. They adjust their position when you move around. So, it feels like you are sleeping on a proper bed. It gives great support when sleeping on it and you won't have that awful feeling of sinking down in the bed and having a metal bar dig into your back all night. This sofa bed is actually enjoyable to sleep on so you won't have to apologize to your guests for the sub-par digs. They will be impressed and well-rested the next morning! That means no more giving up your own bed when your parents come to visit. Now that's a win!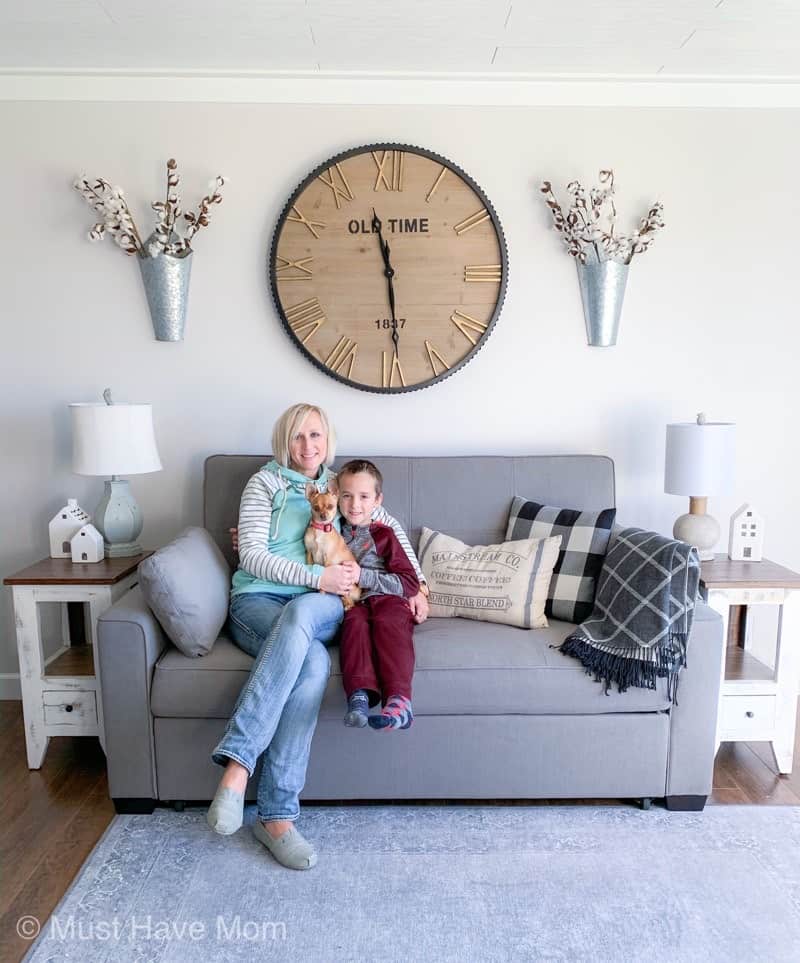 You prefer to go organic
You prefer non-toxic materials in your home. Most of our furniture and other accessories in our homes are made from plastic and other toxic materials. We don't realize it, but they affect the quality of our lives.
The padding part of the sofa has:
100% Pure Dunlop Latex. This means the latex core is hypoallergenic. It's resistant to mold, mildew and even dust mites. So, if you've got kids, or you yourself are allergic to dust, this sofa will keep those allergies and irritations at bay.
Coconut Coir. Most regular sofas use polyurethane foams. I don't want to scare you but the US Environmental Protection Agency (EPA) concludes that long-term use of these could cause allergies, asthma, autoimmune issues, and even cancer. So, replacing these with a more comfortable and organic option make so much sense for me as a mother.
This organic futon also replaces polyester fiber with PLA. PLA is a potato-based fiber that works in a similar fashion as polyester fiber, except it doesn't contain any petrochemicals. This means no off-gassing. Plus, it is hypoallergenic. This fiber is also good for your environment because the fiber comes from a renewable crop and it's biodegradable.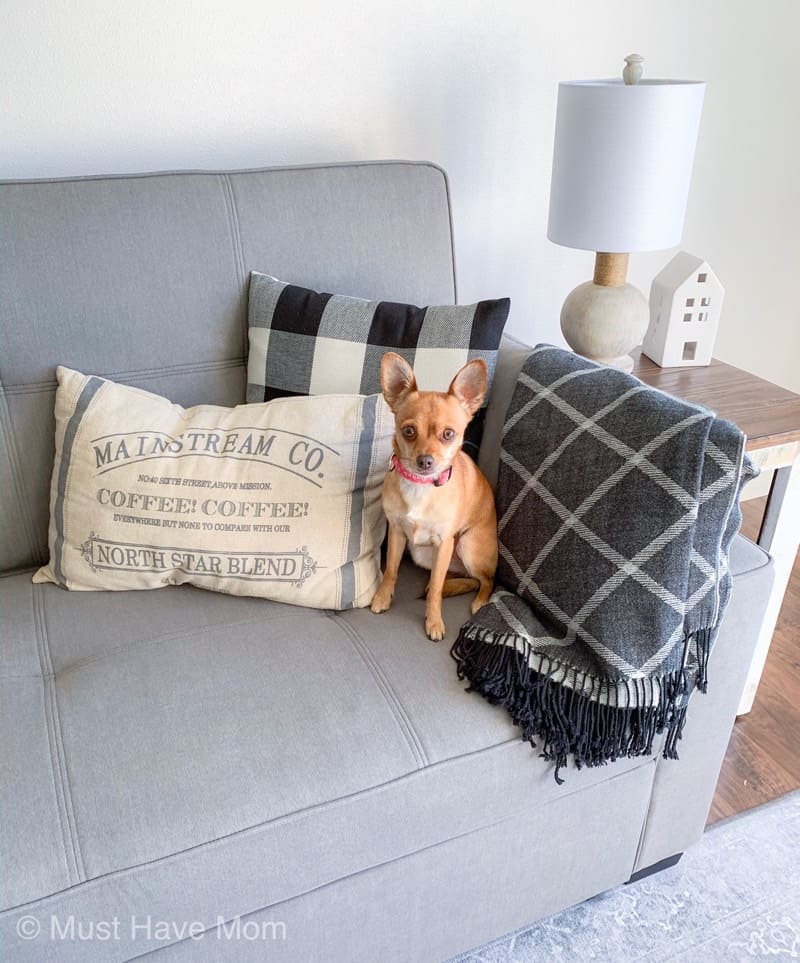 You're looking for something affordable
If you are making the switch towards more organic options then you'd understand how eco-friendly options are often so crazy expensive. When someone mentions organic to me, I always look at the price. And I'm sure that all the above discussion regarding our organic futon must have had you wondering about the price.
The good thing is, this queen sofa bed comes in almost the same price range as other regular sofa beds. Consider the money you'd be saving in the long term if you go with this eco-friendly sofa. When you take care of your health the savings are immeasurable. You just can't put a price on your health but lucky for you you won't have to. This sofa bed is affordable!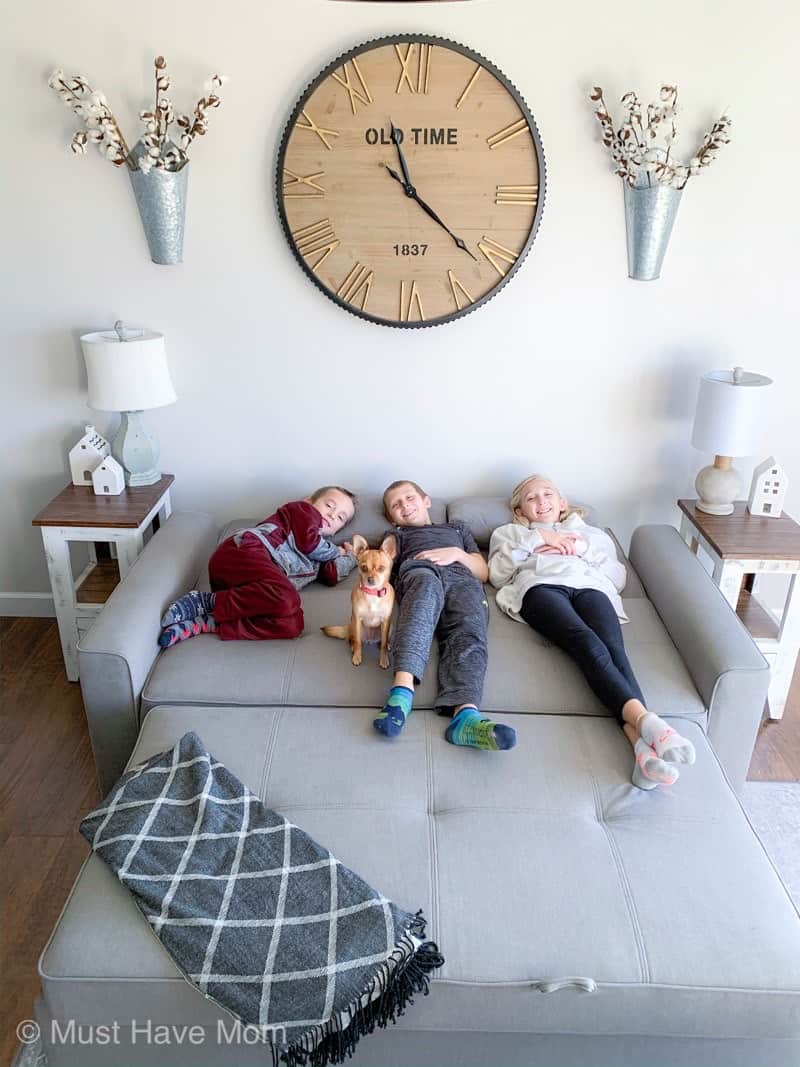 You've got kids
I don't remember how much effort I've spent cleaning sofas with my kids. Juice spills were the worst because they often leave stains if you don't wash them instantly. I'd rather not talk about the diaper training times (though this pee remover made that time a little bearable).
If you have similar cleaning issues, you might want to read this Sonic Soak Review.
The cover of this organic futon is made from smart fabrics. This fabric is mostly water and stain-resistant. So, if there is a spill, the fabric doesn't absorb the stain. So, basically it's like leather, except it has a beautiful soft fabric that makes you look like you have all that mess under control (*wink*). Of course, my husband wanted to make sure we fully tested out this feature before I shared my excitement with you so he rubbed the tire of the furniture dolly (BLACK) along the brand new sofa bed. No worries though! The black rubber mark came right off the couch with a wet towel. I was amazed and so impressed! (sorry for ratting you out hon!)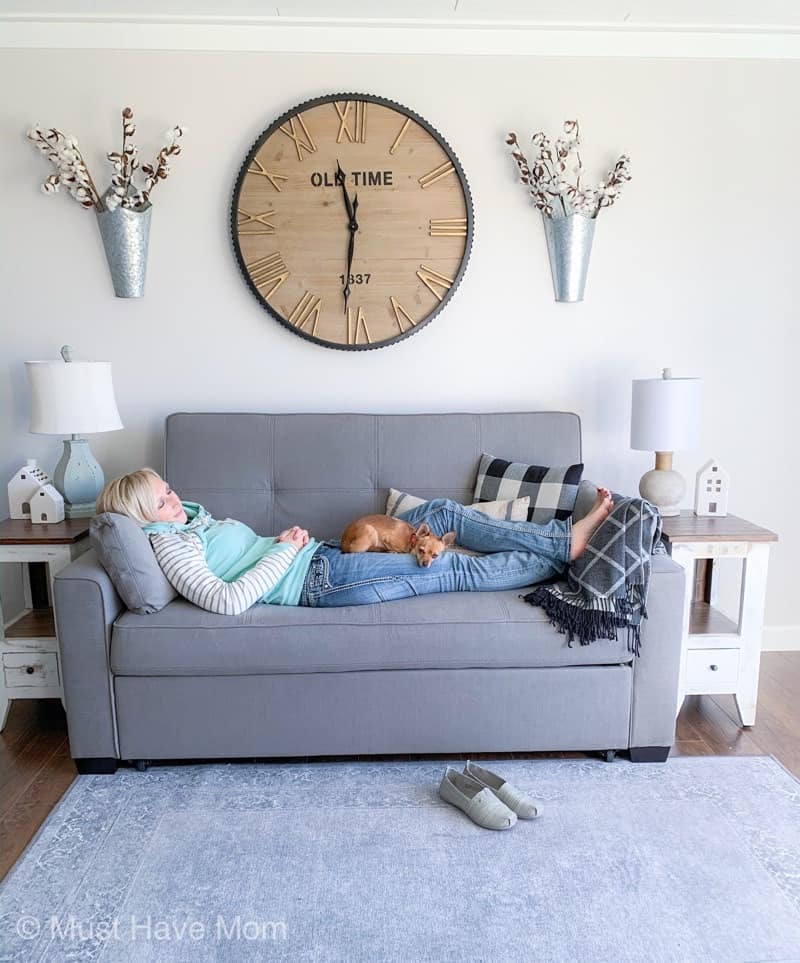 Another reason my hubby calls it the best sofa bed is because there's no assembly required. It comes just the way it looks in the picture. We didn't have to pack the kids in the other room while trying to figure out what went where. Seriously, that alone was a big YES for us. That means more time for napping and less time spent assembling!
Get the modern sofa bed by The Futon Shop here. I promise you won't regret it! I had a tall order to fill when I started my search for the best sofa bed and this one checks all the boxes!
Pin Modern Sofa Bed