This Santa cam ornament is so adorable and is SO easy to make! I'll show you how to make a Santa cam ornament yourself and where to find the Santa cam SVG (design image) to make it!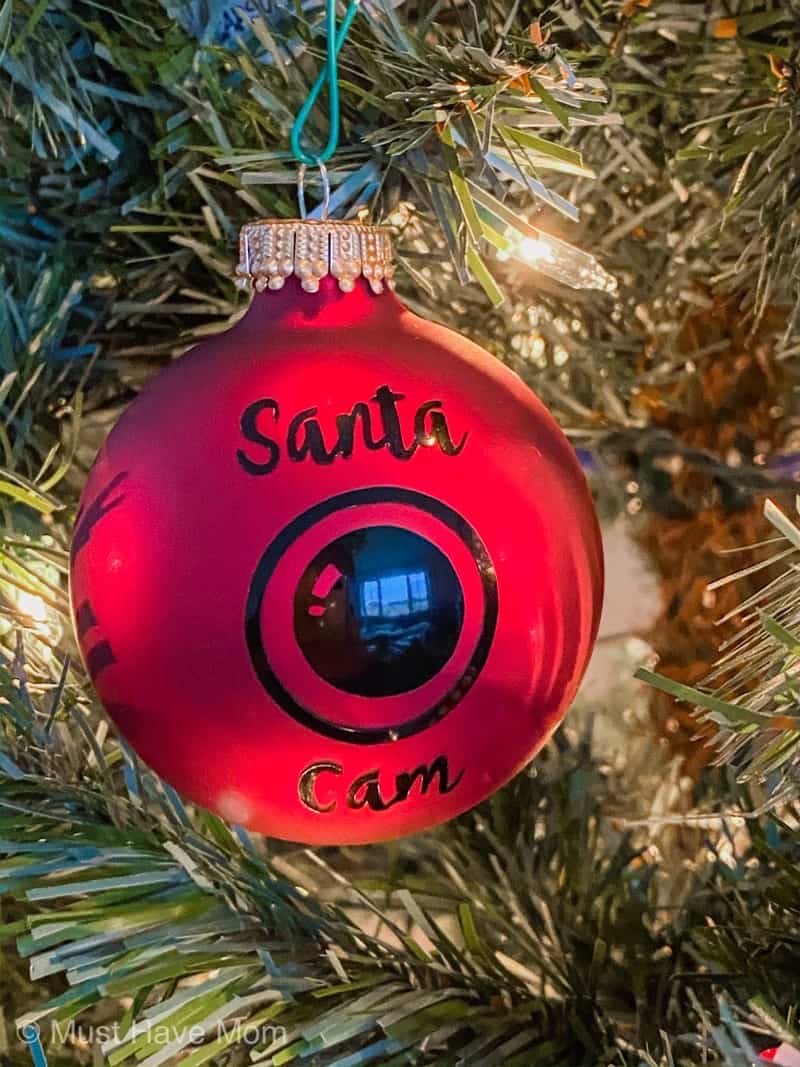 These Santa camera ornaments make adorable gifts or double as a great item to make and sell at craft fairs. Whatever you choose to make them for, I'll show you how to make a bunch in a short amount of time with these tips I learned during my own crafting process of making a bunch. There are some secret tricks to make transferring the vinyl to the ornament much easier!
Santa Cam Ornament
I've shared here that I recently got a Cricut Explore Air 2 and since then I've been a crafting maniac and have made so many wonderful things. I'm totally hooked on crafting! These Santa cam ornaments are super cute and I'm hoping they also put my kids on their best behavior! Since Santa has a camera in our house he can see everything now so better be on your best behavior!
These do really well selling at craft fairs or even on Facebook. They are inexpensive to make and you can sell them for about $5. They'd also be a great craft DIY for a mom's group!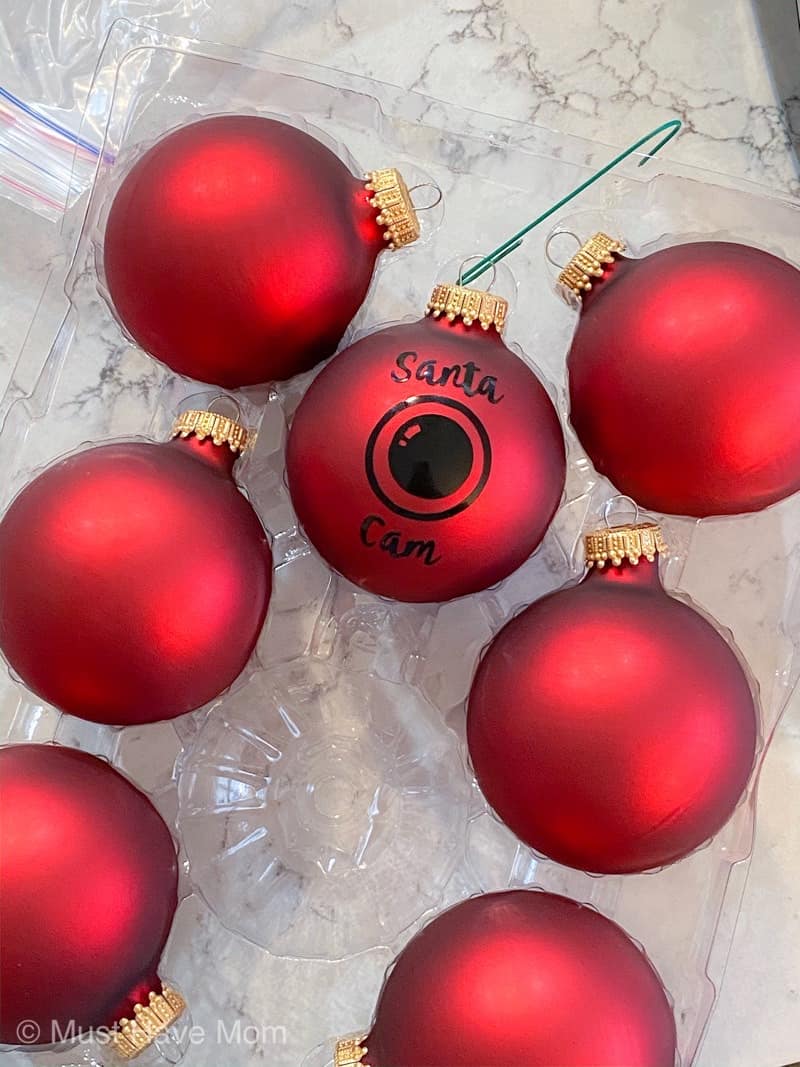 How To Make A Santa Cam
To make your own Santa cam ornament you'll need the following supplies: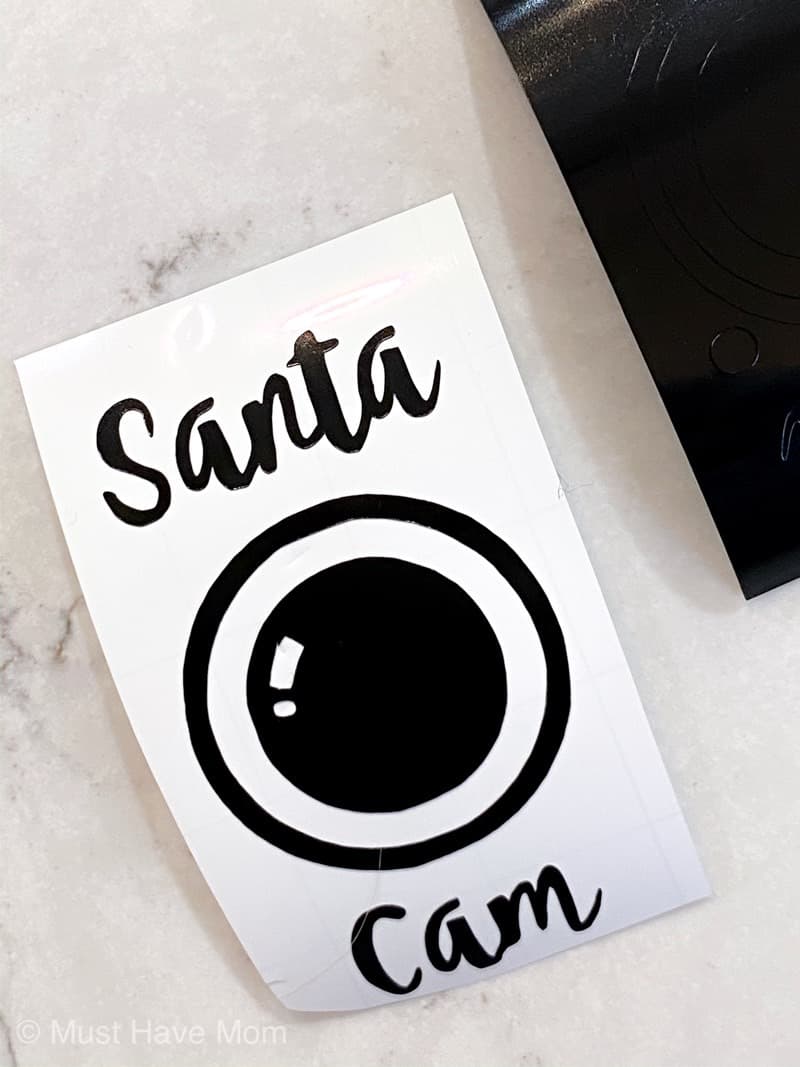 Begin by loading the Santa cam SVG into Design Space. Cut them on permanent vinyl. Use your weeding tool to weed out the extra vinyl pieces that you don't need.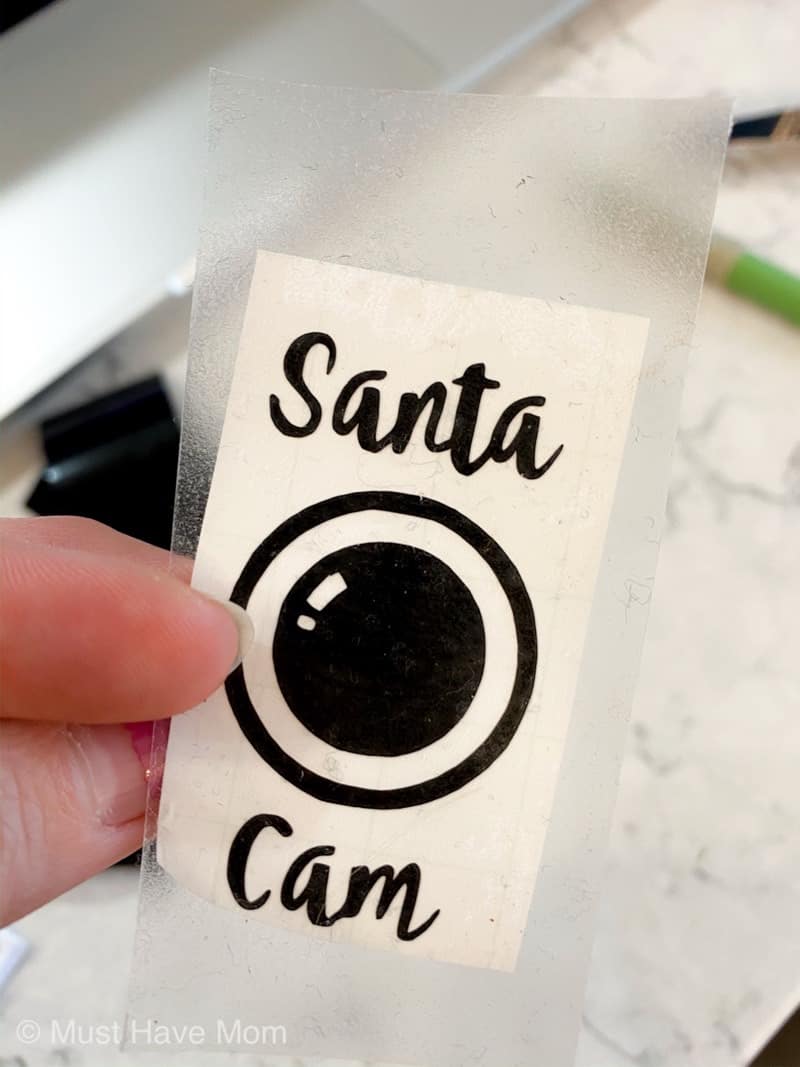 Then, apply your transfer tape over the top of the vinyl design. Press the back of the vinyl (paper side) really well so it sticks to the transfer tape. *Side note – Before using the transfer tape I always stick it to a clean towel a few times to get some of the stickiness off the transfer tape. You don't want it to stick so well to the vinyl that it makes it hard to transfer off of it.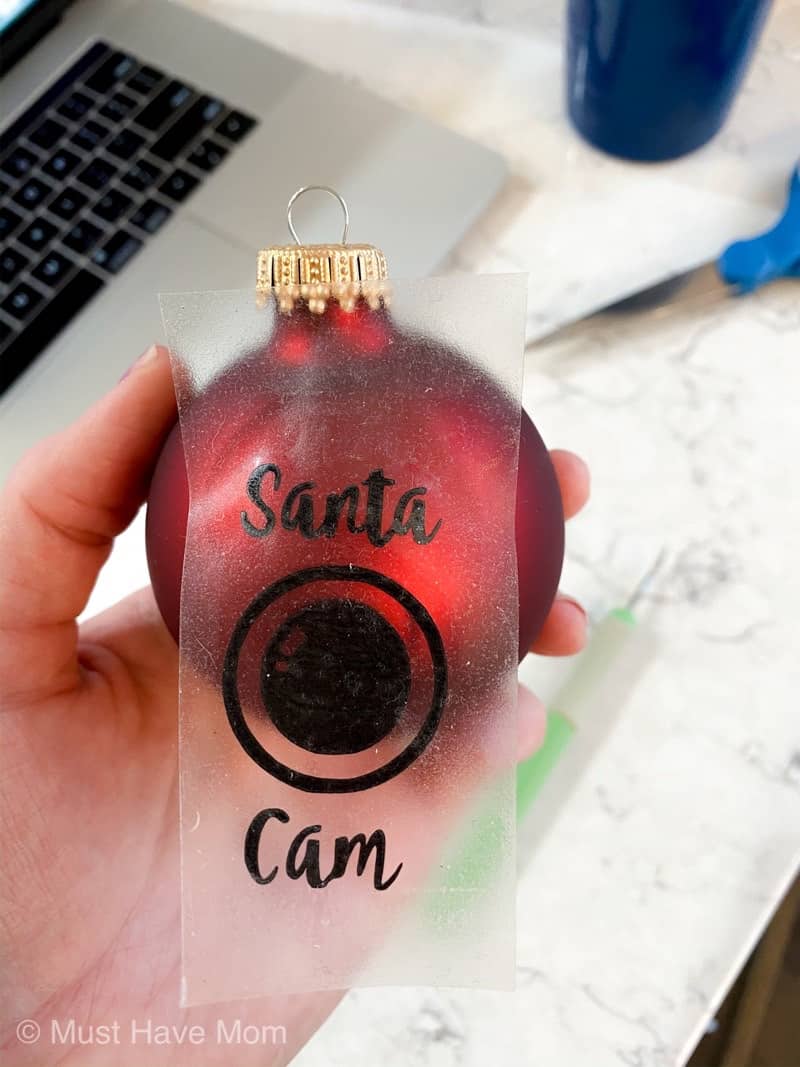 Before applying the vinyl to the ornaments I wipe the surface I'll be applying it to with rubbing alcohol. This helps ensure that the vinyl sticks securely to the ornament.
To make the camera portion of the vinyl graphic easier to transfer over I found that if you cut a slit on each side of the outer circle then it lays flat much easier. Then I start at the top and transfer the word "Santa" over to the ornament. Then move down to the camera and transfer it. If you cut the two sides of the outer circle as I suggested then carefully line up each cut area with the vinyl so you can't tell. This helps it to lie flat much easier. Circles can be hard to work with but this little trick does the job. Then transfer the word "Cam" over to the ornament. Press the vinyl to make sure it has adhered well and that's it!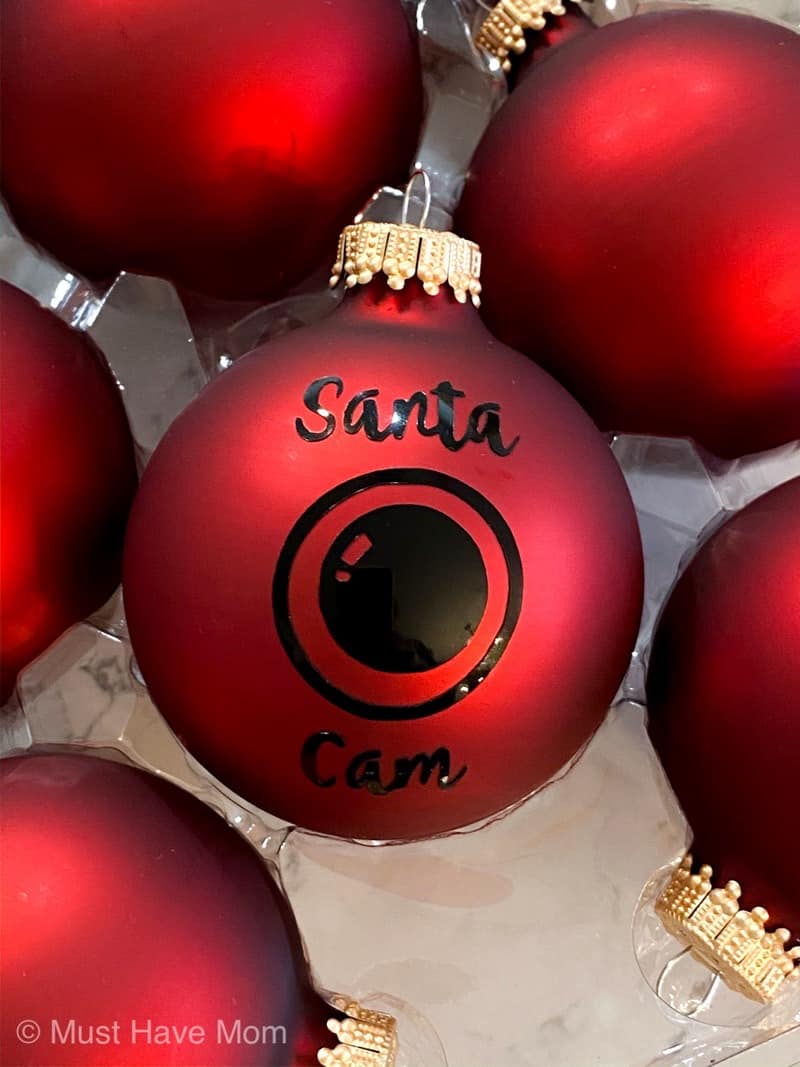 Then repeat for each of the remaining ornaments! I cut all of my Santa cam SVG's from Design Space all at once.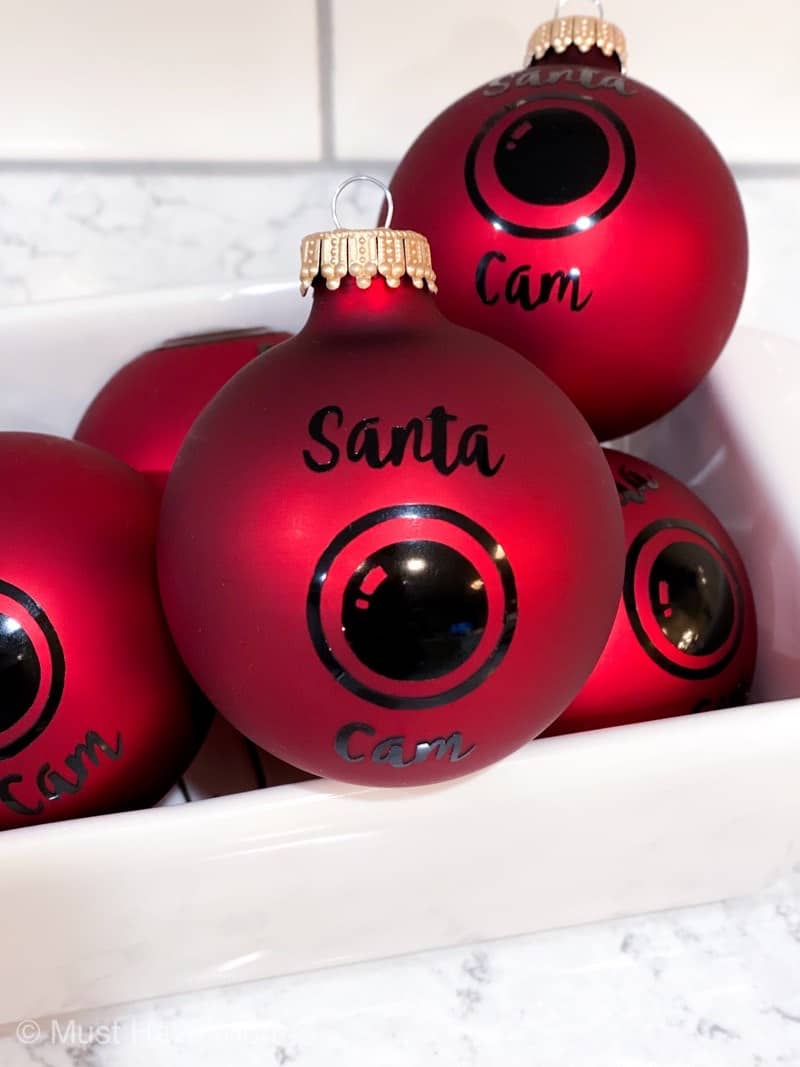 These Santa Cam ornaments are super fun and easy to make using the tips I shared above! Then hang one on the tree and let the kids know Santa is watching! I'd love to see how yours turn out. Feel free to share it on my Facebook page!
Santa Cam SVG
Get the Santa Cam SVG file here: https://musthavemom.com/santacamsvg
Pin Santa Cam Ornaments