DIY Small Bathroom Remodel
We just finished our industrial farmhouse bathroom DIY makeover on our small bathroom and it is gorgeous! I'll show you the before and after photos as well as exactly how you can achieve your own small bathroom remodel success. I'll also share the bathroom remodel cost and how to stay on budget and do everything yourself!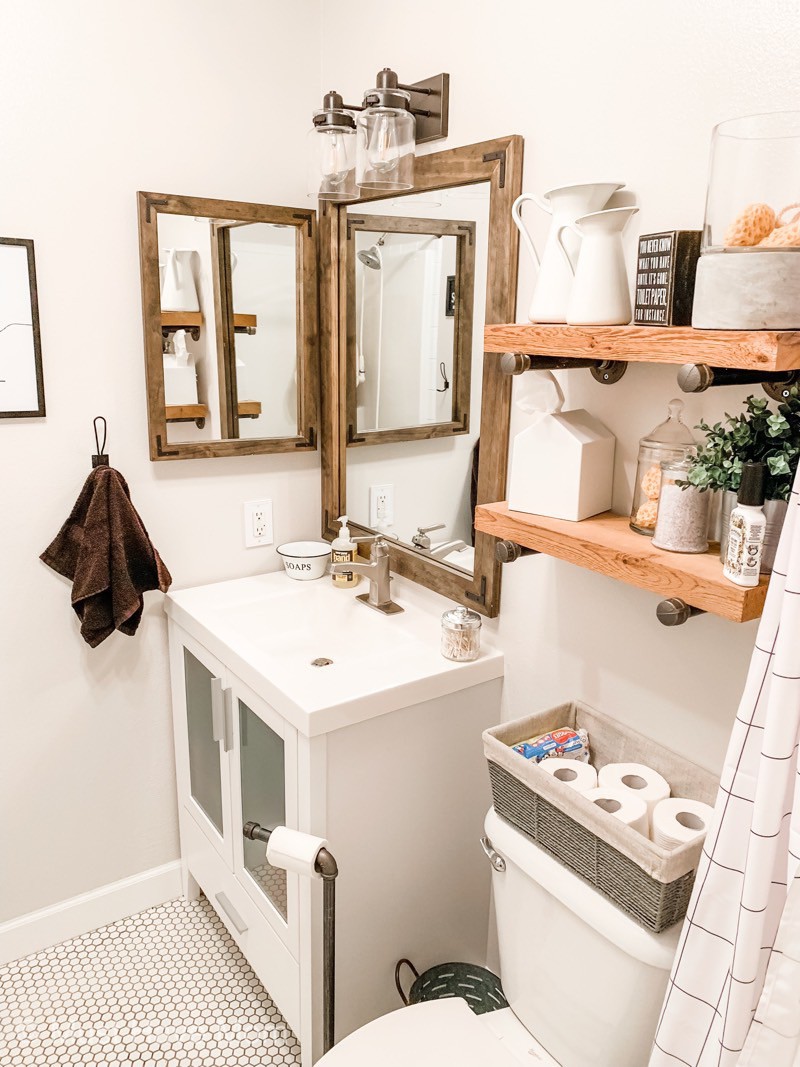 Small Bathroom Remodel
This small bathroom serves as the bathroom that our kids use and our guests use. That means that it needs to do double duty in being guest-ready and being able to stand up to the wear and tear the kids subject it to. We kept all of this in mind while planning it. It IS possible to have a pretty and kid-friendly design.
For this makeover, I chose an industrial farmhouse style design with black metal, wood and bright white. It is a very small bathroom and has no natural light sources so I wanted to focus on bringing a light and bright color scheme into the room. I'll show you how we transformed this small bathroom from feeling like a dark cave to feeling bright and airy!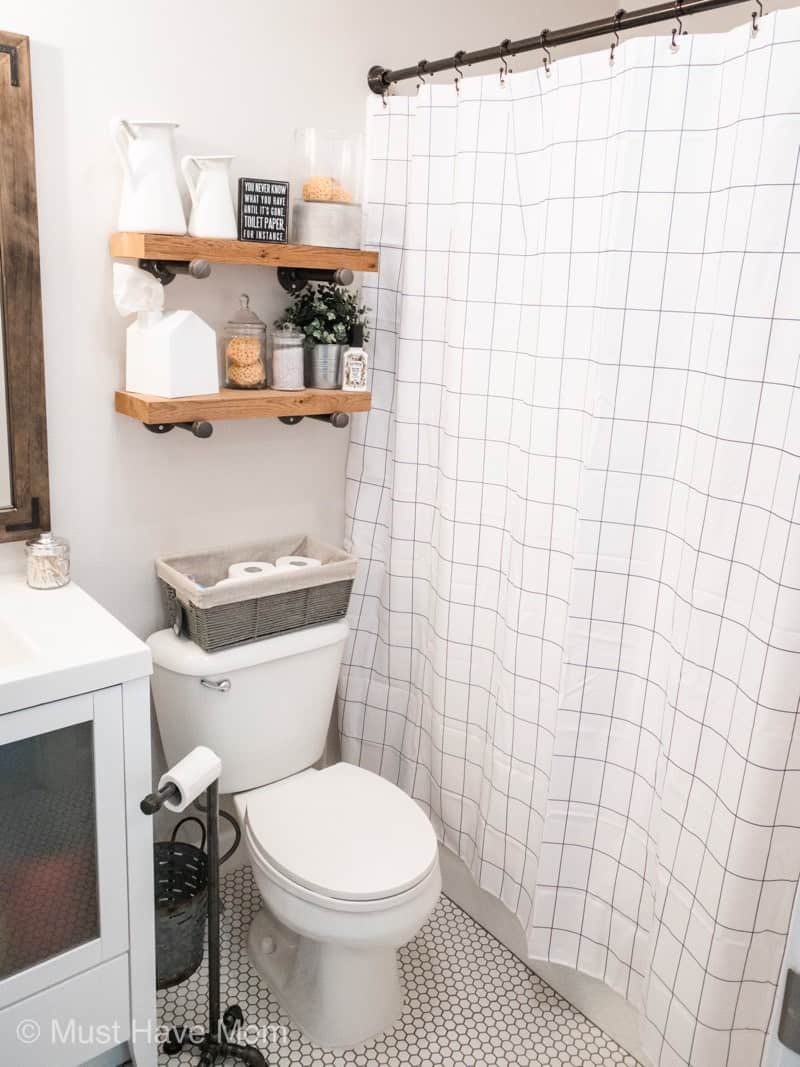 Modern Bathroom Remodel Before and After Pictures
Here is a look at the before and after photos of our small bathroom remodel. You can see there was a huge transformation! Since this bathroom has no windows there was very little light and it felt small, dark and cave-like. Since we picked a lot of white and light colors for the remodel, it now feels bright, airy and open. Take a look for yourself!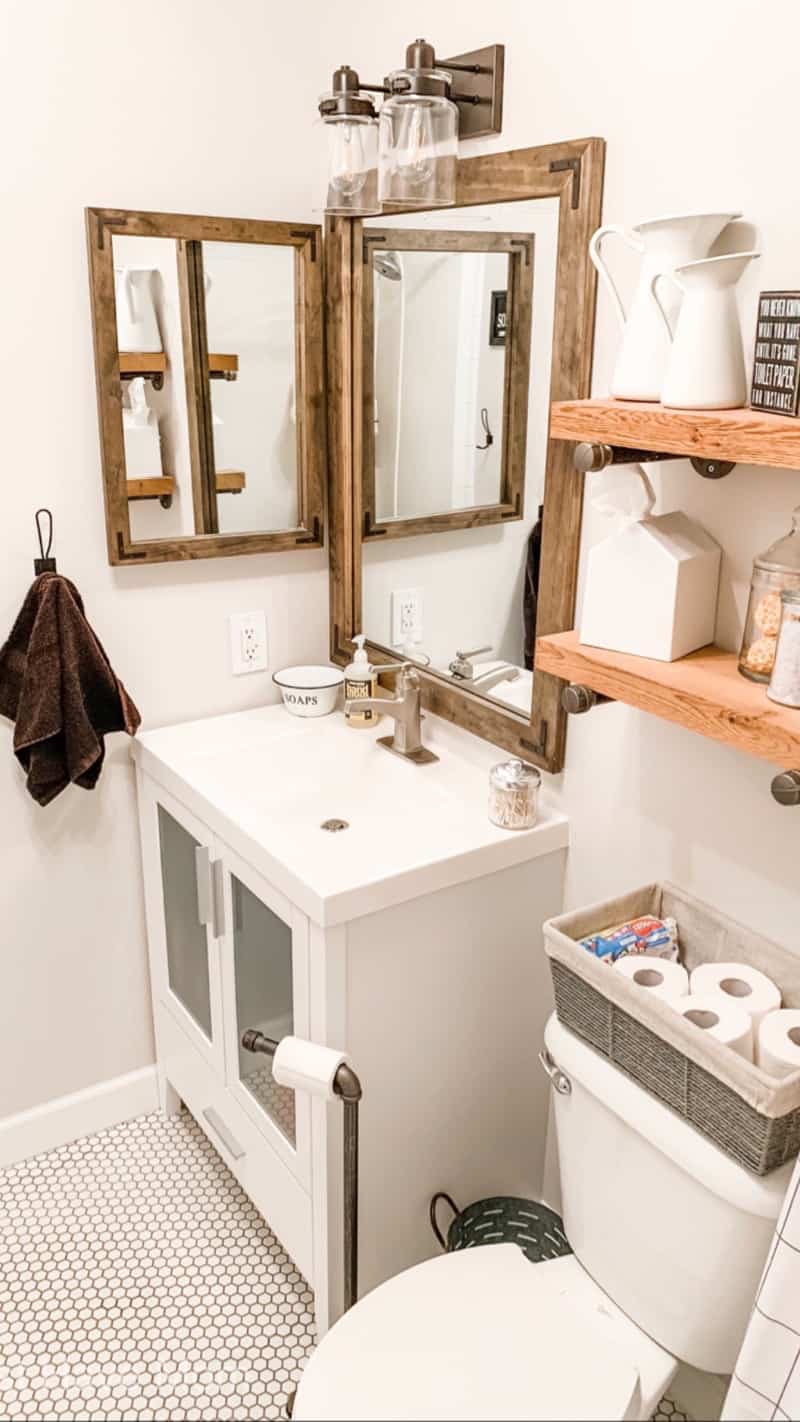 DIY Bathroom Remodel
Now that you've seen the before and after transformation, let's show you how we did it! This was a fairly easy remodel that made a HUGE impact on the overall look and feel of the room. Whether you are doing a DIY bathroom remodel for your own enjoyment or to enhance the resale value of your home, bathrooms and kitchens sell homes! You will see a return on this project.
Begin with painting the walls and replacing the trim. We chose a Pearly Gray color from Dutch Boy paint for the walls and we replaced the wood trim with white trim. We painted the trim Dutch Boy in their bright white color.
DIY Modern Bathroom Tile Floor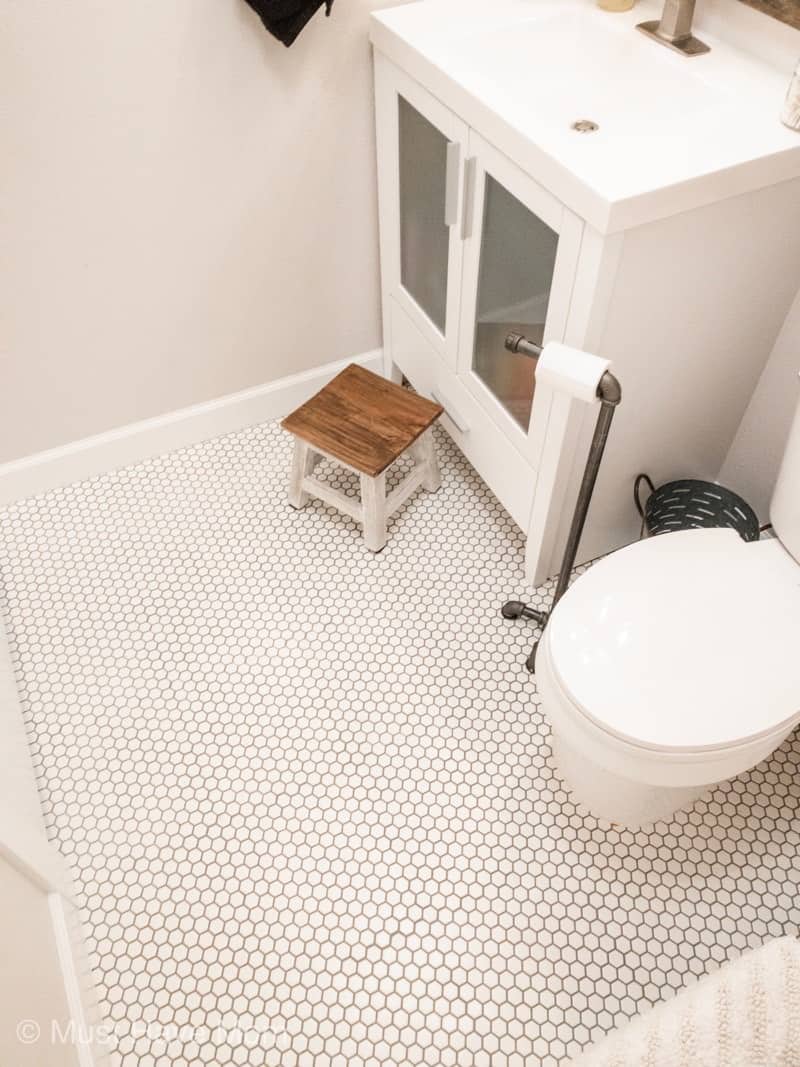 We replaced the existing linoleum flooring with this gorgeous white honeycomb tile. We had to rip up the flooring to do this and I'll be sharing how we did it step by step in another post that I will link here when I post it.
Small Bathroom Ideas
Industrial Farmhouse Style Bathroom Decor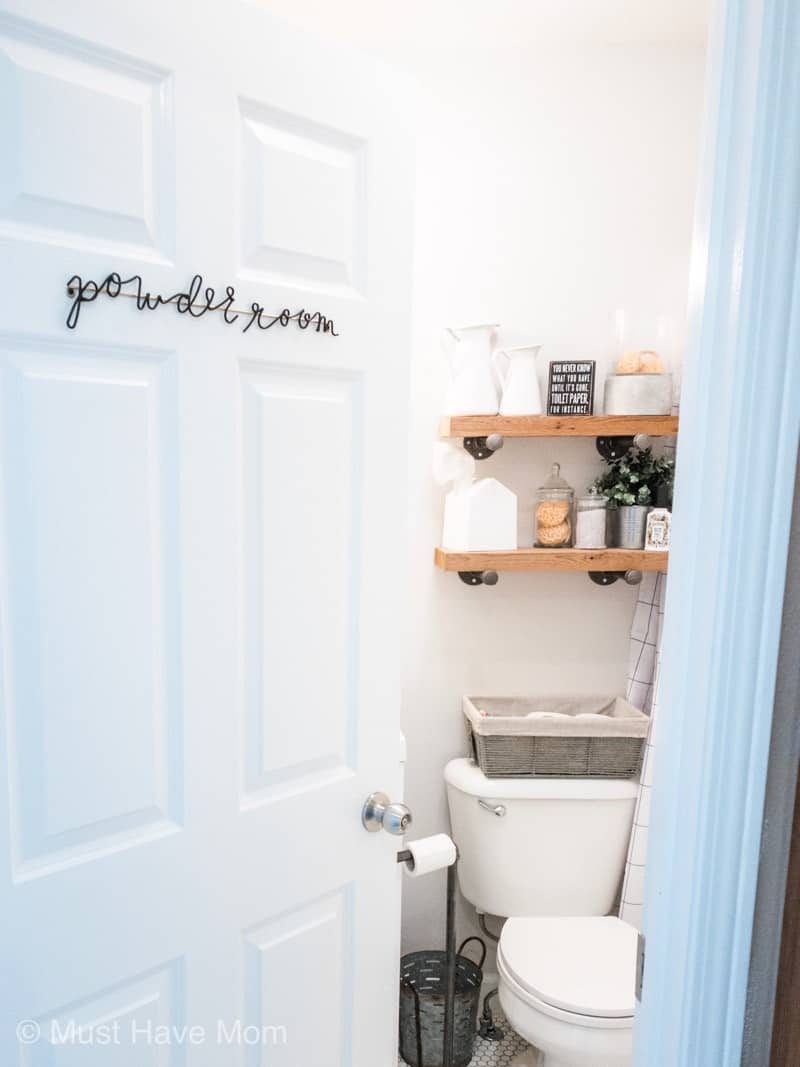 The door of my bathroom welcomes you with a wire powder room sign on it. Guests won't have to wonder if they are entering the right door when it's closed thanks to this cute sign! The black wire matches the rest of the design as well.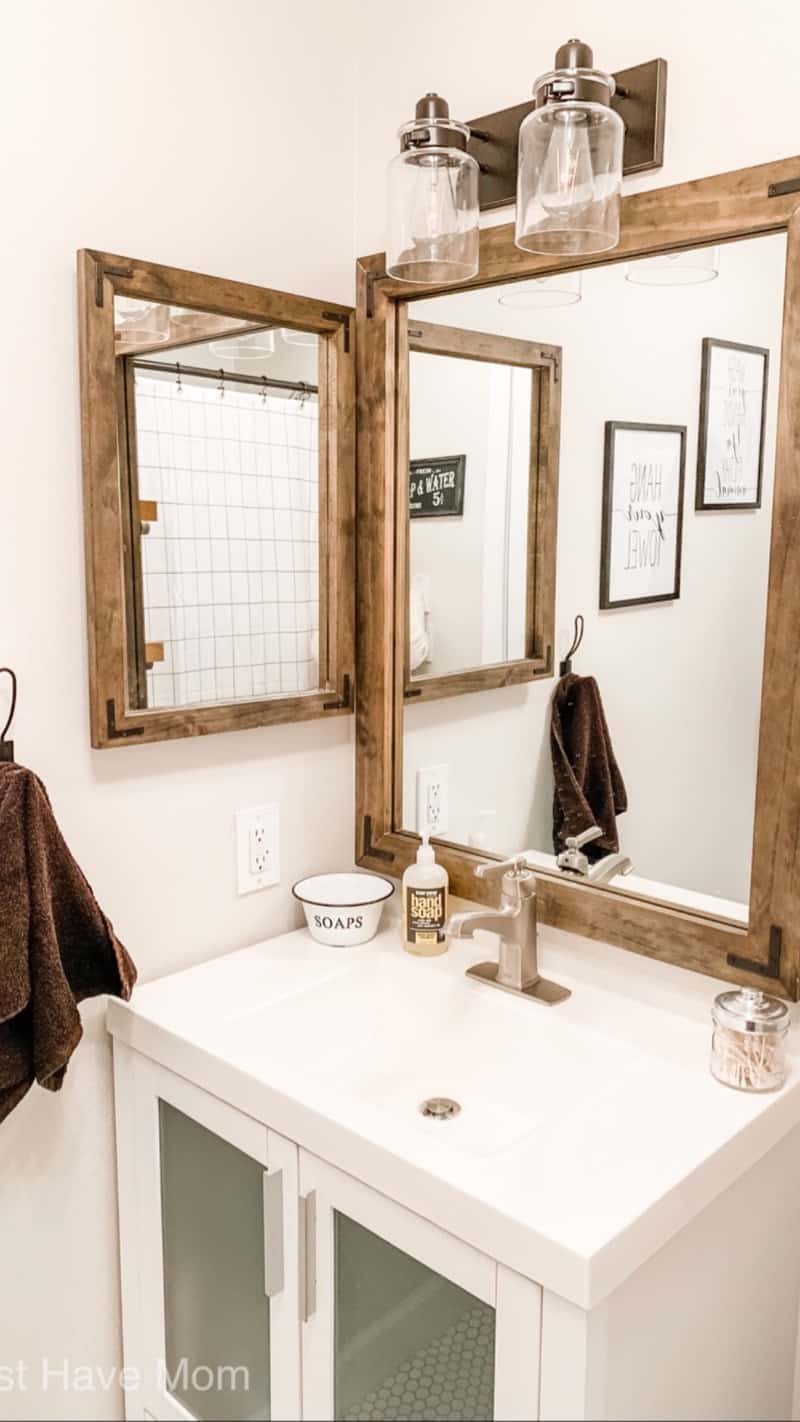 I scored this bathroom vanity from Lowe's on clearance for just $52! Watch for a steal like this for your small bathroom remodel too.
For the vanity mirror and medicine cabinet, I used the mirrors that were already there and built a farmhouse style frame around them. Get the step by step directions for this DIY farmhouse style vanity mirror here.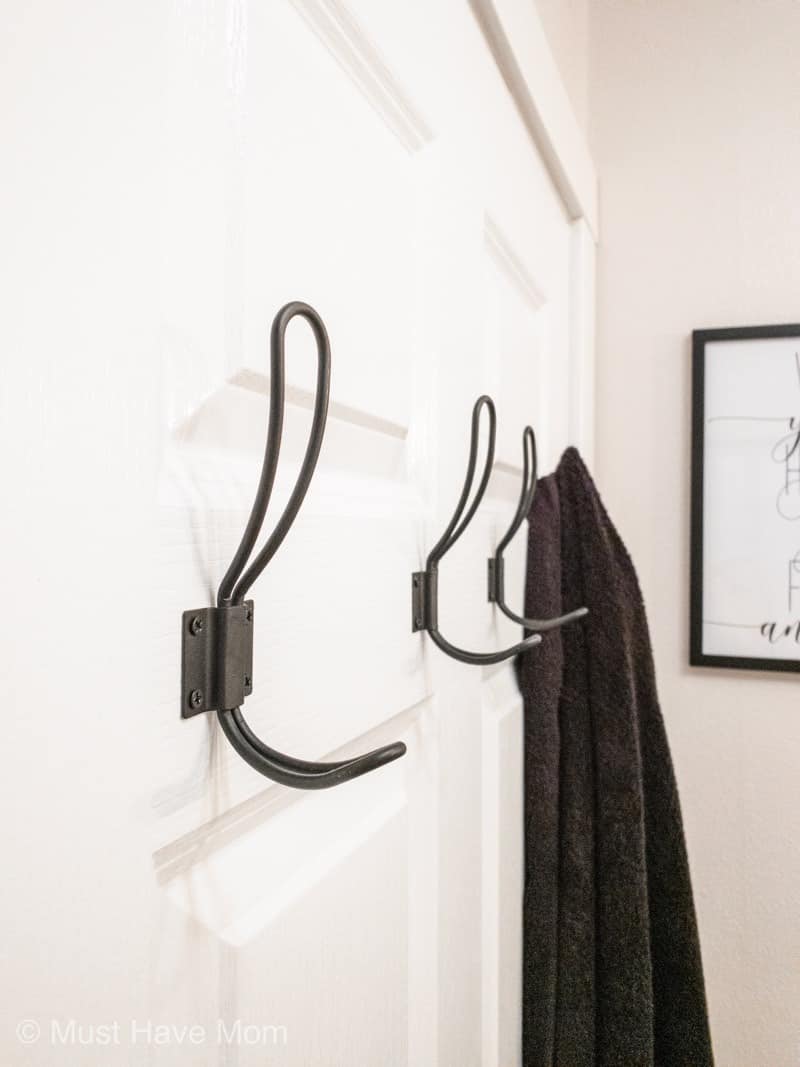 On the back of the door, I added these vintage black hooks to hang towels on.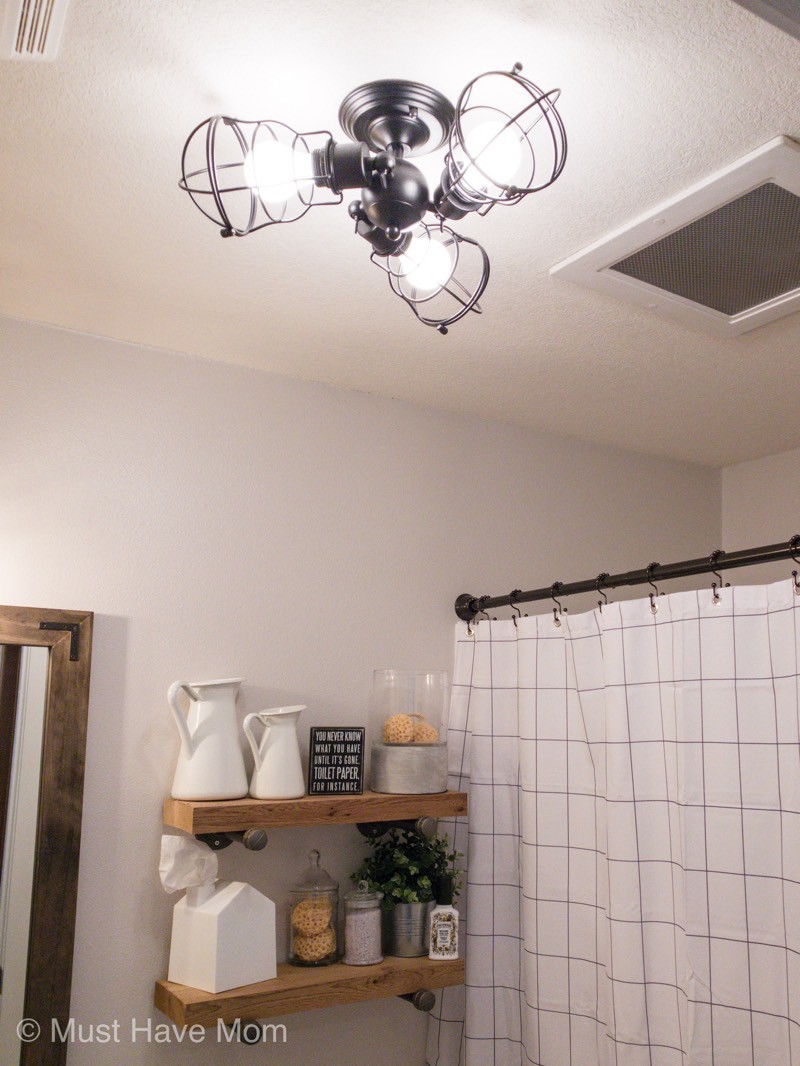 Industrial Farmhouse Light Fixture
This light fixture is arguably my favorite feature! I love this light and it provides plenty of bright, clear light to really illuminate the white palette and give this room it's airy and bright feel.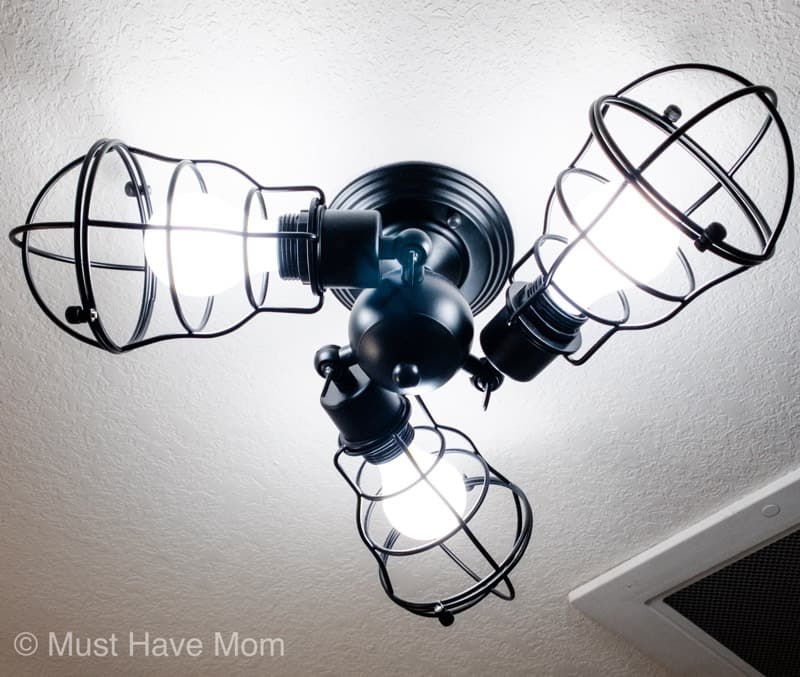 I got this black vintage style light fixture from Amazon at a steal of a price. It's really well made and looks way more expensive than it is. Instead of using Edison bulbs, I used regular LED bulbs to get the clear, bright light.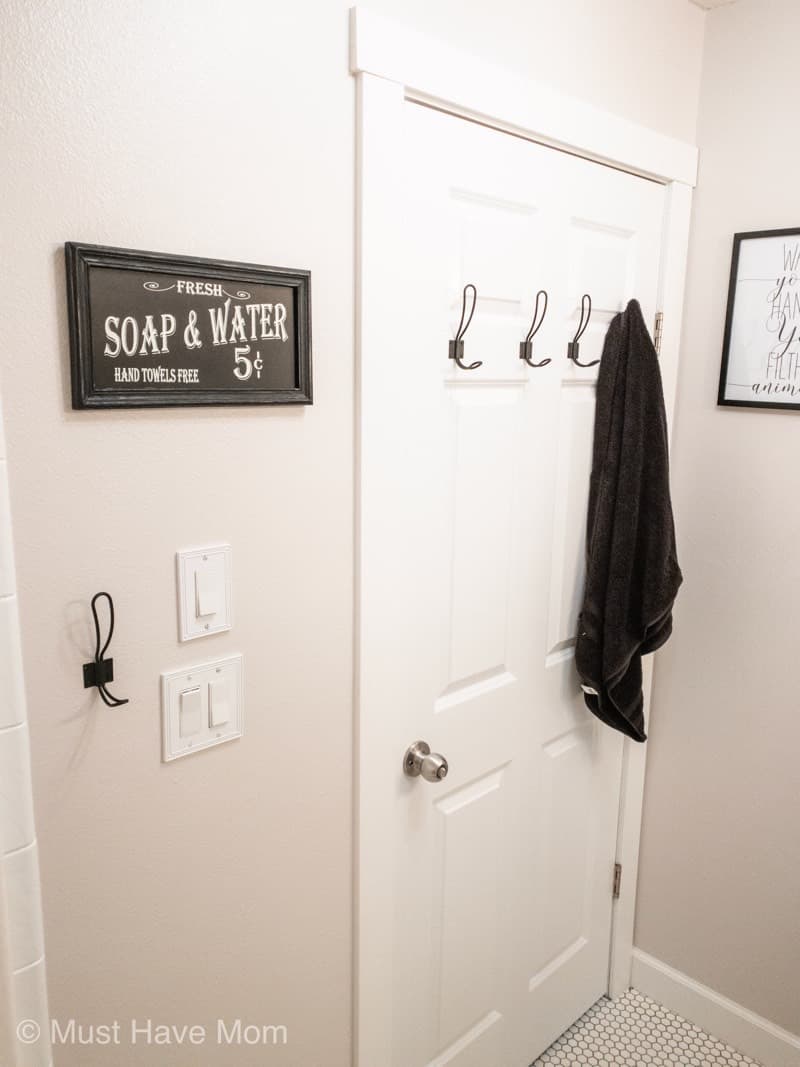 I also added a vintage black hook at kid-height near the shower so that the kids can easily grab their towel from the shower. If you don't have kids you can mount yours up higher, but for kids, this height works great! I can't tell you how many times my kids yell "Mom I need my towel!". Not anymore!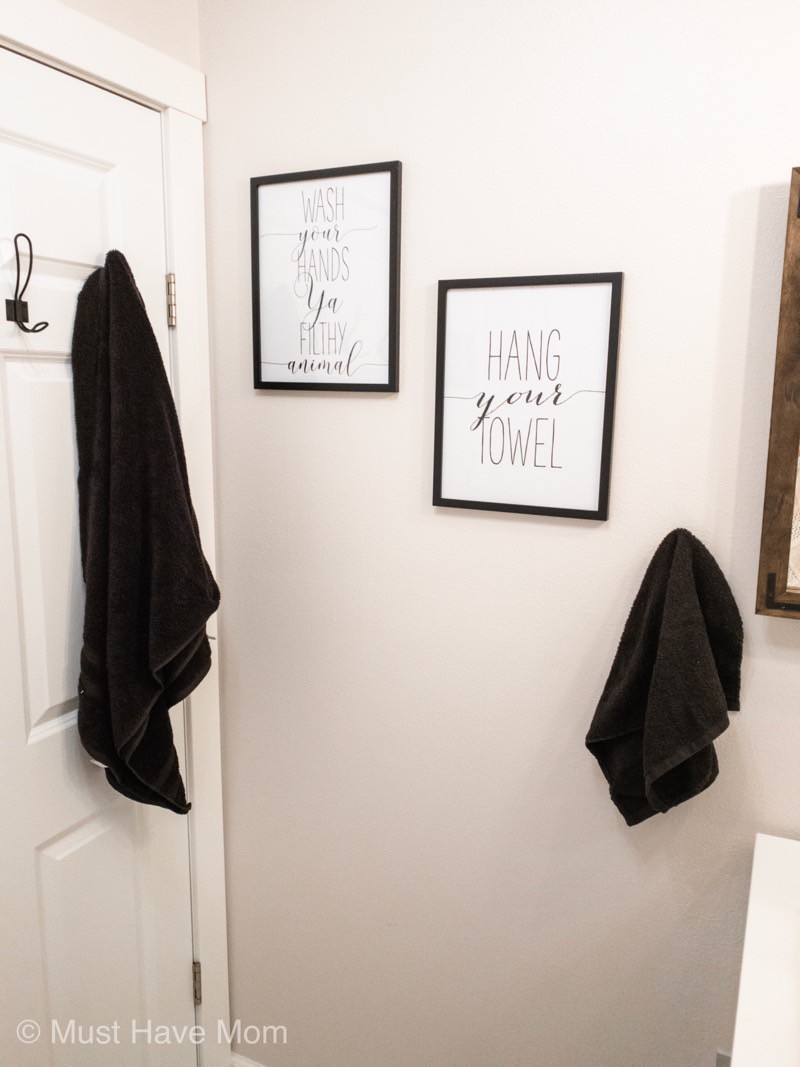 I had an empty wall that needed some love so I got these hilarious prints from Etsy. One reads "Wash your hands ya filthy animal" which is a tribute to my children's love for the movie Home Alone! Of course, it's also a great reminder to wash their hands!
The other sign is a reminder to "Hang your towel" because every, single time I enter this bathroom the towel is laying on the vanity! It drives me nuts because the kids know how to hang it up, they just don't do it.
I ordered both prints from Etsy (here and here) and then I ordered them as poster prints from Walmart photo. I then framed them in these black frames from Walmart.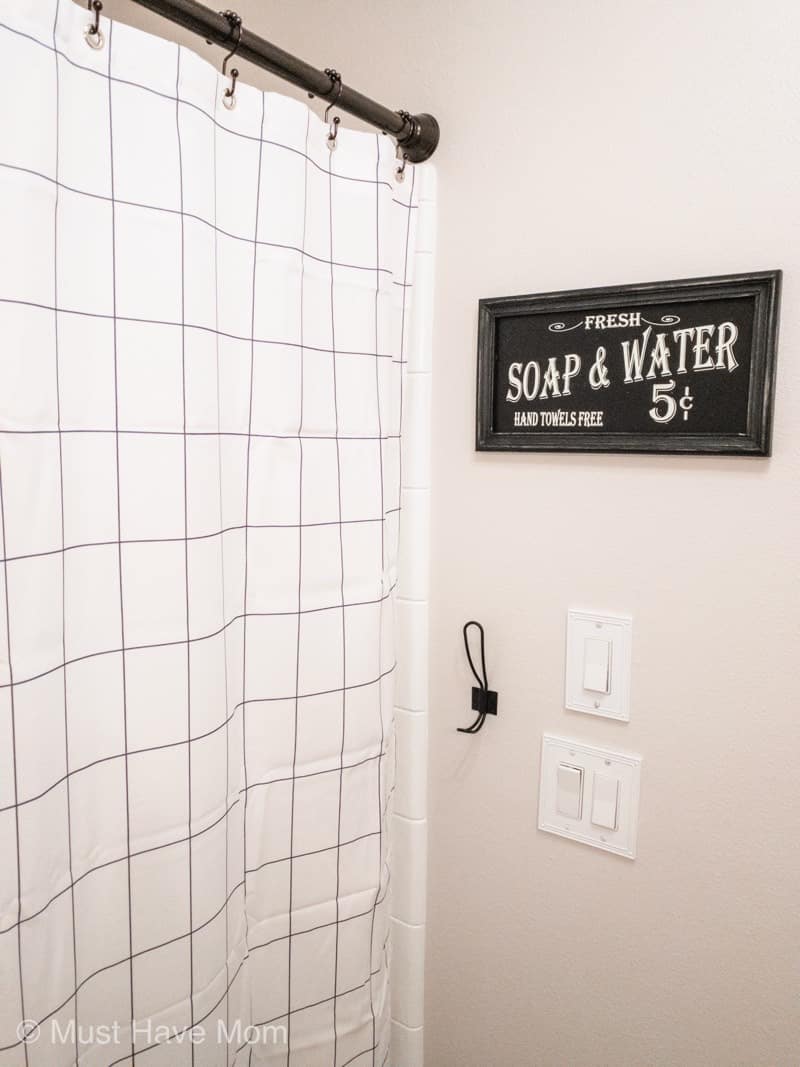 I added this Soap & Water vintage sign above these metal switch plate covers. I also used this shower curtain which I am in LOVE with and these shower curtain hooks and shower curtain liner. We also swapped out the ugly, builder-grade plastic white shower curtain rod for this oil rubbed bronze shower curtain rod which made a huge difference.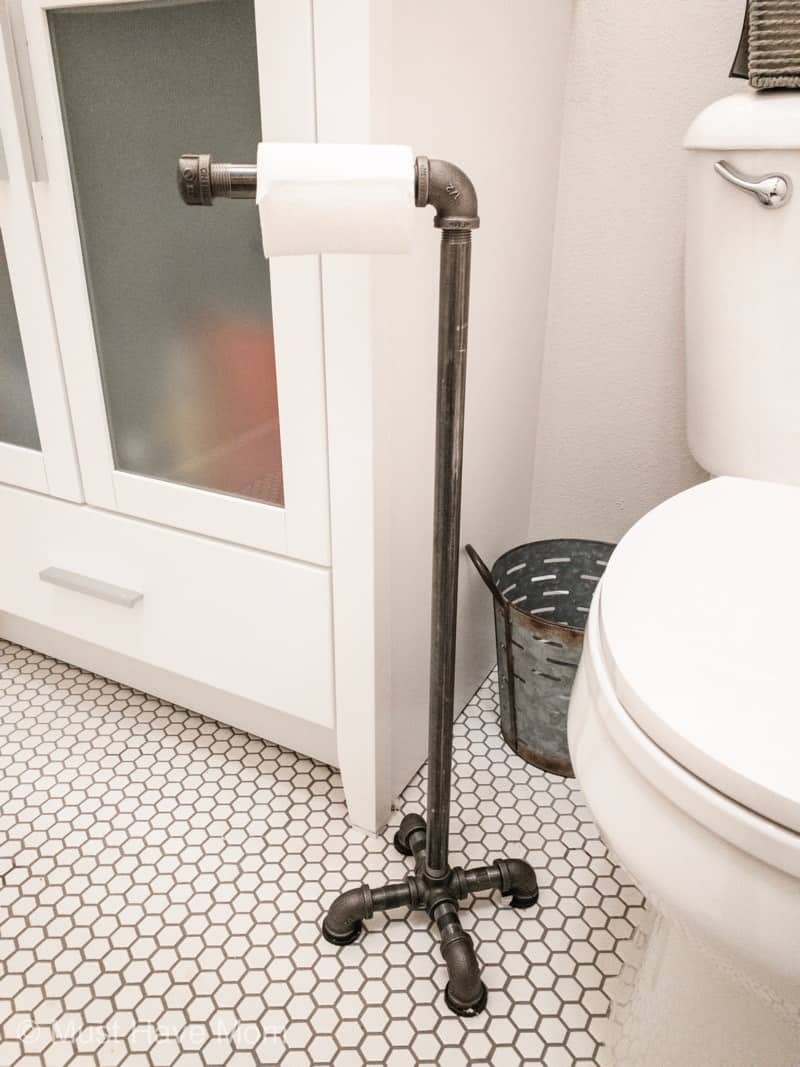 Rustic Industrial Pipe Toilet Paper Holder
We also created this industrial pipe toilet paper holder. You can make this (tutorial to come soon) or you can buy one on Amazon! I also added felt stick-on pads to the bottom so it wouldn't scratch the floor!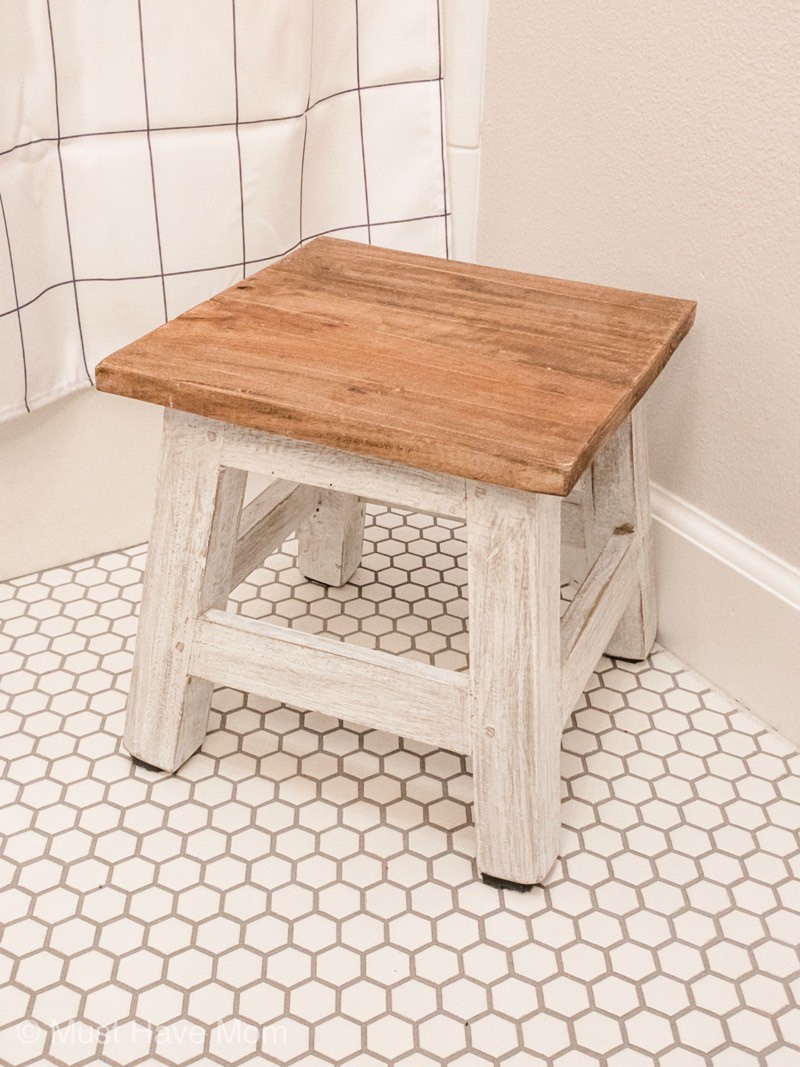 Small Bathroom Rustic Step Stool
My kids are still young and can't quite reach the faucet to wash their hands so I purchased this adorable rustic stool to add to the bathroom and I just love it! It's sturdy and holds their weight perfectly. It gives them just the boost they need to reach the faucet too.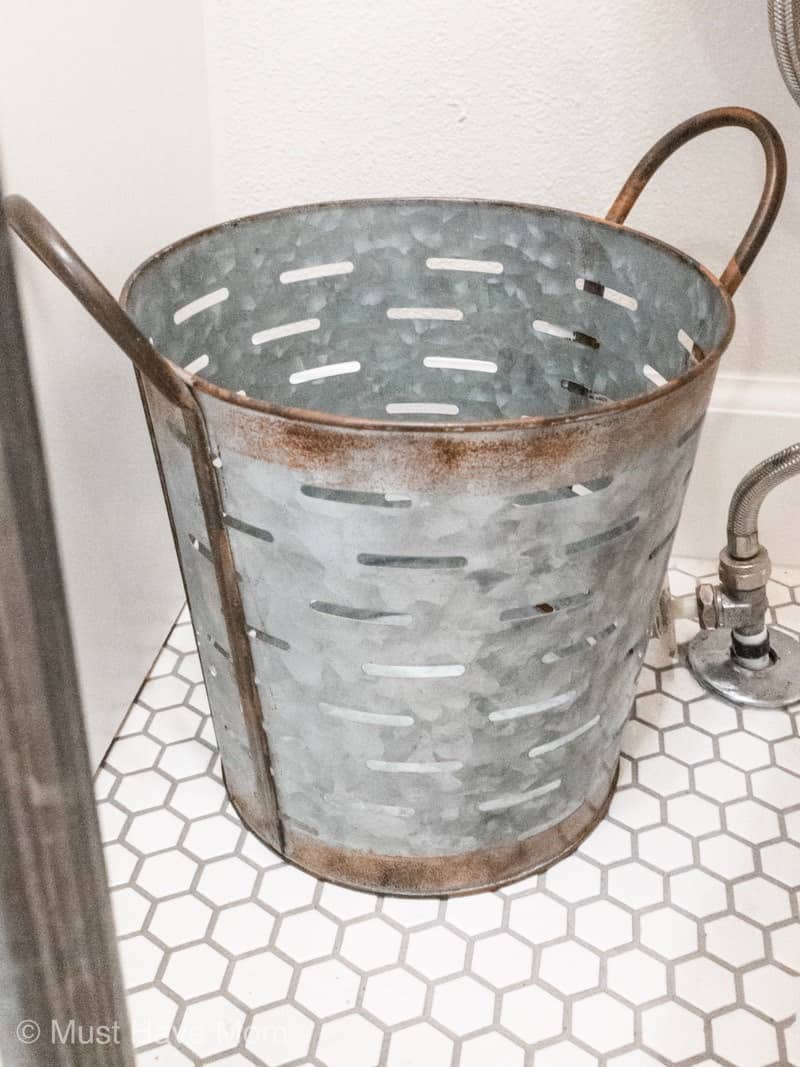 Small Bathroom Garbage Bin
I picked up this galvanized metal bucket for a trash can. It easily fits a grocery bag inside which makes it a perfect farmhouse garbage can.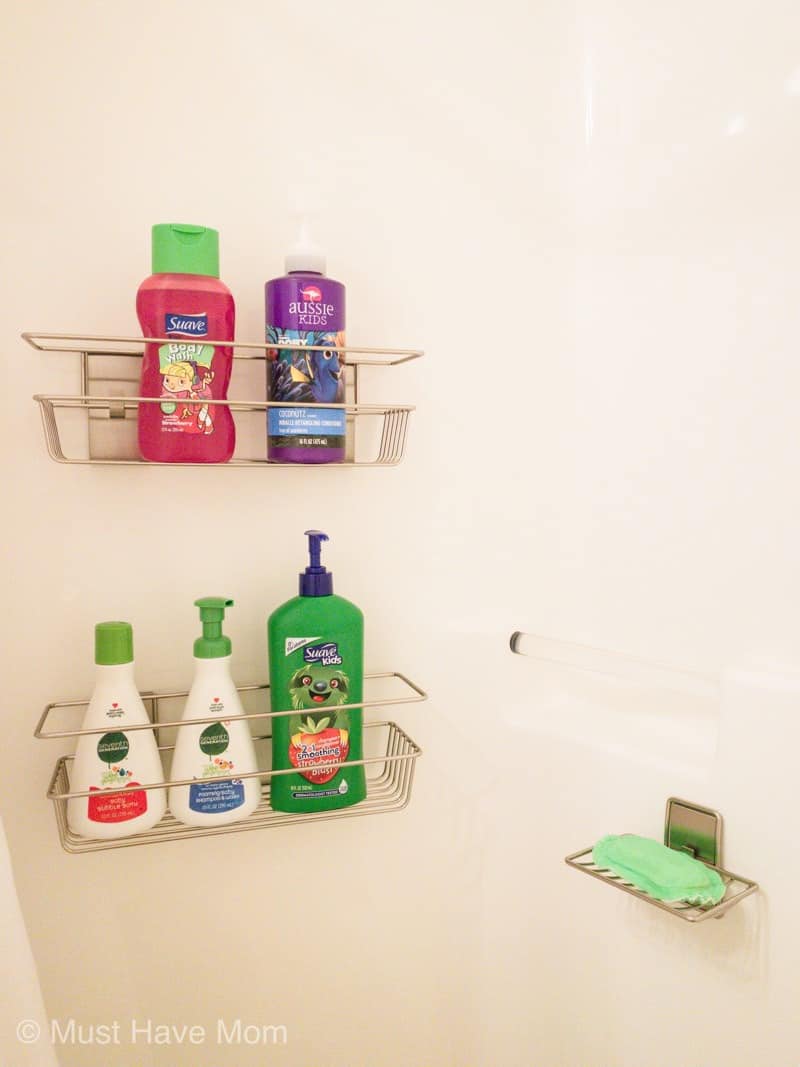 Small Bathroom Storage Idea
Inside the shower, I used these Command metal baskets and soap holder to organize the shampoo, body wash and soap for the kids. They work great and I have them in my master bathroom shower as well. I love not having bottles cluttering up the edges of the tub. This way, the bottles and soap bar dry as well since the basket has openings in it.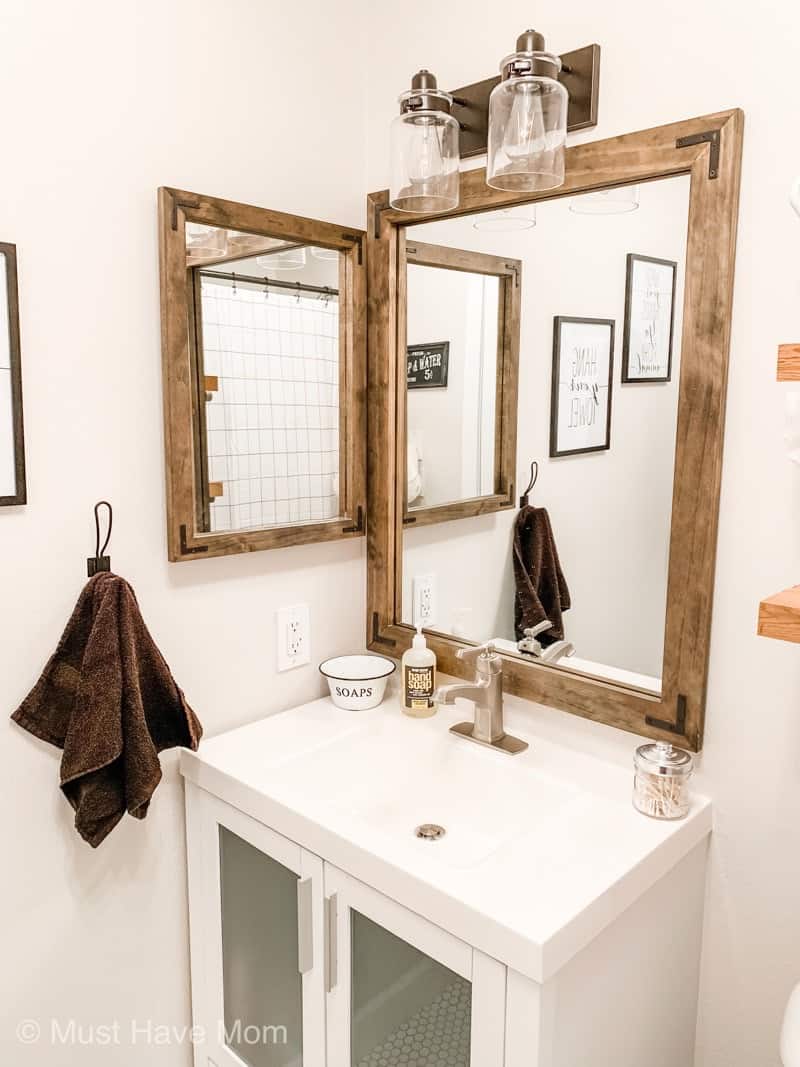 Small Bathroom Vanity
To complete the vanity I added this light fixture above it which is just stunning! It is well made and looks gorgeous above the farmhouse mirror.
Near the sink, I added this enamel soap bowl to hold bar soap as well as a glass jar to hold cotton swabs. We added a vintage hook near the vanity as well, to hold the hand towel. The hook works perfectly for towels. They are easy to hang up and they look pretty too!
DIY Bathroom Shelves
We made our own rustic industrial style shelves on the cheap! I'll have a full tutorial coming soon detailing how we made these DIY bathroom shelves! I'll link it here once it's live. Be sure to subscribe to Must Have Mom's mailing list so you don't miss it!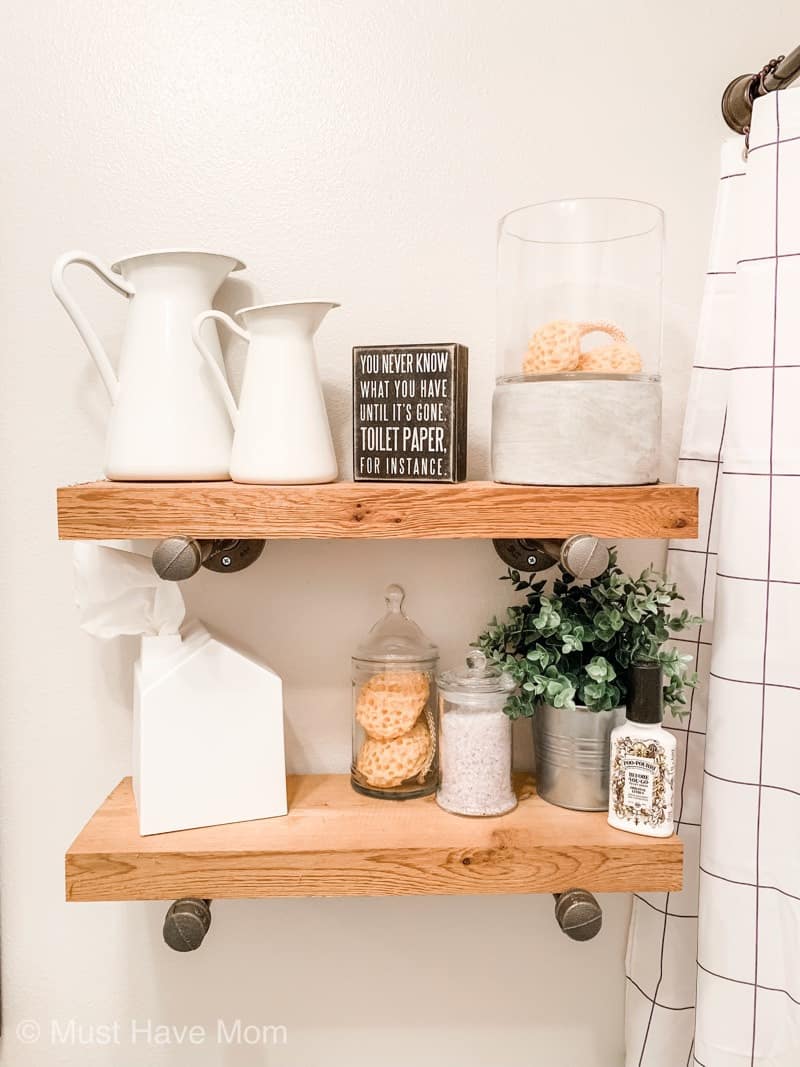 On my rustic shelves, I added enamel pitchers from Ikea and this hilarious sign that says, "You never know what you have until it's gone, toilet paper for instance". I also have a Magnolia cloche I found on clearance that has natural sponges in it.
On the next shelf, I added an adorable cottage tissue cover which allows me to have tissues in easy reach without it looking junky. Add to that a couple of apothecary jars from Target and an Ikea metal bucket and plant, along with some PooPourri spray and you've got a rustic farmhouse style decor collection that looks amazing and is functional too!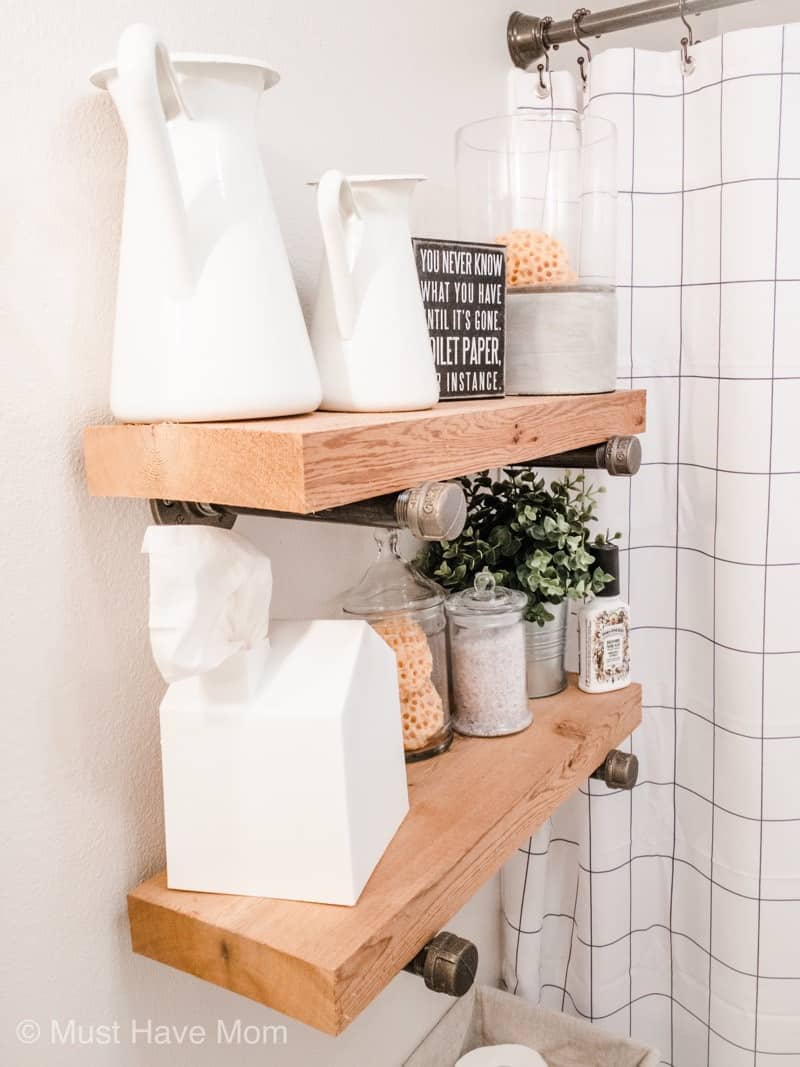 All in all, I spent some time before the small bathroom remodel project gathering supplies and watching for deals. I scoured for clearance finds and scored big on my clearance vanity find and my vision all came together even better than I could have imagined it! I love the outcome and it was worth the hard work and cost.
Bathroom Remodel Cost
The small bathroom remodel project was surprisingly affordable. Our main costs were the flooring supplies and the decor. Here are all of the costs to factor in to your project:
floor tile and supplies to install it
paint
trim
vanity
vanity mirror and medicine cabinet
wall decor
wall hooks
light switch covers
step stool
toilet paper holder
shelves
shower curtain rod, curtain and liner
towel hooks
I hope you enjoyed this industrial farmhouse style small bathroom remodel! If you liked this project then you may also like my farmhouse style bedroom makeover, fixer upper bathroom on a budget and farmhouse chic bedroom.
Pin Small Bathroom Remodel