Make Ahead Copycat Chipotle Burrito Bowl Recipe
This copycat Chipotle burrito bowl recipe is one of my favorites and it's also my go-to make ahead lunch recipe. I prep these on Sunday night and we have grab and go lunches for the whole week! Whether you want a healthy lunch or dinner recipe or you're looking for make ahead lunch recipes, this one fits the bill.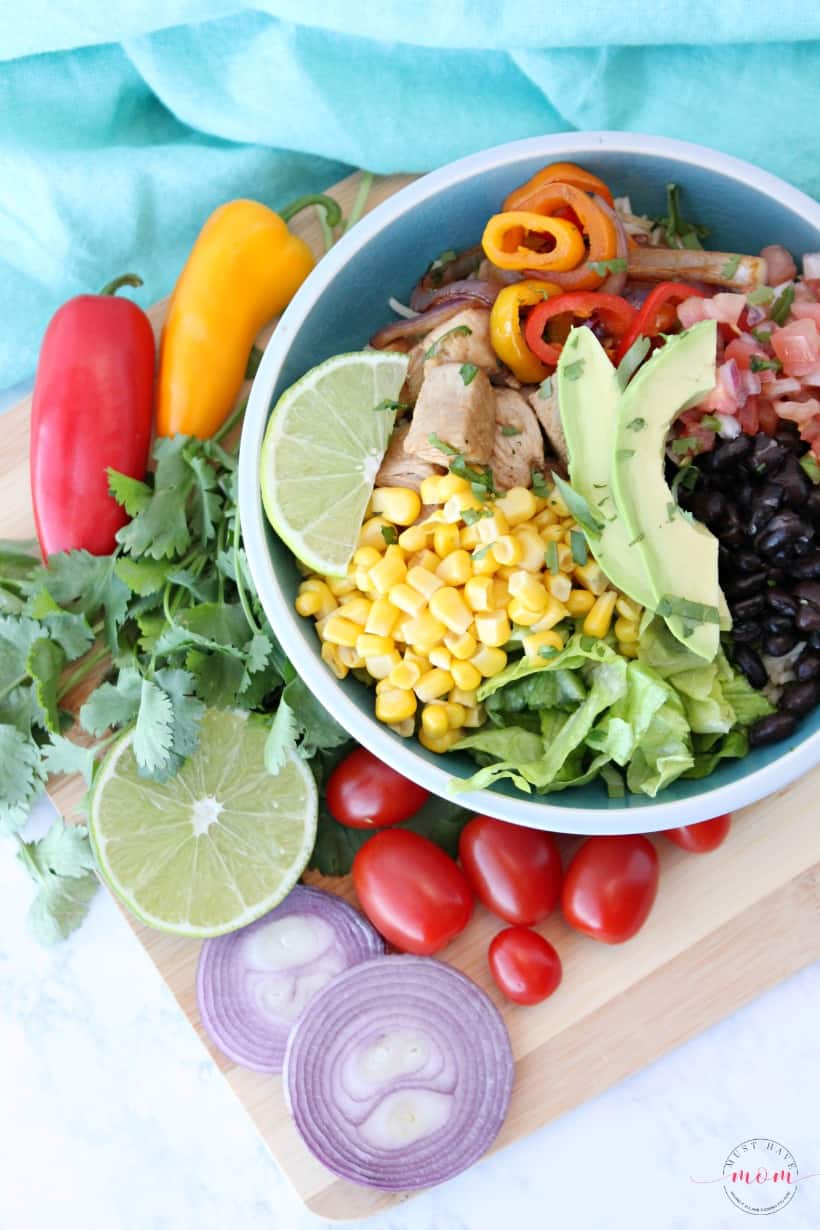 Copycat Chipotle Burrito Bowl
I love Chipotle and I eat there anytime we are near one. Unfortunately, our closest Chipotle is an hour away! I had to find a way to get my fix when I was craving Chipotle that didn't require me to drive sixty miles to get. I think I've perfected the copycat Chipotle burrito bowl complete with cilantro lime rice, fajita veggies and juicy chicken. This is the perfect lunch or dinner and can even be used as a great make ahead lunch idea (more on that at the bottom of the post!). If you love make ahead lunches then make sure you also check out these mason jar salads and these healthy make ahead lunches for school.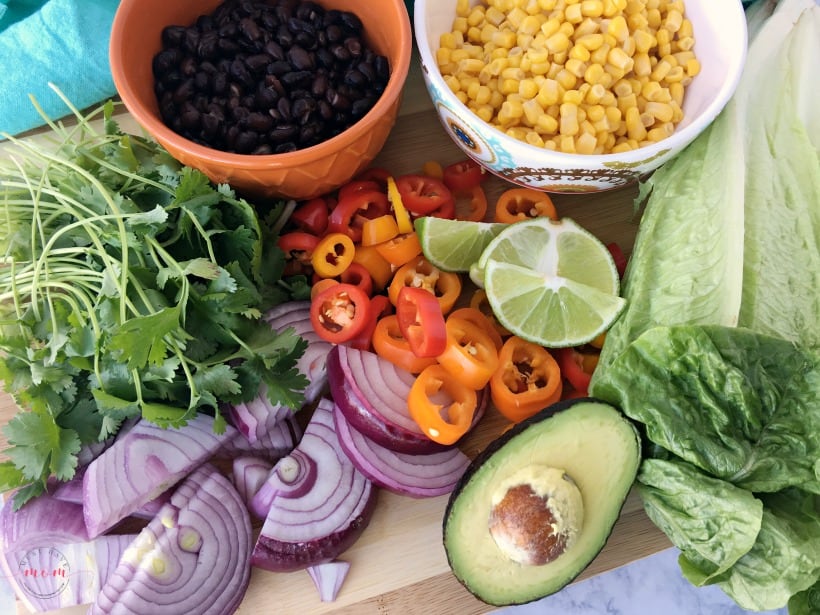 For the copycat Chipotle burrito bowl recipe, you'll need fresh ingredients in vibrant colors. I love all the flavors that go into this bowl and really make the flavors burst. To achieve that amazing flavor combo you'll want the freshest ingredients possible.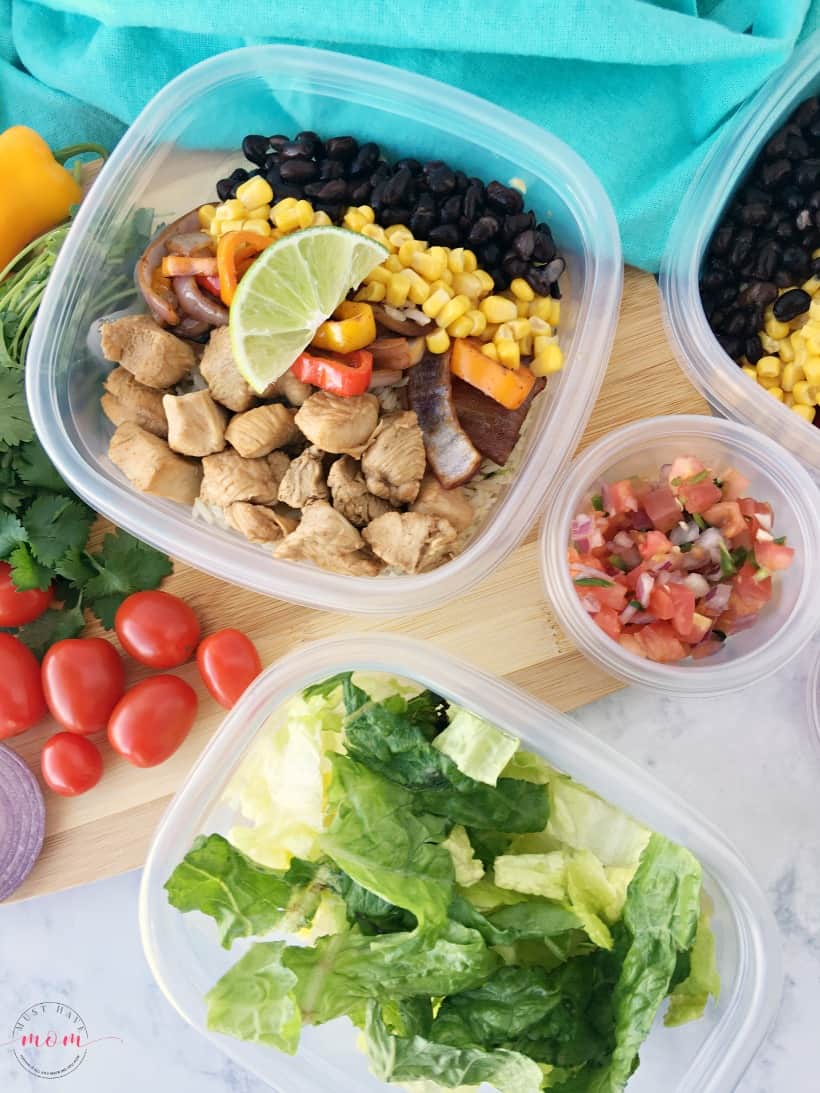 Make Ahead Lunch
My favorite thing to do with this copycat Chipotle burrito bowl recipe is to create a bunch of make ahead lunch burrito bowls for the week. I do this on Sunday night and I have lunches ready to grab and go in the fridge. My husband can grab them on his way out the door to work in the morning and it gives me something tasty to look forward to for lunch instead of the standard mac 'n cheese or chicken nuggets that my four year old opts for. Heck, he even likes these!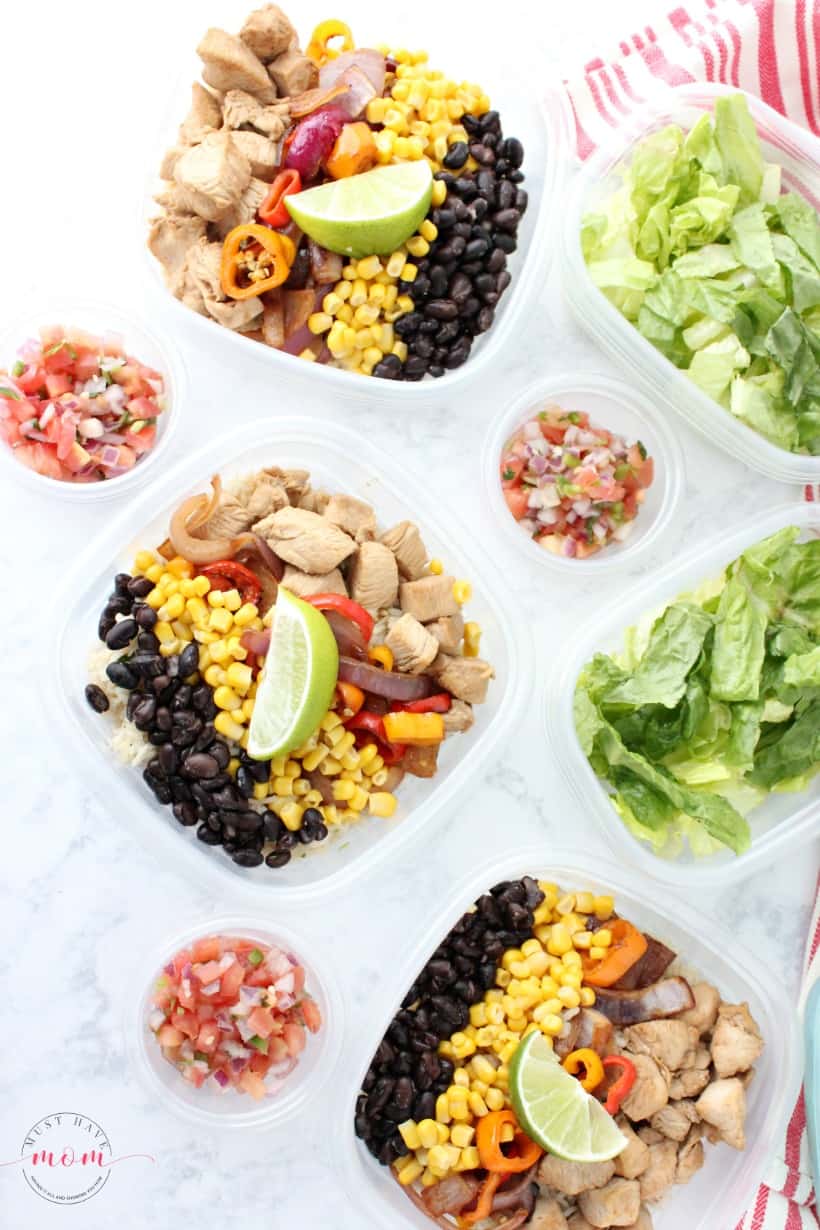 To make copycat Chipotle burrito bowl make ahead lunches you'll need some meal prep containers (these containers are from a Glad lunch variety pack or find meal prep containers on Amazon).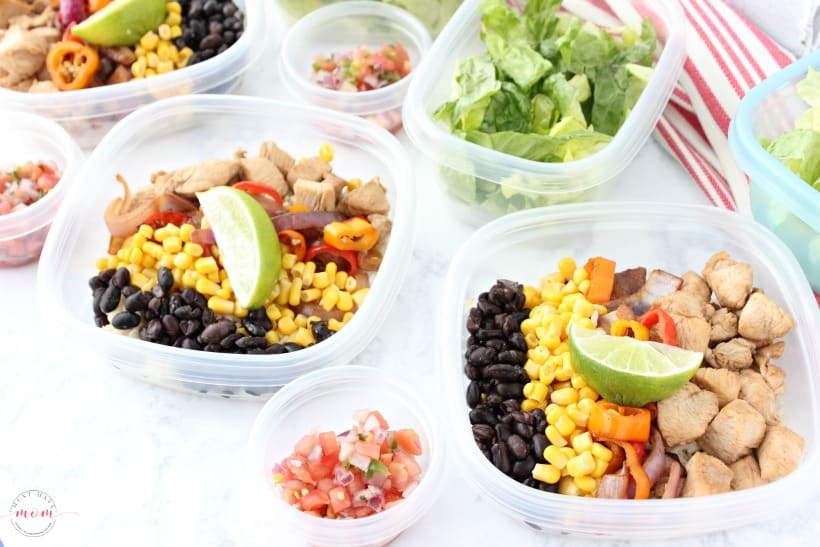 Then, you'll prepare the cilantro lime rice. Cook the chicken and fajita veggies and set all of it aside. You'll need 3 different containers (or a sectioned off container) to separate the food that needs to be heated from the lettuce and pico which you do not want heated. In one container layer the cilantro rice on the bottom and top with fajita chicken, veggies, corn and black beans. There is no reason to warm the corn or beans unless you plan on eating it right away in which case you can toss them in with the chicken and fajita veggies to warm in the pan.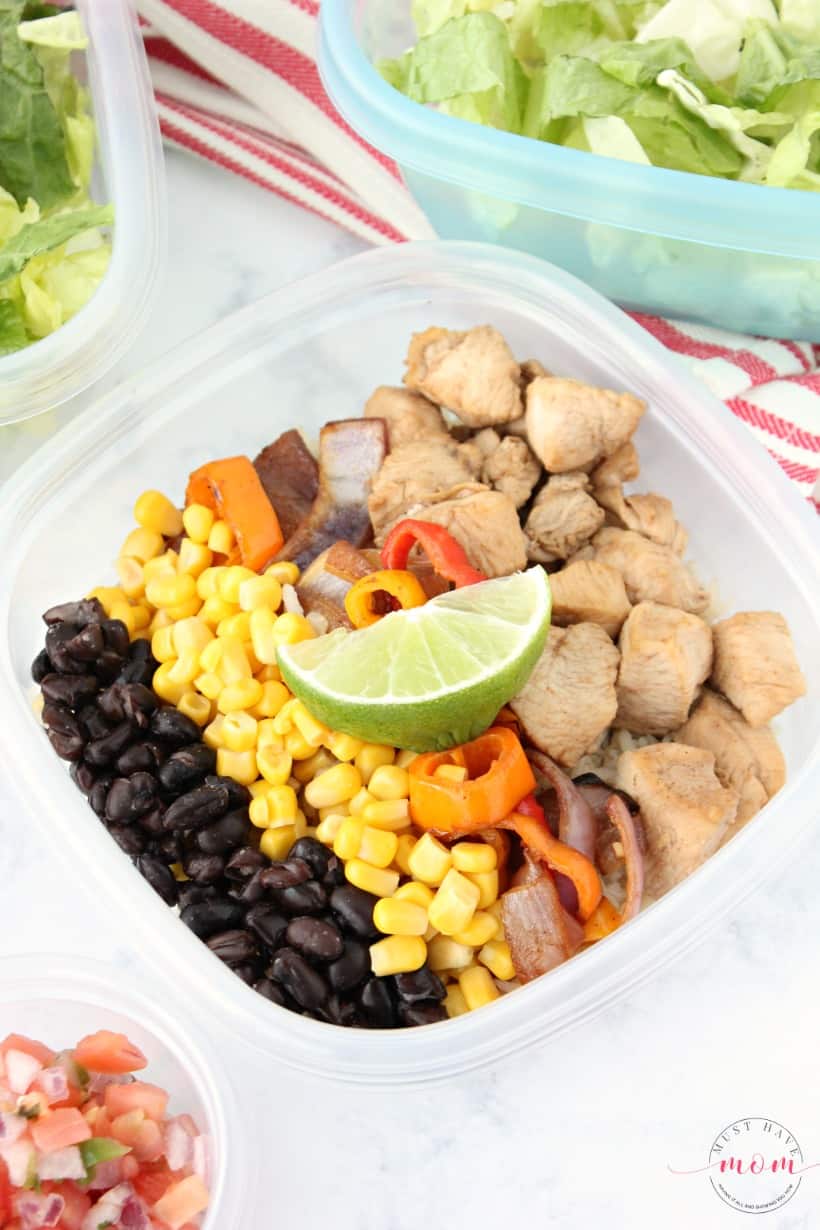 This container will be heated before you eat it. Or, if you are like my husband then you'll just eat everything cold. Not my personal preference!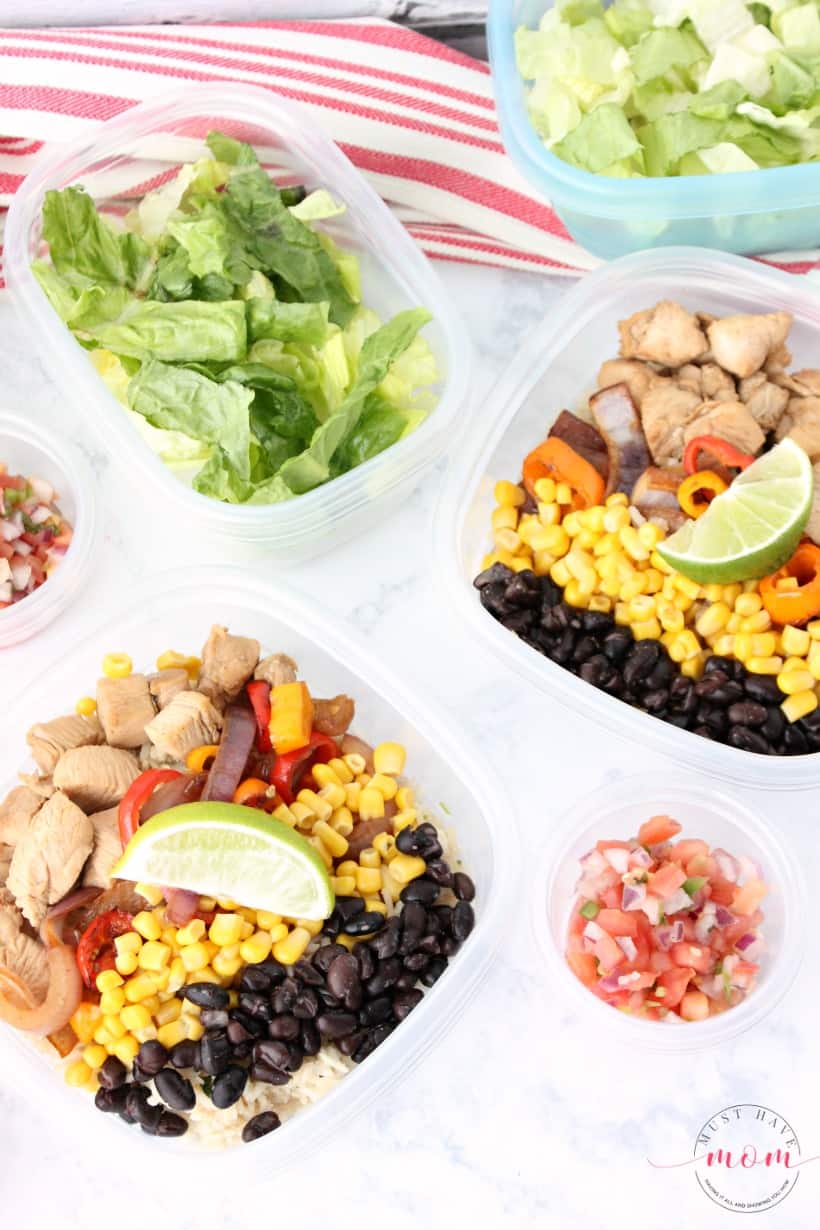 In your other two containers you'll fill each one with lettuce and pico de gallo. I also add a lime wedge to my lettuce containers and squeeze it over my Chipotle burrito bowl after I heat it. If you like to add sour cream, guacamole, or any other fresh veggies then add them to your "cold" containers.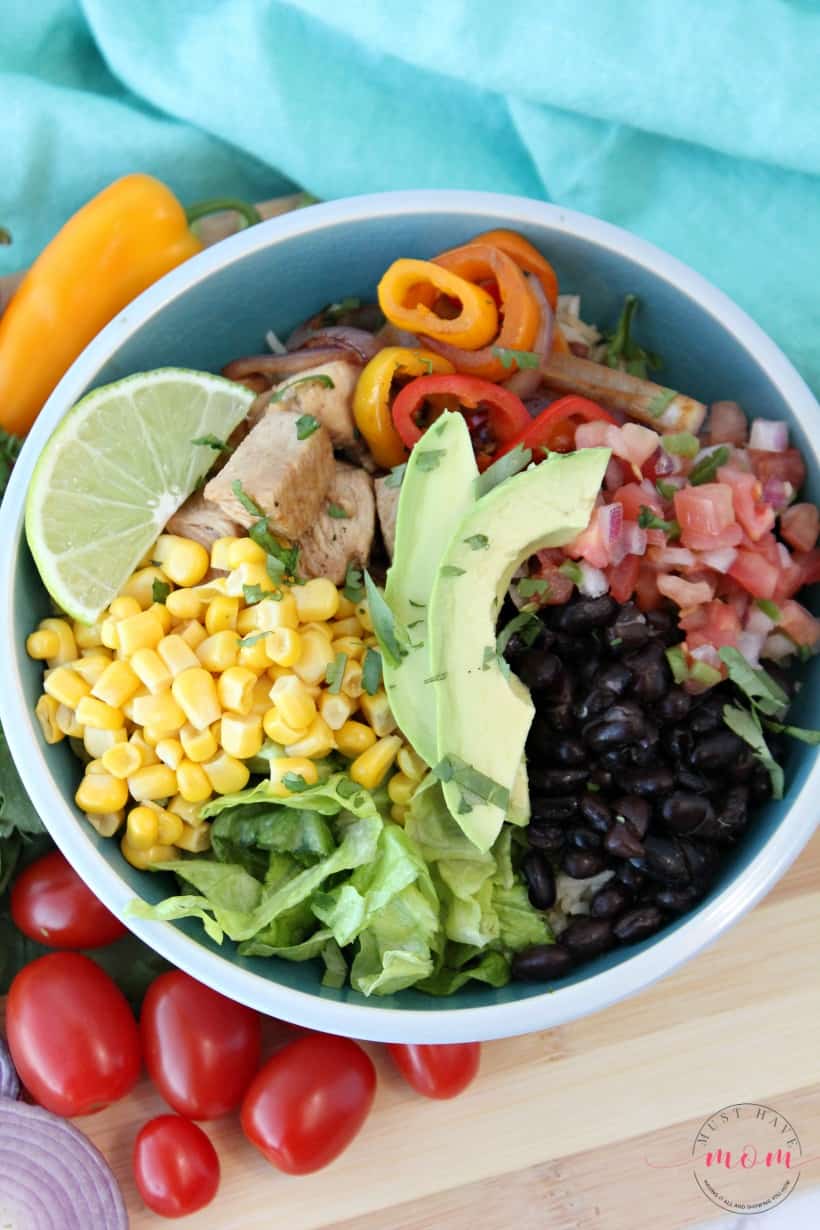 When you are ready to eat it just heat up the "hot" container and then top with the "cold" containers. Enjoy! It's SO tasty! These will last all week in the fridge if you don't eat them before Friday comes! I recommend buying the individual size guacamole packs if you want guac on yours or just slice fresh avocado before eating. Otherwise, the avocado tends to turn brown.
Print Copycat Chipotle Burrito Bowl Recipe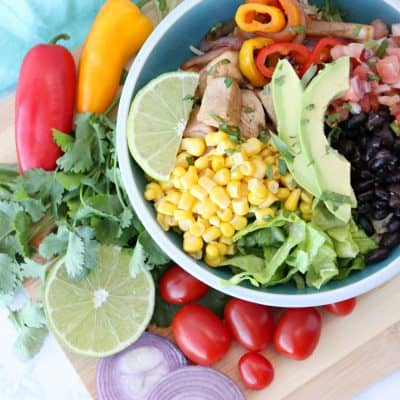 Make Ahead Copycat Chipotle Burrito Bowls Recipe
Copycat Chipotle burrito bowl recipe that can be used for meal prep, make-ahead lunches or eaten immediately! Easy and delicious!
Ingredients
For the Cilantro Lime Rice
3

cups

white or brown rice

1

tablespoon

olive oil

1

tablespoon

lime juice

4

tablespoons

cilantro

chopped
For the Fajita Chicken
4

boneless

skinless chicken breasts, diced

1/4

cup

soy sauce or coconut aminos

1/4

cup

lime juice

1

teaspoon

chili powder

2

tablespoons

olive oil
Burrito Bowl Ingredients
1

tablespoon

olive oil

6-10

mini colored bell peppers

sliced

1

onion

sliced

1

can corn

1

can black beans

drained and rinsed

1

lime

cut in wedges

2

cups

pico de gallo

6

cups

romaine lettuce

chopped

optional extras: sour cream or plain greek yogurt

individual guacamole containers, shredded cheese
Instructions
Prepare the rice first by cooking 3 cups of rice according to the package directions. When finished cooking, add olive oil, lime juice and cilantro. Mix together and set aside.

Next, combine the soy sauce or coconut aminos, lime juice, chili powder and olive oil in a medium mixing bowl. Add the chicken and mix together. You can marinate the chicken overnight if desired and it will produce even more flavorful chicken! Cook chicken in a large skillet over medium high heat until no longer pink, 4-5 minutes.

Remove chicken from pan and set aside. Add 1 tablespoon olive oil. Over medium high heat heat oil and add sliced onions and peppers to the pan. Cook until softened, about 3-5 minutes. Remove from heat and set aside.

To eat immediately: If you are NOT meal prepping and you'll be eating the burrito bowls immediately then add the corn and beans to the fajita veggies pan for a minute or two until heated through. Serve the burrito bowls by layering the rice, then chicken and fajita veggies with black beans and corn. Then top with the fresh ingredients. Squeeze a lime wedge over the top.

For meal prep: Divide rice evenly between 6 containers. Top with chicken, fajita veggies, corn, and black beans. In separate containers divvy up the lime wedges, pico de gallo, lettuce and any optional extras. I typically put the pico de gallo in it's own small container so the juices don't get all over the other stuff. To eat: heat up the container with rice and chicken then top with the containers that have the lettuce, limes, etc.

These will last a week in the fridge.
Pin Copycat Chipotle Burrito Bowl Recipe

Buy The Supplies We Use
Meal Prep Containers, [25 pack] KICHEIF 1 Compartment Food Prep Containers, Food Storage Containers with Lids, Reusable Freezer Containers – BPA Free, Stackable/Microwave/Dishwasher/Freezer Safe 26oz

Freshware Meal Prep Containers [15 Pack] 3 Compartment with Lids, Food Containers, Lunch Box | BPA Free | Stackable | Bento Box, Microwave/Dishwasher/Freezer Safe, Portion Control, 21 day fix (32 oz)

Glad Food Storage Containers – Disney Frozen Variety Pack – 16 count

Make Ahead Meals: Quick and Healthy Dinner and Lunch Recipes: Low Carb, Low Cal, Low Fat

Freezer Cookbook: Complete Freezer Meals Cookbook with Illustrated Make Ahead Lunch & Dinner Recipes

Make Ahead Paleo: A Cook Ahead Paleo Cookbook with Easy Dairy Free & Grain Free Recipes (Paleo Recipes: Paleo Recipes for Busy People. Quick and Easy Breakfast, … Lunch, Dinner & Desserts Recipe Book 12)