How To Host An Ugly Christmas Sweater Party!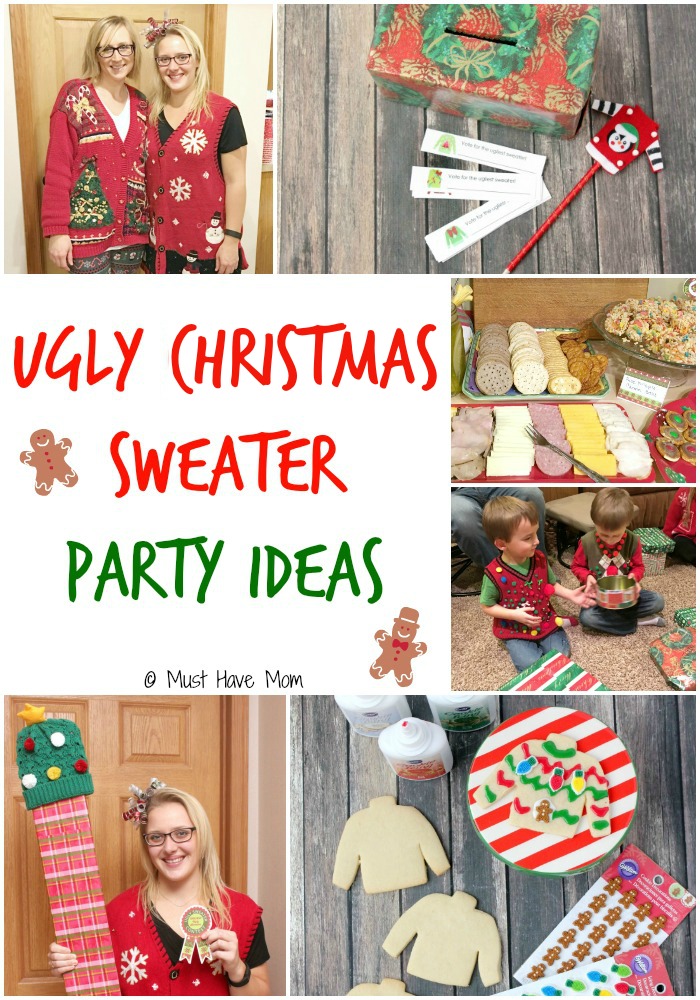 Last weekend we hosted an ugly Christmas sweater party at our house and it was SO much fun! If you've never hosted an ugly sweater party before don't fret because it's fun and easy and I'll show you exactly how to host an ugly Christmas sweater party!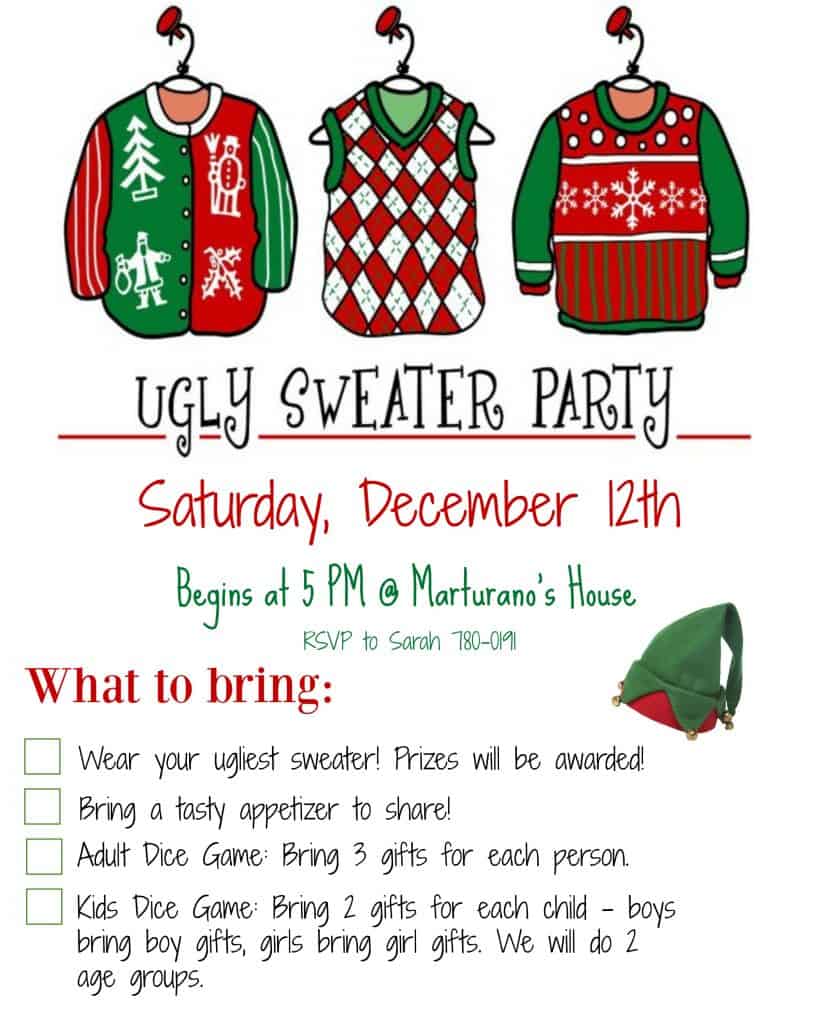 First you'll need to create invites. I created my own invites in PicMonkey using inspiration from these
free ugly sweater party printable invites
. Go print them off if you aren't feeling creative!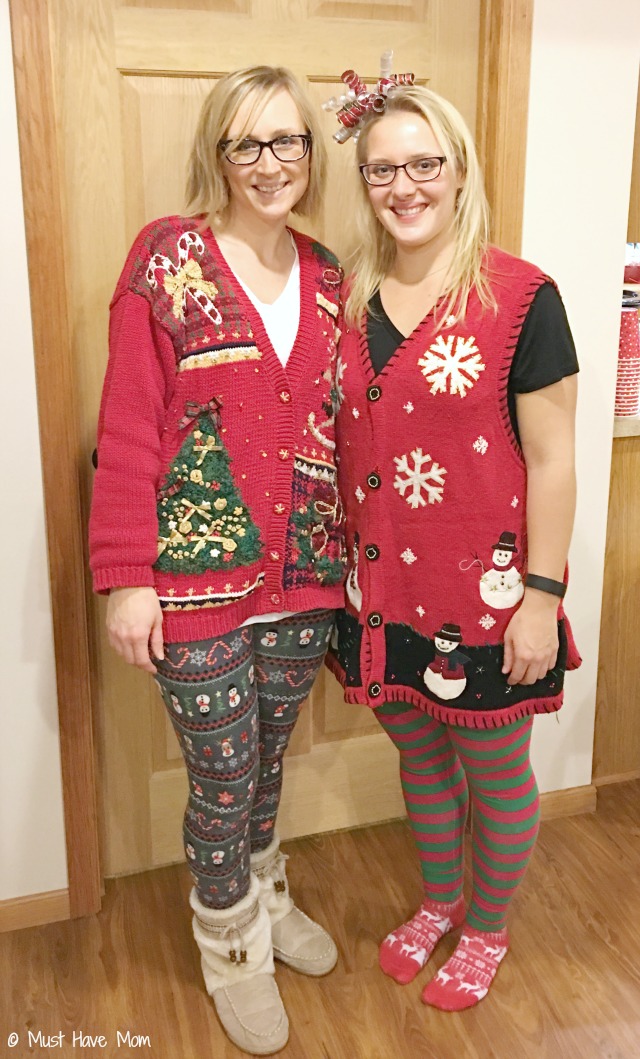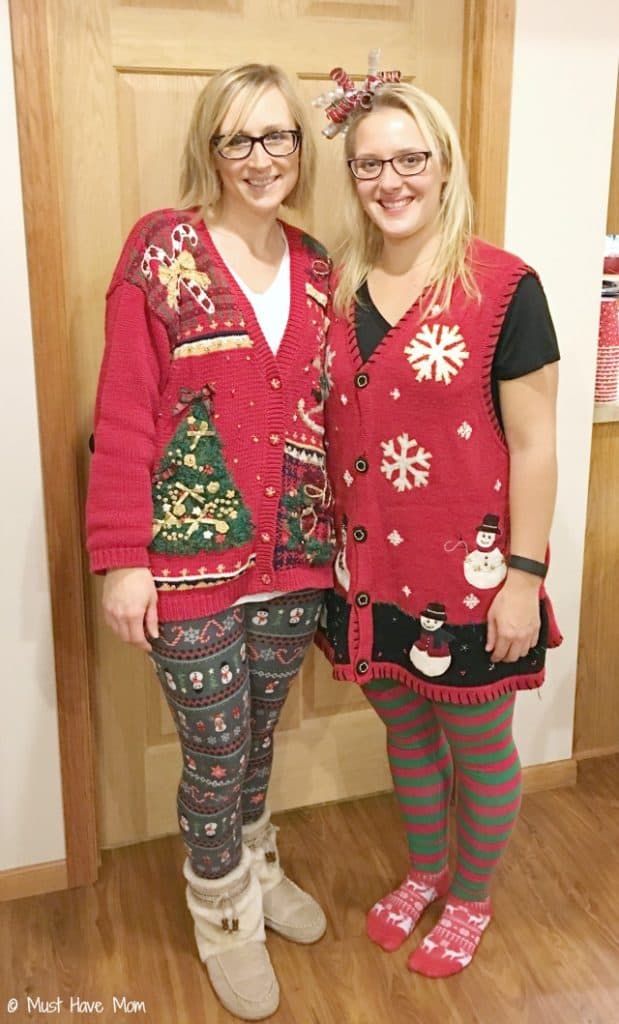 Then you'll want to start shopping around for your ugly sweater! Check places like consignment stores, thrift shops or find them on
Amazon
. My sister and I found them at thrift shops for around $9. Add some fun accessories to your outfit like
Christmas leggings
, Christmas socks, hair gift bows or a
Holiday Bulb Flash Necklace
.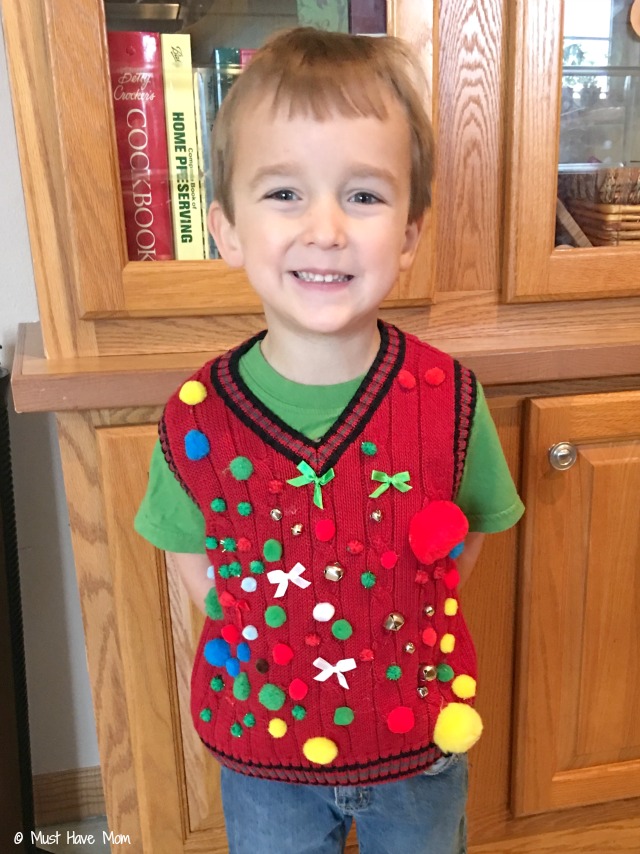 We checked all the thrift stores and had a hard time finding ugly sweaters for kids so we decided to make our own ugly sweaters! We bought sweater vests at a consignment shop for .75 each. Then I gave the kids pom poms, bows, jingle bells, and whatever else I had on hand. They placed them where they wanted them and I used a hot glue gun to glue them to the sweater. Be sure to put a piece of cardboard in between the top and bottom layers of the sweater so you don't glue it together inside! They turned out really cute and my son is wearing his to school for ugly sweater day too so we'll have gotten two uses out of it!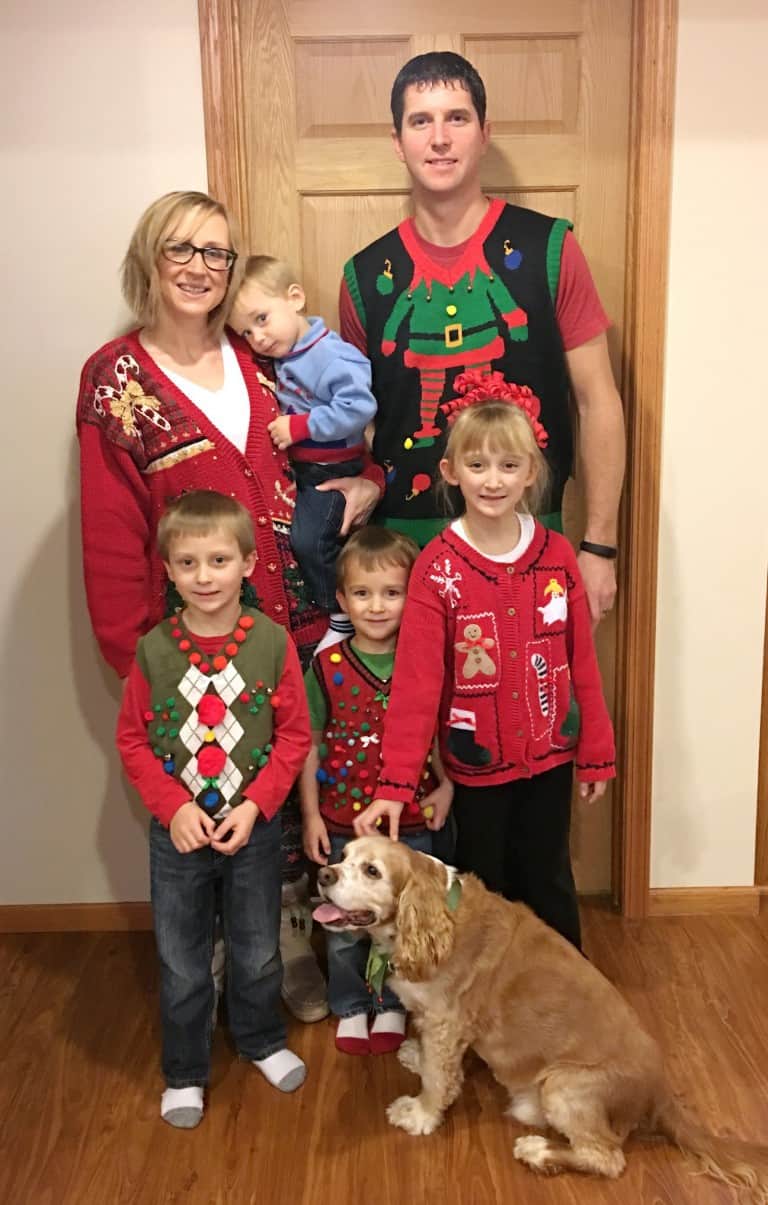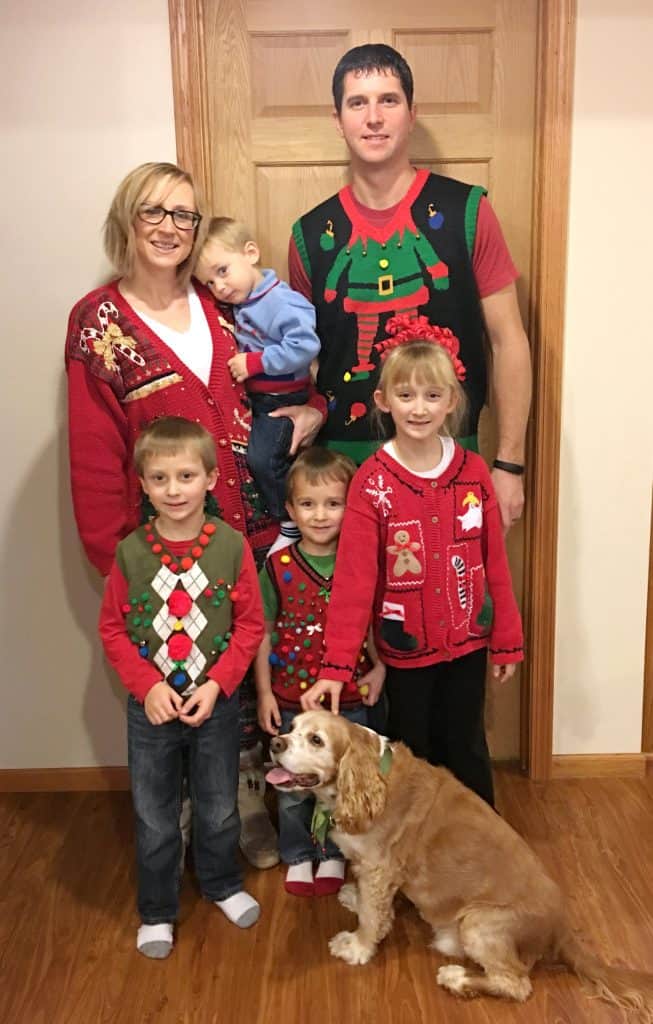 Our whole family dressed up in ugly sweaters so we just had to do an ugly sweater Christmas card photo! Isn't it fun?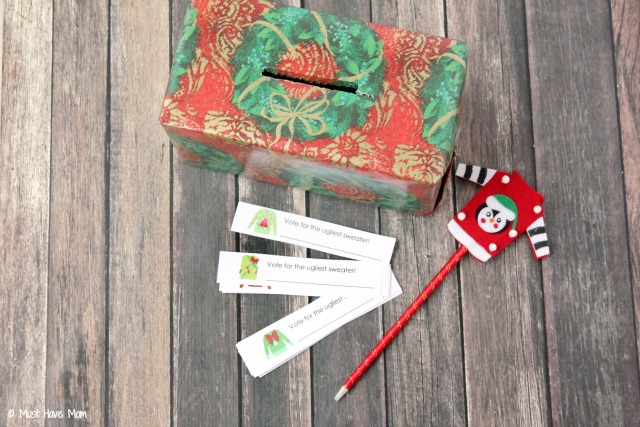 Next we made an ugly sweater contest voting box out of an empty tissue box. Just wrap it in some ugly wrapping paper and print off these
ugly sweater voting slips
. Grab an
Ugly Christmas Sweater Pen
and have your guests vote for the ugliest sweater at the party!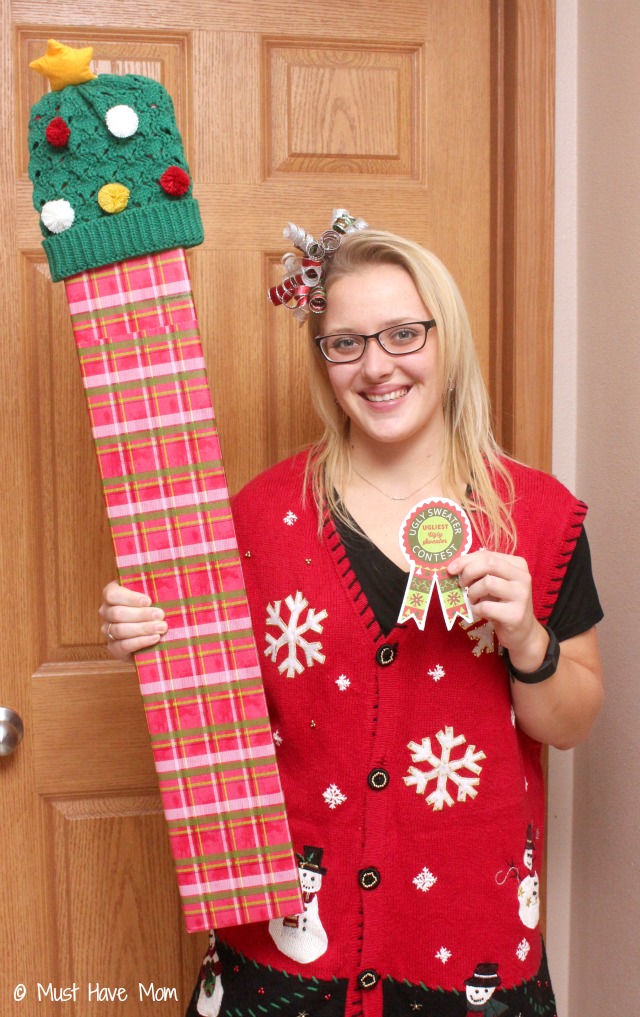 Make sure you have prizes for the ugliest sweater winner! We wrapped up a giant
3 foot Twix
candy bar and topped the wrapped package with an
ugly sweater hat
as our "trophy"! Plus they got the Ugliest Sweater Ribbon which you can print for free
here
.
For our ugly Christmas sweater party activities we played the dice game! The kids played their own dice game and each child brought 2 gifts (for their own gender/age) and put them in the center. We used a colored die instead of numbered die and each time they rolled a red or green color they got to choose a gift (until they each had 2). We don't do a stealing round for the kids! That would lead to tears 🙂 Use a Christmas tin to roll the die in so it doesn't get lost.
For the adults dice game each adult brought 3 gifts of differing values. We used two sets of dice in a tin and passed them around the table. Each person that rolled a 7, 11 or doubles chose a gift. Then we opened the gifts and had a timed stealing round. We set 3 minutes on a timer (that wasn't visible so you don't know how much time left until it dings) and then each person that rolled a 7, 11 or doubles got to steal from someone else. It is our favorite game!!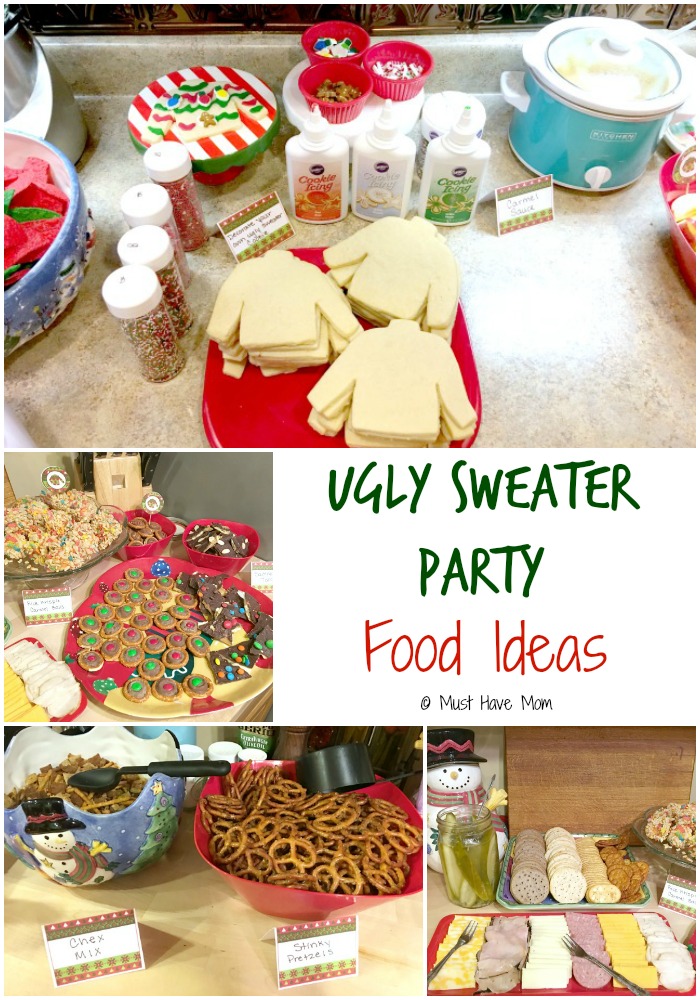 Need some ugly Christmas sweater party food ideas? We printed off these
free food signs
for each dish and we served a variety of appetizers including, homemade Chex mix,
stinky pretzels
, meat, cheese and cracker tray, Christmas cookies, fruit, veggies, spinach dip, terriyaki hot wings, buffalo chicken dip and every guest also brought an appetizer to share!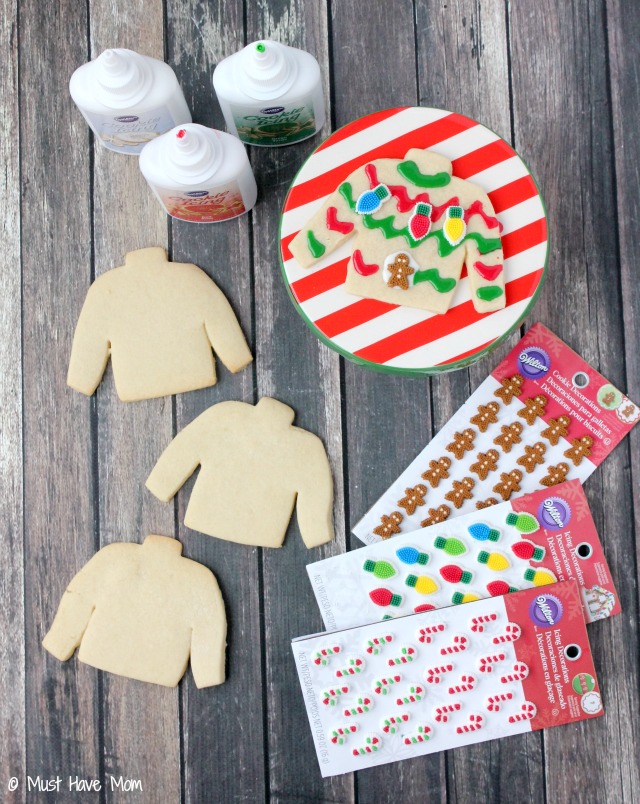 We also had a fun ugly sweater cookie decorating table! It was so fun, the kids loved it! The cookies were yummy too! Just get an
ugly sweater cookie cutter
, some Christmas sprinkles, icing (
we used this one
), and some
sugar decorations
and leave them for each guest to decorate their own ugly sweater cookie.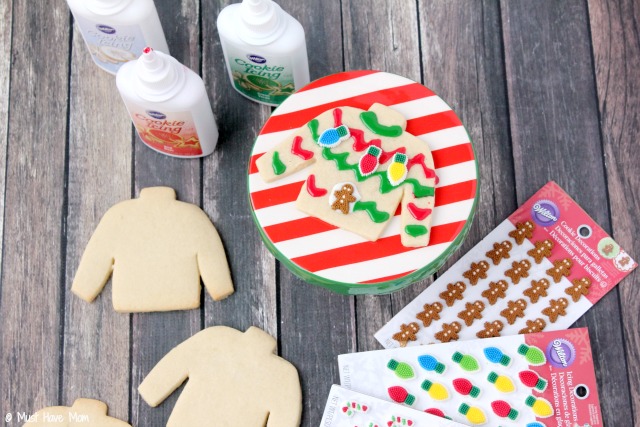 You can take the ugly sweater cookie decorating one step further and post photos on Facebook for your friends to choose the winner! Be sure to have a fun or funny prize on hand for the decorating champ!
No matter the crowd, everyone loves an ugly sweater party and this one was so much fun! It definitely needs to become tradition here! I hope I've shown you how to host and ugly Christmas sweater party and shown you how easy it is!