Safari Baby Shower Free Party Planning Ideas: Food, Games & Invites!
I absolutely LOVE planning themed parties! It is so much fun to come up with a theme and carry it all the way through the party through the invitations, food and games. I have some really fun and easy safari baby shower ideas to share with you! This is a free party planning guide to hosting a safari baby shower. Enjoy!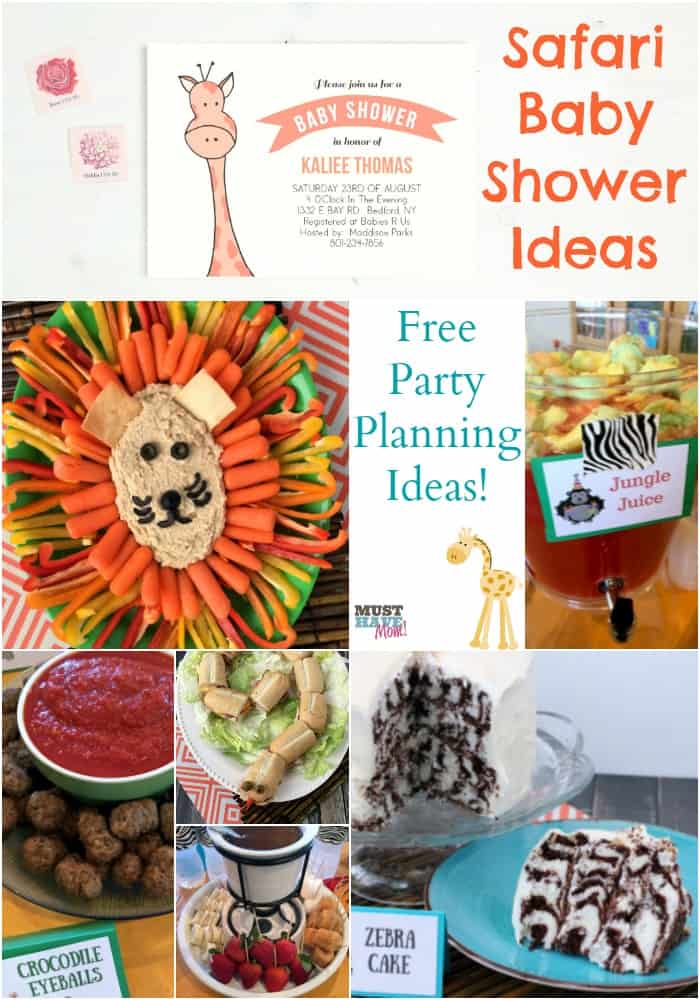 I hosted this fun safari themed baby shower and it was a blast! The food was really easy and it was also delicious and crowd-pleasing! I'll share all the ideas with you so you can host the best safari baby shower too!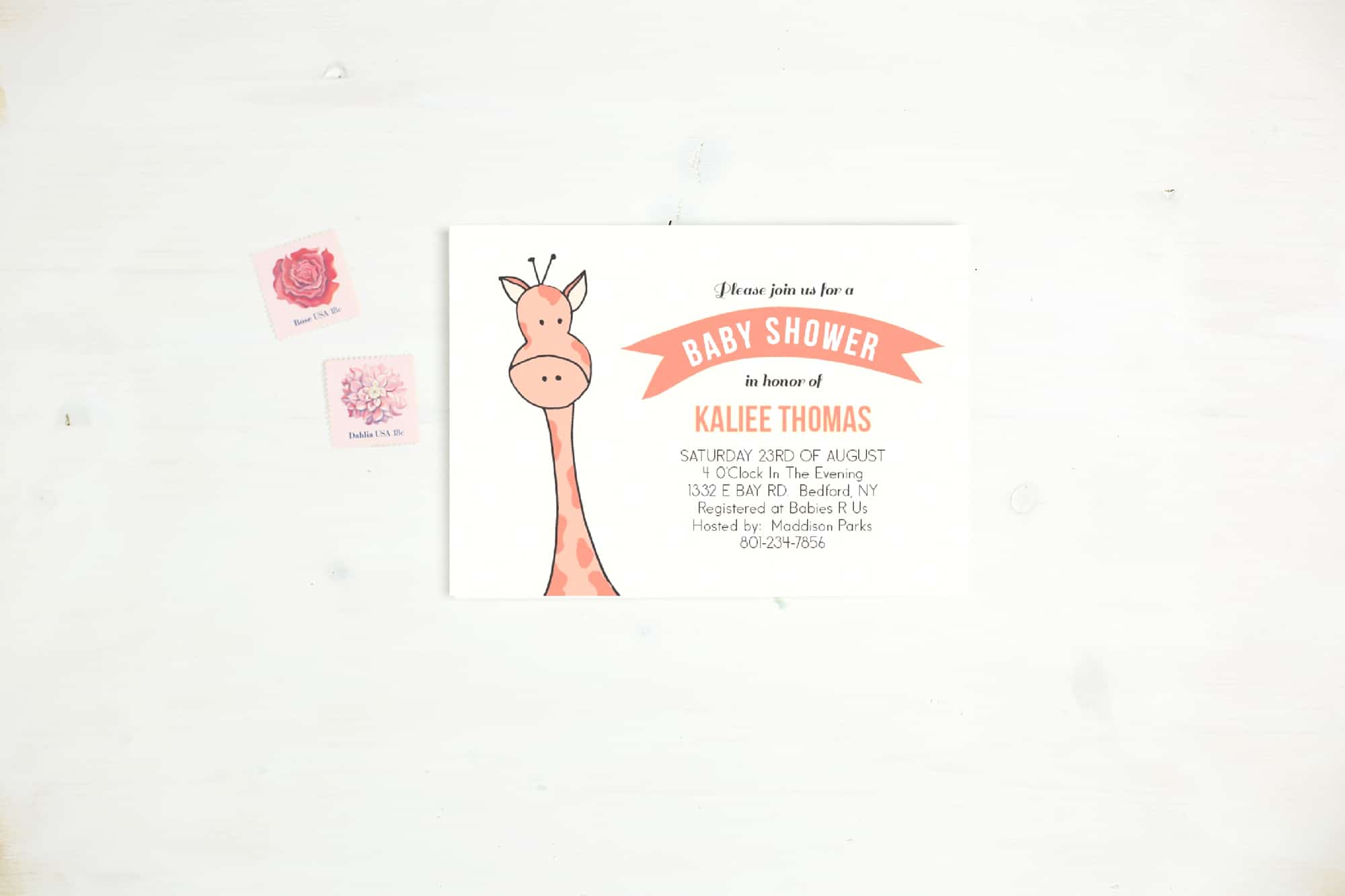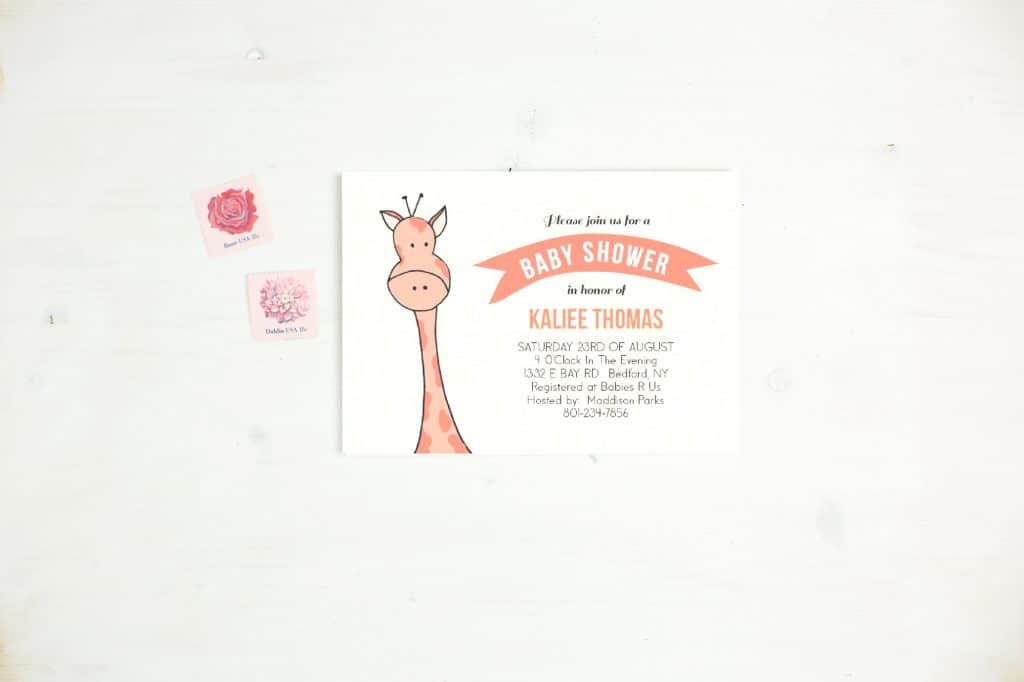 In order to host an amazing safari baby shower, you'll need to start by setting the tone of your safari theme right off the bat! You can do this by sending an adorable safari themed baby shower invite. I personally love these safari invitations from Basic Invite. They offer custom baby shower invitations so you can easily match the colors of the invite to the colors of your safari baby shower! I love this adorable giraffe baby shower invite!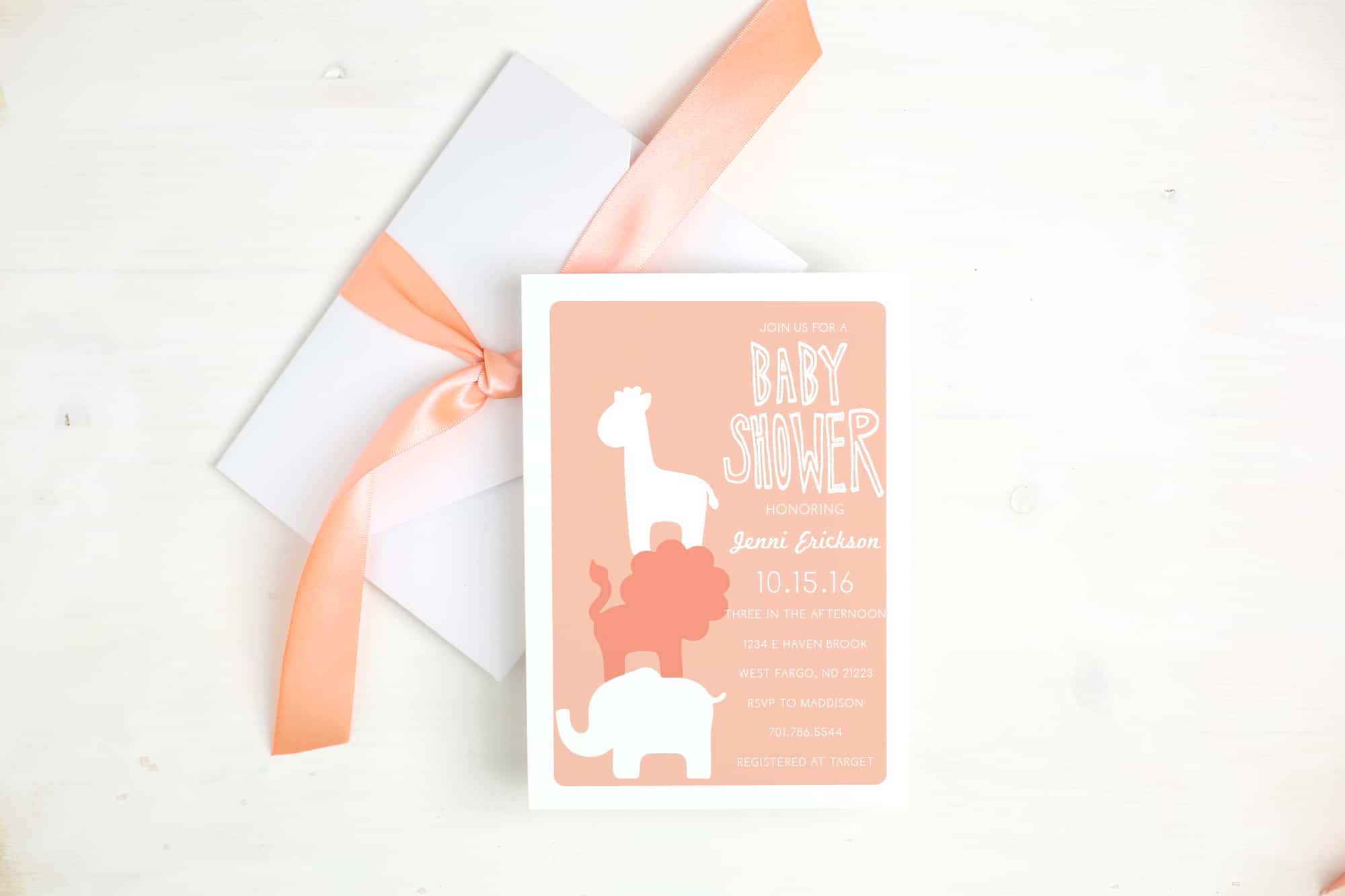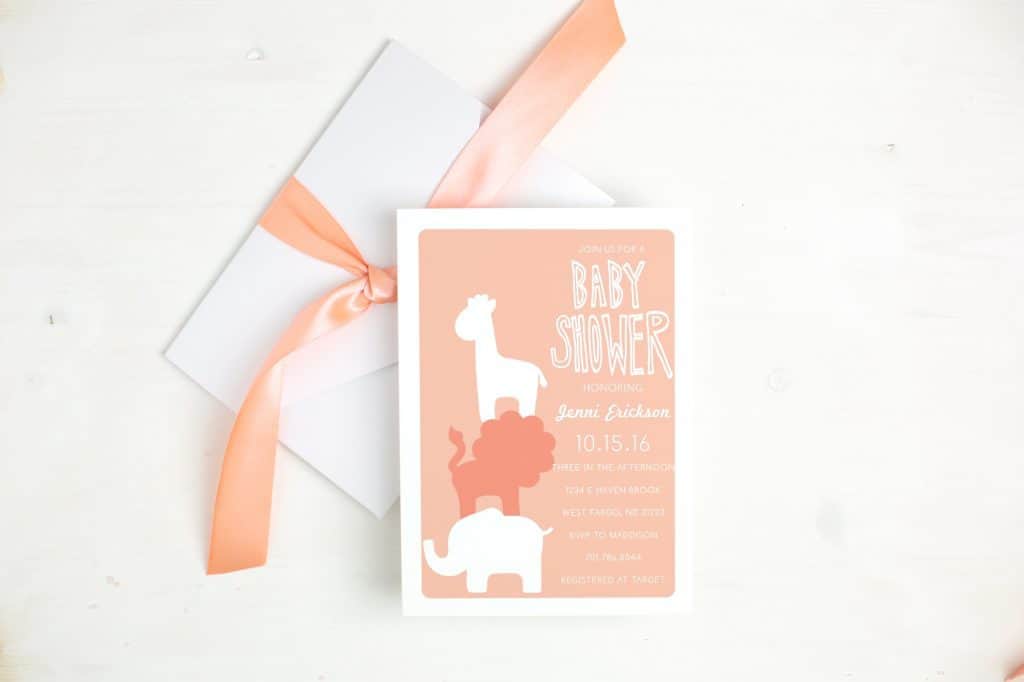 You could also go with a safari themed baby shower invite that has multiple safari animals on it like this one! Then you have the option to change the colors (Basic Invite is one of the few websites that allows customers almost unlimited color options with instant previews online), change the text, order a sample if you'd like to see it before ordering all of your invites and even choose the color of your envelopes! I also love that they let you know what postage is on the invites. Have you ever ordered square cards only to find out you have to pay way more postage versus a standard envelope? Yup, been there done that! No more surprises thanks to Basic Invite, they'll let you know if it's more expensive to mail!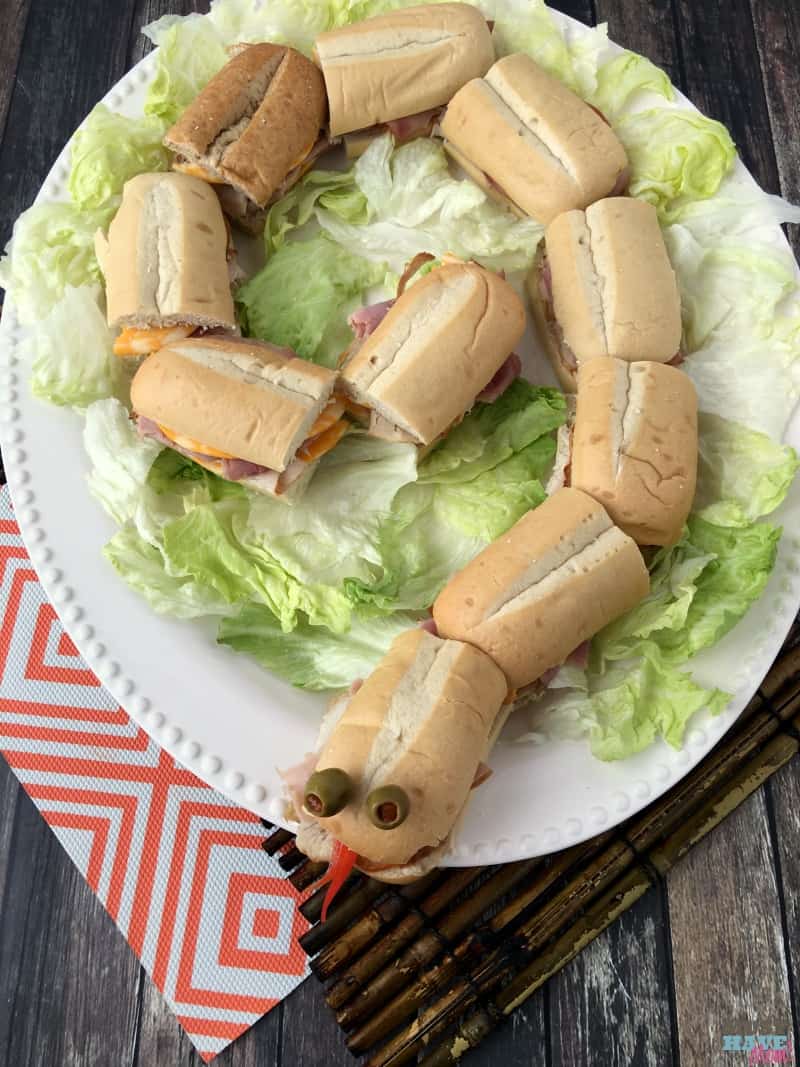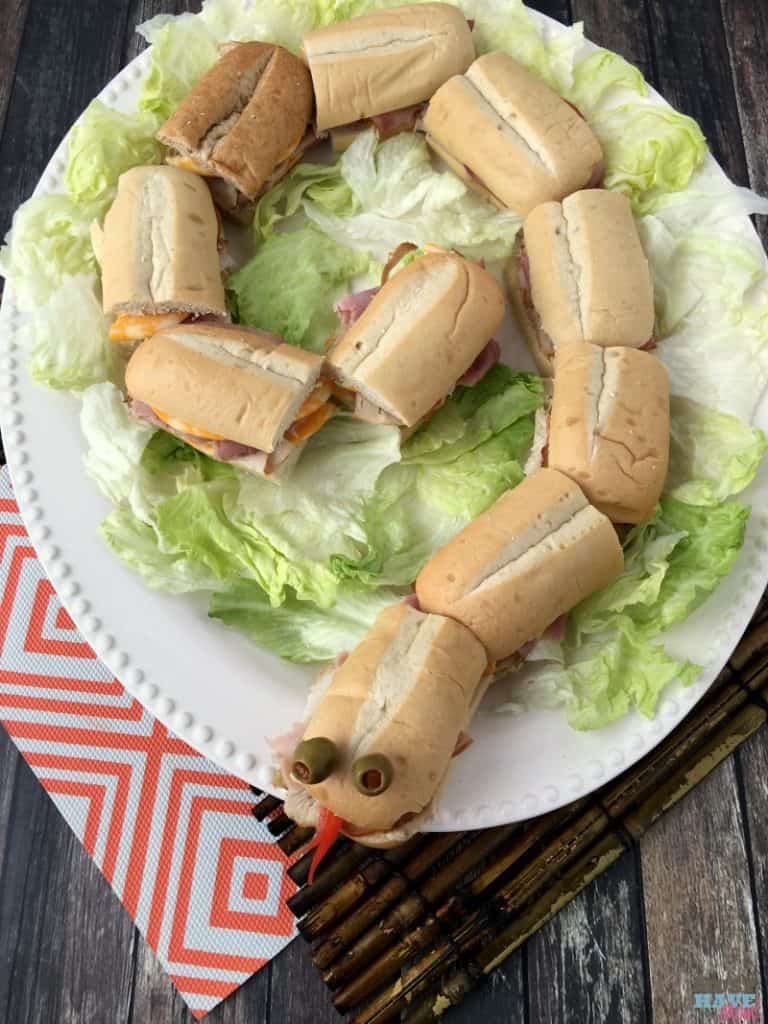 Now that you've ordered the perfect safari baby shower invitations, we can move on to the fun safari baby shower food ideas! These were so fun to come up with and they tasted great too! For our main food option we had a sub sandwich snake! Simply make your sub sandwiches and then cut them in small sections. Arrange them on a large oval platter with some lettuce greens for grass and swirl them around to create a snake shape. Add some green olive eyes and a red pepper tongue to complete the snake sandwich!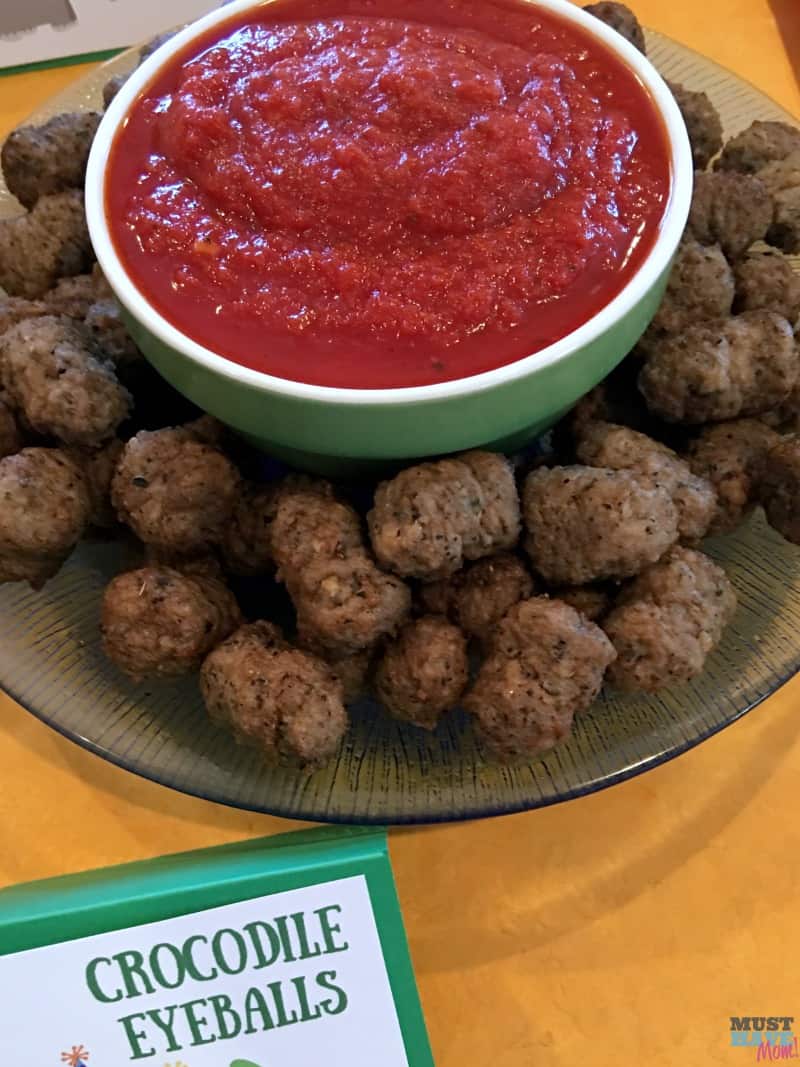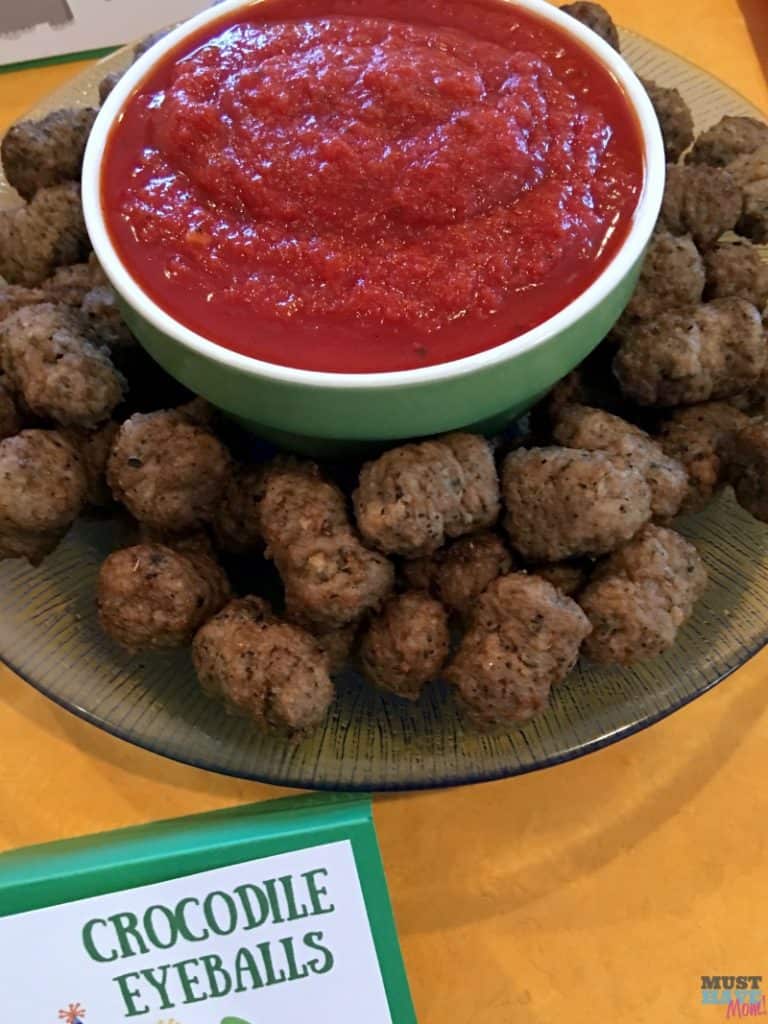 Crocodile eyeballs are a quick, easy crowd pleaser! Just cook some meatballs and warm some marinara sauce. Add toothpicks for easy grabbing of the eyeballs!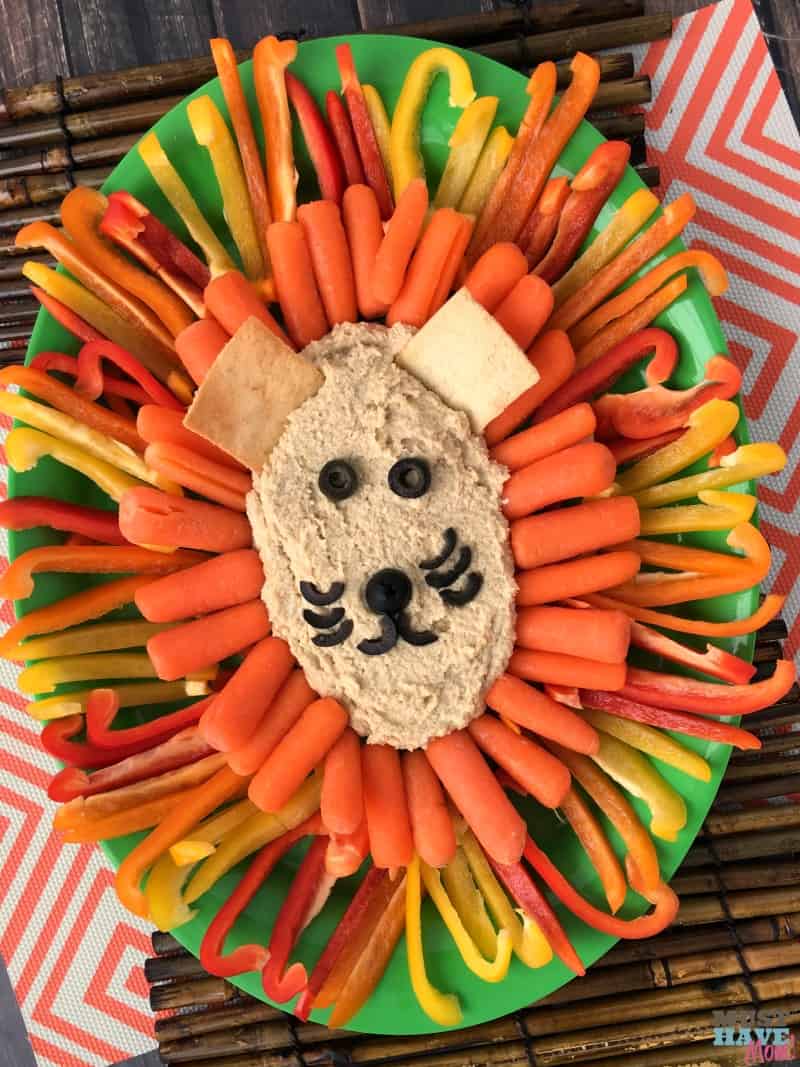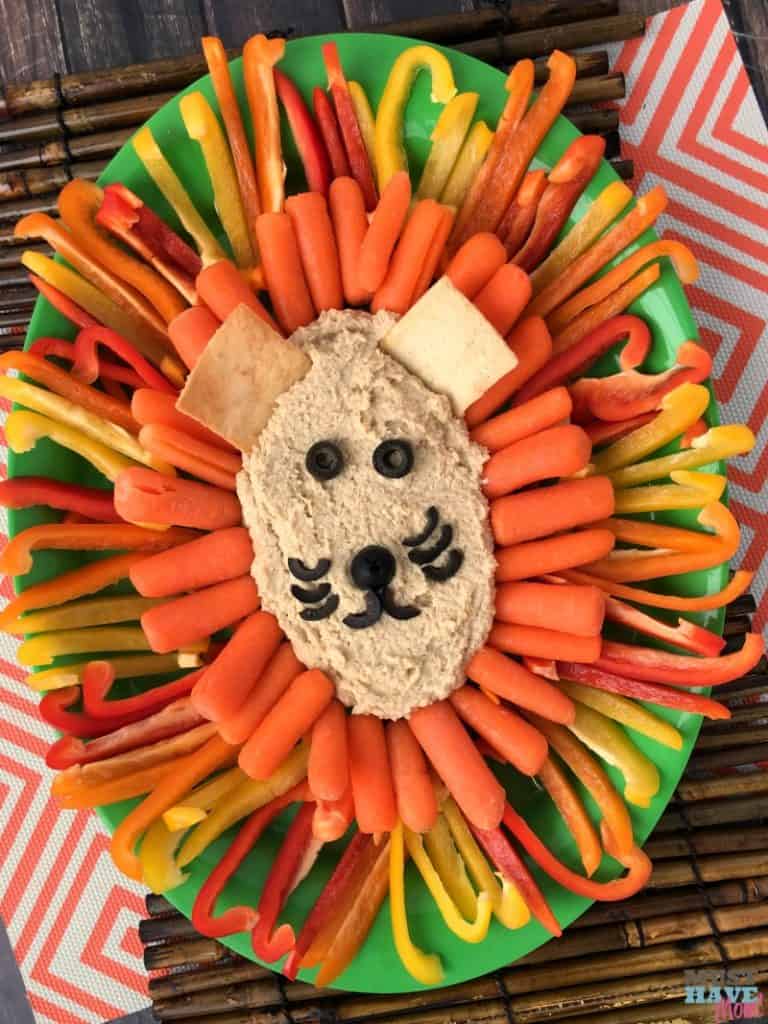 Serve up this lion mane hummus tray and your guests will roar! We made a simple hummus recipe and arranged it in an oval in the center of our oval platter. We then added some black olives to create the lion's face and two pita chips for ears! Then create a mane around the lion's face using carrots and colored peppers sliced into strips.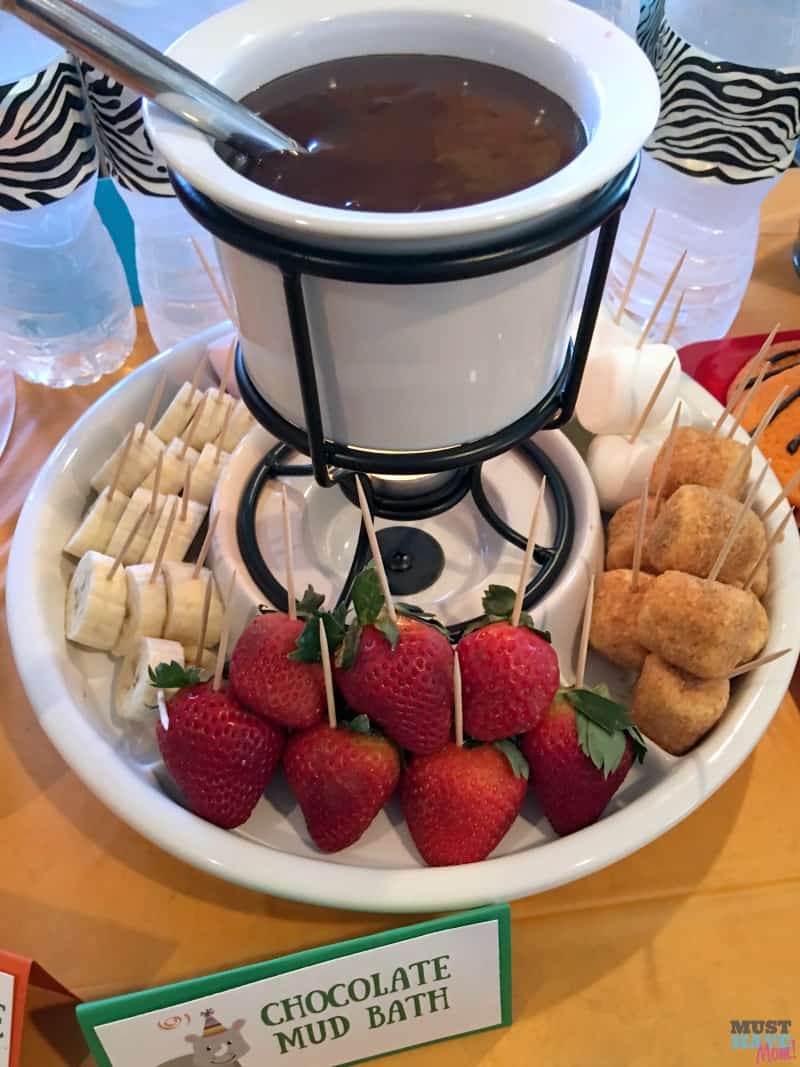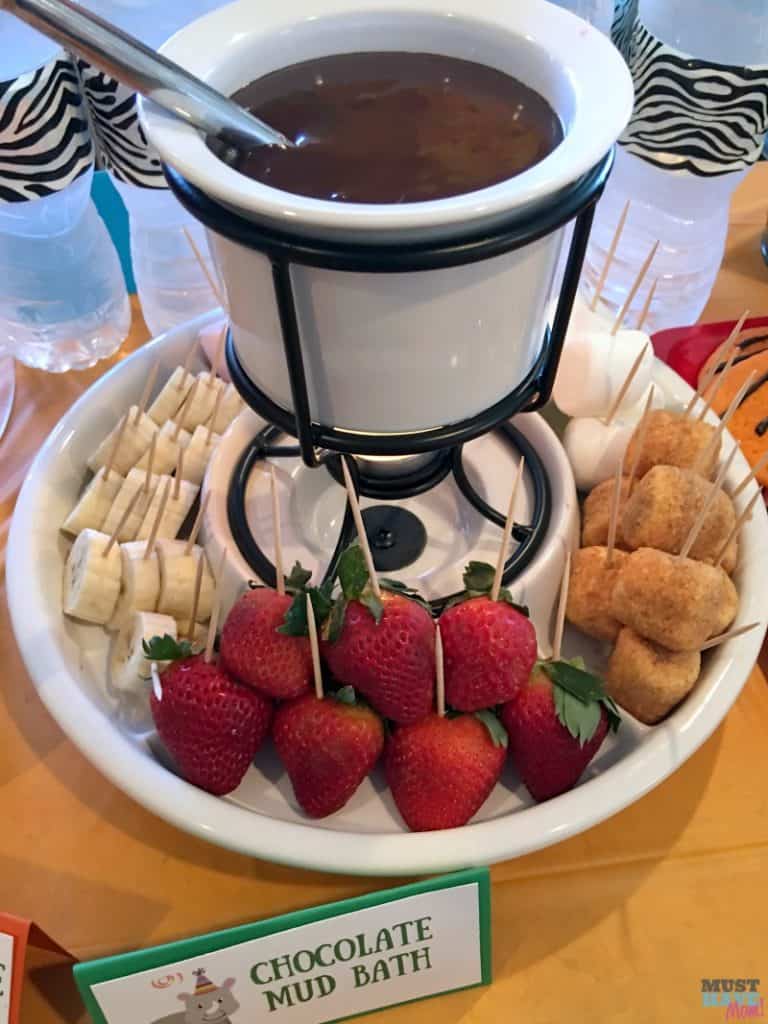 No safari baby shower would be complete without a chocolate mud bath! Simply melt chocolate in a fondue pot and add easy foods to dip such as strawberries, bananas and marshmallows.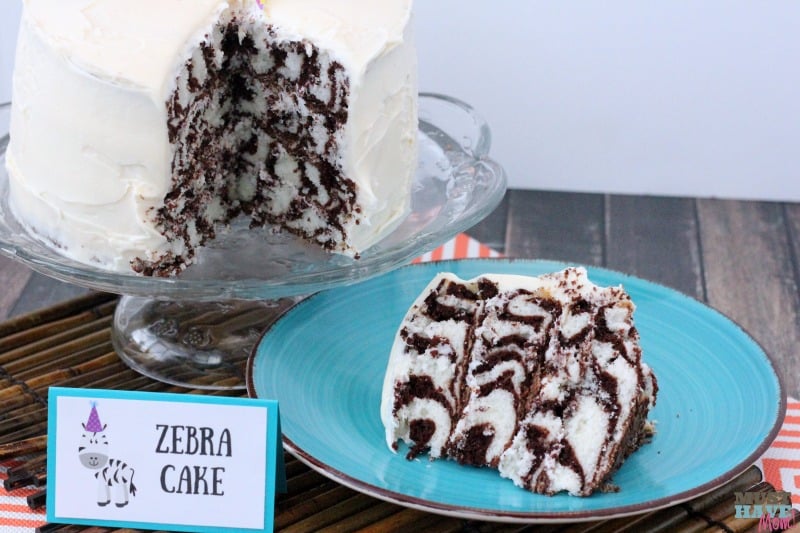 For the cake we went with a fun zebra cake! You can create this using a white cake mix and chocolate cake mix and swirling them together or you can buy zebra cake mixes that include everything you need! We frosted it with a simple white frosting. It turned out SO cool!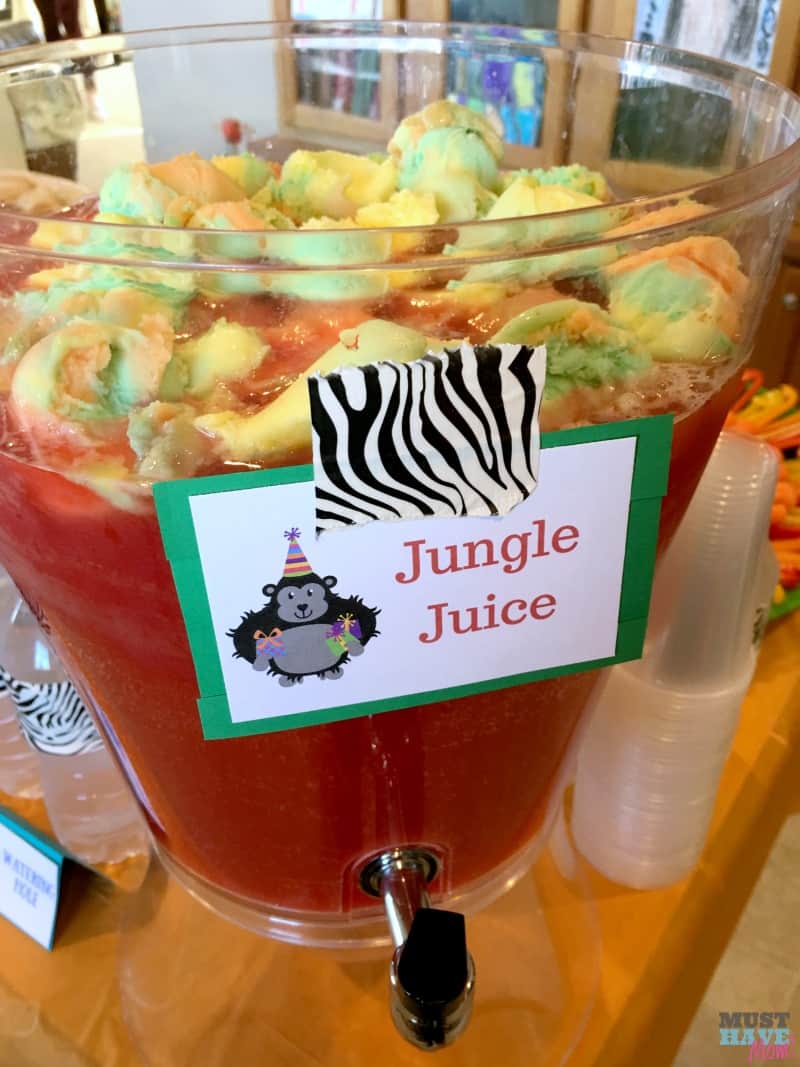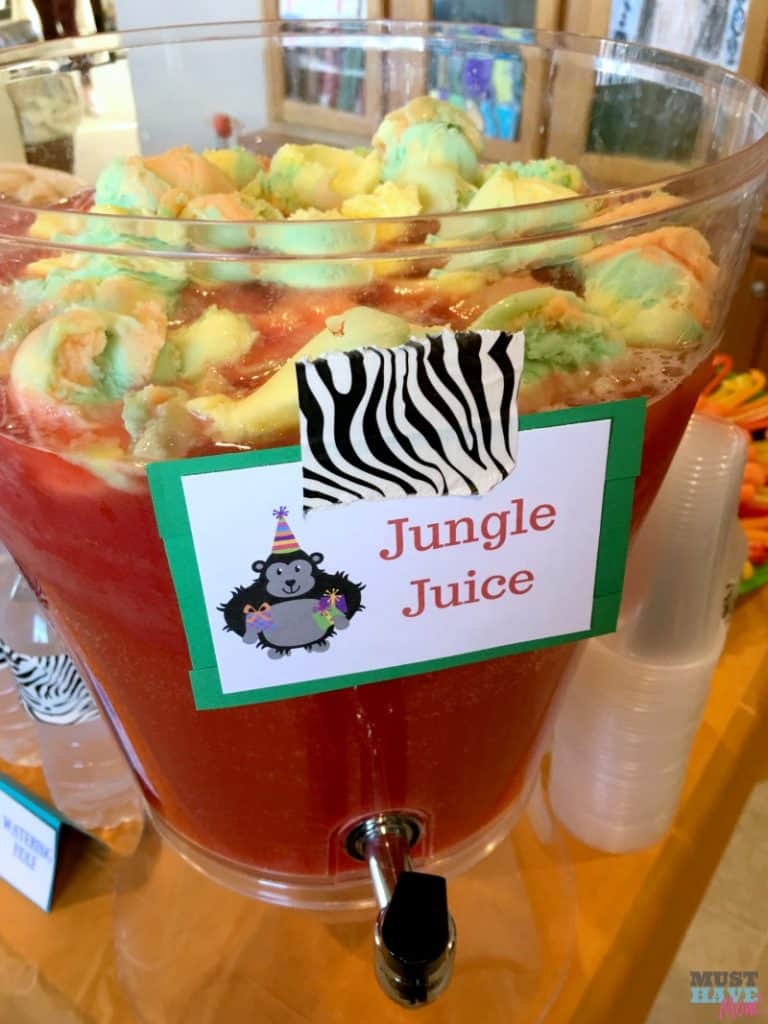 Finally, every safari baby shower needs an epic punch! We created some yummy jungle juice by mixing together ginger ale, pineapple juice and red Hawaiian punch then adding sherbet to the top. It was delicious! Serve it in a large beverage dispenser so guests can help themselves.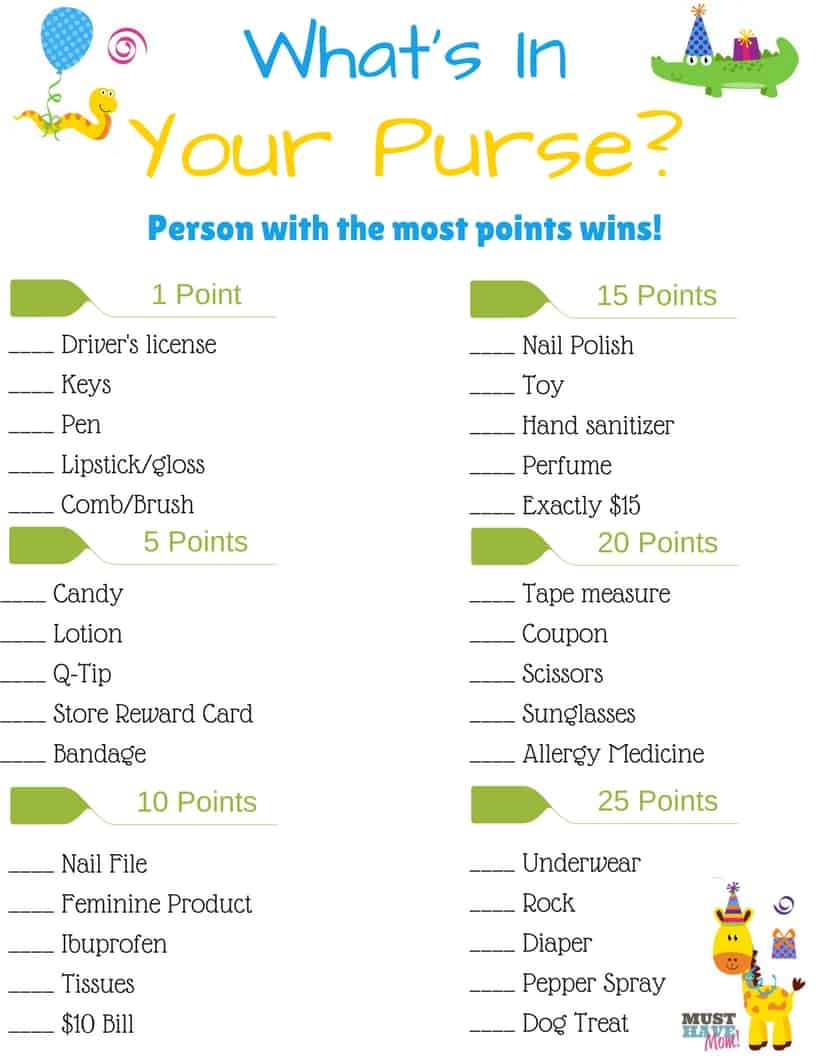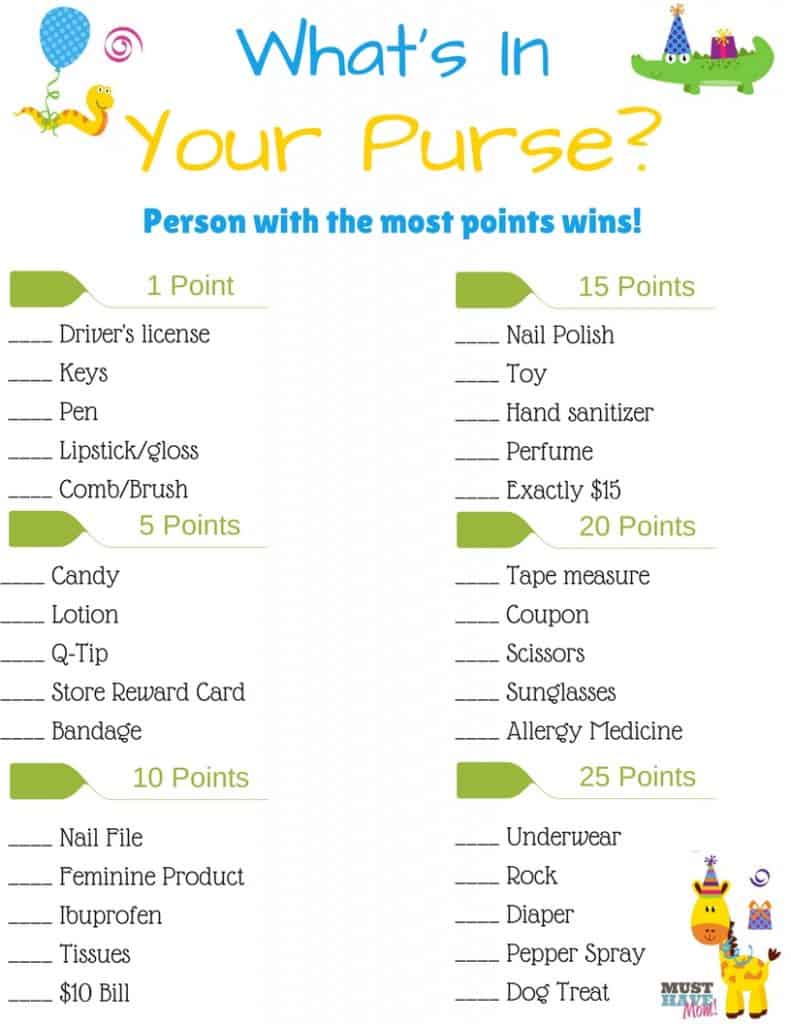 Every baby shower needs games! I've created this super fun "What's in your purse?" game that you can print for FREE! Print off this safari baby shower game free here. Guests at your baby shower will each receive one of these printables. Have each guest scour their purse to see how many items they can come up with. The person with the most points totaled at the end wins!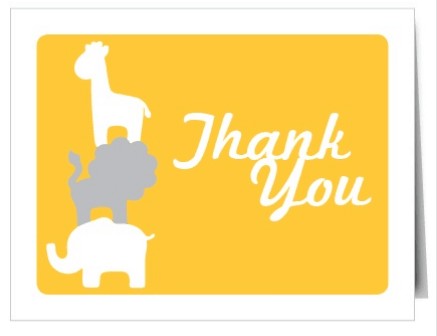 Finally, don't forget the thank you cards! Save the new mom some work by ordering these at the same time you order the safari baby shower invitations! I love these matching safari thank you cards from Basic Invite! These thank you cards can also be customized to match the colors of your safari baby shower! Have every guest at your party fill in their address on the envelope. Put them in a hat and draw a door prize winner. Now the new mom can easily write out her thank you cards after the baby shower and send them to every guest at the party, without the work of filling out all of the addresses on the envelopes! Make sure to fill in the return address before people fill in their addresses so that people don't get confused and write their address in the wrong spot!
Now you have a complete safari baby shower party plan for FREE! I hope you enjoy it and that your safari baby shower is a huge success!
Save