Easy Reversible Crochet Boot Cuffs Free Pattern
*This post has been sponsored Red Heart Yarn. All thoughts and opinions are my own.
I absolutely love making handmade gifts and these reversible crochet boot cuffs are my favorite thing I've made this holiday season! I admit I had to make a pair for myself as well because they are so trendy and fashionable. These are a great beginner project! I'll show you how to create them!
I love the pairing of these Red Heart Chic Sheep Yarn by Marly Bird linen and lipstick colored yarns. It screams winter holiday and makes me want to cozy up by the fire after playing in the snow. Add some nostalgic wood buttons and you've got a gorgeous pair of crochet boot cuffs!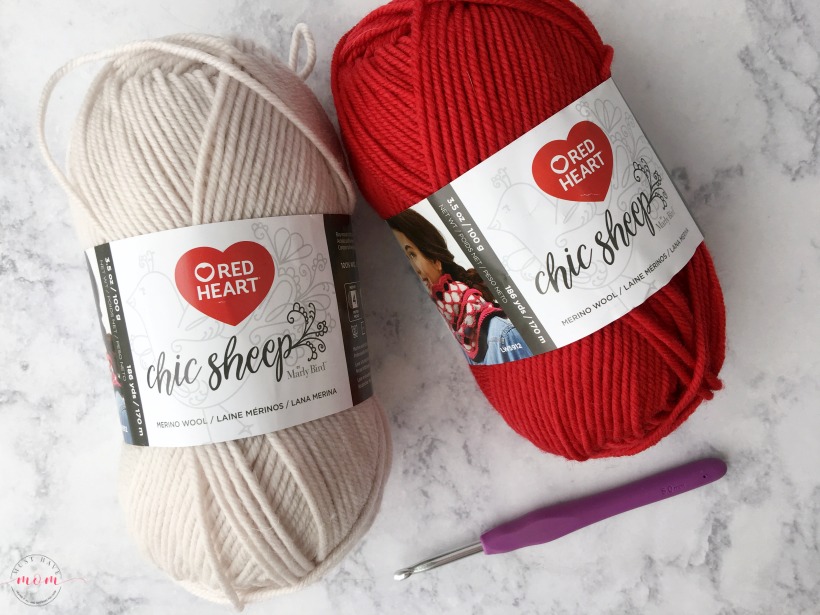 Crochet Boot Cuffs Directions
For this project, you'll need 2 skeins of Chic Sheep Yarn by Marly Bird (newly released by Red Heart!), which you can buy online on the Red Heart website or at JoAnn.com. I chose Linen and Lipstick colors. Pick 2 coordinating colors that you love! There are so many fun colors to choose from. You'll also need 2 wood buttons (which I also ordered from JoAnn.com) and a size 5mm crochet hook. A sewing needle to sew on the button and a blunt needle to stitch with the yarn are also needed.
Begin by making a slipknot on your crochet hook and chaining 54 OR how many you need to fit you perfectly. The beauty about this pattern is that you can adjust it to a custom fit for your legs. Simply chain and measure around your calf to obtain the correct fit.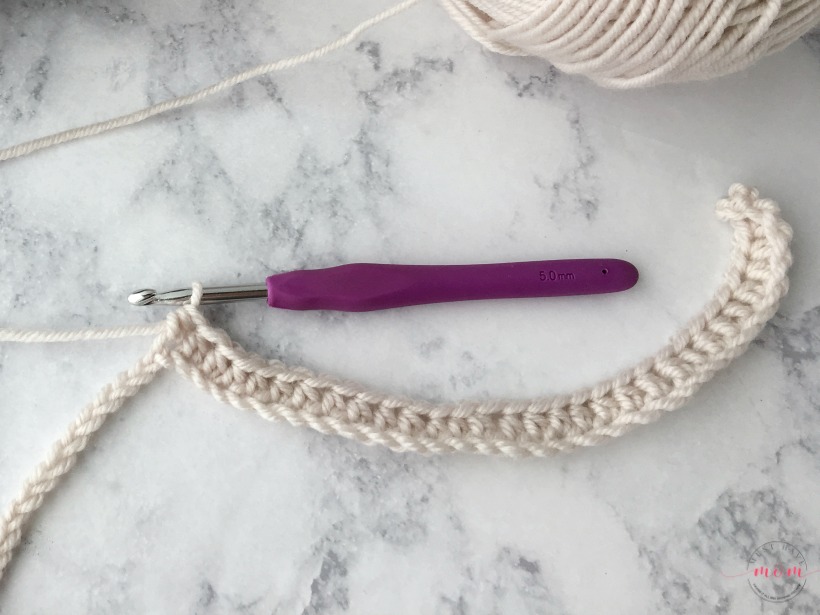 For Row 1: Half double crochet (HDC) in the 3rd chain. To do this you will go into the 3rd chain, then yarn over (YO), grab the working yarn and pull through. YO and then pull through all 3 loops.
Repeat the HDC in every chain to the end of the row.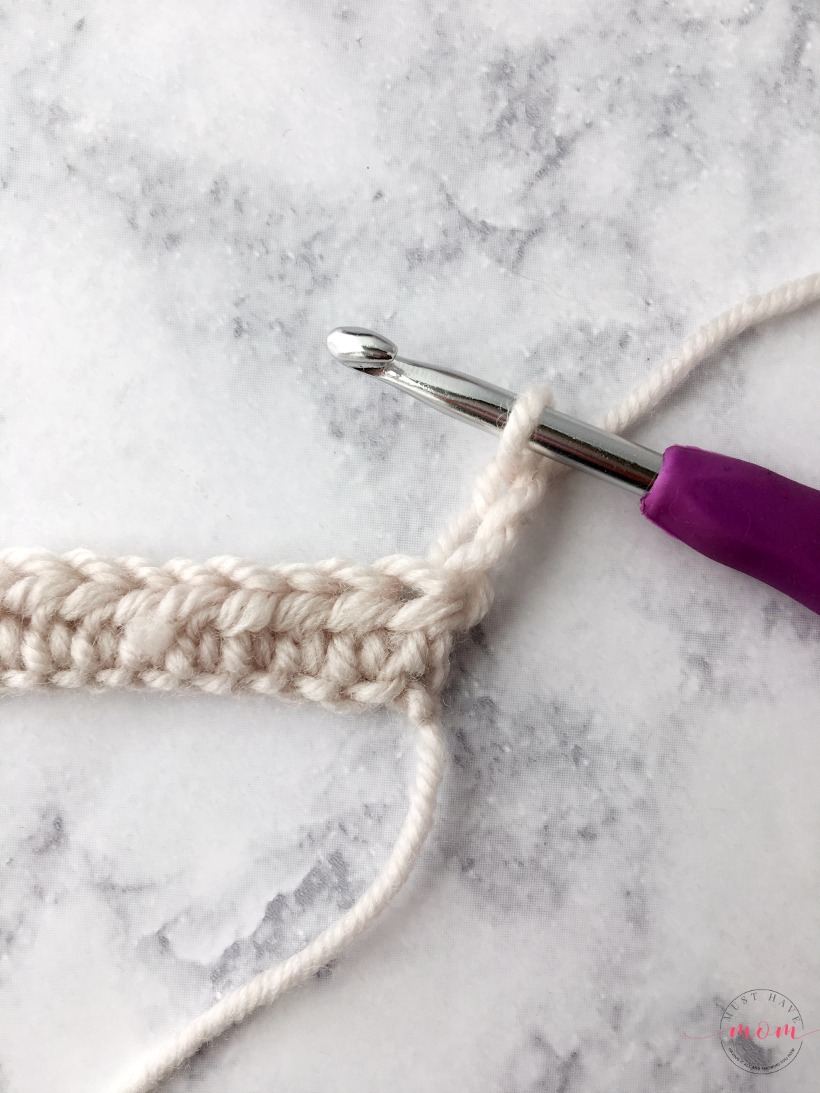 Row 2: Chain 2, HDC in back loops only.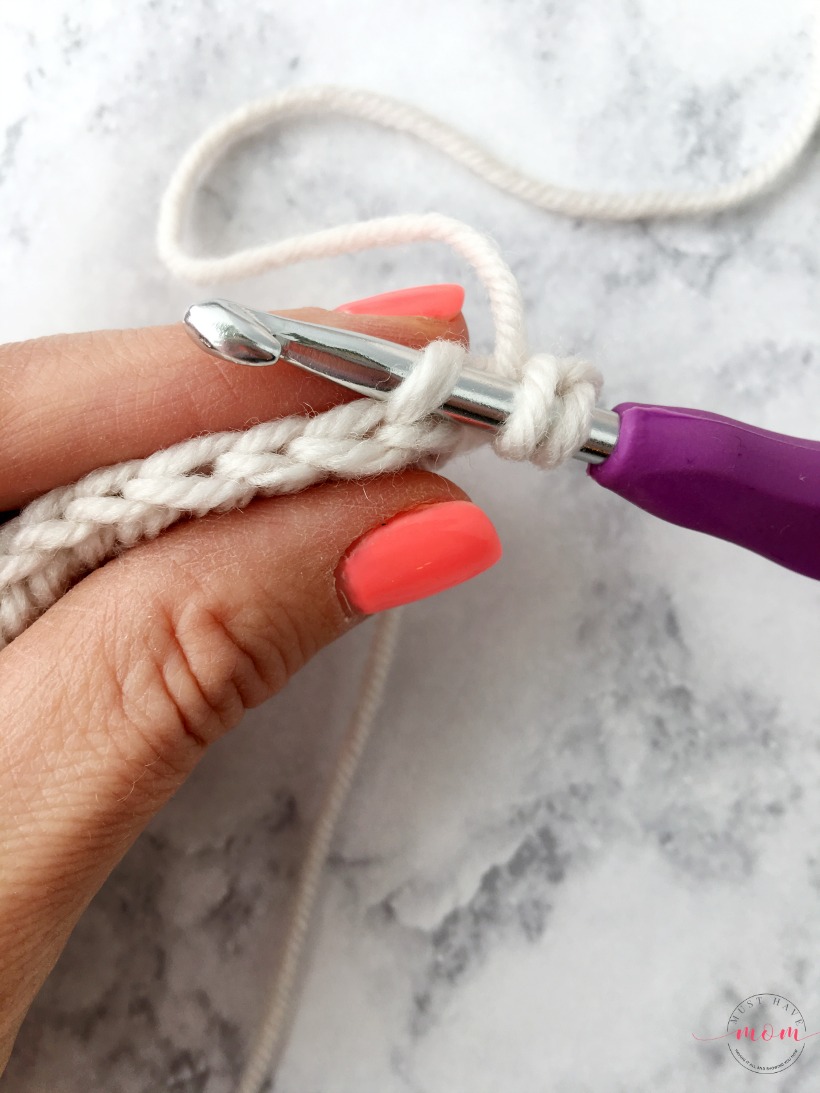 To HDC in back loops only, it should look like the photo above. Each "V" is a chain. The back side only is where you will place your crochet hook.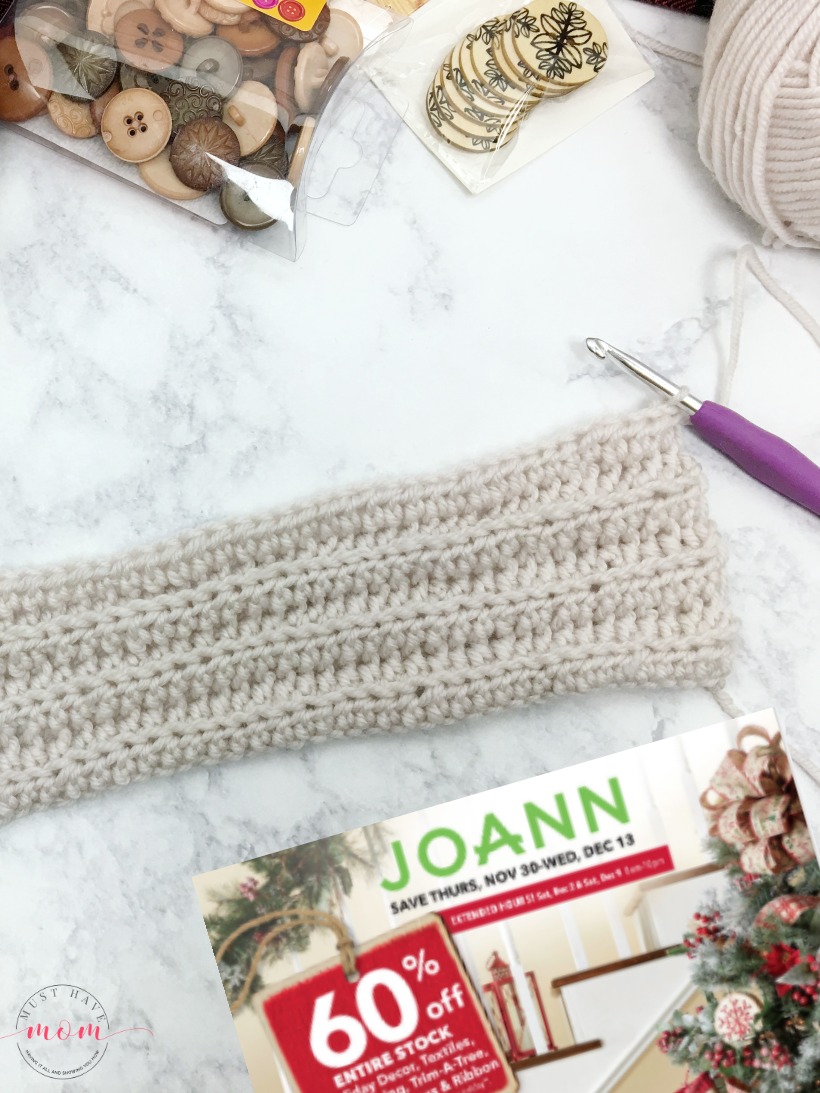 Repeat row 2 for rows 3-8. I love how soft the Red Heart Chic Sheep yarn is! As you work with it you'll feel the softness as your rows form. It's so soft and comfy!! Find it in the yarn section at JoAnn and feel how soft it is for yourself!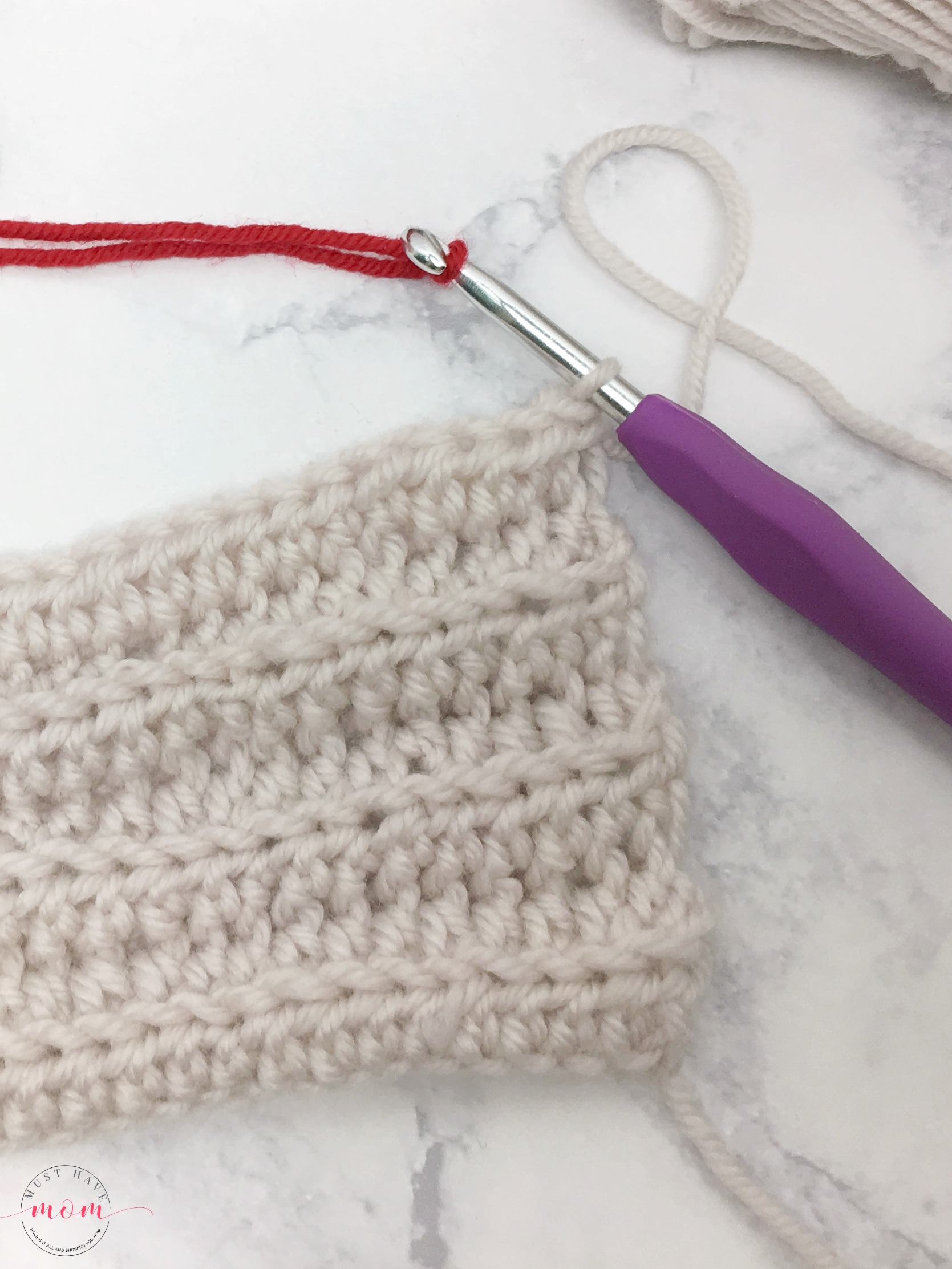 Once you finish row 8, it will be time to change to your second yarn color. To do this, make a slipknot and place it on your crochet hook. Cut your first yarn color from the skein, leaving a tail to weave together the ends later.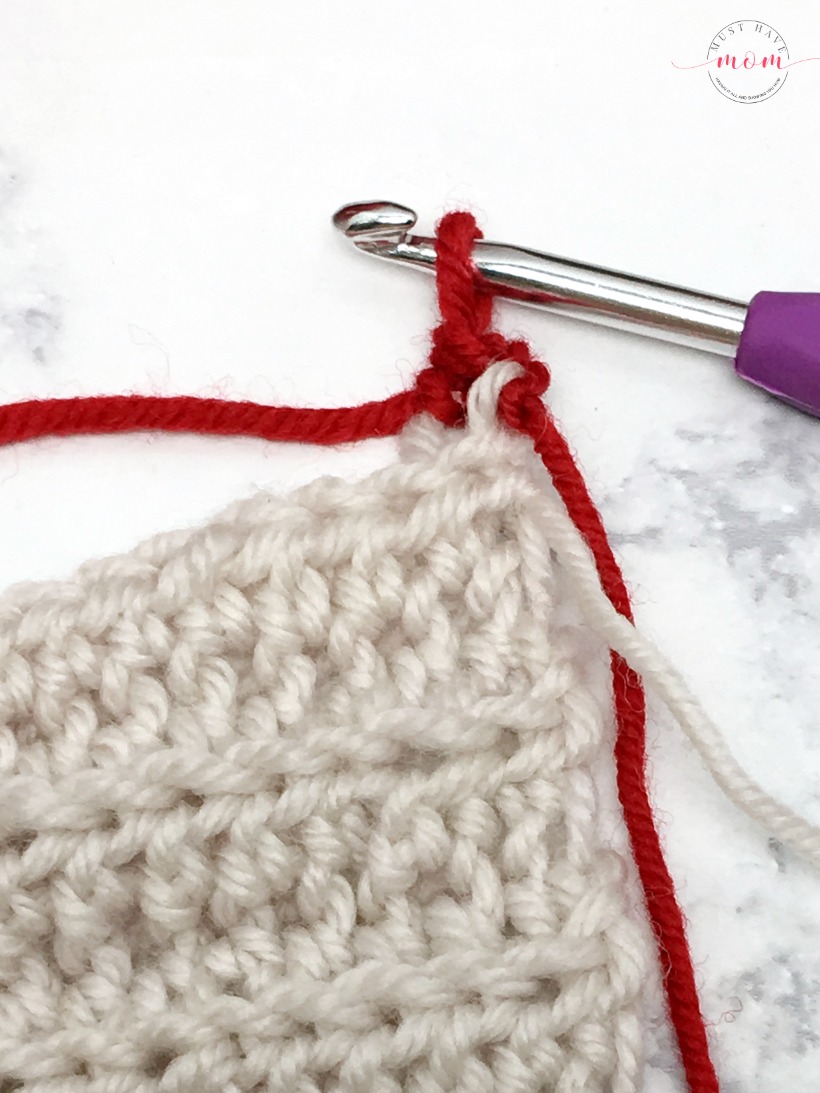 Row 9: Chain 2 with your second yarn color and HDC in back loops only.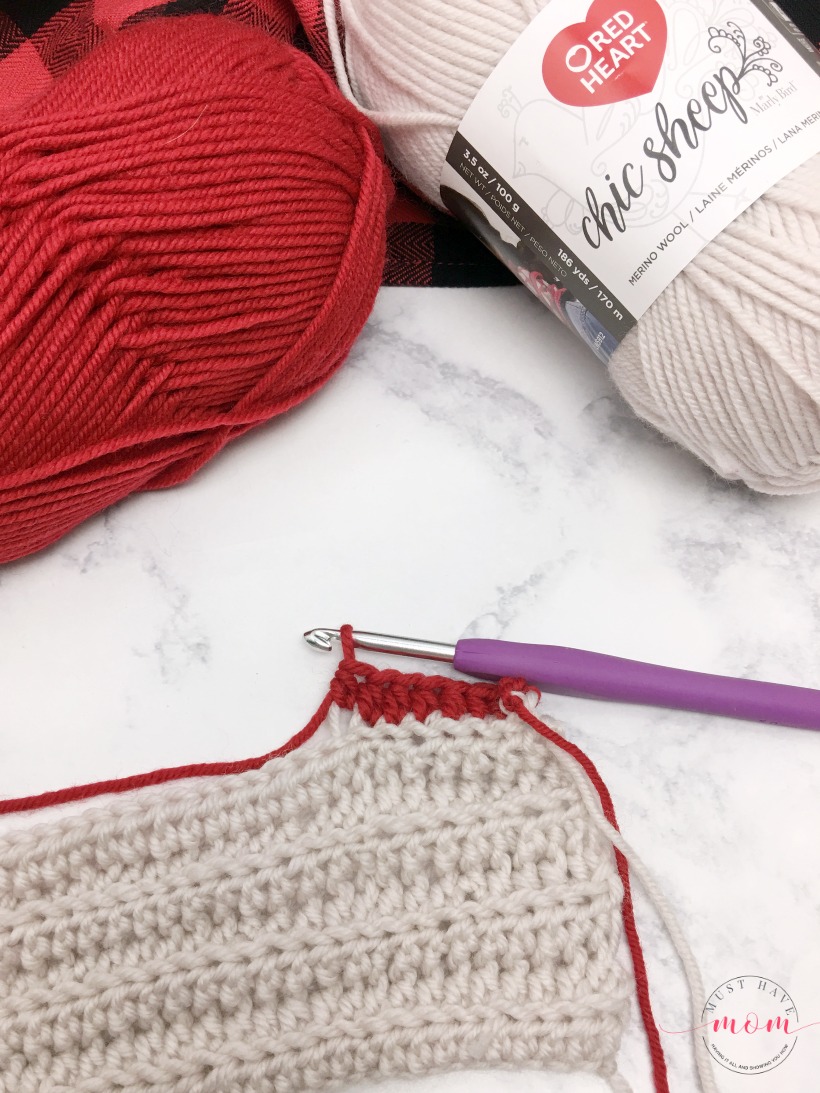 HDC every loop to the end of the row.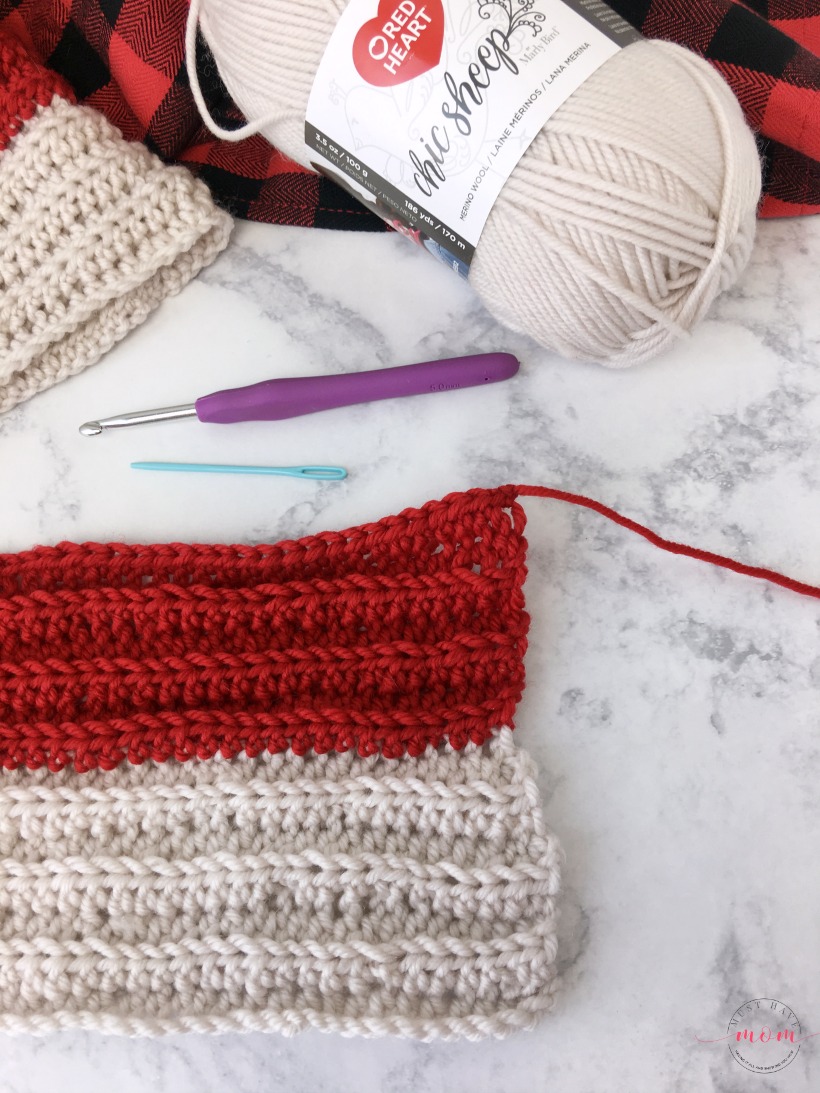 Repeat row 9 for rows 10-15. Once you reach the end of row 15, pull the yarn through to make a knot and cut your yarn, leaving a tail to weave together the ends.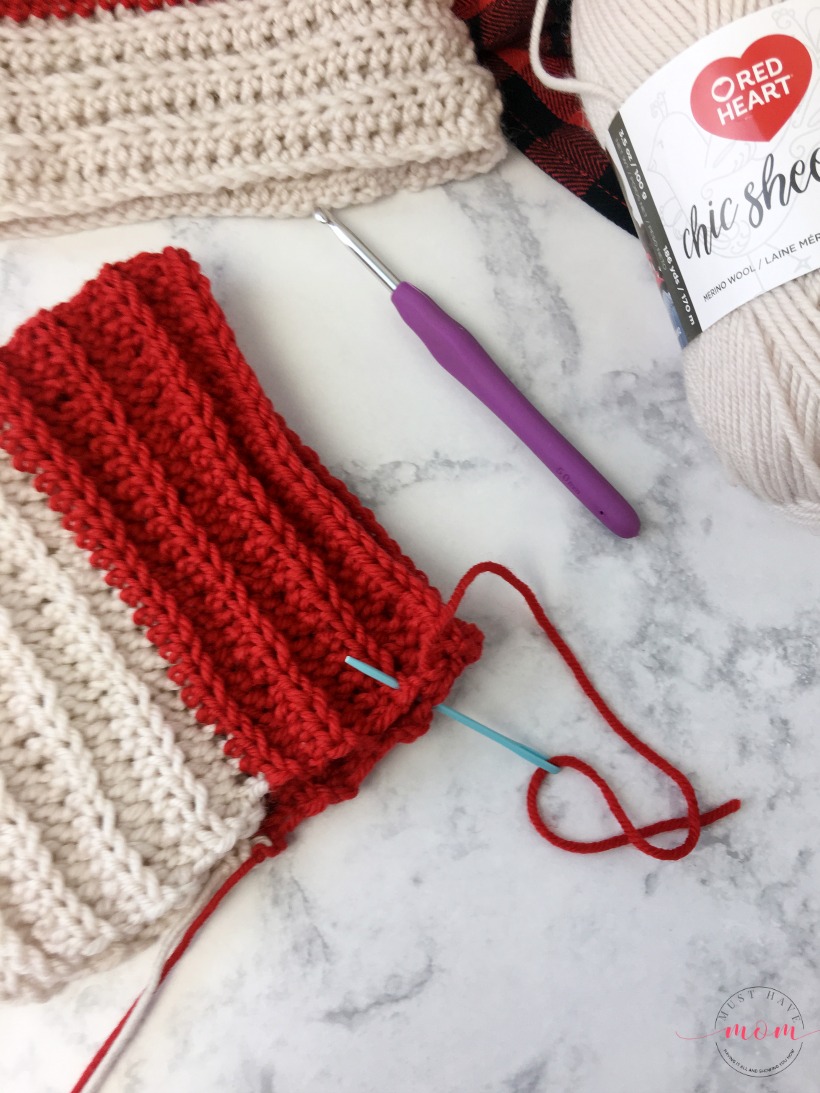 Next, fold the boot cuff in half, matching the ends together. Use your blunt needle and sew together the edges of the boot cuff.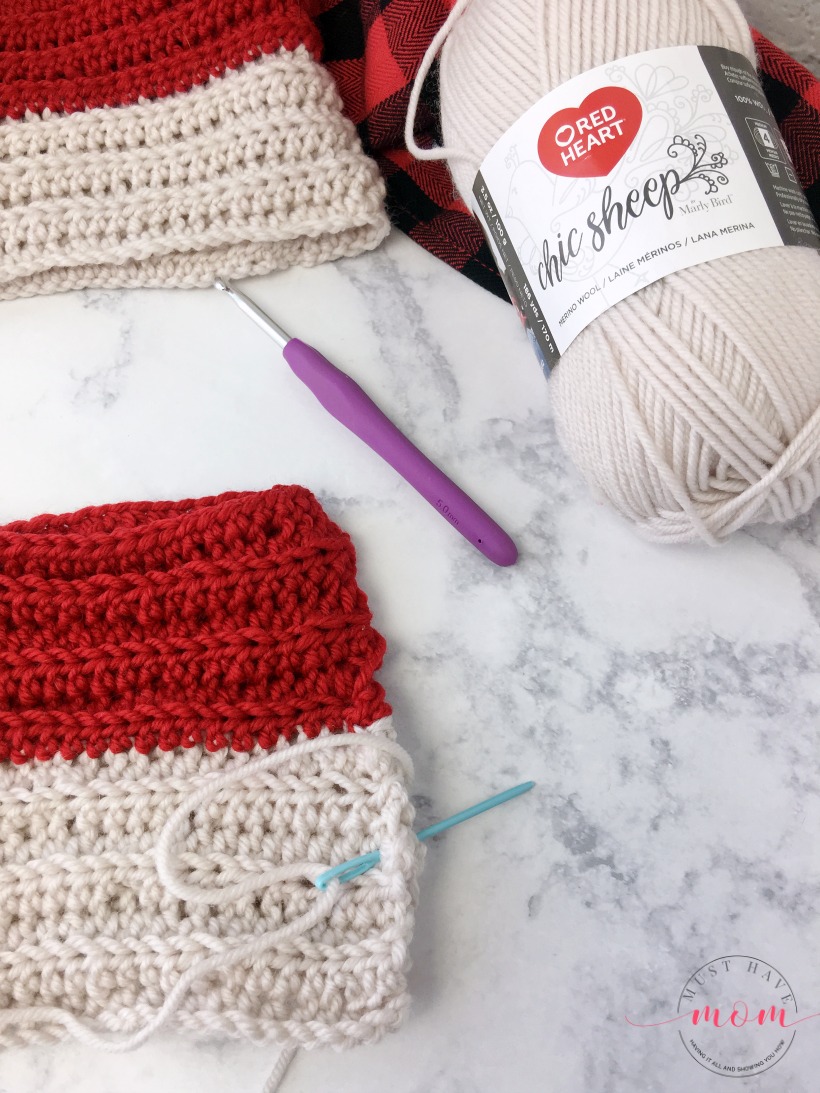 Use the correct colored tail to weave together each color's seam.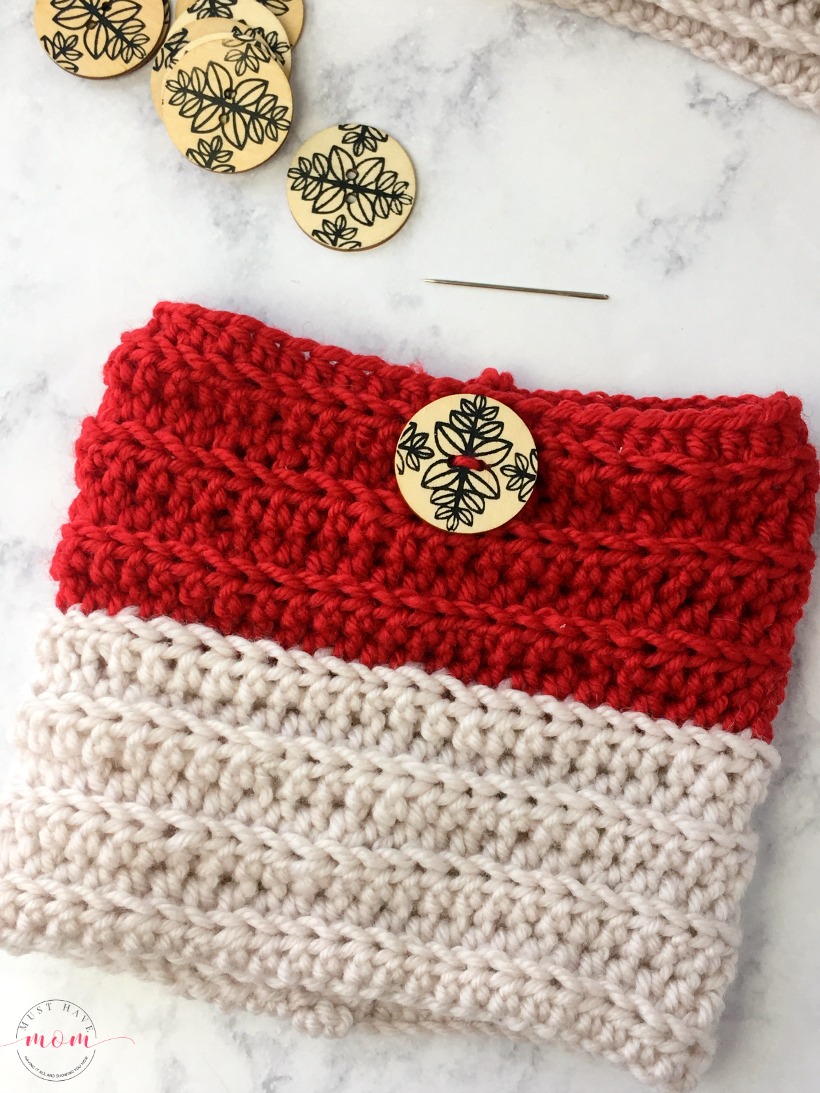 Now, turn boot cuff inside out so seam is on the inside. Use your sewing needle to sew on the wood button with a piece of yarn. Knot it on the backside.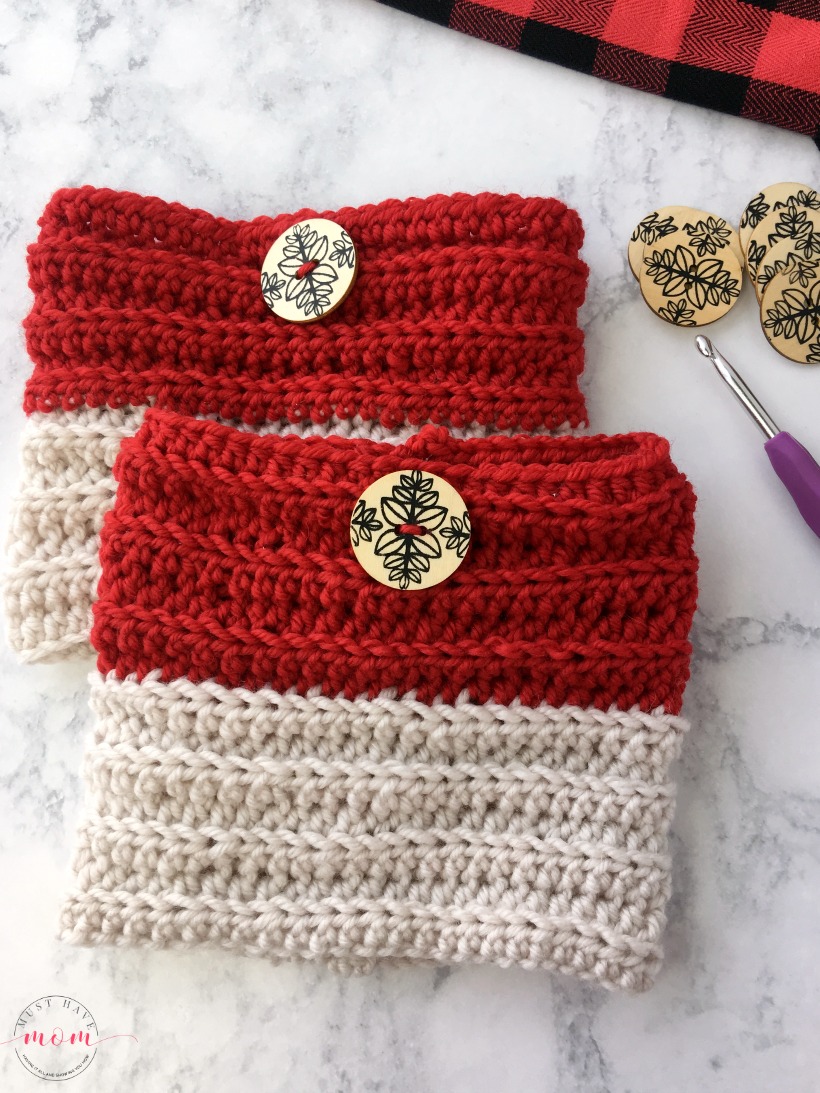 Weave in any loose ends and trim them.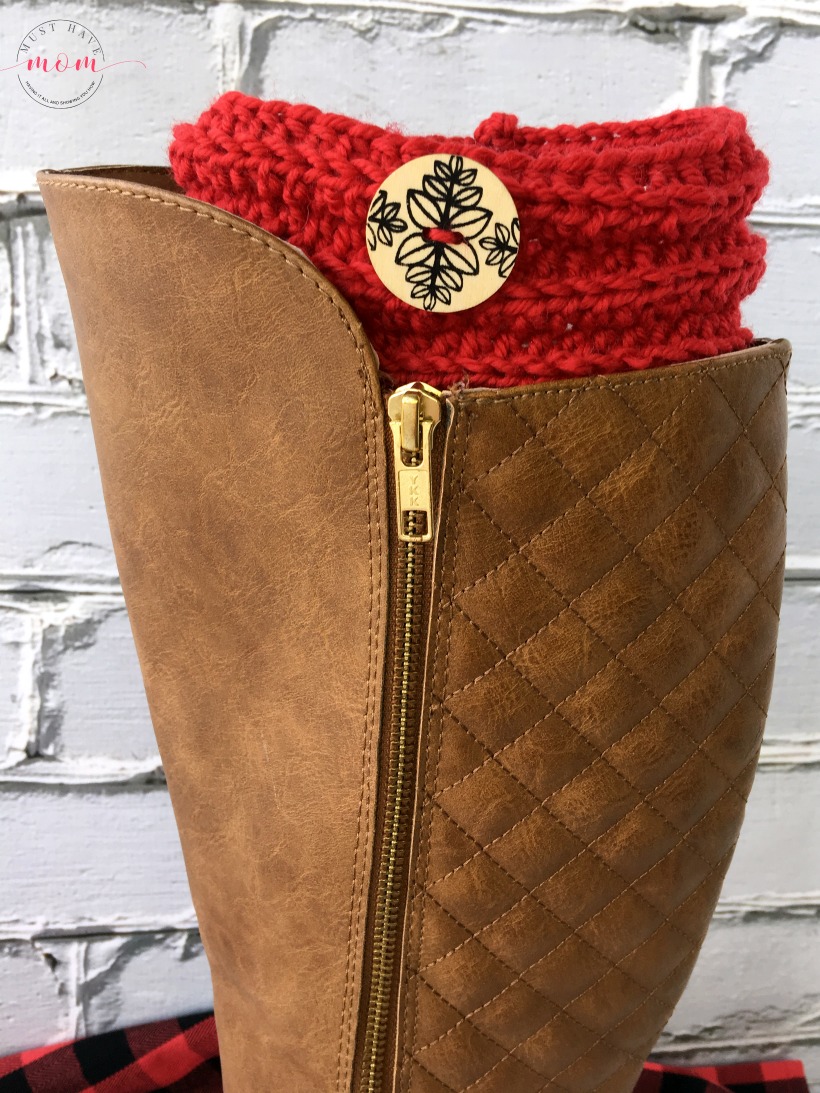 Now you have a reversible crochet boot cuff! Turn lipstick-colored side up to show off the red and wood button.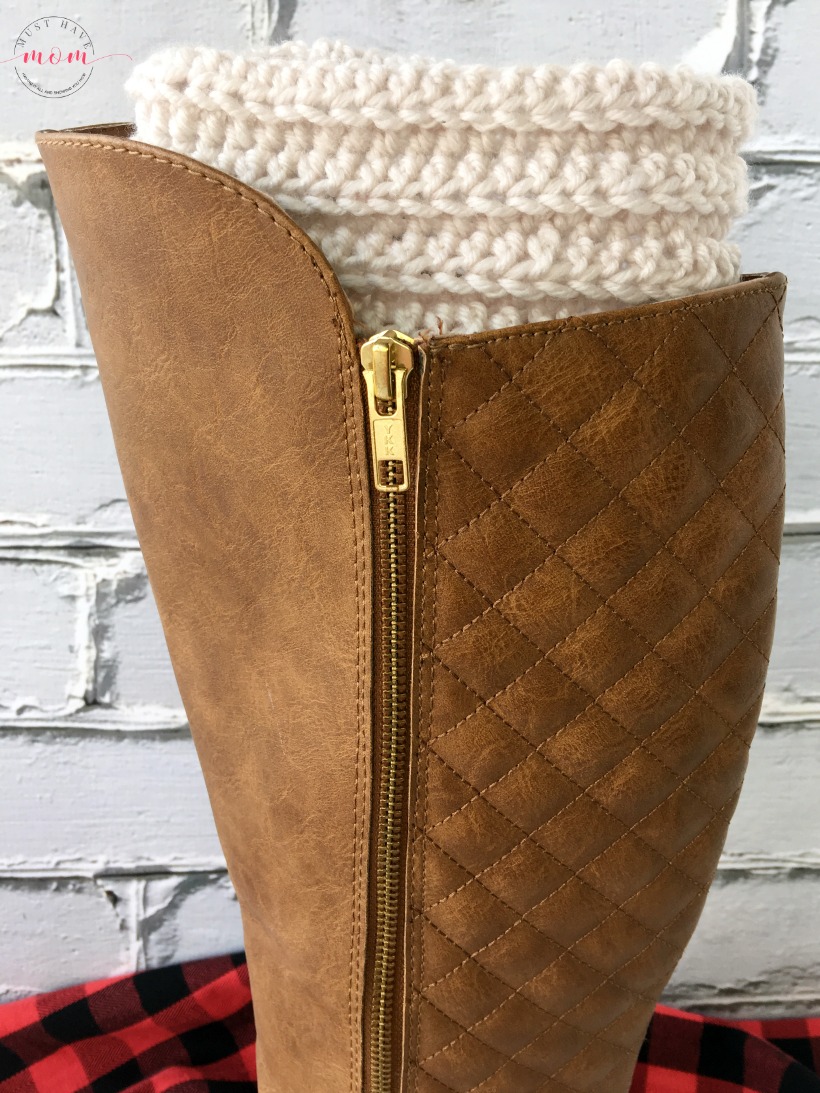 Flip upside down to change to the linen-colored look! I love both sides and I can't pick a favorite! Which color do you like better? Now you don't have to choose, you get both looks in one boot cuff. The best part is that these come together so quickly! It makes for an easy last minute gift idea.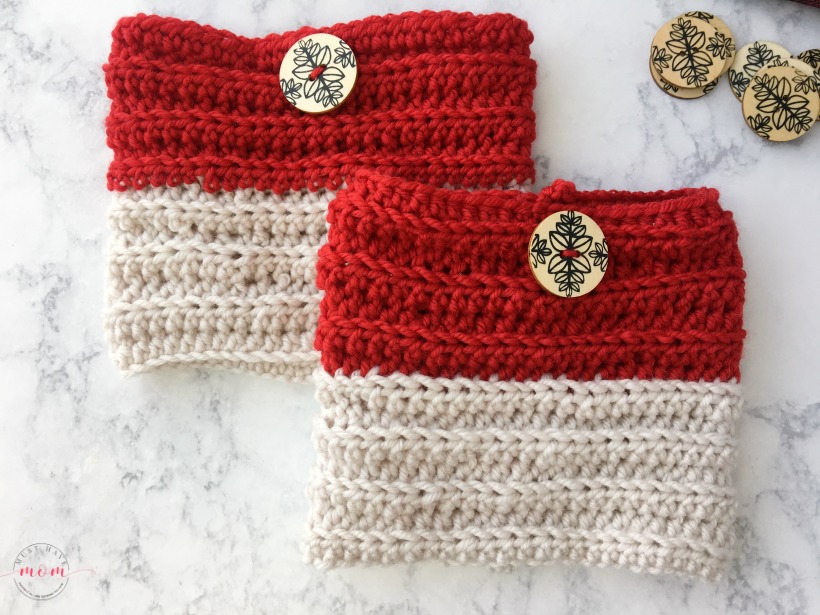 Love this yarn as much as I do? Get more free Sheep Chic patterns on the Red Heart website! New patterns released monthly!
Print the Reversible Crochet Boot Cuffs Free Pattern
Please note this pattern is copyright protected and may not be reprinted without permission. I will email you the pattern directly so that you may print it for FREE! Just enter your information HERE to receive the free pattern.
Pin Reversible Crochet Boot Cuffs