DIY Toothbrush Timers + Fluoride Free Toothpaste For Kids!
Teaching kids to brush their teeth is one of those lifelong skills they will use on a daily basis so teaching them how to do it properly is important! Make these DIY toothbrush timers and grab some Hello fluoride free toothpaste to teach them to brush the correct way!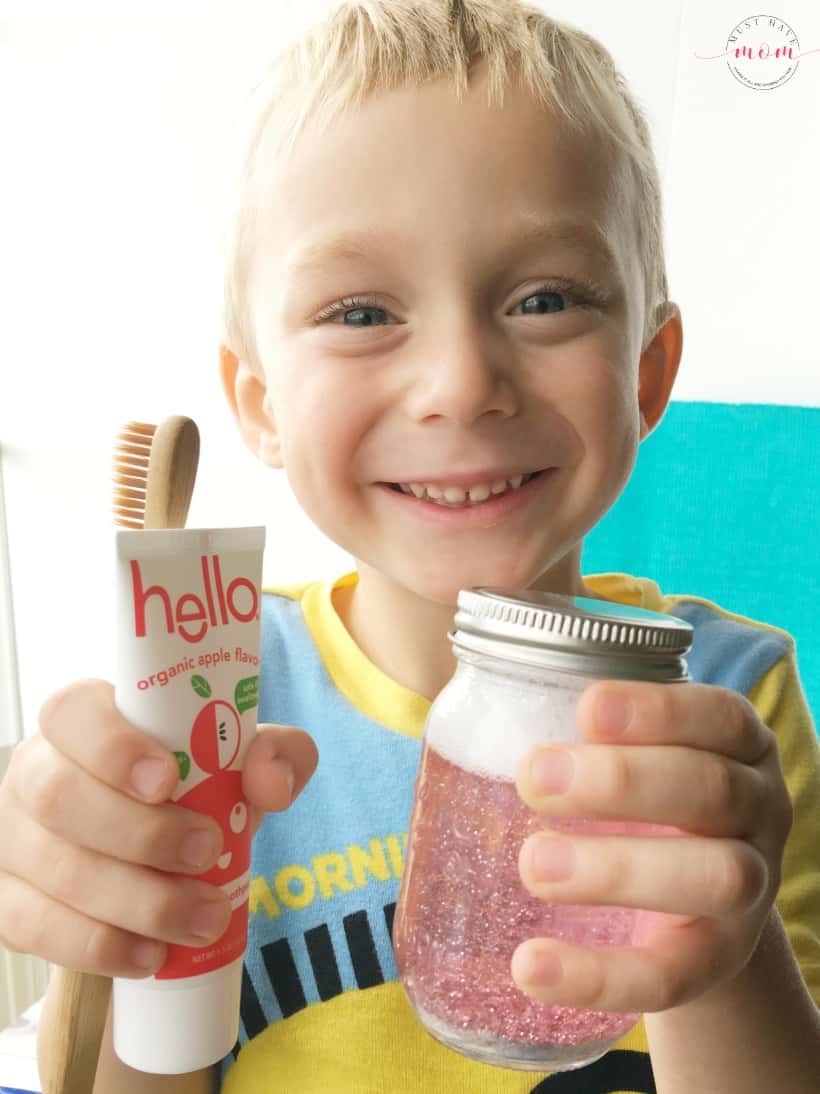 Brady loves brushing his teeth but he never brushes long enough and often he forgets to spit out the toothpaste and he swallows it instead. This is really common with toddlers and I've got the perfect solution for that!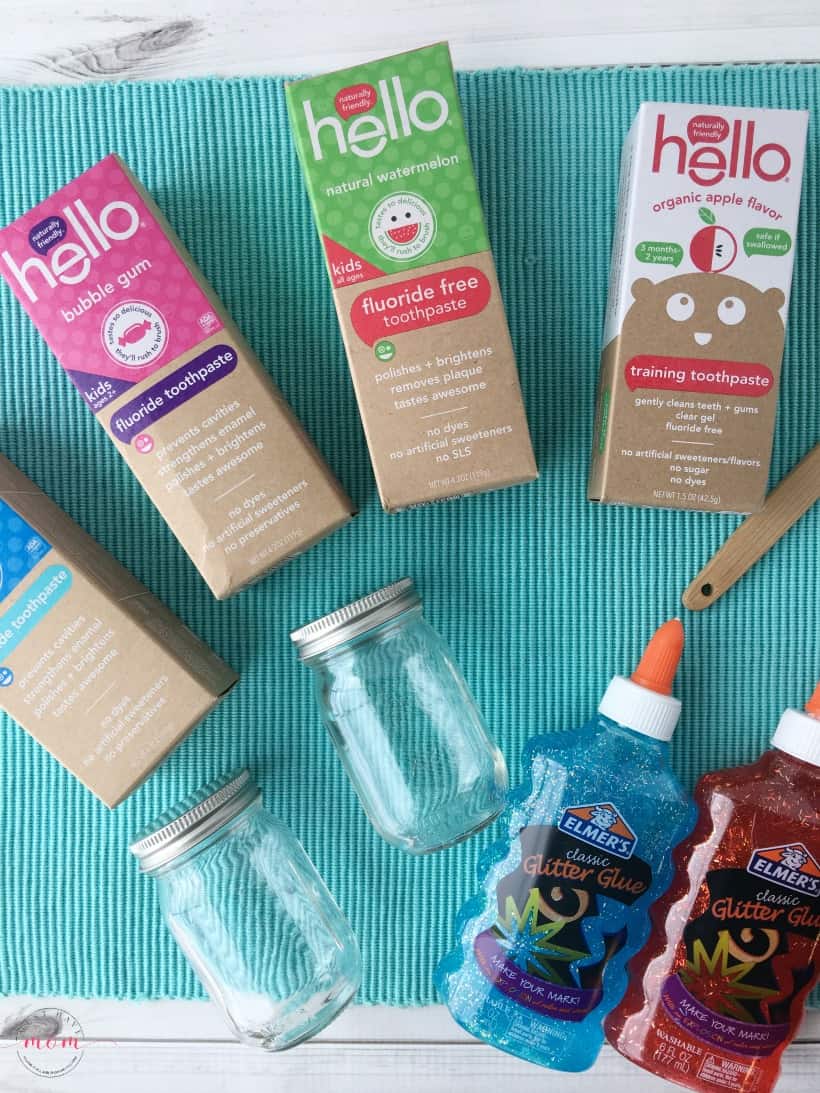 Teaching kids to brush should be fun and enjoyable! My kids HATE mint toothpaste. They say it's "too spicy!". In order to make brushing a fun and enjoyable experience, I start off by making sure they have the BEST toothpaste possible! That's why I choose Hello toothpaste for all of my kids (and myself too!).
Hello kids training toothpaste is fluoride free, sls free and mint free! They have an organic apple flavored training toothpaste for toddlers that is a fluoride free toothpaste so if they swallow it, it's okay! They also have a kids fluoride free toothpaste for kids of all ages that is watermelon flavored and SO delicious! If you like fluoride in your child's toothpaste, they offer those varietites too! My kids are HUGE fans of Hello toothpaste thanks to their fun flavors (think apple, watermelon, bubble gum and blue raspberry!) and I'm a big fan of the naturally friendly ingredients.
DIY Toothbrush Timers Instructions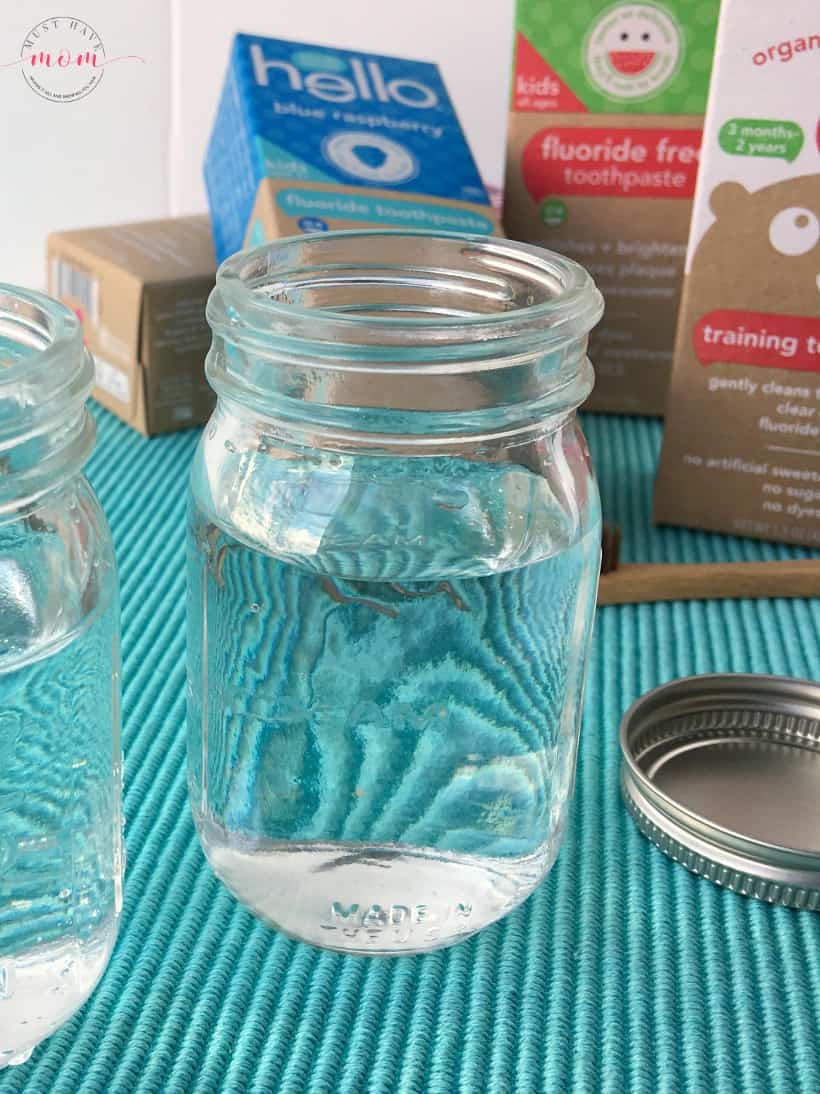 Now that you have the perfect, kid-friendly toothpaste, it's time to make our toothbrush timers! These fun timers will help kids learn to brush their teeth for a full 2+ minutes. Dentists recommend that kids brush for a minimum of two minutes. These timers will be shaken up and then settle in 2+ minutes. Once the glitter settles the kids will know they are done brushing!
Begin by using small jars. I found some mini mason jars to use. You may also find some small jars in the craft section. Fill them about 3/4 full of water.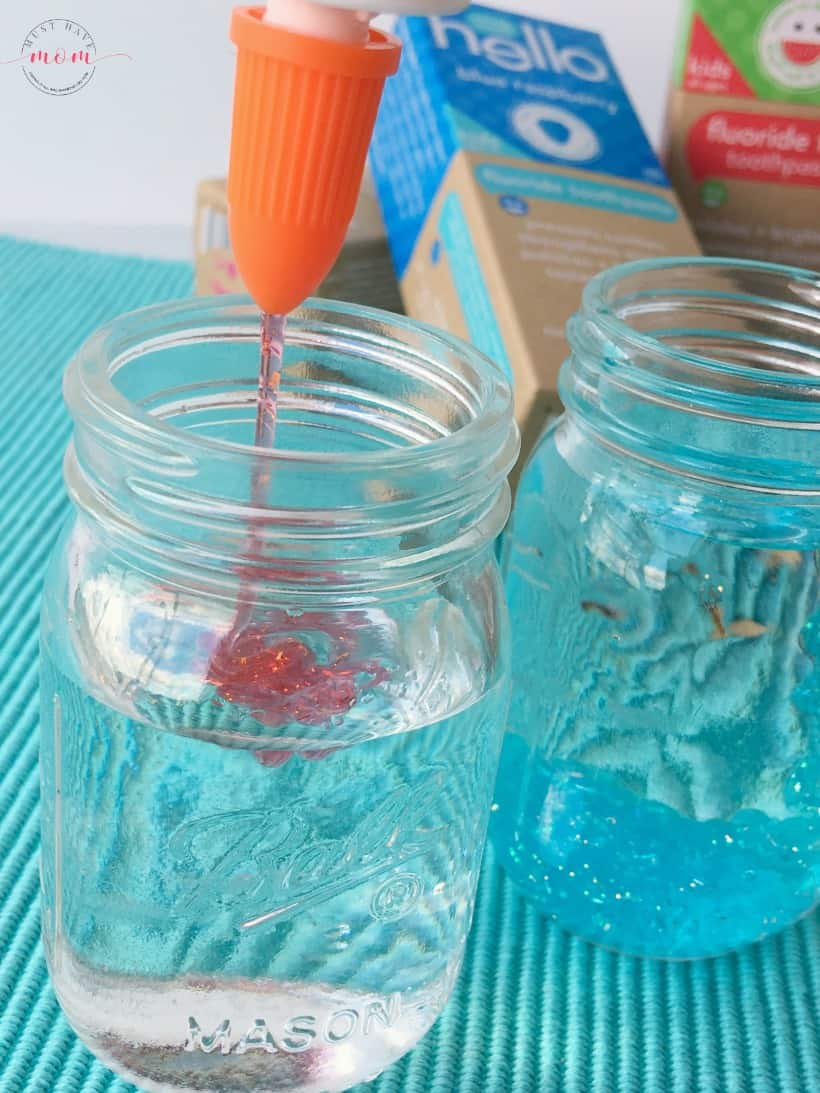 Add glitter glue into the water. Squeeze the glue bottle for about 10 seconds.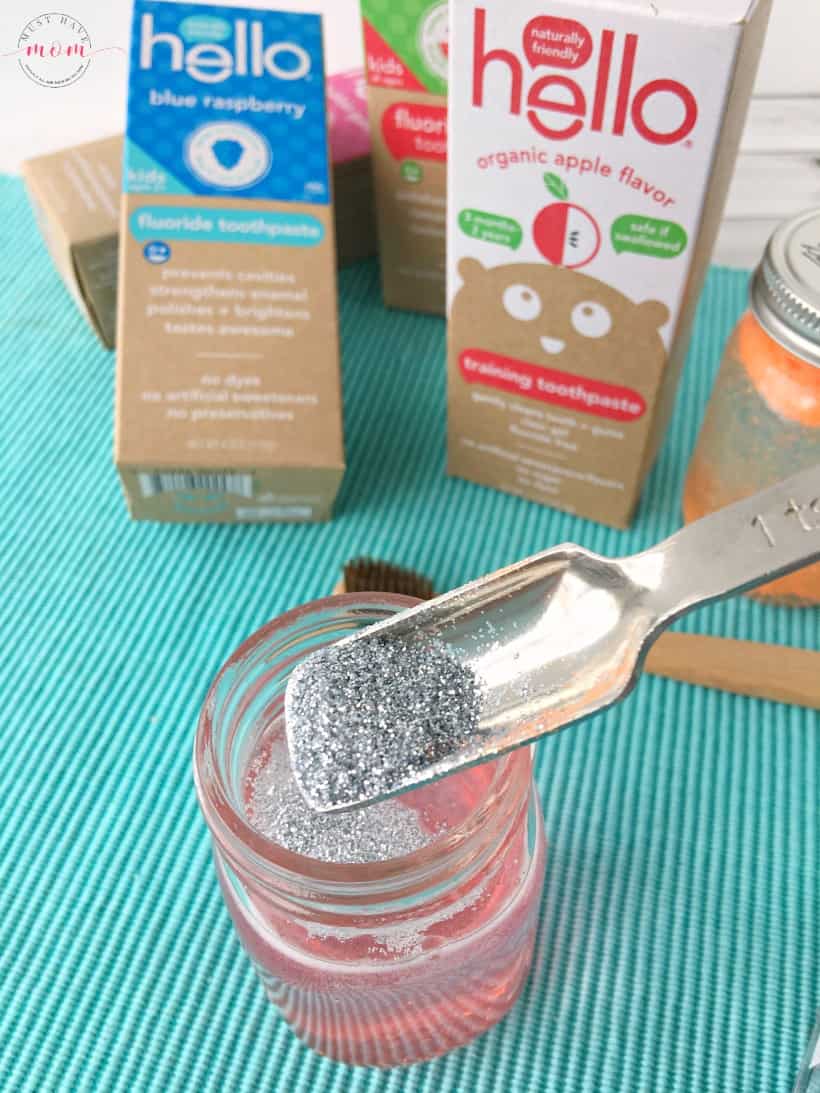 Then add 1/2 teaspoon of fine glitter.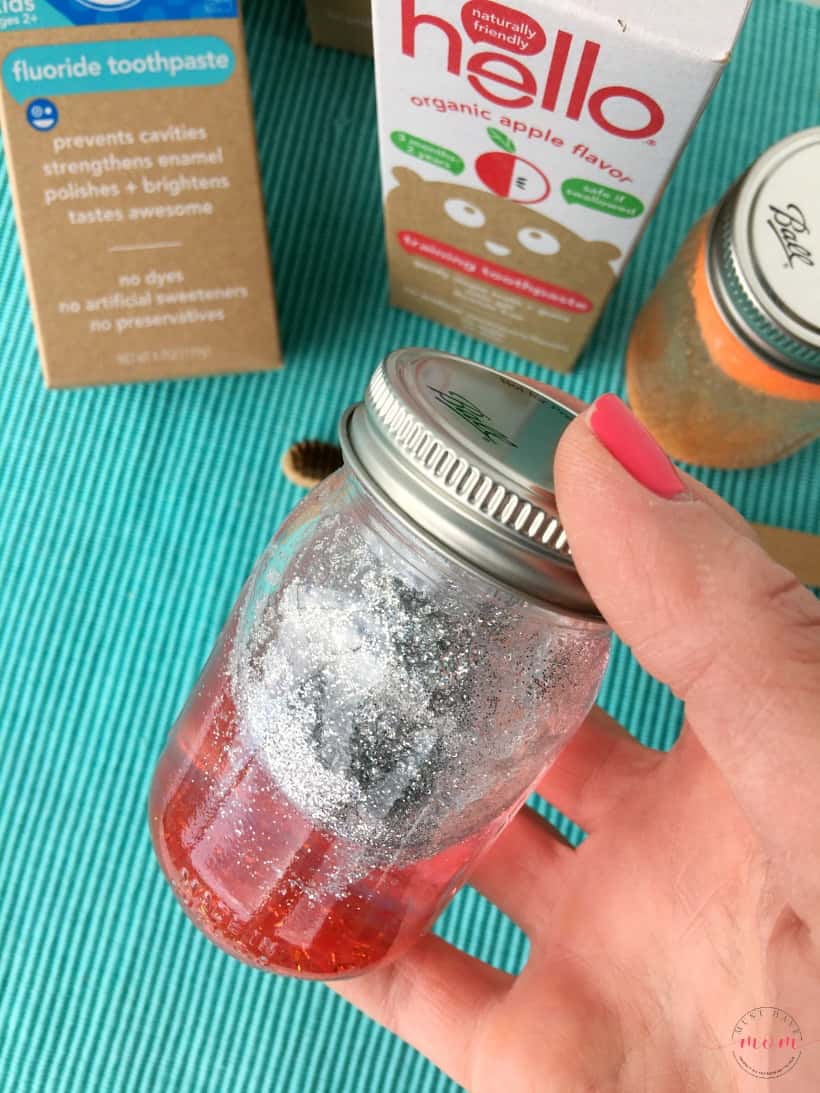 Now, seal the jar and give it a shake. You may want to time how long it takes to settle and adjust your amount of glue and glitter accordingly. Amounts will vary depending on the size of jar you use. Air on the minimal side to start because you can always add more glitter glue or glitter if it doesn't take 2 minutes to settle. Once you've got it around 2-3 minutes to settle in the jar then add some super glue around the rim of the jar and secure the lid.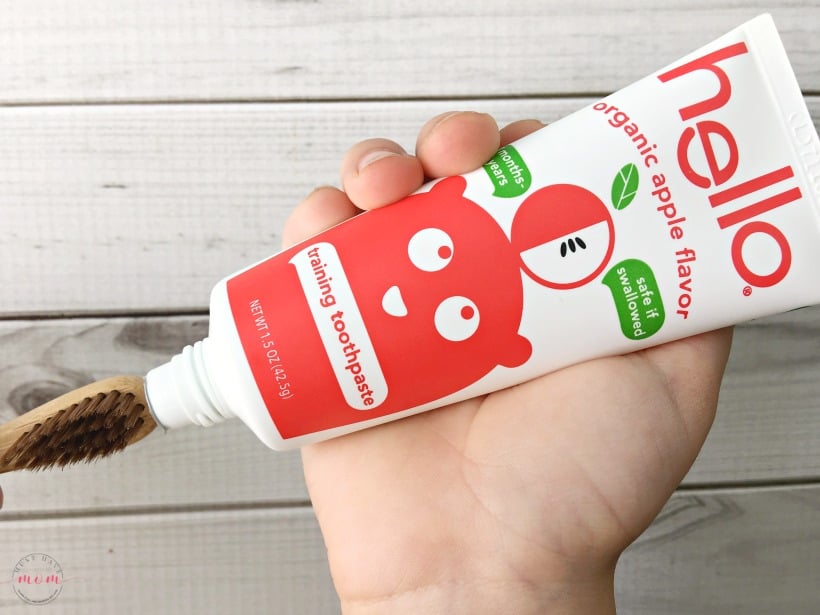 Now it's time to brush! Grab your Hello training toothpaste or fluoride free toothpaste and help your child put the proper amount on their toothbrush.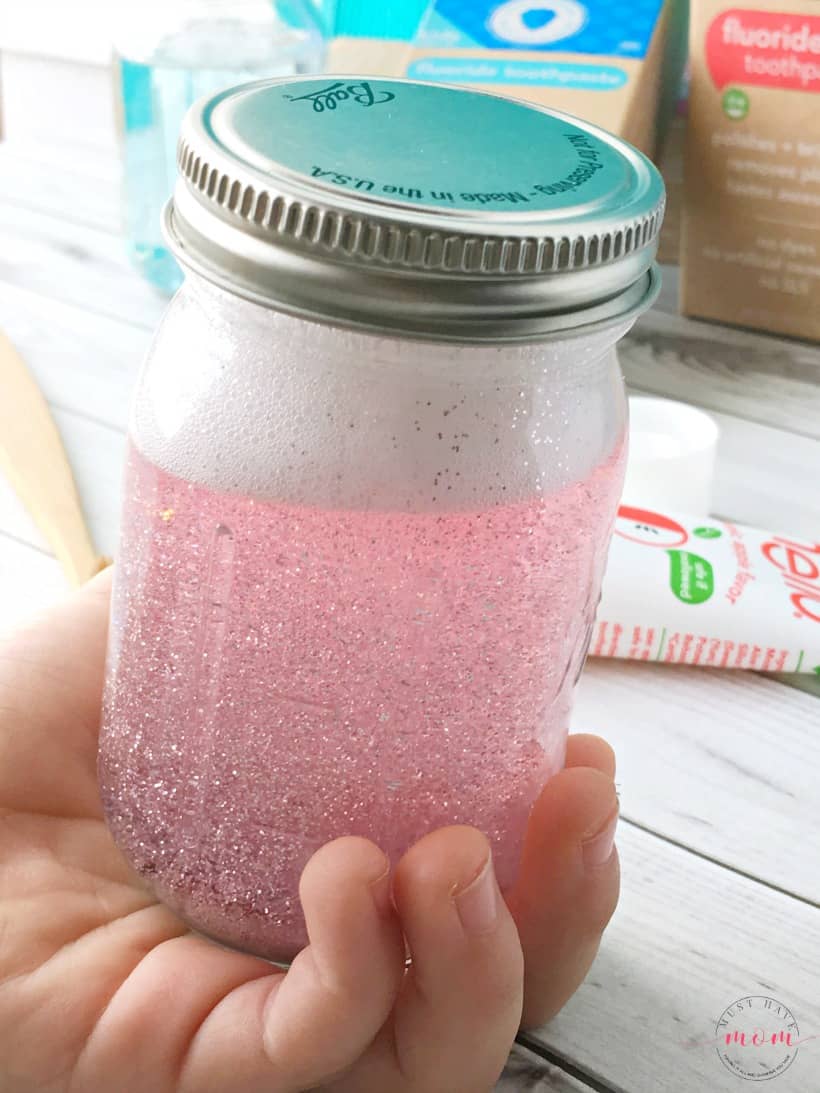 Let them shake up their toothbrush timer and set it on the counter.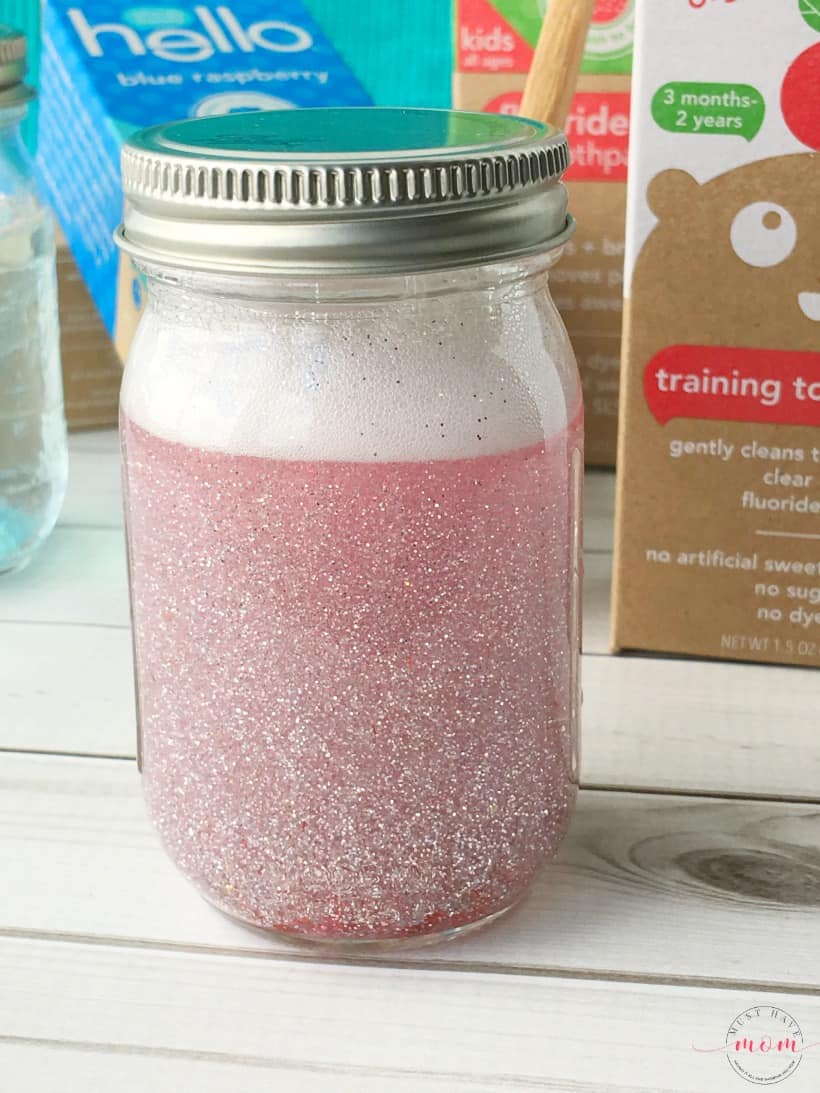 Now set the toothbrush timer jar on the counter and brush, brush, brush until all of the glitter settles.
You can find our favorite Hello toothpaste line at Target and Walmart. They have a full line of training toothpaste, fluoride free toothpaste and fluoride toothpastes. Hello respects a brusher's right to choose whether you want fluoride in your toothpaste or not! The organic apple training toothpaste can only be found at Target! My husband and I also love the Hello fluoride free whitening toothpaste! Hello oral products land high on my list thanks to their naturally friendly ingredients. You won't find any synthetic dyes, artificial sweeteners/flavors, parabens, microbeads, triclosan or gluten in Hello oral products. Plus the entire line is cruelty-free, vegan and gluten free and made from globally-sourced, naturally-friendly ingredients.
Buy the Supplies We Used:
Find all of these supplies at Target or Walmart or order them online right now!
Ball Glass Mini Storage Jars (Set of 4)

Elmer's Liquid Glitter Glue, Washable, Blue, 6 Ounces, 1 Count – Great For Making Slime

Sulyn 2oz. Glitter Stacker Jar – Sterling

Hello Oral Care Kids Fluoride Free Toothpaste, Natural Watermelon, 4.2 Ounce

Hello Oral Care Fluoride Free Toothpaste, Natural Sweet Mint, 4.2 Ounce(Pack Of 4)

Gorilla Super Glue, 15 g

Pin these DIY Toothbrush Timers: