Marshmallow Caramel Rice Krispies Recipe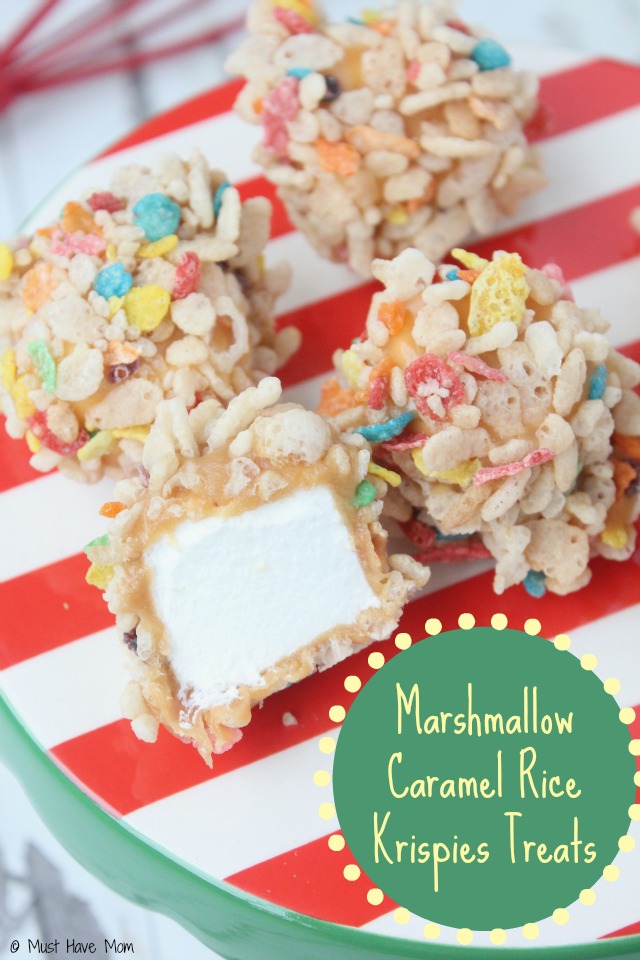 When I was little my mom would always bring home a plate of cookies from the cleaning lady at her work office. On that tray would be one of these delicious marshmallow caramel rice krispies treats. My mom always claimed it for herself! We soon started making them ourselves because they were so amazingly delicious! She got the recipe and I've made them every year for Christmas and I am always asked for the recipe.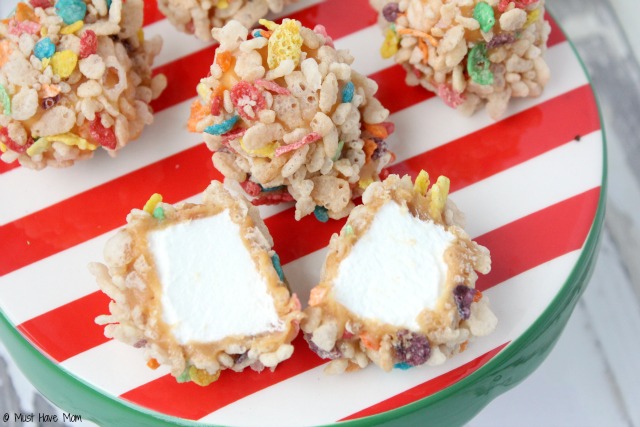 While these aren't the prettiest treat on the holiday plate, they are one of the most delicious treats on the plate! They are a little bit of work to make but they are easy overall. It is more time consuming than it is difficult. You'll just be dipping the marshmallows into the caramel and then rolling them in the cereal. You'll need to work quickly so your caramel doesn't harden.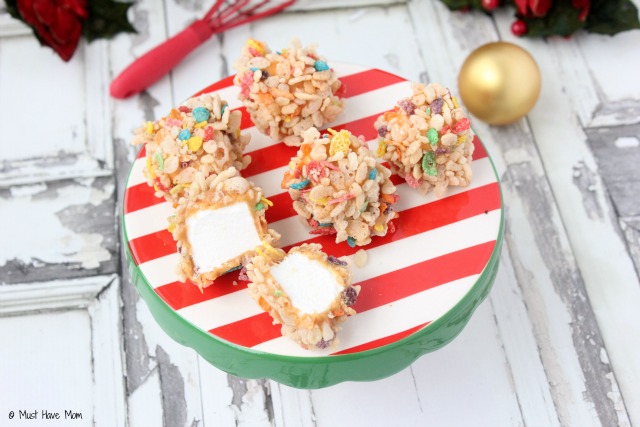 Print off the recipe below. Be sure to also pin it and share it on Facebook for easy finding later!
Marshmallow Caramel Rice Krispies Recipe
Author:
Prep time:
Cook time:
Total time:
Ingredients
1 1/2 Package of large marshmallows
50 Kraft caramels (just over 1 package)
1 can sweetened condensed milk
1/2 C butter
1 box holiday rice krispies or mix together plain rice krispies and fruity pebbles
Instructions
Combine caramels, sweetened condensed milk and butter in a glass microwave safe dish. Heat in 2-3 minute intervals, stirring frequently until caramel is melted and completely combined.
Pour the cereal into a pie tin or dish.
Use a fork to dip the marshmallows in the melted caramel and then roll them in cereal. *Tip-If marshmallows seem to be melting then allow the caramel mixture to cool slightly before trying again. Don't let it cool too much or it won't stick to the marshmallows.
Place in an airtight container once the caramel has set.
 I have also made these on lollipop sticks for a treat on a stick!