How to make homemade ice cream with just 3 ingredients and no ice cream maker required! This easy strawberry ice cream recipe is rich and delicious and SO easy to whip up!
This post brought to you in collaboration with HarperCollins and the I Can Read! book series. Don't miss the giveaway at the end of the post!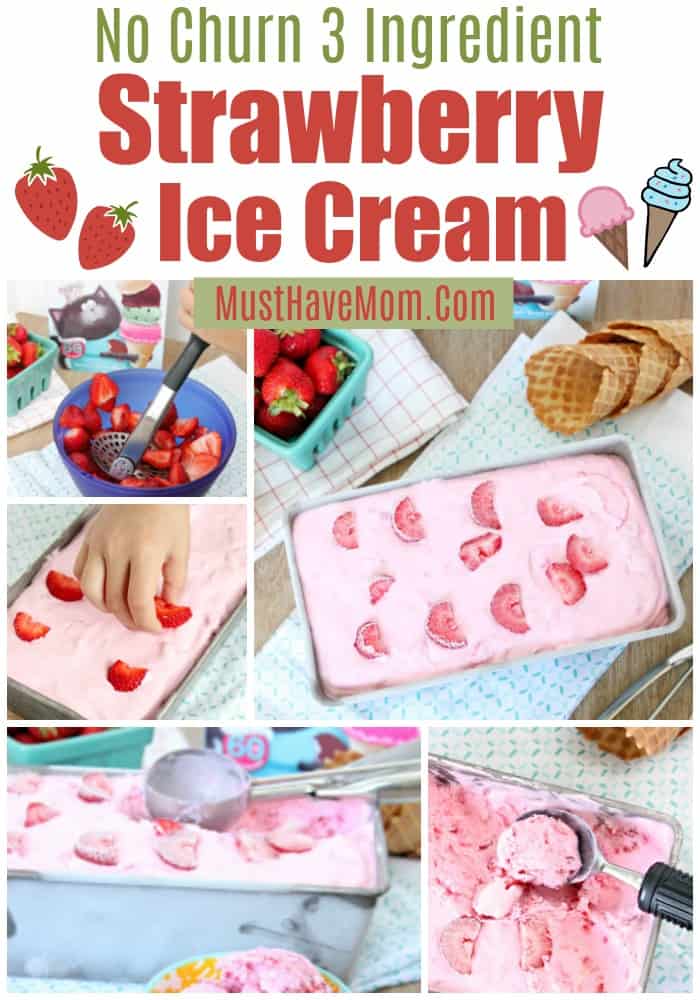 How To Make Homemade Ice Cream
Making homemade ice cream is much easier than you think. You don't even need a fancy ice cream maker! You can make a no churn ice cream recipe with just a mixer and a freezer! This recipe uses just 3 simple ingredients, heavy whipping cream, sweetened condensed milk and crushed, fresh strawberries.
Since this recipe is so easy, it's ideal for kids to help with. I got the inspiration to get in the kitchen with my son Carson, who is going into first grade, from one of his
I Can Read! Early Reader Series! books
. We paired the book with the ice cream making activity for a fun learning experience that is also helping him get ready for going back to school. I want him to be sure to practice reading over the summer so he doesn't forget the skills he learned in kindergarten. This was a great way to reinforce that and make it fun!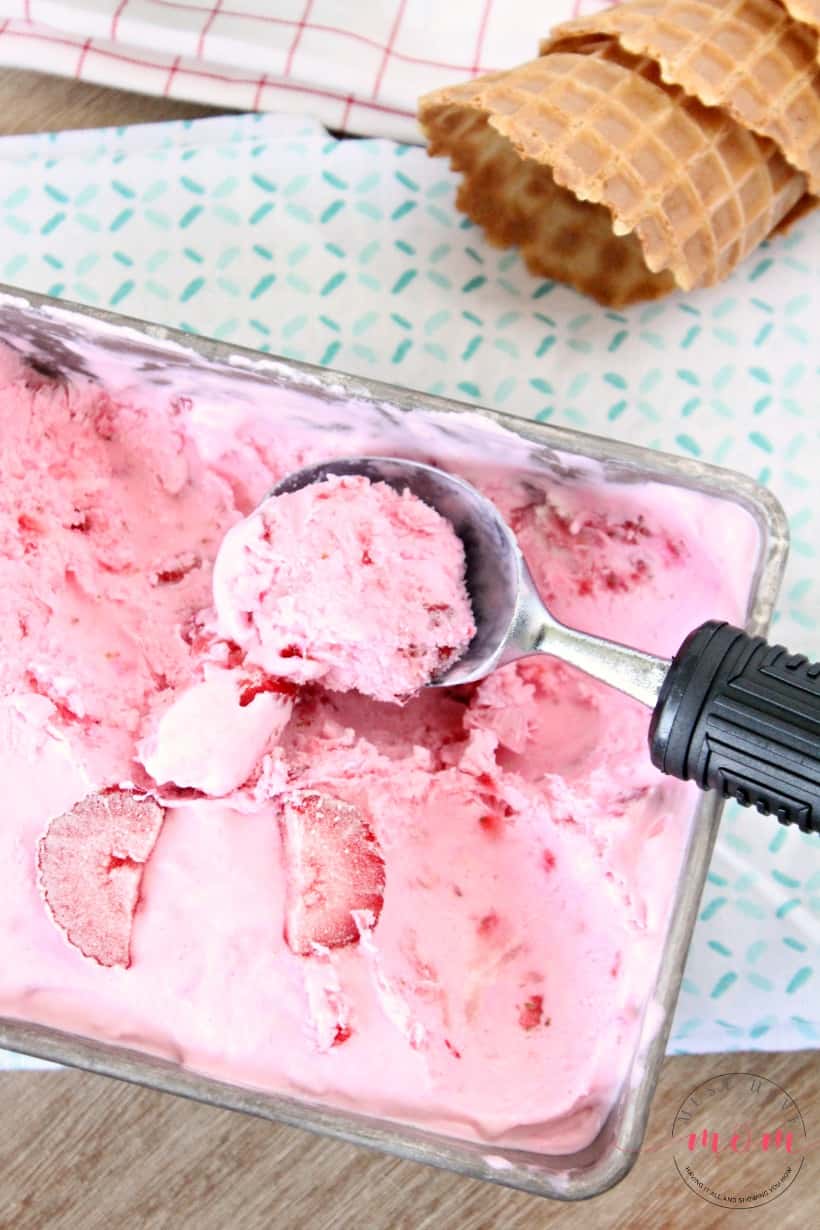 It's so easy and delicious which makes it the perfect recipe to make with your kids! My kids love to get in the kitchen and help cook and this was a great lesson in how to easily make homemade ice cream!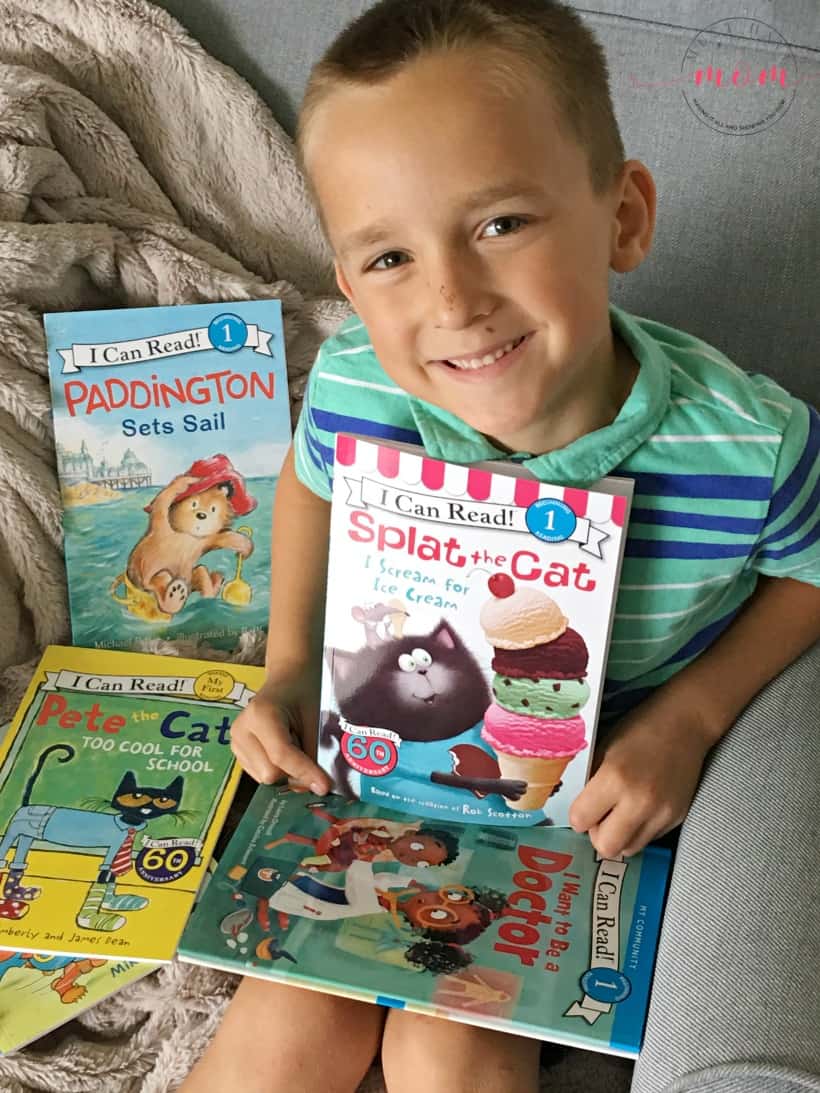 Ice Cream & Reading Activity
For this fun pairing of ice cream making and reading we stocked up on I Can Read! Early Reader Series! books and then I let Carson pick a book that we could do an activity based off of. He chose "Splat the Cat: I Scream For Ice Cream" and we decided we'd make some yummy strawberry ice cream just like Seymour had in the book! One of the best things about the I Can Read! books are that they feature familiar characters like Splat the Cat which makes them extra fun for the kids. Learn more about why to choose I Can Read! books and join us for this fun activity!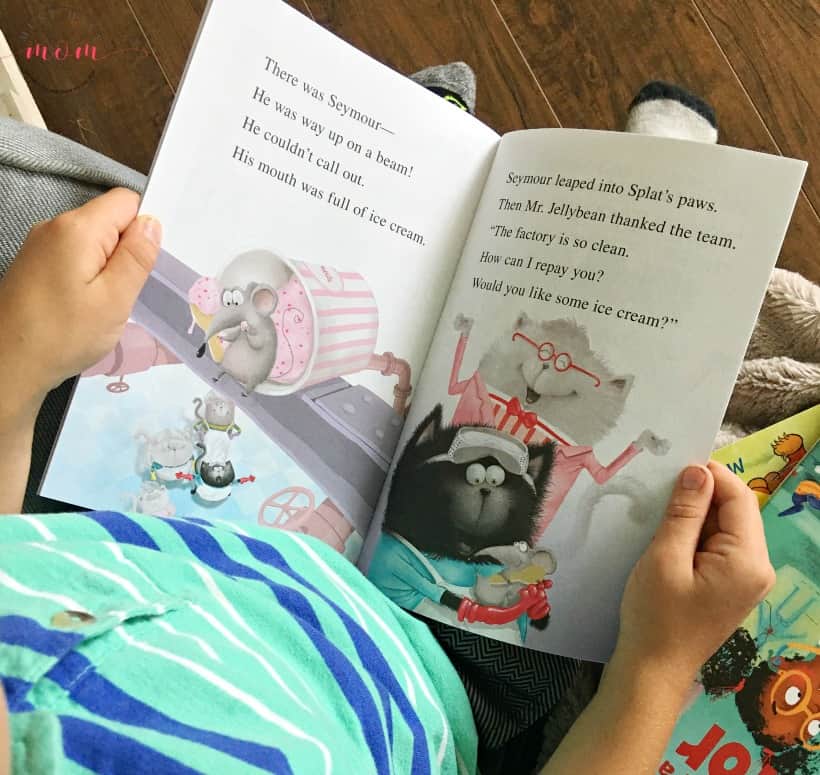 I love that the I Can Read! Early Reader series books are easy enough for Carson to read on his own. They are engaging and entertaining books while still being at a level that he can read and comprehend. It reinforces the skills he learned in school while also entertaining him and making reading fun! The books are designed with varying levels so you can pick the ones that are just right for your family.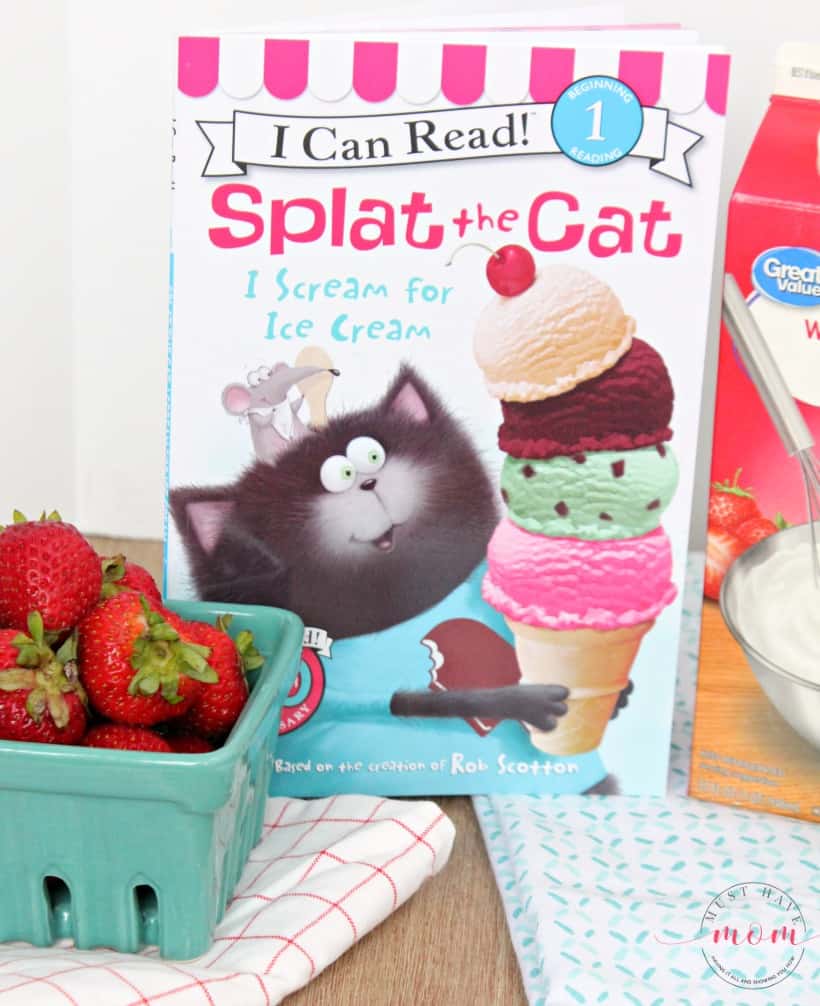 Easy Homemade Ice Cream Recipe
In the Splat the Cat: I Scream For Ice Cream book they visit an ice cream factory where things go awry and a mess of ice cream ensues. They lose Seymour and end up finding him eating a tub of strawberry ice cream. We took our cue from Seymour to create this yummy strawberry ice cream and there is no fancy ice cream factory required! For this homemade ice cream recipe you'll need just 3 ingredients:
2 cups heavy whipping cream, cold

14oz can sweetened condensed milk

1# fresh strawberries, washed and stems removed, set a few aside for garnish

optional: red food coloring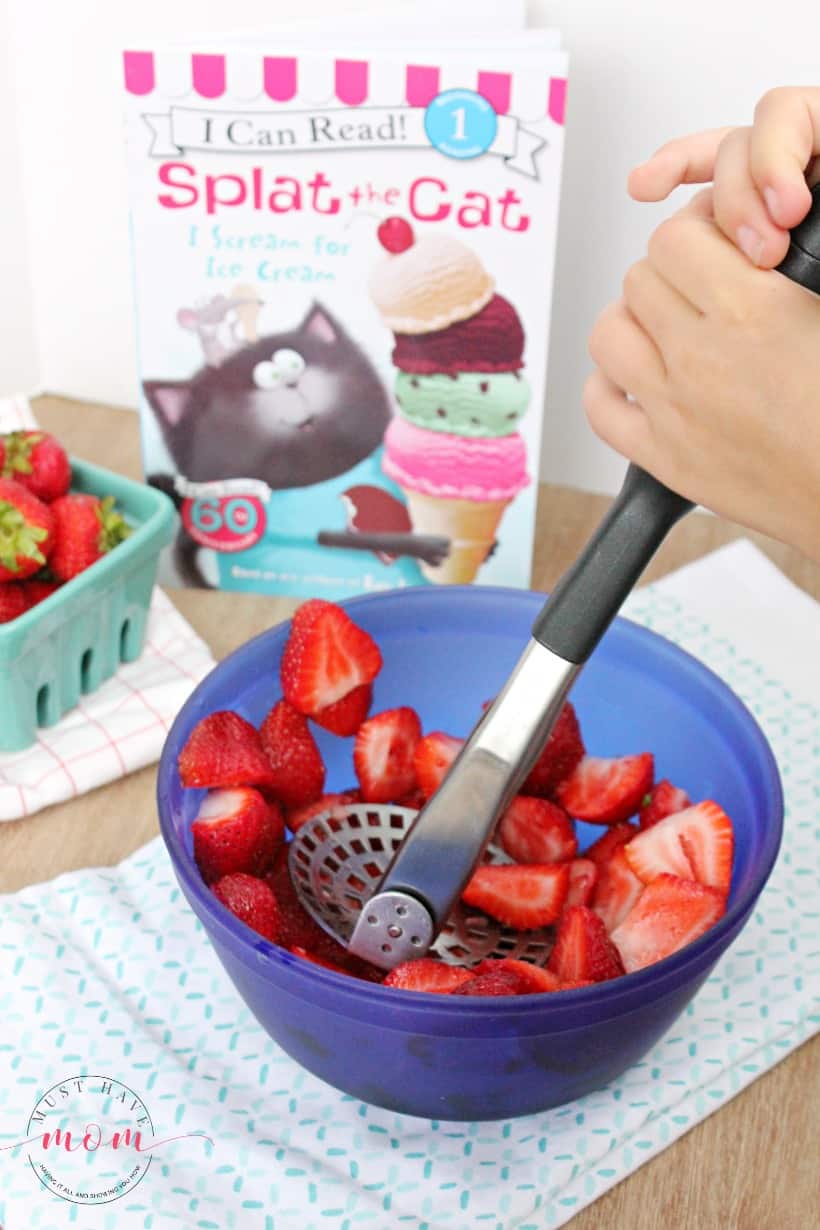 Step 1
Begin by placing the strawberries in a bowl. Allow your child to mash them using a potato masher until they are macerated.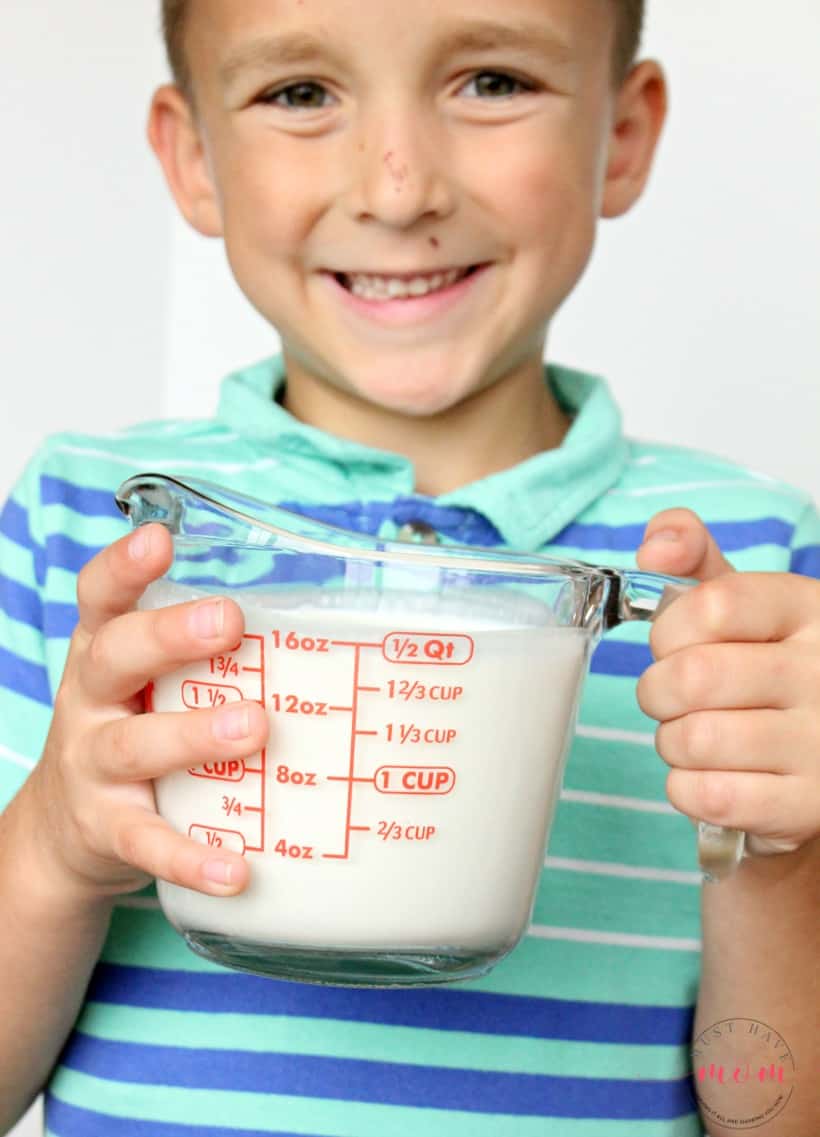 Step 2
Add 2 cups of heavy whipping cream and 14oz sweetened condensed milk to a mixer bowl and whip on high until stiff peaks form.
Be sure not to overbeat it or the cream will break. Peaks should be stiff and not runny. This takes approximately 5 minutes with a stand mixer.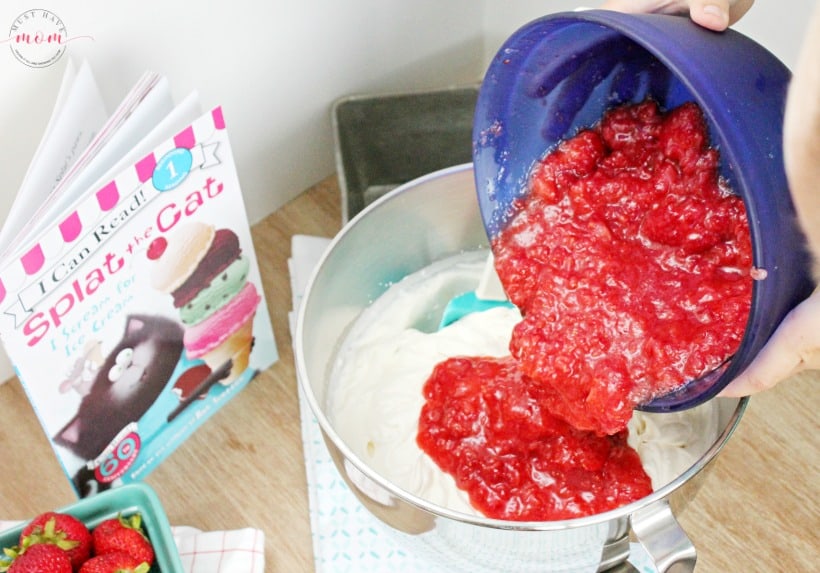 Step 3
Carefully fold in the crushed strawberries and gently mix together.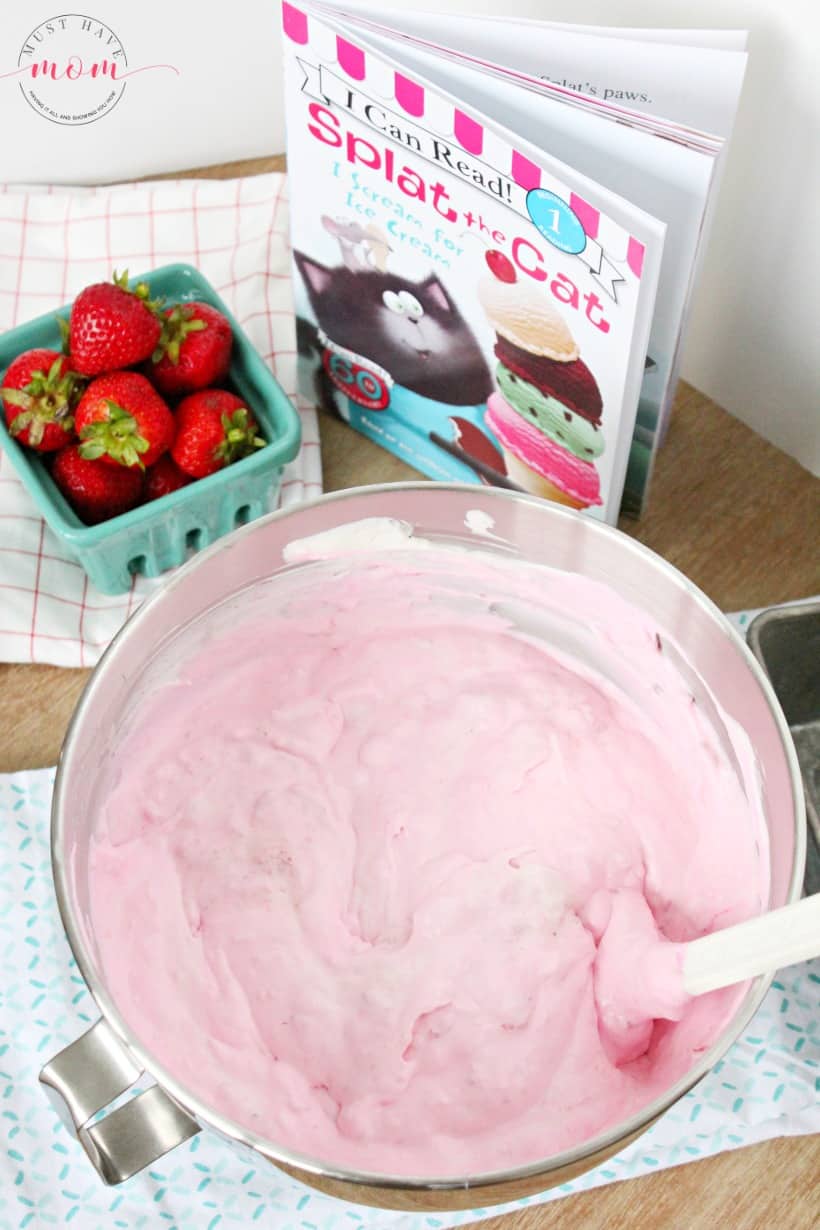 Step 4
If you wish you can add some red food coloring to it to make it more pink. This is not necessary though. Of course, my son wanted to add some! We added a few drops.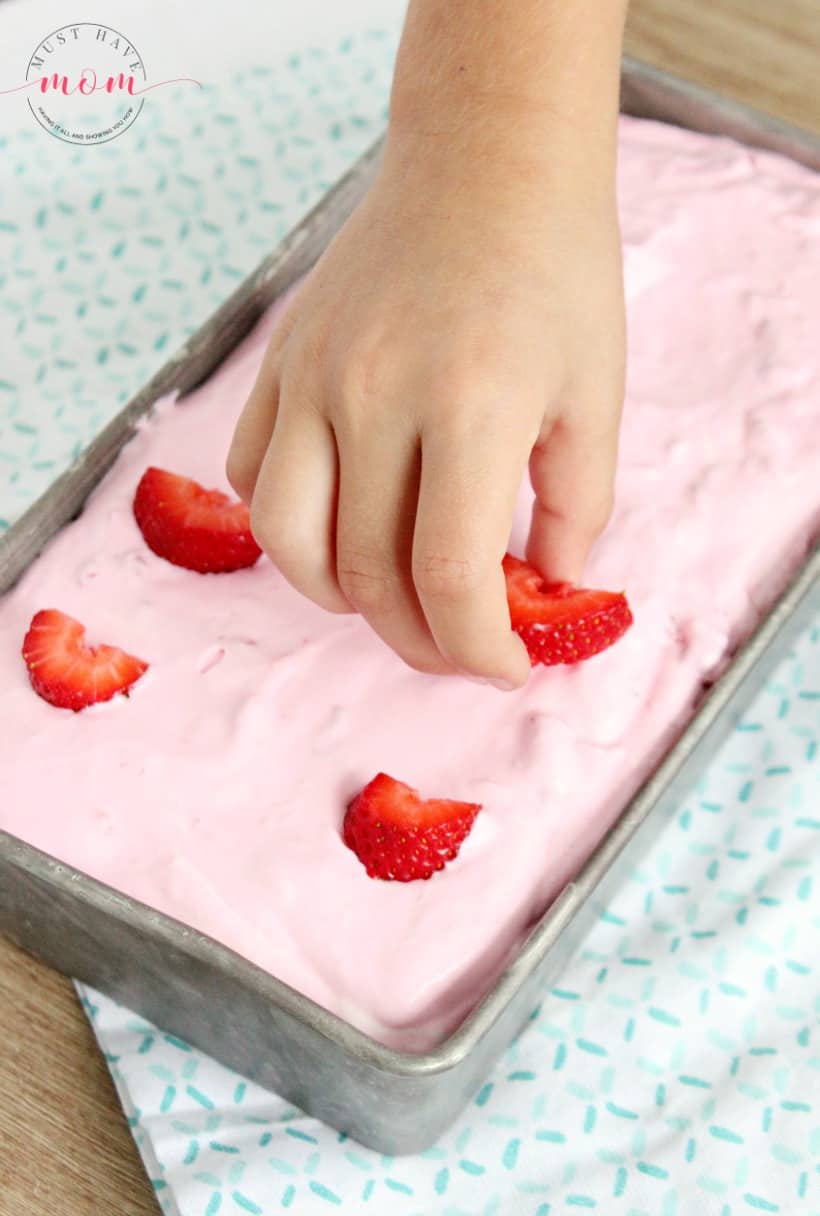 Step 5
Pour mixture into a loaf pan (or any pan this size) and top with slices of strawberries.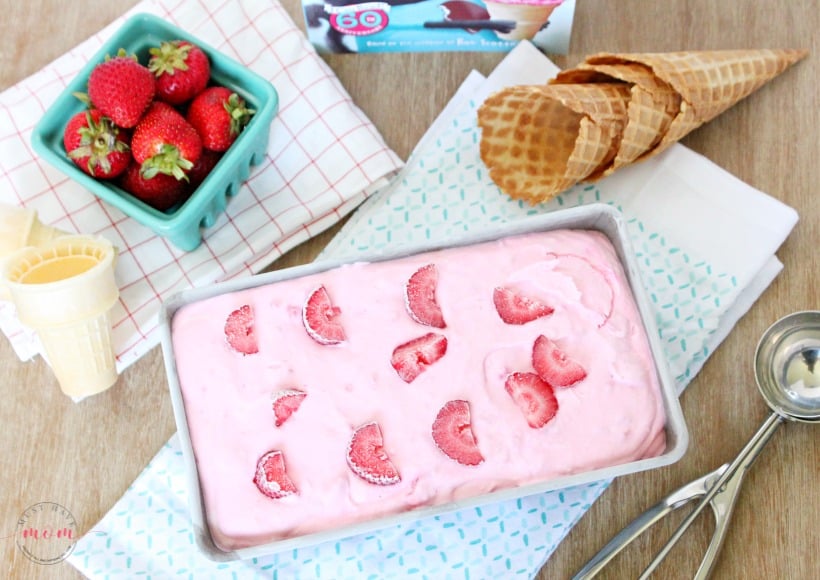 Step 6
Cover and freeze for at least 5 hours or overnight.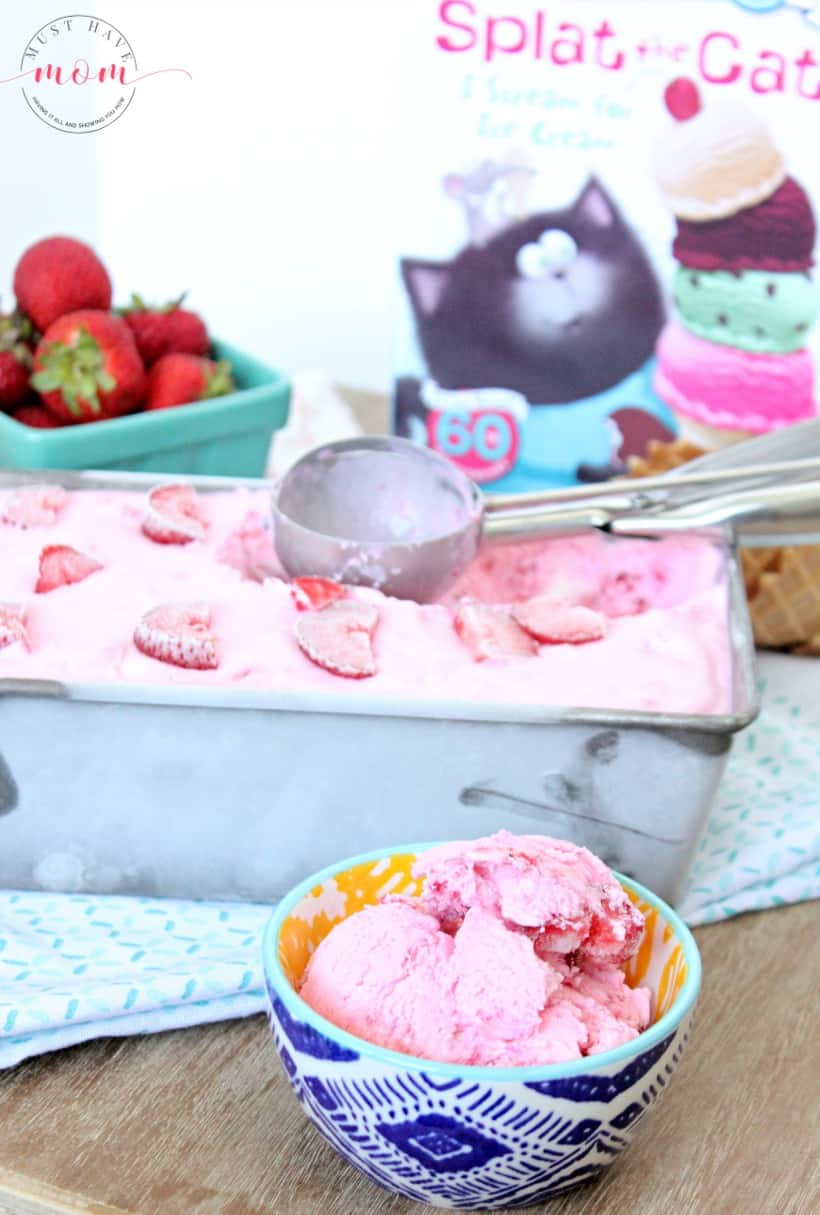 When you are ready to eat your delicious homemade ice cream, remove it from the freezer and allow it to soften on the counter for a few minutes before scooping.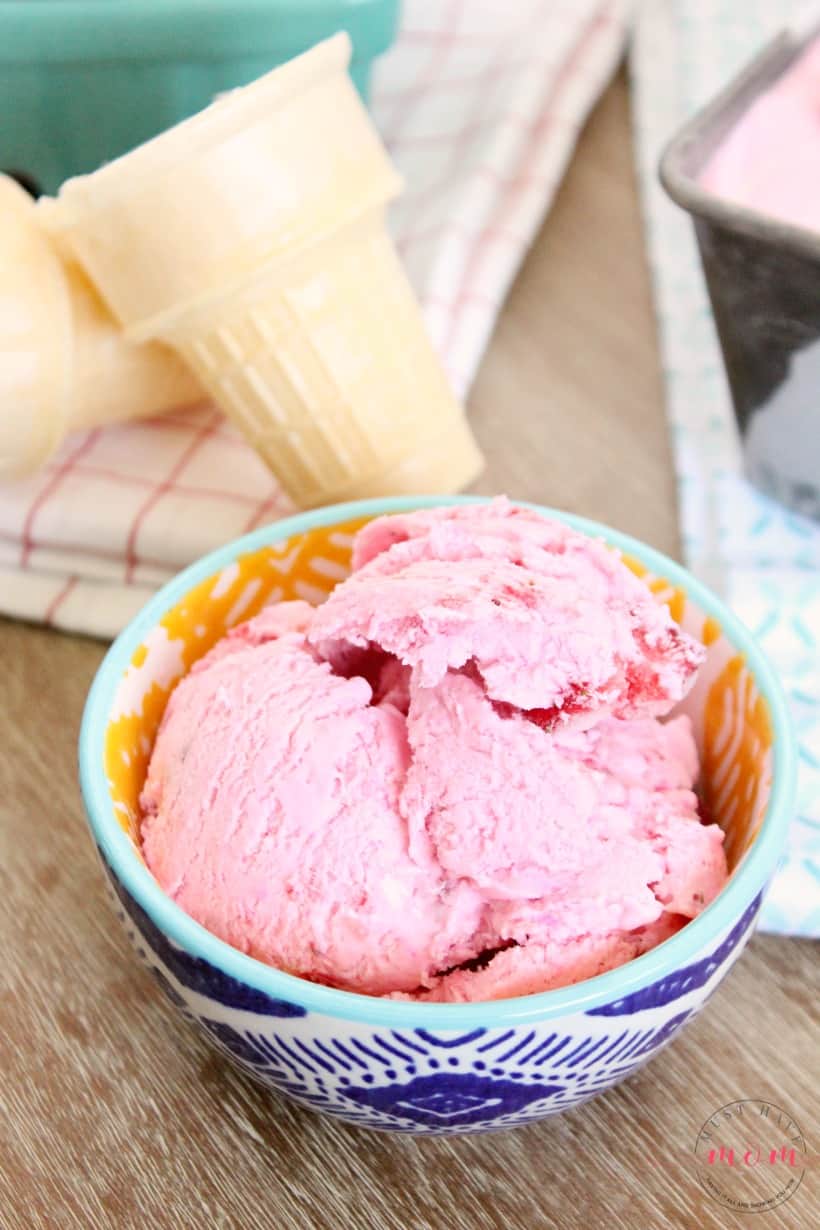 Print Homemade Strawberry Ice Cream Recipe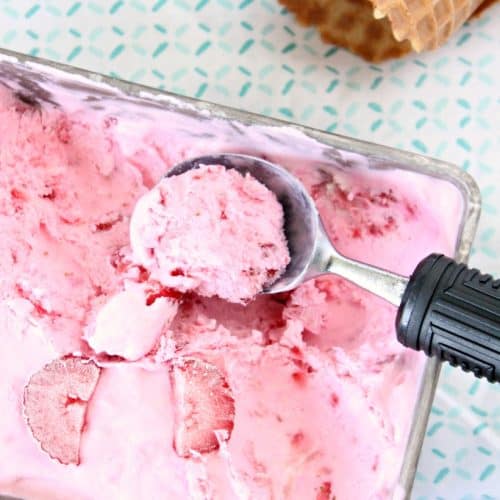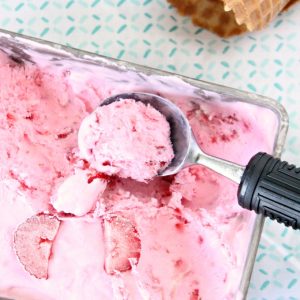 No Churn Strawberry Ice Cream
This delicious no churn strawberry ice cream recipe uses just three ingredients and does not require an ice cream maker!
Ingredients
2

cup

heavy whipping cream

cold

14

oz

can sweetened condensed milk

1

lb

fresh strawberries

washed and tops removed plus a few for garnish set aside

red food coloring

optional
Instructions
Place strawberries in a bowl and mash with a potato masher until macerated. Set aside.

Using a stand mixer or hand mixer, add heavy whipping cream and sweetened condensed milk to mixer bowl and whip on high until there are stiff peaks. Do not overbeat or it will break. This takes approximately five minutes.

Gently fold in strawberries and optional food coloring.

Pour into a loaf pan and top with sliced strawberries. Cover and freeze for a minimum of five hours or overnight. When ready to serve the ice cream set it out on the counter to soften for a few minutes beforehand.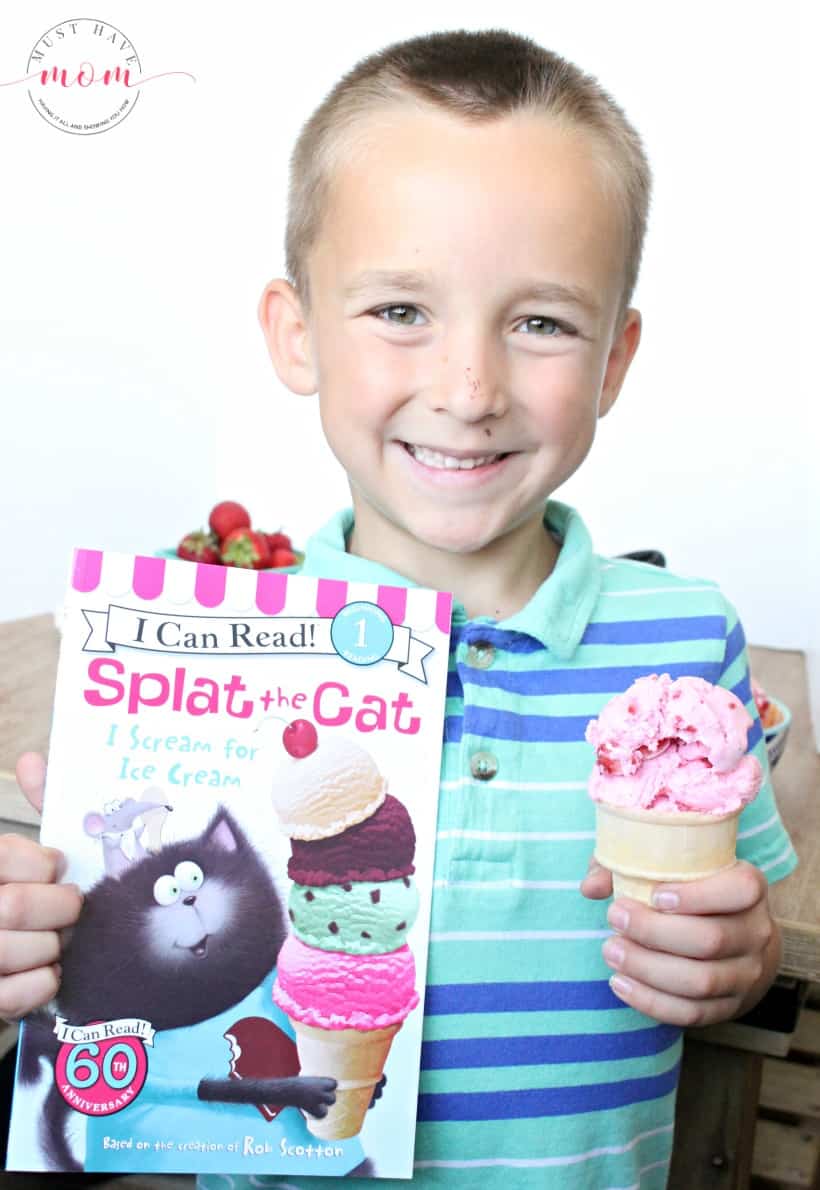 I love themed activities and pairing Splat the Cat: I Scream For Ice Cream with making our own ice cream was so much fun! This is a really great activity for any child and it will help to reinforce a love of reading by making it fun! Learn more about the I Can Read! books here.
Pin Easy Homemade Ice Cream Recipe