I'm a big fan of DIY stuff. I've found that most of the time I can make something myself and it turns out just as good as if I bought it. Custom coffee mugs are one of those things I've made before and loved the results. Recently I got to check out a VEVOR Mug Press Machine and I love how easy it is to create custom sublimation mugs.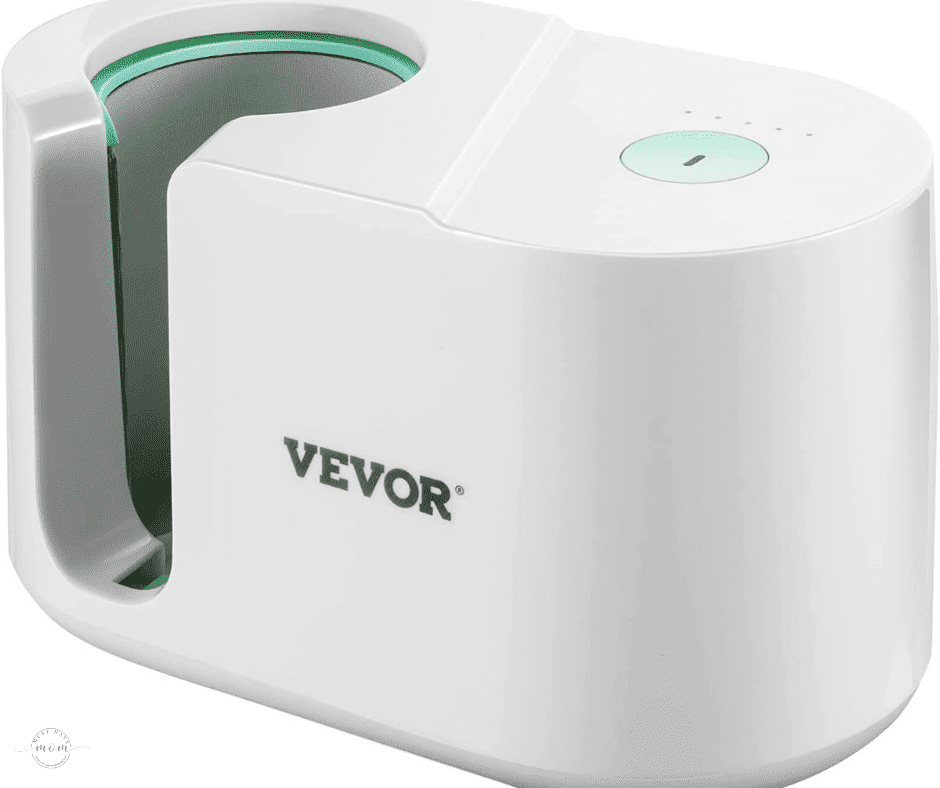 I had a great time making these sister mugs, and the kids loved making these DIY reindeer mugs. I even discovered that custom mugs were one of the most profitable Cricut projects to sell. But recently I wondered if sublimation mugs would last longer and allow for more creativity.
What is Sublimation?
Sublimation is the transition of a substance directly from a solid-state to a gas state. It does not pass through the usual liquid state and only occurs at specific temperatures and pressures. The main difference between heat transfer and sublimation is that with sublimation, it is only the ink that transfers onto the material. Sublimation can be used with a range of materials that have a specialist polymer coating, such as those found on mugs.
Aside from the materials that can be used for sublimation, one of the core limitations for sublimation is the colors of any materials. Because sublimation is essentially a dye process, you get the best results when the backgrounds are either white or light-colored.
Automatic Mug Heat Press for Sublimation
The VEVOR Mug Press Machine is one of the best mug heat presses I've seen. This automatic mug presser only uses one button to switch functions, which is simpler and faster than traditional manual heat presses. You don't need to adjust pressure, set temperature, or time by using this brilliant mug press, what you need to do is attach the design to your coffee mug, and the heating press will handle the rest. With straightforward operation and humanized design, you can create whatever you like for your family, friends, or clients.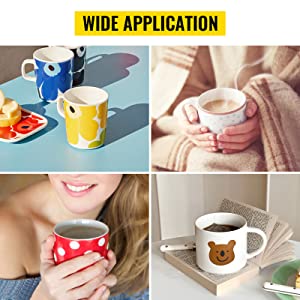 The powerful heat press transfer function allows you to get unique mugs in 5 minutes. Just attach your prepared stickers to your coffee mug, and the mug heating press will help you handle the rest. This mug heat press is made of Teflon sheet, silica-gel inner, and high-quality ABS material shell, durable and able to withstand high temperatures, making the heating effect more uniform and vivid. It produces vibrant, pro-quality transfers that last long and do not flake, peel, crack, or wrinkle.
This machine is so easy to use. Just draw your projects, print them and paste them on the mug surface, with the touch of a button your design will come to life on a personalized mug. This press not only can press on ceramic mugs but also be used on stainless steel and glass materials.
Custom Sublimation Mugs
One of the best things about this machine is there is no need to connect to a computer or use any special software. You can use a computer to design and print your design then paste them onto the mug surface for a custom sublimation mug perfect for any gift.
Save on Sublimation Mugs
Save 12% off your order with promo code 12ARTS13ZD. Sale ends June 15, 2022 11:59:59 PM PDT. Order yours here: https://amzn.to/3LvKx5s