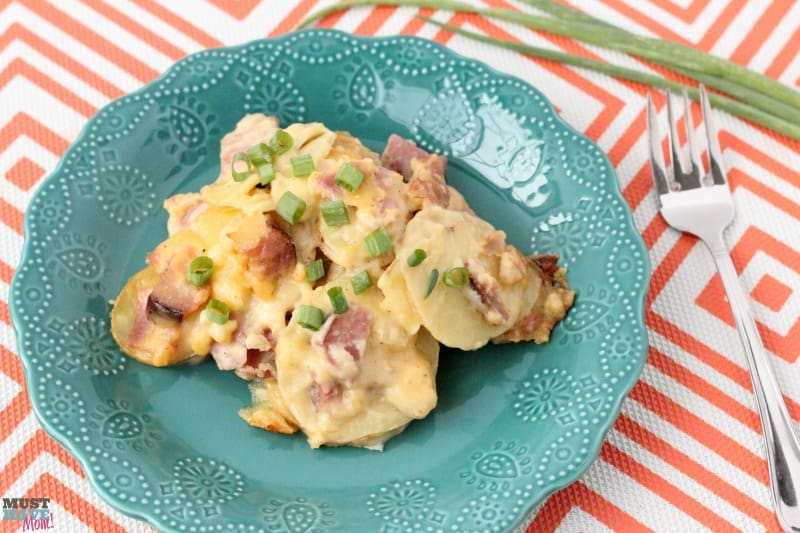 I love scalloped potatoes and ham and it's my favorite dish to make with leftover ham after Easter or Christmas holiday get togethers! I have to confess that I always take advantage of the amazing sales on ham at Easter time and I buy extra ham, cut it up with my electric knife and put it in vacuum sealed bags and freeze it. It lasts a year in my deep freezer and I can pull it out and make it however I like whenever I want ham. The best part is that I am not paying full price for it ever because I capitalize on the low prices at holiday times! Whether you have leftover ham, or you just love ham like me, you'll love this recipe for cheesy, scrumptious scalloped potatoes and ham!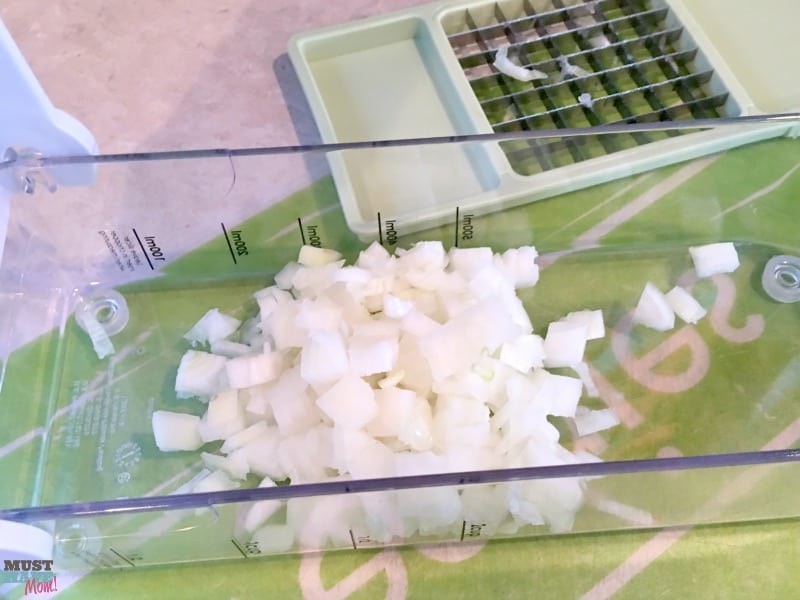 First you'll need to preheat your oven to 350 degrees F and coat a 9×13 oven safe baking dish with nonstick spray. Chop up your onions and garlic. I have to tell you how much I love this Vidalia chop wizard for chopping onions. I used one while I was at a cooking class once and I immediately went home and bought one off Amazon. I use it for everything! Potatoes, fruit, onions, it works like a charm. Anyways, back to the scalloped potatoes and ham recipe.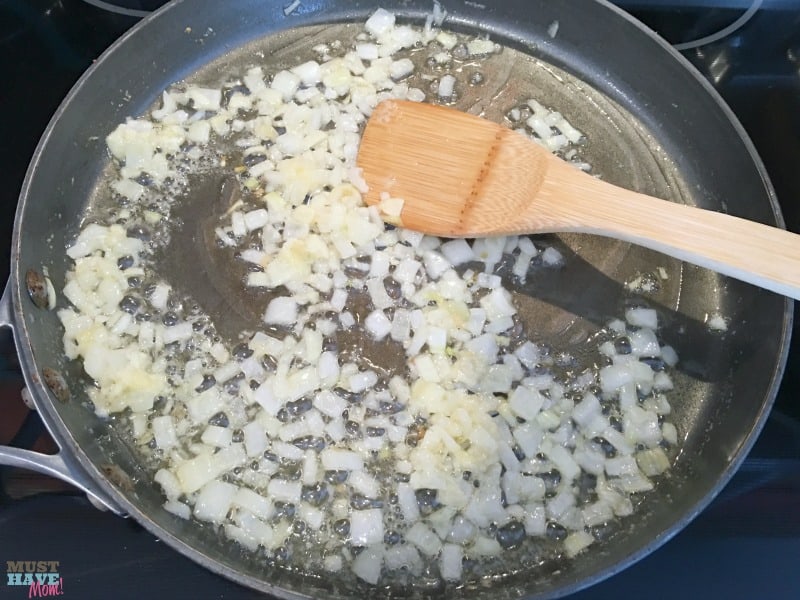 Next melt butter in a large skillet over medium heat and add the onions. Stir occasionally and cook for a few minutes until they begin to soften, then add garlic and cook another minute.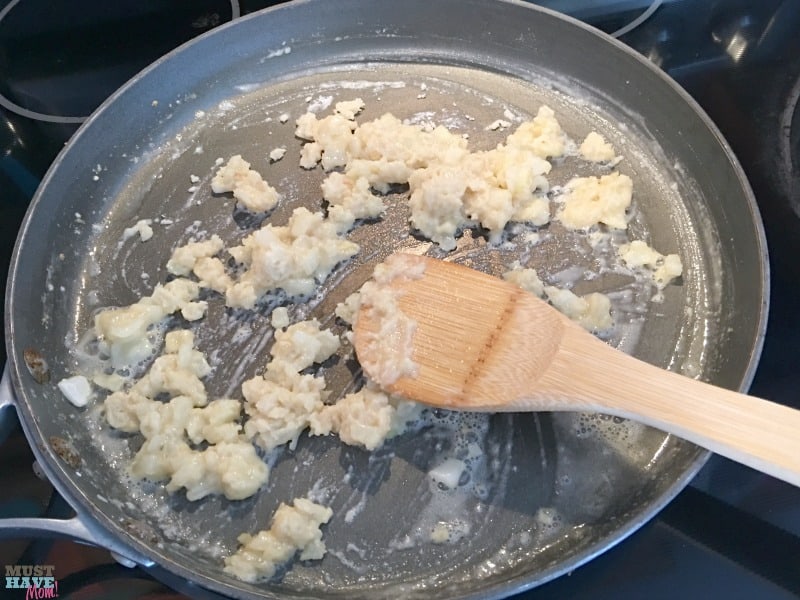 Sprinkle in flour and cook for one minute, stirring the whole time.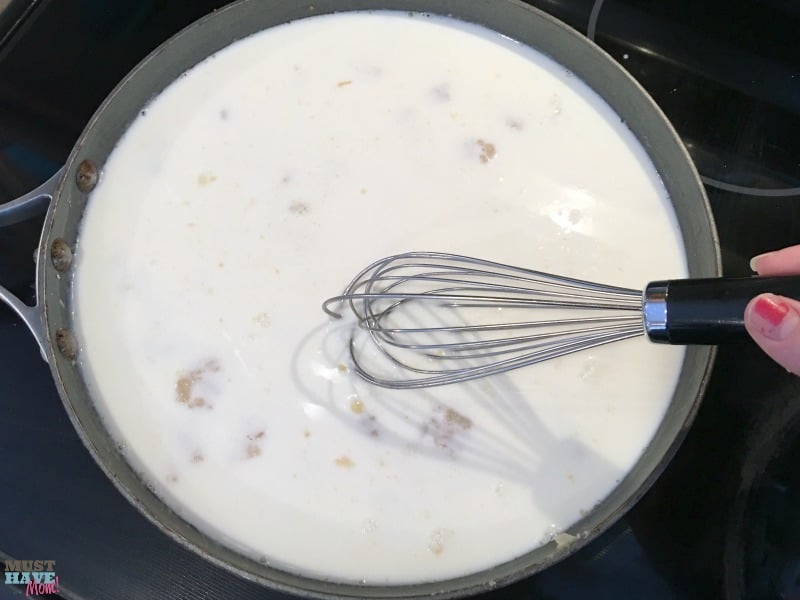 Add milk and whisk together. Continue stirring and cook for about 5 minutes, until it thickens and becomes bubbly.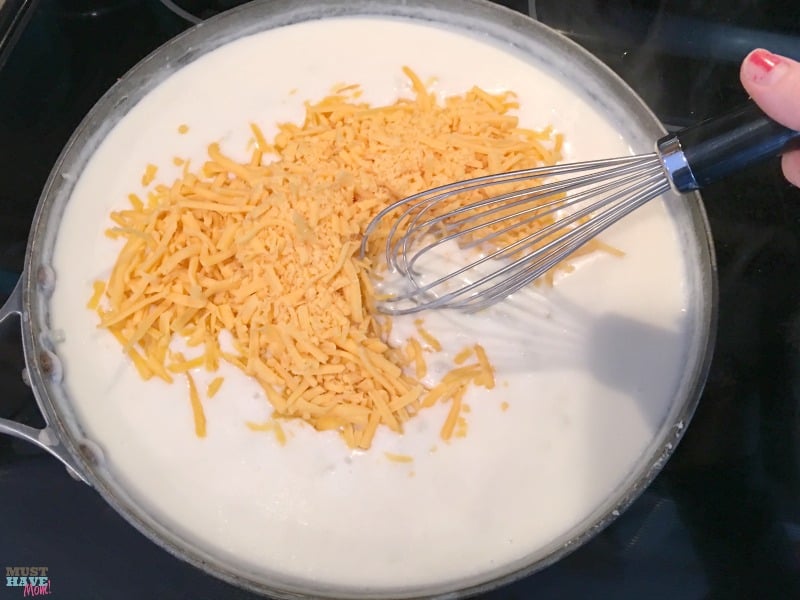 Now add cheese, salt and pepper and whisk into the milk mixture.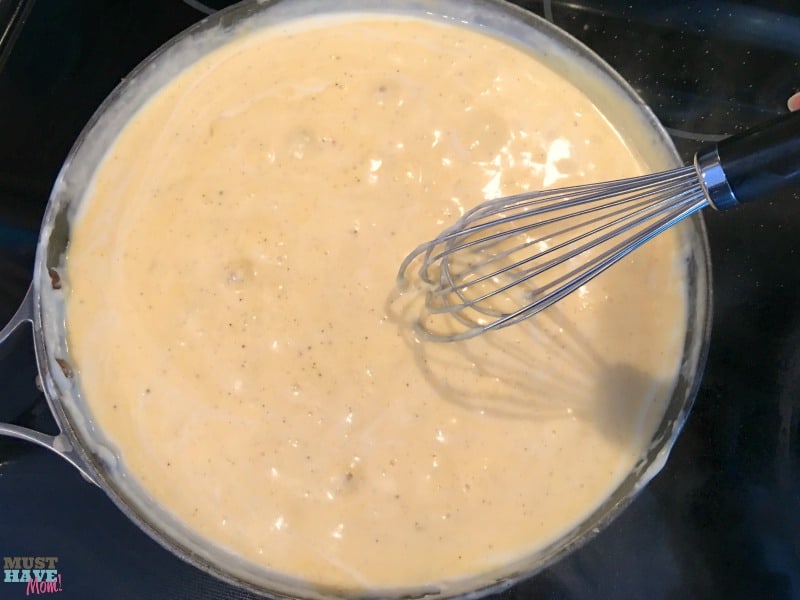 Continue stirring until cheese is melted. Then remove pan from heat.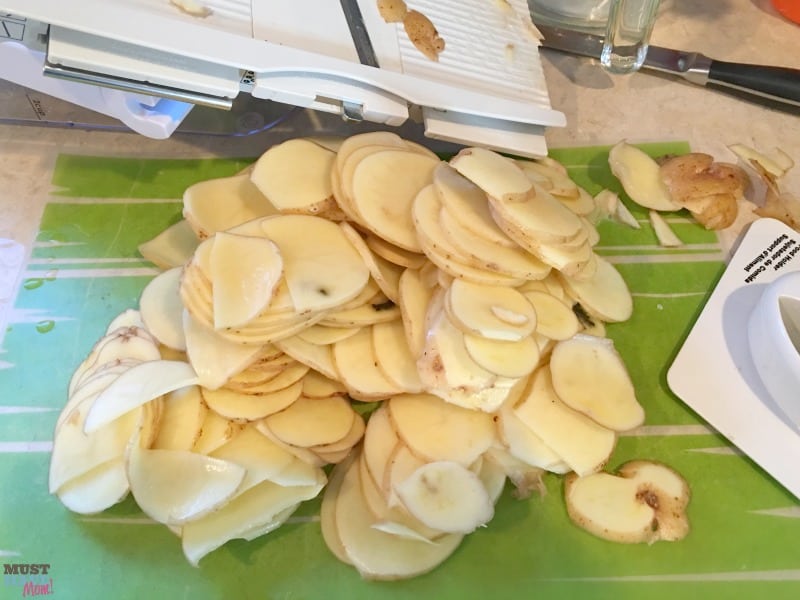 Slice your potatoes an even thickness. I used my mandolin to get them even and make quick work of slicing them (another must have kitchen tool!).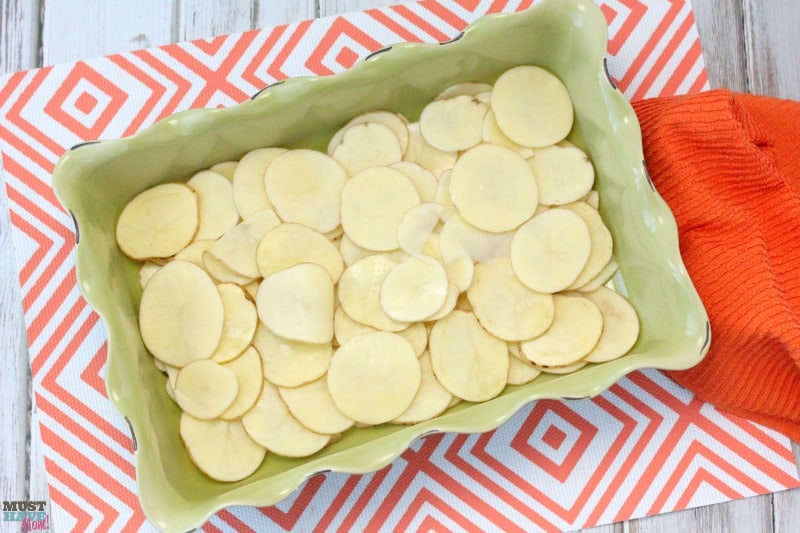 Now lay an even layer of potatoes in the bottom of your baking dish. Use half of your potatoes for this layer.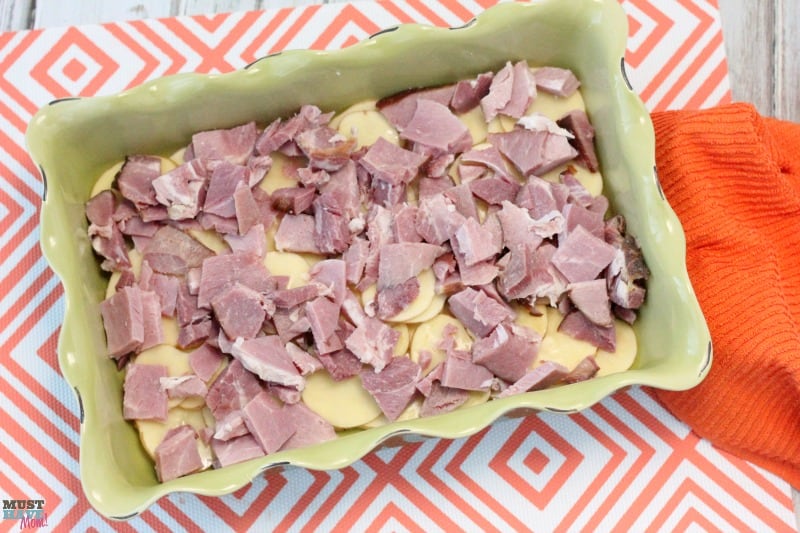 Next top with half the diced ham.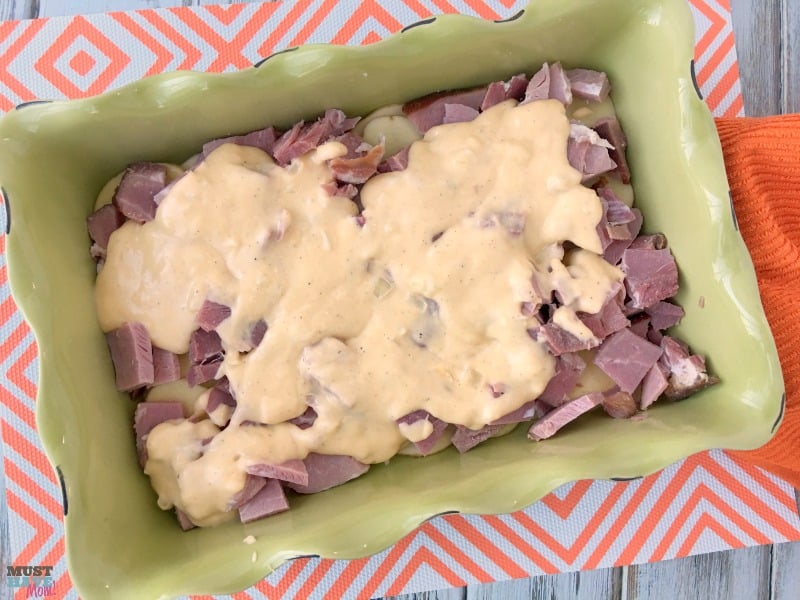 Pour half the cheese sauce mixture over the top of the ham. Repeat the layers and then cover the dish with foil. Bake covered for 45 minutes, then bake uncovered for another 20-30 minutes until potatoes are soft and tender and the cheesy top is bubbly. Let cool 10 minutes before serving.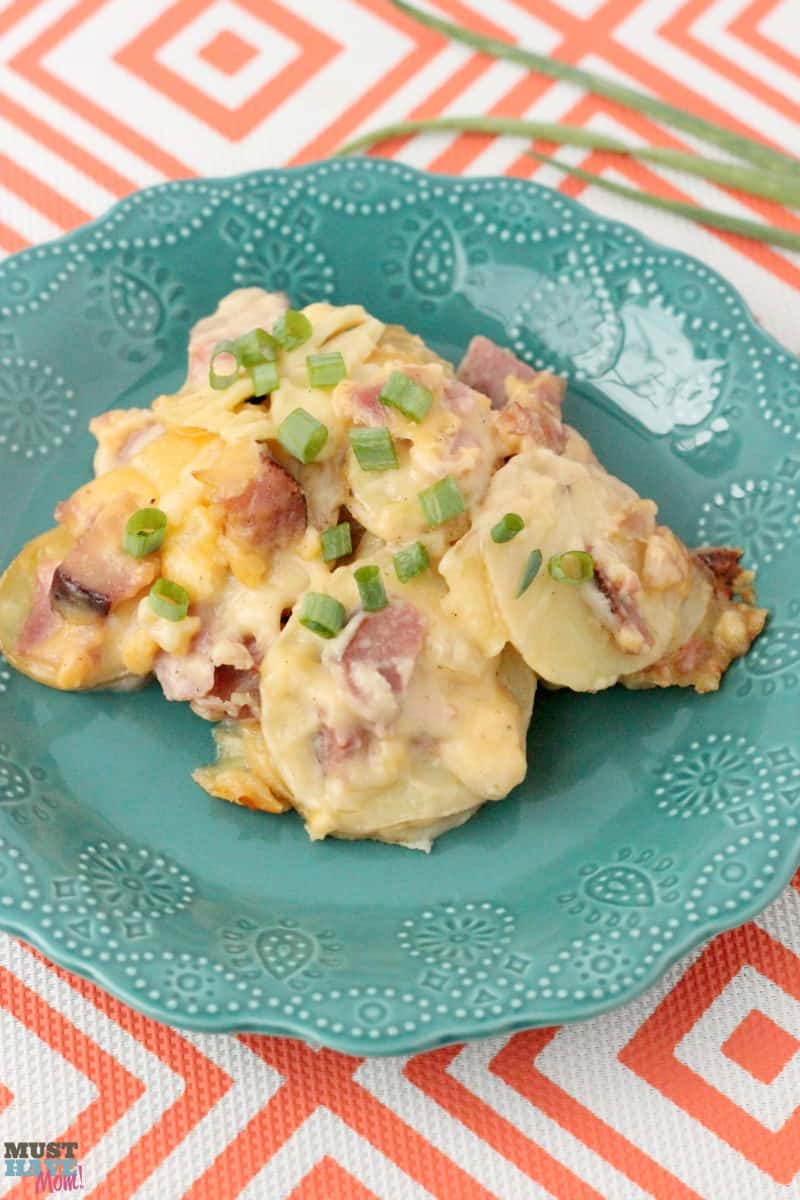 Garnish with sliced green onions for extra color and flavor! These cheesy scalloped potatoes and ham are out of this world! They are so easy to make yet I get so many compliments on this recipe! Everyone wants it! Print the recipe off below!
Cheesy Scalloped Potatoes & Ham Recipe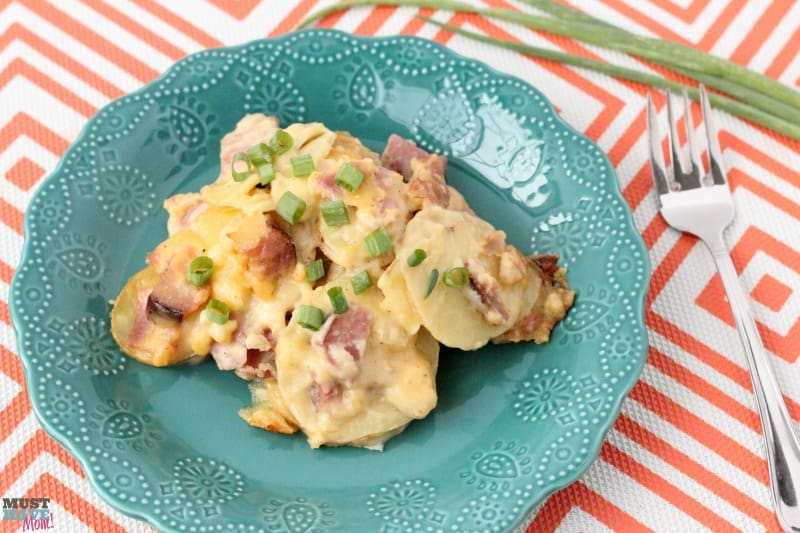 Ingredients
4 Tbsp unsalted butter
3/4 Cup diced yellow onion
2 cloves garlic, minced
1/3 Cup all-purpose flour
3 Cups milk
1/2 tsp salt
1/4 tsp pepper
2 Cups shredded sharp cheddar cheese
7-8 Medium russet potatoes, washed and thinly sliced
1# ham, diced (approx 4 cups)
green onions, optional
Instructions
Preheat oven to 350 degrees F. Coat a 9x13 oven safe baking dish with nonstick spray.
Melt butter in a large skillet over medium heat. Then add onions and cook approximately 5 minutes, until softened. Add garlic and cook an additional minute, stirring frequently.
Whisk in milk and cook an additional 5 minutes, continuously stirring, until bubbly and thickened.
Whisk in salt, pepper and cheese and continue stirring until cheese is melted then remove pan from heat.
Place half the sliced potatoes evenly in the bottom of your baking dish.
Place half the diced ham over the top of the potatoes, evenly distributed.
Pour half the sauce over the ham evenly.
Repeat these layers, adding the remaining potatoes, then ham, then cheese sauce over the top.
Cover baking dish with foil and cook for 45 minutes. Uncover and bake an additional 20-30 minutes until bubbly and potatoes are soft and tender.
Allow to cool 10 minutes before serving.
Garnish with chopped green onions.
7.6.4
313
https://musthavemom.com/cheesy-scalloped-potatoes-ham-recipe/
If you liked this post please share on Facebook or pin the image below for easy finding later!