Zucchini Dessert Crisp Recipe! Tastes Just Like Apples! My favorite zucchini recipes!
This year my garden has been successful! Yay for my developing green thumb 🙂 which used to be a dark shade of black lol. I've got zucchini coming in so quickly now that I can hardly keep up! That means I need some awesome zucchini recipes to use it in. Here are a couple of zucchinis that got way too big before I got a chance to pick them. When they get this big they get spongy inside but they are still totally fine to cook with. You can scrape the seeds out of the center before cutting them up if you like.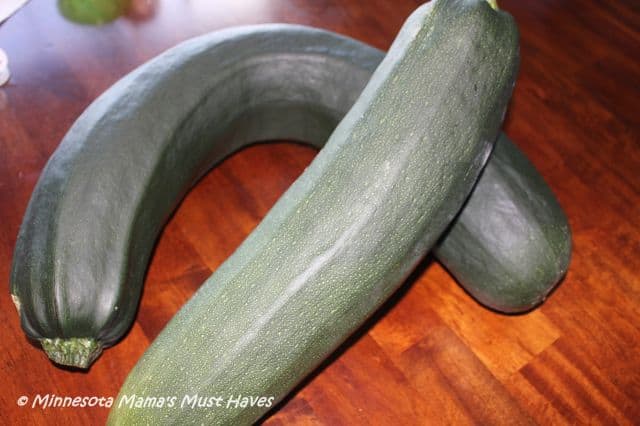 I made this zucchini dessert crisp recipe and it seriously tastes JUST like apples! It's so good that unless you tell people that it is zucchini they will never know! I served it to our entire family at the cabin (like 20 people) and no one had any clue it was zucchini! Even if you just take a bite of the zucchini without anything else it still tastes like an apple. It's amazing!
You will need to chop up the zucchini and boil it with lemon juice until tender.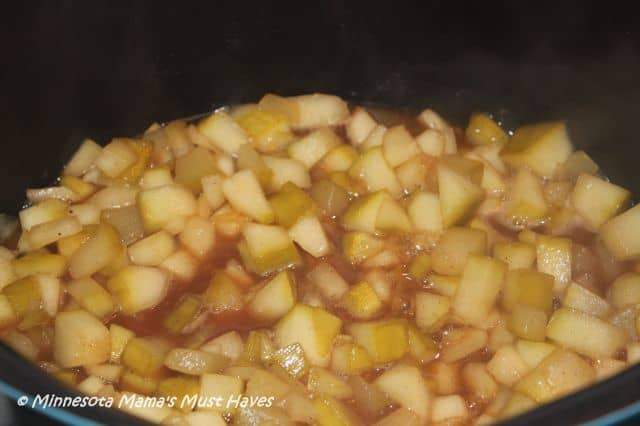 Then you will put it in a 9 x 13 pan and top it with the flour mixture. Bake it for 40-45 min until golden brown.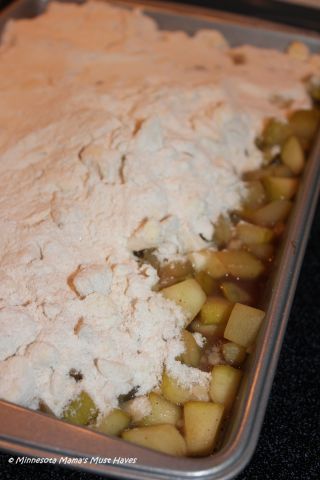 You will be greeted with warm, bubbly goodness!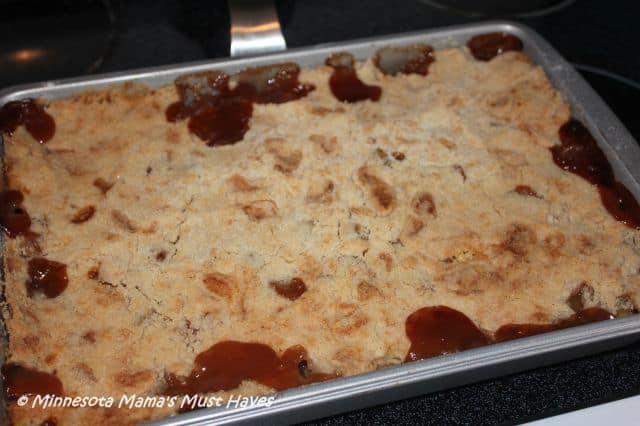 Serve it with vanilla ice cream while it's still warm and you'll have a real winner! Make it, serve it and don't tell anyone it's zucchini. Surprise them at the end and see if they noticed. Come back and share your results with us 🙂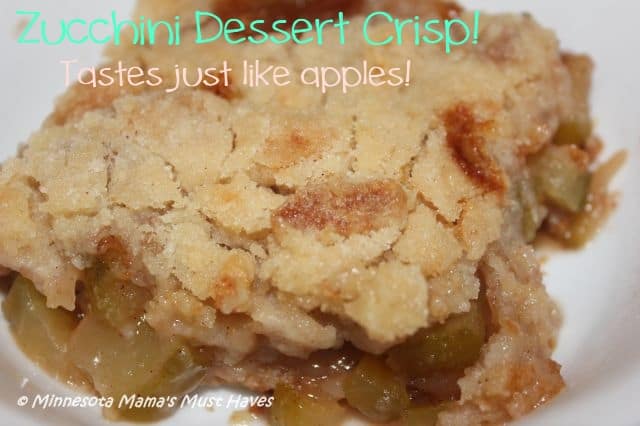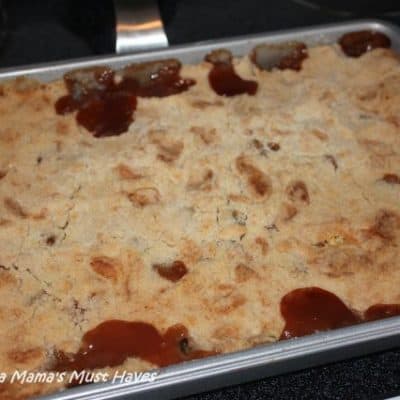 Zucchini Dessert Crisp
Awesome zucchini dessert recipe that tastes just like apples!
Ingredients
4

C

Flour

2

C

Sugar

1/2

tsp

Cinnamon

1/2

tsp

Salt

1 1/2

C

Cold Butter

8-10

C

Peeled

Cubed Zucchini

2/3

C

Lemon Juice

To be added to boiling zucchini:

1

C

Sugar

1

tsp

Cinnamon

1/2

tsp

Nutmeg
Instructions
Combine flour, sugar, cinnamon and salt.

Cut in butter until crumbly.

Reserve 3 cups.

Pat remaining mix into bottom of greased 9 x 13 pan.

Bake at 375 degrees for 12 min. (you are pre-baking it)

For Filling:

Place zucchini and lemon juice in saucepan.

Bring to boil.

Reduce heat and cook 6-8 minutes until zucchini is tender.

Stir in sugar, cinnamon and nutmeg (listed separately in above ingredient list).

Cover and simmer 5 minutes.

Spoon over pre-baked crust.

Sprinkle with remaining crumb flour mix.

Bake at 375 degrees for 40-45 minutes until golden brown.