Cast Iron Skillet Cookie Recipe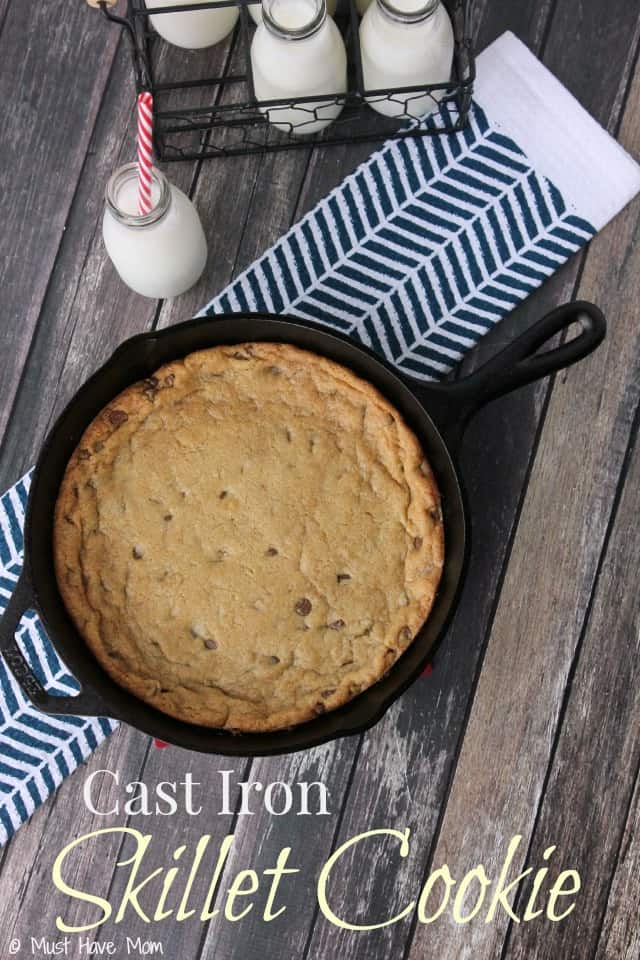 If you've ever visited an Old Chicago restaurant and eaten one of their Old Chicago Big Cookie desserts then you know how amazing it is. It's been one of my favorites for a long time. We don't have an Old Chicago near us and I have been craving a big cookie so I knew it was time to get in the kitchen and make one myself! I just bought a cast iron skillet that I was dying to use and it turns out it is perfect for making this cast iron skillet cookie recipe!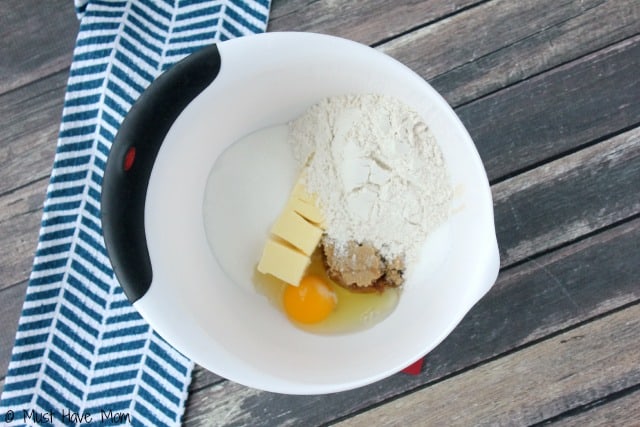 This is very easy to make so don't worry about pulling off a difficult dessert. You'll wow the family with this one and they will definitely be asking for more! First combine unsalted butter, brown sugar, white sugar, an egg, vanilla extract, flour, baking soda, and course salt in a mixing bowl and stir well with a wooden spoon.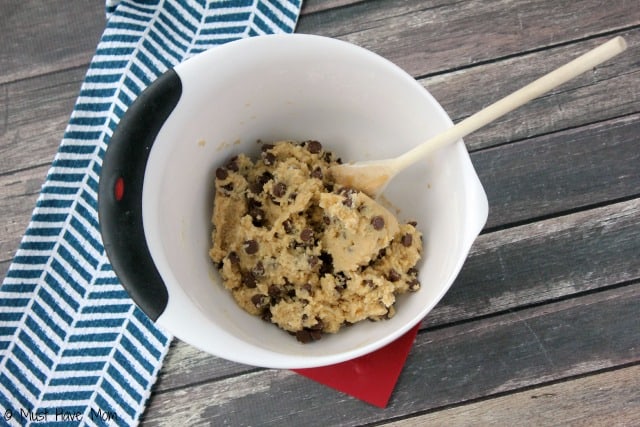 Then add in the chocolate chips and mix together so it looks like cookie dough.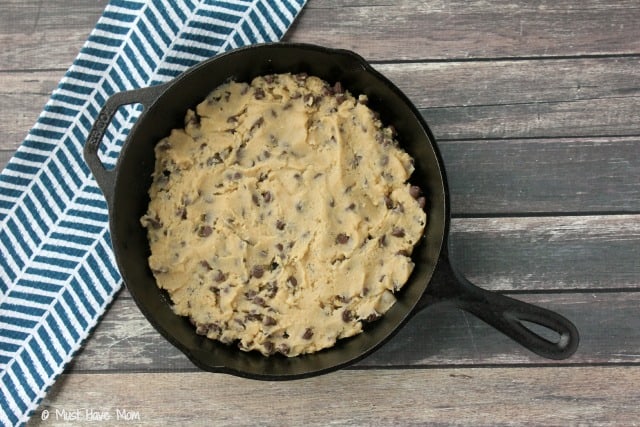 Then add it to your 10″
cast iron skillet
(I believe it's actually a 10 1/4″ skillet) and press it to fit evenly in the pan. I just used my hands to smooth it out.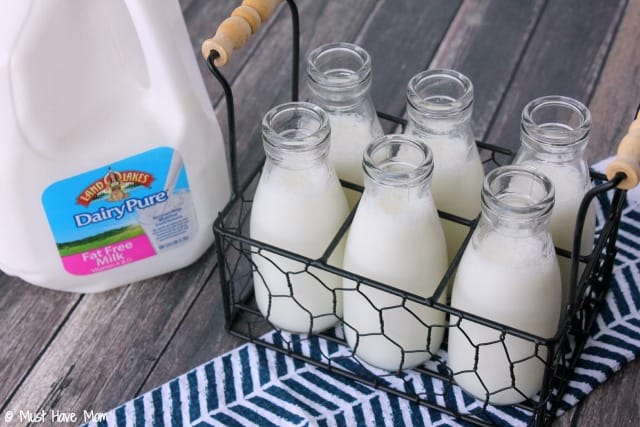 Then bake it for 18 to 20 minutes. While it's baking be sure you've got some ice cold milk to serve with it once it comes out. I poured some cute milk bottles of DairyPure milk so serve with my big cookie!
DairyPure is the only milk backed by an exclusive Five-Point Purity Promise ensuring that all DairyPure milk is free of artificial growth hormones*, has been tested for antibiotics, is continually quality tested to ensure purity, only comes from cows fed a healthy diet, and is cold shipped fresh from your local dairy!
*No significant difference has been shown between milk derived from cows treated with the artificial growth hormone rbST and non-rbST-treated cows.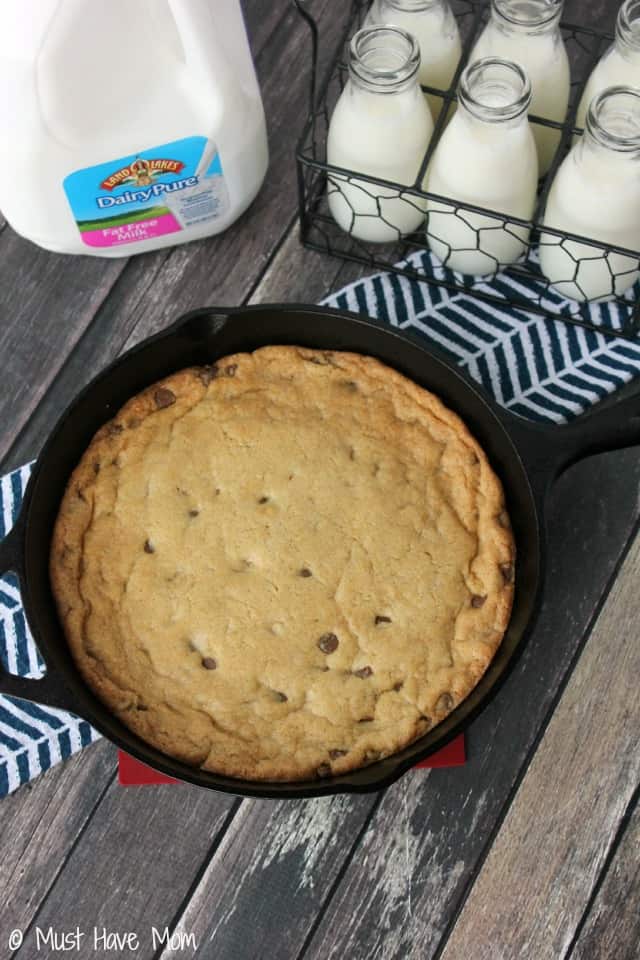 Bake the cookie until the edges are golden brown and the center is set.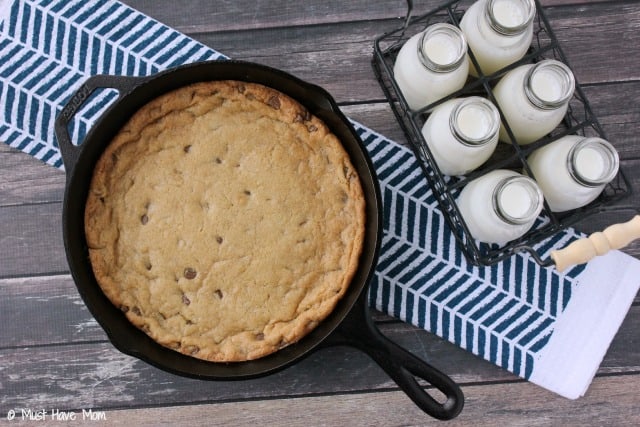 This goes best with a big, ice cold glass of DairyPure milk! I cannot even tell you how amazing this skillet cookie was! It was out of this world. I will be making this often!
According to a new survey by Wakefield Research 91% of people say milk goes best with something sweet, such as cake. I have to agree and argue that this cookie is better than any cake you could pair it with!
Print this recipe off below! Be sure to also share this post on Facebook and Pin it for later!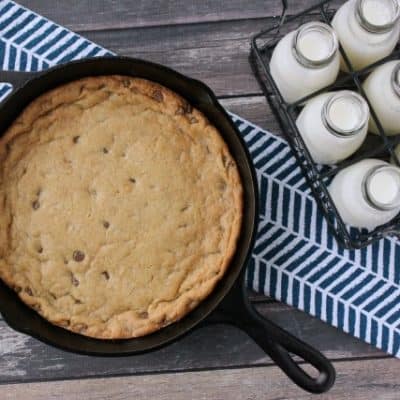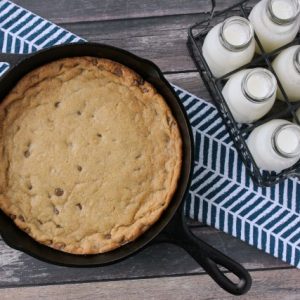 Cast Iron Skillet Cookie Recipe
Easy skillet chocolate chip cookie made in a cast iron skillet.
Ingredients
6

Tbsp

unsalted butter

room temperature

1/3

C

brown sugar

1/2

C

white sugar

1

egg

1

tsp

vanilla extract

1

C

flour

1/2

tsp

baking soda

1/2

tsp

coarse salt

1

C

chocolate chips
Instructions
Preheat oven to 350 degrees.

In a mixing bowl combine butter and sugars and mix together with a wooden spoon. Add in remaining ingredients except the chocolate chips. Mix well

Add chocolate chips and mix well.

Put mixture into a 10" cast iron skillet and press down so it is even in the pan.

Bake 18-20 minutes until golden brown around edges and set in the center.

Cool 5 minutes and then serve.
DairyPure is available in the dairy case at grocery stores nationwide in whole, 2% reduced fat, 1% low fat and skim/fat free milks, as well as creams. 71% frequently worry about the purity or quality of the milk they serve their children. Don't worry any longer with the DairyPure Five-Point Purity Promise.
For recipes, local retailers, the full line of products and to learn more about DairyPure's exclusive Five-Point Purity Promise, visit DairyPure.com, and find DairyPure on Facebook and Pinterest.
What is your favorite thing to cook in cast iron?