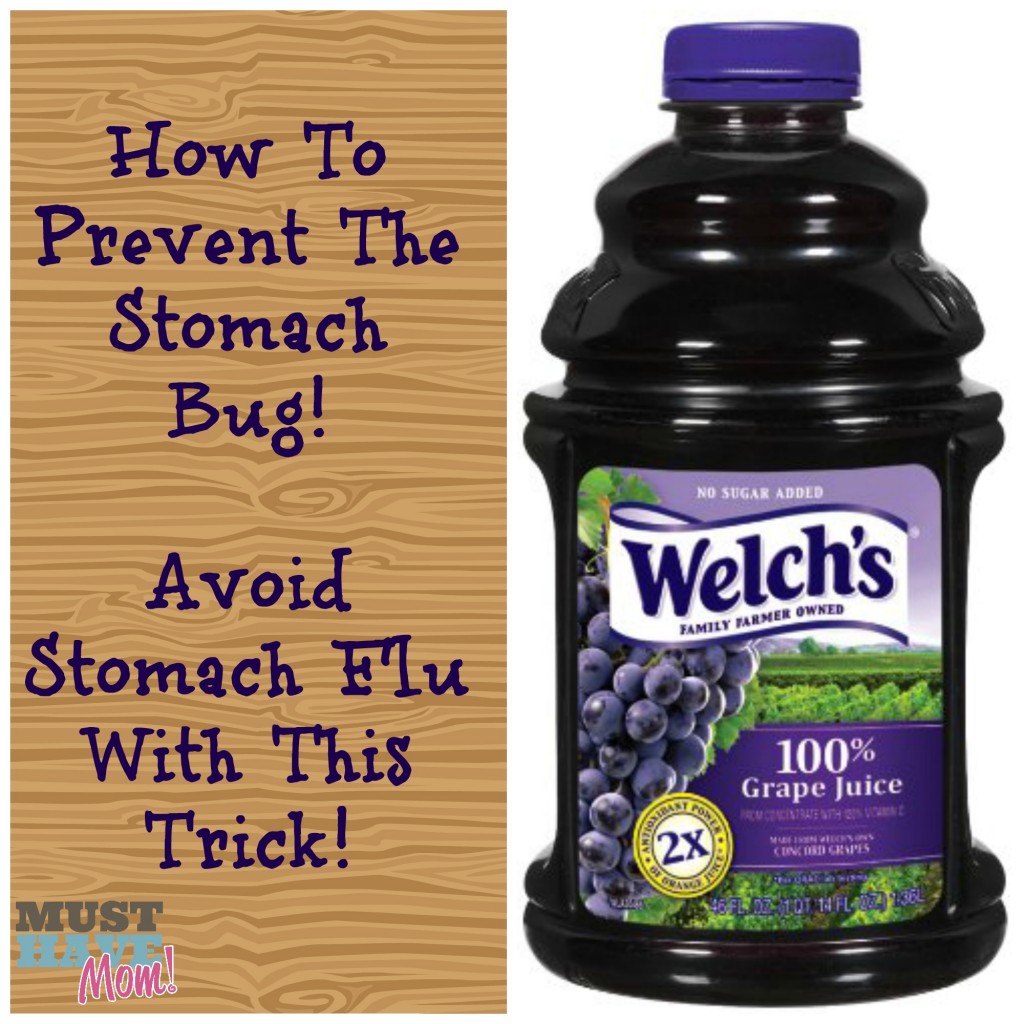 Okay this is going to sound a little "out there" but I've tried it and believe me this works! On Monday my hubby came down with the stomach flu. He was puking and felt awful. I think he had norovirus which is a highly contagious stomach flu. Norovirus has been going around and sure enough a guy he works with had it right before him. Well of course he had eaten off my plate that day and I was so worried that the kids and I would all get it too. A friend of mine told me to start drinking grape juice
to prevent me from getting sick. The kids and I all started drinking grape juice and here we are 3 days later healthy and well! You may have landed on my page after searching "prevent stomach flu grape juice". Well I did some research as there wasn't much info out there on this.
It turns out there is some science behind this grape juice thing and I did a little research. In order to prevent yourself from getting the stomach flu after you know you have been exposed (taking care of a sick person, being around someone that was sick, etc) you need to start drinking 100% Grape Juice
, no sugar added, right away BEFORE any symptoms appear. If you are having symptoms then it is too late and DO NOT drink the grape juice or you will be puking purple and it won't be pretty!
Drink the grape juice three times a day for a few days after being exposed. I have been drinking a juice glass full three times a day and filling the kids sippy cups full three times a day. Yes, this is a lot of sugar but I'd rather consume/give my kids sugar than have them get the stomach flu. The grape juice works by changing the pH in your intestinal tract so that the virus can't multiply. It also harbors various strong anti-viral chemicals in it. Along with the Vitamin C and anti-oxidants in the juice, it's supposed to flush and kill the virus and/or severely lesson the symptoms. When you get a stomach virus, it actually isn't in your stomach, it's all in your large and small intestines. The effects of what it's doing to those makes you sick to your stomach (changing the acidity in your stomach). Keeping the pH of the intestines slightly more alkaline is supposed to stop the virus from taking hold and thus making you sick.
So there is the science behind it and I'm the living experiment 🙂 We are all healthy and have survived having the stomach flu going through our house! I love that grape juice tastes great and is something my kids will willingly drink. So next time you are around someone with the stomach flu start drinking grape juice!
Has anyone else heard of this or tried it?
*UPDATE*: Since first writing this post I have since added grapefruit seed extract
to my grape juice as well. I add 8 drops to each glass. It helps kill the virus in your stomach! You can add it to your children's grape juice as well. I only use 2-3 drops for my kids. I only add the grapefruit seed extract during peak flu season or when I know I've likely been exposed to it. 
*UPDATE #2* Since first writing this post I had gotten lax with drinking grape juice every day. I had gone so long without getting a stomach bug that I forgot how awful it is to get one. I got sick once I quit drinking it and had a horrible vomiting illness for a few days. It was awful. The virus was going around my children's school and I got it after going to my daughter's Christmas concert at the school. She also had it that night. My other kids got it the next morning. My husband began drinking grape juice
with grapefruit seed extract
in it immediately as he was the one cleaning up the kids vomit and taking care of all of us. He cleaned and disinfected the entire house then we quarantined all of the sick family members in the master bedroom to help contain the germs. My husband drank 3 glasses of grape juice a day until a week after we were all better and then reduced it to 2 glasses a day for another 2 weeks. He did not get sick.
One thing to note is that you continue to shed the virus for 2 weeks after you get better. That means that even once you are better you can still infect someone else. It is absolutely imperative that anyone that was ill practice good hand washing habits for at least 2 weeks after getting better. This can be tough for little ones so it's a good idea to stay on top of it and wash hands after toileting or changing diapers. Keep disinfecting commonly used surfaces like door knobs, light switches, fridge handle, etc. 
Don't make the same mistake I did. Keep drinking your grape juice!