Toilet Paper Roll Craft For Valentine's Day | Treat Poppers!
These Valentine's Day treat poppers are a really fun surprise for kids or they make a great toilet paper roll craft for Valentine's Day. Whether you make them WITH the kids or FOR the kids, they're fun either way!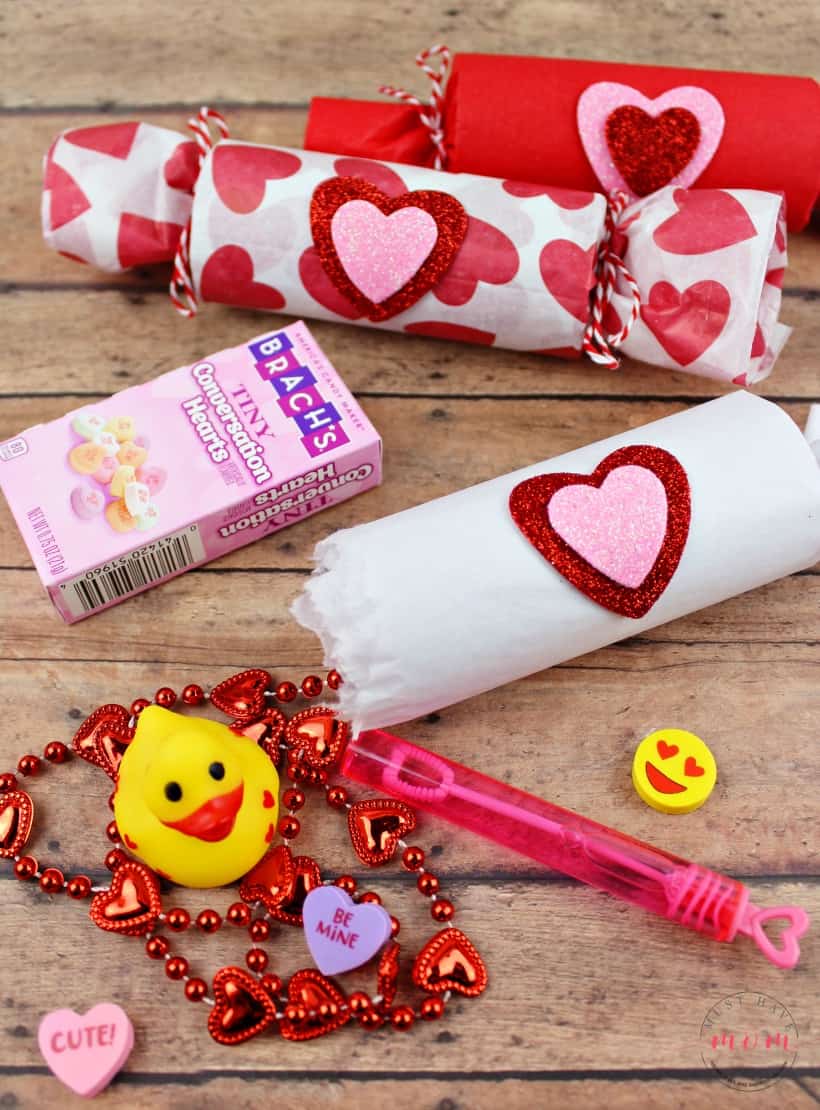 If you have been tossing those toilet paper tubes then stop! Save them, because there is SO much you can do with them! My windowsill in my laundry room currently has a nice stack of toilet paper tubes that I stuff with laundry lint to use as fire starters, I've also got these 51 toilet paper roll crafts that you can do if you get bored. Heck, I've even made finger puppet kits with empty toilet paper rolls. Start saving those empty toilet paper rolls, they add up quickly.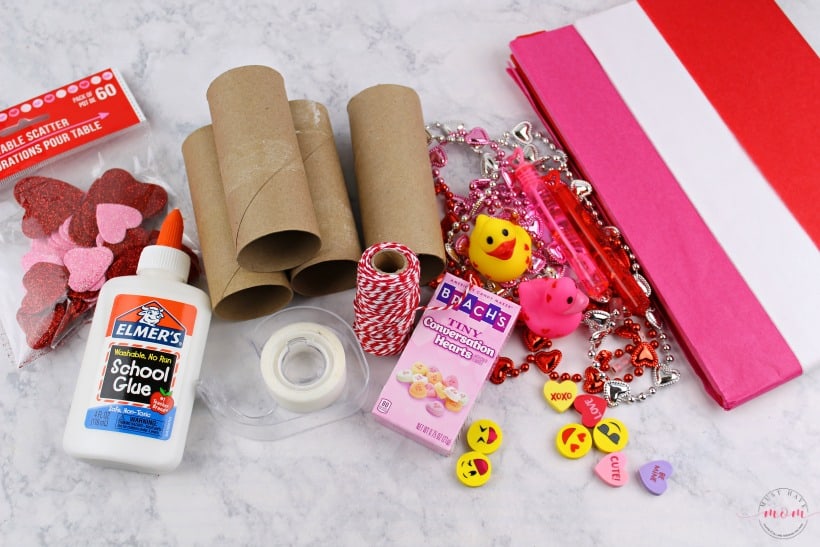 Toilet Paper Roll Treat Poppers for Valentine's Day
You'll need the following supplies for this fun toilet paper roll Valentine's Day craft:
empty toilet paper rolls
glue/tape
baker's twine
colored tissue paper
decorative hearts or stickers
Order Your Supplies Right Now
I LOVE buying my supplies from Oriental Trading because they have a HUGE assortment of inexpensive toys and candy to stuff these with. Here are a few options from Oriental Trading and from Amazon as well, depending on where you like to shop.
Oriental Trading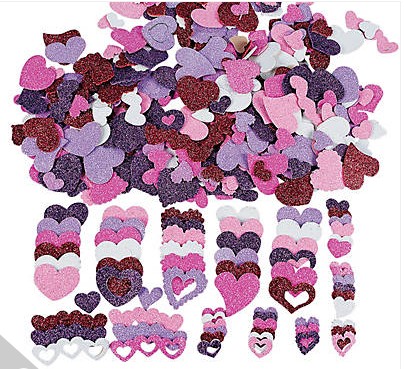 Fabulous Foam Self-Adhesive Glitter Hearts

Valentine Stamper Assortment

Valentine Rubber Duckies

Plush Valentine Pom-Pom Critters

Amazon
Valentine's Day Heart Rubber Wristband Bracelets – Party Favors Kids School Gifts Supplies(36Ct)
Bulk Toys Party Favors for Kids – 100 Pc Valentines Day Toy Assortment for Goodie Bags Party Bags and Pinata Prizes
Vinyl Mini Valentine Rubber Duckies; Pack of 24
Valentine's Day Conversation Craft Hearts Party Foam Decoration (285 Pack), Multi Color, Assorted Size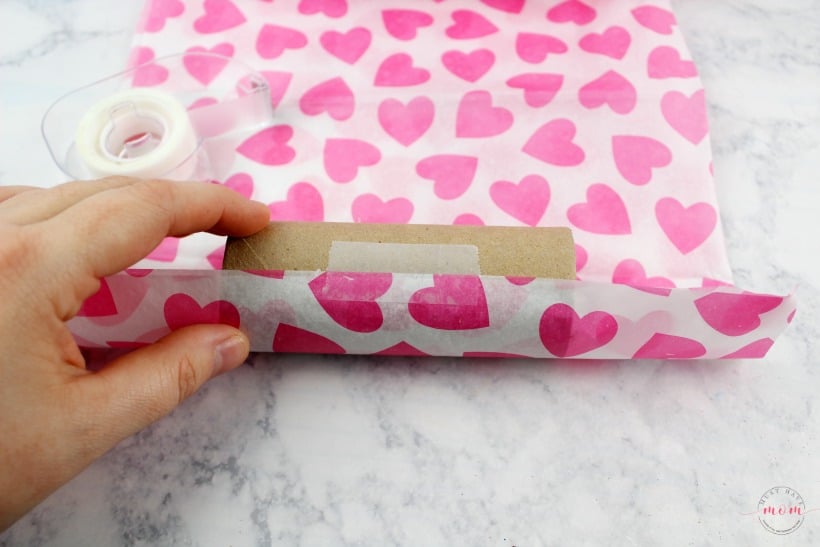 Stuff each toilet paper roll with an assortment of toys and candy. Then place on top of a piece of tissue paper, ensuring that there is an overhang on each side to make the tied roll ends. Tape the tissue paper in place on the toilet paper roll.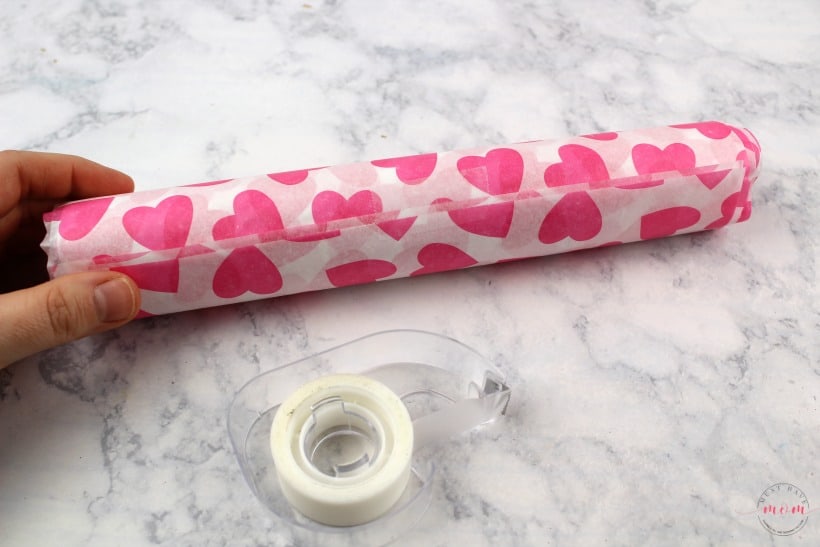 Roll it up and tape the end shut.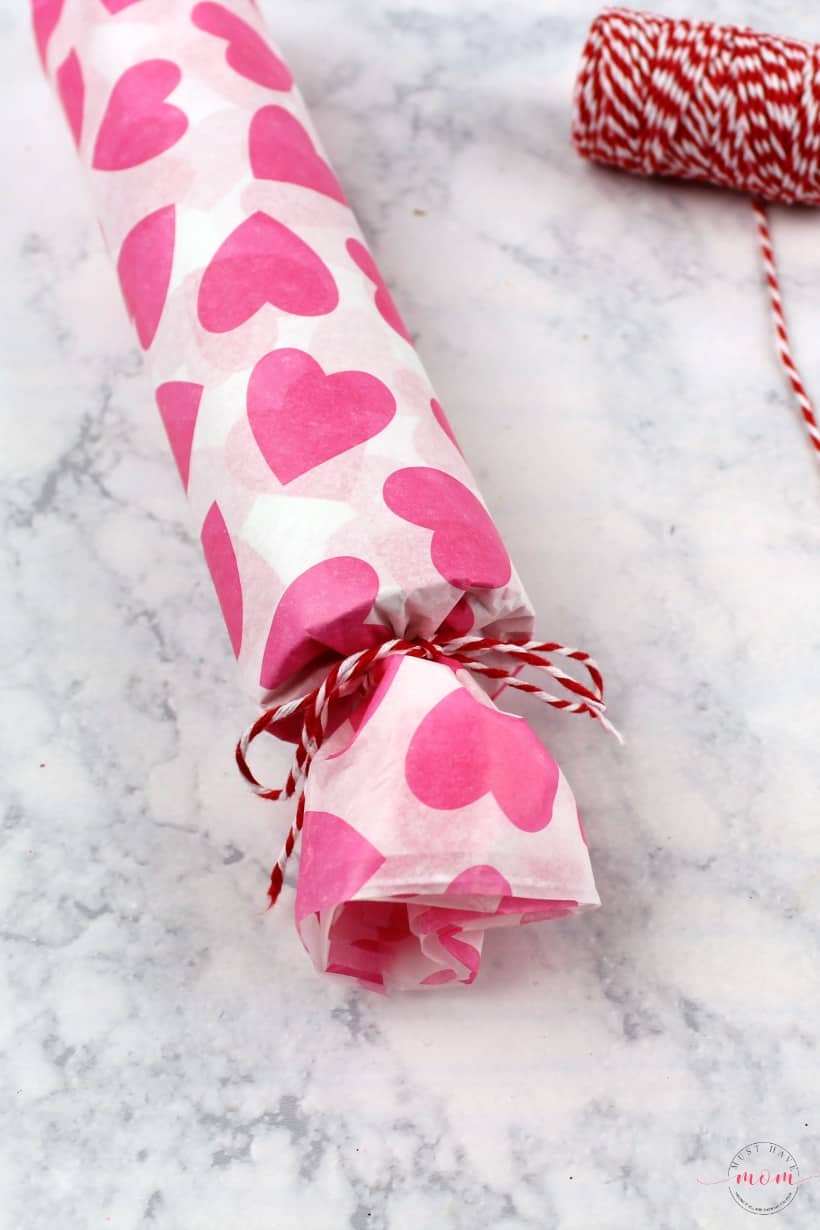 Use your baker's twine to tie each end shut. Be careful not to tear the tissue paper.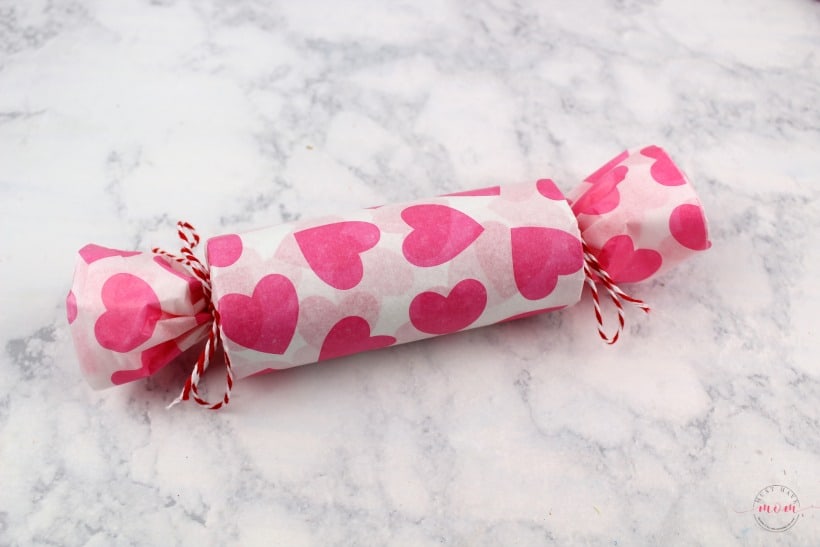 It should look like this when you're done!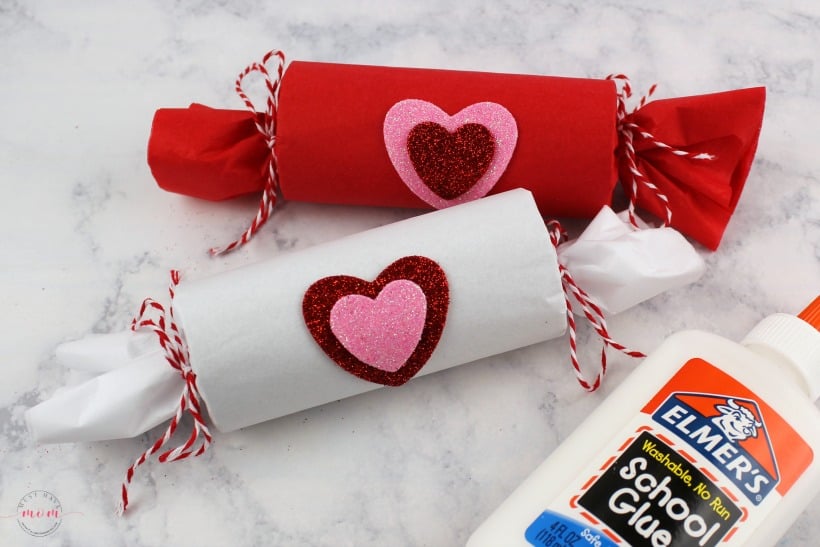 Then, add some decorative stickers or foam hearts to make them pretty!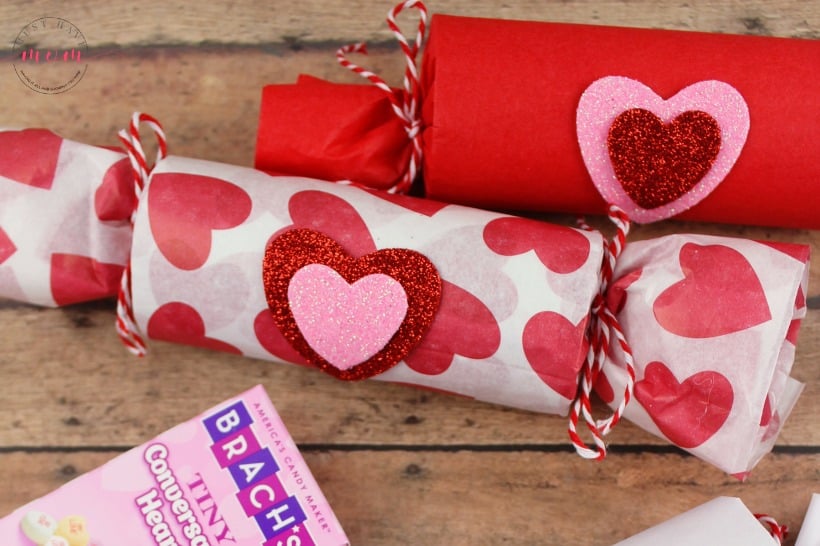 Now they are ready to be popped open!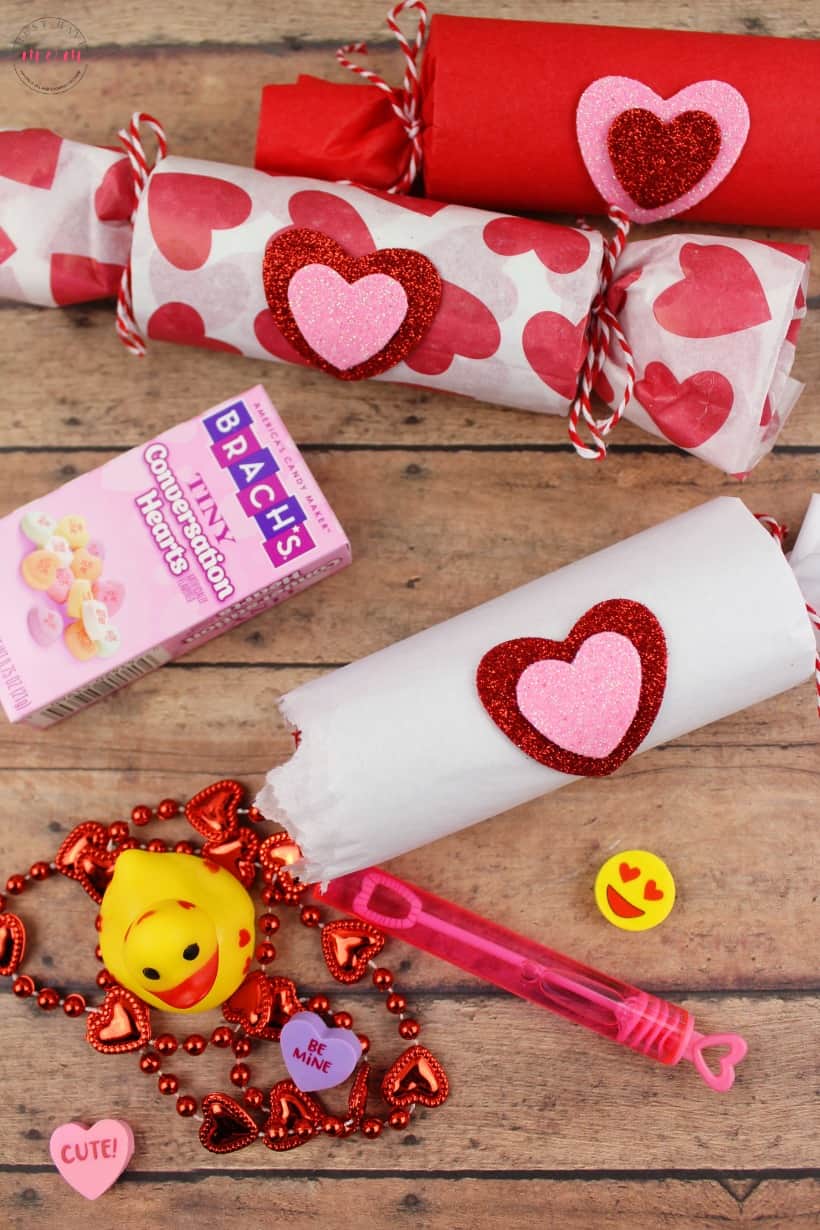 Kids can pop the ends open and find the surprise treats inside their Valentine's Day poppers! It's a fun surprise and it's not very expensive to make a bunch of these! They are great for classroom parties and exchanges. I also like to surprise my kids on Valentine's Day with one of these in each of their spots at the breakfast table. It's a fun way to start the day!
Additional Supplies We Used:
Hemptique bts2red-w Baker's Twine Spool 50-Gram, Red
Pink & Red Hearts Tissue Paper ~ Valentine's Day, Romance or Wedding
500 VALENTINE LOVE Bug HEART FOAM STICKER Shapes/ARTS & Crafts/SCRAPBOOKING Supplies/SELF ADHESIVE/HOLIDAY/VALENTINE'S DAY ACTIVITY
Amscan Valentine's Day Sticker Box (9), Multicolor, 8 1/8
Pin Valentine's Day Treat Poppers