Easy Playroom Organizing Ideas + Tips To Manage The Clutter!
*This post has been sponsored by DYMO. All thoughts and opinions are my own.
If your home is anything like ours is after the holidays then I can place a pretty safe bet that you're dealing with toy clutter! I've got some GREAT playroom organizing strategies for you to crush the post-holiday clutter! I'll also give you my tips for paring down toys and prove to you that having FEWER toys actually leads to MORE playtime. Say what? Bear with me and let me show you what I've learned through much trial and error!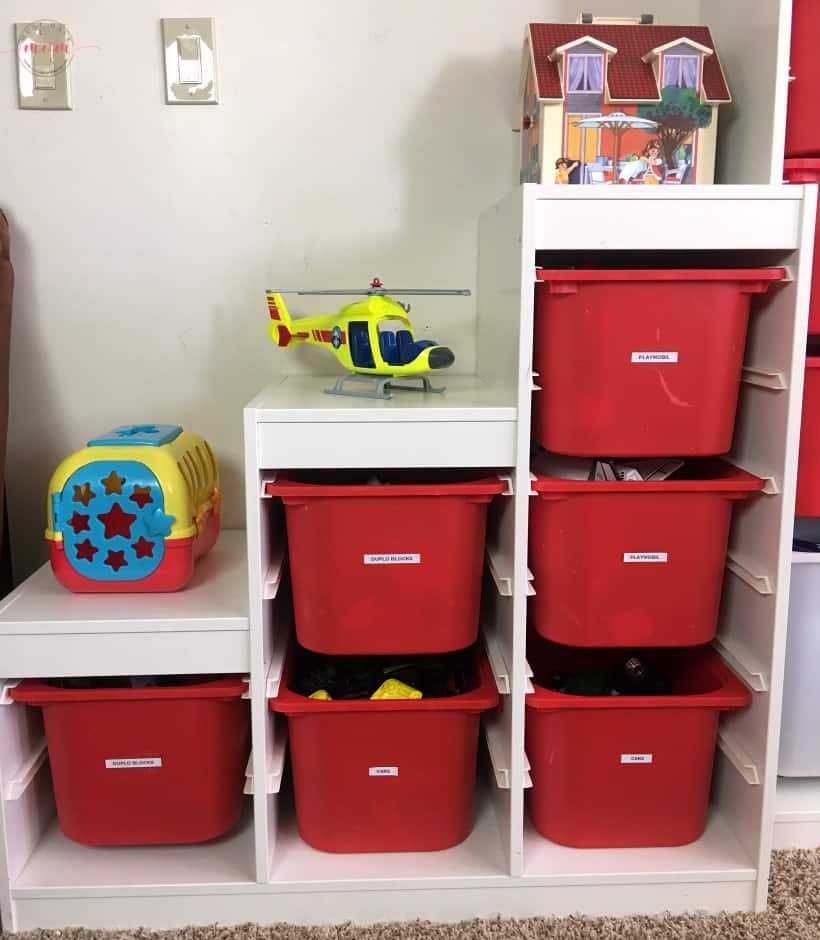 Once upon a time, I was a mom that thought my kids needed ALL the toys and should never have to get rid of anything. Fast forward four kids and ten years later and I'll tell you that kids need far less than we think they do. The more toys they have, the less they actually play with their toys. I know this because I've seen it time and time again. Not only does an abundance of toys overwhelm your home with clutter, but it also overwhelms your child with too many options. I'll show you exactly how to tame the clutter and lead to a tidier, more productive playroom. Let's get started!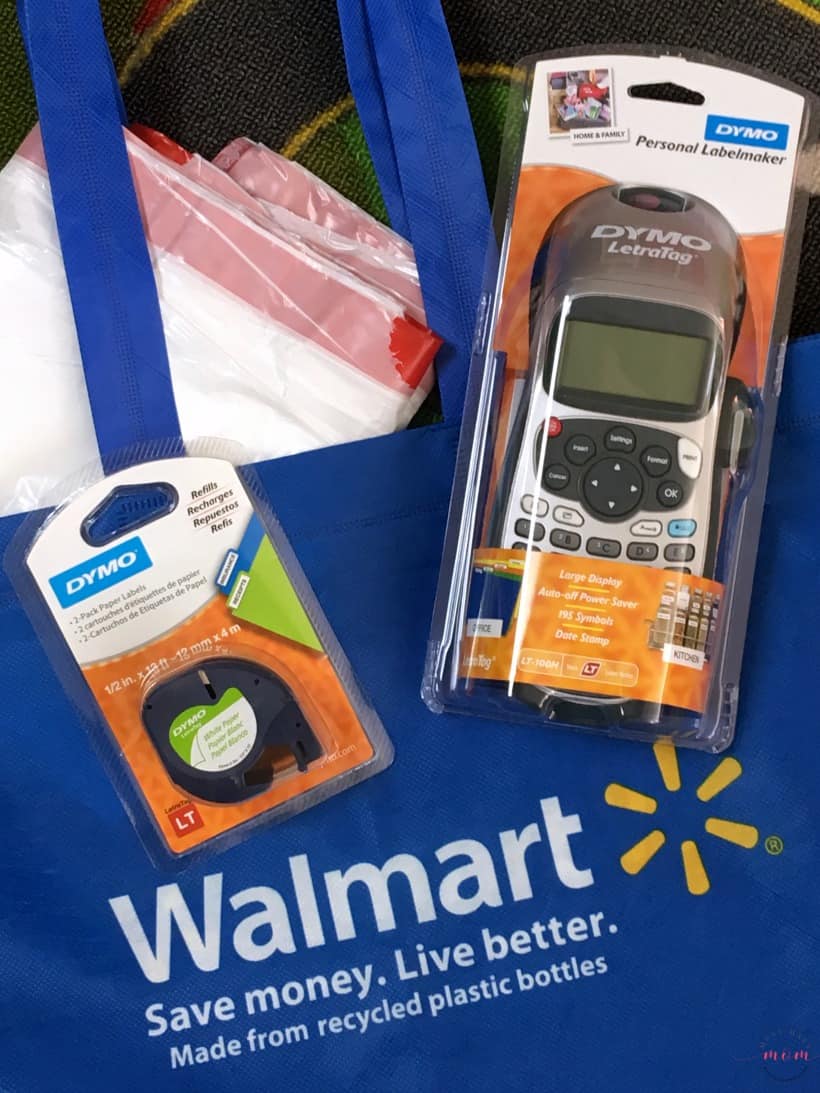 Playroom Organizing Strategy
You'll need a couple basic supplies to get started with these playroom organizing ideas. I purchased organizing bins from Walmart, however, you can get whatever type of bin organizing system that will suit your needs. And while you're at Walmart (find your local store here!) you'll also need to pick up a DYMO ® LetraTag™ Label Maker. You can find it in the office supply aisle and I recommend also getting a refill cartridge while you're there. Trust me, once you start organizing with the label maker you won't want to stop – and it definitely doesn't hurt that both the LetraTag and the refills are so affordable! The white plastic labels are my favorite for household use. You'll also need some garbage bags and 4 AA batteries for the DYMO LetraTag.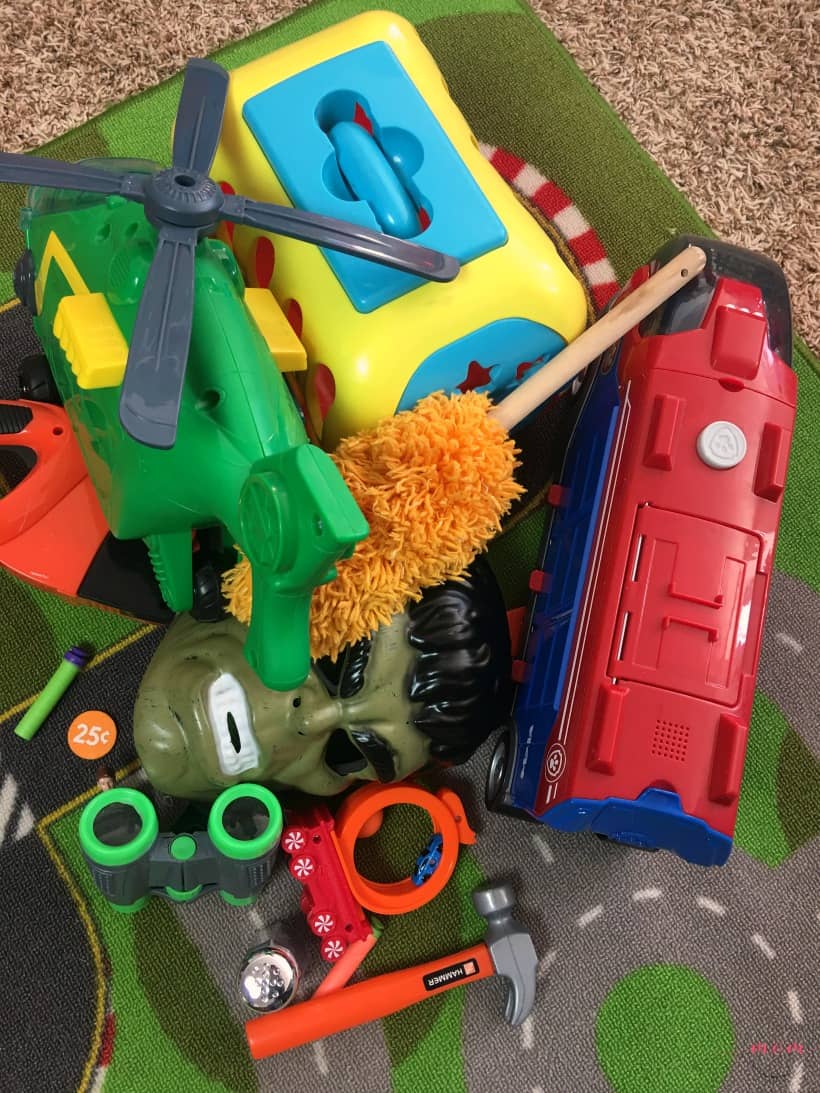 Now you're ready to get started. I find the easiest way to properly sort through everything is to dump it all out. We used to have a few toy boxes that were utterly useless. Please pass on toyboxes. Everything gets tossed in and nothing gets played with! When toys are sorted into groups they are easier to identify and play with and they are also easier to clean up afterward. Start with a pile of toys and get sorting.
Start one pile for "keep", one garbage bag for trash, and one garbage bag for "sell or donate". I highly recommend doing your playroom organizing when the kids are NOT present. They get attached to everything, but you'd be surprised what they won't miss when it disappears. If you aren't sure about getting rid of some things I recommend storing them out of sight in a storage bin and if your child doesn't realize it is gone after a month or two then it's safe to get rid of it. My kids know that mom gets rid of stuff and gives it to kids that don't have toys. They've come to expect it. I keep their favorite things but everything else is fair game.
If you can't manage to pare the toys down to a manageable amount that will fit in your storage bins then I recommend rotating toys. Set up a few storage bins that have toys in them that are put away. Rotate toys on a regular basis and this will reduce the clutter and increase the appeal of the toys as they seem "new" again when you bring them back into rotation.
Once you've sorted through ALL the toys and pared them down considerably, it's time to move on to organizing the toys that are left.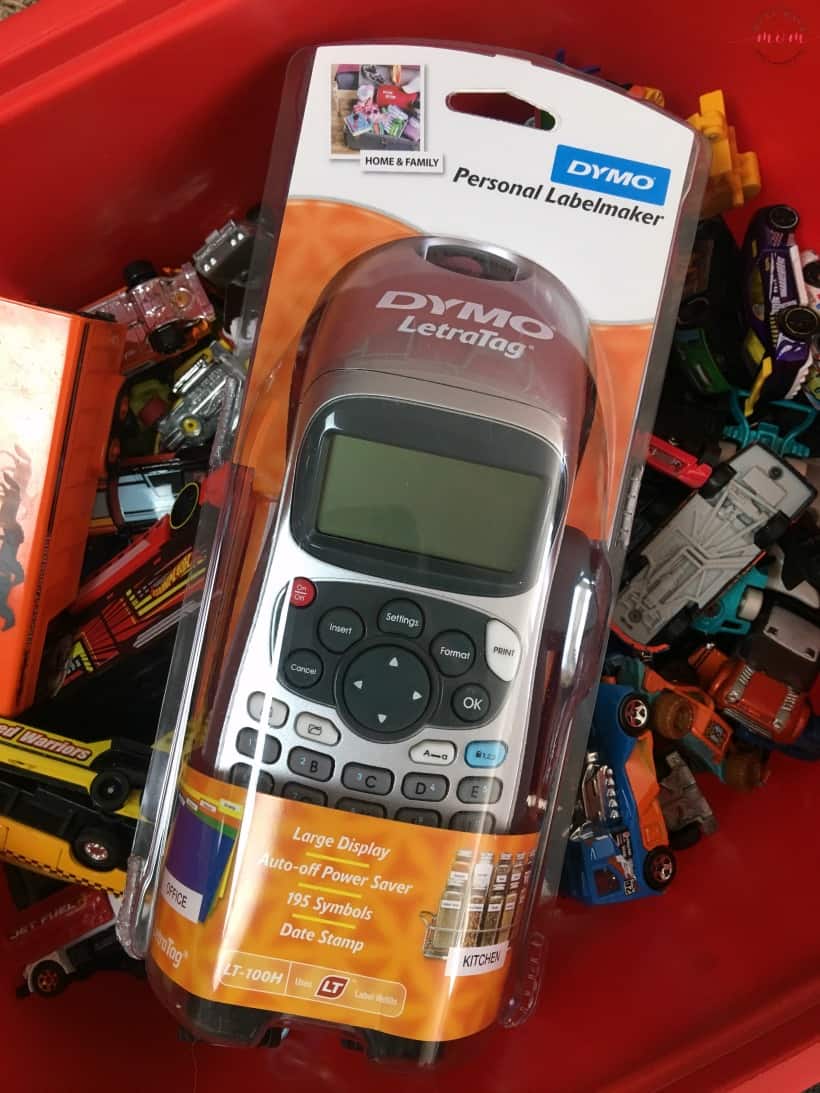 I love organizing so the next part is my favorite! Grab your new DYMO LetraTag label maker. I've owned this brand for 10 years and love the latest handheld model! Remove it from the package and add four AA batteries.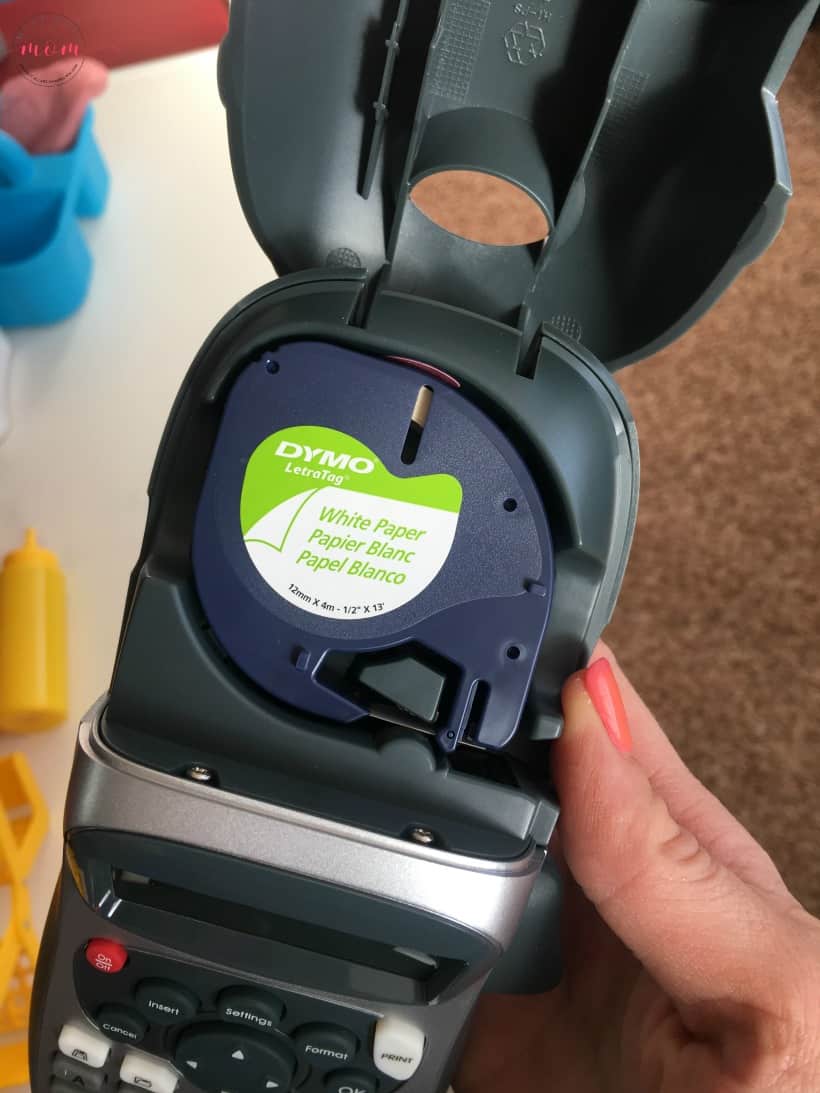 Insert the included cartridge inside the DYMO LetraTag and you're ready to go! Super easy.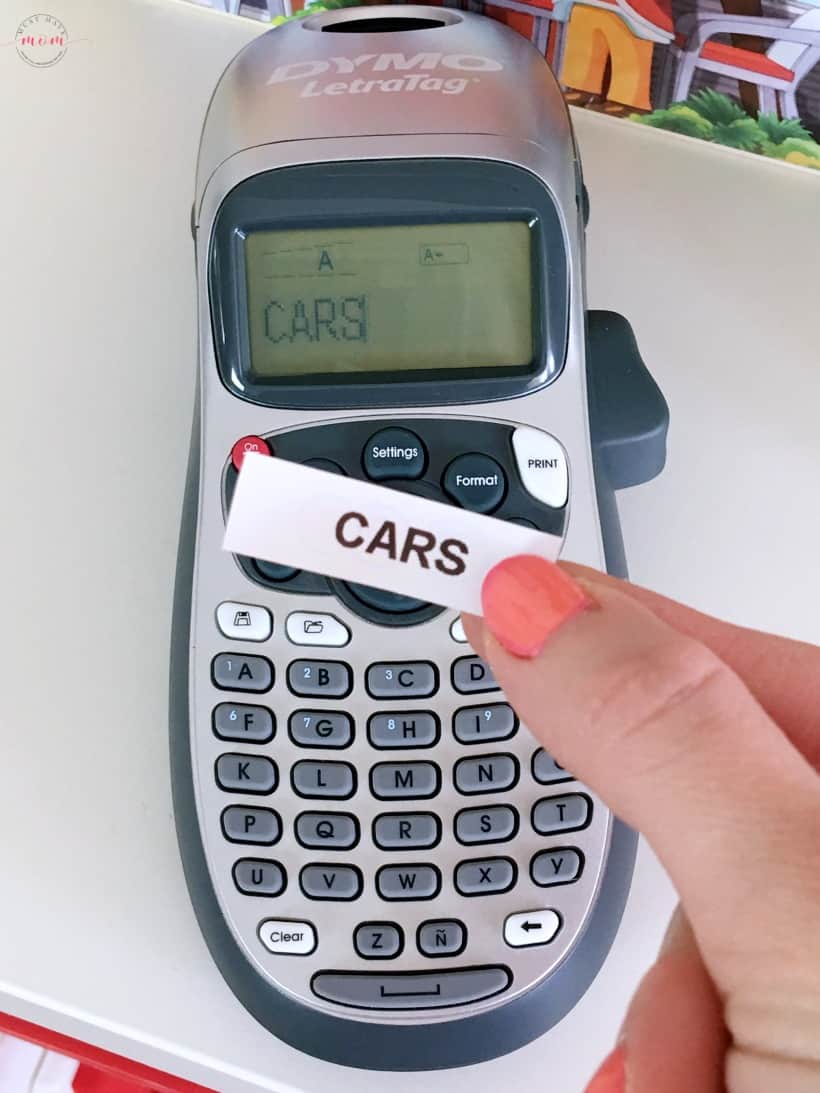 Now it's time to start labeling your bins in easy categories of toys. Just type in the word(s) you want to use and then hit "print". Once it's done press the cutter to release the label. It's extremely easy to use and I love that I can even use it one-handed! You can also change fonts and sizes along with a ton of other features you can play with. For this project, I stuck with the basic default settings and I love the small size of the labels for my bins.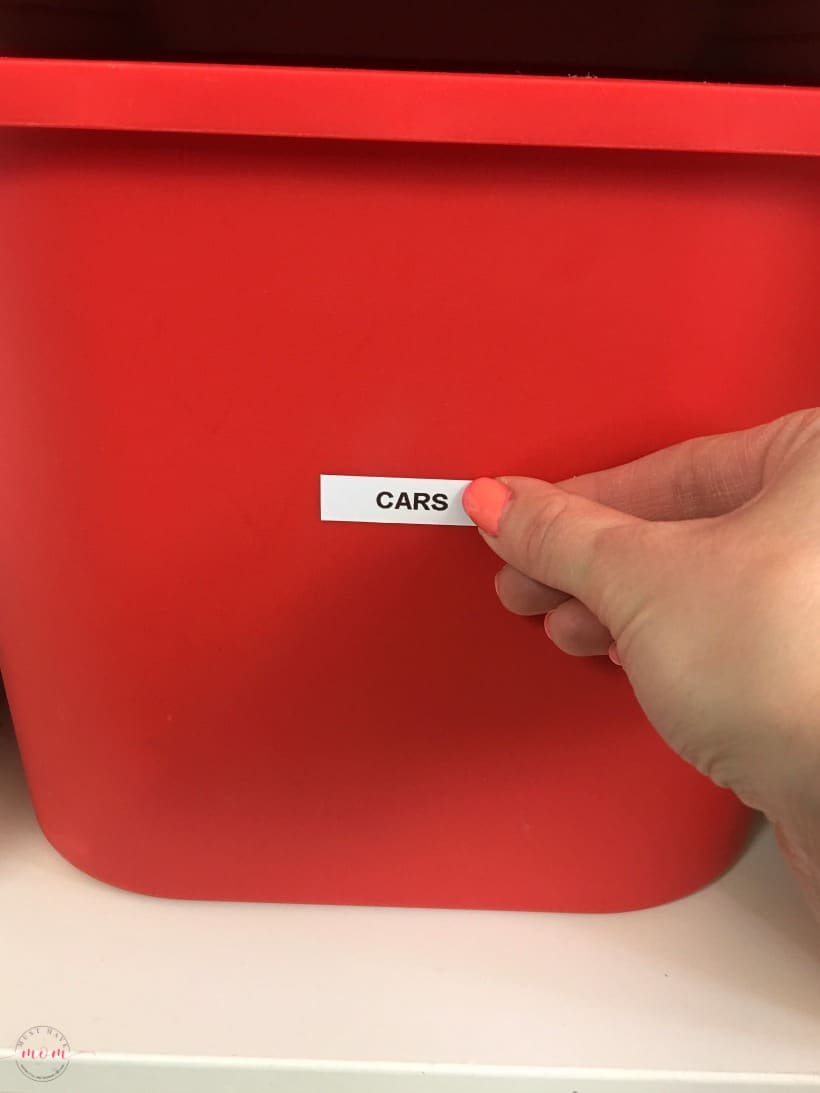 Then, peel the backing off the label and stick it to your bin.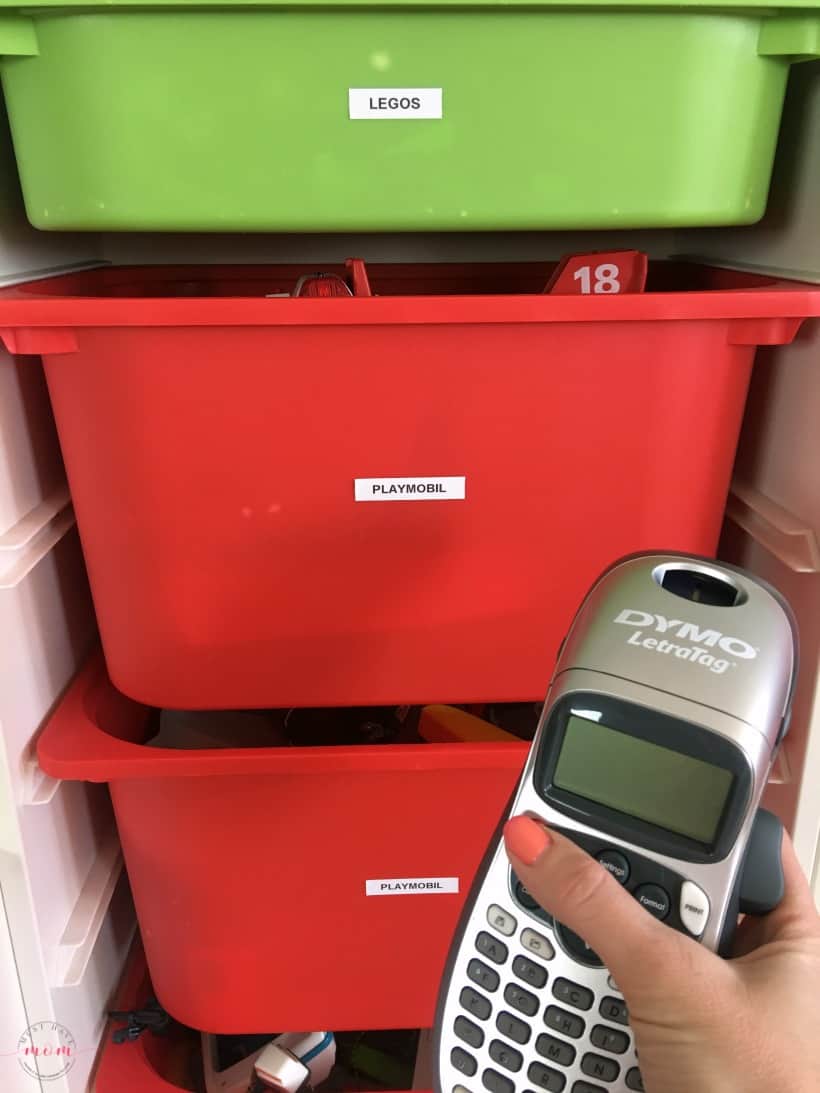 Keep your organizing categories simplistic. We have a few basic toys including cars, Legos, Playmobil and Duplo blocks. I labeled each bin accordingly.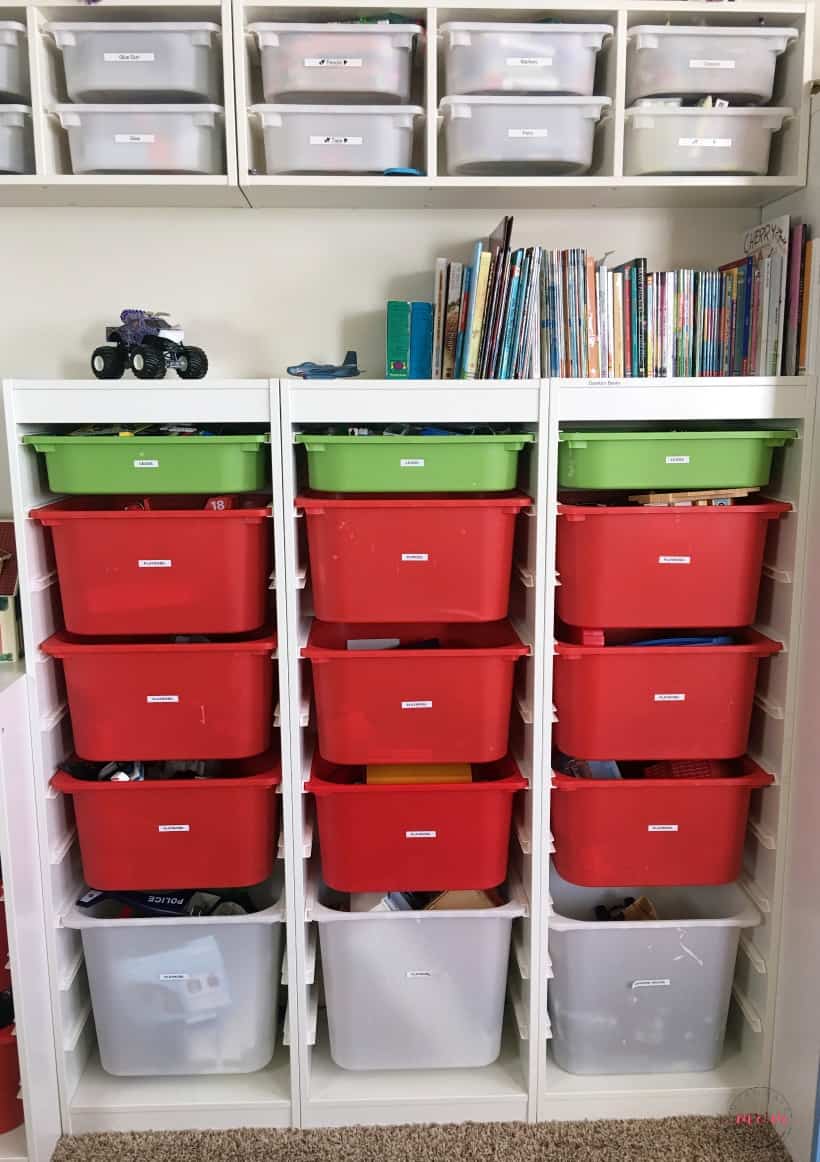 I put a label on every single bin. We also have bins up high with arts and crafts supplies in them and I labeled those as well. I was so sick of pulling down each bin in search of what I needed. Now I can see at a glance what's inside!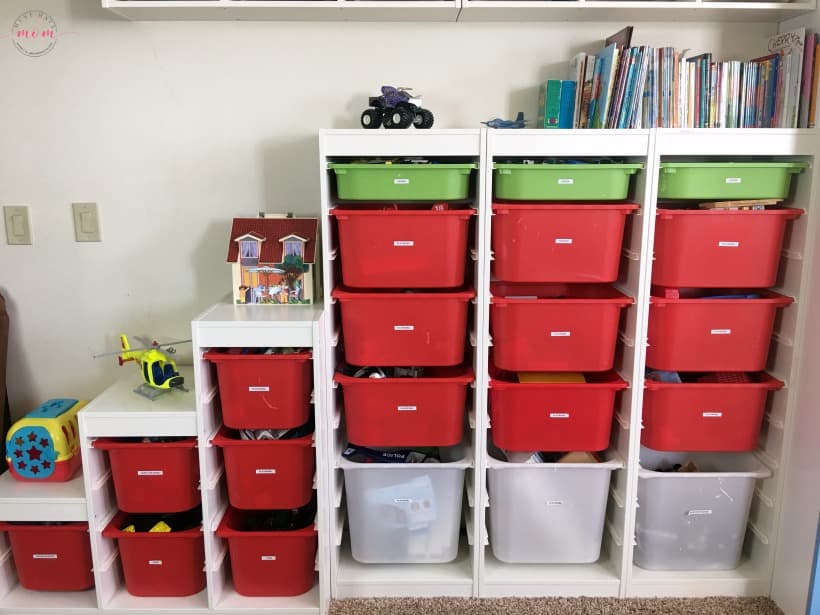 Guess what happened once I was finished sorting and organizing the playroom? The kids all rushed in to play with toys they hadn't picked up in months! Trust me, you are not doing them any favors by having tons of toys to play with. The less toys they have, the less overwhelming it is for them and you. It also makes clean up time manageable for them. Our playroom used to get so messy that it was impossible for the kids to actually organize and clean it all. Now it's manageable and when I tell them to clean the playroom, they are actually able to do it. It's a win for both parents and kids!
So tackle that playroom clutter and then move on to the rest of the house! My kids' closets were next on my list (finished!) and now I'm working on my spice cupboard. There are literally SO many things I use my DYMO LetraTag for. It's super handy and helps me keep my house organized. Remember, if everything has a place then everyone in your house can pitch in to easily clean it and keep it organized! Too much stuff to give everything its own space? Time to pare down! Use these same tips in every room of your house. It's freeing to let the clutter go!!
Grab the DYMO LetraTag and refills in the office supply aisle at Walmart!
Pin Playroom Organizing Ideas