Taco Stuffed Shells Freezer Meal Recipe
Having freezer meals at the ready is a HUGE sanity saver for me. These taco stuffed shells are a family favorite and even the kids love them! This is an easy recipe to prep a bunch at once and freeze a bunch of meals. I typically make a batch to eat that night and make extra batches to put in the freezer for another day.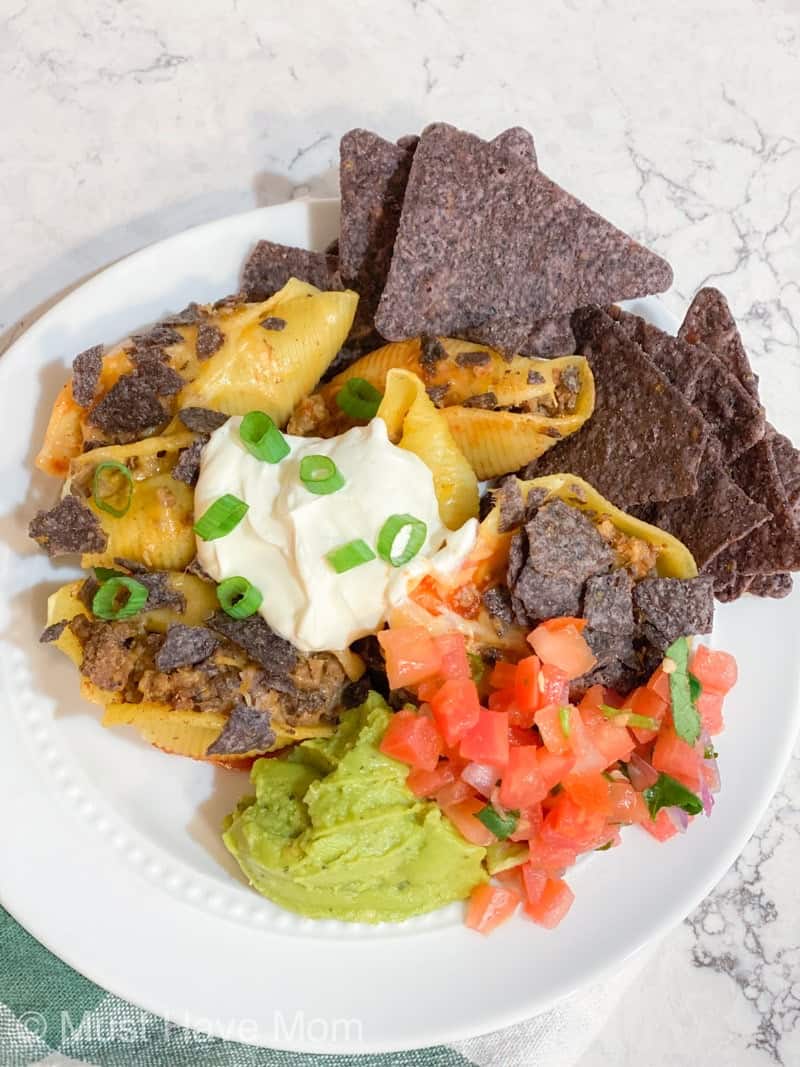 I love freezer cooking and it is a huge sanity saver on busy weeknights when I don't have anything planned and need a meal pronto. If you haven't made freezer meals before then be sure to read my getting started freezer cooking guide. We love these pepperoni pizza braids, porcupine meatballs, meatball parmesan stuffed shells and these freezer breakfast sandwiches. You can see all of my freezer meal recipes here.
We ate these the other night and they were so good! My kids gobbled them up, even my picky eater, so this one is a definite home run. Get the kids to help you assemble these and it is a great way to teach kids cooking skills and have an assembly line so they get done super fast!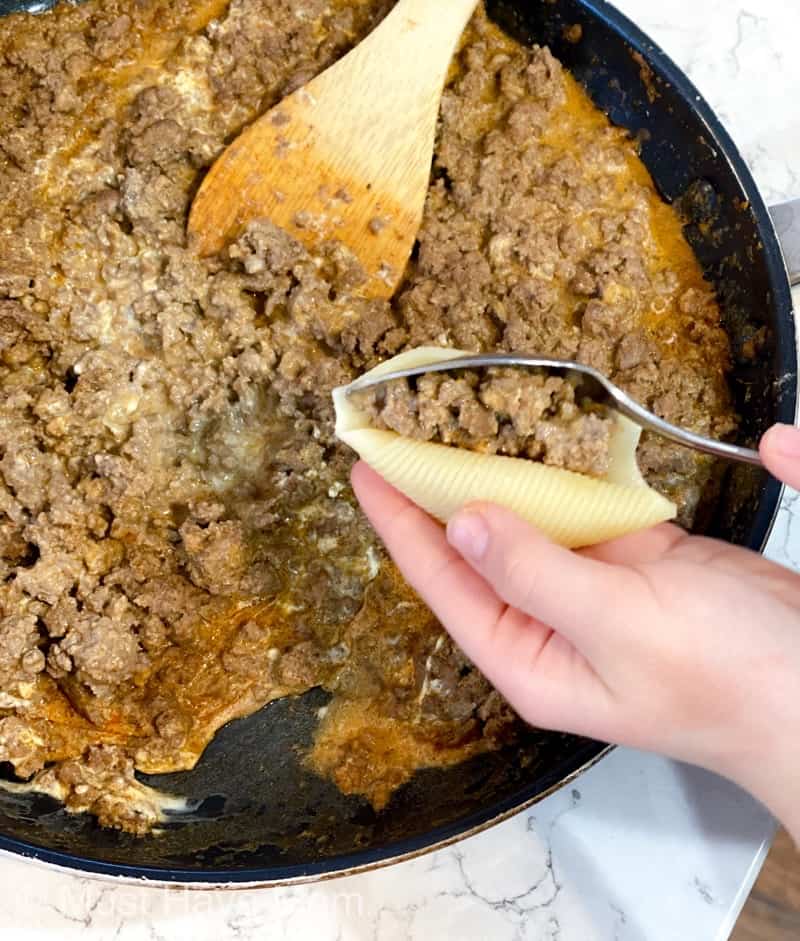 Begin by preparing the beef mixture on the stove and then allowing it to cool so it is cool enough to handle and not burn yourself as you stuff the shells. Cook the pasta shells al dente and drain. Add a little olive oil to them so they don't stick together.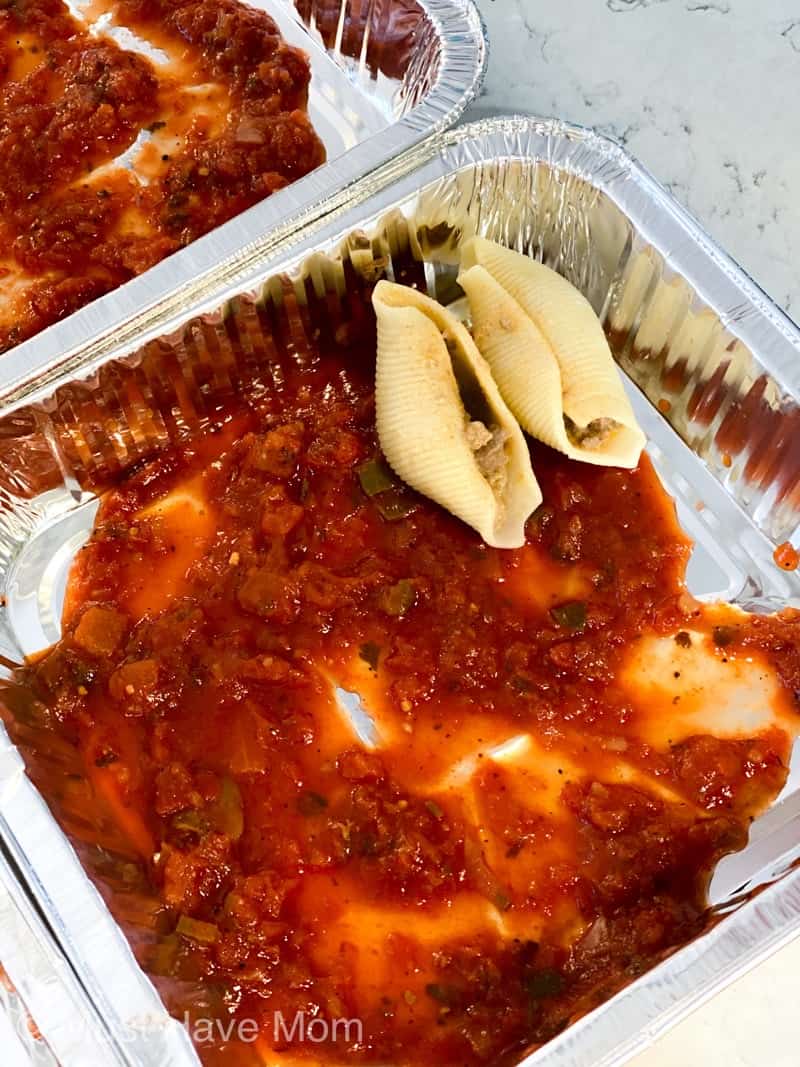 When I make freezer meals I will typically use foil pans to freeze them in because I can't use all my dishes to freeze them in and the foil pans make stacking them easy in the freezer.
Spoon salsa into the bottom of each pan. Then stuff the shells and place on top of the salsa.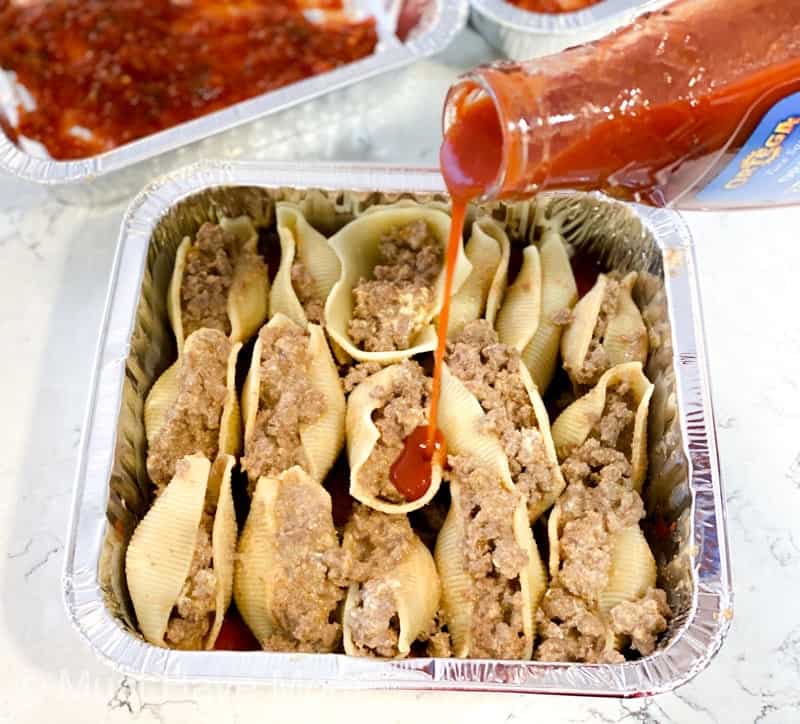 Once the pan is full of stuffed shells, pour taco sauce over the top. If you are freezing your meal (as opposed to serving it tonight) then you will cover with saran wrap and then cover with foil and freeze.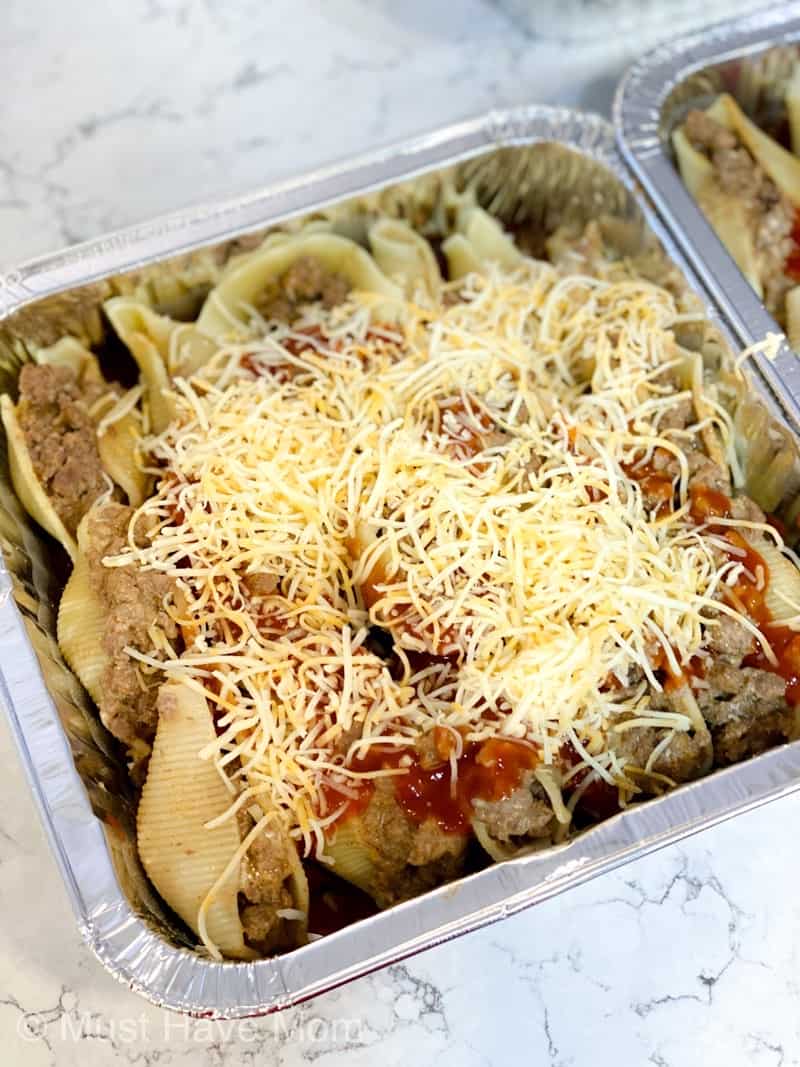 If you are planning on serving this meal today then continue with the recipe instructions and sprinkle cheese on the top.
If freezing place cheese in a ziploc bag to be included with the freezer meal.
Then, sprinkle with the crushed chips and green onions.
If freezing, place the crushed chips and green onions in a bag to be frozen with the meal.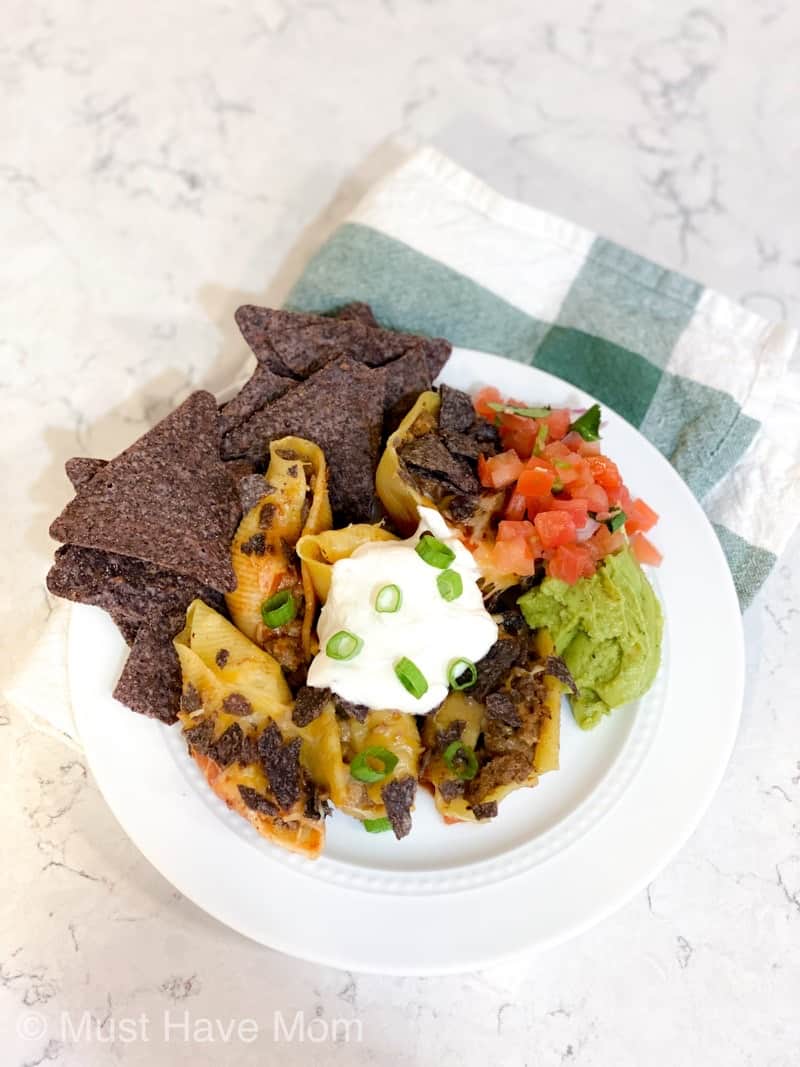 If you are eating this today then go ahead and follow the recipe to bake it.
If you are freezing this meal then package up the shells, cheese, chips and green onions and freeze together. Be sure to label it!
Serve with salsa, guacamole, sour cream and chips. Any taco fixings are a great addition when serving this meal!

Taco Stuffed Shells Freezer Meal Recipe
Here is the Stuffed Taco Shells Freezer Meal Recipe! Make a double batch tonight and eat one now and freeze one for later!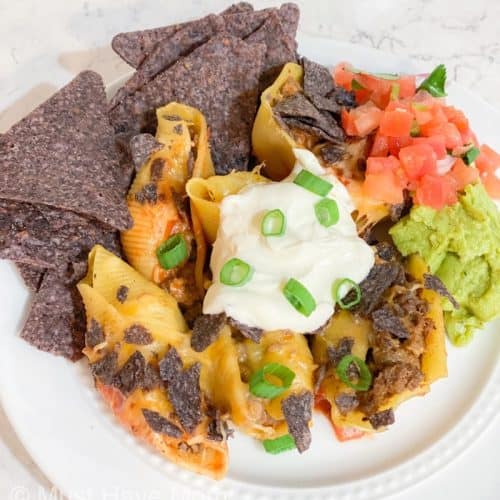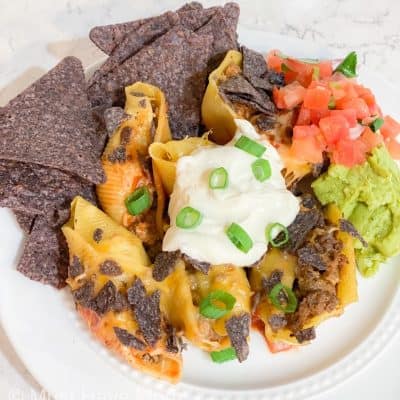 Taco Stuffed Shells Freezer Meal Recipe
Yummy mexican stuffed pasta shells recipe that even picky eaters will love! Makes a great freezer meal!
Ingredients
2

lbs

Ground Beef

2

Pkg Taco Seasoning

1 1/2

C

Water

8

Oz

Cream Cheese

24

Jumbo Shells

cooked al dente

1/4

C

Butter

Melted

1

C

Salsa

1

C

Taco Sauce

1

C

Cheddar Cheese

1

C

Monterey Jack Cheese

1 1/2

C

Crushed Tortilla Chips

1

C

Sour Cream

3

Green Onions

Chopped
Instructions
Cook beef over medium heat until no longer pink.

Drain grease and return beef to pan.

Stir in taco seasoning and water and simmer until liquid evaporates.

Stir in cream cheese until melted.

Let cool.

Spoon salsa into 9" baking dish and cover bottom with thin layer.

Fill each jumbo shell with 3T meat mixture and place on top of salsa in pan.

Top with taco sauce.

Cover with saran and then foil and freeze.

Package cheese, chips and green onions in a plastic bag and freeze with shells package.

Cooking Day:

Cover and bake at 350 degrees for 40 minutes.

Uncover and sprinkle with cheese, chips and green onions.

Bake 15 minutes longer.

Serve with sour cream.
Pin Taco Stuffed Shells