Freezer Breakfast Sandwiches Recipe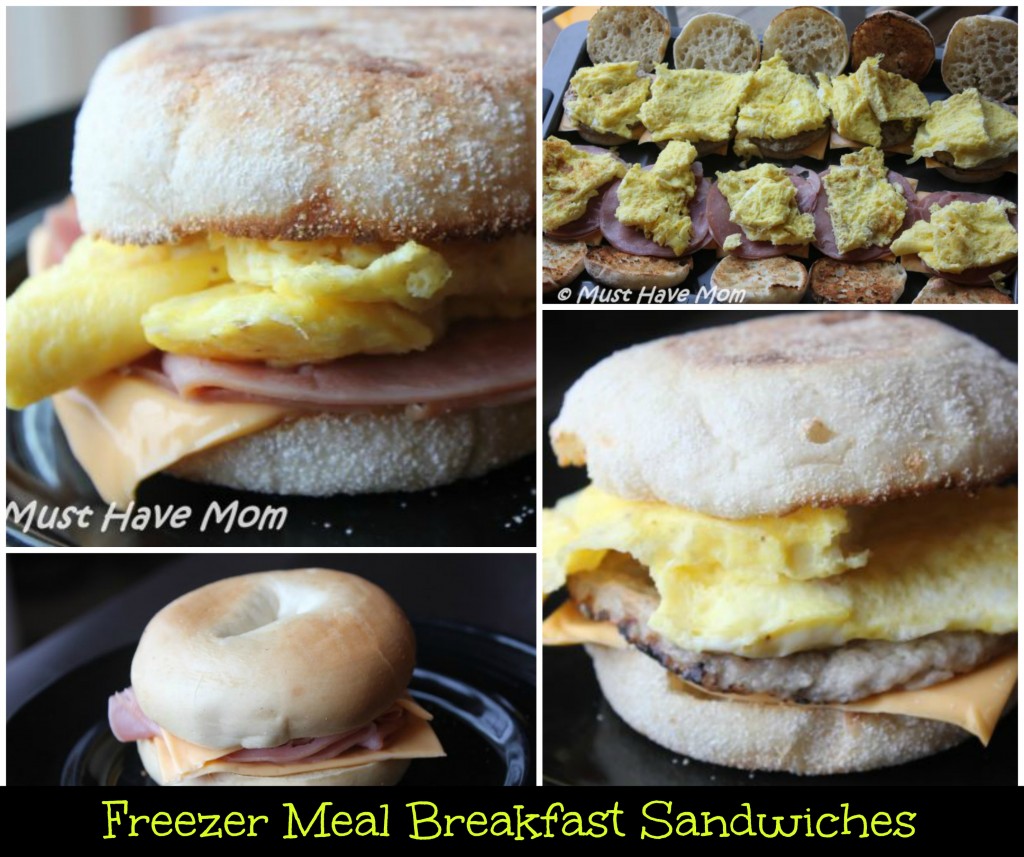 Breakfast seems to be a chaotic time in every household, especially on weekdays. It seems we are always late and running out the door. I wanted to make something that my husband could grab on his way out the door or bring to work and eat. These freezer meal breakfast sandwiches are sooooo good and my husband claims they are better than any breakfast sandwiches he's eaten from the freezer before! That means that I've outdone the big companies with their processed, frozen breakfast sandwiches here and made them better and better for you. I like knowing what ingredients are in my food and the lack of artificial everything in my food is always a good thing! These are really easy to whip up a bunch of and freeze so you have them all month long! Just microwave to eat and they are tasty!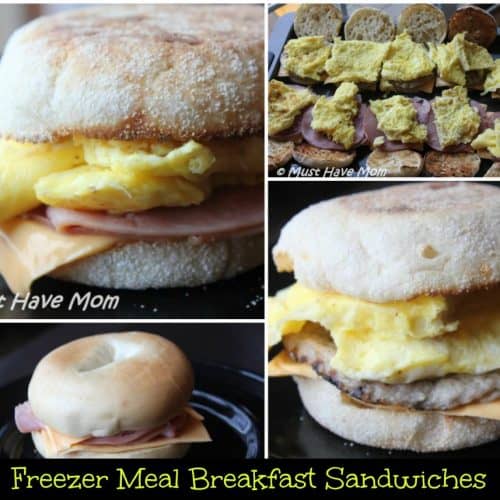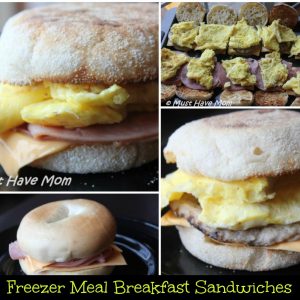 Freezer Meal Breakfast Sandwiches Recipe
Great breakfast sandwiches that you can make ahead and freeze.
Ingredients
English Muffins or Bagels

Cheese - Any Kind of Slices I used American

Ham

Sausage, Canadian Bacon - to your liking

Eggs

Milk
Instructions
First you are going to make your eggs. Beat them in a bowl with a little bit of milk to make scrambled eggs. Pour into a hot pan on medium heat. Use a large, flat pan. Unlike when you usually make scrambled eggs, DO NOT stir them up. Let cook until cooked halfway through and then flip over, cutting in square portions to make it more manageable. Let cook until cooked through. This makes flat eggs that are easy for sandwich making.

Toast the bread lightly.

Top each bottom bread piece with cheese. Fold your cheese in quarters to make a square in the center of the bread. This way when you reheat the sandwich the cheese won't ooze out the sides as much.

Top with meat - If using frozen sausage patties then place them on the sandwich frozen, do not heat them.

Top with eggs and remaining half of bread.

Wrap in a paper towl - I use Viva because they work the best when reheating later.

Place in a gallon zip top bag and freeze - be sure to squeeze out all the air from the bag.

To Eat: Remove sandwich from bag, leaving the paper towel on. Loosen the paper towel and microwave 1-2 minutes until hot.
You can make any variety of freezer breakfast sandwiches with these instructions. Choose your filling and your bread. I did both bagels and english muffins.
Catch up on all of my posts on freezer cooking including my getting started freezer cooking post!
Like this post? Pin it, Share it, Tweet it! 🙂