Pepperoni Pizza Braid Freezer Meal Recipe
This pizza braid recipe is super easy to make and can be made ahead of time and frozen for an easy freezer meal anytime! I make these five at a time and freeze them. Then just thaw and bake for a delicious pizza bread in half an hour!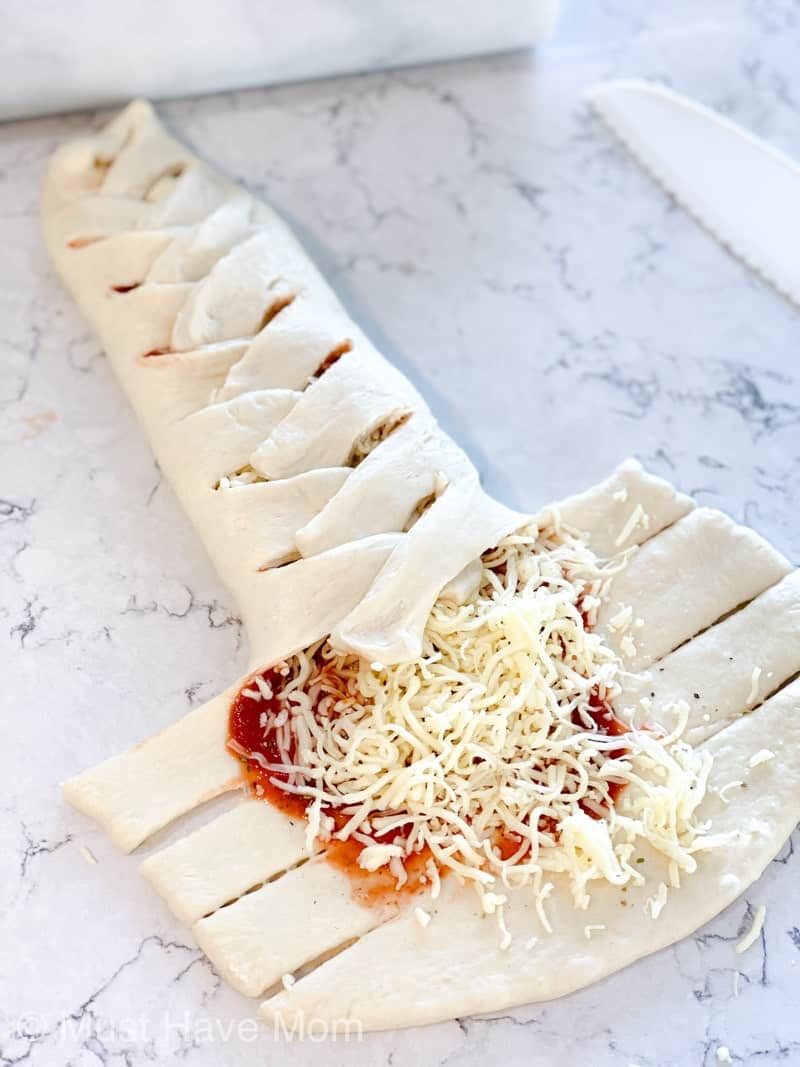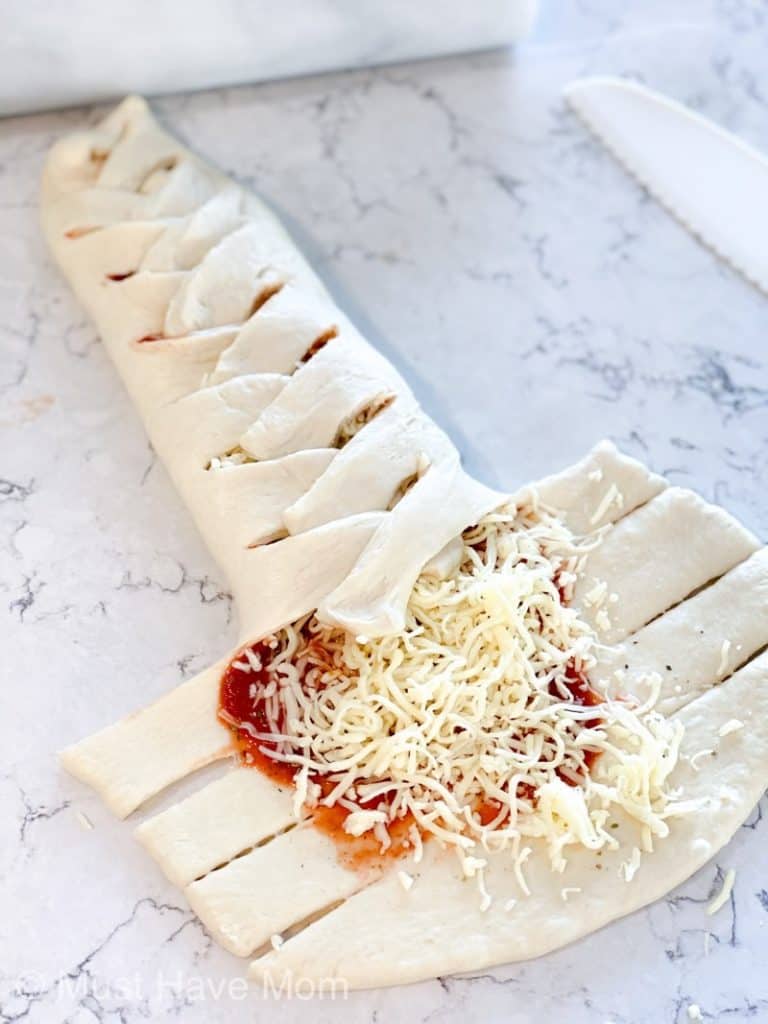 I love a great pizza recipe. Whether it is a healthy take on pizza like this 21 day fix pizza recipe or a dessert pizza like this fruit pizza recipe, pizza any way is fine with me! The cool thing about these pizza braids is that they can be made ahead and frozen for later so you always have an easy meal at the ready!
Pizza Braid
Have you ever tried a pizza braid before? It's basically like a pizza bread that can be stuffed with any variety of ingredients and then baked inside the bread dough. It's amazing! Think delicious homemade bread meets pizza. It's a heavenly combination and totally customizable to your tastes!
This is a favorite recipe because who doesn't love pizza? It's quick and easy to make up a batch of them and freeze them. Then just pull one out the night before you want to eat it. When I do freezer cooking this is a go-to recipe! You can also make just one or two at a time on the day you plan on eating them. No matter how you make them, just make sure you do!
Before you get started be sure to check out all of my posts on freezer cooking including my getting started freezer cooking post! Now on to the pepperoni pizza braid freezer meal recipe!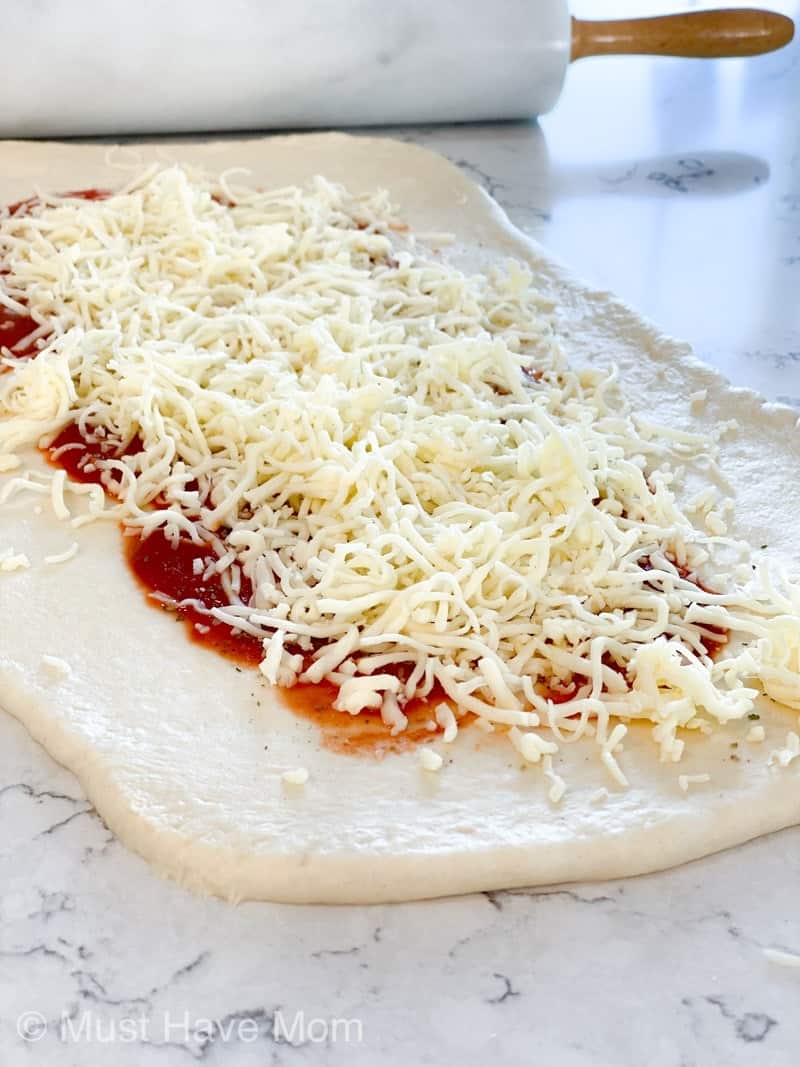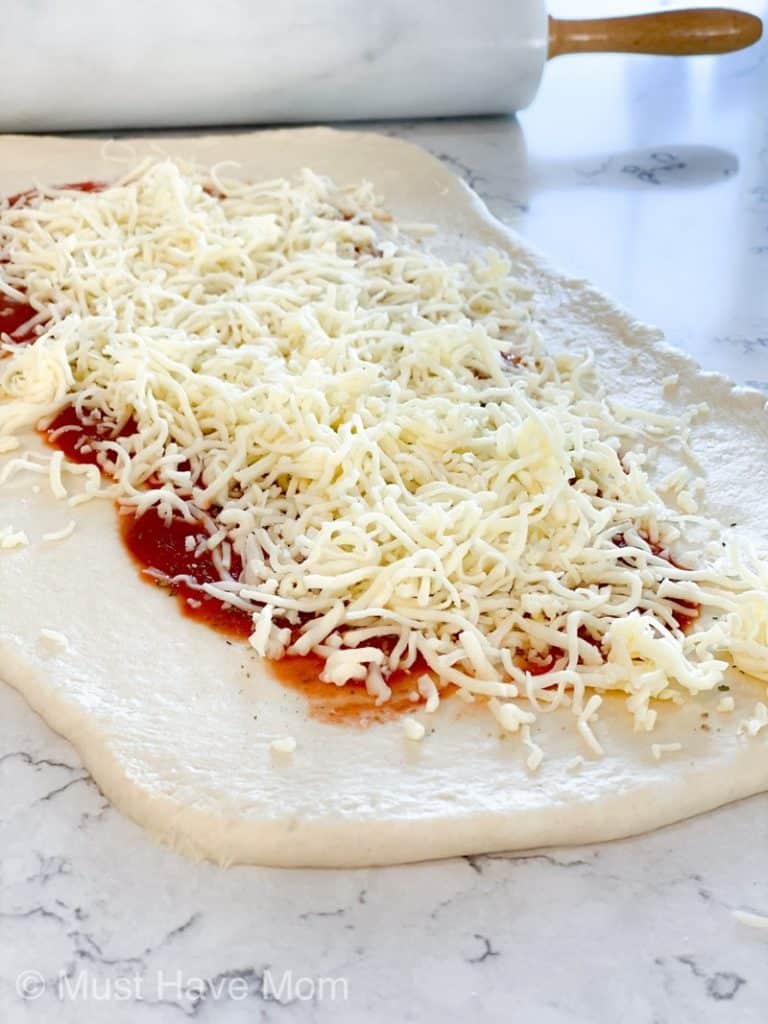 How To Make A Pizza Braid
While this recipe is for a cheese or pepperoni pizza braid, you can make any variation of flavors you like! Use this as a base recipe and modify it to suit your tastes.  The frozen bread dough comes in bags with 5 loaves so I generally make 5 at a time and put them in the freezer. I've done it with chicken and bacon and dry ranch dressing with a white sauce as well as ham & cheese and they all are wonderful!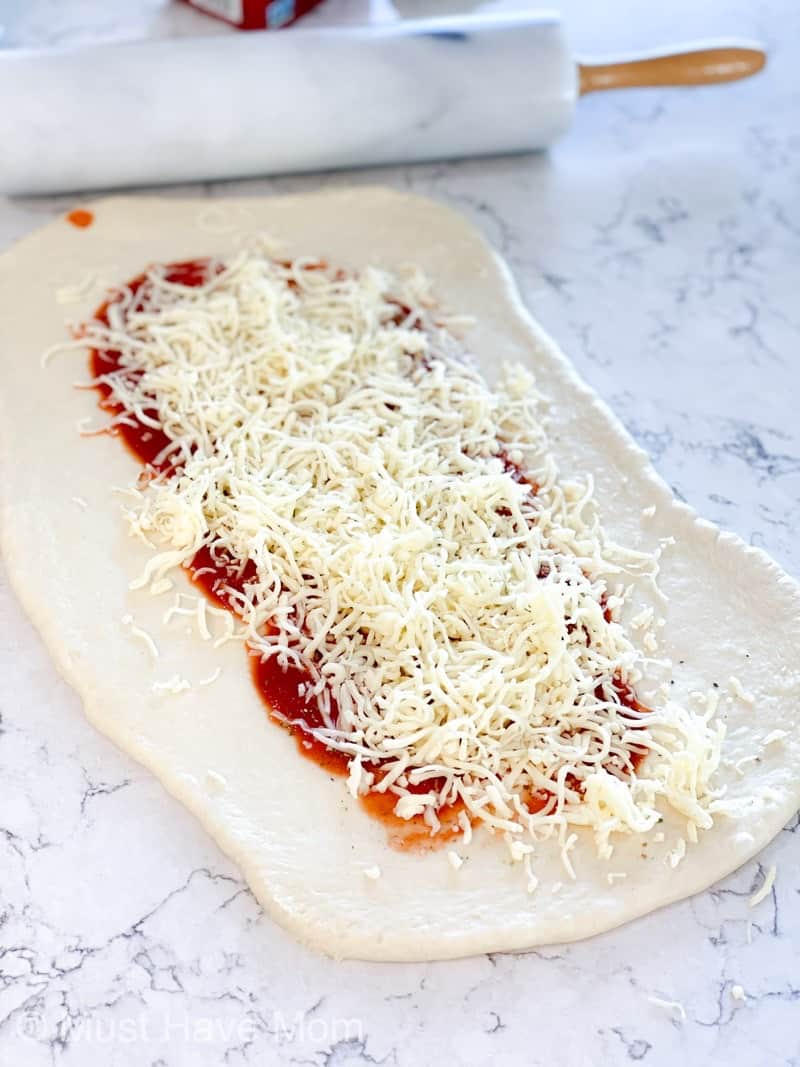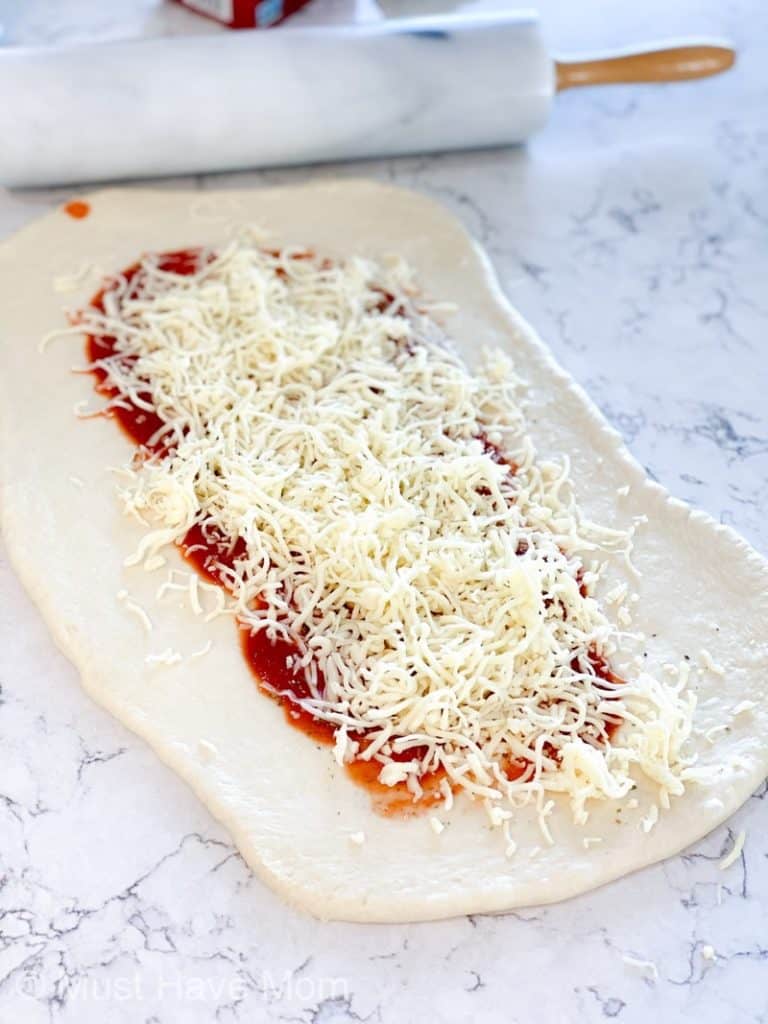 I use frozen bread dough for this recipe as an easy hack to save time. Feel free to make your own bread dough though!
You'll want to let the dough thaw overnight in the fridge first or you can thaw it on the counter until it begins to rise. Then you'll roll the dough out using a rolling pin to create a rectangle shape. Then you can add your desired sauce and ingredients to the center of the rectangle, keeping the edges clean. The edges will serve as your braid so you don't want any toppings on them.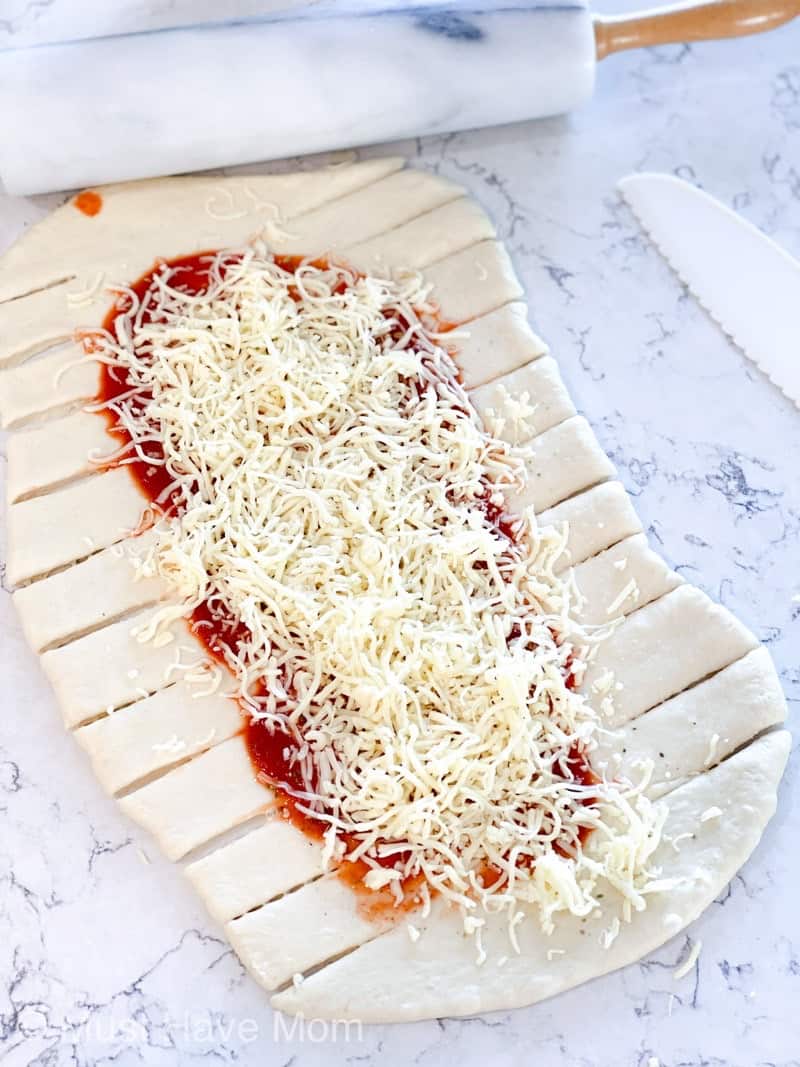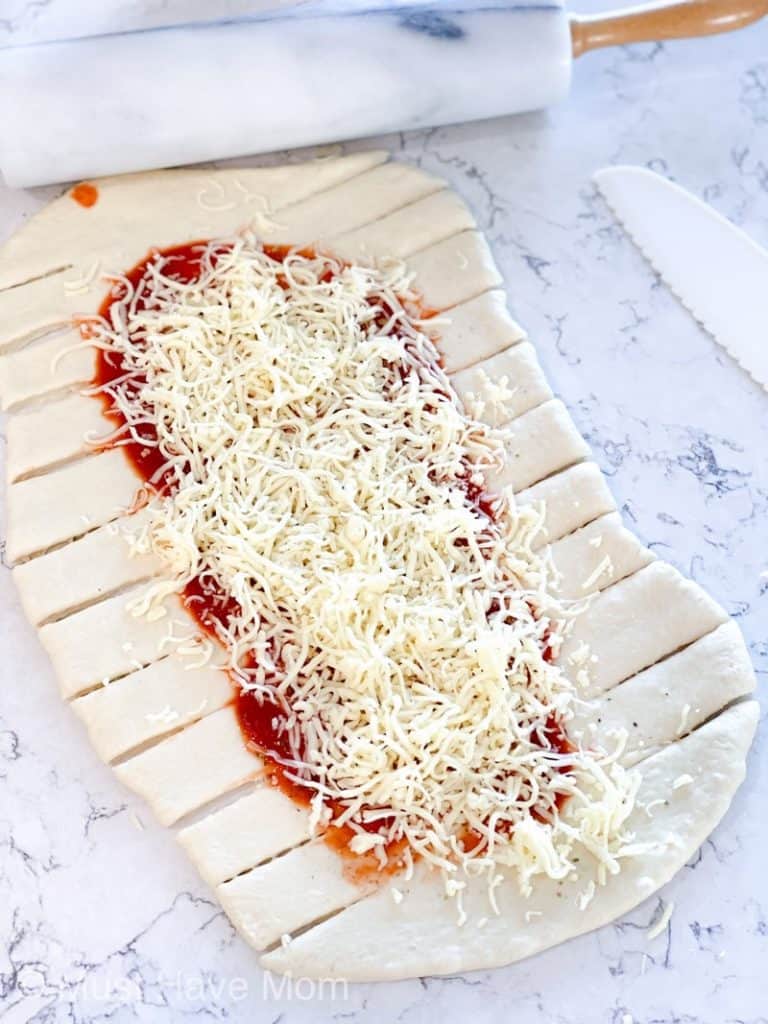 After you've put all of your desired toppings on your pizza braid, use a knife or pizza cutter to slice notches as shown above. Be sure to cut an equal number of strips on each side of the dough.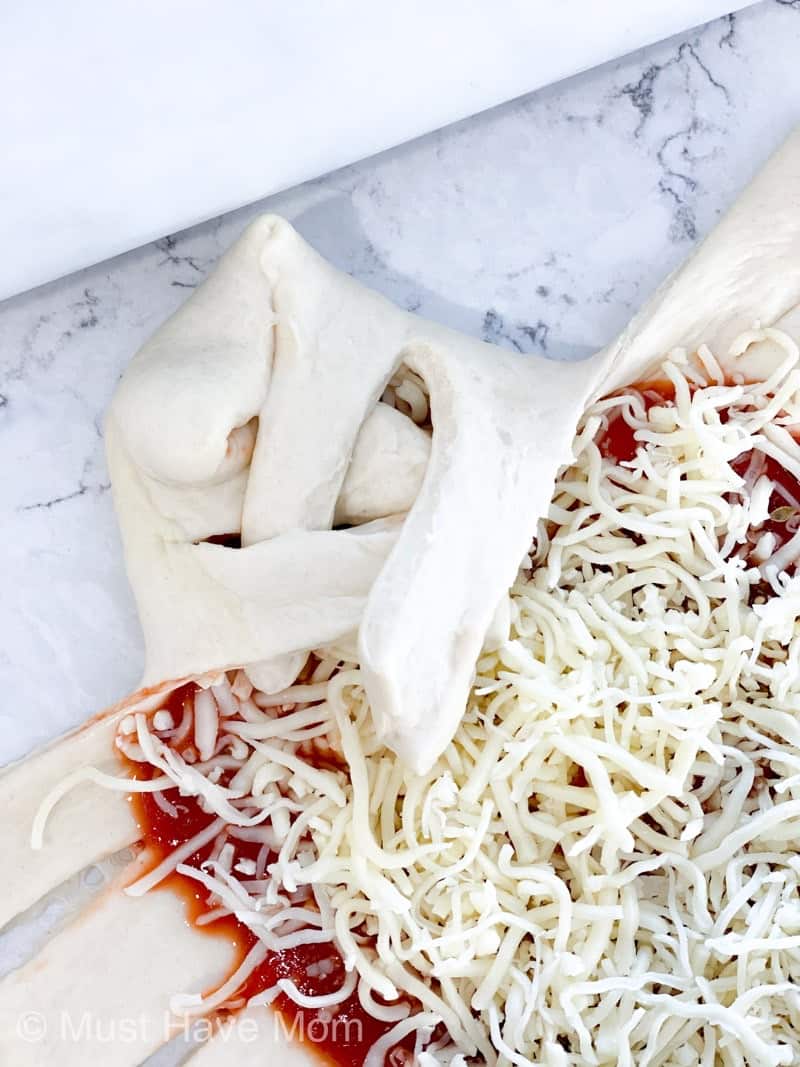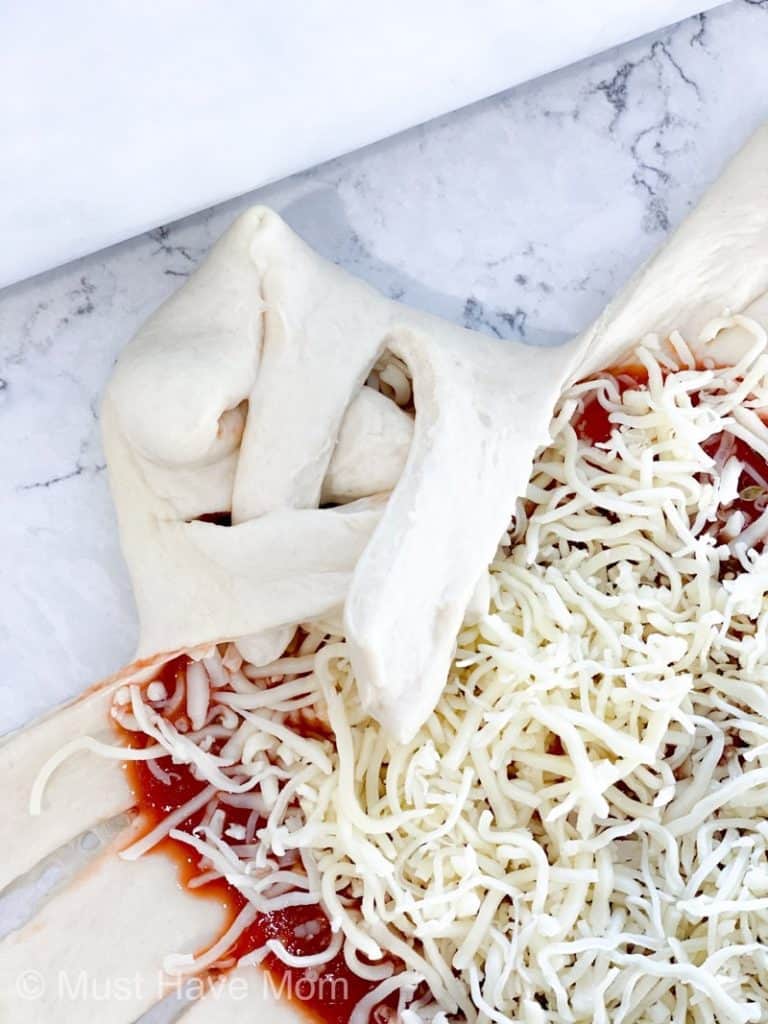 Then it is time to start braiding the dough. Begin by crossing one strip over to the opposite side and alternate back and forth, enclosing the toppings inside.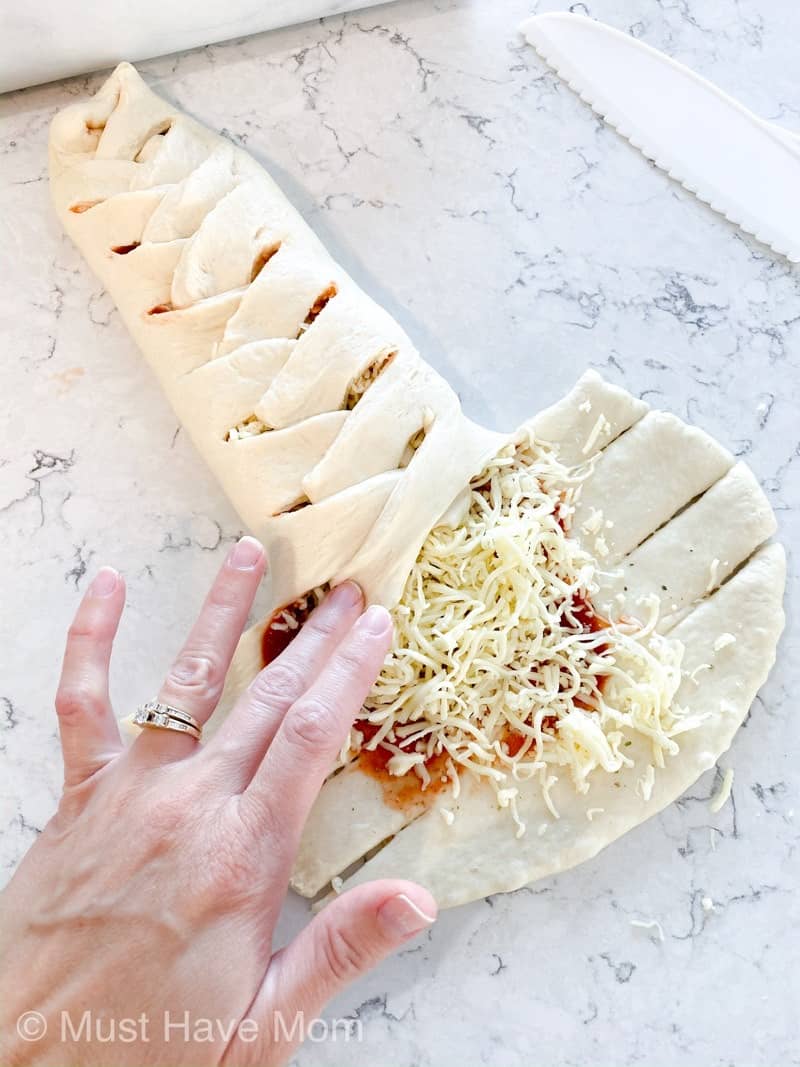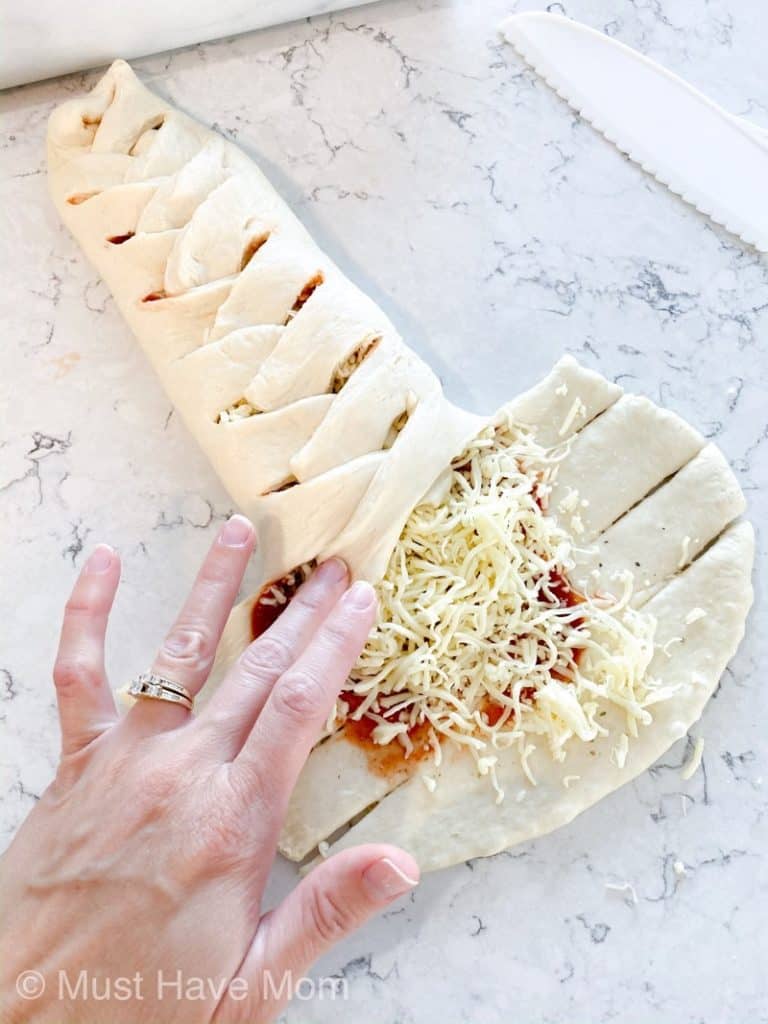 It should look like the photo above as you continue to braid it.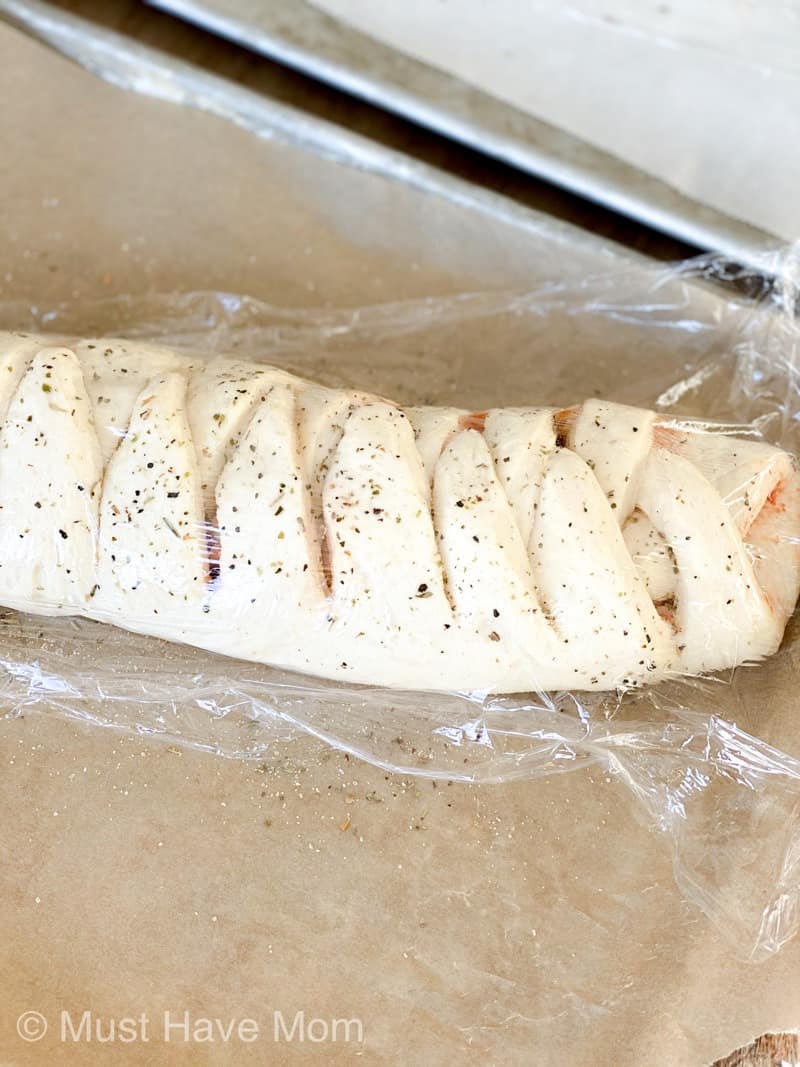 Once you finish braiding the dough, cover the pizza braid with saran wrap that's been sprayed with non-stick spray and place on a sheet pan to rise. Let it sit in a warm area until it doubles in size. The time this takes will depend on the temperature of your kitchen. I put mine in a sunny spot and they rose in under half an hour.
For any loaves you plan to freeze: Stop at this step. Do not cover and allow the dough to rise. Instead wrap each pizza braid in saran wrap and then foil and freeze. On cooking day you will start at this step and allow them to thaw overnight in the fridge and then take them out to rise until double in size.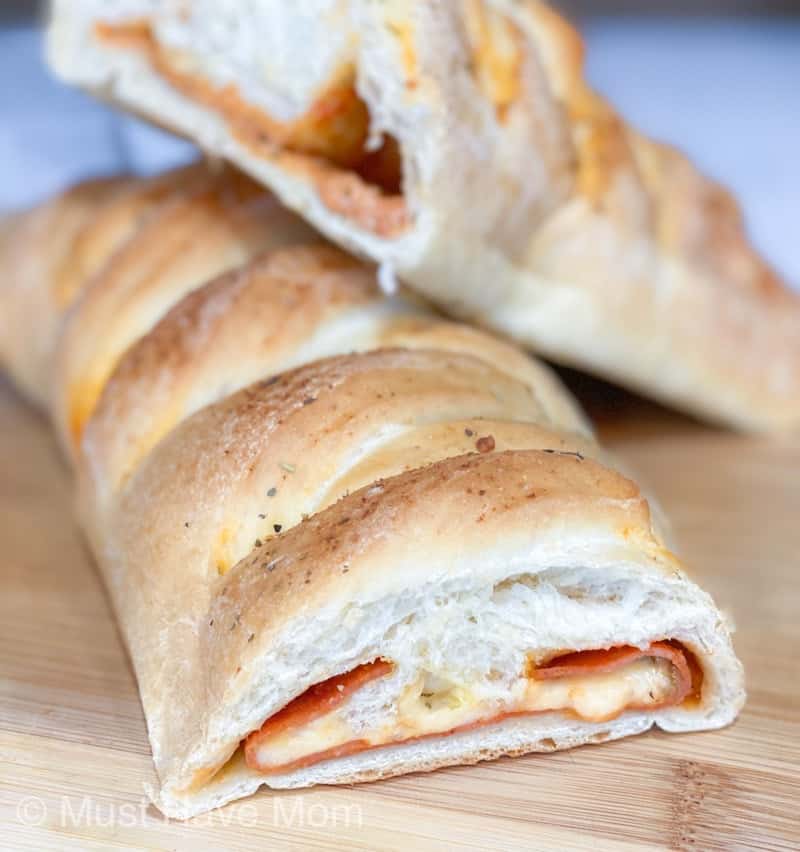 Once they have doubled in size you are ready to bake them! Serve immediately once they've been baked. You can reheat leftovers in the oven wrapped in foil.
Pizza Braid Recipe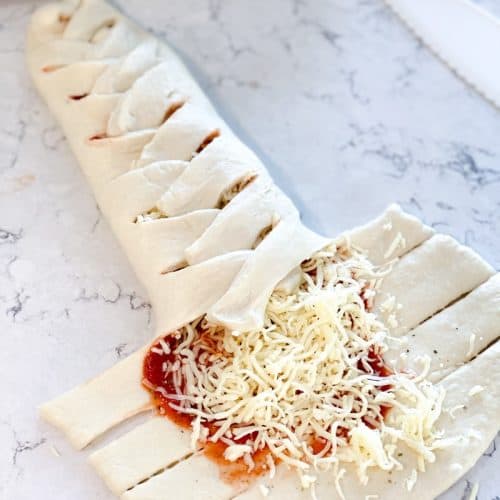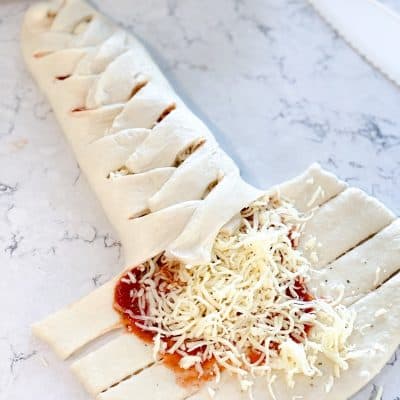 Pepperoni Pizza Braid Freezer Meal Recipe
Easy pizza braid that can be made with any ingredients to fill it. Works great as a freezer meal!
Ingredients
1

loaf Rhodes frozen bread dough
For Pepperoni Version:
1/4

C

tomato paste

1

tsp

crushed oregano

1/4

tsp

garlic powder

1

C

Chopped pepperoni

1

C

Shredded mozzarella cheese
For Ham Version:
1

stick butter

1/2

envelope of hidden valley ranch dry dressing mix

3/4

lb

thinly sliced ham

1 1/2

C

shredded cheddar cheese
Instructions
Let bread dough thaw overnight in fridge or follow package directions for thawing.

Roll bread dough into rectangle shape so it is 1/2'' thick.

Spread tomato paste on center leaving edges clean.

Top with herbs, pepperoni and cheese. *For Ham Version: Combine melted butter and ranch mix together to create a spread and use that instead of tomato paste. Top with your ham and cheese.

Use pizza cutter to cut even number of strips down each side.

Start at the bottom and take each piece and cross them, braiding until you reach the end. Cross and twist to seal the end.

Wrap with plastic wrap and then foil.

Cooking Day:

Thaw overnight in fridge. Place on lightly greased baking sheet and cover with greased plastic wrap.

A couple hours before baking let rise on counter until double in size.

Bake at 350 degrees for 25-30 minuntes.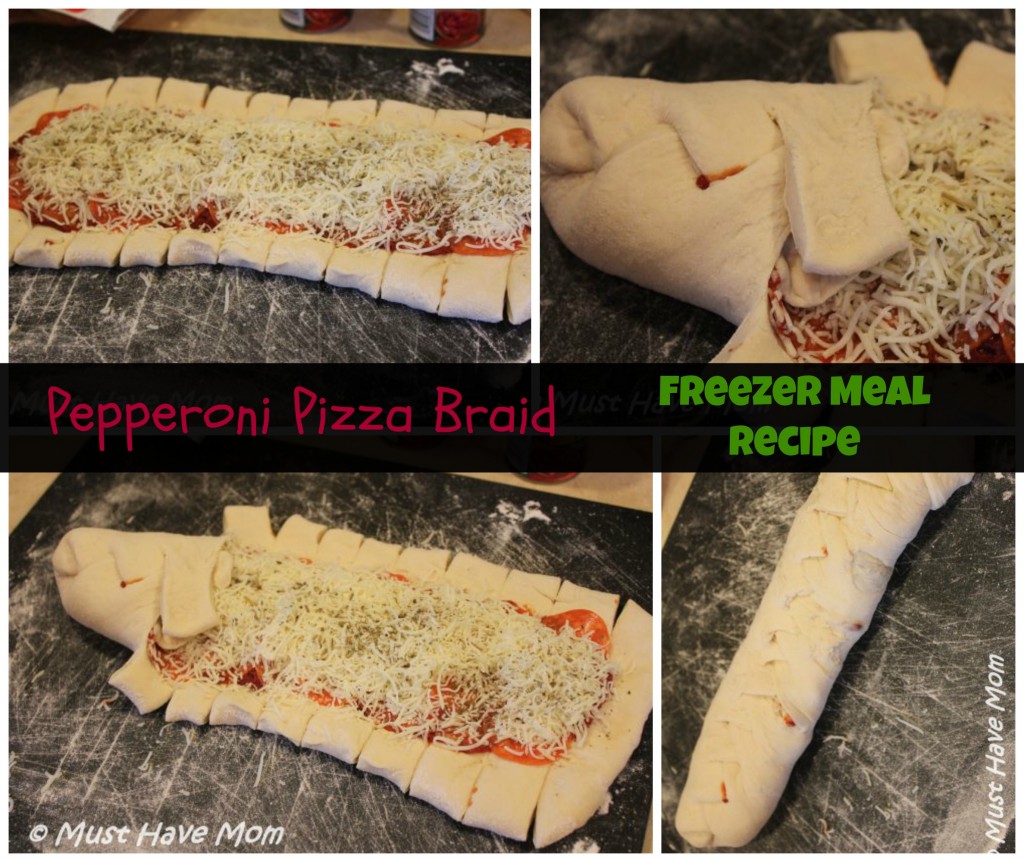 Pin Pizza Braid Recipe